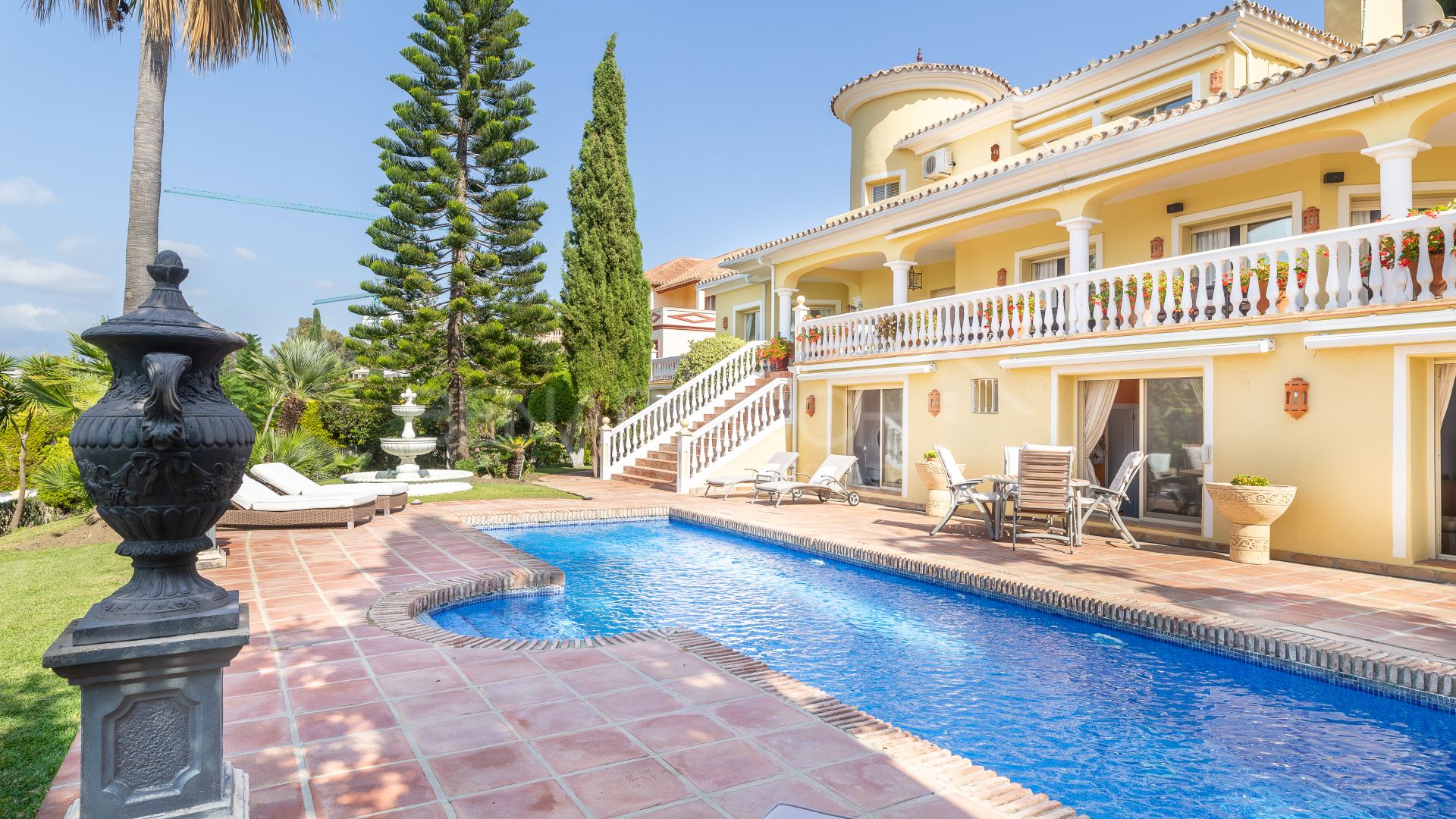 //media.inmobalia.com/imgV1/B8vEv5Xh_VThvnEqMx4G0ZxU_YC_pCgmETwWNQKyeMqLb9Afo_WSoi~kcK5mwaepLz96AHEmAzWJQblCNhundhnOIYTFLWoaYUwmCY2FRWnN7uK78GFuG9MDaPeqFVXmuFuYL8JWoewdHXsQ~S~u7C7pSw~6tmU60JnS3ijjAnHGaQ8sMc3F6xfXopgOsyJsQ0~VMEKFTRDgirvMhnHq8o4R6YvHDSUEEP_Wq9HH5s2QFQCc2quHBu9Es9qBL0k9b7bgkxy~y9eT2j16OiXWxrWNtESXR9BxauCr9~W290GOajttJQewh3eYG7z1e7tPQmhIiQ--.jpg
//media.inmobalia.com/imgV1/B8vEv5Xh_VThvnEqMx4G0ZxU_YC_pCgmETwWNQKyeMqLb9Afo_WSoi~kcK5mwaepLz96AHEmAzWJQblCNhundhnOIYTFLWoaYUwmCY2FQzZeAokmVztFUAiYQdAeilDWfDZNVZ10F~dZrHhHJHZdgAeE0QItzYcMDbyTbdeDgTeTVOcjG~Pa0dTMmnWI16nNaskiG_euUtzsCOeTtdJmpNtj9Bw2A3HEMjnFcN53u1YQ_nAcC3O0KswR5cXOzdoql2RKWAJ1qyCO6g48LBEhcQQbckL9q4H_ZSV5iZWiUMUAfwMgfQDasxkRDnyaUnTYxvk9Ew--.jpg
//media.inmobalia.com/imgV1/B8vEv5Xh_VThvnEqMx4G0ZxU_YC_pCgmETwWNQKyeMqLb9Afo_WSoi~kcK5mwaepLz96AHEmAzWJQblCNhundhnOIYTFLWoaYUwmCY2FQQpCLkW2FfSq~XCFyxCUwrlogrFlneRQpbEGPqLjBozU9uI4PZ8sVvEP4WrrDw9K4a85O5fy6~K0kxYGbr6kXkqZrLq4BWcgHwE5a70EaOI1dx5WrApVcZKWWyTtYs5QllWDa_TARD~9j9QMpTC2M2yJMwcTwr6ZzA6W_g_dW9GgRVo5_yI4B7oTfTqvxBv8YjWcwgQTjnRfoXoyEsQhLBU5sUS08Q--.jpg
//media.inmobalia.com/imgV1/B8vEv5Xh_VThvnEqMx4G0ZxU_YC_pCgmETwWNQKyeMqLb9Afo_WSoi~kcK5mwaepLz96AHEmAzWJQblCNhundhnOIYTFLWoaYUwmCY2FERRG60YamZl9bJkLf5LFsdT0Xs6L0kYHrZQNisoNMX1pkqVK0mMq4Huqjr5BnDuCHYiI7dkRH0mw60nlVqVr38yJpk0fruT299IWlH7Bb7etXdyx9vErfgqR7mURdspL8twF~nflOgvfI9FWK_beMWrbPMruPrN_7pweAp48G5tN0A4ANnZD8E9XRQtJWW5oKerYDaVBNkU7o5fDd_mGGidsLc2SqA--.jpg
//media.inmobalia.com/imgV1/B8vEv5Xh_VThvnEqMx4G0ZxU_YC_pCgmETwWNQKyeMqLb9Afo_WSoi~kcK5mwaepLz96AHEmAzWJQblCNhundhnOIYTFLWoaYUwmCY2FEUBN2bluJrnlM9PBBlVXr2gRnxviHgGMdG9~cC0_uvTF5jAADDCQGwMGNIWlRqulTYHxKU~8ESSq9wJ8VNkCLyP0mG8EJK3ZVhRK3fDoOJNI47fKqmtMA6bejbnpbUts2sneAPFBc1~ZZj6muhVYM2yUXKYojbHtTPe6t7_GiX0SbIe4qkIOYFNDtCAQgQwJZvksCWW1bBdX4Hn5JMYAWmB2KKkr0g--.jpg
//media.inmobalia.com/imgV1/B8vEv5Xh_VThvnEqMx4G0ZxU_YC_pCgmETwWNQKyeMqLb9Afo_WSoi~kcK5mwaepLz96AHEmAzWJQblCNhundhnOIYTFLWoaYUwmCY2FQ2Nlge4KjKuVPWH6sfPf_QSAKcpLW~2_PtSx9EJIdErNmBNVLTRIsTydIxNKMnV4~p~8EKCdC~A_zwUuiu0hO48T23y35ueGZuckcq8PHRV~wiFUb0SWnu8zbfMczZlEplvWy2MoBCJOeSBJdeOY4AFuFqaQ7EbXVt_d9n8bLHBq~fUFe8sYZLFs4o7nXYEt8wOnfYCRQ15aasxl3t2jDBlnu3962g--.jpg
//media.inmobalia.com/imgV1/B8vEv5Xh_VThvnEqMx4G0ZxU_YC_pCgmETwWNQKyeMqLb9Afo_WSoi~kcK5mwaepLz96AHEmAzWJQblCNhundhnOIYTFLWoaYUwmCY2FQQ8mfjQ766jonCjGSBd9p9ueir7peOEiiOodTFDT9x6M05GRDzs8lDsSwwj1dPEbUadUsqhL2dU~CWw93qUeYkZ8ay0TIYnesJWtzLJHIrN6AGiTh0cfJ9rpp4rSMk_LvaHoZeOuiHzkQAoKer8dSUfGj7caI~CfJLfQBhItaqx~9IU4paCbNsw_6CtzFrwz~HYyMX15N_qtSulFRawOTjpX04av~A--.jpg
//media.inmobalia.com/imgV1/B8vEv5Xh_VThvnEqMx4G0ZxU_YC_pCgmETwWNQKyeMqLb9Afo_WSoi~kcK5mwaepLz96AHEmAzWJQblCNhundhnOIYTFLWoaYUwmCY2FQV1QPwHsR8Sx8xoM3DMWKAFNJcUdlWnIN8YbEBYO5f4Ekb4ZqUIfe3Q_gAHGiTEdRLL~rx4EIZsPeaGOd_8uD3THg9TRdqp9IzbMvb8TkoElOM~~g8wD8D~5eBF11JNIPkD_kVX3_i5TltecyQKa_~sQpuFIdjlAz3ahqxw265R_5WBNBXufirVP8hlFkyMe7VZLFiy3zDgng2L0F0ORZxxt9Xg1GA--.jpg
//media.inmobalia.com/imgV1/B8vEv5Xh_VThvnEqMx4G0ZxU_YC_pCgmETwWNQKyeMqLb9Afo_WSoi~kcK5mwaepLz96AHEmAzWJQblCNhundhnOIYTFLWoaYUwmCY2FFiiaFyvOrJUcSN2RSwidcsmWNaXdW2Fq1cJ6pVEJ2H9RqRcL1ZV2yyBDL1JxNxd8Lc_et_k7LGgiSISmxtxPcH9faqqUqemk_9Odr0pnEVz0OGCvzztcGMd6q2qttZ~49T4CVba7GStIexEFILkTc6B8jP6pgVRMo_yajBv5VKRuawcyv4oQR6MbWOe6O8FLDjn7oVukEV9oxXXVq_LlBXFARGEFQw--.jpg
//media.inmobalia.com/imgV1/B8vEv5Xh_VThvnEqMx4G0ZxU_YC_pCgmETwWNQKyeMqLb9Afo_WSoi~kcK5mwaepLz96AHEmAzWJQblCNhundhnOIYTFLWoaYUwmCY2FF6anuxT9qb6mnZbK3biNVHH3Jnc0e2gvVFsqL2DaKMkl0JLv7fo4F8XuIwV~EfL4emp2PdIokYbIGiZOjb_f9XYCsUR9T1j9YkYCOYVO7mmvND2J6J1d5DSmdiQgxewaTcPUVyr7MljFGFe3cCd4L1Usg5lrxYGs8~BYwol6SF~8ogGl7wdNvgjOBLDzCASg2BjfFjgH3Fb2jHekVGk4b9Ztm7iKnA--.jpg
//media.inmobalia.com/imgV1/B8vEv5Xh_VThvnEqMx4G0ZxU_YC_pCgmETwWNQKyeMqLb9Afo_WSoi~kcK5mwaepLz96AHEmAzWJQblCNhundhnOIYTFLWoaYUwmCY2FECn6e5xDoDiqPQVtYDUjW3lLBNJHz4uwrc0qqMwBDIsslmVXbua7bwqaiL7CkfM5lCSBpxB8HaAj4gjnd62WBQmc1r~lf~vWqqNdn6XUKIphx4jBZqQf7AfUOdNv9OgKqbUHJdxPTEYR9zL_c6XYC9yZHYB2EruQTtIp~ZMmKVYmFdqaQ~col6tfeSblzo1sO4ciRf78SBLrmlovKVIS~rTtdBqLPQ--.jpg
//media.inmobalia.com/imgV1/B8vEv5Xh_VThvnEqMx4G0ZxU_YC_pCgmETwWNQKyeMqLb9Afo_WSoi~kcK5mwaepLz96AHEmAzWJQblCNhundhnOIYTFLWoaYUwmCY2FStRcn6vGrYOXDM01aVESpwWIcQBqHpg5LwPbrLVrAAvZlN_G4jOA6rVRbZpijHaLm~~KalxoQsapTDFWXKEYWHdI9Jep7vnHFF4RkxkmCKiB2OP~wtTTgt2drTg92h0B8B0aiYBKMgY~DgBcc7pLbVdrvi46FKJpzvViTgh~Flun0RQvJl75ml6uHSi2YaaENVdnVH27Y23SZiE2QE1Mqz58RktwJg--.jpg
//media.inmobalia.com/imgV1/B8vEv5Xh_VThvnEqMx4G0ZxU_YC_pCgmETwWNQKyeMqLb9Afo_WSoi~kcK5mwaepLz96AHEmAzWJQblCNhundhnOIYTFLWoaYUwmCY2FEUc1l6kOqALZqG70RPFjuamYOUTog6pYuzFR24bdHAfmTdXxH1oRngtlX4CMXNwqZV7p_F0aiD8Tw_N31HC4prgX7uWCDU0UUg8uOigBbYL7UjRIF9I4APW7ggPifNUZsT4V5h7mNAwAVGQeyWlriL_E0fmOfq52SMQqXGI9Tvndm0El~j5D20mQFsiuBsQB5fAd08SSiqBeOANIM0Yikg5ktTJoAw--.jpg
//media.inmobalia.com/imgV1/B8vEv5Xh_VThvnEqMx4G0ZxU_YC_pCgmETwWNQKyeMqLb9Afo_WSoi~kcK5mwaepLz96AHEmAzWJQblCNhundhnOIYTFLWoaYUwmCY2FS~URm5IsA5pyk3r6rJM~hK7IMsxiJ5PFt~YSLWnI~y~LxciB_AMRBD41arSDqogw3P4fjETwckZURNfWM2luR2NmFKHSgRrEnpTihsUzaFyJbhcGtn2X3wfm16ktwOPWbj3iP77vt1hedSKHeNtKhP7IO3~UgJt86ymkvXdWU5I8mHPl4oYnx_NCcL8_fFc4ZdJsuxP6yNSEoefrnIHYbGan5LeksA--.jpg
//media.inmobalia.com/imgV1/B8vEv5Xh_VThvnEqMx4G0ZxU_YC_pCgmETwWNQKyeMqLb9Afo_WSoi~kcK5mwaepLz96AHEmAzWJQblCNhundhnOIYTFLWoaYUwmCY2FEUXzyJJgreBsidq6ylCxDnhvvwXGItqgkQVPXPHzc67SK4z85rh3gi9IvyFFXkbqaEzt3IJD9_XRqbChlMldYsIUH8EMr4ZZCKGZYqoeuOOmxuewphYJ2v~IUc00y402VYLo9SmjmT9XL7orfIN9m2JUAaeIRrp4uw8n19WPhJCecWfPuAeyvh2LJLZqPbYGKAf4SC5tUHgMHLNff0rhnJOg4mWz8Q--.jpg
//media.inmobalia.com/imgV1/B8vEv5Xh_VThvnEqMx4G0ZxU_YC_pCgmETwWNQKyeMqLb9Afo_WSoi~kcK5mwaepLz96AHEmAzWJQblCNhundhnOIYTFLWoaYUwmCY2FQHo4oggBXC5qcTCacVKS1WhTgsZi7~ZldabDu3JQFa8Fp2P_96NmLKtn_hFi0eRCWD6nCZji2VRJqwP9FDUkKPGMVUEBMZqIR08~Gdr3Zn53xyOg7R~6WC5zk3eJDQXIyYmnaEDL2gGPmNmX0BUXXt03cZH6UGIIGJcs13it~ut9W3wFrnoi0gXcvG0t2m0uKGhNcw3KIoJSDKAfCt_LW~NEpZLrwA--.jpg
//media.inmobalia.com/imgV1/B8vEv5Xh_VThvnEqMx4G0ZxU_YC_pCgmETwWNQKyeMqLb9Afo_WSoi~kcK5mwaepLz96AHEmAzWJQblCNhundhnOIYTFLWoaYUwmCY2FSoGMVYH0zJh3fCwhs6UlG3d6S4NB3dsbpejHwTsRaxNG4mEDQ0XWIpw5MdpT7ODH6WivTwu1G8TaD3ep2aFvRZYCe2uLw2GsvU4dJUuZ6CmfnODBUcGWCLrzpR7K9jDd4DioHkvihCQyZVIHP3YACFbCMycej3tDctNImdBv5cVPGR3MaZxr46GCE2KQwN1zZ5c5GoP8cHYareQEJckFk9CQ~DrseA--.jpg
//media.inmobalia.com/imgV1/B8vEv5Xh_VThvnEqMx4G0ZxU_YC_pCgmETwWNQKyeMqLb9Afo_WSoi~kcK5mwaepLz96AHEmAzWJQblCNhundhnOIYTFLWoaYUwmCY2FFi5VQmBzbEEzDnvI4QBNH9ZOqYlOhNMHvjYTMBLBsHISjCjDMbTSsU3bDomZTWjWlenRowrOqD4QnKUIiB345tK00WY1CCxSjopM4vTULeixHHhYy4Yx6XT3vTBq1kK05Oreyl2kp482ETEZ787knyhGnG1iA3VOtsgNSNBxkhqizBM6zgDnBWBBH88WTfBb80_Aa64zHvsJ4C2ZJ5X23yAIveZ7Hg--.jpg
//media.inmobalia.com/imgV1/B8vEv5Xh_VThvnEqMx4G0ZxU_YC_pCgmETwWNQKyeMqLb9Afo_WSoi~kcK5mwaepLz96AHEmAzWJQblCNhundhnOIYTFLWoaYUwmCY2FRW9icSidxiwOEwgroS5rJa8YLL6aELdysufSPvhqtrZ~aKmtAvdRk0W5RO4_qr3n~xqvARFesFahl22QBj__DhN~5GRVdS0KyPkZfxyIId0gbQKh4ULmR_iepnYQhvw~OMJpfo3IwG75iG8ReSkT6HDM48yOC89Ssqv4Uj3bza9TvdilOlXfPA7UrJNjwFqFkpNjEb7emw9m9OTuvjfmQ1kPZBnJ8w--.jpg
//media.inmobalia.com/imgV1/B8vEv5Xh_VThvnEqMx4G0ZxU_YC_pCgmETwWNQKyeMqLb9Afo_WSoi~kcK5mwaepLz96AHEmAzWJQblCNhundhnOIYTFLWoaYUwmCY2FRz~Xm1UqevAxRW5Vz5AvAZbv4~X2uyb7z5mPfBnFmDmNKoRjsYN77qg6By5~ScJ7ka1TJem6wyFAfFgFUKksc90bknoMDrEsS~Yx9GK_xjmwISYofcVbX1My9JiL8fvGFGXl6zqLo215bw_qLC2UEU10tmJ_T78uE7bKzFvf4B~0gex~z6gn3HnwzuroWlgceKKZL0q2dkhQtGbuRnIlJY~cCBtgLw--.jpg
//media.inmobalia.com/imgV1/B8vEv5Xh_VThvnEqMx4G0ZxU_YC_pCgmETwWNQKyeMqLb9Afo_WSoi~kcK5mwaepLz96AHEmAzWJQblCNhundhnOIYTFLWoaYUwmCY2FS~SgqqwtoGJq5O0tLqcJusaWQf_TRdastKT7r2KxujNPdRQZXXddQeoyhw7YGa3H5LknSfN7bfduEOBS2LhnPsK~6kzxFGIP5nhHTSBeE85p4cNT5BvbI_2mqHbJFurGGLCsNYyVBwidB2Y1~P~HeRK2zbnIvqgswIhJxSF9ii4Uw6erfp9~WQqX~LoHodUotBX_lc7XZUcklRjs4dIIXIi~E7D50Q--.jpg
//media.inmobalia.com/imgV1/B8vEv5Xh_VThvnEqMx4G0ZxU_YC_pCgmETwWNQKyeMqLb9Afo_WSoi~kcK5mwaepLz96AHEmAzWJQblCNhundhnOIYTFLWoaYUwmCY2FF6N4xEpHo0l08izmfpIrHplTLMJP1qpDSCiO1z7szBFEElZfY8vWXprUrbjVbR8zbnRNrNOlB0is7i6qpRj700Q79clttWpJSsadvyBcEwwoR4EyDxff3VdPce_I6u9eS_84jGcFMLmEiR2HubOFraZsUswBPYSGDc01zm~2h9fq8waMIV9s7JMsIL9wFKw9HLQVVOg2~3Qd2secG5dzE7O0Dp2q0A--.jpg
//media.inmobalia.com/imgV1/B8vEv5Xh_VThvnEqMx4G0ZxU_YC_pCgmETwWNQKyeMqLb9Afo_WSoi~kcK5mwaepLz96AHEmAzWJQblCNhundhnOIYTFLWoaYUwmCY2FFijKPhy2an0d9_LBiseZAce2NWnh3~22ek6dKDf6DZ9JwUGg1aIk_hv17~DvWA1U2QZiLeQaY7Z1w7_VhpFyV_i4gWlxBlalfFav7B1VHOWyxU55eWvUrsyfdJGXfJF3RKntcG4xAKOTKY_ARkB~q3xt0AUGoeuvZFQQotATgWB_zzH4_j68NQEnJOBSX5O23v2g1U3WkJI0JGyDjTeYqGFuaTBRmg--.jpg
//media.inmobalia.com/imgV1/B8vEv5Xh_VThvnEqMx4G0ZxU_YC_pCgmETwWNQKyeMqLb9Afo_WSoi~kcK5mwaepLz96AHEmAzWJQblCNhundhnOIYTFLWoaYUwmCY2FEUQy7N7t8W6_kJGVsPyHvqKQHi6VNC8NkF3OHpzxdpKO12pX4lxMxKHp8D04DAbbMwUYbe0GpzzUVxLg0ZQ61TPS4DTlT4C9KhRHlpfhY2_fIeli0EPW1M0P~CyYToUnTHuIRtjDdnIiRlnzs77JuyDROB9sYFcvLkVXCCAPWamXhNKqUNW7nbeEbu7s0i1mcn1TIien2ofPztogxWRvSL~~CJMEdg--.jpg
//media.inmobalia.com/imgV1/B8vEv5Xh_VThvnEqMx4G0ZxU_YC_pCgmETwWNQKyeMqLb9Afo_WSoi~kcK5mwaepLz96AHEmAzWJQblCNhundhnOIYTFLWoaYUwmCY2FEUdnutA4gllh7Wb33ZaFWgsK~jb86SI_SW1d0lyI20TfAl5wJb4MusqW4Kec9lninNBWQOBIFClTnGbSruihAwOLD3SESNNvLLjlowyXPr5Ob5Nq748noo4uO7QCV5bU2EojtDIqzF~rAkq05Ku5mTLf7RfX4DCXz91b7zn7VNqabmxTQTMUv8bGFF1N4nk31xndKGxg_aLiMG6~cZqCznyRabjy9A--.jpg
//media.inmobalia.com/imgV1/B8vEv5Xh_VThvnEqMx4G0ZxU_YC_pCgmETwWNQKyeMqLb9Afo_WSoi~kcK5mwaepLz96AHEmAzWJQblCNhundhnOIYTFLWoaYUwmCY2FQ2I2z44sidLCALaFnKZe0YvYrm7QoshwWxSMueqBr8CZR1MizeFY3OUgTyPIdWcQje5EOnmv5bRI00ZvtmgnQ~fcEIx9fAmJQCe8kx~QzbkHgNZLVJdbuT581lqNOV0secKPMk6JBFm~EmsCvT0Eq62ptqHTCOADIC9ca0c6G7WerCDY8WrA84_4qZ7QCIycqT_0zQoSdtcqeo~zMR1QLR0wd~TP1A--.jpg
//media.inmobalia.com/imgV1/B8vEv5Xh_VThvnEqMx4G0ZxU_YC_pCgmETwWNQKyeMqLb9Afo_WSoi~kcK5mwaepLz96AHEmAzWJQblCNhundhnOIYTFLWoaYUwmCY2FRT_6X6pUFyBthtsLaWFuKZrAUCz1EAFh1iNkocNcO~FOBotKvXOmqgu43XhuNfAXEuxPbpXndRmmlG9JOZjNerAPilgeV138n312ah5bi0O34gSW5_mpOqg8wXVmmONGnmh4DeTrIPXWkGx261yBMA_3ZzK0kI2h9M1puSf9dtpdHLTZPGGZSrwaNnef1ulIGrVTAhwGpBZoZPm7gxrOrJhhQysbfw--.jpg
//media.inmobalia.com/imgV1/B8vEv5Xh_VThvnEqMx4G0ZxU_YC_pCgmETwWNQKyeMqLb9Afo_WSoi~kcK5mwaepLz96AHEmAzWJQblCNhundhnOIYTFLWoaYUwmCY2FFi4A_YC6duy20_UGkSmpZagwuSX~cRf4RPjhvtXfd3ZNzV9RCeNFezDeeIBtHZOMh1ewNw5QfPYfRsE5AxG5HpzLNqT2Alv1kQ9PlgbbL5klc4IeNz_27STZpmP4dO_LicyK0QEthEeVLQ96ARteKz8NdTrdjtxkpDyobiQJKp9_~9zKltUwxficOeRBxZyjQOb2hSM5trAlKdigaNmDBhdfBGnl5g--.jpg
//media.inmobalia.com/imgV1/B8vEv5Xh_VThvnEqMx4G0ZxU_YC_pCgmETwWNQKyeMqLb9Afo_WSoi~kcK5mwaepLz96AHEmAzWJQblCNhundhnOIYTFLWoaYUwmCY2FERYV_hEv3_D3dcNPmm9CtIR3zcFTNnqgO3olloMfUdTuN9cZpKsZDeucVEW_2_NHMeD2gbeNZVX7QsCZdnZfsGXxh3yLdA7frHCoolBMG3tDkec5DSZZ4zXHLZVz7bCECLLJm4FDSvCTfjZfNJzuT_HMJe1HZMzFtycz0GRXj1VpsabJVk9cis8bkuFd3JSQiwn8j6cejQPMgvsmPMrTu3XtGZO19w--.jpg
//media.inmobalia.com/imgV1/B8vEv5Xh_VThvnEqMx4G0ZxU_YC_pCgmETwWNQKyeMqLb9Afo_WSoi~kcK5mwaepLz96AHEmAzWJQblCNhundhnOIYTFLWoaYUwmCY2FRvd6iPMxpqFwvt04hjd4enqfmfXA_nNq2GCxA0QCqID0Z0tJdmk~czLfcEf9AeR6Cb54vTmyQUOjIG9gFBAscXvb5~maFp6uyTtX11PFHZbbBCYwXKCoJEqgZOKAqt8dox_kdStOnnKHGcx3DllOqBPN2icJXP119XIQRZV7SxJpWehB9J~qxzNWsKcbrTzknlqKKFhErGFGgIuPfziX_HKyxrGGoQ--.jpg
//media.inmobalia.com/imgV1/B8vEv5Xh_VThvnEqMx4G0ZxU_YC_pCgmETwWNQKyeMqLb9Afo_WSoi~kcK5mwaepLz96AHEmAzWJQblCNhundhnOIYTFLWoaYUwmCY2FQzB4Qm0C3pGzqnMG9USYXBVoum1xj8idKyvkpwL5kBR1m1RqmAXl8LbwGiLs0Cbj3lANMgfoLC3UnhVeUVT8dDMKfbw0Z~~9Lz3v5w4Mtx~5R_rjlq7oUOxrgEgA0QYG5zORLyCulSs~CCqOzpHTdN~imwDBQk~HafXPfeAhkB1lIKhhNPrN0GEiz~eNfaR20NyNMSEAbfaHarrhWxijs9~__aAznQ--.jpg
//media.inmobalia.com/imgV1/B8vEv5Xh_VThvnEqMx4G0ZxU_YC_pCgmETwWNQKyeMqLb9Afo_WSoi~kcK5mwaepLz96AHEmAzWJQblCNhundhnOIYTFLWoaYUwmCY2FF~uFYvLIQamT3RHIqF4Zi_HfxRZEhLIXH3hUT8A1pgjYkrpKl1oXVVQKga5znNj5AhColM0wYXkhGjA9xg52hfP47MwYjpARV9Rj_DgJxAprZd~VX2VxgNQXD1aeGQAnUSzkkFJFSyyb1CBZbjsWrnxFETedRgmLBUYcVULFwpgoIsL0mu6D3edcAeSpCU155VZzcoakCeIB572dXzWDmh13koVXmQ--.jpg
//media.inmobalia.com/imgV1/B8vEv5Xh_VThvnEqMx4G0ZxU_YC_pCgmETwWNQKyeMqLb9Afo_WSoi~kcK5mwaepLz96AHEmAzWJQblCNhundhnOIYTFLWoaYUwmCY2FRz_GClZ9kUmAdddfKUMnOGS81q3fw9920L1fsddkjdqm0DQr76TLTpeVhTh~X775V5csDE2a9oB07rAerhc_0MKURJuL3XepN6n5Di84hb~nWWL_jYs3sDZu966eCehFrV026QvvxrKLh5776w9Ele8bpB5mxhjC1ikWj21GcpZA~B_lWhaQjGwtiULpRGXx_p6KxJas8T7lvqByVJ~wnHXL~yFMsA--.jpg
//media.inmobalia.com/imgV1/B8vEv5Xh_VThvnEqMx4G0ZxU_YC_pCgmETwWNQKyeMqLb9Afo_WSoi~kcK5mwaepLz96AHEmAzWJQblCNhundhnOIYTFLWoaYUwmCY2FRHe0AmDSczy3QTwxGev4Ykeb8EQhNFcmC3JLPn9QszgldQLM~S3BpO5bhwR9s9LcLJAkJF3Ne0lG4nhvec3xI747Ht_l~2pUQKryWd_HfgCLjqXOEm1JbQ4UzsC8teKm8G00qLDG6uGM99VU9bxUpKeCh3XVZxysM4O4mV7KMgVJjtp8GsCfkBIF5z4MQk6~m_xp30TjbooWzgIdnZx0MlvnKw0UPQ--.jpg
//media.inmobalia.com/imgV1/B8vEv5Xh_VThvnEqMx4G0ZxU_YC_pCgmETwWNQKyeMqLb9Afo_WSoi~kcK5mwaepLz96AHEmAzWJQblCNhundhnOIYTFLWoaYUwmCY2FEUx4D656DaeiztVpUiReZcCtjqoazeA86wjwiFxh~Lulu~cOFMAvFrH85si9UrO7_U~7BfG~KBEIP1s3wqzuyvxMvV0i8BloMzez0d4oU4_V7HOsUfGDYKJm~hROy6XGWRj0UrwCulB96uPHFexQ_6XREY~TOqU2OB7~TTHaCh_NtDA7dL3R6HY7_JukD3Us1m33KBkgrQuWhphkxhbTblq7nUZZ_w--.jpg
//media.inmobalia.com/imgV1/B8vEv5Xh_VThvnEqMx4G0ZxU_YC_pCgmETwWNQKyeMqLb9Afo_WSoi~kcK5mwaepLz96AHEmAzWJQblCNhundhnOIYTFLWoaYUwmCY2FSo740JZmha_LUBTHSrNTkwkfD7pVVBSf0cFaqAcnEvvZldLtL0EfxWsVbAJ4XU55yTgYjkZECIhaWc4ELO7sZWiYTAGQkiauamHsYM4ex4ZOb5emLguaVR5EWHthmqMK3kfYsNxMlAWqQnmGDXa6MCBkEDMM9qu56irDggUDkeOm1hIQt53fYNBobA5Rj5U2xHGMTStYnlckZ7SM2gd~KcvyvgGP7A--.jpg
//media.inmobalia.com/imgV1/B8vEv5Xh_VThvnEqMx4G0ZxU_YC_pCgmETwWNQKyeMqLb9Afo_WSoi~kcK5mwaepLz96AHEmAzWJQblCNhundhnOIYTFLWoaYUwmCY2FRHPYfGW4Hasl8d_gKHF5U5p6Dg6tgzDNcaNAJUPUHxnezU26DwCg0YZKwE913xBBg0sTt4tMAG9sSpGmCtLGcPugMvP7Ke00TiXoka6E01eh9KFpVuz_CaiDryriEhja9XAxBVWppW7Cwxc9~R4CVHG1W6zkN4ZHHATUEWkGjzvzh0S_Wy9W4CFipagfedaKVk0bkolYDNqXtPAsuU1llzlUQFLlYQ--.jpg
//media.inmobalia.com/imgV1/B8vEv5Xh_VThvnEqMx4G0ZxU_YC_pCgmETwWNQKyeMqLb9Afo_WSoi~kcK5mwaepLz96AHEmAzWJQblCNhundhnOIYTFLWoaYUwmCY2FRHJg_Nh9mGmfBNywwmyKHANsggKWx6PFkUekULw3BhwRJqfWsFpSCAvwsttOC3ZxFYKxQRbiaAkqJ~UaViUXemzWVLkttvumAB~ic2kdIPt~GQkPTF4wisJ3Nx8dPxmczJ~9QDuQBuXBCtj84m5x1OEl0zMnYu7w9PhSHPeBlD233Czms_lZ1jUpJ4Ld7ad6LmlMdzEoATrrfhaLinCR3otwNgsmxA--.jpg
//media.inmobalia.com/imgV1/B8vEv5Xh_VThvnEqMx4G0ZxU_YC_pCgmETwWNQKyeMqLb9Afo_WSoi~kcK5mwaepLz96AHEmAzWJQblCNhundhnOIYTFLWoaYUwmCY2FQCn5pAKp5lZ926NFCGDVdf0YneTRRELZCNzQN8UEnpRG4KVERUjRaWRT5SY6iVE8MNy8O02hrppj0Evh9iDtegm3aC7KzhaX_ASlM3wbsvbAlCnLSDY_UigbmOQpF2Hy2gQ4jXA55_3zP8DmxQjcGKGIMNwpuVtRVuFANjhLnQF2abJjIYSqdynX0R3DYasyfgf1TRvAVqcOgvn3urh4FkmoIP_9zA--.jpg
//media.inmobalia.com/imgV1/B8vEv5Xh_VThvnEqMx4G0ZxU_YC_pCgmETwWNQKyeMqLb9Afo_WSoi~kcK5mwaepLz96AHEmAzWJQblCNhundhnOIYTFLWoaYUwmCY2FFfWPcw56Wj3~KKWgNivFA_IZQix_3sClxKmDgR9Y9DqtbQ0ZGK0b3~NA6mxDYzRK7pzYxZCHqjFekGaB4Av9H2~R3byyKyPGoH5AgwNooh9LJWv0n0hpY7CfmBGXvMeYS3NgXCxDYBfiOMp34KclI2YK9hHNigl14RF~h8CxZSAvqeWcmf4xzoGK6wNpMr5~eWaoB0p9Up8eHO6OzuvcqvGAeZdWPQ--.jpg
//media.inmobalia.com/imgV1/B8vEv5Xh_VThvnEqMx4G0ZxU_YC_pCgmETwWNQKyeMqLb9Afo_WSoi~kcK5mwaepLz96AHEmAzWJQblCNhundhnOIYTFLWoaYUwmCY2FQCmoQBp2x4K5mmn3a5LFesFcEOxu5KKEC845qAs5PxcDrI6uh98um9boCmeHw8Ve~0Jms4GmCSnn_sPhmAOrxPN7~Wtgr4k6UICO9un5IoUpoh7d6LFqrn~sEQUeZhrtKvTE_yJ3_E8dYp1bUaRrCmOnaICLXjfUpMqPTwv_uZcnXE~gGNucjv21QpEingvjjf8H3B6KCNKIS4piC7LsfLTDF42AQg--.jpg
//media.inmobalia.com/imgV1/B8vEv5Xh_VThvnEqMx4G0ZxU_YC_pCgmETwWNQKyeMqLb9Afo_WSoi~kcK5mwaepLz96AHEmAzWJQblCNhundhnOIYTFLWoaYUwmCY2FQleF_kB3Ag0cfmVDOPtvpLjZ7GtDPmC9NsJfOXZTuN_GXlAzqEekisTmLzRdGEYLX5ehYRd0Te4I1jfsgYC8eZdR9KMvsB7X~WMguKR0f4VwWNbpctQhhR_UXLvdckb3fZwv9iuHCfYKhJmCjem0wyGa3JzgvrI7aILp3HgegkVj6LDuNEMJsp6M~v0oPA9OmyMrywBYjsFQqVVGllVYmbtTNHFQtA--.jpg
//media.inmobalia.com/imgV1/B8vEv5Xh_VThvnEqMx4G0ZxU_YC_pCgmETwWNQKyeMqLb9Afo_WSoi~kcK5mwaepLz96AHEmAzWJQblCNhundhnOIYTFLWoaYUwmCY2FEUQ1w0LDo4m4WFkwfLVuoBfdXPF1v88coU8bwsBCdm~eNU2WkqTbOi17iW91h5LuU_sKuPZKrJ6pQhQcAALdtY04MIihjGgDh3cPdTw5xlAXMRlaS3msNo2wky54h3vLWo9zLw90LtPaLfs2MCuYyrpd29Ph_VQW6oYvsXad3p0JZ~LwX3HRjKfxvckehet01_wCPGe3i2ZR6U5c2RexZnNBhSEgmA--.jpg
//media.inmobalia.com/imgV1/B8vEv5Xh_VThvnEqMx4G0ZxU_YC_pCgmETwWNQKyeMqLb9Afo_WSoi~kcK5mwaepLz96AHEmAzWJQblCNhundhnOIYTFLWoaYUwmCY2FFaQeYNBnfXrmBpVeRZjXa~KjPvuGi3ZDkrjLc1EanK~DqbDOIVTXmlaZQQk1l3pYIaxBsUp7WmlzJr3nxVzNDp4k6WGMoVqYFCuctUsbDYAubYwBKjFq8QWYgcMbQ4E7oFMCchUPbLniCKIvlq4cET~XVnke~OOSldb9ghRLBDQXjkLZEhy8Oaa_D8hnYaP_pIaHPw2NUpuF5GBwri6gNokkKjKW7Q--.jpg
//media.inmobalia.com/imgV1/B8vEv5Xh_VThvnEqMx4G0ZxU_YC_pCgmETwWNQKyeMqLb9Afo_WSoi~kcK5mwaepLz96AHEmAzWJQblCNhundhnOIYTFLWoaYUwmCY2FQQoWh7RgF_GDxpIpfOILVcTQdbJhOiHIemchjbuvQ8C1mE54mh5FHDViYqwenX1Tw9upNcidj4eTEoKfe~DNAzIvFPcKKF2C32K4hnOCYF_cVXkbboWWavjB6WmA1BLKqWJBKjXwhBh8LN_Np19GfWhGPk6yogDhtRfB9fZFB7hTQuPOfbnbVa~e9B3FDGJXMr9b5S2Ix8PhwVvCF1Ab__H1tOL_bA--.jpg
//media.inmobalia.com/imgV1/B8vEv5Xh_VThvnEqMx4G0ZxU_YC_pCgmETwWNQKyeMqLb9Afo_WSoi~kcK5mwaepLz96AHEmAzWJQblCNhundhnOIYTFLWoaYUwmCY2FEC3lnZRtw1WWjMIboyacvu0zG4sSXMYiA3t9cBT7XeekOA1S~M4Av8NRKAd26q2qEJKplgc8TsyKzcFlTy1ZRSd_LX7MIpks9FNkhAaLfLJOqa6NNd69odiFNHf5kwpXmQ6Kq9wsP_Y5pUH6NsJ8RAG01uLojuqnSThKZEG_rcDaqWnUOS7OmxIplMqvi5GWJAZZWv946iyyHOrAiLaY0M~dxV7duA--.jpg
El Paraiso, Estepona
Villa
1.895.000 €

reduced from 2.200.000 €
Mediterranean style villa in Paraiso Medio, Estepona
Wonderful Mediterranean style villa in El Paraíso Medio, just steps from El Paraiso Golf and halfway between the cities of Marbella and Estepona.
Along a path we arrive at the house where we find a garage for two cars and parking area for several more vehicles.
The property is distributed in three levels. Through an entrance hall with a large wardrobe area we access the house where we find a spa area with sauna, Turkish bath and shower area; gym, a large games room and three huge en-suite bedrooms. All bedrooms have direct access to the house's lovely garden and swimming pool.
On the first floor of the house there is a guest toilet, an en-suite bedroom, office, a recently renovated large kitchen, TV room, separate dining room and a large living room with fireplace and exit to a beautiful covered terrace with stunning golf views.
On the upper floor of the property is the master suite with a large bathroom and a private terrace with magnificent panoramic views of the golf course and the mountains.
The property is very well maintained and is located in what is undoubtedly one of the best streets of El Paraiso.
A few steps from any type of service we need.
A great family house to enjoy throughout the year.
REFERENCE

208-01452P

bedrooms

5

bathrooms

5
built

750m²

plot

2.880m²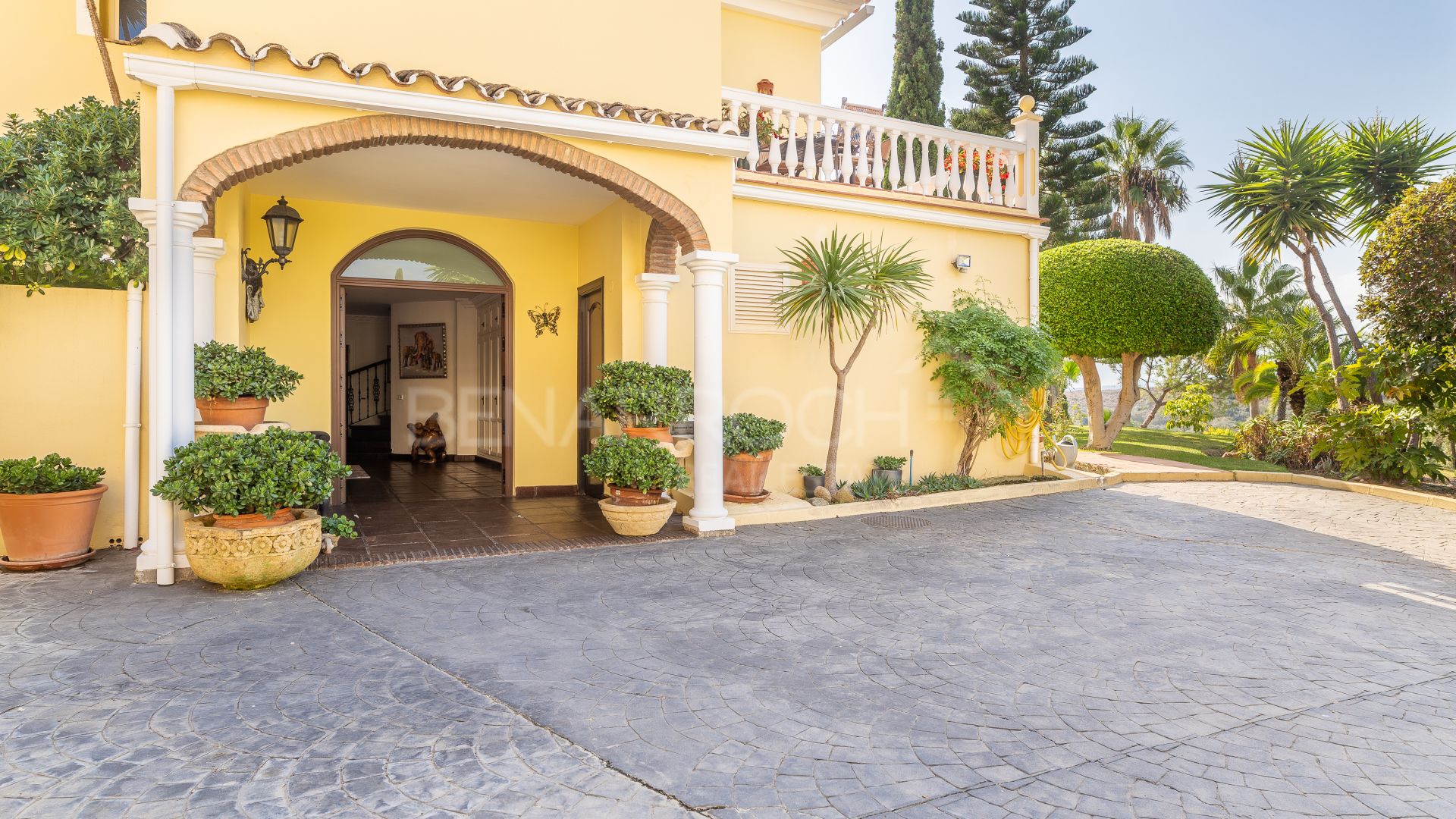 Video of Estepona Area
similar properties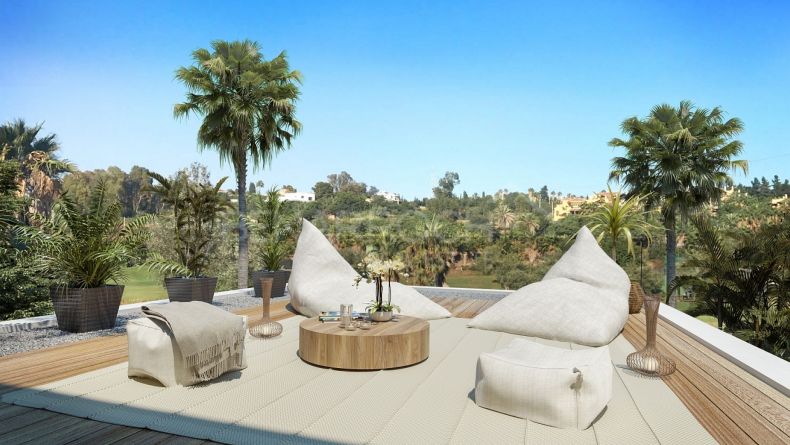 980.000 €
Modern avant-garde style villa located on The Sanctuary Villas, front line of the El Campanario golf course, on the New Golden ...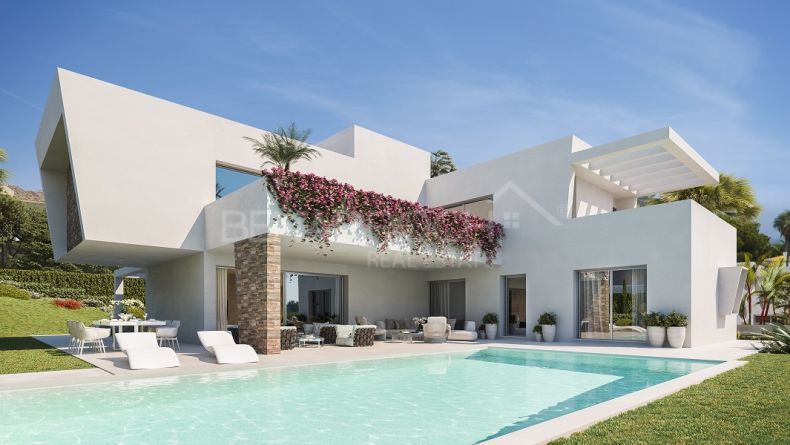 1.345.000 €
Modern style villa located in the urbanization Monte Biarritz, on the New Golden Mile of Estepona, a short distance from golf ...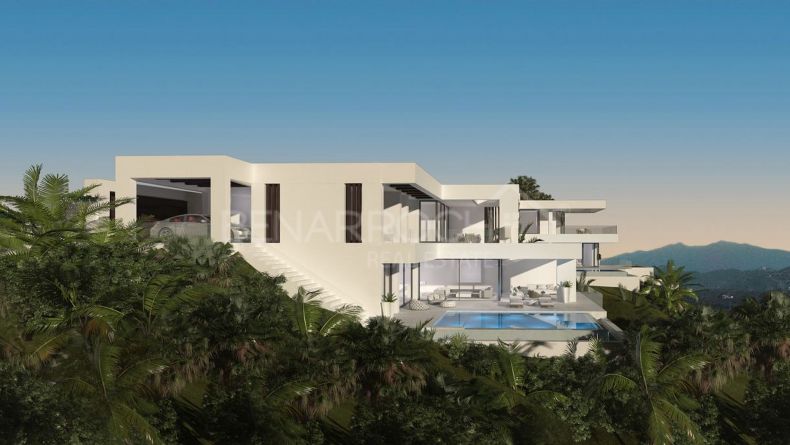 1.170.000 €
Modern style villa in the residential The View, Estepona, next to the La Resina golf course, an area in full expansion and ...