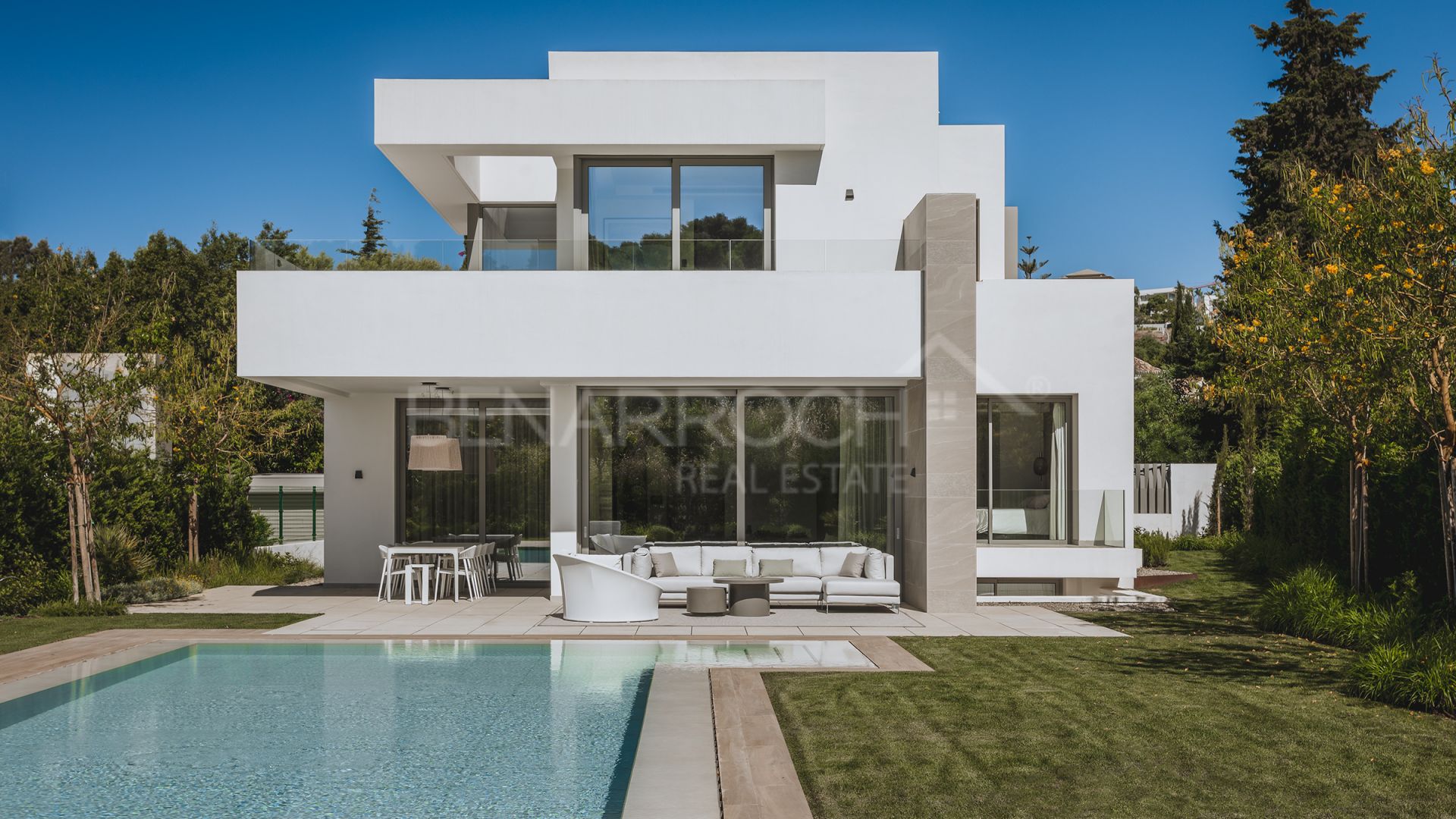 //media.inmobalia.com/imgV1/B8vEv5Xh_VThvnEqMx4G0ZxU_YC_pCgmETwWNQKyeMqLb9Afo_WSoi~kcK5mwaepLz96AHEmAzWJQblCNhundhnOIYTFLWoaYUoiZyKVq0fP_xE9jRqZFX3~FqfITqXrjPL0NiP2L28iqTCuITgRFd_J9XSvfHEMu2vRbaahm49IbwVePqRhgsaP_sXTUsjRo61fVDFzMHhsnKmBp77FZ8HrTy35wWkU3fBLYxzWWrObxQgWQ9JX7yyjsItZAIyT3uzPO8GYfkELSUY9cmPhB0I5PMNhn693KpnVufZNSAQcnY7VW2wDIOX3S0ECtOM7fxecPA--.jpg
//media.inmobalia.com/imgV1/B8vEv5Xh_VThvnEqMx4G0ZxU_YC_pCgmETwWNQKyeMqLb9Afo_WSoi~kcK5mwaepLz96AHEmAzWJQblCNhundhnOIYTFLWoaYUoiZyKVrSIMLlVT5vxrIqNd1ZLmDS~ULMjcq4C_kgsnbc6OacFgb~VabI5b_XAT2fcMHwsXxipn9AWyAOklTU8WhZgjHJuX_API9y66Ixt~jBtZjIiSxmrVV48qCyoraB2gAOPKeEbZ9maauHoYIC3vIgm7D7OQcngVJuU57pQSQmyE2OzFwOsVDg~ZDaNNoVs~E2hxEPbl1MVFmuhDhS3Ymx0MD7v5bNIHzw--.jpg
//media.inmobalia.com/imgV1/B8vEv5Xh_VThvnEqMx4G0ZxU_YC_pCgmETwWNQKyeMqLb9Afo_WSoi~kcK5mwaepLz96AHEmAzWJQblCNhundhnOIYTFLWoaYUoiZyKV~E6hvqTyMNRwCx_AITUFbxVbsksS3ByBkgxK7qhaFxoL7v_CYlocStrhCMb8V2r7g1g66yzsbfLRUINxKIhd5_tgOK6elEp~pdNjcV1w8c2CPvhIXzETc0YAjvp86jMnFu4Wo2RhxvfQFF6EHcb~rmif9FrSszkDT7zoMP5QZRnN_uxgv_l_SwI9cFEHWzEhmxoKkg_44TN6oCj5D4xZlpH2fnoHyA--.jpg
//media.inmobalia.com/imgV1/B8vEv5Xh_VThvnEqMx4G0ZxU_YC_pCgmETwWNQKyeMqLb9Afo_WSoi~kcK5mwaepLz96AHEmAzWJQblCNhundhnOIYTFLWoaYUoiZyKV_JHFTob3U6cZokpCJaX3yJPd0Hoth6RdP9I5g3hN9BX1U1~o723xUMiTm~tv2BvFNT8FfvtISFR6NRHxfYWMfhazdHZ2pEHByyoSSh1Nl_6Kxr8CbIcQXjrJLaHhBzSgqa3ZkgdeoHJKqBPHw0FqF2fkte8u1sIrDT28YVoW7oeeR3Lp4CYJlwduA2EBo1i_qzlftuFgFRdwuDIhuush9nstJmbh~A--.jpg
//media.inmobalia.com/imgV1/B8vEv5Xh_VThvnEqMx4G0ZxU_YC_pCgmETwWNQKyeMqLb9Afo_WSoi~kcK5mwaepLz96AHEmAzWJQblCNhundhnOIYTFLWoaYUoiZyKVpl0p7hobtOTkgj1jg3yCwOkIwV2WfHeQjzj8~xIkp_P7Ei56VdrbopfS~ayHo13BwMQrwtPJ4RjgP2nnw0A497StEpaF~Pls7_cDj~sB2SzCqUqmzU_Hwx~ngiyXGqR_lyhEcxTMXAkdJAZ3NY7GFEFnOd9W1KKoYI8stJH4SOWBQDbxpzpsdYiQu5xLjdk1RisWdiNBbMM5wiBtDLURTwAFCfgggg--.jpg
//media.inmobalia.com/imgV1/B8vEv5Xh_VThvnEqMx4G0ZxU_YC_pCgmETwWNQKyeMqLb9Afo_WSoi~kcK5mwaepLz96AHEmAzWJQblCNhundhnOIYTFLWoaYUoiZyKVqOC~1XZGJwQ1HX5eWBlpHbNp_fE5XraLG7cjDX~cIV0YuNSZHnFyxz5SSqiVeirIkpOMK8LV15UH~G7ri3rE_IuQH6tdzamWWI51BX5iYM1B5e7zFSukT0ykGbY3skj~6isd2ZZZxdou0iaik0SU5vxl1gGRvWkgPTGQinto6yzIP7t8U5pXMBgd9LQKhqIU8RZMlSHlIHuR63NtzmB1MrxuwgG7SQ--.jpg
//media.inmobalia.com/imgV1/B8vEv5Xh_VThvnEqMx4G0ZxU_YC_pCgmETwWNQKyeMqLb9Afo_WSoi~kcK5mwaepLz96AHEmAzWJQblCNhundhnOIYTFLWoaYUoiZyKVrxzJ5MDhK3Rwq6J0ektTVvcG_EYY5Q5evLkTt6Bo6dbLvPqpRxpVpusAjFZBYKB9oR7vrxhpN3_bvTA8imzvPHRBQnjoJokFW8qZ3x~rnaFHBnoKOGJ8FaNbGeGGXMYFlBBSpSdFB0YK3DRvrqHKX~hFqV_ZYA8vMSzpBY8fYPlb~sdkE93CCmvlt20x2AUWantC047hzwssHtZGpyqNfwIjeEIFAg--.jpg
//media.inmobalia.com/imgV1/B8vEv5Xh_VThvnEqMx4G0ZxU_YC_pCgmETwWNQKyeMqLb9Afo_WSoi~kcK5mwaepLz96AHEmAzWJQblCNhundhnOIYTFLWoaYUoiZyKVqLJj9XLdFgNTq1W5T4p3OuUxh8ij_DPud8GBkBaQWG8aIQqq5FK_VrFWQ9VOZ1EVm8xWpu50xh21QZJqU28b7s0lcKx6ve019DvDdtWPN~vngHcChHylE_DHVED8MVJojiL5spX4viut91EH~O_N8shKJGFBQcltwWOu33nDb1KYZq8CIKpkpdKWg6QBUWeS5~unFpwZK5bDK2s8Jo~xM62IRjGP4g--.jpg
//media.inmobalia.com/imgV1/B8vEv5Xh_VThvnEqMx4G0ZxU_YC_pCgmETwWNQKyeMqLb9Afo_WSoi~kcK5mwaepLz96AHEmAzWJQblCNhundhnOIYTFLWoaYUoiZyKVrIExR~pMhsj1rJH5auSyHGUjzvBl_RjhiuwPWi~HeAjFY8A8Qq82SljpsQj4JedzslsZIUURJXHWfSkaGtT4~BkKADQmJU7P473iTMb4QrENp6mEk5nOmGkKTv38T7zTUS5EwwXz1woDjbcaaieGkBv2zO5HWVEZRpMEcjiQS0d1PoTE~WkOfoXS2YPqUTPrQz5w3uMDddPkgwsjqiZwDOAuUh0D~g--.jpg
//media.inmobalia.com/imgV1/B8vEv5Xh_VThvnEqMx4G0ZxU_YC_pCgmETwWNQKyeMqLb9Afo_WSoi~kcK5mwaepLz96AHEmAzWJQblCNhundhnOIYTFLWoaYUoiZyKVqOdfk5R7V4p0Iwt3LgWh_QwcySnFN0cCQdk9D0BgSZwFVDM943_ldbkuIm4tOB1R29wr3fr0vUf4WQzY0huzxdKCIWTx18tIC25XI~mVg_W6VRvjN0KUy0cK2h0puRPac4s6vSGEeQfrDKqVRr~uOWp6o_2PCxqJM6Q2py5h1kays3bSOrd8SrYAa4KfCzY5lQ0csHe2VOvS7lvBpc3I2ki39EOuxg--.jpg
//media.inmobalia.com/imgV1/B8vEv5Xh_VThvnEqMx4G0ZxU_YC_pCgmETwWNQKyeMqLb9Afo_WSoi~kcK5mwaepLz96AHEmAzWJQblCNhundhnOIYTFLWoaYUoiZyKVqxNajkRLBqfLeA_V~XY63RaVZ_5uqXiFY9FQcJlZ~hsHZiI_RDCIltSgauR94_3h7k3Ur0Ts2TS0a6VcQhapaaEXbQXAWagljsKHmBJG6Q8si~QZ0gjexD0jjq_BBvn5f1XDDZAlXClyb3AIIft2tcTRMJGcxc92DYGECDFbBhYPEh7BeEeVYlvQnFBTeDy7Q9cWvIf1MEiKvwAQFRVJqyQa0uSEFw--.jpg
//media.inmobalia.com/imgV1/B8vEv5Xh_VThvnEqMx4G0ZxU_YC_pCgmETwWNQKyeMqLb9Afo_WSoi~kcK5mwaepLz96AHEmAzWJQblCNhundhnOIYTFLWoaYUoiZyKVplpYQThhvpYfE~OEE~wmGPzSt1ca_qea~2js8dxK6Ez2e1rY5drlgZA97g3oNZ1~tMF24socKt1XBQnbpUw0JuUYyefS6hNgXWNqtwal62UaRPnfxCFiEELhpzhRY25~u0lTRrtuSHVLXY_3hZiAsbdhUQQ2BdiIF9ChSoYjQVEQRPDZu30XPs~FmrnKfLIzeTMyJ8102WiECfpklKUvGxjmz_h83Q--.jpg
//media.inmobalia.com/imgV1/B8vEv5Xh_VThvnEqMx4G0ZxU_YC_pCgmETwWNQKyeMqLb9Afo_WSoi~kcK5mwaepLz96AHEmAzWJQblCNhundhnOIYTFLWoaYUoiZyKVqOVUrpGnLYvp8sXuTyKfB~Hfzbnpun7QtDsGgRFeuZEVcDQV_XW99WjkBkfTt0e168KLvWrQBAOid~AfkYz5RrXAzEfYterct5A4~Nute7kDrXjklebmZ_cz1Q2ZVfkNWccmir7uxiVA0Wf7__gBIuNPlY89sWIWN7xJGw8_Ba78FdD9n5GpJDwTXYpqeFKsyP2t_wsQrizGaH8ewyZEVuXTbsfIdQ--.jpg
//media.inmobalia.com/imgV1/B8vEv5Xh_VThvnEqMx4G0ZxU_YC_pCgmETwWNQKyeMqLb9Afo_WSoi~kcK5mwaepLz96AHEmAzWJQblCNhundhnOIYTFLWoaYUoiZyKVqOcIk_CUMaKk_3yaHCHDU~09gorlAvew~fZ5lKfMPGH5USYNq98BaQ_z0a1zAtnFwLINZpIbLNrCG7EojAlSzkDhb9FQGcga2UNhAbDQg6bVPsafqHw7leAzhyORQVaHUo2PlfNu0MMGi1wudeiHJZHhp5bYW2x8bLnc6NRGAU7DQJon0QTSe7c2vLisaiozT3B~abZJ5qTq~6T2~81Hc73otIT6~g--.jpg
//media.inmobalia.com/imgV1/B8vEv5Xh_VThvnEqMx4G0ZxU_YC_pCgmETwWNQKyeMqLb9Afo_WSoi~kcK5mwaepLz96AHEmAzWJQblCNhundhnOIYTFLWoaYUoiZyKVqOcIxZRLQSnAsIWfGF1Av2NhHW6VIxu0re7VlNfKTATj6kfiMuEtnWPEKH0qAg0RS8DzSrybcwadqimn9w2rt1PKD14j~wwNzX~LQ_CWjy_5rrrHRRQ~tjyL0tYFdydzLwJJFJoz7pVjoMQW3lxO0wI7S6OPdVwnClZ_Mb3SdBIyzAY3BO4wUi5cQ67HGjwCsc210kAdA936fLxOLYZB6m2jLuPm5w--.jpg
//media.inmobalia.com/imgV1/B8vEv5Xh_VThvnEqMx4G0ZxU_YC_pCgmETwWNQKyeMqLb9Afo_WSoi~kcK5mwaepLz96AHEmAzWJQblCNhundhnOIYTFLWoaYUoiZyKVrxlPgOEBdwVR9yWBzWdnV~0tuLst8krP5Mm2a5cO7i2ggtzbimcRs_okfeRx_ZP6HUGkSv_2cHv6~3XwHs0kMwv6juxkH4T0xnIP2lw0~SnvzDE9ad4r~yELcEA2SysGzqs_3VHu27AnvhN_Pc9que4vlG_KM8XiuDPImuvK5Wl5JacKtwrCgmxs02AKRfCNz6ByGQOsbqetbZFoSOLgEhpMk2AnpA--.jpg
King's Hills, Estepona
Villa
2.250.000 €
Contemporary style villa in El Paraiso, New Golden Mile of Estepona
Villa located in the New Golden Mile, in El Paraiso, very close to several golf courses, where tranquillity and calm reign, within walking distance to shopping centres and only a few minutes from San Pedro Alcantara, Puerto Banus and Marbella.
The villa, which belongs to the King's Hills project, a gated and private residential complex of nine villas, is southeast facing and is built over three floors.
On the main floor there is a beautiful entrance hall, an integrated open plan kitchen, fully fitted and equipped with high quality materials, a guest toilet, an en-suite bedroom and a cosy living-dining room with access to a large terrace, the garden and the swimming pool of the villa.
On the upper floor of the villa there is an en-suite bedroom and the master suite with a large dressing room. Both bedrooms have access to a large terrace with views.
On the lower level of the villa, in the basement there is a laundry area, a guest suite and a large multipurpose area ideal for a large games room or bar.
The villa enjoys air conditioning, underfloor heating, home automation system, pre-installation of alarm system and parking for two cars.
A great property ideal for long term living in La Costa.
REFERENCE

208-01271P

bedrooms

5

bathrooms

4
built

732m²

plot

1.000m²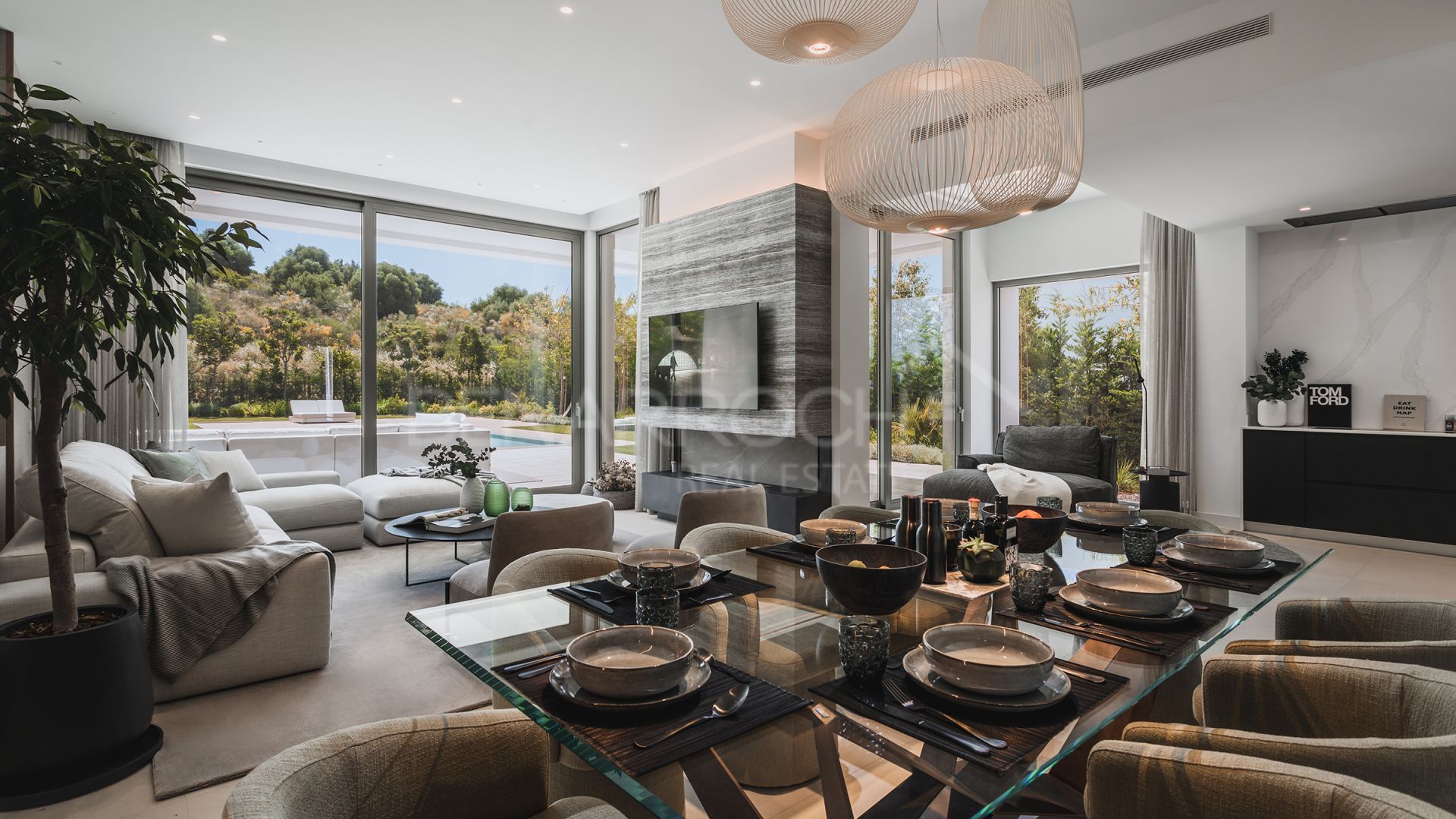 Video of Estepona Area
similar properties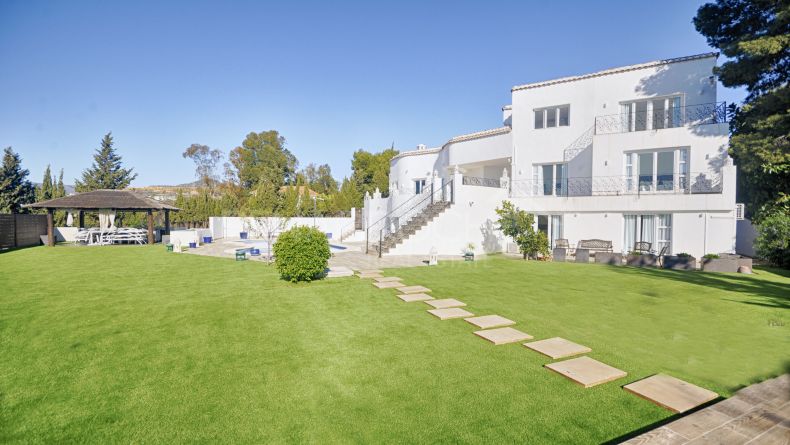 1.500.000 €

reduced from 1.700.000 €
Totally refurbished villa in Atalaya. Located in a very quiet area with panoramic views. Only a few minutes from Puerto Banus and ...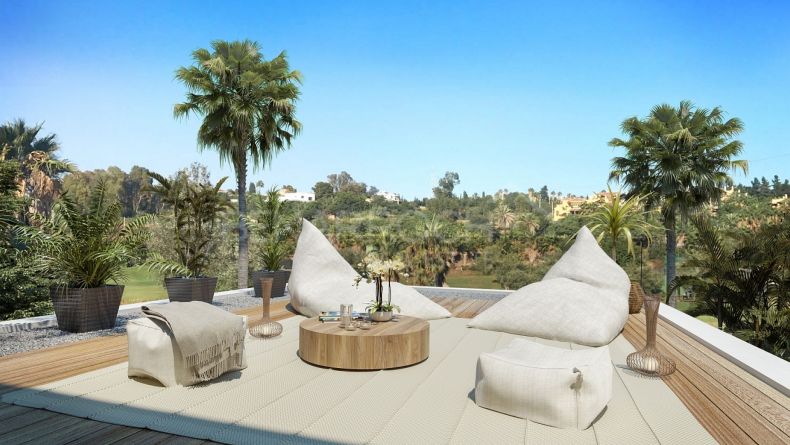 1.375.000 €
Modern avant-garde style villa located on The Sanctuary Villas, front line of the El Campanario golf course, on the New Golden ...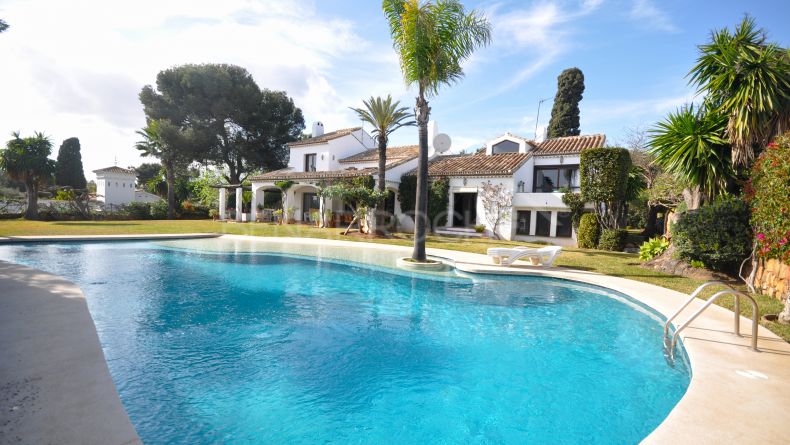 3.200.000 €
Very cosy property situated only 50 metres from the beach in El Paraiso Barronal, in the New Golden Mile, halfway between San ...