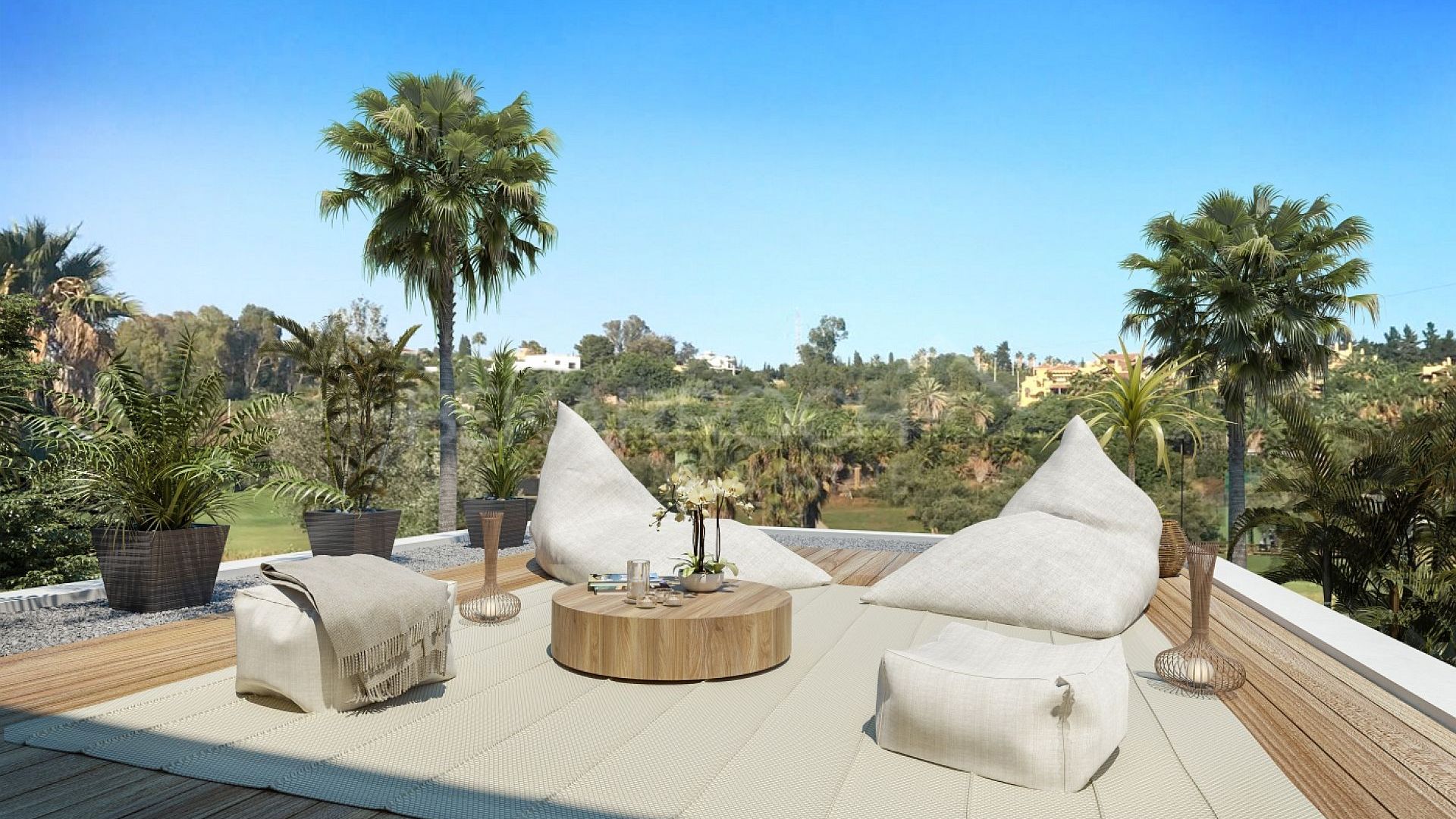 //media.inmobalia.com/imgV1/B8vEv5Xh_VThvnEqMx4G0ZxU_YC_pCgmETwWNQKyeMqLb9Afo_WSoi~kcK5mwaepLz96AHEmAzWJQblCNhundhnOIYTFLWoaYUmdIVOzRpqjuMs393vkjG6pOTdGMp7zRl3r87DiQsfTsEZNp3Jo679c85G2B9wbx9_Z3I7dPObVcIpJfRWw8ezGdLmcBpVuhrcF8xeYbknvDOQePoxMF~y3H56it0vyk0NMLMJoW64IaanetS4YoCMZ9LtH4kc0cxfF8Pj6Sa4pkt8WuX65j72dNpMCwEn_7kBg64kZK7wj4DxI3sPdpLzLn74J~ZxnoBSBqw--.jpg
//media.inmobalia.com/imgV1/B8vEv5Xh_VThvnEqMx4G0ZxU_YC_pCgmETwWNQKyeMqLb9Afo_WSoi~kcK5mwaepLz96AHEmAzWJQblCNhundhnOIYTFLWoaYUmdIVOzQLXS7s9Z8rTRwckbWDNwFhvQOeaH2Ftx48IM_8ylISZyjrLKVHZ5zypCpLsQqd_aqqFgCqxI8Pf~x1pOIZb5Qr9i~6XmJ_w71qQRvGDqm2KxgTQmq7JYdz~qnmyTcF5lB6DqhRQ6uDcbGsQ6AvNO_Sb1r9X3oxTYXJCdnjAt~huOUNUMKpoahPbFU3FMQJJZ1VqhFmCgHB9g2IOlL9RbQR8FYBf1Vg--.jpg
//media.inmobalia.com/imgV1/B8vEv5Xh_VThvnEqMx4G0ZxU_YC_pCgmETwWNQKyeMqLb9Afo_WSoi~kcK5mwaepLz96AHEmAzWJQblCNhundhnOIYTFLWoaYUmdIVOzFhLNJcF21yWhgGvNlM1XrTfCz4DYi2V6u0G6Wqo9Kezir8Wtk5A_XGdHMb1KW8c7d9uzFkqFipFdZvEwieV4nORWv0a6IghtdIO0AbZeMzKkWhArnFknZ3u5ty1H~KCvg6ULqeec164_sdWaTB5MWQATFbPMM_q8hvRW5K3hN~Tu305gwqpvAtPIQHjy5VPmGNIaCC2g8veRjPiAYemXCbzTQvtTpA--.jpg
//media.inmobalia.com/imgV1/B8vEv5Xh_VThvnEqMx4G0ZxU_YC_pCgmETwWNQKyeMqLb9Afo_WSoi~kcK5mwaepLz96AHEmAzWJQblCNhundhnOIYTFLWoaYUmdIVOzEfPqLXtDtMpleI~fkNDilvgny_aCVc9g9IZJOSrGcEKX1p77acm7rsfsdpKXBpBCycI603nulnRxnCeK~10a27G9VVO8xQq0ibOP3QRJhFtu_PhJGPSUafsTGagLvSjwAR2D07PJPIpnJbsieWiusS_kQJlRSyRf0Rsh2FqIMMNS70PTC0zmpmAhh1w1ElZr3bbQ8BWD~R5DJ1LiyDEZB8WlV_F3tg--.jpg
//media.inmobalia.com/imgV1/B8vEv5Xh_VThvnEqMx4G0ZxU_YC_pCgmETwWNQKyeMqLb9Afo_WSoi~kcK5mwaepLz96AHEmAzWJQblCNhundhnOIYTFLWoaYUmdIVOzRzgf8BfhlEMM~VxhzRi_F57qWS74OG9PgAoaOtDgZn1hbBmKiAMA2j4Jg0i7o3f7MEa_aq93SdaM5qHkWSyKDBZ9BbT4cAfMPH4gyEo17rQ~NQn7GpXsSzZky0JYSFr0Xt33uIkujcItTSC7pxUGILAFqrmiahRtWi9NMmLZBIPB4pQuMEt4nAsdmlTVNenwVDUsHQa235076eVlefy~j~aWdxEVIQ--.jpg
//media.inmobalia.com/imgV1/B8vEv5Xh_VThvnEqMx4G0ZxU_YC_pCgmETwWNQKyeMqLb9Afo_WSoi~kcK5mwaepLz96AHEmAzWJQblCNhundhnOIYTFLWoaYUmdIVOzQLZfshRq8wCeDg9MCrpGMaiozXSwmMpCO68yTkMVxD6Zcrqaurrnbx4YLlP~yg0nhAKfj8O_9YIOOn0eOkvs6AdYrSC6sy6ZwTFlFIYCEL2~WUwFqnozUCkFpZVmEubLZ93nBze782c7LXhUNQ1xpjNCz8zNwgBEjkSQdKFkcm6GZHCtnMD7DOx1PJc1bFcOZfleTwxuYS9N7cR5fu8RINbxUCwOHw--.jpg
//media.inmobalia.com/imgV1/B8vEv5Xh_VThvnEqMx4G0ZxU_YC_pCgmETwWNQKyeMqLb9Afo_WSoi~kcK5mwaepLz96AHEmAzWJQblCNhundhnOIYTFLWoaYUmdIVOzQcQe42pizDzUGSW27l46VQNOm7EjmJARcUw8YYa7_0NRlqRV2onrt1ZV5FwdVbkTCPNIkusaNzIM7re8dzpz4YgYNNoOxCbqBAjqucrKXkD_bTNANa7hje_Uff__vr55bN4_eQMShmeeGyVHelZf0AY2FsPKkGCJNjEWaSrx4FB6mPAImzBXkZYllF35g6jijxSTNNzvvzmQvf5YBRQIyGxsDQ2ETA--.jpg
//media.inmobalia.com/imgV1/B8vEv5Xh_VThvnEqMx4G0ZxU_YC_pCgmETwWNQKyeMqLb9Afo_WSoi~kcK5mwaepLz96AHEmAzWJQblCNhundhnOIYTFLWoaYUmdIVOzF1Y~cuOBBchh~2kXRW9MAy0YbTWRb1zC07kU2ATx6xk0MZYLY3BKiXzBuyw_HUTUCUW3JWFQTw7Q3OhMXG4mnLTvOAJ9iqjWrVMGRSdfjNVIB9u3tpyhOiHpeArG7lt0p2GVcGLCpAjSwsSBOkfc0vJYmLaqLQ_9xGlIig_r4aDuW8Tn4zOJaDRmISn8dcjFX2ydMbXOSDqn1C0Ggv0AXc~fJ3g7zA--.jpg
//media.inmobalia.com/imgV1/B8vEv5Xh_VThvnEqMx4G0ZxU_YC_pCgmETwWNQKyeMqLb9Afo_WSoi~kcK5mwaepLz96AHEmAzWJQblCNhundhnOIYTFLWoaYUmdIVOzEaqBMV4MV_GR09WNd8KHSCxQ0A2Nzmvc3iHsDED_Ee47fcMh5cYQUhnjpfPz34bddzTmhne9czGJuh9Sfvr06EgjspJ84DVOxv_dPUtFcmI2pT4ZGb1sZrbni~W4QwErMzo7ZddMB8WLx0UtMjTLRhYDRa8ZUYRlELGMXbhf5i4DD6qjYSSFr31aAEIBxcyVDP7uTlniTaOcSCUQ7kYm1NVP1x_UWA--.jpg
The Sanctuary Villas, Estepona
Villa
980.000 €
Frontline golf villa in The Sanctuary Villas, Estepona
Modern avant-garde style villa located on The Sanctuary Villas, front line of the El Campanario golf course, on the New Golden Mile of Estepona, just a few minutes from Puerto Banus, Marbella and Estepona, with all kinds of services in the vicinity and the beach.
The villa are developed on two floors and basement.
The main floor has an entrance hall, kitchen open to the living room from which you access the pool area, covered porch and infinity pool. Bedroom and bathroom. In the outdoor area has covered parking.
The upper floor consists of two en-suite bedrooms, the main one with a dressing room, both with access to a terrace.
The basement has a bedroom, gym, spa, bathroom, room for facilities, a large multimedia room and patio with Japanese garden.
The villa is equipped with hot and cold air conditioning, underfloor heating on the main floor, floor to ceiling windows, floating wooden staircase, fully equipped kitchen, suspended fireplace, gym, sauna and hydro massage.
From 865.000€.
REFERENCE

208-01150P

bedrooms

4

bathrooms

4
built

548m²

plot

517m²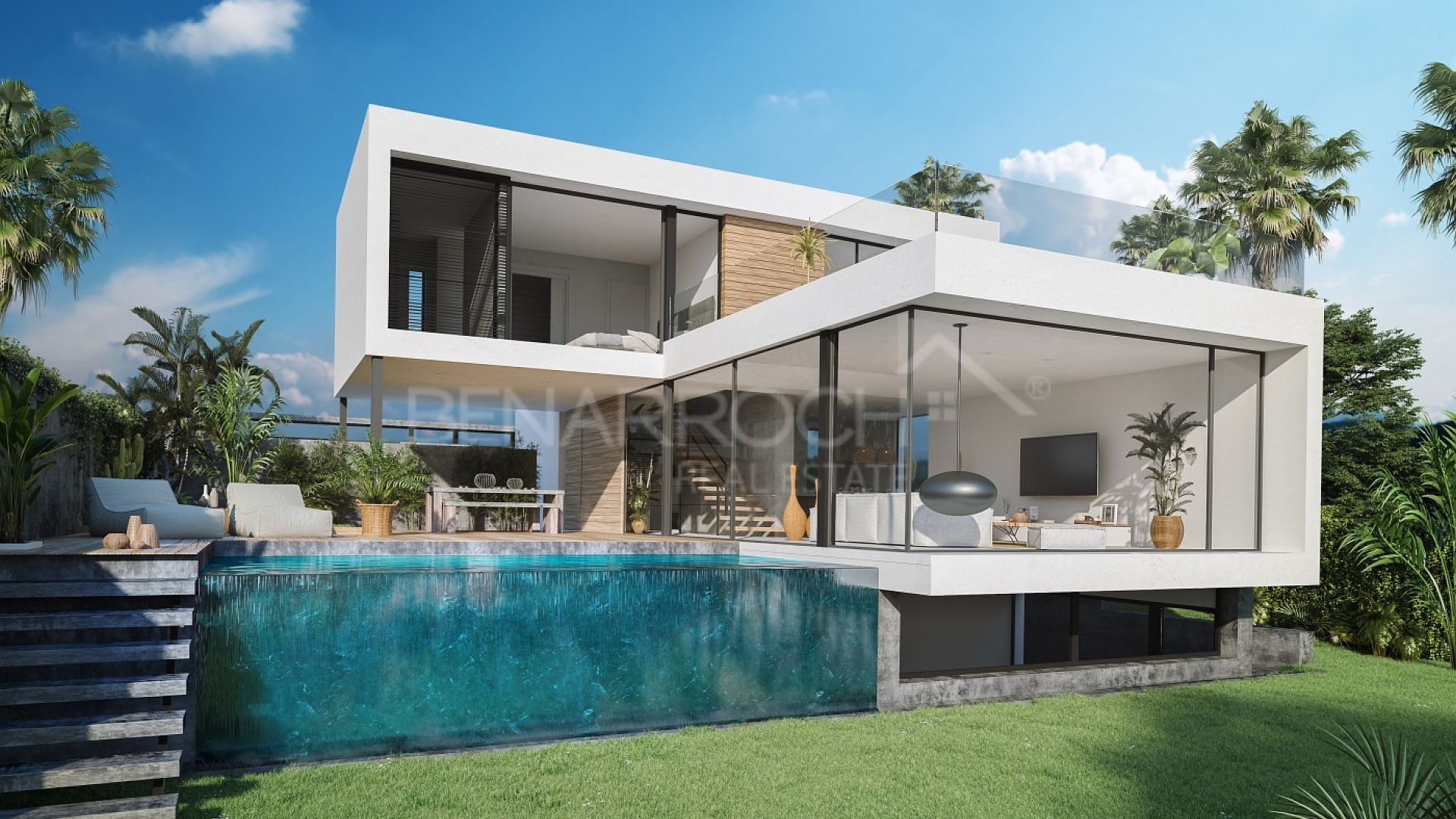 Video of Estepona Area
similar properties
1.595.000 €
Villa located between San Pedro Alcantara and Estepona, in the El Paraiso urbanization, very close to the golf course, where ...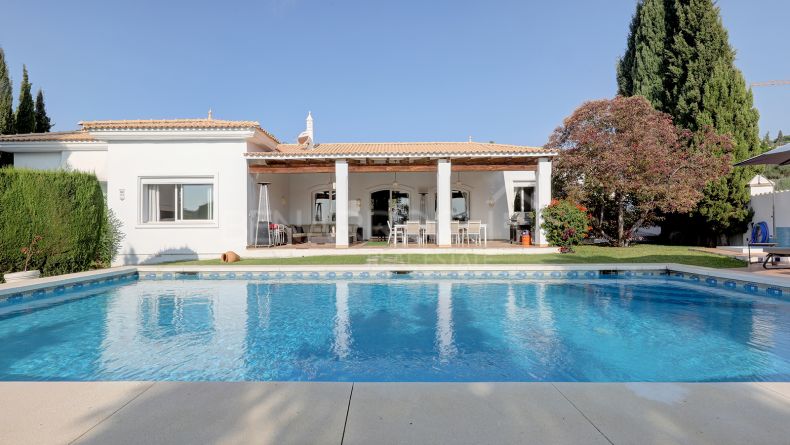 1.298.000 €
Mediterranean style villa overlooking the golf course situated in El Paraiso Alto, Benahavis.Through a nice stoned road we arrive ...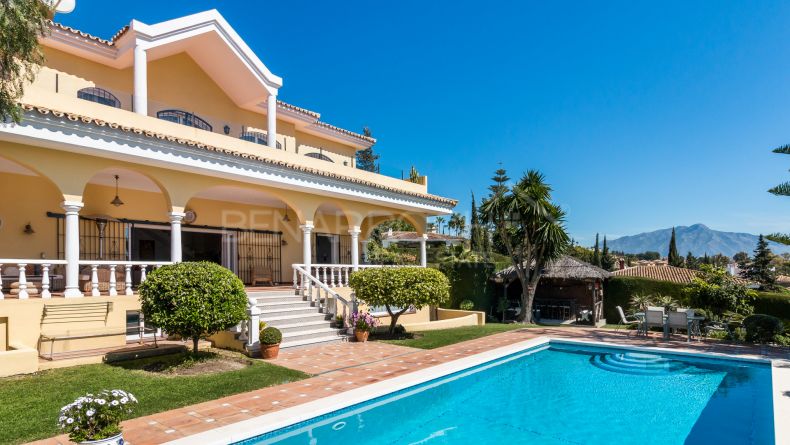 1.695.000 €

reduced from 1.875.000 €
Andalusian design villa with modern interior located in El Paraiso Alto, Benahavis, an area near golf courses and a few minutes ...