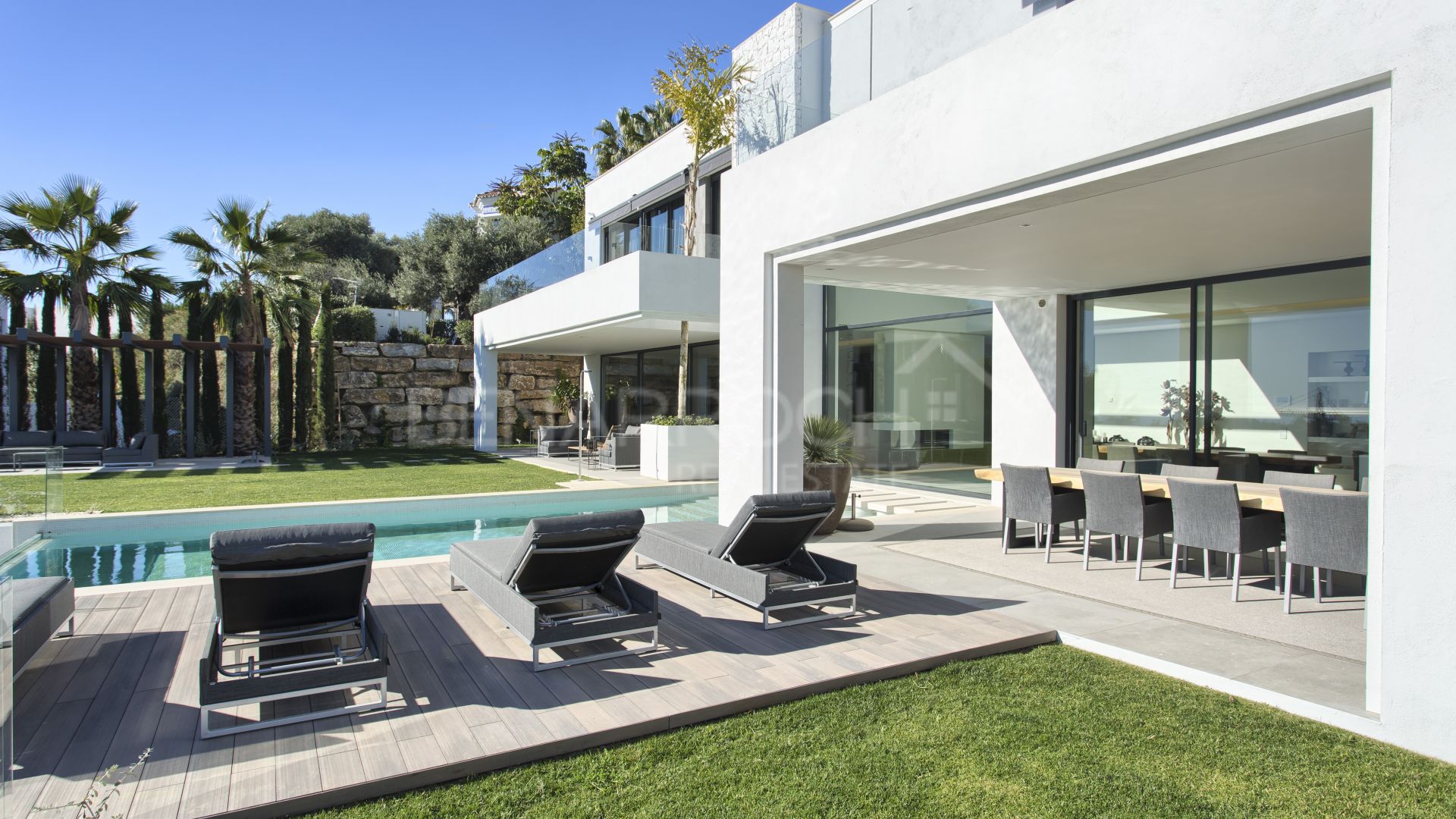 //media.inmobalia.com/imgV1/B8vEv5Xh_VThvnEqMx4G0ZxU_YC_pCgmETwWNQKyeMqLb9Afo_WSoi~kcK5mwaepLz96AHEmAzWJQblCNhundhnOIYTFLWoaYUmZEqD7k6EMDShNGaflqaPq9VZQDYP7zJJ9NA~FXl_OAgrD9_1Q~cOOW9DjeTNA4MhpLa0qb3z7Rtfp12TRBdfpU7Nx7VfzF8EfWBpeuw9k9taA94Mrmj68ttyZL0gIQiNSgXrTaHxTziWDRuE2XfIa1Vd83X5SlJ1la9s8B0HEwcmKk8iXgDNgVOmwe0S8~xTiDg0pdi5FHp3elst_E8BraeBtpWWmtA3hog--.jpg
//media.inmobalia.com/imgV1/B8vEv5Xh_VThvnEqMx4G0ZxU_YC_pCgmETwWNQKyeMqLb9Afo_WSoi~kcK5mwaepLz96AHEmAzWJQblCNhundhnOIYTFLWoaYUmZEqD7yS2o6Y3XSYJY8iawHOKEt5s_0VCu6qGZXavn7JAaZZTIJw9bXrX1j6dXv6QOnoc11tSrbq7DbZgpzoYoxw0rXcatvgLYqkiYzhLACs6GhIphqUL3Tv2qXJh83caG9rhn7BK2FK7W~wBRQcCvV1AYrhVuloI3a3xPPw_p0w4Pb2TUVepQYqqphWfwwIxh7RWbt9qmQchoQLHyHKruHRnRgyAePxB0vg--.jpg
//media.inmobalia.com/imgV1/B8vEv5Xh_VThvnEqMx4G0ZxU_YC_pCgmETwWNQKyeMqLb9Afo_WSoi~kcK5mwaepLz96AHEmAzWJQblCNhundhnOIYTFLWoaYUmZEqD7yS9CUP179opvw0XIY2npuRu4L6Nu_ClYyt4R9p8C0cm91wPsvfecHaYPNrIfKBYpY5Cf7WbtXwz_shpQNL~OVVG_4jKVxSgsNmQfOtrGQ5fW9rTZqcv9~RFJGAVmAndCvKJybzDb194fJY6YorrV6g609B4oOoTeVpCojo9cwiTnx95VqXjM7XSognJxBTucjUAV7h5Cj9DeoAQ50cH_4vtxKncxZQ--.jpg
//media.inmobalia.com/imgV1/B8vEv5Xh_VThvnEqMx4G0ZxU_YC_pCgmETwWNQKyeMqLb9Afo_WSoi~kcK5mwaepLz96AHEmAzWJQblCNhundhnOIYTFLWoaYUmZEqD7wQ1SnJWXVaQ3rpH_xCTZZPe4S6A77~unyJ2w9V9oeNq_FeOvXxfTKSLRiS1Uaolr5uJvflDTH90Y~dCexGKORqjrCx5z90vae578C0vwjrAUop_P4iiXoGaW1T4zH672TcIFDkvU4xXFtdeEr_wYRFunhERK25AGKnT6rNfHwkQmZNIoASsYxeewX7vrsA~pPuUcku~uYzg7F2iMopwBtPpwf7xPYQ--.jpg
//media.inmobalia.com/imgV1/B8vEv5Xh_VThvnEqMx4G0ZxU_YC_pCgmETwWNQKyeMqLb9Afo_WSoi~kcK5mwaepLz96AHEmAzWJQblCNhundhnOIYTFLWoaYUmZEqD7wD3MnBxhc6a8ec4blH7qz5CbSuda39DInDpxLahMBF1MU2iRYXZyw6~yy_v9FeNtsKYds2VJPAxJGVie2ukqStLruUQgAR4dLtA72b5Q84z13~dOIH93bmiW4qZAamJRxFClgFu9CYubHIwN3~9ggWAgXMwf7jAxrtUEf69efymQpMdvVVsOF3ujjS4UiVTDBTRyd4j7jfTUKJSHoFLlTFY0UCzALg--.jpg
//media.inmobalia.com/imgV1/B8vEv5Xh_VThvnEqMx4G0ZxU_YC_pCgmETwWNQKyeMqLb9Afo_WSoi~kcK5mwaepLz96AHEmAzWJQblCNhundhnOIYTFLWoaYUmZEqD7xsTimCsNh7OZyTeVExGXHgP3ALjoovZ612N6nzCLRqQLjdzECAmnRs7kEbY9kiUW6TVsOMgANakghxNtK5_2t6NOuaK30jINItN_8zTqIPNau6c92VMeMMNZ_SCHqovET7w0EwJ6r_w64pxDvamvGa0eN9iRrNDptv8M0UPjcjWbqujh5NZSrW7m0yoyEdVc86BmxDVzbgUBOsEr4xvqHPh8xZ5Npg--.jpg
//media.inmobalia.com/imgV1/B8vEv5Xh_VThvnEqMx4G0ZxU_YC_pCgmETwWNQKyeMqLb9Afo_WSoi~kcK5mwaepLz96AHEmAzWJQblCNhundhnOIYTFLWoaYUmZEqD7lYeqY8lfKH7XhhQkYHXaSSSYnD43bIzGotyQruwh53rdiB6Df4_5JAj2kJV4yLUR_L3_q140TTGNSTRVhO~ldFXArXNhiXsnCzXAKDwH9QK4y_l~d2O5y5DM519wUO~4QQ3dswmnfWquuWs1DI_QkKCIFeiM6BEnNAniPIAN4WV8JfdrIICVjlrHuGKyP_nsVPbETmftFr~v23aXMykFuNHfEOB9Mg--.jpg
//media.inmobalia.com/imgV1/B8vEv5Xh_VThvnEqMx4G0ZxU_YC_pCgmETwWNQKyeMqLb9Afo_WSoi~kcK5mwaepLz96AHEmAzWJQblCNhundhnOIYTFLWoaYUmZEqD7wQeUoLGu97YsCw89kD1j1MezJ6m2Wlq8m~1Ikg7_AhqSlo5ThQK~A2BYLaofpChe0JpaFhrlT5wmsVcKuruZUp6MUKD1I7GBOjqAFb1s5VSuACwXdFZEh2Ewwj6wr6eHHBNxjUllKWstGm9ffVn5em7CMKekSP76zUundTB5kran4~sb4AtVOVbTx~FnljoURDroWgh5LVKLVB6p6GWVUE~20DQBjg--.jpg
//media.inmobalia.com/imgV1/B8vEv5Xh_VThvnEqMx4G0ZxU_YC_pCgmETwWNQKyeMqLb9Afo_WSoi~kcK5mwaepLz96AHEmAzWJQblCNhundhnOIYTFLWoaYUmZEqD7w~BIWEn5DPE_ptTlidnVHgqLPMzMxjPSKkBUYx7qHVeEEZ2Fg_M7OMe1UFO5MiiL6kaolGpRgyhf~MIFweRvUIBNz3AeGHueJv1Ivqwtc2PC1ahsTEWUhN6Hp9zkFQhk2erLkxuEGNqNG6wxN6ndJ1cfnjYuis4ARGjKwns3bQEgRrL57SkTyS7JHZh45lQvCQRM48F_VzK2F2GWXIuJIi5DF8fpAA--.jpg
//media.inmobalia.com/imgV1/B8vEv5Xh_VThvnEqMx4G0ZxU_YC_pCgmETwWNQKyeMqLb9Afo_WSoi~kcK5mwaepLz96AHEmAzWJQblCNhundhnOIYTFLWoaYUmZEqD7k~tW5AX3lDGbQax~f_xb2HS90nAfH6WrMx4s2WmQUR_Btxqh4tJlFI7JZX0DbHz5AUMJTKBEEQF_ivtvUtw89CZKjXsFINLrTcYYF9np1oursD6WnczRHcG2QYtz~fOT9CA6BjZQZW_kW5HGJQTlw0eTc8tj3IkPx2MmEbXfKIQh3fEfTu1vMQpKBW~774Q6EB4dhajAlnx99OTX2nVk4ZJaHxGP3w--.jpg
//media.inmobalia.com/imgV1/B8vEv5Xh_VThvnEqMx4G0ZxU_YC_pCgmETwWNQKyeMqLb9Afo_WSoi~kcK5mwaepLz96AHEmAzWJQblCNhundhnOIYTFLWoaYUmZEqD7lKh8gM9K23d1Xg83ijg8X0yai8MvXsaJPRCY~f_9nJZyvYdMIGmvLYS~CmT71FDYXY38yb4tgdUUabLPvG1beE9SPQZbSO1r2CrzjsLnHYFauTu_QYcAVle1xzrPhQKwaa66k_MbOMgglWcPDaBMcTAekw3V6d6eobVWc205_VI91WQpUm86cUuzMEAHlzPecLhWlPyh8nkHSfsc7f5poHmYgjJu6A--.jpg
//media.inmobalia.com/imgV1/B8vEv5Xh_VThvnEqMx4G0ZxU_YC_pCgmETwWNQKyeMqLb9Afo_WSoi~kcK5mwaepLz96AHEmAzWJQblCNhundhnOIYTFLWoaYUmZEqD7wDCwWzVCfI9hMcd1uHb1iAmjDvjVTC~tOA~tFDrMKvrom5H9RyVhWuGkOgG_gknBsKARudM2lsS3q1GvS3tE2OTmY9pIUNBc2yH5niUz6xl903E0751~VSyUxTt2IWnxUpjTnYQqJ~5HiyP0DdicUVCAyjunrhMia13XAN61NyrNx3RkVTF3Km7i2c2itI3q1YUMXlkjn_QiV0QwyKxgmENXC0pBng--.jpg
//media.inmobalia.com/imgV1/B8vEv5Xh_VThvnEqMx4G0ZxU_YC_pCgmETwWNQKyeMqLb9Afo_WSoi~kcK5mwaepLz96AHEmAzWJQblCNhundhnOIYTFLWoaYUmZEqD7lYazR8PEge3_kUzAuhd7KxjuKyIrmnx8La5kaIb8eTk2UjlKyAtnZRHfIs3KkoOXUlJG0Ec~B9h~BgpgFnO0FW0PjNWQKAM38x05R2_aBc_EDM6vS~RpXTTmE0_iKF32~YjhSyTa9rrRpHHVQ7HbN0nUz13hIe3GaOwl15zK0A8OSaqm88Tra~xA7Qi0tyKA2q8XAvijkKarqJSITdTYnfxh4qmpcQ--.jpg
//media.inmobalia.com/imgV1/B8vEv5Xh_VThvnEqMx4G0ZxU_YC_pCgmETwWNQKyeMqLb9Afo_WSoi~kcK5mwaepLz96AHEmAzWJQblCNhundhnOIYTFLWoaYUmZEqD7wDNaFs9jbXBti0CaLpfh2q0x_hvUwWUfnGnYcImbg1tcdrjoQnmBU6rhc_BY5VEikJIDuBGvNIWdwz3fY7gyTADtUnyWMfiPWHhrXdhkvQjlvlUqnUeAAfMIkuGXBAKI8w3znf~Nwj3NPT5UX_q38wwEMD2xVXE9QwW2KMc2SYddVicJwNcm5J1sEGXi2NMok0zX0Pqa8SaCBtIiYwNFO8hUN1IF_w--.jpg
//media.inmobalia.com/imgV1/B8vEv5Xh_VThvnEqMx4G0ZxU_YC_pCgmETwWNQKyeMqLb9Afo_WSoi~kcK5mwaepLz96AHEmAzWJQblCNhundhnOIYTFLWoaYUmZEqD7yX3krpzen6UDwodgk5xWwRFmpEo_uef37vbrNl3YuVgoIlClpkqx36A9GhA1_wlVdHwdO_CB_h4XEYE9Gq48wTyVWTiUfDNvyDt_6RuHXzl2dQHNSb8XBwPsTVks_SRC6mp4bdOsk_TgDCzagmF9zwZQyR0jd_Rj9xK~W1cj12VIUP9lsRipyxIv_NNZLHtnevc8uAC_BsOXOt7KkOlJ6TAKa2j0KQ--.jpg
//media.inmobalia.com/imgV1/B8vEv5Xh_VThvnEqMx4G0ZxU_YC_pCgmETwWNQKyeMqLb9Afo_WSoi~kcK5mwaepLz96AHEmAzWJQblCNhundhnOIYTFLWoaYUmZEqD7kHrNhfxBay~auU68KESjAXDkGIhDWVmEQmTXsm4ElxnN9GG7cf63edKhv2mEcf0zUAc94vQiGd6dT~r~HKMvIdxk91eo02dfTczGMkdAwnxbiHo~NCkYM~JUfoYTDY7YKpFFf8EBQzAyWGA9wsXGZfDBPbkEaxxIE3kcVv6gxrgWYErvfWPUpmqEfQwChwODyGgO4FpmHFXjS04IGnSZsjgpCC3jJg--.jpg
//media.inmobalia.com/imgV1/B8vEv5Xh_VThvnEqMx4G0ZxU_YC_pCgmETwWNQKyeMqLb9Afo_WSoi~kcK5mwaepLz96AHEmAzWJQblCNhundhnOIYTFLWoaYUmZEqD7wVUl~Tl8986OO9fMIf82~ICzwvDVqb8eSpxiYgoZ~z~AD6NxuSIZMaMDSfqv37oMV1G63_~~GEj_IaHjuNQGrvPsz~_Yj3FK2CWIYkrT0LBIlk1Lsm5dcT7YgpFse2jsT6FikUXgtTDXY6afgXoqz1yGPH3Zz4PGXRIV3JX4JDLcU9I37XGkhRavaHcREtEqKv0plmStwcHxsZ9~zOzYEriVZOEUdQ--.jpg
//media.inmobalia.com/imgV1/B8vEv5Xh_VThvnEqMx4G0ZxU_YC_pCgmETwWNQKyeMqLb9Afo_WSoi~kcK5mwaepLz96AHEmAzWJQblCNhundhnOIYTFLWoaYUmZEqD7xpYqBxY6RsXzgIs0L7QAJggmFD3ebsvdVKZ~uQ_9KacXVLCvDXn_gloUVVXGqbQZV3BmLf76kWdZxrszQeLYgdnrothQJhBzHvFHC3bIkmScCqShl2zT0ELvNrSfPl3mPdD86r9ZYDE0wWYDWUt6omFbMs~IiKtWvg9juBl1HQZzWYtunqxhsy9~DaPh~1qHpxgEAh~TIyoH5Ya0s4Gao1idLASsVw--.jpg
//media.inmobalia.com/imgV1/B8vEv5Xh_VThvnEqMx4G0ZxU_YC_pCgmETwWNQKyeMqLb9Afo_WSoi~kcK5mwaepLz96AHEmAzWJQblCNhundhnOIYTFLWoaYUmZEqD7xG8iEZre~W84HZj7TEuy6vYYGCmm2Xo_DBopmg4p6cQnOsRrYX3ZfcOPoPNkvLdNZEzvfCDrMuRr577~Gf46b41rNEldsm5dnz0evkIueDGirA3UPb5CVktKhJ3DYp9Qv1EkDkCqYpXCF~waMXcWFNrVYEw~ZxiQaWf_VBVs1Q8YvsRBk2xUyeUaOMlB0YRYF0L6Y7o6Vyud_MQSj7NN1yAibi~6Ww--.jpg
//media.inmobalia.com/imgV1/B8vEv5Xh_VThvnEqMx4G0ZxU_YC_pCgmETwWNQKyeMqLb9Afo_WSoi~kcK5mwaepLz96AHEmAzWJQblCNhundhnOIYTFLWoaYUmZEqD7k~64mni3CB_m37ZLUBWZxsFlZEyjFuXxfIE8HAxEDosXIldvnxTd~O2Hpn_2bFKw3EGWl8TNIetYO6nzkW4gzSrgVoxxFjhPNa0m0OUKISV8rVtJONf1Wde4V3icsAGhtTy1022O1exTnosLX2RlMoJtY3XjTT67xw9oP7nhGb1qCwJOcD1nNBACj_V54k5~f38XLq_TmUGsnDO_34DespRJOmh_rQ--.jpg
//media.inmobalia.com/imgV1/B8vEv5Xh_VThvnEqMx4G0ZxU_YC_pCgmETwWNQKyeMqLb9Afo_WSoi~kcK5mwaepLz96AHEmAzWJQblCNhundhnOIYTFLWoaYUmZEqD7lP~Z5Kg702QVFs7ibeceSJC1Og8X4uBFY983alYfJ1VNU6DbG0gJFT8itAKJDnScU7GRpz4U4TQktCYUK9uhQa4ZGODkQbIIK5UaveLxYdKQYFXUAECkywvBBXfYNgckxhfweqKpLL8TXVI8YxPNAGudcOIew1FOWVGm_itwlNXbkWMw4hhdy0oRKXr7tAW2DHgFOXNaX5Is8YI9Y7pqLezviKP0_A--.jpg
//media.inmobalia.com/imgV1/B8vEv5Xh_VThvnEqMx4G0ZxU_YC_pCgmETwWNQKyeMqLb9Afo_WSoi~kcK5mwaepLz96AHEmAzWJQblCNhundhnOIYTFLWoaYUmZEqD7xanKbDjGtWHa~Wb3Bc7z3T3PGepo4SLC84IKvL5Q0hQfXNi1YCIuB6BeqrX6i7JdGHHhmhbhQb~kxSoa8HU2QEOcLtGOXZXGrayAOw~WeWX86DD40kCzdOT_Q6BkD02XboeLICWPlsRUxsmMsmSITdtF1WLmaCCqm7YR5gbSPGl8jfAsNDHaM6E8EfoKJAqynKpCzdYrCFhtFwl86MX7Fzemmc5uRQ--.jpg
//media.inmobalia.com/imgV1/B8vEv5Xh_VThvnEqMx4G0ZxU_YC_pCgmETwWNQKyeMqLb9Afo_WSoi~kcK5mwaepLz96AHEmAzWJQblCNhundhnOIYTFLWoaYUmZEqD7xpLxrxN763f7CSAm6XNnSCqYD5nYpHxnWiXhM8GMvC3rdOUoaJBZEaUCG0ThohTPkHXAz~44lrn0ekP6luda56yfmQOkydmMDOLiv9dRNtFX0iR2xxtOSEhkhsko4YF6ID3jVoIcOaFTwEhq~iqQ_rTokZxfPDo57Q_FMv8UAw9CURVZbAGyYcFrk2tYZ0c~9kxL9QUmwaDOJOU1aXeWmtyz5sG0HA--.jpg
//media.inmobalia.com/imgV1/B8vEv5Xh_VThvnEqMx4G0ZxU_YC_pCgmETwWNQKyeMqLb9Afo_WSoi~kcK5mwaepLz96AHEmAzWJQblCNhundhnOIYTFLWoaYUmZEqD7kCoUZxmHSv~rya_Zx6lH8M~J6G8QSFgV5UinMFsJjZOGU9bRK_s46zW3PVOfKPn3IcC1X~yqRfSpa0kE~nI4LdD103LI5p436UOSE86O0y~dYtx9yg0EhFQiESgKyF55~oaPHsovc1Ijv0WMuvHcz2PHh3uJVJdaL0kaADUGdxZ7Ofgig_wLgNA1jHItlUEwZDy3eODxZj3diBsYqij0F4Gd~~7YFA--.jpg
//media.inmobalia.com/imgV1/B8vEv5Xh_VThvnEqMx4G0ZxU_YC_pCgmETwWNQKyeMqLb9Afo_WSoi~kcK5mwaepLz96AHEmAzWJQblCNhundhnOIYTFLWoaYUmZEqD7yBreha84rqDAVjtQ7jv_1WV9zjgp4XzYT_TeFpE~6edMNifPSlSH7Z1untKHrdkHs7S1E4MG89UBexeNxbkuTvLb8oSBAV2u0vS~G0VIvcdZht2EqapPrjB3nq5B89htwpQu6REGh~u3i28VriACvon1fT40fB8sSq60bytZ8e5a8ZEOtPrwHgVYk_hdHbBkVLmRaZ7ITIr957L~CABBFK4V8uI0BA--.jpg
//media.inmobalia.com/imgV1/B8vEv5Xh_VThvnEqMx4G0ZxU_YC_pCgmETwWNQKyeMqLb9Afo_WSoi~kcK5mwaepLz96AHEmAzWJQblCNhundhnOIYTFLWoaYUmZEqD7xGWDL6qvYsXzntINa3EMmzsrdaD3Qfpgr2h5hO3QLs2cJ8L85sZavYO86hT7ryWTOESY3UlLJZneQFf_8Q0jz_n1nESiRkUoq2U~qMeldDHq0ke8vPtG_MpZXA7ksIdpX6_pFfeFFbtLEu2HAHoDqbmC7CKRkCrJpWn6YJyuOVccUkrFnaG4xK_AIEbi7K6N_hbAisglwxdeVXNRBivbCyEOoO0tyA--.jpg
//media.inmobalia.com/imgV1/B8vEv5Xh_VThvnEqMx4G0ZxU_YC_pCgmETwWNQKyeMqLb9Afo_WSoi~kcK5mwaepLz96AHEmAzWJQblCNhundhnOIYTFLWoaYUmZEqD7ly47kq4sTcVOcd3vn6Qi7~jI3bzvfoiklztsfqfHJfaroz7cy8ubwUV~cse5K4SyGOmgiHcfRlkeRtb24V9cylIzA00B7VKnMcRoBQLKOPqLmPDXGUbrKTyYVrbfRsLlHOy3w73DLD02FY7mH9ESVUXeZjxxbR_fQejRoQufHYY5YpnHM5i8IN1MmOMz09yqxevxb7bHxLVhxm~Cd~gNt97fRBm~XA--.jpg
//media.inmobalia.com/imgV1/B8vEv5Xh_VThvnEqMx4G0ZxU_YC_pCgmETwWNQKyeMqLb9Afo_WSoi~kcK5mwaepLz96AHEmAzWJQblCNhundhnOIYTFLWoaYUmZEqD7ySrZtO9fg70DdSxynRqWcHX9oOWa9ISVkHCsQLm5_YUH5T1b46XQI_JOUQsukwNEOJxmutChFIvVZj4ogtRNGObTQj0tlWhMmBediZy2at84uxMSIQuf3anpEmlQUEdB4Z9XyiIwe77DuVMpmksQN0HicaqyCHEvOq3e5Xubcqm4yI2GDpFDMGUH2~MHTDRAV4ugnIEujOJaU52UeYsfjHxHzrLz5g--.jpg
//media.inmobalia.com/imgV1/B8vEv5Xh_VThvnEqMx4G0ZxU_YC_pCgmETwWNQKyeMqLb9Afo_WSoi~kcK5mwaepLz96AHEmAzWJQblCNhundhnOIYTFLWoaYUmZEqD7xamb_UxtfGDBrMn4BDb_MxBGsNpdEP~8sTyeFfXf71ti1uf6_2jFiAJdHvML_CW8stneQTvrVrHS2k9D5ewbCEG7458VRPpRVp3uZCleDXqNuR7X0UCBmoy7d2rBa13IZEbAeCRd753ItiMTxQkiqR3sXYS6mkpBmpgxkJsQlJTXdLDbc~kU~ARda6dV984PwFV6cvn5lWTk3NEk2qG3SIala2drPA--.jpg
//media.inmobalia.com/imgV1/B8vEv5Xh_VThvnEqMx4G0ZxU_YC_pCgmETwWNQKyeMqLb9Afo_WSoi~kcK5mwaepLz96AHEmAzWJQblCNhundhnOIYTFLWoaYUmZEqD7wrXdp026EryKXWfEtNiRsH05lUS2vRhMxHe6bins2mg7CXmNI80XDw2sUB9Oi51oj3AEA4~Pr_Z3Ky~kLaiEj2uvlVaDkd7i7zkLBTjkFzJV94dvRYenvagkMzjBKtJBBpSf7gOG_~brJ7MEHs_7kyMWE5CT_CpQAAQ4__QHaZXBEQL2o57RECThywgmRvKOyf5rYOG8b8IQiOudtO7Iztm2jSySCA--.jpg
//media.inmobalia.com/imgV1/B8vEv5Xh_VThvnEqMx4G0ZxU_YC_pCgmETwWNQKyeMqLb9Afo_WSoi~kcK5mwaepLz96AHEmAzWJQblCNhundhnOIYTFLWoaYUmZEqD7wuRHvU5eBt5eGm4PS5Fk8jdsXahsqEFBd1eYkHOVDzJU2ZYHrkDhXQ9Q5DXtBFrqZ3mjTz_FrZLuWpp~IBuFA4TSJFu2qYrjTtmg5t_VQDwTT~EBpH5SQ2zxBKYuxMMOvo2qP~0OexE5U5xh2~jP_2qGJV8xzteumdm3KA5HM4ilU6L~DFmV_cMhj9gdKZgEzX659bNJptu~GWA8DFmjJclmERY3eA--.jpg
//media.inmobalia.com/imgV1/B8vEv5Xh_VThvnEqMx4G0ZxU_YC_pCgmETwWNQKyeMqLb9Afo_WSoi~kcK5mwaepLz96AHEmAzWJQblCNhundhnOIYTFLWoaYUmZEqD7k6_efQNH2xJQELs2wtj5x80dmBXW3_hFzpxtSVXAVvW9LS6NHj4swmo2rNH~TdXtQXY478WKh54dai8wUIKSYENuRD~JDA4o9kg6NnH9bJ8u3oNe1Z5ZnFBOAfREmxvOp~5Rp8gJxUtEMq2OUGRL8_3WAf8wLYEb7Bh2yg0GKO2o0uVDVIUMIIrl_HkD4LRU24CN6iSz91jU1AI7abuFonqEHysPUA--.jpg
//media.inmobalia.com/imgV1/B8vEv5Xh_VThvnEqMx4G0ZxU_YC_pCgmETwWNQKyeMqLb9Afo_WSoi~kcK5mwaepLz96AHEmAzWJQblCNhundhnOIYTFLWoaYUmZEqD7wuHiLQ2fGjEB5UkWR9FPlR98vBugE5WaoLH2tAW8k8F0LD5SI~KIpJ1Fji~_PsmHeoP~UEmktHQ7q_PY6AM0cJWFJhi_grzXs8ycCta2qUQeH4J6WtZwf9lemr5dD_ax5BfUubSBXyd9NRbel7MF~zK70nodLeheslCn2_l1VCg_ZstXJDsoK~p5L4AY49hO7kiiz0DsYJw1BFf8VSgimGDGfDs82Q--.jpg
//media.inmobalia.com/imgV1/B8vEv5Xh_VThvnEqMx4G0ZxU_YC_pCgmETwWNQKyeMqLb9Afo_WSoi~kcK5mwaepLz96AHEmAzWJQblCNhundhnOIYTFLWoaYUmZEqD7xDUhLbNEmG1Ux0~ptiTmhuFFuyGfZBsz26f0Hz1dQWpwTkG5D2ZjMlWiVJfcG0o0F9IJnUWLi1Z_vdUWLfceJi5Yx5M180jyU6arLA9K6_iMEIONgxa~orYBS0kvm~2X6HSZheraok_eeMNGK1tn~0xn6VSoDopXjK8_iFBgtqiMxuLVajA_syBzIw7jaRaCe~dgBeG78ZlUoBcoEkdKaWngfMWqYQ--.jpg
//media.inmobalia.com/imgV1/B8vEv5Xh_VThvnEqMx4G0ZxU_YC_pCgmETwWNQKyeMqLb9Afo_WSoi~kcK5mwaepLz96AHEmAzWJQblCNhundhnOIYTFLWoaYUmZEqD7lyn0~amHTT1ijoSfB_NG23UfNW1FU~H95gpeR2bK5BQZ4wdxEtKh7n63846rN_deTWqF8LkpgDaspjsD~6whOqIPX0_xHVKYjNVQuBuZC5euLgnCeETdZKb2_SzMQeryJPkR4U2J1Qn8A~A1OjnzaUkHGukUbepmXqTleS~7akKzEs6GAyks29~RIgepqW1EDy~LWOCmCeN9Y289PBP1K0MrpSpCNg--.jpg
Capanes Sur, Benahavis
Villa
3.450.000 €

reduced from 3.590.000 €
Contemporary design villa in La Alqueria, Benahavis
Located in the northern area of ​​the Atalaya golf course, in La Alqueria, this villa has been designed by the prestigious architect Carlos Lamas in a modern contemporary style and with magnificent views towards the coast.
The property is distributed over two floors and basement. On the first floor is the entrance to the villa, hall, master en-suite bedroom and three more en-suite bedrooms, all with access to the terrace.
The main floor has island kitchen with pantry, laundry room, guest toilet, dining room, open plan living room with TV and sitting area with access to the terrace, infinity pool, garden and chill out – barbecue.
The basement has a cellar, games room or cinema and an en-suite bedroom.
The property has marble floors, security system with alarm, air conditioning hot-cold, underfloor heating, domotica and covered parking area outside.
REFERENCE

208-01110P

bedrooms

5

bathrooms

5
built

711m²

plot

1.614m²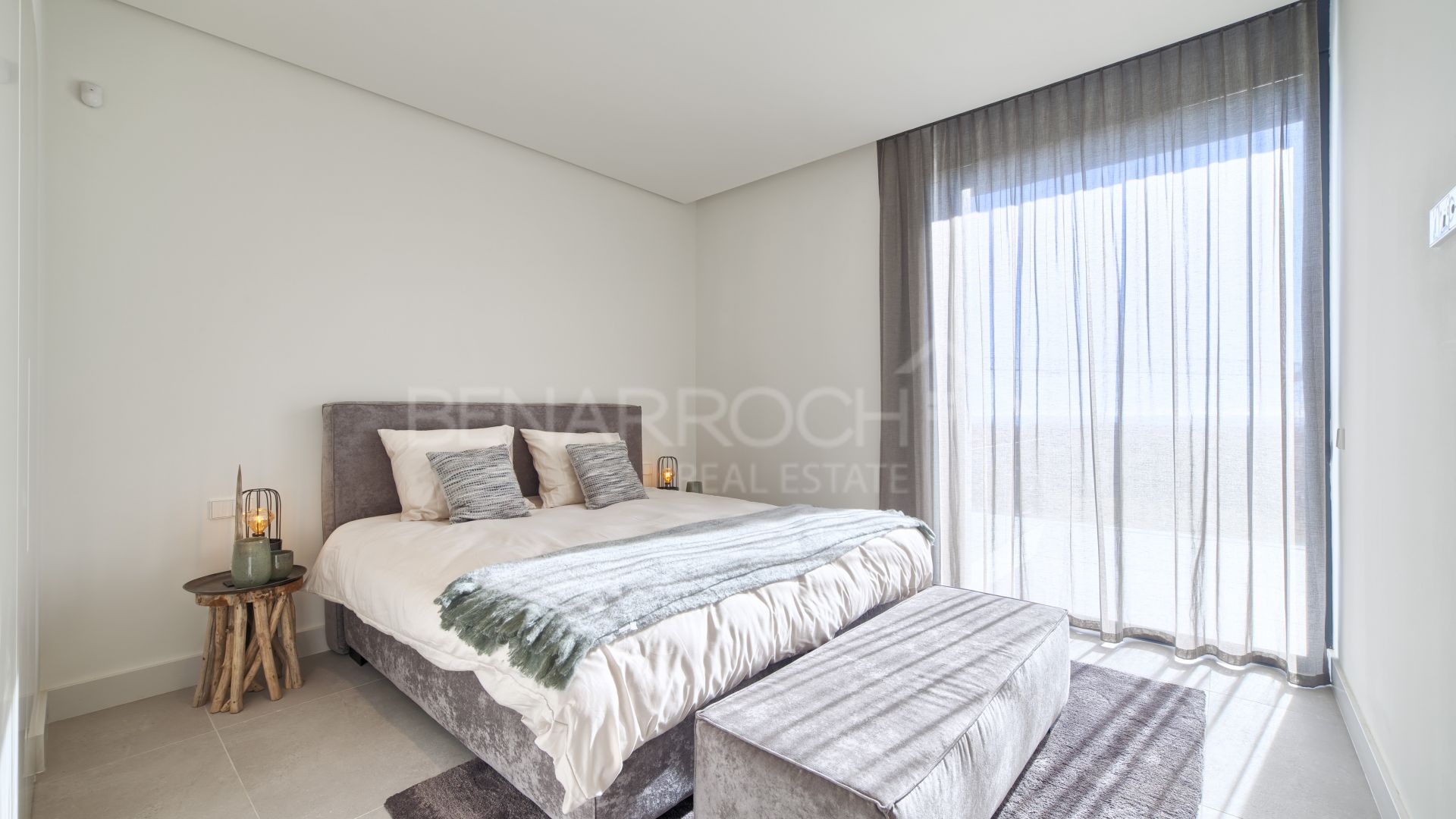 Villa in Capanes Sur, Benahavis
Video of Benahavis Area
similar properties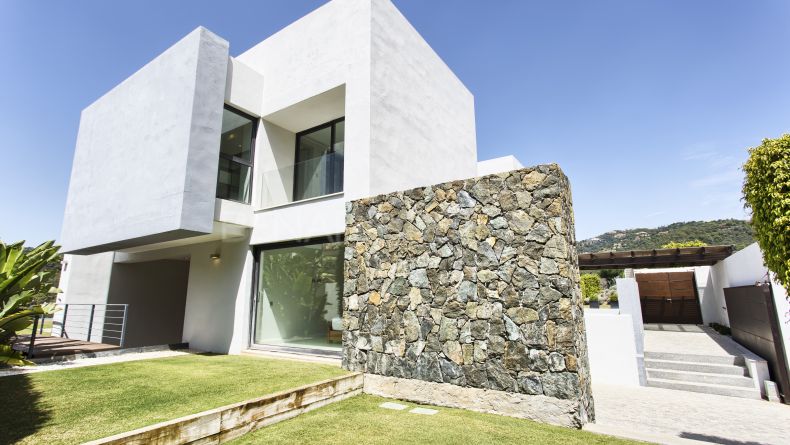 3.500.000 €
Modern, open-plan style villa situated in the Los Arqueros golf resort in Benahavis, south west facing, in a private and quiet ...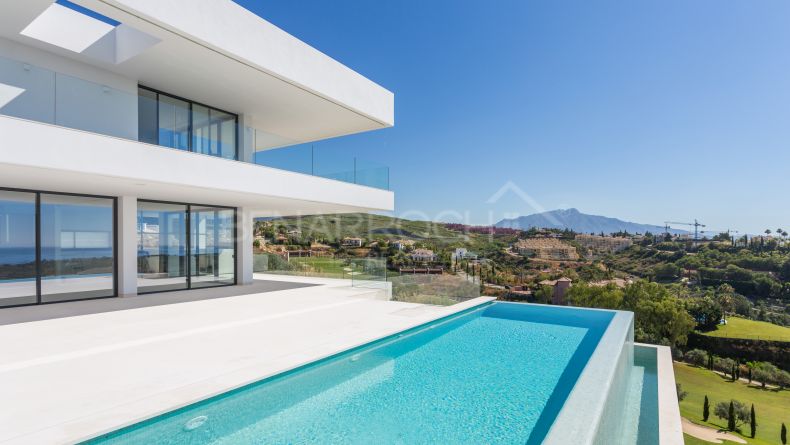 SOLD
Newly built contemporary style villa on the first line of golf with stunning panoramic sea views ,in Los Flamingos.Thanks to the ...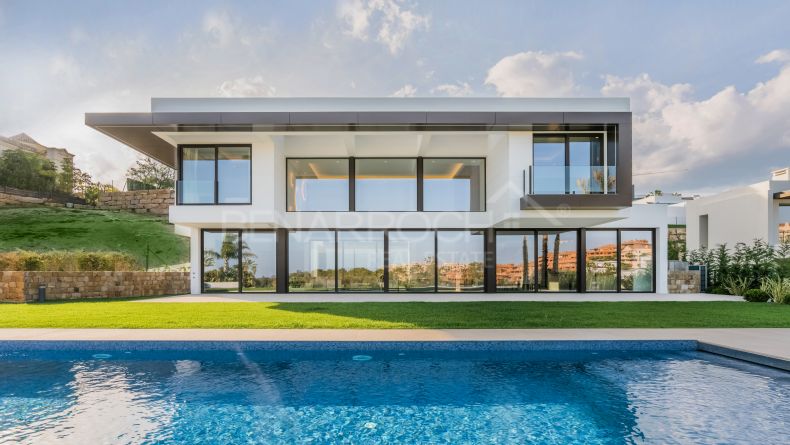 2.490.000 €
Contemporary style villa in Benahavis, urbanization Capanes Sur, near La Alquería, in front line of Atalaya Golf and Country ...