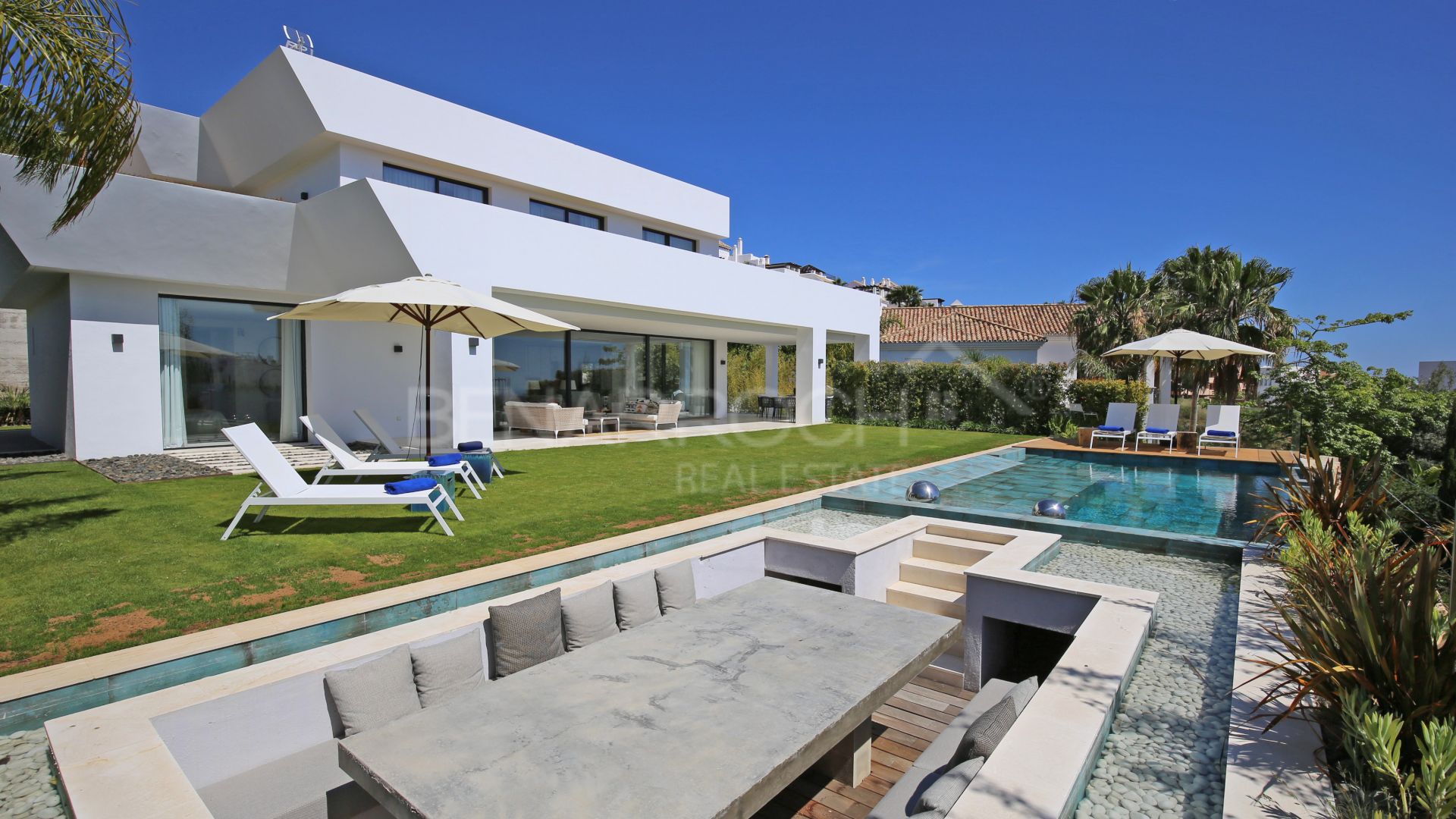 //media.inmobalia.com/imgV1/B8vEv5Xh_VThvnEqMx4G0ZxU_YC_pCgmETwWNQKyeMqLb9Afo_WSoi~kcK5mwaepLz96AHEmAzWJQblCNhundhnOIYTFLWoaYC0cxvtop2qaDXdghn8WWWdlJy9I9164xVhVxC1uECutt4n6CsrL3RfAIzhm5urPAHKiLROH80oXkbl~ka45MTSPo0schN~_gzfTAHRLOi2h~WdUGawQj4gpnTT84RoaOljd98hGD0hPeS6rxQYrAg9E822f4RkGMaRb8hnMlRq_vLaRdyiX8aMQ3TXYovJevHRmt98tQO7JlzNvZenEeKNaKi9a7JHkm6zbQQ--.jpg
//media.inmobalia.com/imgV1/B8vEv5Xh_VThvnEqMx4G0ZxU_YC_pCgmETwWNQKyeMqLb9Afo_WSoi~kcK5mwaepLz96AHEmAzWJQblCNhundhnOIYTFLWoaYC0cxvtorAg62QSTHhPHYSZWFrA6iq3seoNq1Vo4Xt7vdfIapof_7PQkGJOqLIQ~_WbAe2XsEBW85SWAY8NBfX8JRZ2Xm5osC9uWajY_OAPOlJijtfdDy5dqj9tUDlDbBb3ER9ik9UhjcrqXuIFJsxXRHmFofrzNjb6ICEUnTOCcQ7OQpHWUx9U8eaeOkuGsLqv4WgQ6IX3PKUlqPl2oN9xfRluhXDd6UXSG5g--.jpg
//media.inmobalia.com/imgV1/B8vEv5Xh_VThvnEqMx4G0ZxU_YC_pCgmETwWNQKyeMqLb9Afo_WSoi~kcK5mwaepLz96AHEmAzWJQblCNhundhnOIYTFLWoaYC0cxvtopqSU7wC18MRWjapDuDQXR0DtZRR8FNnhoP6RWS_PKpC9UMds1L~HwxQC3iG8WL08UTWVseFvMSjdqcj_4jjnxtCqdc2kA5q_~3YIrZjtbwR67XJ0VrfBifBMXux7j6M_wkAXy6WKpBjhcrxTRZtyv8WR49aZpwIzXmPk9dPT84ZizCh9clJm71rWauYW5zITHh6bEvV~oYVRA6mYVh3VGhfL3g1AZg--.jpg
//media.inmobalia.com/imgV1/B8vEv5Xh_VThvnEqMx4G0ZxU_YC_pCgmETwWNQKyeMqLb9Afo_WSoi~kcK5mwaepLz96AHEmAzWJQblCNhundhnOIYTFLWoaYC0cxvtop2gJzM7BX2RLtdcV~aSop06fC~stpOOaa8WN61~jEyp3xccukyCUCbZkr3XNMfq8Bty2gj6eHdOoZBARXkbMZURCDYXIK_rw0ZCFO7cgLe8xq2QwcxDqUbnOaE3eI_znPJ0_Q0mMpZGsvLJqvAa1aEYjc0ng9MZSR5_YrXZ3oDcWZi0Cf42uxl2rlor~SzIxZFXv44vTpiFJ~Sj4XIZiK0Jo8VHqGA--.jpg
//media.inmobalia.com/imgV1/B8vEv5Xh_VThvnEqMx4G0ZxU_YC_pCgmETwWNQKyeMqLb9Afo_WSoi~kcK5mwaepLz96AHEmAzWJQblCNhundhnOIYTFLWoaYC0cxvto8KtSlQ0IEhWVa62hHjaPdCsXH6TMg_PuFwzDb4EVoyiQMU9ZPS_Py0c7pYxQGzoUr~J7yidZUb3V4O1imPdWHwx8Kp0pF5gmAr6RxfeOB0lAPrW0YL1K1ZmAn8U9~sejXm2ggDS3uh86Vb1sHrS2Oj~eMPcu_2sVCG_jQCsYKntKrhXv~xxK5WWaMrOLXzfG3JmxA5BpSL_pUe2QuqgZD3HQrSUJ1w--.jpg
//media.inmobalia.com/imgV1/B8vEv5Xh_VThvnEqMx4G0ZxU_YC_pCgmETwWNQKyeMqLb9Afo_WSoi~kcK5mwaepLz96AHEmAzWJQblCNhundhnOIYTFLWoaYC0cxvtop224VRQu6Wipe8fzDeTPXVDnhQiL282yQWWmOcjH8CRG41pYkpsK5rfx36etVKxx_JNa5huS87jiEVUvyLecKrvHXvvaCzXGziiOO9DM6lLRSCLmFTbBrpw4v0yLlLofVphY0sX19aIEve2cn2AcZJpT1J~qOrnpzl8LGv4Ig4AQQ16SkQlvEuRq0fWJ5vaEIswQ_aaFySsI5f6Z5d4dCWWzvZq_ow--.jpg
//media.inmobalia.com/imgV1/B8vEv5Xh_VThvnEqMx4G0ZxU_YC_pCgmETwWNQKyeMqLb9Afo_WSoi~kcK5mwaepLz96AHEmAzWJQblCNhundhnOIYTFLWoaYC0cxvtooZgYCQPQtsTXevL8Fp4VubpDPmpzDTpPTT9sLiJ95NGFlslFCeNgoCqxCwtjRUXWwQfJY5I~8w0w1V_225uJj0EcW8qLCCuuLr7SZzKwkzU~FiU~jKrD9r9O3f4BwgQ6qH20eJ3XtobE2c08E67y8B5gXbKZE7rp~6LC4af9prRavGKg7iHOgYye7NIlADCIaz9dA4UOxrlSSeZWOyJo4T58zfmbLQ--.jpg
//media.inmobalia.com/imgV1/B8vEv5Xh_VThvnEqMx4G0ZxU_YC_pCgmETwWNQKyeMqLb9Afo_WSoi~kcK5mwaepLz96AHEmAzWJQblCNhundhnOIYTFLWoaYC0cxvtopvZoJoV3DSZyo1_YaxuhQxEhH4u4AfeIUyks_NtOlaDVZbYKvuCGHqw7MnLIBYvTznWw33Nn3DpySBzPL8B~6gToDy2oGQC1RndejMVA2s2YhNGO8A4A5lube6fO219fCdNoDDcTY0_17Dllqa9EQu5OOUDvn2ox9u3h5UiTdnT6zGaebxowIrbFj_WYpCeX~u5o0twgnZ~Iu7MzBvSRhIvrosvBYg--.jpg
//media.inmobalia.com/imgV1/B8vEv5Xh_VThvnEqMx4G0ZxU_YC_pCgmETwWNQKyeMqLb9Afo_WSoi~kcK5mwaepLz96AHEmAzWJQblCNhundhnOIYTFLWoaYC0cxvto8WLnMFTUlHu47NSmmBjgQcZmYdbzzSRPNxV_hJBWP7TCH5fibg6KPwz87t8k2e5ivAT0gTnK_LsTNXftmRwfRcnK2abblVZOLG4N5voCMtKGsmLFgdE4vVGNHe3C0WHxA40~FaykZ0hNB_9oF1G06L7ChzjO9NYtP~oJGIPAK_9REwX1iSL8cC6dgKzKHR53URhTb06imCHDGCM7RArLVtJWC5UIgA--.jpg
//media.inmobalia.com/imgV1/B8vEv5Xh_VThvnEqMx4G0ZxU_YC_pCgmETwWNQKyeMqLb9Afo_WSoi~kcK5mwaepLz96AHEmAzWJQblCNhundhnOIYTFLWoaYC0cxvto9J1Ed3ZiL33sewuqvP6UUsJIoQLs82cXtNFFWSBrwKZKxF_1MtD1k5ReGE2k~SNDEkd56GVPLBdtWftHrvXBAd4jEZbFMqYV1aP3oivSBD4xJ_kdHZGGdqfSd_eb~j1BXravbBDMPVq5A0g1KCjxO9Fmj7doUPQLU1sSxML2_a0yo1KD7cmxH5aJlK94G7kN2DgSp72C1YHRLnqoNKuJp7_4gLUAKw--.jpg
//media.inmobalia.com/imgV1/B8vEv5Xh_VThvnEqMx4G0ZxU_YC_pCgmETwWNQKyeMqLb9Afo_WSoi~kcK5mwaepLz96AHEmAzWJQblCNhundhnOIYTFLWoaYC0cxvto8PBLR915qou4I8lIPuXSTzjWw_H7hybG7GyzCx~1AwGvSebMkKyVAjVRBZJMJzDXk3x7Ty8pK2s8bI69U7JxMh0x8sRuCaOlKtn8Kby9CTXsFSRt1TCkWAwuK_bieS_tZtREn4LQ82HW32R~p1YB9wEAEGciJ9PzCFQ4x8ZEnkofeYvdDs8nH8v0dvAGeHhbHZdpgtRLd7ZsyrfvgjaDeCM4hSMmkQ--.jpg
//media.inmobalia.com/imgV1/B8vEv5Xh_VThvnEqMx4G0ZxU_YC_pCgmETwWNQKyeMqLb9Afo_WSoi~kcK5mwaepLz96AHEmAzWJQblCNhundhnOIYTFLWoaYC0cxvtop2rJaxhv3fhKVXHfMpwRIgKkTYTNW59K_s69z56nATpmql~0QCfoPiRoIELJtJdg1mxL2oESjkTb1GRKVZExiYO80CjamxCKV~_X_tU3ldDSAdollFJWx8Ykwrt_i4tnksQltz4YIiuxJ~~X2G2VLbBVg5Ma2iieP4JSSKcFSWAgNi~XenWqpj~cQjVnSL7Zumd1CH~PrV2QDpMuAVIJEm0qU35mow--.jpg
//media.inmobalia.com/imgV1/B8vEv5Xh_VThvnEqMx4G0ZxU_YC_pCgmETwWNQKyeMqLb9Afo_WSoi~kcK5mwaepLz96AHEmAzWJQblCNhundhnOIYTFLWoaYC0cxvto9wGMiPEAYOYq6JifrTjUC3r2Ub8JwC__E9_L7Q0fNM1MgltZE_L0S1d_6wibCW22~8Vd_wCis264dI0cK~R_yOEWsPAb9IShy0vorWDucnk~TQWWjBV8JlBY5tcuTpGEzkkODGNsG~FKnWuS_ldb1BfstOB1y~xUamC0eCjTubVLEZ_gZVGqiE1w~X9bkXHGLc1k_3VYD85jzGiJH1xxuFn3zqfNOQ--.jpg
//media.inmobalia.com/imgV1/B8vEv5Xh_VThvnEqMx4G0ZxU_YC_pCgmETwWNQKyeMqLb9Afo_WSoi~kcK5mwaepLz96AHEmAzWJQblCNhundhnOIYTFLWoaYC0cxvtooZgekajd0C74TRZkyARZ912206Poo6j7qyuCPv8os5JErvkUgWKeaR7Mims238Iv3jcuhqxo9fujt1tRUoWZMB1gqJug~wL9VTrWfIMNEwWEUo1Jl082ow8tvG8AV7WcAWQLqMfFofXzDpXOJETUeKPPch5PCEkjhZ0xR4Te9J4~oq3DhF8h~L9QmChTDYBtQDY_J033OKAiwlW1Y9e6TNccL8hCLw--.jpg
//media.inmobalia.com/imgV1/B8vEv5Xh_VThvnEqMx4G0ZxU_YC_pCgmETwWNQKyeMqLb9Afo_WSoi~kcK5mwaepLz96AHEmAzWJQblCNhundhnOIYTFLWoaYC0cxvto8P5FTJW88Na8G7qa90vvKuFvWcyJYm1xSPlQ0HiZPAfNBRajLAV7ZdQw6A7svL7D1Xscew2aZRcaYcMVffIeKgswed20PNTTIxe4ALEbTFTdB_rgDsx9pCkK59vjnSHCDBB3STFQDFnNC1CSdiYyAIablXbOFx~URKCB4eRfmsPuDm_ibt1V0gKeBGqKezhe1QoUzO2UPxNgV~~RQtmyqp5EKdKUsg--.jpg
//media.inmobalia.com/imgV1/B8vEv5Xh_VThvnEqMx4G0ZxU_YC_pCgmETwWNQKyeMqLb9Afo_WSoi~kcK5mwaepLz96AHEmAzWJQblCNhundhnOIYTFLWoaYC0cxvtoocCY99L6I~JyYq6HDKpNGQWSM~4efDnHjnwXqsb7Rc4GyUfPd~IWs2a1k3qmzS5ARWz41aIDdSm3~xSaEu9UMxHoYz_XoenVGQhJsN8uGTFB~vJWHo92snjLI5zDOfVlMp7lDt85S6Qv1AKM8cHuwggCde_Suxfx2j1Xt5ACetT8ur2x6zzgNEdVjCuFGufTgDSV2ju3HRPVsSVOw~mIPC3fFqRvsQ--.jpg
//media.inmobalia.com/imgV1/B8vEv5Xh_VThvnEqMx4G0ZxU_YC_pCgmETwWNQKyeMqLb9Afo_WSoi~kcK5mwaepLz96AHEmAzWJQblCNhundhnOIYTFLWoaYC0cxvtopIrZOoGeersB5ePu96cTZ752QlVuQMQumA02FmgGsYzFZzQuz1EQ0dVOB2F3TBqdD95vN746HsF__2ngeeAvNFlRZuqwFm5upLQKe5Vv9Iyg2U77oEAi9ye0z14v9AYc5Nd1sLxyLV0OM095Z3GZybYdG4BCSn9EnIKT_h0CSX_hAMjARcW2QBkr5KqacKrF1PAYVeZweJr4oRsYe3J0urT1MXkItA--.jpg
//media.inmobalia.com/imgV1/B8vEv5Xh_VThvnEqMx4G0ZxU_YC_pCgmETwWNQKyeMqLb9Afo_WSoi~kcK5mwaepLz96AHEmAzWJQblCNhundhnOIYTFLWoaYC0cxvto91G6HHJEl_6TsuKv0K2v5R00Z64ppWVoyZskfnNae8eKcqpOK2UwACnUubVI3GuvjI1mb1pKJx6sPk4mMTXKQcIY7ACGWQD7VBT2gRFBtxiFngOh~HivB0WKFqYbCSr0H6ccvZylHDP9T23YfSgsbdBb0FJ6aF5JeDV5sIwKDKiCt6qIeIsxq1ryPh1jTDDMAd3BPIVgXIPBvHgN78XtlL901bpBBA--.jpg
//media.inmobalia.com/imgV1/B8vEv5Xh_VThvnEqMx4G0ZxU_YC_pCgmETwWNQKyeMqLb9Afo_WSoi~kcK5mwaepLz96AHEmAzWJQblCNhundhnOIYTFLWoaYC0cxvtopUOALcBlfwqo8up1Dn5WDGCgt3pJg2UHBKzCa8UlLd5KRRnf5mbFpem25AoNQTFCLMLSVqY6OY0FmSXKvMZfGP7uq6bT1JGzi8hO4K8thZ42HOv0K30A4ukdZVeH17HjRlknh0OixhpZL_YeF~Rr5z3x2Y4zXY3HnshEaSRrRV6JKF9X8~Fe7izETGBbHzWNym2BNZ2ZOMZTamGQYyZuoxIQYa06DQ--.jpg
//media.inmobalia.com/imgV1/B8vEv5Xh_VThvnEqMx4G0ZxU_YC_pCgmETwWNQKyeMqLb9Afo_WSoi~kcK5mwaepLz96AHEmAzWJQblCNhundhnOIYTFLWoaYC0cxvtoo6UofTUl7QjQedA9123gcLf67TPzWpMl3E5FBO~8NHNmaFbbkbI89ExJEBTGmByRBozw7I0xjkUzN4IdpA02UflMm82kcL5BMN7jryy4iP3qvGOMIkQFrqHdJyqeacGqbibn_4c19xu~03geRUoTieCg~56ZHqyAruSVC_fgYJcUu1ZP4OPdj5donjxzUgzWt40QAteGnrcFEGAfLCzHx5a1Tu5LBA--.jpg
//media.inmobalia.com/imgV1/B8vEv5Xh_VThvnEqMx4G0ZxU_YC_pCgmETwWNQKyeMqLb9Afo_WSoi~kcK5mwaepLz96AHEmAzWJQblCNhundhnOIYTFLWoaYC0cxvto87B5QyxLuShOM1bLQm8IJ4WaP8oZyFrcD5UYct6ELGpnfVcZAywEGE5hkMwQKv6ddh3EPM5fY_kW7m7TFEQen8ZEO0jhnWEyqHqa9wxYY8u51omCV2PNG4QgaXXH1Lz8bBFbzChBc1wl8g7JVf2gdkAGjrybsJ_I5Lv~72fR3_4ZtgqwuRpMM4rAN4JkJVljqFI14hAJYC_tQMyz4RNfqgvKUGTZ4w--.jpg
//media.inmobalia.com/imgV1/B8vEv5Xh_VThvnEqMx4G0ZxU_YC_pCgmETwWNQKyeMqLb9Afo_WSoi~kcK5mwaepLz96AHEmAzWJQblCNhundhnOIYTFLWoaYC0cxvtooCTDNXI1OYy5SWzvJVvaKxYqQJN1~YObTmQV_THeQtfeNQb_ZDUZVY_5NvuelB5_YJ_ejkknvgZwb~xLtSstwT1Wxz8~uPapyBNQsnDW8SRHiOLmQqinq33mjWs4FsaY0eIhYpmdy6D3tujG8XQntSpsyL2qUSGqkXs49~fxSQnroI9exI~T5bFQc7tszpHbU_wO21C8584HMzk2gBQvZIyCuZi30Q--.jpg
//media.inmobalia.com/imgV1/B8vEv5Xh_VThvnEqMx4G0ZxU_YC_pCgmETwWNQKyeMqLb9Afo_WSoi~kcK5mwaepLz96AHEmAzWJQblCNhundhnOIYTFLWoaYC0cxvtooZm~beyF8zkUHTpEgSW4c~kPHCgjjFaygne9ve0v9_hDXC54aypU6mJ~vc66Tu0_jYJXR64n5FscDrgZTqmyPTd9D2nUFoPh4XuJ3WjP__NPbkLbYAG2ilFne9EgjVNo~a2EZZRmowKB3VRY0d1SHL6zNVN_bEUSG9iwSXE2r76v0nMnfayo3K8vHx6mJbMmAwqlh2nLDapY7E3gCmThUJyEmXH7qg--.jpg
//media.inmobalia.com/imgV1/B8vEv5Xh_VThvnEqMx4G0ZxU_YC_pCgmETwWNQKyeMqLb9Afo_WSoi~kcK5mwaepLz96AHEmAzWJQblCNhundhnOIYTFLWoaYC0cxvtooZD6F_4Ah6ZoMs4WCbbMu25AYBLkttGKDG3e2lif8YFSw5pocFFx3aInyUWU7Vzlb_soyPciDctakofUEmZUVJmfI2CMnQyjiLJyzxptYqD0DdTDG2IMHeutRfIQr0_jVxxY8q8p7PMYIgQvArqrdNq9oF_L7BCB3qY4Yg5SMoTwY7PzaEAoOkVbzOmUvHBkbtwba4VjUaacxKjzTGDc4epff1kBYA--.jpg
//media.inmobalia.com/imgV1/B8vEv5Xh_VThvnEqMx4G0ZxU_YC_pCgmETwWNQKyeMqLb9Afo_WSoi~kcK5mwaepLz96AHEmAzWJQblCNhundhnOIYTFLWoaYC0cxvto8TTjLzi5AUoDJE3M31suGM7_rI4MlqVoaBBgxZyCSv5SKTk3dy_yq9571p9nTzdVAD__HWYxz2C~gE0e8X_EFVhbh7hDd8nG4xnsyolqBwSIXi~eSjswTiczEPyoEFWYaoxlonw4fDK6LNRIybdABz_qBRhco5ZW5o7gyMa~cfx1U_ANpdUBXNWbpsKaN7p9PsvKKyMUx4N_~Q2A6xC7u1MmQXnCog--.jpg
//media.inmobalia.com/imgV1/B8vEv5Xh_VThvnEqMx4G0ZxU_YC_pCgmETwWNQKyeMqLb9Afo_WSoi~kcK5mwaepLz96AHEmAzWJQblCNhundhnOIYTFLWoaYC0cxvtooC8PweuqZeIUz3oRy5p5P_edC5IsVifOKYM1j2qKKTU1P7PRq5J~NcQB5aSOX0xFtSMz2y1TjGywsIJJMmlCtyjQsHGCgTg~NTd45U6NDcKRamS78wEid~xa6b5EUEg6jh3vc00lkPyy4u_mHtv3eSyqORoYY9OKY2P2kVVVJf7T8vsvfCHe85C9cSodtMraSNc3guUHV0BM~4gMmDBGqSyCTBuSlA--.jpg
//media.inmobalia.com/imgV1/B8vEv5Xh_VThvnEqMx4G0ZxU_YC_pCgmETwWNQKyeMqLb9Afo_WSoi~kcK5mwaepLz96AHEmAzWJQblCNhundhnOIYTFLWoaYC0cxvtop222aDOLt73VDFovZtxTRk7JfhvKZxvSffv4oGGEbIUpAtj47dGXa4ZpGtLVfTiRZdYP86YxzFdxR4EuOGDtoMc1CjglYiv3HqYcItbmTryDZw3qLRcQPX37wEDx0MRdFSu_I0mS175ai0XpHgn3THutGaDbntzakv9Telo6Z82gZtzKqG8BBXMmG_9WMLVJdXeTN3lldTWgoq~uqP5eQmbwLKcJfw--.jpg
//media.inmobalia.com/imgV1/B8vEv5Xh_VThvnEqMx4G0ZxU_YC_pCgmETwWNQKyeMqLb9Afo_WSoi~kcK5mwaepLz96AHEmAzWJQblCNhundhnOIYTFLWoaYC0cxvto9wPjRNYDBBIHDmucu4MSKLjPz38iNcgTEb867JIxPmokvLiFmMDHtxFQvdtSxUZU0Tcr~SIlxRYXlghdbh63Fj0NcTZ9g8RNP0QTScNvkhiiPIf2UtzI4BegpQoeslYLm2TzJaZ~ZrHDkxcmDnSDNTldP4xCtw1m8IUTTcpEd1Ju2Y8higcBXukO1Yz_v75HnP7utKchta7LiLuyV8~f0KHxnNr2Og--.jpg
//media.inmobalia.com/imgV1/B8vEv5Xh_VThvnEqMx4G0ZxU_YC_pCgmETwWNQKyeMqLb9Afo_WSoi~kcK5mwaepLz96AHEmAzWJQblCNhundhnOIYTFLWoaYC0cxvto9lronvnniykFAHjrQ4psCN3jbDG79MskMLa~iIXFs9UxFOzY_RLzLzWd_39XvppNuoZI8aCDxATwEx6FT4HOoeDm6oTRmOve0he92hRcV8wx_CilwcORohpcfwSbZXjFqxbVP9GonET2xFMOx7wrrLiJ9dQKy2Q1t2BeFs0LHzphGcUDyWxISeyRd7ylAGmkbHSeMzkFSt9SyWX~sLxjcbHzjGpt7Q--.jpg
//media.inmobalia.com/imgV1/B8vEv5Xh_VThvnEqMx4G0ZxU_YC_pCgmETwWNQKyeMqLb9Afo_WSoi~kcK5mwaepLz96AHEmAzWJQblCNhundhnOIYTFLWoaYC0cxvtopvVAzIaK4T4HsBZA1qT9EXJDDuT9SYwwvRPLlseSy9mgaS46OCeqHgECpa5tCjAqNsoSdnag6h8m1N1OwavnrufNprfAv3OON1Ha0uDpYtbG_ti5HhLzmScHYoIlHXYMe2KvjSohdNcqodTwKrSI9JfTEyeK9uih976zXP292Ty52HorvkGpuR3NUyyQ4DADgqrEjziw3A5ImwT61mv0AnSDgJY5rA--.jpg
//media.inmobalia.com/imgV1/B8vEv5Xh_VThvnEqMx4G0ZxU_YC_pCgmETwWNQKyeMqLb9Afo_WSoi~kcK5mwaepLz96AHEmAzWJQblCNhundhnOIYTFLWoaYC0cxvtoo~IU~CArmF4QShuZ7snOve6Sw~dhGcVXLsoA90qSDmm_4bEn7EjMUaNeEUga37JKzBnhyhUV39SLoYaeEryRHfrKz6oSwy6lErsUCaysVduu~7xl7Xl87T78YWqmkqTVIbHQ3q3Gk83zXQMuZRnSOqx2TBjfNispRjzRXzsHd4QxtF4y7x3EiMJM5hboCyhOZTLxiIoky6YJiaGWBPoMwxlCl11PIg--.jpg
//media.inmobalia.com/imgV1/B8vEv5Xh_VThvnEqMx4G0ZxU_YC_pCgmETwWNQKyeMqLb9Afo_WSoi~kcK5mwaepLz96AHEmAzWJQblCNhundhnOIYTFLWoaYC0cxvto8_C_SmMBuvNNaY2KQMgu~GmhqORBmV6Mdrq2KMSv~h~ljf9WEFyAmsvNfLABh53HPB1BQgvWUldIPf62q7Qg5LlcKU8l0XU9daZCXsmtok5gEPDW3bBoS9MFOkSjSRIrfS9RwTgHaQ2jtMDoLaf05lgLAjGi4iHN6cG0~pdRrHleQz0FMWKd9ZDuZF9rDTjGFWHWSuQQu38L3W3S7wl59tV3lClB7g--.jpg
//media.inmobalia.com/imgV1/B8vEv5Xh_VThvnEqMx4G0ZxU_YC_pCgmETwWNQKyeMqLb9Afo_WSoi~kcK5mwaepLz96AHEmAzWJQblCNhundhnOIYTFLWoaYC0cxvto912PXY2gpR1O7sv0Lol277eLmrz~XhK956qS5F5Hw0pLXWSRIRGRerGsIWTLCRV86xxEpqTHJBnlKodzrL_P4Fg6nuMpQa78E1mVlnPTQMuwQtKVGhlGYTods5Jc7IvWEYl2hNavLVOVQomY0UnHVFLwL_E6WuiAIUrHM5a8CBWdhN10BWBYw9qf92LDMfEX2DR7sAVc0TaZYeWYrRxQ5JRqOmf4vQ--.jpg
//media.inmobalia.com/imgV1/B8vEv5Xh_VThvnEqMx4G0ZxU_YC_pCgmETwWNQKyeMqLb9Afo_WSoi~kcK5mwaepLz96AHEmAzWJQblCNhundhnOIYTFLWoaYC0cxvtorcYkvC1NkpW0eLGp8yS4pr7GdncQu5WHQTp8r~17CHtfvQmy3oa9hTKrtfLlf0XRJuldU4edG089dDqRMOqgJbk6jRyiyQycbrdq8InZmapPFMattSnQGWlB6T41iHjkLXrJSllOY0xivQUyOeOIkkmfEjYSkUpuFzIlmyLf8XnNINM9T~Z5ur0SQq~Ft_uGlXx~mjco68dO811GnsTcF~i3esQpWw--.jpg
//media.inmobalia.com/imgV1/B8vEv5Xh_VThvnEqMx4G0ZxU_YC_pCgmETwWNQKyeMqLb9Afo_WSoi~kcK5mwaepLz96AHEmAzWJQblCNhundhnOIYTFLWoaYC0cxvto8WECP3jBLwol5uZ_~nCKFTYrKJOOWwx5qYSEr_wwcKJnmQlDLfxKO3oCXQAlYovI_4eocsUmhZlFUEBiBhAnagYhAD26qqahpC8AYGAQqDsLVLVpq9Bhl8R_AR6AsbY8O3HdrzL6rS3irOto70S~mnpPVy26NfVEbBPysiCLKGm~RFIZbREYY2pTRiqg7koVwWFGJ05j_AFcBvdFNVmy22E65Rk0bA--.jpg
//media.inmobalia.com/imgV1/B8vEv5Xh_VThvnEqMx4G0ZxU_YC_pCgmETwWNQKyeMqLb9Afo_WSoi~kcK5mwaepLz96AHEmAzWJQblCNhundhnOIYTFLWoaYC0cxvto9Js~Pw6_ChjpIrK178sEwgNx9XSJ8cD7rKwJ37HHPxhLqSz2UIhiCqUK4h_yecUT7Vu1GGCxZ3PaGE9d1Eb1qWScg2alFA5vF4Q91oo815bBAGVaNyTs4lxY~acRU29Kf5qqCgZbpVRuuLWh4rVwwuo5wFMvQjWiUWC4Kz7VAcqLSveZD4o7FEFTrQbOG5q4jyPnR2jqO8vs85cQFeYzrXqfuroVdA--.jpg
//media.inmobalia.com/imgV1/B8vEv5Xh_VThvnEqMx4G0ZxU_YC_pCgmETwWNQKyeMqLb9Afo_WSoi~kcK5mwaepLz96AHEmAzWJQblCNhundhnOIYTFLWoaYC0cxvtorZRrxLso7l_Xo6xcL_dTncGcvLcJE7iQbfbPupS97RBcFuw~OUxuBVKa7EVezCd9RQ2MxyWz8MBxv2tbzunEaIIs6TjYkLRnHPs5Q~rITcoWQ864SRW1hfp7a2qeO4Oh1ziTqQNieZxNVlEMiyuFIjL0CV569_qxIdnRFIPLJW3TZbqW1RtsxmWQ4w7YgiPj1LEt0_OZvLVN7ZLh_7OGusajGbxYQw--.jpg
//media.inmobalia.com/imgV1/B8vEv5Xh_VThvnEqMx4G0ZxU_YC_pCgmETwWNQKyeMqLb9Afo_WSoi~kcK5mwaepLz96AHEmAzWJQblCNhundhnOIYTFLWoaYC0cxvto9Mtqtqco6eY_rSXJ9OJF8BXBG~r2NiA8H0yPTmcZQZZ5jJgfFbaGkv4_bn48ivJm1sibzqmT9NCt00xeX_zh1_LVcUlwg03B4dshF6TK6RKl93bKInmvKfuug7ozUj2be~cBJTCCuOhS9vzNgbfnNITIndu7B~7LVhHDCeDMmPW1kAL~DUrxBFkV1VmL44D5EYnnAMcT9QFjPrtd1mz7kPejRC1KDQ--.jpg
//media.inmobalia.com/imgV1/B8vEv5Xh_VThvnEqMx4G0ZxU_YC_pCgmETwWNQKyeMqLb9Afo_WSoi~kcK5mwaepLz96AHEmAzWJQblCNhundhnOIYTFLWoaYC0cxvto91XvwuQB8kpyv~QEQsM03~LFpvX7H2Cha1O2b4RECYg32PuqRVtOCCreXKZxO0u2CaL_~wOXmxgXitjDtYpA3aaEL5JJX54cpYePGEhq5KU0KDaM1NOPi~~V9aFYmB1iVPZQ2R2JBFFc3Sg6KRcPd3UTIvXnrvRQT7fUdbod0yyypMQgyOkl2CZpiOPsc_o_jd0b5wGFEQ7Gytp305s3eG5SAauK8A--.jpg
//media.inmobalia.com/imgV1/B8vEv5Xh_VThvnEqMx4G0ZxU_YC_pCgmETwWNQKyeMqLb9Afo_WSoi~kcK5mwaepLz96AHEmAzWJQblCNhundhnOIYTFLWoaYC0cxvtoovTn~b4YMo4zHUDZjwXtN2Co1o_tW~yf_cM3ivyCbx4Jq~Xd3_7TVHOMxD18dX1_5NwdXvcTLa7lIBS5xcQDNH5LTptDNmhPk~ejHC_fucbiT3sHHzt_2X6fTBK6ZRexBb87w~hyfVDt76XRkdoLkrQ_CopfkkD93aLIzUoSA00qoPVjKTQVzHLDm6qKXV8ZEqTSy_Izs6oXbNSwToZRzXQm9k8EaQ--.jpg
//media.inmobalia.com/imgV1/B8vEv5Xh_VThvnEqMx4G0ZxU_YC_pCgmETwWNQKyeMqLb9Afo_WSoi~kcK5mwaepLz96AHEmAzWJQblCNhundhnOIYTFLWoaYC0cxvtorAm42WnJVIEBHXpRQ6IoVEtdkzra7ZTlCpcL~XZMDIep1JeWN~FwTaOjOa_7qpgDRsvYJD8qnTWcblmVmyvbM4l_eIthj2Jjc2VRCayzgq9jN_AuzKb2rMOkiWcxZGl0jbOWOCnRWgj218NI1Wob~7v6Ljm_k8BWkeQguQCijS__K_SzJbz6vZxrQowh2HpHPq2fVzz6odidKrh060jmyu7059ORTg--.jpg
Capanes Sur, Benahavis
Villa
2.850.000 €
Benahavis, Capanes Sur, Contemporary style villa with views
Spectacular newly finished five bedroom west facing villa in Capanes Sur, a luxury urbanization just a few minutes from Puerto Banus and Marbella.
The property consists of a very modern design, spacious and very bright.
On the main floor there is a fully equipped kitchen, guest toilet, bedroom en-suite and a spacious living room from which access to the garden, pool and a beautiful gazebo by the pool with views to the sea and golf.
Upstairs two bedrooms share a bathroom and master bedroom en-suite. All rooms on this level have access to a large terrace with panoramic views.
On the lower level of the property, bedroom en-suite, gym with sauna and turkish bath, laundry area, a games room – bar. Underfloor heating throughout the house, air conditioning cold – heat. Garage for three car.
Capanes Sur area has gained great interest in recent years and is fully consolidated thanks to the numerous constructions of luxury detached houses of contemporary style that have been carried out. Companies such as Mercadona and the bilingual Atalaya College have also contributed, which have been installed in the area.
A few minutes by car we enjoy all the services offered by San Pedro de Alcántara or the famous restaurants of Benahavis. Ten minutes from Puerto Banús
REFERENCE

208-00970P

bedrooms

5

bathrooms

5
built

545m²

plot

1.235m²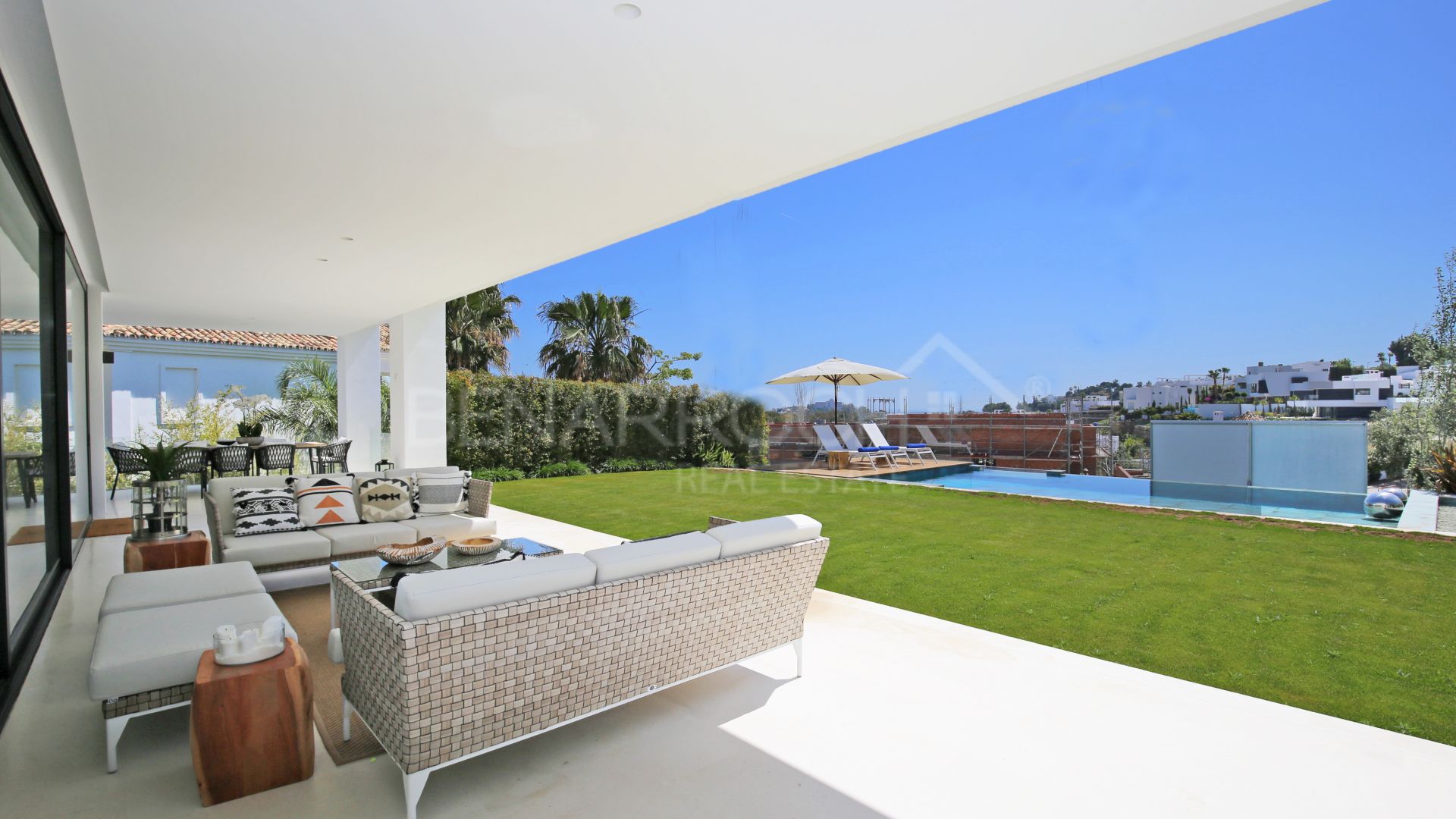 Video of Benahavis Area
similar properties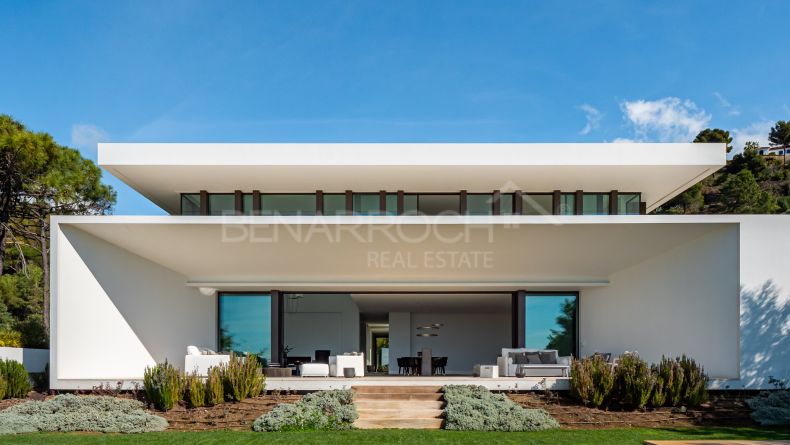 4.950.000 €
Villa belonging to the new construction complex El Bosque, located in the natural environment of La Reserva de Alcuzcuz in ...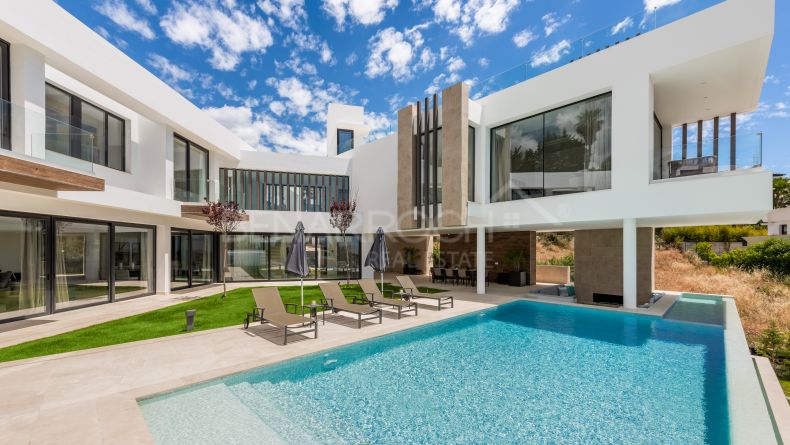 3.495.000 €
Recently completed villa situated in Capanes Sur, La Alqueria, Benahavis, with an innovative design in a modern contemporary ...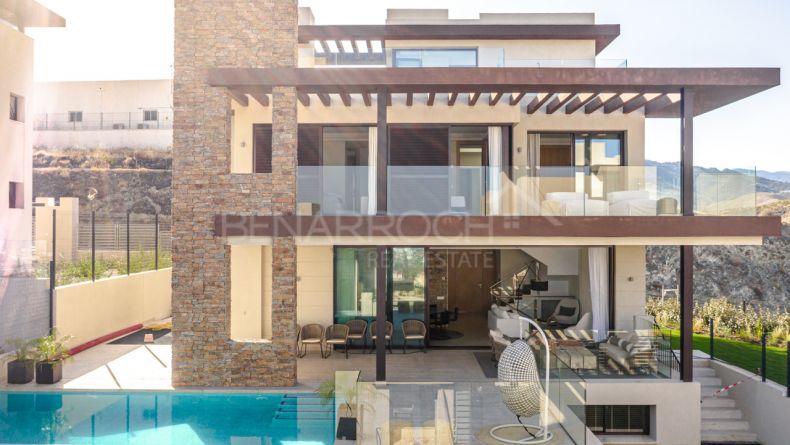 1.850.000 €
Design villa located in the newly built Be Lagom complex in Benahavis, a residential complex comprising thirteen villas, with an ...