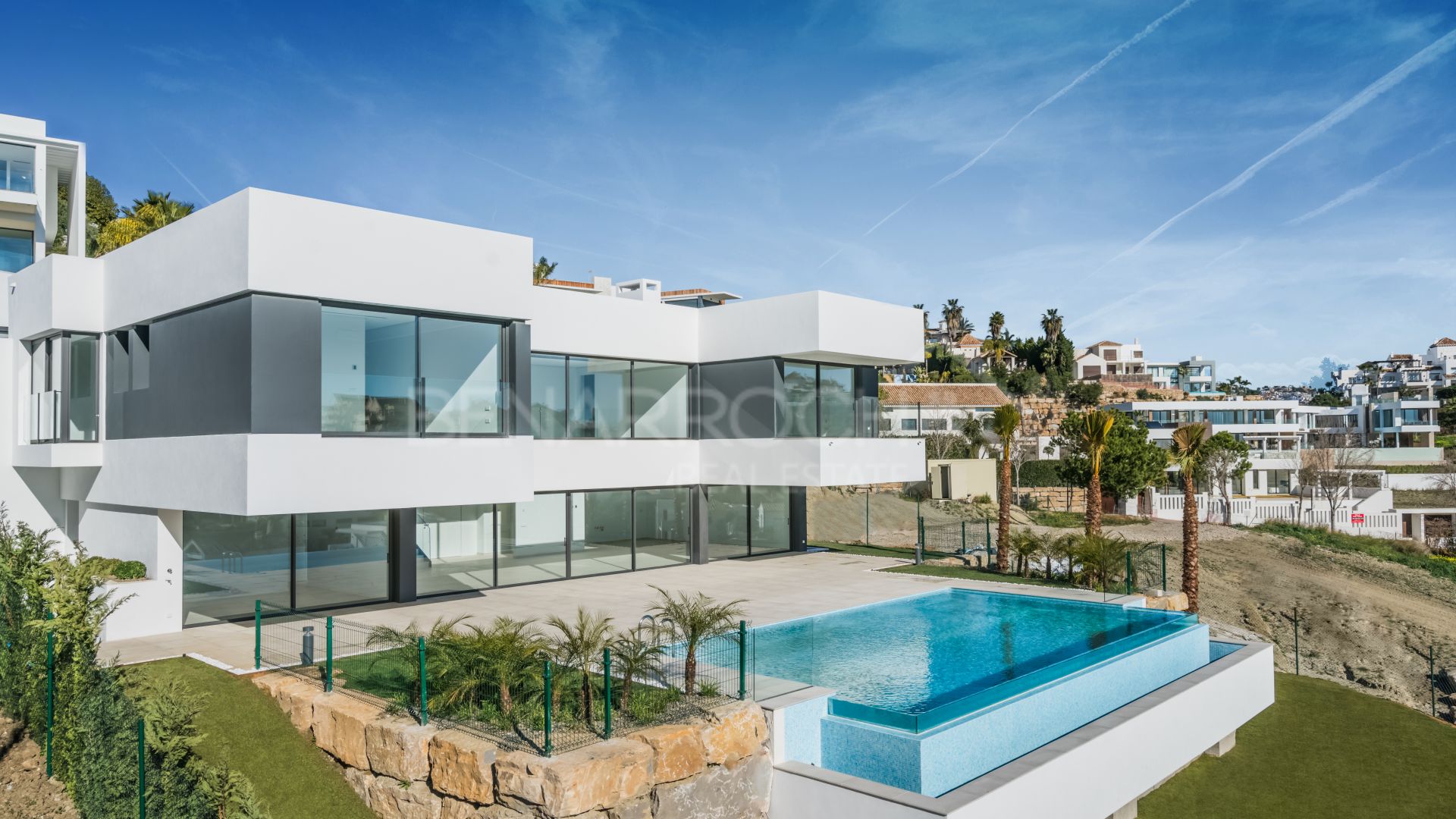 //media.inmobalia.com/imgV1/B8vEv5Xh_VThvnEqMx4G0ZxU_YC_pCgmETwWNQKyeMqLb9Afo_WSoi~kcK5mwaepLz96AHEmAzWJQblCNhundhnOIYTFLWoaYUwrC1S480Oi07Jng3XDealbdk1NVqHR~pNRC7x9PrplMqGLNC39FqR~w2MG5bG7_O4LFXeMmW6pnSNSin0T5FvIZmpGxJ40NG15e5RywSWRKqmAurSdMsPkkBGkspb8kkVIbU7jo7hbjoN4nrv68a_Tz1m8oxYqLa82LCwE4~2haLErylwm0E0cIBQ6xNNoCugvYS6_hZCjVKRU_GlwHdXe8XukBSt1us3afg--.jpg
//media.inmobalia.com/imgV1/B8vEv5Xh_VThvnEqMx4G0ZxU_YC_pCgmETwWNQKyeMqLb9Afo_WSoi~kcK5mwaepLz96AHEmAzWJQblCNhundhnOIYTFLWoaYUwrC1S4oqQy5pEOYuM72uhl8yKbVQw~mlOJdPV_en5iQlJet39mn~Ua32dv5UT3uQJw_aQVpNhAf~VIDQJqrSLnCwoMMrtJ2NhCEuehLvO3RVA0iKav93oT6LWLqg8sv6mX5112xD_5cgIwxCkBhxJbkx1xkOba4dv1bZK5eNan_KHWgt9RtSDhhv92CsUVvUsDj~Mw6ZEGkOFo7RENL5_Ii9uBPa8EkFO9Cg--.jpg
//media.inmobalia.com/imgV1/B8vEv5Xh_VThvnEqMx4G0ZxU_YC_pCgmETwWNQKyeMqLb9Afo_WSoi~kcK5mwaepLz96AHEmAzWJQblCNhundhnOIYTFLWoaYUwrC1S499QLFwnNts8n32S1R36MUzd68Y35F64FGAxgQhBT0jZfbBbcYeq9K74dyEGuHFk3nXzt0rPlxeeFQlUEHbQoOxY8NNf6E~tSZhzro4ePgg1J3wR6FfPAe2AM6M1P85e0BEJHbc3L7_ET66j1kwHqYtwE5LxgP6TBfUq5PcWeWfcGWDQghGLGJAAh30NrBNAHqL1FhFviqw1zmRJl1lAxOXCv9V_30Q--.jpg
//media.inmobalia.com/imgV1/B8vEv5Xh_VThvnEqMx4G0ZxU_YC_pCgmETwWNQKyeMqLb9Afo_WSoi~kcK5mwaepLz96AHEmAzWJQblCNhundhnOIYTFLWoaYUwrC1S4pDyiw96QitTyelkJ4B~hgY1TshQUB4cGIEKQeeVwbvvCOjHB6ex1L9RR1igsX7Rog1tG6O40lQCEnHvft_ouW67ApD27ukjTiiUWbEezdY3hDcYmrBMMg6IxM6BYJTNgVTyme~XL5OlCGVuAHoKxgt4VpcihWc7pmSafPtUUUr0plETx26_QguF6aLQSnf5VZ1f3mJ2MLy4NXU479pn_7TF15vS2~A--.jpg
//media.inmobalia.com/imgV1/B8vEv5Xh_VThvnEqMx4G0ZxU_YC_pCgmETwWNQKyeMqLb9Afo_WSoi~kcK5mwaepLz96AHEmAzWJQblCNhundhnOIYTFLWoaYUwrC1S48EE6CccWa01uHr~HaJmxi3MklVzadjyzMzWLJoF~~Sc~JxbkfFwNPCkklkgJgf3AJj15OILgd1jKsy2_wO0IhOU6CF5I2pkNy5OTGxH0jjdMOx3V7VINbOWWxNU97Py452nItg_k84GEatX91XybhakXxxa_MbSpNUDrKTBs3wcCb8CQbXG2e3Jcmyw5FBjM9SsxQlfsDGVCFm1Cs~S4NPkGXgWNRg--.jpg
//media.inmobalia.com/imgV1/B8vEv5Xh_VThvnEqMx4G0ZxU_YC_pCgmETwWNQKyeMqLb9Afo_WSoi~kcK5mwaepLz96AHEmAzWJQblCNhundhnOIYTFLWoaYUwrC1S4qVvjTQKhMTHxeKHwkSHrYsQyK9uwqWvxpgPsL9pzQzOUipuFMzUgDDF9TbUb0E2eiIGygNv7CcC4PxfctiQI~aEAY0ezLijSY_TiWgzOtn7gjgEIp~hPuSpqjeGS1rVm3emxd8oK2rA_XN7u07TEqbL1UBK6UdbgOGQ_W47Stbr1MoVc~qoJWkWPN~SHjhd8v445zPyHrCCQsaS049y_hnr2p2hVZA--.jpg
//media.inmobalia.com/imgV1/B8vEv5Xh_VThvnEqMx4G0ZxU_YC_pCgmETwWNQKyeMqLb9Afo_WSoi~kcK5mwaepLz96AHEmAzWJQblCNhundhnOIYTFLWoaYUwrC1S49UDcvE4mG60F2Fgch4zSlwwiSyv57xil0XpNQOE3wZfFkjPS0QaUPkIRTDE1bijaweLAyRHoZ1aFtscMn_deyeoEr5JvHiS6k4~DdP~mWr6Ze81AQwm7kYLk_qQwR3LeaHOC4oWKs4ZjELdCvuep92gtjLd8W7vM~dOPcgqvTijb0PpyowD~SCpOo23afFRO~AAbi87BV_ry3VAF1QPhl8Vj6Zo64g--.jpg
//media.inmobalia.com/imgV1/B8vEv5Xh_VThvnEqMx4G0ZxU_YC_pCgmETwWNQKyeMqLb9Afo_WSoi~kcK5mwaepLz96AHEmAzWJQblCNhundhnOIYTFLWoaYUwrC1S4qQWznCpJLTp5LCDkOvKBYJaweUQGm8jmQ1jM2spgn6ck3GRfHmJPljGynaCaR~5Af68Sz9gsweXZEMa5XNcsu~gAlLdsgqSnRdpgK19vHjzwmSx1zqgYRtpgFnfc0JSxmd7Ij01dqyumgRmljvh2suwc6PE77~lM2TSFf2Z4WRE3b0OsfFSNdogLJZo8bAT8UdfKvv_jAilgd3Gkjo7e90QY9FPllw--.jpg
//media.inmobalia.com/imgV1/B8vEv5Xh_VThvnEqMx4G0ZxU_YC_pCgmETwWNQKyeMqLb9Afo_WSoi~kcK5mwaepLz96AHEmAzWJQblCNhundhnOIYTFLWoaYUwrC1S4pG6VgfJQCyhC6RvfBXaD7mUwUnz6jDJqwO58aoVStNu6KfbaqUFz5N8it9OnV1HXA4r7UWXkfVBJdA0MuNp5QvxytvxjZWLc4IYR1o_LxLlJC1Iu4k0RLF1K80gJmfCIlPY7ALu~p2GBxatj5jFrHUKsl~tgxDsQwQOWOvNa2tn28rBkcmq0anfPoo5Diy5dbovGB8Ez1BFZCPqA34Lmp1SzMQUS5A--.jpg
//media.inmobalia.com/imgV1/B8vEv5Xh_VThvnEqMx4G0ZxU_YC_pCgmETwWNQKyeMqLb9Afo_WSoi~kcK5mwaepLz96AHEmAzWJQblCNhundhnOIYTFLWoaYUwrC1S48leZX0Tx3i2TbyzNKlPX58xynHHPS9CN1gXhEvYIJvmX02MYPxnXjV9R9BOzQ0CrT4~LmgzumeC5nacFWMfckSZMNNxiYU3ZeX3HwJ1U7QKLDvk3lNb5~EJhPFf7xCSdUHkYSt4PPpRxTTwF4lvLOh4SbtHbPB8KPNkvZspUiVqRjFCmjiJqiWiOS1D_IQYcT6biXHMxeNfEYyqV_d81RpowsKyKbA--.jpg
//media.inmobalia.com/imgV1/B8vEv5Xh_VThvnEqMx4G0ZxU_YC_pCgmETwWNQKyeMqLb9Afo_WSoi~kcK5mwaepLz96AHEmAzWJQblCNhundhnOIYTFLWoaYUwrC1S4ovy_yBUbZaeokY25xSLDvFgyUIyvW76Kcax1satNJ8ePkdAdYZu8seddzF6Im0DVyWvH3Uh7Vne68T7QisofL55Unx2fq8mcH0VpdoWGU_SlmEAQiB1QsIR3YucbHrf__VUFIYlPCcyxnjzo5tfPdGzrpjEwgVkiNant_uFHLr9HoNS0Y~cKPx0Myh9n2t2FqrTLBC7I3DuaiNdLVTGp72PjEvZ73A--.jpg
//media.inmobalia.com/imgV1/B8vEv5Xh_VThvnEqMx4G0ZxU_YC_pCgmETwWNQKyeMqLb9Afo_WSoi~kcK5mwaepLz96AHEmAzWJQblCNhundhnOIYTFLWoaYUwrC1S480CwQt_yep1FoWWcZnc_nzlDftG4mfL24IjsnokKcRzif8Kxp76toHk1CXrSrTxdIS9wGRCSVcyIGl8ZUk_PIJOU2UmucaGV9DB_P865Ez6Upt~gBibZ9AYG_Mk8OTQX7G~vIcNBp~0Xbq7a9vP9nNXtSAw~4q_IK7JedPTBqirfX2PPKNmatHn0QFgWlgY9HBzuWz02tThycKpnFmFDfq7FfO6jTA--.jpg
//media.inmobalia.com/imgV1/B8vEv5Xh_VThvnEqMx4G0ZxU_YC_pCgmETwWNQKyeMqLb9Afo_WSoi~kcK5mwaepLz96AHEmAzWJQblCNhundhnOIYTFLWoaYUwrC1S48xoGAI_jpbc9tjTrsTVEC~7u0s2e_bu1~xAfXoDYtAJB067~sXAnL1aeQfphU3Oz43ThN4k7PcQ7pnPDLKTmAetyy0oaUEVTzTebDzjQrC8wG2mRWUlgTxhKhwLVL72H0~TqTYW67lpb4LZMQpYtdN2DIpEqGVtKZnjELHfPk31lEbvXyGGd_NeEcFx6vUXKzAHZoq4ukpNAODwxTIfLHLkczZ11lw--.jpg
//media.inmobalia.com/imgV1/B8vEv5Xh_VThvnEqMx4G0ZxU_YC_pCgmETwWNQKyeMqLb9Afo_WSoi~kcK5mwaepLz96AHEmAzWJQblCNhundhnOIYTFLWoaYUwrC1S4qFoRe5Nm5c5LrtfqdmMB0hIAbN__vK~6V4yxn908oGGOmwUEMApsX6yMCV12fbKsau88kTET2tru1mnwK~p7F8NmSOknKHMHEuIMbelScVS1gKM3mM4pdijqrPaqNdPoyg6MWQFRB90MIrm8CZ8GkI0HeC0i2p7m5FMspWuAM2coSZ9jkuggpePV~dYWFec7zPNDyEq1S0RhIHDdFIKHrI4SlMWqhg--.jpg
//media.inmobalia.com/imgV1/B8vEv5Xh_VThvnEqMx4G0ZxU_YC_pCgmETwWNQKyeMqLb9Afo_WSoi~kcK5mwaepLz96AHEmAzWJQblCNhundhnOIYTFLWoaYUwrC1S48BCGWaMrbvCqryfq5Wrl__k8FQYGEHLz1yCh2IxXHTuARBjrNo0E9cEZyZslyhQFVAFK70c0THlhyW4UAkjQPxN1RuHZfCTiStPG3ZwlBwnJS4IR0yI2oP6LvMwUExQDUo8gxJDGdoccy4c33w8dgKQ25pJGN0Wp5FSjMgnukb6~PJ2Ma5T8PVoI88SI4iwzag8ZM7KArQL2iFlWbkYxUPeaq_Yxrw--.jpg
//media.inmobalia.com/imgV1/B8vEv5Xh_VThvnEqMx4G0ZxU_YC_pCgmETwWNQKyeMqLb9Afo_WSoi~kcK5mwaepLz96AHEmAzWJQblCNhundhnOIYTFLWoaYUwrC1S4pdxAfs7TsbTnBV25ZixFC8whyt0Z1T1Qlmc2cg87QaZRx~lZYLiuv5QWA7xIDl97ykgzbLF35Mop6Iud4nD8Ml~DotZnodeM7bPkDcWL8UbGIh5YWsFjT1P4LPUOvpUZoHjp1Jmo2AFrevNwTsIDdtYUzO4Zu3kopwBJOmAzR_VRqxU6WBbamvyps9AzICmTSlNr3aUBj~17fz0t0XPAWTg0EL9QRQ--.jpg
//media.inmobalia.com/imgV1/B8vEv5Xh_VThvnEqMx4G0ZxU_YC_pCgmETwWNQKyeMqLb9Afo_WSoi~kcK5mwaepLz96AHEmAzWJQblCNhundhnOIYTFLWoaYUwrC1S4pdUJqhZqixy4UEwoLelY25kuiqBy2kcnhvHXUNI6ZAwRqnBakJdhRfWYTv1D9OEsi0mEMBP8iVvJ45JL5CmVlgybUzpdkIOw8Rg5P135tzMGHWM1xdWC~tgOh0E7lQIknhtkGrekI7m6X~UkEPtvKWMG7Oz5Q_nc6HVzMQ55nVe2zd6BKxXe~kh6VA9GlKtUS5iNYn0u2pCyL~h7f5wZHF3DwfyrrQ--.jpg
//media.inmobalia.com/imgV1/B8vEv5Xh_VThvnEqMx4G0ZxU_YC_pCgmETwWNQKyeMqLb9Afo_WSoi~kcK5mwaepLz96AHEmAzWJQblCNhundhnOIYTFLWoaYUwrC1S494EBq5g5BDDPCb2esEBrfo9lrF~975nU3GHJRDzGvgf5f2PuLXeCWGHvCnhDuatYe1_SZW9eBxCFEdyLCitrreKCaiEgbKwpvatYg6VynD~n8Wo80dFpsHI38N92bRIP9IjWKCjRqkaQLHr2iZmXUMtaKWMy7dAGmrj27c~cDWBtRQX_Czs~hYtLgf9qt52QtosooPuCWJgNX7phrwe43r2RNLZ94g--.jpg
//media.inmobalia.com/imgV1/B8vEv5Xh_VThvnEqMx4G0ZxU_YC_pCgmETwWNQKyeMqLb9Afo_WSoi~kcK5mwaepLz96AHEmAzWJQblCNhundhnOIYTFLWoaYUwrC1S49UDev63h4b3gQcNIZqV5FyLQ4LHcCYXyRe1fLnXo~oFz2wkxYsytV1jVfAuqjqNdNDtxJFfB5DuBfgO0uYGjhPzzwpGIKkpBB3FyCYnsXhedAp7CUr77IfObz13fTIv9t7p1CzVy4bPPhuAHqau1zfl028dC0szUWvdXS3xURG0vreDr5mEWmSSVtUxqURu34apmjqtESXqAG2vNSSnkEDV55LL6JQ--.jpg
//media.inmobalia.com/imgV1/B8vEv5Xh_VThvnEqMx4G0ZxU_YC_pCgmETwWNQKyeMqLb9Afo_WSoi~kcK5mwaepLz96AHEmAzWJQblCNhundhnOIYTFLWoaYUwrC1S48BMJsXleyzG5JnpoL5EhCaRbGPex3xDcFSZC9wuAPEpNlHGjLjxy2unIUnFwKuiMx1reSC3EpCTppDtiuu1kfZpAR3abRBUh3TMZh1LIVJrMC~Xc1ArGqg7frn0oAH8nk6GMjcY6plvnXEgSyE~nePNjQwPNBu0miP4n56sN6uo1i3oBr6zpINX4btVVV9oWZ5KSfNL2zSjudveVkRVbbmFozP9OSg--.jpg
Capanes Sur, Benahavis
Villa
2.590.000 €
Modern luxury villa in Capanes sur, Benahavis
Villa located in Benahavis, urbanization Capanes Sur, near to La Alqueria, a few minutes from Puerto Banus, Benahavis and San Pedro Alcantara.
Capanes Sur has private security and mobile surveillance in a very quiet environment very close to golf courses and all kinds of services such as schools, supermarkets and the wide variety available in the shopping centers that line the road along the Costa del Sol.
The villa is located on a plot of 1,339 square meters with a built area of 510 square meters distributed over two floors and a basement.
It has four bedrooms en-suite, the main one and two more on the upper floor and one on the ground floor of the house.
A large living room presides over the central area with dining area in front of the open kitchen and direct access to porches and terraces in front of the pool.
In the basement there is a games room, laundry, storage and garage.
A magnificent property in Capanes Sur.
REFERENCE

208-01481P

bedrooms

4

bathrooms

4
built

510m²

plot

1.339m²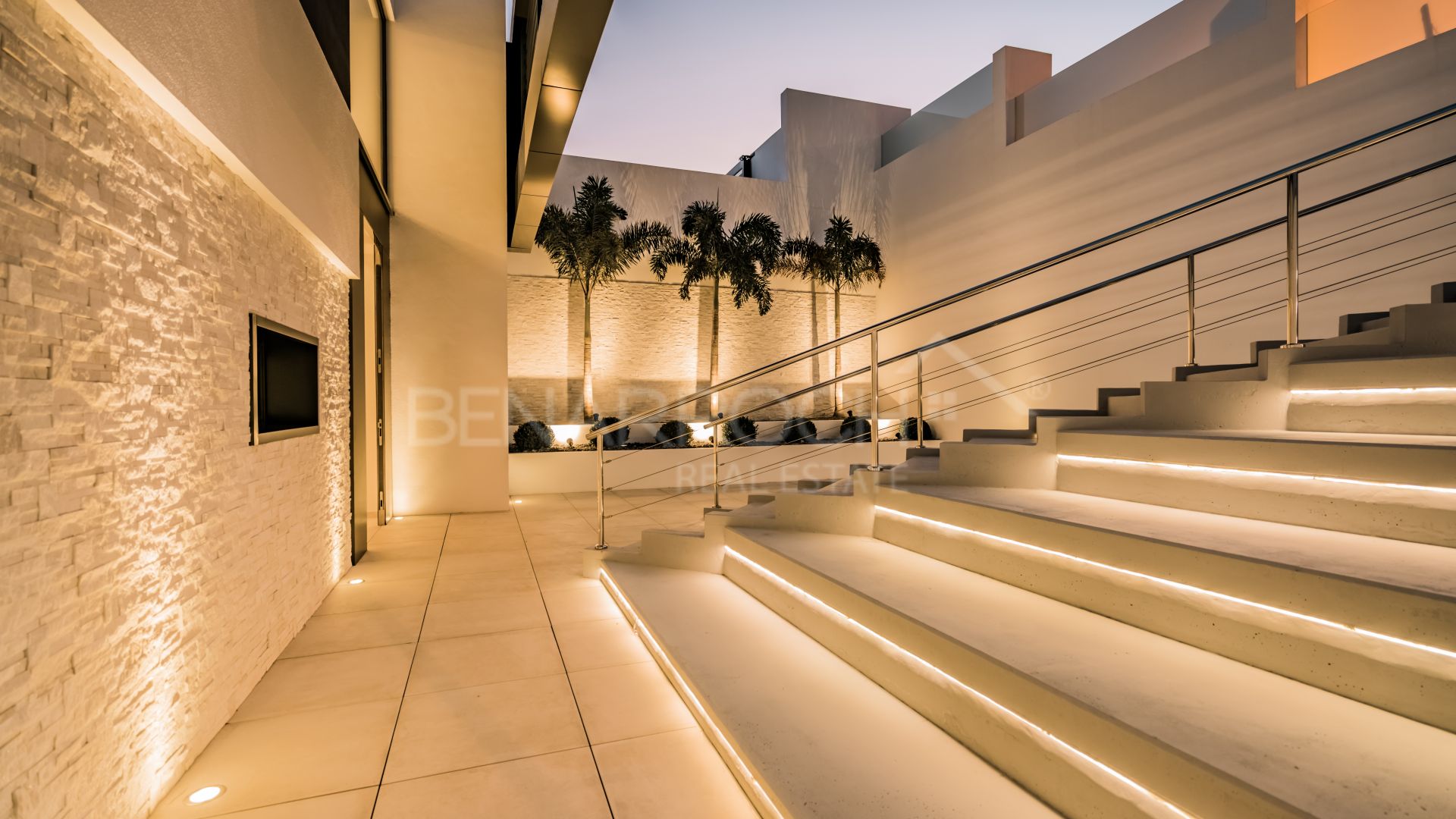 Video of Benahavis Area
similar properties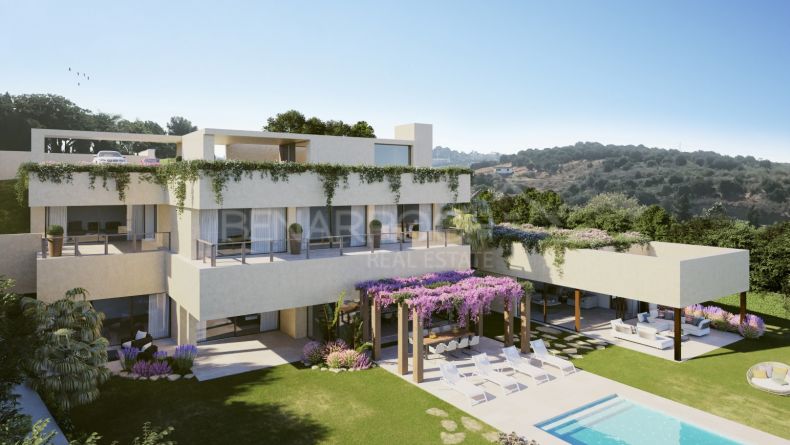 4.000.000 €
Villa under construction located in Los Flamingos, Benahavis, next to the golf course and with all kinds of services in the ...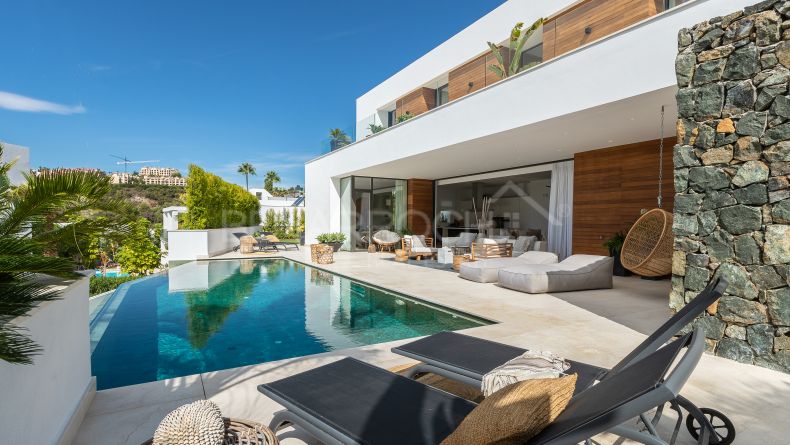 3.195.000 €
Modern design villa located in El Herrojo, within the complex La Quinta Golf and Country Club in Benahavis, a few minutes from ...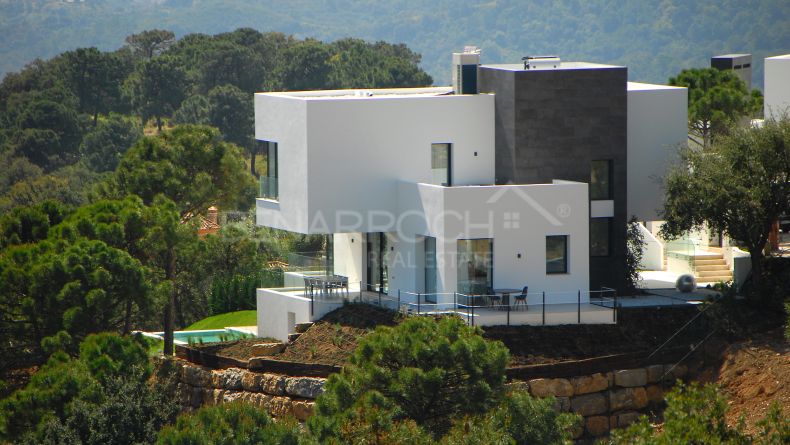 SOLD
Villa belonging to the residential Abantos Hills in the urbanization Monte Mayor, in Benahavis, in a natural environment with ...