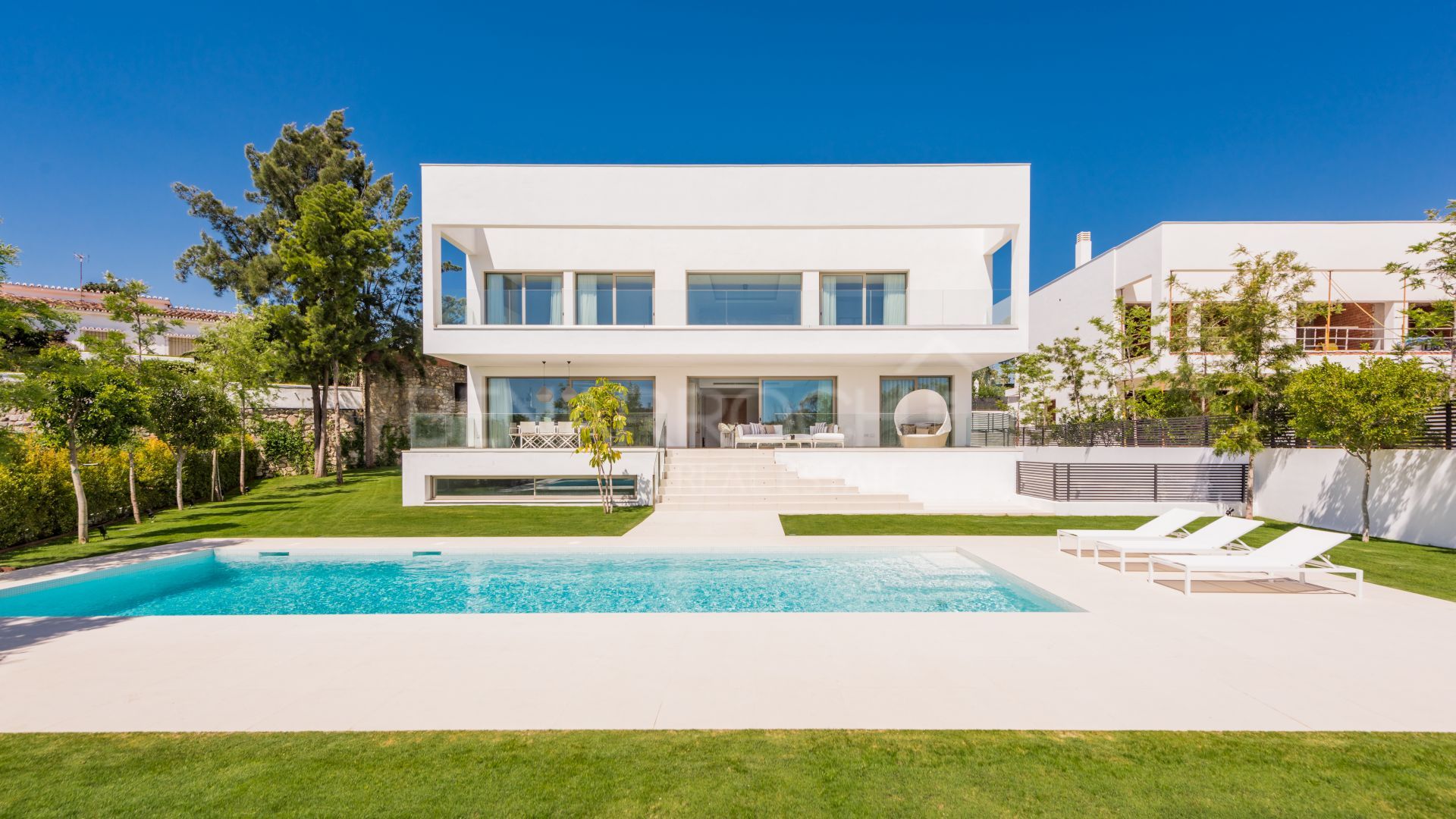 //media.inmobalia.com/imgV1/B8vEv5Xh_VThvnEqMx4G0ZxU_YC_pCgmETwWNQKyeMqLb9Afo_WSoi~kcK5mwaepLz96AHEmAzWJQblCNhundhnOIYTFLWoaYCwj7VnPUMlUcoZ4wy7nxBr_BwME0JYS5netR2Gbnl_7nDAFgcB9cJqE7QqMmnUtE6cqprqFrCLha6jW56clCW~i5UMm0dxgFy~thlcnhXq~Ub9FGjrZc4qKuSGl4PGq5kdRM9UZh6wCLmZa33EVtK65bMg8DkUAY6WtpwH0P~t5eUXH2xdcqOOESKV16yQcckHTgjmEDI3V0txYytkCMJDR9rlbhDwittFWNw--.jpg
//media.inmobalia.com/imgV1/B8vEv5Xh_VThvnEqMx4G0ZxU_YC_pCgmETwWNQKyeMqLb9Afo_WSoi~kcK5mwaepLz96AHEmAzWJQblCNhundhnOIYTFLWoaYCwj7VnPUs5O_hnZ~gI0kY779gocy0Ctle27awQsFel66BX5BTxJCznLghTiGrrJF909kgVbhZEkMc625jkjgA6x_YNiSDzxG5SmXdxI1f3faW6J1fh6KTI57N75hxtsq4w~_FOpgs9uMu4~9kxVD0g5J3cLzwQ_kSqbgh8uDJb50rpDd2v8O2ySVSKF3~aDPctOLYjKUzPtFCDtAIUb_eNMt5OSpQza0l7y7A--.jpg
//media.inmobalia.com/imgV1/B8vEv5Xh_VThvnEqMx4G0ZxU_YC_pCgmETwWNQKyeMqLb9Afo_WSoi~kcK5mwaepLz96AHEmAzWJQblCNhundhnOIYTFLWoaYCwj7VnPCeQdaJs7ZsswuZPNb3p9CTZvvS5LcJddZugQdFXXwl~BAEoojRKuWfjS4Ybkvz3lfZBX5fRpHtqdn01NEyQLVnTwgy0LPMMb7kEJVFRrj2xlVzZjDzhITq8fLm6Lvuqf3qo~Z~qwoM25KVPETi4qTeX5a81yqviOQOJc552aafpb2iyx9RYzVmqZ1dUF1S94srDqUycxxPgcSCd8j6F0ifIU_Klx8g--.jpg
//media.inmobalia.com/imgV1/B8vEv5Xh_VThvnEqMx4G0ZxU_YC_pCgmETwWNQKyeMqLb9Afo_WSoi~kcK5mwaepLz96AHEmAzWJQblCNhundhnOIYTFLWoaYCwj7VnPUMxB99VIGj4Zuv3DZDD4xLzbVWS7c0HzLM~UpzNNcmbpf9zYmypbCMdhXl_8B7gtrrkDKk9Ilwhq_n0_eO_cJJEjEd0pemgD3ieKyJmZ3JTbMMIz8FJTX3aMeUubVt2VVHf1gUcykvaTAfYeLEsnhtoto1508T_T1ddmBvVKALoNtIyEDLBvA0S2neOhB9VBsYbtHhEyjnmGVDfGH38Rb~bQKFnGUw--.jpg
//media.inmobalia.com/imgV1/B8vEv5Xh_VThvnEqMx4G0ZxU_YC_pCgmETwWNQKyeMqLb9Afo_WSoi~kcK5mwaepLz96AHEmAzWJQblCNhundhnOIYTFLWoaYCwj7VnPVak3KSnX2~ikQ3WXxOV3JvRobeLiIFAzbv83qXRq7bAQwlnIz3GXPqSRGwyY2V8xyV8hnD~I6c6LrJdQaHTy_qABNCWJ0fgiFoAD9ljO~Pk7JYg1l0hLQmvIqjFqjXP_tlAiulxZwfA7hAsg4GZ89~N7sj9Et2kta7POIaPJ4HHqgwGr3SLKAjC~YfjfOVOYcSfE~xl1QdXT4thOiLCKRWfbsTYS1g--.jpg
//media.inmobalia.com/imgV1/B8vEv5Xh_VThvnEqMx4G0ZxU_YC_pCgmETwWNQKyeMqLb9Afo_WSoi~kcK5mwaepLz96AHEmAzWJQblCNhundhnOIYTFLWoaYCwj7VnPBFiEGPr7ePv_ogBesqcLQCjkQ8WFGjJMSPk2jRgWVzSihriK1Tox8usP8W7blEJpvBQQ6eLnIv83nGVu7aiVvkBBKzSlMxabMcR1W9MONlhLiq_3PpeijZHUUOO5KsuO3I~kBEdE8SQ0cHmODp0d85UUNvNE6iwEty2QPrGba1CygL88IuwurWXNyczhGzA84ad3sB8o9UKsmPSmyS2E5uC2zgdemA--.jpg
//media.inmobalia.com/imgV1/B8vEv5Xh_VThvnEqMx4G0ZxU_YC_pCgmETwWNQKyeMqLb9Afo_WSoi~kcK5mwaepLz96AHEmAzWJQblCNhundhnOIYTFLWoaYCwj7VnPVyLipnJXmEYYO219jewu1ZGArsQS2LuXAiCww98FmXrvIXt6a1rXJEZWAArZ_LWmalA~yH6N2Gx6KSK7PGRrKdAKsOtJHPGZzrwPEWD79_4is2dnoy0wYViS_BJlvRpTkVuwNqN1YUoAWQStA~ZmunbeuuogVXcCUob1aUoeKaojBsZqUV1cQbXu6oiNKXW_BG52_xUBm3b6lSSRKHsYRY~RAs5DMA--.jpg
//media.inmobalia.com/imgV1/B8vEv5Xh_VThvnEqMx4G0ZxU_YC_pCgmETwWNQKyeMqLb9Afo_WSoi~kcK5mwaepLz96AHEmAzWJQblCNhundhnOIYTFLWoaYCwj7VnPBS2pYth6wnBXcIW2iqwOGDXf3l8IKfVwjjG2Udd5GRSWoEJwSsQIO71wa0x4oVaVXh9MhXix_Mjzc1nAo1qOuUb_RBb1TVOGCKgL9jaYhQrSNgARBOxEQS3TYlPZCvG9nS8EbpApowPaAdc~7JZZB3Fmstd~P~pOVPg5VmYR8QPo5tbdHl9JW1VmoGuqpw5bINdNZCJz~3v1TsQDC~oQa_3war2Uqw--.jpg
//media.inmobalia.com/imgV1/B8vEv5Xh_VThvnEqMx4G0ZxU_YC_pCgmETwWNQKyeMqLb9Afo_WSoi~kcK5mwaepLz96AHEmAzWJQblCNhundhnOIYTFLWoaYCwj7VnPCOtjuhtRWp0hCuUD~oOkiRUrJneyWis2qG371b5fnqAFjj5PWbORt38M5pRbZXcUlWL26wNfWdoWhSpFgZt0y3z7QO8QogTDvPBLlTRDCoRKLeUKrZOCLkbQkcNCIaTAhazQg6u_W5RIgymhCBZ3~IYC7VcZn14y8cnh23WVCZYd5Cn7qETxpgj_c7UaGsqrEAWIPtHFSnhA01z6ntwCzItNr5aStA--.jpg
//media.inmobalia.com/imgV1/B8vEv5Xh_VThvnEqMx4G0ZxU_YC_pCgmETwWNQKyeMqLb9Afo_WSoi~kcK5mwaepLz96AHEmAzWJQblCNhundhnOIYTFLWoaYCwj7VnPU3A~Vwx6EaHpWJ1fpz0cOgTYrZvAqldaBV18Y8VPRCXYqBZ1opzYLVrBLFuUPV0VwjbdH7H0ajLQdfhK7lWLbTGoszg5tDiQ~BGrFeQDU1blFM0r~eqjPt4sevbYiFFB_lNeuPIpt1mobV~zgwRJSbX4u40a~EPJY8_WwWuTsfZgjkXxEl8YF4FHZKfKPi0ofHa~QrKfsb8OlLl~lg65hvjXc5Ihlg--.jpg
//media.inmobalia.com/imgV1/B8vEv5Xh_VThvnEqMx4G0ZxU_YC_pCgmETwWNQKyeMqLb9Afo_WSoi~kcK5mwaepLz96AHEmAzWJQblCNhundhnOIYTFLWoaYCwj7VnPAtgV0jT~FQA6M33_xry_hquNAhPOgsPygWHjx9TeXs94hd4Dd0cvcjcIsmDj~qjopy8eOXB2kmoa3BlEvxH_4ClmPC5i5AO6xoLtAqjVXlanc9CyPLrTidY_ZIXYbSwpWh_0fe25UE8cXrgZgYcY0g1HWbKEG7nDtzduSviKeJerIcEV6qN1fTIcGAa3Y_z5GHHFPjWSwC2ROZ0oSFeYW78KN~o2lA--.jpg
//media.inmobalia.com/imgV1/B8vEv5Xh_VThvnEqMx4G0ZxU_YC_pCgmETwWNQKyeMqLb9Afo_WSoi~kcK5mwaepLz96AHEmAzWJQblCNhundhnOIYTFLWoaYCwj7VnPBX0L8ZSEDKByrZK08BvKAwbnF2Xgf6LYJeeKqNmvtEH6FNZ1K2agXu~IB2_xGDRveWleRjTHZHlV9h3jdKbA2cHTwa8rRlEXLVsdjfC3l5G1iCmdP~HoL6ivNsIdU2PYBWS1JNrYXD7~9QlMieD9di5nFvKVrpn7udWGWaA1o3S8EpCIEW0r26LPDgPJjiA79aOrQpcRZqqiqSEIZ1FKc~jCr_ackw--.jpg
//media.inmobalia.com/imgV1/B8vEv5Xh_VThvnEqMx4G0ZxU_YC_pCgmETwWNQKyeMqLb9Afo_WSoi~kcK5mwaepLz96AHEmAzWJQblCNhundhnOIYTFLWoaYCwj7VnPCOqEmW5orQa3OCvev7X67V63EKWd2S3pxygjZF~S2rheh0S0~Bu5cyz4XbvXoQrGpZNSmEi23pF_OpSVH4ee979LALiQDLGJWIusxrxDQ1j3Mo9HCBLDofiOAdNKUVf2u5eD3yQYweDmPPHm_j3xfJEh0DGzzgyHuXUkPVsM04Ftgwdzk0wmkBBRGN~yo3ZwVoNIsCpU6l67YGdvRbCyMHRMHGqJDw--.jpg
//media.inmobalia.com/imgV1/B8vEv5Xh_VThvnEqMx4G0ZxU_YC_pCgmETwWNQKyeMqLb9Afo_WSoi~kcK5mwaepLz96AHEmAzWJQblCNhundhnOIYTFLWoaYCwj7VnPU3Mkq2XptVM3zq1uESKms02Miu0QhWZqsy8fYPCyuG84GP81qHtxzHkandVfijC21d3lW85Sw7OBxt_Jo~Zx7BjiMYiJTPTHgn5GHNJIyfu0qUWJ5Xn2kOqTOyETGjGjFU0Sm_5Upz1Zg5a6YwaF6I9QXXeTIzlj1XxIlFBGCHmF0MLcmoiuJVT4C~hl_79FeKw62u47Ul39llEpSjf~JMnvjPeahA--.jpg
//media.inmobalia.com/imgV1/B8vEv5Xh_VThvnEqMx4G0ZxU_YC_pCgmETwWNQKyeMqLb9Afo_WSoi~kcK5mwaepLz96AHEmAzWJQblCNhundhnOIYTFLWoaYCwj7VnPCbSKWUI3XUTQjb7dJfDFrz8ZL8YqTDGKQxdCskPXotMVpJp5oAbN_y7m~p6EIHyCCDatEEailt4_6hs_5sWzD7u7WCI8ZFAlMpIb6cCnKLGwQqdRt7NT4aBCUih3_tsYACmplpjLeUoctOtTZ0c64G59ky7Pi3B9eYTzyK1WZ11kdGipAF73Hfw5zMt7KebHLbKjepWej~HjC~1ubS3JtqU~XqxFmg--.jpg
//media.inmobalia.com/imgV1/B8vEv5Xh_VThvnEqMx4G0ZxU_YC_pCgmETwWNQKyeMqLb9Afo_WSoi~kcK5mwaepLz96AHEmAzWJQblCNhundhnOIYTFLWoaYCwj7VnPU3EJ3OCFJcLAnRaO3f5AyuLhsgX_gB9vxHwL08PbNOULHzolMpIY5EJW2v0PR8uj0M2BsRbjjL1vRX0smL2cwIPdebOfc7HcLEmKWMsUqxXIVqpjQzTKPkQ8umbRDQg6AASaNHgcklR35YZTk_0kUUDs_Jlnv7CBZtTj18IWl0avklgNNJF3FjN4y25WaTvtI9hN_qHdPpratP2wBqn_Bbt23lumaA--.jpg
//media.inmobalia.com/imgV1/B8vEv5Xh_VThvnEqMx4G0ZxU_YC_pCgmETwWNQKyeMqLb9Afo_WSoi~kcK5mwaepLz96AHEmAzWJQblCNhundhnOIYTFLWoaYCwj7VnPUM4WLO7MeXO6XAgjYlmJxKYSNOkXf0dZktP9y6NdIjk6WgktmK2AEr0gLf55pGRSB5jt4K45EIE08UpDmeU1L_tN2GZDR7CG0hbHDOMNcSFbe0ws2Hih85wmlvsiAOBKd_Y77Ig5Z832L~jjBXGfz1pfWF45gEgqyqWb2hZGZsGpihDlfS59unxC04_rAa2yk2~9KPHW8SdufUizuZ1EcawZXhszpg--.jpg
Loma de Casasola, Estepona
Villa
1.790.000 €

reduced from 1.890.000 €
Exclusive villa a few steps from the beach in Casasola, Estepona
Cozy villa with a modern style within a gated complex of six houses in Loma de Casasola, Estepona.
This villa is located within the prestigious Casasola urbanization just a few steps from the beach and in one of the most peacefull and safe areas of Estepona.
The property is distributed in four levels. On the main floor we find a guest toilet, bedroom en-suite and a large living-dining room with open-plan kitchen. From this level we access a large terrace, the garden and the pool of the house.
On the first floor, three large bedrooms en-suite. From all of these rooms we have access to a great terrace with beautiful open views.
On the upper level of the property, a spectacular solarium with 360º views.
In the lower level of the house, on the basement, bedroom en-suite, large games room, bar or any other use you may want to give, storage room and garage for four cars. A lift communicates all levels of the house.
Quality in the construction, design and natural light of which it enjoys, are the hallmarks of this great property.
REFERENCE

208-00858P

bedrooms

4

bathrooms

4
built

506m²

plot

885m²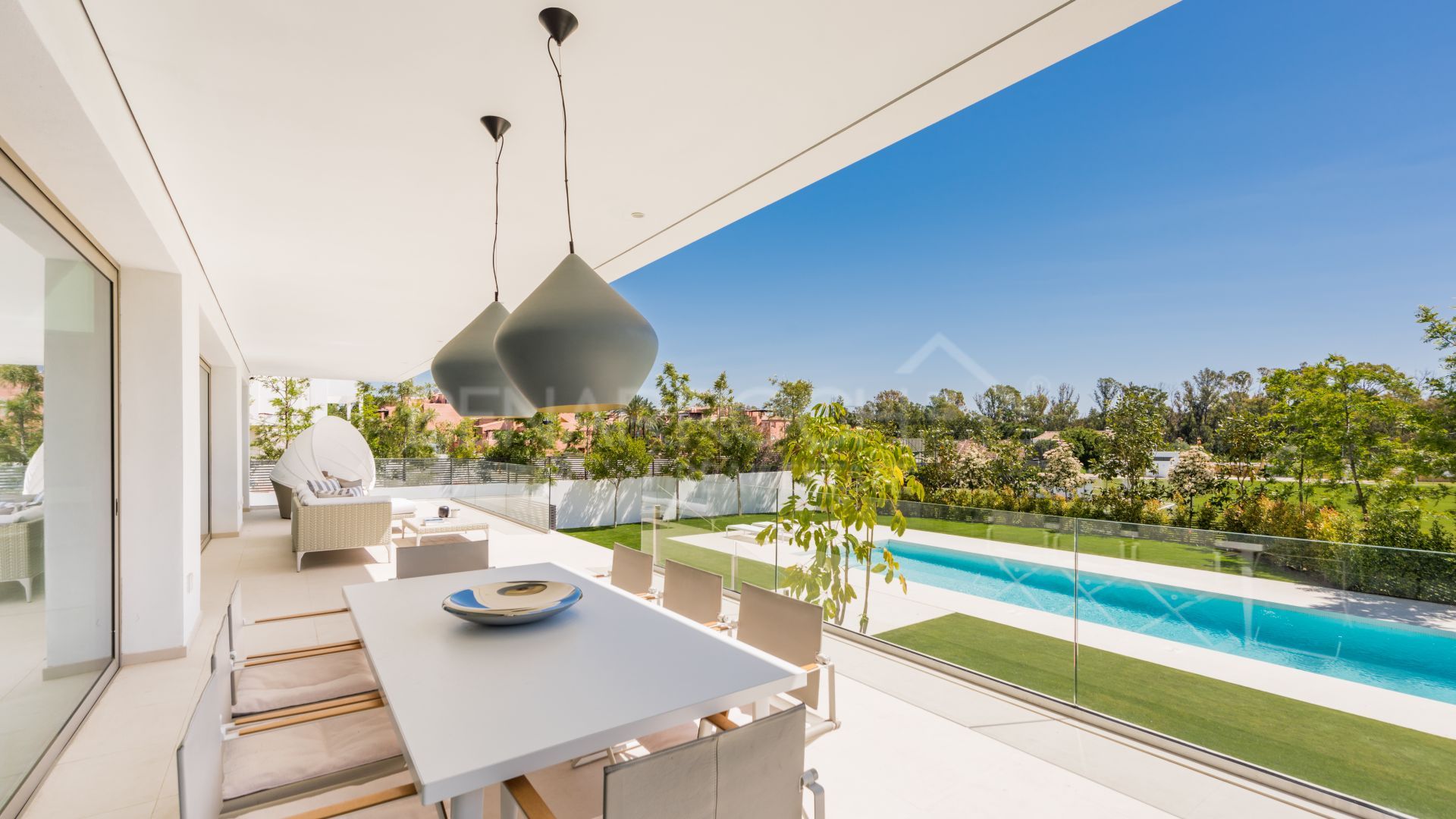 Video of Estepona Area
similar properties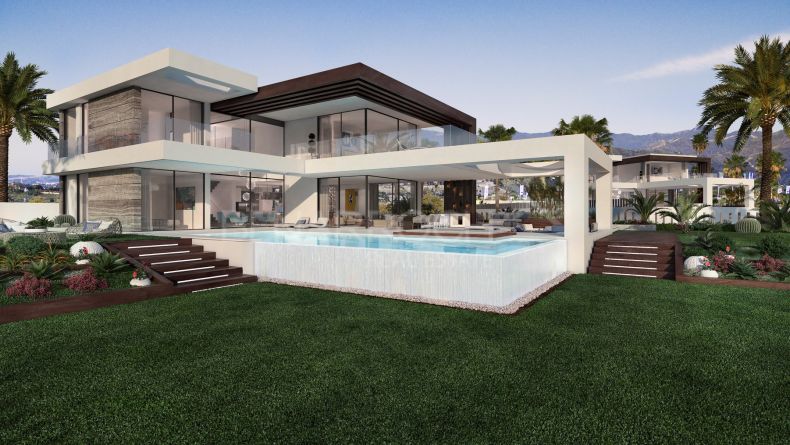 Price on application
Luxury villa newly built in contemporary style located in the complex Velvet, New Golden Mile of Estepona, in Cancelada, area ...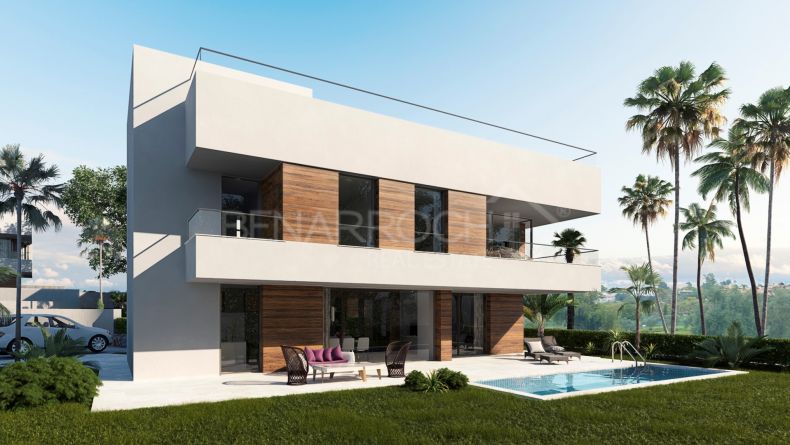 930.000 €
Modern design villa located next to El Campanario golf course, on the New Golden Mile of Estepona, in a very quiet environment ...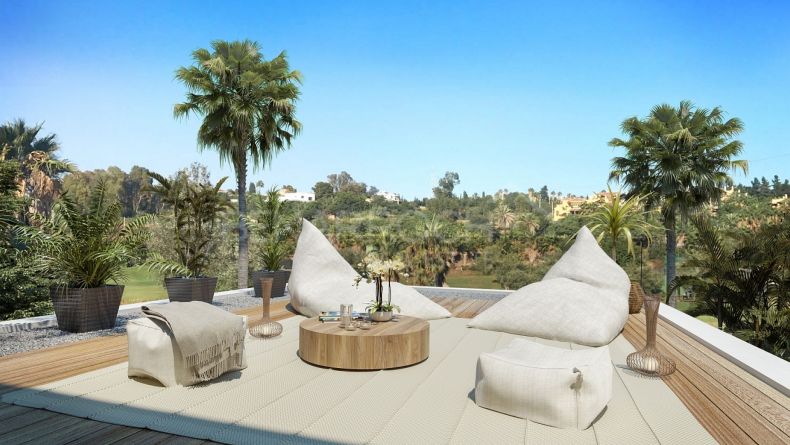 980.000 €
Modern avant-garde style villa located on The Sanctuary Villas, front line of the El Campanario golf course, on the New Golden ...