Cortijo del Golf: Apartments and Penthouses, El Campanario, Estepona
24 Jul 2018 | Developments Guide
Cortijo del Golf is a complex of contemporary apartments and penthouses on the New Golden Mile, Estepona, just a few minutes from Guadalmina, Puerto Banús and Estepona, with the beach and numerous golf courses nearby. All its properties can take advantage of the neighbouring El Campanario Golf and Country House and the services it has to offer.
El Campanario is a nine-hole, par-three golf course designed by Manuel Piñero and suitable for beginners and more advanced golfers. Owners can take advantage of its facilities, including an outdoor swimming pool, heated indoor pool, Jacuzzi, steam rooms, spa, gym, two paddle-tennis courts, two tennis courts, restaurant and social club. Besides this, Cortijo del Golf is near El Paraíso Golf, Real Club de Golf Guadalmina and Atalaya Golf and Country Club.
In the local area, shopping centres like Benavista, El Pilar and Diana offer a full range of services: chemists', banks, professional services, restaurants and cafés, to name but a few.
Cortijo del Golf is on a plot measuring more than 10,000 m². It consists of eight buildings, which house a total of 64 apartments and penthouses. There is a recreational area at the centre of the development, with swimming pools for adults and children, and gardens.
Four types of apartments and penthouses are available:
16 3-bedroom apartments;
32 2-bedroom apartments;
eight 2-bedroom penthouses;
eight 3-bedroom duplex penthouses.
All the different types have two bathrooms, utility room, storage room and parking space (the duplex penthouses have two parking spaces), with independent access for each building.
The property distribution in each building is as follows:
two 3-bedroom ground-floor and first-floor apartments;
four 2-bedroom apartments, two on the ground floor and two on the first floor;
one 2-bedroom penthouse;
one 3-bedroom duplex penthouse.
The properties come with air conditioning, alarm, smoke detector, fully furnished kitchen equipped with appliances from leading brands and opening onto the living room, motorised window blinds in the bedrooms, double glazing, open spaces and automatic watering in the gardens.
Regarding the sizes of the properties, the 2-bedroom apartments have an average gross floor area of 99 m², with 37-m² terraces. The 3-bedroom apartments have an average gross floor area of 114 m², with terraces measuring 36 m². The 2-bedroom penthouses have an average gross floor area of 95 m² and terraces measuring 96 m², while the 3-bedroom penthouses have an average gross floor area of 143 m², with terraces of up to 162 m². The ground-floor properties have private gardens.
The Benarroch Real Estate team, from our office in El Pilar shopping centre, a stone's throw from this magnificent urbanization, is here to offer you advisory services. It will be our pleasure to organise a visit to Cortijo del Golf, to show you its modern apartments and penthouses.

Article by Brice Benarroch Mennessons
24 Jul 2018
Apartments and Penthouses for Sale in Cortijo del Golf, Estepona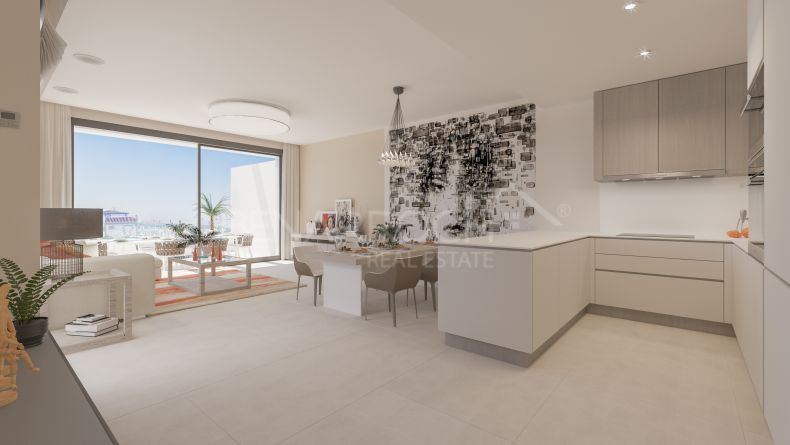 SOLD
3 bedroom new apartment in Cortijo del Golf complex in Estepona, a few minutes from Guadalmina, San Pedro de Alcantara, Puerto ...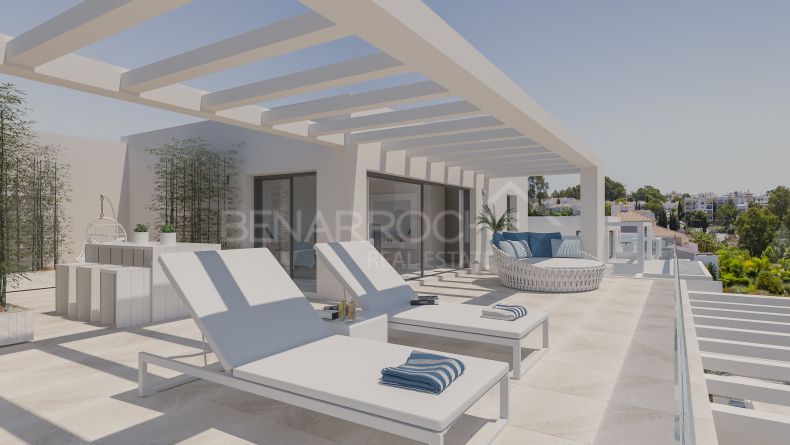 685.000 €
Great contemporany duplex penthouse located in the Cortijo del Golf complex, very close to Marbella, in the area of ​​El ...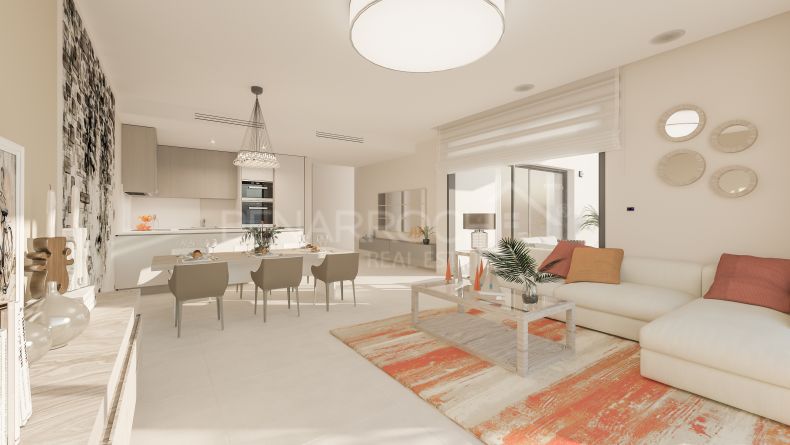 330.000 €
Modern style middle floor apartment belonging to the Cortijo del Golf development, located in the area of ​​El Campanario in ...