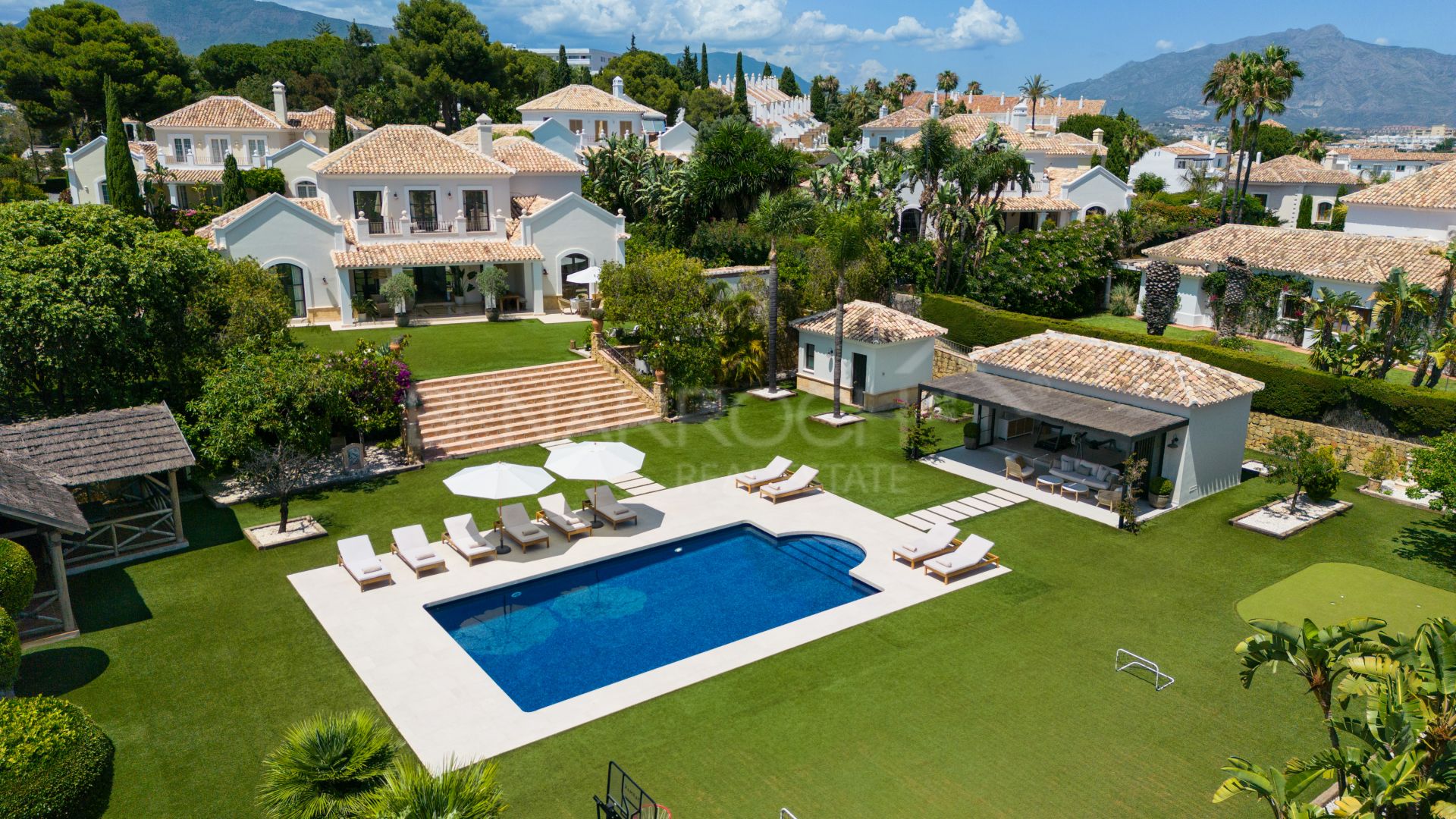 //media.inmobalia.com/imgV1/B8vEv5Xh_VThvnEqMx4G0ZxU_YC_pCgmETwWNQKyeMqLb9Afo_WSoi~kcK5mwaepLz96AHEmAzWJQblCNhundhnOIYTFLWoaYUC8~kii87PSBGwzU8RohTgcSTwHu0nOOHR2KShp1_1XkdvYqI87jOGnZJegpDVrE4VaVjVSZkrjlokuufBx5VkiJP~PmSDmEZeufC0R6xKYzJyiINRQkegS1K~FFOJzPAA5zzOWnZyKs0oMvPbPPHm2WiO6Xh8zgbuCldCQ_9MoeCvGRPdPFwxT~Lb0~ytF7UNyslioNUpcg8CQQDfd1msMLQYN8wWash~zyQ--.jpg
//media.inmobalia.com/imgV1/B8vEv5Xh_VThvnEqMx4G0ZxU_YC_pCgmETwWNQKyeMqLb9Afo_WSoi~kcK5mwaepLz96AHEmAzWJQblCNhundhnOIYTFLWoaYUC8~kiioHhu0PNiIaZq_mYDnLc4TD_UTF8I6lpNIIy2ZqI~xM9NBq3bvqpodzbDkG5T06F8fgBK_r4IPfmG7jG75ylNQ~JK2gsIkO59dTroQUbVBlzESUDStbc__Q9x4QnuqlKcffumpNOEwRHJ5yrTWTKhyCEA2tkyBIT9tTReB~wgaXMLhh5pIRagYzdlsKVvGtuidl5IBMz0S9~d0aP_Fuk2e6T6K7I2TQ--.jpg
//media.inmobalia.com/imgV1/B8vEv5Xh_VThvnEqMx4G0ZxU_YC_pCgmETwWNQKyeMqLb9Afo_WSoi~kcK5mwaepLz96AHEmAzWJQblCNhundhnOIYTFLWoaYUC8~kiirQB0ESkNhqR8bIO5BaUBcIoyLWwFTyJO2bXp8r1fnGcuwuMHRcAMbaSQy9YI_7~X5IG_byY3_5MYwcEoBpZMxVG6ZBeYYDgBTyDqhK1Uvml0ADhxhCVxEqLSEE3Ht4PoBYtaPzx~~Ax9DM2wGg~AJlko7L_Djqa~t_Kbtkfv2DrIUQFYuPnupKzcyiARHG59IWRC87KM1f76I23dAcyxcHOcoZVO9g--.jpg
//media.inmobalia.com/imgV1/B8vEv5Xh_VThvnEqMx4G0ZxU_YC_pCgmETwWNQKyeMqLb9Afo_WSoi~kcK5mwaepLz96AHEmAzWJQblCNhundhnOIYTFLWoaYUC8~kii95sHJbNaV97yLs_PJyrMeU2_5MEi2x1ZTdaf9e0SRbflMddnUNPK3Wzk_hvkGGqN2sjKsxD3l1EuPOOxlfoYdB0mQjptrgiCRPy4aLDttZiJnmcY1pyCqPKGIdYu07rIzEfoCEh~pXKWasSiyWhdSqTJxEhcWQZx~xaqYV7wpd4V5aIokoSlaeLNwQflPk3WMfPa3JEIMAi3vP90G4VHJFB4qz~KjA--.jpg
//media.inmobalia.com/imgV1/B8vEv5Xh_VThvnEqMx4G0ZxU_YC_pCgmETwWNQKyeMqLb9Afo_WSoi~kcK5mwaepLz96AHEmAzWJQblCNhundhnOIYTFLWoaYUC8~kii9AM5W0yLtaEix_03xI8SjGgZUeY9TyL6AIbzesdo66xSibPgtyA6ICxu7MkJ2KgEX9DGlXgPdJ4fEEn9tAYm1jDdZsFfn3aE6k7roDqeMzYvLdQ~NxBWyjP9DgclujClrMQQyd_AqaZGkd0jHYH_dvF~cpv_kU~AUC45AZVf_ocyVSLUU_6OG0i1zeLYNUnpKssuSa95ktkKocZglNdFDARtlL80bw--.jpg
//media.inmobalia.com/imgV1/B8vEv5Xh_VThvnEqMx4G0ZxU_YC_pCgmETwWNQKyeMqLb9Afo_WSoi~kcK5mwaepLz96AHEmAzWJQblCNhundhnOIYTFLWoaYUC8~kiiooXzWZfgXwCaHhAXFx1VKZQnLpn05nJ~uubwBxwru6poixR83twX7UfM_9OMwpHsKPT1hNTmVKlCfS2jWed_KDrrCmYu6ulfNtdZHGB5rNFtHOgXPuPonWCb2eLAnYqtCN~siMmMX_tvzBBuXaEJ8pUeFxbvZ9bchl5v65MPLDKM~BrUZ7sy_~QxbJX2_F5IWEMy~f77juSLHgKissHNNeWgjjnVWw--.jpg
//media.inmobalia.com/imgV1/B8vEv5Xh_VThvnEqMx4G0ZxU_YC_pCgmETwWNQKyeMqLb9Afo_WSoi~kcK5mwaepLz96AHEmAzWJQblCNhundhnOIYTFLWoaYUC8~kiipWuKBLyRvbi9Sr5oRFxamTgmkRABnugSRBzd9ZvSJpj_U~BVBDudxapzWsMTPbbiim9dOxQj5WjejbUYYfACqh_5A0hRwkoqlD4wkpn7YETCz6iRAmdzbUeZJn8Sb5yZvljluXzDIjOSNiLvEC6qGQND2qI82m1TEqJpdXmkUGSRPUQiIkzdu~jWSs4vukH5P9FQ7q2o5ElZVpD8K5iItRv0Cwa_uA--.jpg
//media.inmobalia.com/imgV1/B8vEv5Xh_VThvnEqMx4G0ZxU_YC_pCgmETwWNQKyeMqLb9Afo_WSoi~kcK5mwaepLz96AHEmAzWJQblCNhundhnOIYTFLWoaYUC8~kiipTk8a4mPp3mE0CQLfudgbTHzJJBinIAtugzejSAyCjuBJjZvp~t3NGCbXH9t5nkgDEkeuUXpehMNZpvyZhbWAtPLlXnl4f8krMXj1GKFVe0QSU0mnDbv3LeyZoqhb_bFBVKcFbEp_hAhi_nxWC5waThVXUbkpGZB2yXFuABHONMQ95cYwd93ZJFbiIJvn8odj9s7WRtBt~TQzQiynsgvzmk2gtlI_g--.jpg
//media.inmobalia.com/imgV1/B8vEv5Xh_VThvnEqMx4G0ZxU_YC_pCgmETwWNQKyeMqLb9Afo_WSoi~kcK5mwaepLz96AHEmAzWJQblCNhundhnOIYTFLWoaYUC8~kii8_Hazjm01wbwAFmqW4a7S5KJZrW_EPbskSUu9H16RzYk8~_nDoNBR0JGBLNt2nmaTDscqbLxzx2wvXRXGv1IVylMqY8rRafE59wsbSK4~OdNWjH8VqU~GVhiV83N13iNgApMqiWFZGMwQbN~YTqmKKoMC87gTXH~VEuASFdV_p_4R_o0BK6atCXyN6ZnNZ8OYA64GF8hIGvw4W3uWHb9nWU~_G7pyw--.jpg
//media.inmobalia.com/imgV1/B8vEv5Xh_VThvnEqMx4G0ZxU_YC_pCgmETwWNQKyeMqLb9Afo_WSoi~kcK5mwaepLz96AHEmAzWJQblCNhundhnOIYTFLWoaYUC8~kii98xgIY0PoE9xutbXvUWqEwE9tD44F9a7r2coRu9ZofFfSuloAAaivYwlmU6cwIH3VyIWSnDTVVgjk8vR5gZhrbjPJiWZLXJ0ohqkRC6ktUMB0K5lZiKq~hfwh~DdUpFBvYgLr1ClERNgXY88H~v~aHbFVd4wEfGwtoiES93lt3gaPyRwI4iKUp3lXtNbk9PZsRRa~K4YniQPLO5IKtP4_NKFQq~yaw--.jpg
//media.inmobalia.com/imgV1/B8vEv5Xh_VThvnEqMx4G0ZxU_YC_pCgmETwWNQKyeMqLb9Afo_WSoi~kcK5mwaepLz96AHEmAzWJQblCNhundhnOIYTFLWoaYUC8~kiipjb30dnaW9S8K69pikk_D_KJubXjj04yeHtfp5DPLb8EDKsqJhawEze3bJZ7ipp2i4cXXX1Y8jTpxARY5Q6yZK0IhVFUJJnesyknfDzf3~~V~F_uhabZg83qs55QIy0TAUnWlcH5GksMwP7pJe~0Pte62Ms8EattfA7aVxeU366FVDjqeh9GDwXGPlUiDvvHb~O~aU0cO3AIgGr_85KY15k9rG1_Pg--.jpg
//media.inmobalia.com/imgV1/B8vEv5Xh_VThvnEqMx4G0ZxU_YC_pCgmETwWNQKyeMqLb9Afo_WSoi~kcK5mwaepLz96AHEmAzWJQblCNhundhnOIYTFLWoaYUC8~kii8JQBccUlbgvjc3d86HyIj0SgxExmWx8T4k~FMWfalao9D9fjzvh9XvxEYUgvd27x2Zu42eHWGhPhaQQakQxvqEOXNmdZhuStEoGoyNxnAcnFVXjPbkoF~xWKDXH~BoPggtKm6rgGHvvarvi9HYtakXHXHVDUnpJ5fgAZi~jydh_cVaESSJPyRU~_Jwn1yrymi~avF~SHK78WFPd9EzXZEjvEznK5Mg--.jpg
//media.inmobalia.com/imgV1/B8vEv5Xh_VThvnEqMx4G0ZxU_YC_pCgmETwWNQKyeMqLb9Afo_WSoi~kcK5mwaepLz96AHEmAzWJQblCNhundhnOIYTFLWoaYUC8~kiirQTijy70m0GoaPGjiuaD6tSlGnFpUA4GzRZmO4Qe7N6ieWsH2bVPLzwVD_aiTEgkT3RTeJit5fWuXur5TlkC7X1o2Nj0efROGUSRDBASnj5ZOzWZQyEJloD4JgppEPJX3~bscVi6znst1~re5Ip7eSi9sefWJtuSKlsyMTVoiP_WKi~FXCKnWDPFUF_7qhQkEWWeMWbpEQR4MHXWv3K79csuMUBj6w--.jpg
//media.inmobalia.com/imgV1/B8vEv5Xh_VThvnEqMx4G0ZxU_YC_pCgmETwWNQKyeMqLb9Afo_WSoi~kcK5mwaepLz96AHEmAzWJQblCNhundhnOIYTFLWoaYUC8~kiiotlViV7WjER76XDtOpwPpAzzPLYOqiITaiucGuc6UebVkOd8uXP6dn5aOucHv6ihFu97JXfbzuvinOiHiHv2kUbOyYVB4cj2DOAtvQYcbY8Z7XK1oJDEOF1eoTpgJKZMh5R~LUS4yHo21fX0r8tRBCVMTCXsgSzdqnUmK3s2YkFQhWl47xroR92X8h5LdeSVF6t9DfdiRFa6qBBONV6aUmpJANXLUw--.jpg
//media.inmobalia.com/imgV1/B8vEv5Xh_VThvnEqMx4G0ZxU_YC_pCgmETwWNQKyeMqLb9Afo_WSoi~kcK5mwaepLz96AHEmAzWJQblCNhundhnOIYTFLWoaYUC8~kiipz~npiIj4BLzEu6T_nnEJA7WDLQrUsRSXkq6Yf1X3vaYkDl719jpcpknUHZQJ7qfRqwRe2XOaW1AsS6jQMnJ9GOwUNrxcP5DVa6eAMIJav3XYYs113j1l6ioNRwG_HSlc4bjdtT6wFxeME3ww0_AAHUpSS~X9Diml1oZvkAMT6OeOscOZiyJ3_Y7l8AAk~CqgrXipIOTHH6O_8xV0sNiJhtRfTUZfw--.jpg
//media.inmobalia.com/imgV1/B8vEv5Xh_VThvnEqMx4G0ZxU_YC_pCgmETwWNQKyeMqLb9Afo_WSoi~kcK5mwaepLz96AHEmAzWJQblCNhundhnOIYTFLWoaYUC8~kiip25DD5WMAYNtFpStJF50iAwpIFTT4cFJrjmw3LOa0qIiN19kAIJhauqjx_S9LlJKCe_qbXFsb5KASKDYiqdFi7PYI94JkshN7lf_0LWPCXnqLpO07cUKU9Jx2_1RaX64sD0XrBWf1~tAdWI~R88ltK5iLRnZJCfMJQyb86vOexAh9C5HPTDvF8A9TmDyZnGPv1iWBULQM9QmuQWmBa3JRKQp0QCq9g--.jpg
//media.inmobalia.com/imgV1/B8vEv5Xh_VThvnEqMx4G0ZxU_YC_pCgmETwWNQKyeMqLb9Afo_WSoi~kcK5mwaepLz96AHEmAzWJQblCNhundhnOIYTFLWoaYUC8~kiirVHvoC~HGlnnm9qPRu9kG~~zt9bEPdK3jT2x7qx~C5PRy7qy2pFxI~JBTG3hRfKcu2ojbE6ImL~Z_tTHDkruqDLcZdnLWklKBW2h3oYxX4kkwXFy3AarrP~TapsPwT2~MDpIstY~ooGIfyuOyQfEpvCNXBF0hgCPQY2sJnIr_8Ovf66MHz738WXWyBqTkThu3RKJObh0ROGlUHgxtTChzhM0rrI7iA--.jpg
//media.inmobalia.com/imgV1/B8vEv5Xh_VThvnEqMx4G0ZxU_YC_pCgmETwWNQKyeMqLb9Afo_WSoi~kcK5mwaepLz96AHEmAzWJQblCNhundhnOIYTFLWoaYUC8~kii8JWImFAYXNPtWYANeU6Mu3harbHZlQKo0Sx1ymz1CVscGh84~jk9Agzw8uRUo55pFxiA~DsCQAnHoU8Qmd3hKvmerWh_I_xyWE22AO~nO0~RvQx_BWEWjreH3T6G5RFZMaRkeI0v2TQEf3Ge9w1KOUxTaOwUsmoKn_a_jcMLMycsit9rojL0Xobq8kSPFcRH6EbOWgPnItKM4DsOO4iFVv4Ze3npqQ--.jpg
//media.inmobalia.com/imgV1/B8vEv5Xh_VThvnEqMx4G0ZxU_YC_pCgmETwWNQKyeMqLb9Afo_WSoi~kcK5mwaepLz96AHEmAzWJQblCNhundhnOIYTFLWoaYUC8~kiipI7~WeyVF3p4Num54~brhf3cVULywLnjRUhg6oyUpiBuMee6_ThUZ4MHH7srQftWGNtzfkH0I2ucE41ZJ~W63zTqt2RXU9I~4XnBoIfwY7LDch1mWqRX8SL0fQP90pilOut2s2aTwOckrneMGF65fOV8yppsYlNC9y6pmetxXeNPeGXju1u9_Mt1o8al10_YRMj_IMMWUIHh0qA3utMyh2RTAWel8Q--.jpg
//media.inmobalia.com/imgV1/B8vEv5Xh_VThvnEqMx4G0ZxU_YC_pCgmETwWNQKyeMqLb9Afo_WSoi~kcK5mwaepLz96AHEmAzWJQblCNhundhnOIYTFLWoaYUC8~kiirVu96KGB6NBamqKOoOXAq9kA5DjyJxuy6333d8C42dAyzb1FBHLpeNpbxP0GRezFrJNuaaylgNJHCBHp4pYzijCONvcYpt1dbPxXw3Wbgca59ed25NNpCHHQ96q~jZJprVxyebdy1QqN1armpN2LYg7Q74g6SV99ZvQdNsEJb3U8Vm8EUnHRd0V9Uu3TdZDPR_YLy3PG0Y_Poj~6j45U3xk4ReKBKg--.jpg
//media.inmobalia.com/imgV1/B8vEv5Xh_VThvnEqMx4G0ZxU_YC_pCgmETwWNQKyeMqLb9Afo_WSoi~kcK5mwaepLz96AHEmAzWJQblCNhundhnOIYTFLWoaYUC8~kii95An0rytqwvtWy55BK6MCz2bPAv16lYGy5EPO5m9IkB3D3sj~xgg~ekEaEI_zeknG0AOuAz6uGUiztSv6j6ee5pBGpIQWG6Mr6yxlLjK2GcaVXZrqdUYvaUiVebwtydnX4fCW_~IQ4X1aFFEm~stWtTTl0E9Nqc4VPoPLzcbuxAwjXSXGZozZfZ2nGLbOs9p2zUxPFOUXLFeQhA_mV1luVs9hyPXzg--.jpg
//media.inmobalia.com/imgV1/B8vEv5Xh_VThvnEqMx4G0ZxU_YC_pCgmETwWNQKyeMqLb9Afo_WSoi~kcK5mwaepLz96AHEmAzWJQblCNhundhnOIYTFLWoaYUC8~kii9h22wfKcAE8ztWxURiji72i83W6mDxeCnOBJf0WSlZ9SQA86HqYmjLplOVjDtvZvBkTFVjoAbOnugVph_SCPFKXoYJyekqsVLhcKz~y~jXSiYpt2RYkgKU85zepcKwI0AxprO2FGSc69uMgkLgKWdkhyL8TNiMoLsV_prhLo5CAj801BzTmTNIwQ5T_wFKHO0y7LJwtBi4R~KPJ5d4SdSpSNcA1v2A--.jpg
//media.inmobalia.com/imgV1/B8vEv5Xh_VThvnEqMx4G0ZxU_YC_pCgmETwWNQKyeMqLb9Afo_WSoi~kcK5mwaepLz96AHEmAzWJQblCNhundhnOIYTFLWoaYUC8~kii9hkhDPcH4Kz7bWpYlpru5CJCZqzSlvsX4ZEqR636qFlyu3ZY4FHI05Q_dDkVvcRMnts8CgDNb~ACszi6tZicNkNXenRYTJltAZ3otMY0RKvuUsLmorB_QQyUMjcd8l_efCWhiEQysDAdB4y5FrvMQRJL22tiBvR_uR1b8P3UaAQQ8zFuvoFtN7EgDPWhBkwTXVewAQwVkeTnDU3B8CAL~6OBUvyF6Q--.jpg
//media.inmobalia.com/imgV1/B8vEv5Xh_VThvnEqMx4G0ZxU_YC_pCgmETwWNQKyeMqLb9Afo_WSoi~kcK5mwaepLz96AHEmAzWJQblCNhundhnOIYTFLWoaYUC8~kiiotIjGi1TZBq~GGHDuwGP30OOadvcfoz2QlAeJResSDLovFcFGhJBrJAsIlKiY~QFbODr7rD7Rupe0Rhmuq9eGU7o8t4DgVDREw1dYN6gm4OSHZ~_FdO~sQr8tgj3vdS8erzZpfyFXiEyVwI8l8ytxR8n6Nu6YTRsr0Uefj8jILPYuY30kXEbS~10HQxCF2tGl_vodSNtASfJHa_ty1t7AZf93tq4GQ--.jpg
//media.inmobalia.com/imgV1/B8vEv5Xh_VThvnEqMx4G0ZxU_YC_pCgmETwWNQKyeMqLb9Afo_WSoi~kcK5mwaepLz96AHEmAzWJQblCNhundhnOIYTFLWoaYUC8~kiirQAikHYVf51PtQvKI6Mu3e2F5z0ibV6lNOs50QNNSuJ~T4EtZ2EJeLjFq5cvzju6of~uFvsSkU6frd0ATufmd8KPuGbPNYptPyf9zsOMUhHQhMIqllUW5tEs1H6cOwBk0A6eDrgkUlxLovPBYI2mdAQdOJd9zYYocEDKcjTzLeI5vBMf0Ti8QaUrtFGyXzwYOmMHJ4~CLp8EXYboW7e_TUF_NSIy8g--.jpg
//media.inmobalia.com/imgV1/B8vEv5Xh_VThvnEqMx4G0ZxU_YC_pCgmETwWNQKyeMqLb9Afo_WSoi~kcK5mwaepLz96AHEmAzWJQblCNhundhnOIYTFLWoaYUC8~kii9FbI1PWgBWws4eeXSjK2WkLhcxJnQ4Cbpvsv3EpgmtgmQLniiy6ZPCDWZvcsfo7o3HxVNW3MhCMaqzDaEgMSHOF6ADU~Dyu8f5qs5D8Ox4Gcsh5t4Nkz104gr6q8jXK2NDzFxCtrqASrHaz~RdIkmuvgvSZNmeKSzWrwhDk84jg9d4PamKSd7anp_ErxNtYRUWetE82zLUTHWw17HCGv_s1QYkRjtg--.jpg
//media.inmobalia.com/imgV1/B8vEv5Xh_VThvnEqMx4G0ZxU_YC_pCgmETwWNQKyeMqLb9Afo_WSoi~kcK5mwaepLz96AHEmAzWJQblCNhundhnOIYTFLWoaYUC8~kiiotCLn~LbgvBeS5od7RfG5yv~nacgsFTG1~_U8B6bHSnD8xxbntD~lLaDcM0M~VaRdiWLUJ2NNP7O18swu2BleJggksG6rsg7_yepfx6e0zWQHb_MbT5XVK0gcSev7vzvGWsXAPqKjGy5X4h8acayMxbaNGTqMN9ANarI231Su4jYsfmqOOElJeLaAZpfOoxlBqVlRy5ilCY6sDQeeF2VJXKWhZCyCA--.jpg
//media.inmobalia.com/imgV1/B8vEv5Xh_VThvnEqMx4G0ZxU_YC_pCgmETwWNQKyeMqLb9Afo_WSoi~kcK5mwaepLz96AHEmAzWJQblCNhundhnOIYTFLWoaYUC8~kii9hzSQyQ2dPQEiI2LkKv4MCGvr5BvTq0ZooF6APj5NzoTJnc7inV3zxyWoVrJNBgkYd__uinQQcPCKYu1mYz5WxSYkx2EDRb8Du1c3nKuGqI1pUsmwT_nOzYF0NutP6M1Qld2tfxJ2UfNSejOBbqyTxRLtUwrnCgu_f0MKFxEgI5DHg1W2hTOGa4rXp0rGgj2zuq4npObBBKNtQDI~gy_uqgUBOwp~g--.jpg
//media.inmobalia.com/imgV1/B8vEv5Xh_VThvnEqMx4G0ZxU_YC_pCgmETwWNQKyeMqLb9Afo_WSoi~kcK5mwaepLz96AHEmAzWJQblCNhundhnOIYTFLWoaYUC8~kii9FDfr1Ikt1TPhm0_NHMLyxhqAL3YQzTN1FTYM4PI_68q50i8NiSxVhpX4SB3xlQ3O7LjmmQ5wgStkWfh~jVYA5FLfrdKs1KYTmSPAw1b8RZQEqzyf7OqqD4aRUBae1S1g_3qrQb1GXM~XG3oDE9uW9lbuux5e1dF1y2c7aG9NhSBA9FoZKw3tBhHnXqTMa~9jBpd09Mvevb7~lnQJ3mztGyoZzgO6A--.jpg
El Paraiso, Estepona
Villa
4.200.000 €
Villa in El Paraiso, New Golden Mile of Estepona
Villa situated in the urbanization El Paraiso in the New Golden Mile of Estepona, an area with all kinds of services and very good communications to Puerto Banus, Benahavis, Marbella and Estepona.
The villa is Mediterranean in style and is decorated inside in a relaxed and peaceful boho-chic style. The property is situated on a large plot of 2912 square metres and has a constructed area of 405 square metres with south orientation distributed over two floors.
The villa has a large and well-kept garden with swimming pool, gym, putting green and outdoor kitchen with barbecue.
The interior of the house has an elegant decoration, a functional and attractive kitchen, the bedrooms on the upper floor all en suite, enjoy magnificent views of the sea.
REFERENCE

208-01866P

bedrooms

5

bathrooms

5
built

405m²

plot

2.912m²
VIDEO
Video of Estepona Area
similar properties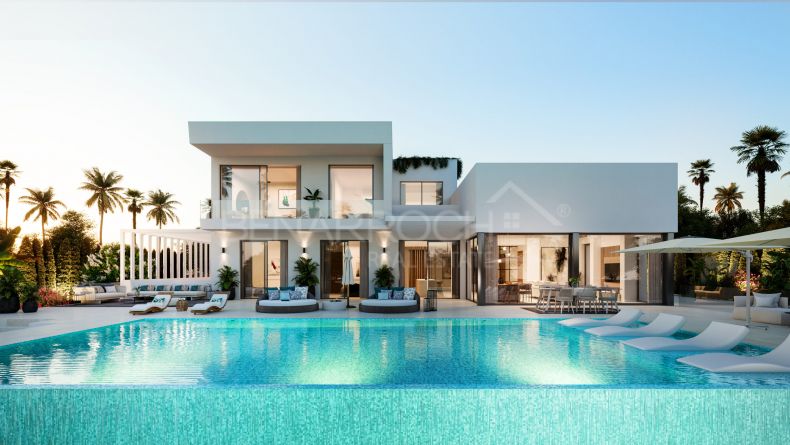 2.800.000 €
Contemporary design villa located in the urbanization El Paraiso, in the New Golden Mile of Estepona, just a few minutes from ...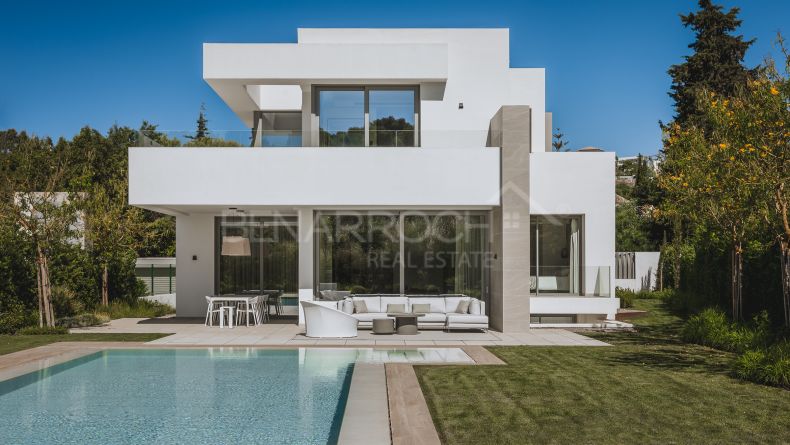 2.250.000 €
Villa located in the New Golden Mile, in El Paraiso, very close to several golf courses, where tranquillity and calm reign, ...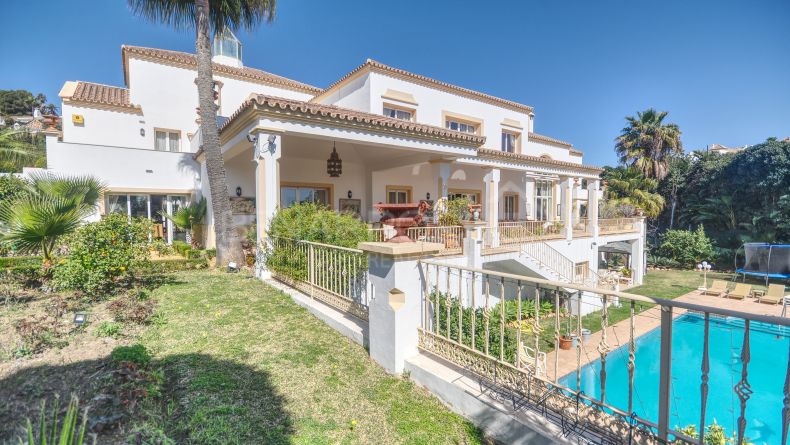 4.800.000 €
Mediterranean style family villa with panoramic views in El Paraiso Alto, Benahavis.Through a beautiful entrance hall we reach ...