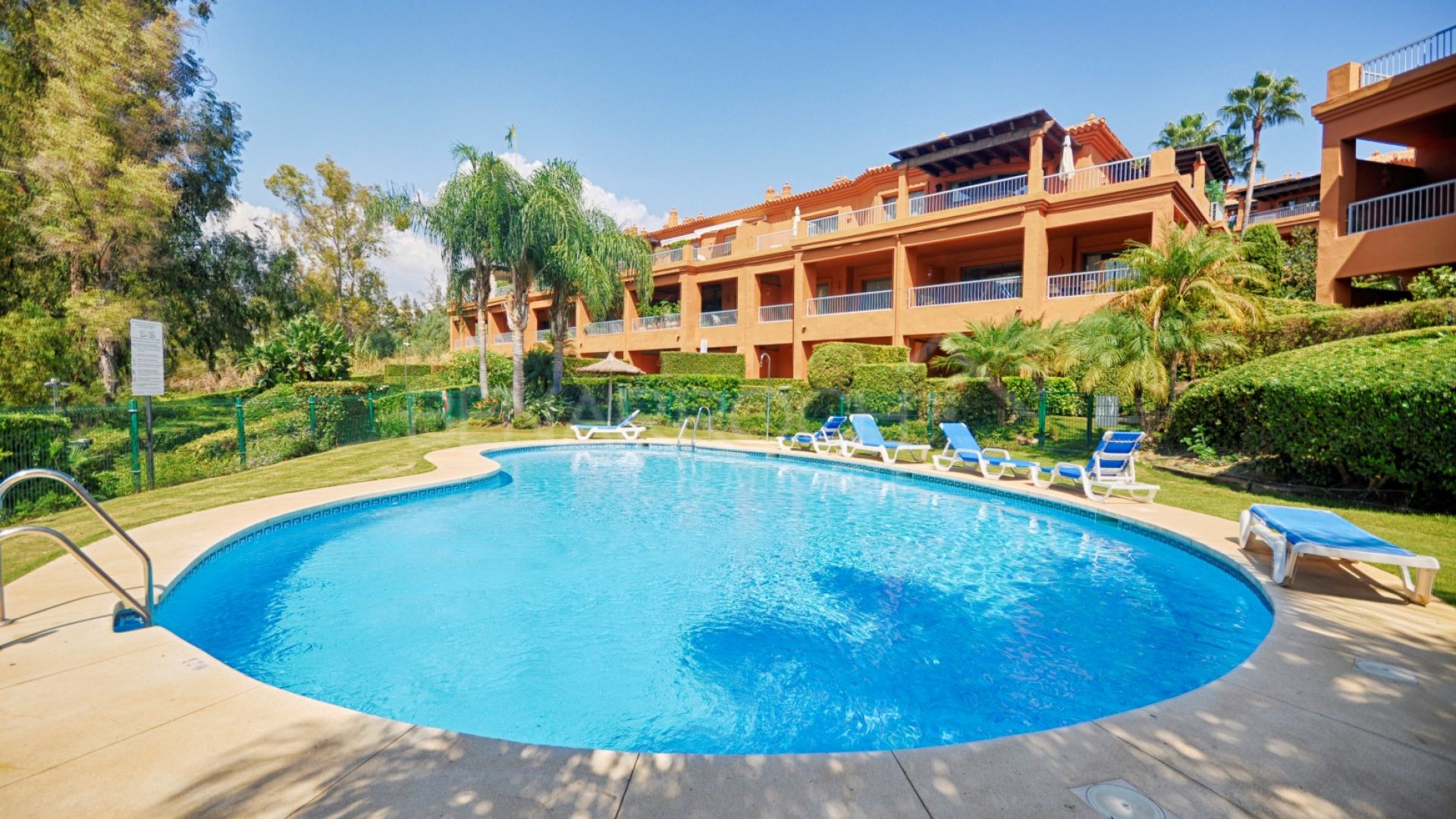 //media.inmobalia.com/imgV1/B8vEv5Xh_VThvnEqMx4G0ZxU_YC_pCgmETwWNQKyeMqLb9Afo_WSoi~kcK5mwaepLz96AHEmAzWJQblCNhundhnOIYTFLWoaYUC_UuA~0NZhjojUBDCbMOky3s5O0d1MHjr0z_67L6exC7DcvSzq6RNVF~rVykSGMt9rr50ISFoH6NPCxwDWE5SAGnLI5gD4B0jpvddBOI9okDQMfBO~QY~MYKdt2Do2F0lJ47skMPZdCu2Or4eZUohoaTbS4n4ThaYztmyvxHhCgpB4hZmgVswxTChlzXMrCgAmTuKETNX~pksh5ZoCkkRH~O6Z4Lg_JpDu1g--.jpg
//media.inmobalia.com/imgV1/B8vEv5Xh_VThvnEqMx4G0ZxU_YC_pCgmETwWNQKyeMqLb9Afo_WSoi~kcK5mwaepLz96AHEmAzWJQblCNhundhnOIYTFLWoaYUC_UuA~0TjWK5HPesFYAwUE1F6RUpgn~9vdigKe8XfsgzvceNtlLooJHebkh3yWjNeouoFUUPV6w_NZWx_folEGEkTCUEvy1FO9YbmwtV_gYkvTD76BGrMAbnJWNNySZJnr2xr~OoHgCjMOZdScyvrncEcwVuucTp_AIUl4ObRnV9Xp5j~6CHpPGTQDw1cf9gKPVGe0TxYNKnmcHBl5u3wQitmm_uPGvHtHvw--.jpg
//media.inmobalia.com/imgV1/B8vEv5Xh_VThvnEqMx4G0ZxU_YC_pCgmETwWNQKyeMqLb9Afo_WSoi~kcK5mwaepLz96AHEmAzWJQblCNhundhnOIYTFLWoaYUC_UuA~0T8G0ccWCaah9DzeUl6za6hLOLiwUhmkArgzT2yyYlWQeMoT2rTH4RuWoltsRzKg2BSDRI6fljK4J0NbPPIIFpfPOkAoCgDCAr6XnAh9qjpPvYUoI9G~We49Qof4W8logwXvhWBBFNVohUQkRst4j1DcFEkeoI8KdgA5P~YOj8aQEd_dOOsbEgVzIRtpusTM6CXPxwzfx5D5UhucCfa_d06zjQ0A7A--.jpg
//media.inmobalia.com/imgV1/B8vEv5Xh_VThvnEqMx4G0ZxU_YC_pCgmETwWNQKyeMqLb9Afo_WSoi~kcK5mwaepLz96AHEmAzWJQblCNhundhnOIYTFLWoaYUC_UuA~gYCc2gkLMiu4KGyUzGI091fb9BkUaDRkQUt5USBQ_0_18B5LTk58UhXhVbEQXsXJp_D3HlNfbfik8IAtVTkRDGpc5onVcb1bGRLRQDcOVqARkLQKdHMj6K50tPJ5J45HQ_bU8LswgnVJQv1I8xZVOdsu8le8U0N4fAkzdK5hfdPJkZ6pdbYcvxurWMQwgls6vP~bQ9dV43QeZM0urWEv43bbkz8Vow--.jpg
//media.inmobalia.com/imgV1/B8vEv5Xh_VThvnEqMx4G0ZxU_YC_pCgmETwWNQKyeMqLb9Afo_WSoi~kcK5mwaepLz96AHEmAzWJQblCNhundhnOIYTFLWoaYUC_UuA~0T8MBz88QtUEd8IfjTY2x0alb8ZCp7Xxt73VhN9kXuIdBptHy0~A7E4grA1Heqo85amQsP7SJ~hFL3nrpir_CUeR0wh1z1NBYMhm4lurXDbOmNc8ENNAyMArWdxo0PYnyxBMqXF7TGff_wekFgoGaWg5OCMlbgB0zsiqD4Cz1S0tqI4sdE5kIsbpQKTYrWijqkzv9WbVoPECrMmpIZrf1QMkq9c3pA--.jpg
//media.inmobalia.com/imgV1/B8vEv5Xh_VThvnEqMx4G0ZxU_YC_pCgmETwWNQKyeMqLb9Afo_WSoi~kcK5mwaepLz96AHEmAzWJQblCNhundhnOIYTFLWoaYUC_UuA~gdUhOo4eEBw57squNWhzXZys~urOj5W3ezlrLy6nzTLK95k277fu1I41DVDgbVgXzgbwQNSkqI0sxkgkkaEN9nvGTZ6M5bY72_96ONpo32n_Mmvirv1j5J56yyIgaeXMFtkEb0_pObgdTfAg3CSixTJD7cZyGFx25ncovw~UKQ~kmffp3w18phVubHBf5RSCze_BS3jsr5IyFw1Y1TXqqrtAXPnkzg--.jpg
//media.inmobalia.com/imgV1/B8vEv5Xh_VThvnEqMx4G0ZxU_YC_pCgmETwWNQKyeMqLb9Afo_WSoi~kcK5mwaepLz96AHEmAzWJQblCNhundhnOIYTFLWoaYUC_UuA~0TGv3TwA6KhHwoitQzyEzuW8w~af3MNgFskH5OoTMY~ZHD3yN9arTKubZr7vQuUL4oVQtwY7RBkhvXe1sI36Ub4hI~WAZyeW~4~bSZZ50KRD0Cs1H_3Gq_z6mBzFIcQELKSQSg99zujCIDWGSk6l2KxVj_kcCTtHf9EvGslwx7rYEmpD81yqukClwTn_1ib5ZL5lFZp9p5WHlTAWsOvenDLO6Gh_Mw--.jpg
//media.inmobalia.com/imgV1/B8vEv5Xh_VThvnEqMx4G0ZxU_YC_pCgmETwWNQKyeMqLb9Afo_WSoi~kcK5mwaepLz96AHEmAzWJQblCNhundhnOIYTFLWoaYUC_UuA~0mwALNv~YB7t4rICoubLZQZoy0ysBkQg5My_flRciOlWcy9XkDVZkr4Kup_gtUfux72t_2xpJkGb~~Rly~_7EI6sg877Yg_0S_7wB7R5bko4kPSBfCeonzAmnstJ8m3nFq8n5Z_NW0EQNGqh~66AZmQYrQcIXJIh30ws5_8CrPaDTbwGK_T1M4GdXyOWOO52AQgwuhUbF6Sp3CctzjSdcANqmoLvkQ--.jpg
//media.inmobalia.com/imgV1/B8vEv5Xh_VThvnEqMx4G0ZxU_YC_pCgmETwWNQKyeMqLb9Afo_WSoi~kcK5mwaepLz96AHEmAzWJQblCNhundhnOIYTFLWoaYUC_UuA~hNELP08NziW6pk4b916oBz9QIzscJgGRtLDPdXsKg5mGI61O13jw4cF0oyhFk~SRy0v7oCuBeuFpOH9aeeoOMjQjxzG6snHPspdGoOm_yWYF4tJhorUUUK0S_0YWHVxEvjUKA6aT9e2uh47M1lwTWne79R_kKCuCIo2d1bwZJjQHJAQLGUwp2hUNv_xt_ngNu_zWeA7em4ytQtRs0uHxqAXjBulmpQ--.jpg
//media.inmobalia.com/imgV1/B8vEv5Xh_VThvnEqMx4G0ZxU_YC_pCgmETwWNQKyeMqLb9Afo_WSoi~kcK5mwaepLz96AHEmAzWJQblCNhundhnOIYTFLWoaYUC_UuA~0ILPwNZbinKofjvc2IvfLVcSwZl9TE8EKp8mu0zbXZQXL7c2MIhW550J_m6Iy6YpHvE3WLIiBA1xlz3vzwgSIVB7xW3YarRk0U3BPVvOIDjzZYUiMrnU~EpBuIvJt7RxRu6ljnwwwMdzcFbzdVKOURy6ZzStc~L8bkrSJc24BRznYOy_2s8oGGLB32JHEIA69piSw6agAvTI9zRKNdCmOPFRMTtSDg--.jpg
//media.inmobalia.com/imgV1/B8vEv5Xh_VThvnEqMx4G0ZxU_YC_pCgmETwWNQKyeMqLb9Afo_WSoi~kcK5mwaepLz96AHEmAzWJQblCNhundhnOIYTFLWoaYUC_UuA~2e_bRYZGpJAcHPyrXhK94w_goGn8zxehkz_Sp4bZKtC9sGRRqIKKoPShJr0EiVZIrcPhrcTgRW17UDGa5UMjtOadMjCN45hbyu96pbCAthBL0vx~MKawviXrbScYB6w6sbtY22se3hrV5Ql04H4K9BVPpERndFssCOV33aQZPsTN2jgAxmBYtGvUywIr0j217wejahdgHSYG6Ixl9GwYla8C3YyyKw--.jpg
//media.inmobalia.com/imgV1/B8vEv5Xh_VThvnEqMx4G0ZxU_YC_pCgmETwWNQKyeMqLb9Afo_WSoi~kcK5mwaepLz96AHEmAzWJQblCNhundhnOIYTFLWoaYUC_UuA~gzer7yB6ObWjl9r0PAi9R6Rd7lXRIodpKYnmQvkTAXQ1xjGvlF5zKFNITYJB2lpM7km9iRIoxMs1e5PQtIQe8BEr_9HZ8jBM~XnI2Zkg1TQrZ~NeT2UDbm8YEBkKHoqj9Nv9zJ4sZzSYlYu8Qhb6H22etbGHR5YLKXfkWUp41xv1opURtIDPdvp_pyJ9LVkzmq~GrKewyP1I~XAtQiS88a~b516VBw--.jpg
//media.inmobalia.com/imgV1/B8vEv5Xh_VThvnEqMx4G0ZxU_YC_pCgmETwWNQKyeMqLb9Afo_WSoi~kcK5mwaepLz96AHEmAzWJQblCNhundhnOIYTFLWoaYUC_UuA~htlTMbrzv78ZlUoLDNCW10XxHKrmw6yF2EMgMXv3s3J9CX_D0LemHBSATRbTzO6_7oIEeCX9msEcqqE2GysU47S1h5FU3cNV6IaZokR2y0IAMQStnx4moo65VgLsrmbLVvY4yi_Y9CSUmKS6VTzDLjuJskA~WpAiuDtI2pJ9gx85TErE7tFXBLmtQtz59Bn0RmQIenXJIfkCa_Dwk02S906u7nk83A--.jpg
//media.inmobalia.com/imgV1/B8vEv5Xh_VThvnEqMx4G0ZxU_YC_pCgmETwWNQKyeMqLb9Afo_WSoi~kcK5mwaepLz96AHEmAzWJQblCNhundhnOIYTFLWoaYUC_UuA~gz4wOg6TaOtgrVEHDDPR76TXcA7tuiA8qU43Id4O7FZl~WMrTIB2a53uDTM~OKepvpdcsZYorncaQr09ZA1_FX_vvfokGtOiWgFphWpQMweLnEub4cS~hrIgh_rbCihJAZXQoTbBkdHym7Q5OEZ2DvFNJCUK5rPb4hkWtMjrwyftacAqpYi0dlot5zu8LFeH5rFyClPjqbZLTxRgn0wuQaYhcaZVCA--.jpg
//media.inmobalia.com/imgV1/B8vEv5Xh_VThvnEqMx4G0ZxU_YC_pCgmETwWNQKyeMqLb9Afo_WSoi~kcK5mwaepLz96AHEmAzWJQblCNhundhnOIYTFLWoaYUC_UuA~2FwHlqraPWgbi3henI88VyjKPFRnu4~LOb7IENT26ppiuLnw7T2FUZlBC~2P64ZFn9piyMOt7wL25uuJ1xPDs6BHQaOCtif_ZPkOr2FmVz1Mvw0rUR8TC_MVJPil96og8kSZUEzSU5Q2jWlHzHCrJ4ePjNCTB3Q52TJMdlAAYMJAGU4jaTjBLFymrz4~1Nv2lQ4rGGemYpCkUNRg55yy3R9IkEav5w--.jpg
//media.inmobalia.com/imgV1/B8vEv5Xh_VThvnEqMx4G0ZxU_YC_pCgmETwWNQKyeMqLb9Afo_WSoi~kcK5mwaepLz96AHEmAzWJQblCNhundhnOIYTFLWoaYUC_UuA~1VrX77oQOasOYfYJR0A8Nk92bHUu1XuL8ZnAXB6l555y0PJHPNyM4drru8BqwgdKJVJvh58O1g4EDMyh4E8ql~c4uskdnXUeE22a_PNTEGrUGGExTRQ4aJlrIEd12KGft1w3px3HkW03fLgvZmI85k3txPL31VwA8vCQKPy0ACXPvPLfCpcQi8mJqLzKJLsqDYJ8JTm822nlhyO3idMXO_aXpN0gjA--.jpg
//media.inmobalia.com/imgV1/B8vEv5Xh_VThvnEqMx4G0ZxU_YC_pCgmETwWNQKyeMqLb9Afo_WSoi~kcK5mwaepLz96AHEmAzWJQblCNhundhnOIYTFLWoaYUC_UuA~1OFT2tzeYaaS68O1i39D~0ahz49OIZxRHiu3xnd2FztTkvQYbf~nVspQ40qB2BCqFy_ZdyidBjjyATTu3QEDd~hnAcsqZIGE7v9bpE7VO1oeRkHqIx0veR1iRw6MJlztHtVWTzrcHNMbpzYylvi4i~KdHJFXJWgQXDSYQH1y17XHL48tej9sOT0PfiV_sQ5Ligb8wezi39Z0xydra~s_l~nPTIlx1w--.jpg
//media.inmobalia.com/imgV1/B8vEv5Xh_VThvnEqMx4G0ZxU_YC_pCgmETwWNQKyeMqLb9Afo_WSoi~kcK5mwaepLz96AHEmAzWJQblCNhundhnOIYTFLWoaYUC_UuA~gz48C1hWmwlKoFfjPi9_6vKZcFZ5AQzCE__m2CZ_EwJaTEVNOMBsBBAdH1LvhYinKWPvxxjf~B6DHmNMjJTesOsfboO_9aAOdsiF0Dz2XJhTd6BtOSCMa8uIqtv4pEbEyt~iqi3dzegA~QLliKhPe2jRJi5gtXzUOHwKD6sSnjv1SothEFefmcJpBFrouM2Rmsgx~J7lYGOeZ31O4wu_5KPcohwanQ--.jpg
//media.inmobalia.com/imgV1/B8vEv5Xh_VThvnEqMx4G0ZxU_YC_pCgmETwWNQKyeMqLb9Afo_WSoi~kcK5mwaepLz96AHEmAzWJQblCNhundhnOIYTFLWoaYUC_UuA~g2z68egVHfcn07KRYg4eQ~yKvRMEOtkiOg1Jf5Q1ZnOxNeWkdue_tYN0xbZow8Zf~ImmZ_BhB1a2L8IiEgpADL~ppkWvdDjuNjrIELHJ33ofdpHfe_0Su2DaniI_XEXigcDerA1QtWZFocqNDmkymNkFSJR9yJRMTZxA~7XrFSRc7oSqH7De2pd~uKe4spGX91EDAIo0B49Ctmp_J3Chm0b9Y_J2kQ--.jpg
Benatalaya, Estepona
Apartment
396.000 €
Apartment with sea views in Benatalaya, Estepona
Middle floor apartment with beautiful sea and golf views in Benatalaya, Estepona.
Through a beautiful entrance hall we access to the property where we find a fully fitted kitchen with utility room, bedroom with views to the gardens of the complex and the mountain with separate bathroom, master bedroom en-suite with bathtub and separate shower, and a spacious living – dining room with exit to a great covered terrace with panoramic views to the sea and the golf.
Includes a garage space and a storage room.
The urbanisation Benatalaya is a beautiful gated complex built in mid 2006. It consists of 205 flats surrounded by large gardens with fountains and waterfalls, 5 swimming pools, gymnasium, SPA area and 24h security.
Within walking distance to a supermarket and the renowned bilingual school Atalaya. For golf lovers, Atalaya Golf, Guadalmina Golf and El Paraiso Golf are in the surroundings.
Undoubtedly, an option to consider not only for the location of the complex, Benatalaya, which is very well valued, but also for the good location of this unit within the urbanization and the views it enjoys.
REFERENCE

208-01849P

bedrooms

2

bathrooms

2
built

140m²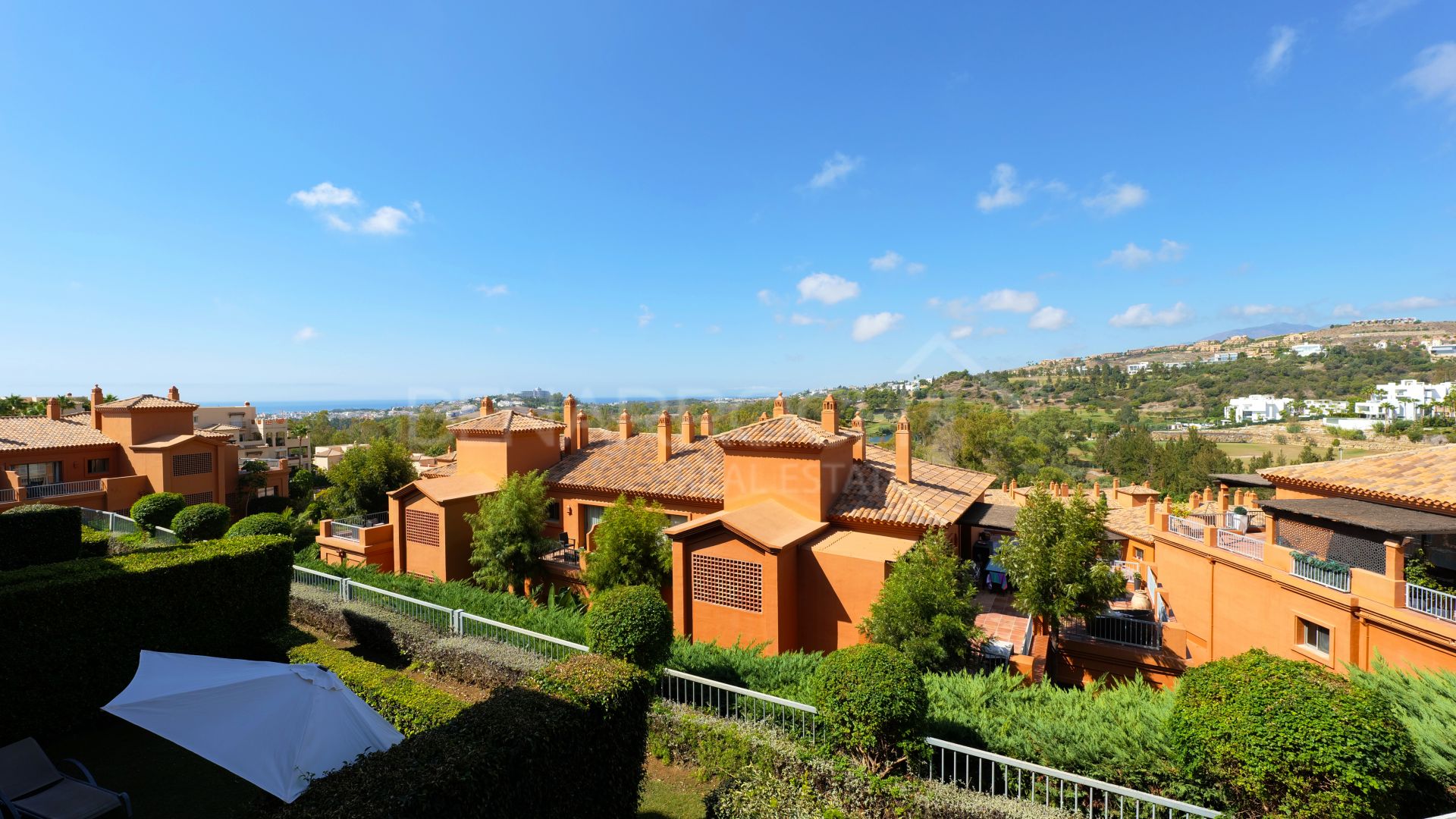 Video of Estepona Area
similar properties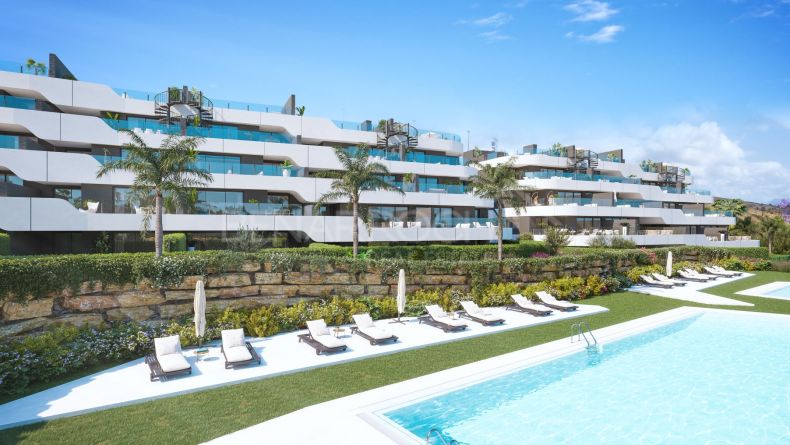 359.000 €
Three bedroom apartment in the Oasis325 complex, on the New Golden Mile, between Marbella and Estepona, a residential with ...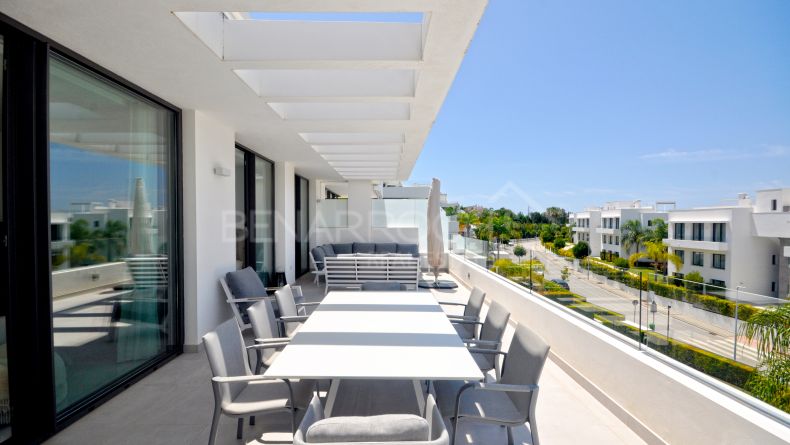 595.000 €
Immaculate contemporary style apartment located in phase 3 of the Cataleya urbanization, in Atalaya, on Estepona's New Golden ...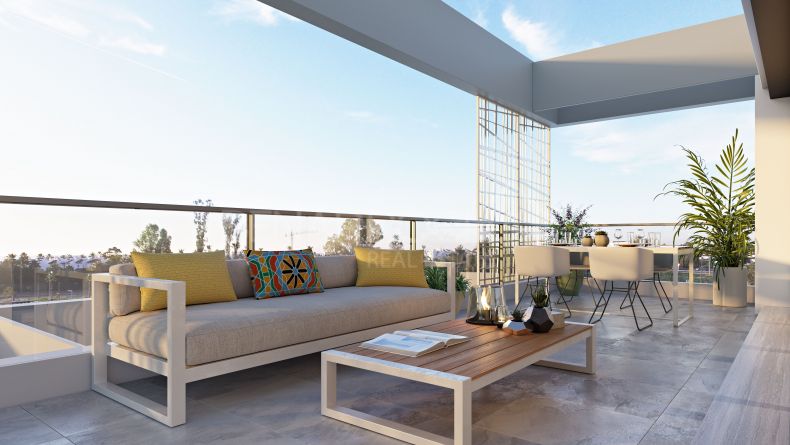 320.400 €
The apartment is a two bedroom apartment in the new development Aqua Gardens, on the New Golden Mile in Estepona, very close to ...