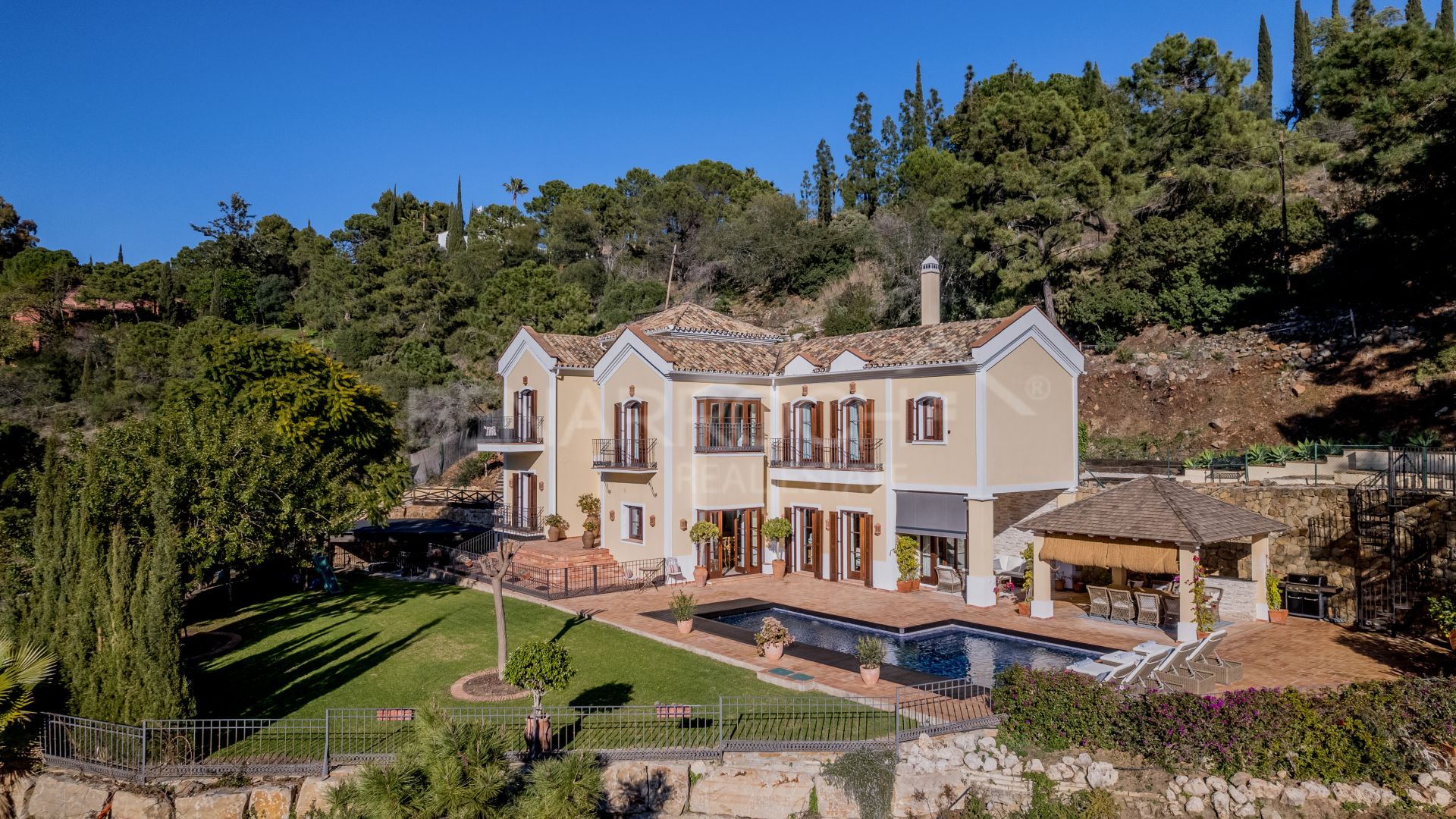 //media.inmobalia.com/imgV1/B8vEv5Xh_VThvnEqMx4G0ZxU_YC_pCgmETwWNQKyeMqLb9Afo_WSoi~kcK5mwaepLz96AHEmAzWJQblCNhundhnOIYTFLWoaYUC5fBAPfQpjXx01WvGwiKVGJz9mdiG6xW_XDlYYZHpb2cfs4xC7nLY46S9Qw9YOPlDnCAiO7W8hkKgNK1qI8YMtj0~2rEB3CdSt9xIPGd~8jKgUq6Q9CUOfy6UeOparuCdL4KgBhtfWXZ7cB88RVS1sLZiUVXlPtmF_fzSYq_p9CCm_EshCnuO_mwj0vUY5ApWrrAsV2pH2xIi9dakO5vX6zDgJBliozcp9QQ--.jpg
//media.inmobalia.com/imgV1/B8vEv5Xh_VThvnEqMx4G0ZxU_YC_pCgmETwWNQKyeMqLb9Afo_WSoi~kcK5mwaepLz96AHEmAzWJQblCNhundhnOIYTFLWoaYUC5fBAPKIoitWVB_6X_bxvRb~szlOC0S5CHkxQ52gRprrxqWmlIhdmfx6Ii4WoM8HY2ZeYcKzDO9f2aLIKg5WMf3AqWVgKp4qAEpIytfBU9QFfHdbOR6bhhBaUTh6OyNe2CtVzTB5b33FUzXE2B5IpQfM9I1dS6XaApFPTE_llJ2laeh7WhZfgEFTDmLZdu~_7V~lz2jFaMzOxpTpL2pgeiGw_3djtl1uizAw--.jpg
//media.inmobalia.com/imgV1/B8vEv5Xh_VThvnEqMx4G0ZxU_YC_pCgmETwWNQKyeMqLb9Afo_WSoi~kcK5mwaepLz96AHEmAzWJQblCNhundhnOIYTFLWoaYUC5fBAPLWL_UKCzcVqcAXLKJrn6jsJo8seKWNAVDHJwqYCSWtW8JnbMsT5_GbrJLUq5SA5Cxj3TU3J5boGRGOvMLBNafiJusHjqhb30zQ7Q1tpuhAvW0iakfqWpPER1fAPZO9S7~TrTDr_XWgaFyQ9VgN10VMeEMzpzOtrRT_5lBBU6tRy50gVWPA1~iqSqlhgyP6Y~OUdKeOEZMdBMGrmkbGzwrJFZDemApA--.jpg
//media.inmobalia.com/imgV1/B8vEv5Xh_VThvnEqMx4G0ZxU_YC_pCgmETwWNQKyeMqLb9Afo_WSoi~kcK5mwaepLz96AHEmAzWJQblCNhundhnOIYTFLWoaYUC5fBAPLqaJ98eGiC9z4VmeCfOe7tu16flge2d9PAsA80qdEvI_c_nUVk~eyMkxM0dUqiWHTBipkuQR7uOmArS~se7ARX1IgK69idS9pvRDNG1A1xCabrzF4UZUjBGr4ot294Kp0H~xee32eAAcjjZsvwlPnucxCBUwKVAVY6RWw_mT1xcWy4E1~Iz71c6ueM953nk9zwuHp2sYvavkwvI1CRXJLhDkjKZCVg--.jpg
//media.inmobalia.com/imgV1/B8vEv5Xh_VThvnEqMx4G0ZxU_YC_pCgmETwWNQKyeMqLb9Afo_WSoi~kcK5mwaepLz96AHEmAzWJQblCNhundhnOIYTFLWoaYUC5fBAPLWXzJK3Ntqs0MouyTd6oqTSPHWFxHJLcn8LWnK5rpqSkIV97ZupXRNpcr~MXW6nHXzwwzmOnzYUxEUQGZWNBwk1q9NhcvBiZf3cz6NCZ7_XgAUHj0nBwilI5QVbCP8pOeEArDxhJrlUJUsQrtVmJpwB38SKnuPyeOpZ6rep~6RQbcZQ9KS1PFufr8Fhvpa7mXYDSFu6oahkGa0oPc3lDmP6M8ATeOA--.jpg
//media.inmobalia.com/imgV1/B8vEv5Xh_VThvnEqMx4G0ZxU_YC_pCgmETwWNQKyeMqLb9Afo_WSoi~kcK5mwaepLz96AHEmAzWJQblCNhundhnOIYTFLWoaYUC5fBAPKIp0g9robUaa5t7nXJGLHi79rcC~pblApWVboBHhJU5P70qsWtsM_hsGP8uXmnea058doICkjS0A4e2mJAJK3y2aom0Ali5wgDFH_8Zpog6OL90coozSnTIaTa92fupd8_yy589P8acvcnIj0gXDLTHFDlA_clEMbgjAZQObmw4FnAg2klLv7uEtyHEY9DzgAI3awmvKhp1CJ6gWPbkVXuPx09JQCA--.jpg
//media.inmobalia.com/imgV1/B8vEv5Xh_VThvnEqMx4G0ZxU_YC_pCgmETwWNQKyeMqLb9Afo_WSoi~kcK5mwaepLz96AHEmAzWJQblCNhundhnOIYTFLWoaYUC5fBAPefP6UcurH0JQGq8QoSSjrm8tcdGV1m4IV9itvOq6dZeDu0f1yDPfRfHeDI7kMw1CuoYHucx4YgJAtZpMKPN5YIMXlskzrhI0q5tXFAWbAMExu~j37m5Aw8iLa3hpP_wbjXDwQhP5B928zKhL8RZhiyTArl1c9UG0jrU864NSLBowfEzPJqQdAXHcsBRi82LqI1G~fINRZ7yL5k3hNh1Abb3HPI~9Aw--.jpg
//media.inmobalia.com/imgV1/B8vEv5Xh_VThvnEqMx4G0ZxU_YC_pCgmETwWNQKyeMqLb9Afo_WSoi~kcK5mwaepLz96AHEmAzWJQblCNhundhnOIYTFLWoaYUC5fBAPcw54u6zVDqCEclg_YOV5vPW0K47UkR5YleUl_NPXfXlY3RJxVK_nV9YduPPhTmWEJCP4hXOe86GzsjYhNCRw_1dshp4HDMrXInEv0h1CNeHmxQF698SS5YEXXClUuBgFMN9WfVviukuqyB_XQrpHRLbG6fxR67uFrej17tUES3aPvL6~06xjA29QQ~yCHxVaO~kPL0UIA1g2y63g29ZfvXwGM3j4Aw--.jpg
//media.inmobalia.com/imgV1/B8vEv5Xh_VThvnEqMx4G0ZxU_YC_pCgmETwWNQKyeMqLb9Afo_WSoi~kcK5mwaepLz96AHEmAzWJQblCNhundhnOIYTFLWoaYUC5fBAPejPjBSYm_xsKQgcdCuISw_OK133llSz8VMMEQ9wqsvq9VzsWfY01coEmQWMSLTJUe8G9R5WacB3gPOEiTZSZ353NQB8l9n~Mb0A258d2YvXw267tTBIpJ6dlPeQ3~ecuNQmcvMUknltFaRhooDFSeE8f5vLLBkjff_wRiWi~~YyT1QBJIrrB2F8~EezAtqIokneqxRgLwfvIcrS6VIwWZ~_WMg935A--.jpg
//media.inmobalia.com/imgV1/B8vEv5Xh_VThvnEqMx4G0ZxU_YC_pCgmETwWNQKyeMqLb9Afo_WSoi~kcK5mwaepLz96AHEmAzWJQblCNhundhnOIYTFLWoaYUC5fBAPfVwrasBRVo5HpTWGvCHazuAYrel5jYsfBU_rhx0Xwm73Tiodkxaab0g_2Ft_UOKxE4JE9tlxy8B_xSKsbEfqtAkrF6Y0LtkiCPAenndGK4A3tKNO8R6RF3wyYiA00k0mLfds1maMXmsH3x8bUAPfMaHIPrTmOmY~Gss5bdx7kfJ6Db9yCwH3j4hPlFoYWOSoe~7hrLhPDPX3UmoC5kSiCEW6jNz5rg--.jpg
//media.inmobalia.com/imgV1/B8vEv5Xh_VThvnEqMx4G0ZxU_YC_pCgmETwWNQKyeMqLb9Afo_WSoi~kcK5mwaepLz96AHEmAzWJQblCNhundhnOIYTFLWoaYUC5fBAPfkdy3uDyOGiPimoy5CJykgbJBLnD8DGYAUTcoMNXMbDYf05g31qBwl0qQY0QTIz5PyD~T~7U1s1RJlQkRLBrS2rQYfpTWKizJi9qpVAfNlmX0kXbACvPZfKiy22OBd8BovHFDEjfck6UvmW9PW5PmnK82PIGSy0rDJdPGQ4rYo6Yya_B8f35bISOI0dV1Ft~ycEHqrPaJGBNKss8VfmkDSQmbNo1jQ--.jpg
//media.inmobalia.com/imgV1/B8vEv5Xh_VThvnEqMx4G0ZxU_YC_pCgmETwWNQKyeMqLb9Afo_WSoi~kcK5mwaepLz96AHEmAzWJQblCNhundhnOIYTFLWoaYUC5fBAPLWN8Cppwx_aPsB~tXeakGoxFigGgZqA4yhLdtevuC3lk2TI~9AFPZxjNJRAprDk8tzfzl_rhpxNsUiqVotOpKNjmbXrYW8sLef9nN581F0zVw9z3IHxQOSxtl3LaPXf~08BV5QDU7MGFHNF2pa8a57z_08KaAZsmMoZcdTM~yaH9BNu9caLVQgHwT0Bz_12DrSbtr0urcvKiCbYXSOmoo7ADt66mVw--.jpg
//media.inmobalia.com/imgV1/B8vEv5Xh_VThvnEqMx4G0ZxU_YC_pCgmETwWNQKyeMqLb9Afo_WSoi~kcK5mwaepLz96AHEmAzWJQblCNhundhnOIYTFLWoaYUC5fBAPKN7MDCiZpA5M1a1VJdLFRcbN3nfuw5qTVSdEiqMncVETLi1h3lkOMYYJEPHnFjumhla8vFvgDg1D_bnSDpt0dC_Cb7GSGZhAlYE_M5wsARGbd5vKusFv4syYQr09Jl7cO7oHfoDZZR673CnURuvPk2IkswTA8SpdapUeHp~8sBq3iGyHoWMnuZ7wr7vS~9Yk34Owct8oNjL~_6eypU41M3Gt5P498g--.jpg
//media.inmobalia.com/imgV1/B8vEv5Xh_VThvnEqMx4G0ZxU_YC_pCgmETwWNQKyeMqLb9Afo_WSoi~kcK5mwaepLz96AHEmAzWJQblCNhundhnOIYTFLWoaYUC5fBAPLz1Zs0~UNc~dzD0FdoRh21RB7NCWPMo78Kx5XyFvfgom0F2R4If1vkRjpM5VE8NkXLBRpTK_AQH2bdaxwGjdldnF_jUav~GOoBPw~bG9Mthbtr6YqUcL~Tk383f6AWf0tWIOQ3IWGhOXekhkP8fEDfxLdabPXew5EWdjUdR2mb~gU6j_gvS2TfHQ6hC4r92UZJG2Fnyivxy7oXSStivjBf9rdR61oA--.jpg
//media.inmobalia.com/imgV1/B8vEv5Xh_VThvnEqMx4G0ZxU_YC_pCgmETwWNQKyeMqLb9Afo_WSoi~kcK5mwaepLz96AHEmAzWJQblCNhundhnOIYTFLWoaYUC5fBAPeP6feLpXK9FzVX~rABoHWDcP8DyO79TuryobqHniOIkgHpPw7RT7XP2zSaIOYj7gwvHdr8XM5guzbyiEf3TkhSz~1t231XCJLtUVkT3nAY2iK_xxKp1F9XsLk6mFvGpgBPP3uy457~1JYw4GcwbGss9yPAuEDS5UGqxRw0TKXcw9dDXR2HRMYIDiP1bqNBaZmg_8WYb9hNaGeVE35r6TftmBdQszsQ--.jpg
//media.inmobalia.com/imgV1/B8vEv5Xh_VThvnEqMx4G0ZxU_YC_pCgmETwWNQKyeMqLb9Afo_WSoi~kcK5mwaepLz96AHEmAzWJQblCNhundhnOIYTFLWoaYUC5fBAPfQ7EwbcHOHs_tJwY6Mj4nq8fzoXp8Oee4~GtoC22SHn9TMA7dYW5_dl6b68NCz3Ey6F3k8tF3njBn_3rPWWPi_TxOJjFuCoV1aUXSQyzo8cAnX5H2CqMkAQyG91inUAptvR1eok9A9Ey3bpeI6~lagBGpPi~hbOMgrWb2pojH4pxvjqU2CBcoK2uoHel10rvvzG7nuu5Qc4Vz4NkopyrWoMb6qE02A--.jpg
//media.inmobalia.com/imgV1/B8vEv5Xh_VThvnEqMx4G0ZxU_YC_pCgmETwWNQKyeMqLb9Afo_WSoi~kcK5mwaepLz96AHEmAzWJQblCNhundhnOIYTFLWoaYUC5fBAPcnbIOHMMtVx2BIQ4NjU5WkAxzp5Jmv5q3ZmPgpFqDdOeBUHgmgh57WyOCqzSOIUja2vLZTCXlfoFIeNaMy~TypBcEAvOc8Wys6RM8AbJDtMcoVVejJwDjJDTpKfmOCv_lgVZXBDb9sf1qtHpS0tfqzMKA60dB3wInhaS8puyzC5U2Xk~za9SWgep9MwDU~5JFbvL5HWczFVjhLMbahMhN9lIyPbusQ--.jpg
//media.inmobalia.com/imgV1/B8vEv5Xh_VThvnEqMx4G0ZxU_YC_pCgmETwWNQKyeMqLb9Afo_WSoi~kcK5mwaepLz96AHEmAzWJQblCNhundhnOIYTFLWoaYUC5fBAPf3JLREpXdgPgmBvvLDcG2J1kUwP86Ya3ruxexIxxeqo2dEJ90VXKYINzWurrTnbPyAzBrDhDLfn~jt7kTxOqIksaTeHqr~E1h324OqONtLcOBsn6bBADh_iWHYfLEosA4JGghK9U5aC6rLJuahtcJys9ol6jC4cvkG9hQY_CAj1GAQ639O24MFTJbCmhNEwKTqFjgM2umSHYFCCoKoLOXHrATiWX_Q--.jpg
//media.inmobalia.com/imgV1/B8vEv5Xh_VThvnEqMx4G0ZxU_YC_pCgmETwWNQKyeMqLb9Afo_WSoi~kcK5mwaepLz96AHEmAzWJQblCNhundhnOIYTFLWoaYUC5fBAPf3JJTmss7cnFNjsfp5NowExecLpXpTf5jp6Zh~QYnGOw8xijWV1ev6pOMicL4gGnRSL~d4KNd9W87pas0_lq3lgcC8FQYkWU9anUDFnsqM~k_bwUHfC05kN~UVymkrDPW2O_bSZ74kYVnE4xQ8VEz4a001uLSBzYyzWLvktVGEY4Jqu2mWnjKx0VouTEqgB8Ngc5cWMvzjSr4Oxli0hefs5uobYbgA--.jpg
//media.inmobalia.com/imgV1/B8vEv5Xh_VThvnEqMx4G0ZxU_YC_pCgmETwWNQKyeMqLb9Afo_WSoi~kcK5mwaepLz96AHEmAzWJQblCNhundhnOIYTFLWoaYUC5fBAPfV8W4ckhUrDm5oAzAFz2KxiSXyRPDf~AsjF2iQBKtE8MpyoZ7jcsmPW9Pa7bpQnN7QR9sTAn52bqpuCOXaaypgER7QJYOhZjU79FCwvdfQW7STV_SBxBXqaRtKKbZ_6ZgSJytDVWQdLUVM8Mii8Q7DGl0E1rvdFOUhvGjoTElwclGi0SpR4BOcdAQh6mqOUqQ~y8_e3V_MSIkDkreHIhOcEBRpv_0A--.jpg
//media.inmobalia.com/imgV1/B8vEv5Xh_VThvnEqMx4G0ZxU_YC_pCgmETwWNQKyeMqLb9Afo_WSoi~kcK5mwaepLz96AHEmAzWJQblCNhundhnOIYTFLWoaYUC5fBAPLWHnP31es3YxPrJUaif8gMAbKeClawmPAkuzihrZ0yvFM6yZxKZgkTpmRcB94l3~VERHlYkN6lZhVdb6tq~h463zsCRaTISeMAauFobZEoQ~l5qctmSbxo_bxkpt3_H~YIuMAaNuKJXbxl4y85VdYIMP4W1aoeCp~T8Eo0lUnKAGLfjsvysbmsAXce08QSprdsBi1ZkUhMnoOrRUVW3s1ah7ISU4gg--.jpg
//media.inmobalia.com/imgV1/B8vEv5Xh_VThvnEqMx4G0ZxU_YC_pCgmETwWNQKyeMqLb9Afo_WSoi~kcK5mwaepLz96AHEmAzWJQblCNhundhnOIYTFLWoaYUC5fBAPc185ARaZQOznPhbNYZF78XOvNSYhfmOlpzdRwgR~_xXA2MMWtjltkNF86lJLcP~vEKzh7Rg07NSirF_VJ4pe1nZfAfAYkZjttUFlGzDCwMT2jLo_H2BVPGciVEf8tSrL~FIGjqr4Gve43IZ4EqZJhqbgRQSxyKPluTKdxUYVYcZrQARJI8~b9jA9PhU4bZZX_y1Y61PESNkBYgXnN6oxtg8bhHeICg--.jpg
//media.inmobalia.com/imgV1/B8vEv5Xh_VThvnEqMx4G0ZxU_YC_pCgmETwWNQKyeMqLb9Afo_WSoi~kcK5mwaepLz96AHEmAzWJQblCNhundhnOIYTFLWoaYUC5fBAPKNcnEA7WFTeTrIAVtWPqZdxRUv0Qv7Ccj~JQG4zlAnT7I6R6miQ1uSe5fmsjFLZZm2FUpA~5GztewegmXlUHW3URYVn_IZIcJwNQH2oFWcelqXnB_nFjowefZKVlTimtgUZzZVVUlMN1SxSBYSaHYq~7~vfGDgWo2IeQ~CrJVpnmoXMCcnAZuvEFTPuh~kvcK25BVzpnEWv99Unqobt9tRmkpsMe7g--.jpg
//media.inmobalia.com/imgV1/B8vEv5Xh_VThvnEqMx4G0ZxU_YC_pCgmETwWNQKyeMqLb9Afo_WSoi~kcK5mwaepLz96AHEmAzWJQblCNhundhnOIYTFLWoaYUC5fBAPcnIQ2nRpmkwDr4c3aeMSdhF1PIb0WCyjhqrOpLKsqovKyAspGWiVWHVGOvVrMjfZ89Xo_buzh5nNIF4EqWYG38dkd4aHMrxLthHB7UEHRgqOsVluyENxZAnj1fIlaubxyKV98Q1xon824o_OrKE~TvEqjiM_QjGpewDptEeu5qVlUahTYx0Jxi2sF_Dxc_wpfe~G6e3S5KnhdVeto9rviL7cgcu6pw--.jpg
//media.inmobalia.com/imgV1/B8vEv5Xh_VThvnEqMx4G0ZxU_YC_pCgmETwWNQKyeMqLb9Afo_WSoi~kcK5mwaepLz96AHEmAzWJQblCNhundhnOIYTFLWoaYUC5fBAPc12VvwFKAl0p0STaE7pMfcdWg0ZWsoeLYXilV_RkIw_pp3vouKbOfBhKmVA8SESXttE_NLqz3QMATLf710V4NDFh3sflaWnAvm9NqTSvm67omFk64lJye9KX266mvoAxcqDJTIj_DtYvVaNn6l2fCeHXrcLz7Szg7pmNpUCCoTJz524pENWjHgPOlwT6HCS1gNP1cyjoXSH8aACT_NAtsBFYeAjRyg--.jpg
//media.inmobalia.com/imgV1/B8vEv5Xh_VThvnEqMx4G0ZxU_YC_pCgmETwWNQKyeMqLb9Afo_WSoi~kcK5mwaepLz96AHEmAzWJQblCNhundhnOIYTFLWoaYUC5fBAPcwTPuX0qUzk234YnxYxwIpX9hAj1W6IWYPtpBN~jLSFQMzVgj_gsv5xRGFBGDWahwjk_Z06f2FLtRWPlFO36rMos7qO02AqvbYRLofTvZf89ePqRAEmPpH~dVCThgOdoSXVtOCcR63JChJNrmS_d_Y4oEF65U63ZKy4v6IJAKtCpQpC3dRbiKj3nckdjqPIxAqDS7kuyXKNXtWIVZAr87toPG_jaIw--.jpg
//media.inmobalia.com/imgV1/B8vEv5Xh_VThvnEqMx4G0ZxU_YC_pCgmETwWNQKyeMqLb9Afo_WSoi~kcK5mwaepLz96AHEmAzWJQblCNhundhnOIYTFLWoaYUC5fBAPfQnZ13AtXEAGtv3ZYTDloNgzm9iTtnptMS~wg8T~7wtK6Ol7rAf2NkzKEu61_3WgO4l8cDGWvnosAjotjRBDj5DJ4A0iQobS5ztCTlG7frv~cUqxeZixdpR_V~Fa6dKwipy9ZEcbz~w19KsnMZyLyy3URsfw6GkvSwvqT3~elIYpTAEf_MdSV5AnOM_7He9~JJUyY~af1WM3FdqRdMySij4IMOroBg--.jpg
//media.inmobalia.com/imgV1/B8vEv5Xh_VThvnEqMx4G0ZxU_YC_pCgmETwWNQKyeMqLb9Afo_WSoi~kcK5mwaepLz96AHEmAzWJQblCNhundhnOIYTFLWoaYUC5fBAPfIea_1A0GR7yu4uVaoCQsZUHK9KqfmtQYa6MB8qvWIJzSzPUK4ThsInYDp0pq9ebhN6q9~AgMTPU1nzdbCIJyRCt5NiZUgyzV3LGSnxpHx_qgLIfAH_vsDxQnIJ4p5tnkyzkIWAkgdZZdlN_vB2kTyRmaMN1RXIpDfiWH3bu13NVbyDMWGpS743cjPpJCf0BH93KYydm9L40HL4oSRQswatf3eFT1w--.jpg
//media.inmobalia.com/imgV1/B8vEv5Xh_VThvnEqMx4G0ZxU_YC_pCgmETwWNQKyeMqLb9Afo_WSoi~kcK5mwaepLz96AHEmAzWJQblCNhundhnOIYTFLWoaYUC5fBAPKrspLY~5e~rhLRGuP0evpNe5CNkl~AgUdO0VzhGmBw2zj2EUf_OeE6Fhy~bfsW_Z6fCfw2YoVHNyJktxAhGFBD_KfymrwUC_i_7iMEyH5otlCkhjrElfUzU2kd7bYhglLNngbeIPoUn6bJfhQ7GBLiK35Me3AcWuPX0iDyHz82XQhcLMvuVNEhltGLkq5jBPVb2XcrJpLvaCHbRi5xv0oBXaR8uWng--.jpg
//media.inmobalia.com/imgV1/B8vEv5Xh_VThvnEqMx4G0ZxU_YC_pCgmETwWNQKyeMqLb9Afo_WSoi~kcK5mwaepLz96AHEmAzWJQblCNhundhnOIYTFLWoaYUC5fBAPefeNRw8LyzrMqvRMID_Xv1BjfbsZq2wXHVKCjrxnFvaV3OI2Tfl3DtwRGPsieM6DymUX1_vV9_4sqv6j286wgBrxk007rASVs9dfZrsxRO1gXEuO1cOhcaEcAlKtWdzaZtsBvMERv0feyc6aPVzjaU6A8YaYQjltYM0MUjMdGSM8aYdQQrxLGo~6wTdfi7Aj2FU5yl6uErC6_4zKxjcES3t5nyNLdQ--.jpg
//media.inmobalia.com/imgV1/B8vEv5Xh_VThvnEqMx4G0ZxU_YC_pCgmETwWNQKyeMqLb9Afo_WSoi~kcK5mwaepLz96AHEmAzWJQblCNhundhnOIYTFLWoaYUC5fBAPeKhBK~Qgl7o0PHk_HHgOuuOanKf_1KIM9cWtiAqpWGMf2FPUoI687drj3r8sX_Ha6maadNSXRJ0T~Gf4H3j_zY5kUt_Tta7sJN~J8jRMGSZTfszpS0tJvp_v~fSvFe~ei_Iyd9Lz6kTGw~Cfr9ymSsTnxkLNx9bhdsfc87Q7ZN9e9AGa4s4yeb7j1Cn5KA2oAWXD7PqKLi1rIMP91PUpZewaADuWyQ--.jpg
//media.inmobalia.com/imgV1/B8vEv5Xh_VThvnEqMx4G0ZxU_YC_pCgmETwWNQKyeMqLb9Afo_WSoi~kcK5mwaepLz96AHEmAzWJQblCNhundhnOIYTFLWoaYUC5fBAPKUfDbTA8Q2emuMnycFrmdPyvLcLhUbh0O3dhRuDmPdfTLCLCD0e1fqTZDa9iExs7JV28L6CaFNZZ3j9krhOeD7z5OZ_6t0z3WdI2c19vBLAhsuWqZ02mLfpZ6NRQ8hmyvUo5BYnL1R1XZ5C7QYAF4LuTR0RQzNNZB61_lGxhLtgQD1vs3AUoQhpGOBMZNm44kUSFghs7AcLRV1uas6_BOATJ6ZCSwA--.jpg
//media.inmobalia.com/imgV1/B8vEv5Xh_VThvnEqMx4G0ZxU_YC_pCgmETwWNQKyeMqLb9Afo_WSoi~kcK5mwaepLz96AHEmAzWJQblCNhundhnOIYTFLWoaYUC5fBAPfhVNBxlkgGxXuZwv5aVczJ~TuQkeLOpZHx0fcK1tg1~sii6MHOnYa1NWE~J_Zky_1PdXyddvx4DWO5D_Fe55WajQOL2gj~85S44SuvldX9zF5TSRHcHPsiWLub_KxzKtGWxLOqIu2X8CbvVP8AYMlMPmIDb_og70rnYmu1NrDXU4yq8~Tto5gypD7v2FVrCtj5jNwmQIrlLa5o1c33J3dB_9uneooA--.jpg
//media.inmobalia.com/imgV1/B8vEv5Xh_VThvnEqMx4G0ZxU_YC_pCgmETwWNQKyeMqLb9Afo_WSoi~kcK5mwaepLz96AHEmAzWJQblCNhundhnOIYTFLWoaYUC5fBAPefff7jkJAf80unqYP7v0lid3c9fxMH~92LUSEkg~f9kC2EXFKLkfVwxwLWmg54~F8N92Bv~KzUk_wfcvsJRSDIzds__cv_XPuBl4VQBbdG8SKi59OSsrnwm0tR9GKpyM6zsLaHGzsUuMoFldNuia0dHPo8B1btqDLz6EID0jioJ_hRH4ANgJSFg1eSfGEi5A4xvDbLGY~Su2jMNf3fQzL15hF5rXnw--.jpg
//media.inmobalia.com/imgV1/B8vEv5Xh_VThvnEqMx4G0ZxU_YC_pCgmETwWNQKyeMqLb9Afo_WSoi~kcK5mwaepLz96AHEmAzWJQblCNhundhnOIYTFLWoaYUC5fBAPeKSLBy4e9sU0a8ExowEHb_~SfEcOUK~4_7jHbWVBNeLxgIedRcXu3nIEghhKupjGX1XBii~PNwf_6CLH2PmiH1I9OtKUtuT4b2M8tuvTFFpTwhDoJ4zk6vJjhLNHGjrD3_vrdk1NJz_xAl5ZcfV178q3nFipcabRZf3pyQfkrijS5ppBxG~a5976nL7LxNB~3P82VPsjIqoKilPoi0vmuH9z7V999A--.jpg
El Madroñal, Benahavis
Villa
3.875.000 €

reduced from 4.250.000 €
Classical style villa in El Madroñal, Benahavis
Classic design villa situated in the urbanization El Madroñal in Benahavis, a complex of villas in a gated community with 24 hours security.
The house has its access through the entrance number 6 of the complex and is built on a plot of 3317 square meters with a constructed area of 625 square meters distributed over two floors and basement.
On the main floor there is an entrance hall, guest toilet, living room with fireplace and fully fitted kitchen. Direct access to the covered terrace with barbecue area with outdoor dining area, swimming pool and garden. On this level there are also three bedrooms, one of them en suite and the other two share a complete bathroom.
The upper floor consists of master bedroom en suite with dressing room, living room, office and two guest bedrooms with two bathrooms.
In the basement there is a carport for two cars, laundry room, storage room and an independent apartment with one bedroom, bathroom and open plan kitchen.
REFERENCE

208-01833P

bedrooms

7

bathrooms

6
built

625m²

plot

3.317m²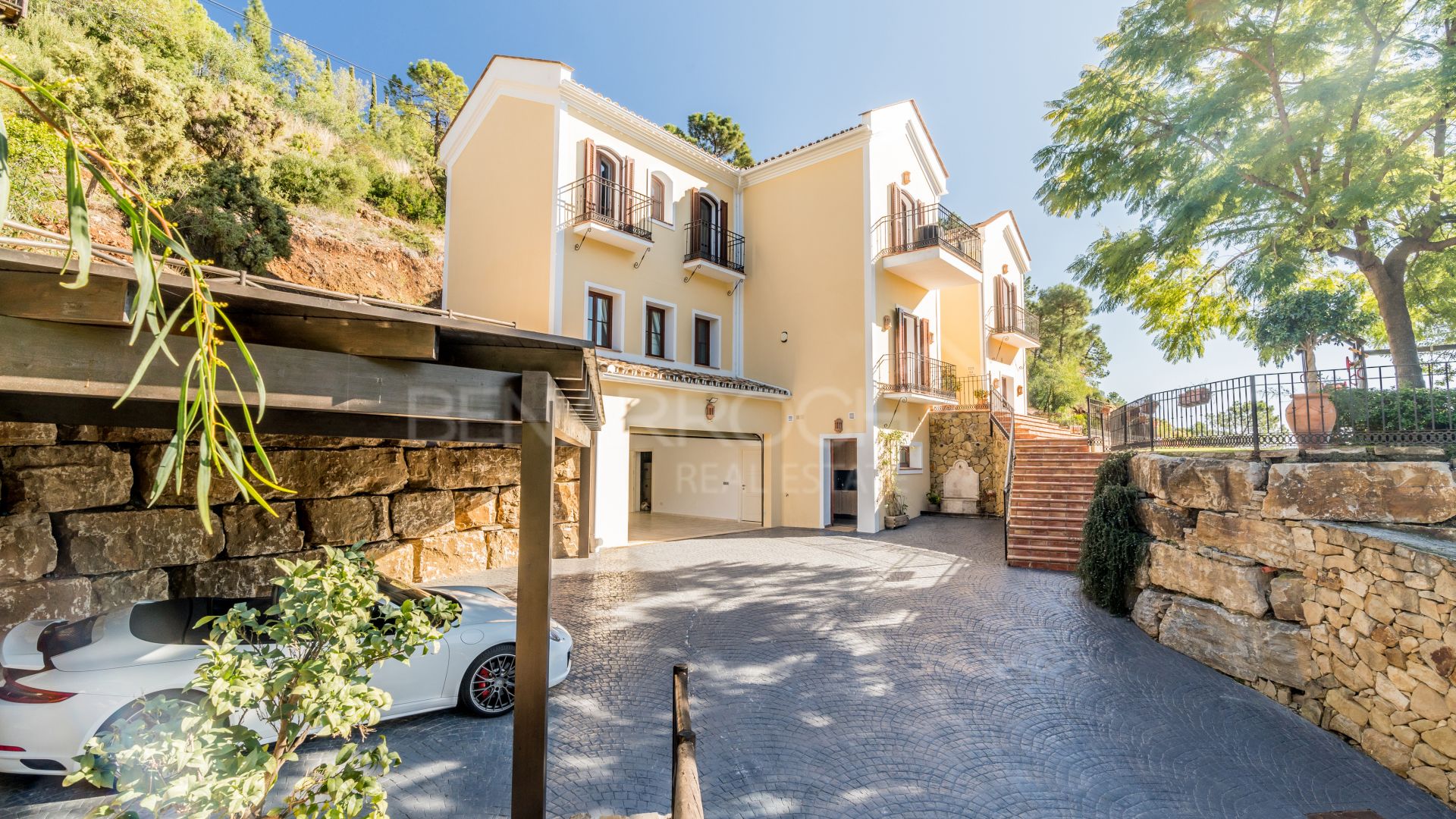 Video of Benahavis Area
similar properties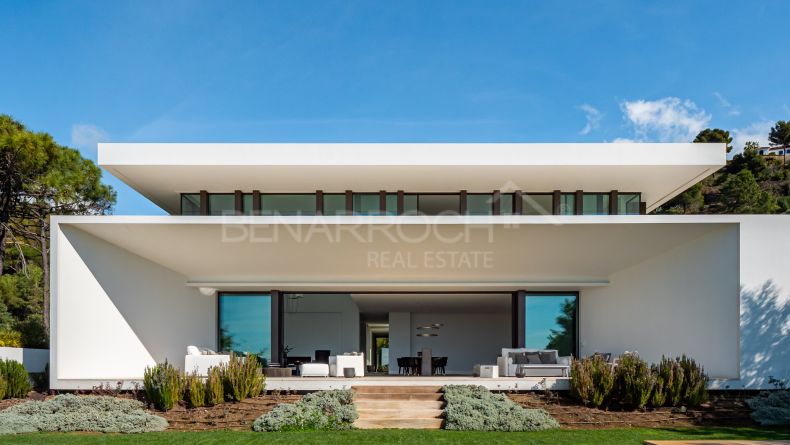 4.950.000 €
Villa belonging to the new construction complex El Bosque, located in the natural environment of La Reserva de Alcuzcuz in ...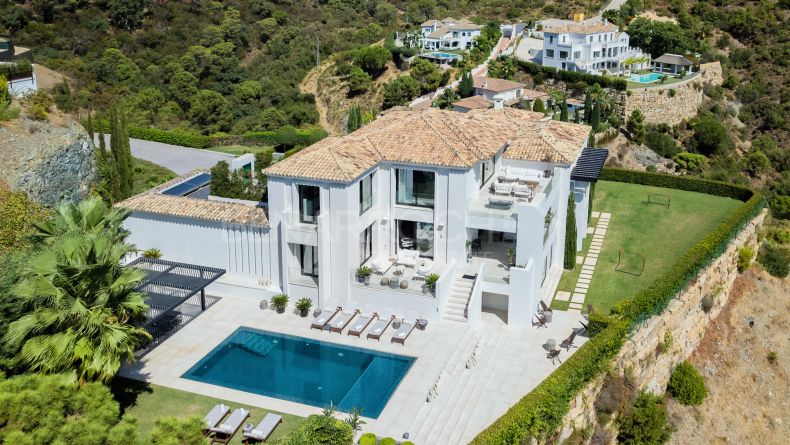 6.750.000 €
Luxury villa located on the cozy hillside of El Madroñal, in Benahavis, with spectacular panoramic views towards the coast, ...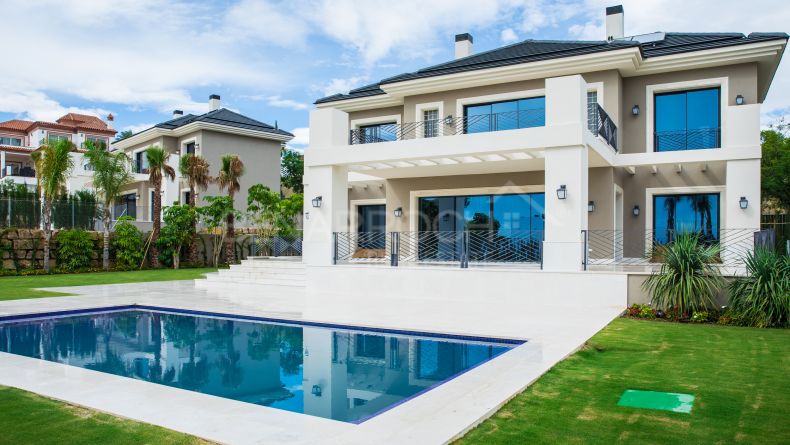 2.800.000 €
Newly built villa located in Benahavis, urbanization Los Flamingos, a short distance from the golf courses and with amazing ...