//media.inmobalia.com/imgV1/B8vEv5Xh_VThvnEqMx4G0ZxU_YC_pCgmETwWNQKyeMqLb9Afo_WSoi~kcK5mwaepLz96AHEmAzWJQblCNhundhnOIYTFLWoaYUs7CEsKHULAk9Q5rRcURLBzTDn4QnrbqiY06fUcyVWNc3ZrtPBUcgQvpwkBfaFRBSWY~BsKdrbcFZvSy7_sB~oWmRCprdqY4uU7KIQFB9sH3nF5d6lelZ4MQrPlCqtuuj4d~fTlrPtxLnLIBtokIdfEJE5Vzh2OSqo9ngmNL~XYejaZ4xN6n0pHdybDA5FauowHfYJh8q66AgugRLlr2gclMHl4N5VRJ9u6nQ--.jpg
//media.inmobalia.com/imgV1/B8vEv5Xh_VThvnEqMx4G0ZxU_YC_pCgmETwWNQKyeMqLb9Afo_WSoi~kcK5mwaepLz96AHEmAzWJQblCNhundhnOIYTFLWoaYUs7CEsKHRb4wOsB0sbDcfSUz8h3fajJfL~OgW~OVcQ_gZO5o3FNBnqqGrj_ZbvfnVVfuBY3ise49N7ksEP5QhA0BiA2mwfbLJuGhr9jVoDH8lHZyFwegUHFmKDp7st16M3veEBK7TsU1QXpTUPrQuJ4kyOrDkINSj3XjnzbVAfXNUJQjJvunLPUFfU4LTG5W9tVF9HVPkmIitZAETbGgT5kdlKktEKdK7LQqg--.jpg
//media.inmobalia.com/imgV1/B8vEv5Xh_VThvnEqMx4G0ZxU_YC_pCgmETwWNQKyeMqLb9Afo_WSoi~kcK5mwaepLz96AHEmAzWJQblCNhundhnOIYTFLWoaYUs7CEsKH5nekFCM_N~pWB6cOCdKmNf7XpcGd_UE5OQsoVjXV_Z3QDpgix9WsXnaDSCZWpqyYBpkOhxPux9bWAfEvjmcGhPYXsPHWwt567sfPVR_MWuIMoOb2FAyrJCkeNytxsK2Fw31jybmYgAlG2m57N2Ew07MbdI6QeqEz~wNENMh3QZlgtNBjbj3y8ACnfjzdttNS8qV1WawcnX2rGvbZuGf3wxtiG7wEA--.jpg
//media.inmobalia.com/imgV1/B8vEv5Xh_VThvnEqMx4G0ZxU_YC_pCgmETwWNQKyeMqLb9Afo_WSoi~kcK5mwaepLz96AHEmAzWJQblCNhundhnOIYTFLWoaYUs7CEsKSsQS_YtcIb9sCjbKiaYCp8xrOlsJTV~oZzzDksQUHFRdehG7zk2BrV1GjU7cn31RokTy98Sof7oL67GkDjANMHDKtW_NffoN9Qo~ePgBldmzuvg~PCWGPNFg0p7Xd4mKXhA0YdcvM3FTk7y1_G0Nfp5DtLoV3h4sPC1We9L_TaN_X8H8aBuSJ64APDFtvmZUNYBjpGnX3fe1cYR32CL~CBxFtFbUCA--.jpg
//media.inmobalia.com/imgV1/B8vEv5Xh_VThvnEqMx4G0ZxU_YC_pCgmETwWNQKyeMqLb9Afo_WSoi~kcK5mwaepLz96AHEmAzWJQblCNhundhnOIYTFLWoaYUs7CEsKGvYvqkQcSRAFfK7V5OEOnho_uHXIqpYoMLoY~Quil9cAlX1g6Ite10e1UhCH5V6cDTDFcm61Pfzn8oUHd7LWWXg5P1SIfwhI7APRI0YVVew9Yw9vCnDU0U9_MZyteoghfEB5HnuLfS6vM4sppGH~zmH0SoASlTCdqWflqfNzA3psVEqf2dODcbR5ER9qJ8VfnCmQysxvI7XfsQQ77LgQKFha8iwqzw--.jpg
//media.inmobalia.com/imgV1/B8vEv5Xh_VThvnEqMx4G0ZxU_YC_pCgmETwWNQKyeMqLb9Afo_WSoi~kcK5mwaepLz96AHEmAzWJQblCNhundhnOIYTFLWoaYUs7CEsKS2_Kcdp3aEEgf908E8cD_tGv2fCbfVaAQ4NGltSke7PQtn7u9SpW8PuwgZOnjK6kDDuwjj08ftfLTymFG2meBQ5nFzfo~I444QHzVkzohq9EbooNimi0Ug3hMCwSY8saahd2Uc4iO_H5FHXSVhroOQcgSg9nKT4pFBzcs3iGzPsvF~XkK1I80DMAsBN0E02yciqgRqqcZ7vHb7JMb68XDkq4EKh~5Q--.jpg
//media.inmobalia.com/imgV1/B8vEv5Xh_VThvnEqMx4G0ZxU_YC_pCgmETwWNQKyeMqLb9Afo_WSoi~kcK5mwaepLz96AHEmAzWJQblCNhundhnOIYTFLWoaYUs7CEsKGGqd_VkAs_wYoEhsy61GrHIMhbYKxwIUlGLE278E7TL3XX5VHGWUbrpEzJVLd2XbvRP2CS33x82R3Hid~LGf4798jabCq0iseCnOmzBWuugpKRIZ7TsNojz5iZM3bHj3acz5lolYytqhPkne5zSimS~EkDtcdlMVaD7sVN4mFCfe1srX6K5V9DMQFNa9dtF4P~vLw48rjU2y7sTtb3unIBwIWSKtdw--.jpg
//media.inmobalia.com/imgV1/B8vEv5Xh_VThvnEqMx4G0ZxU_YC_pCgmETwWNQKyeMqLb9Afo_WSoi~kcK5mwaepLz96AHEmAzWJQblCNhundhnOIYTFLWoaYUs7CEsKHguzv6oNkxRw~PptWllAVN0zAZx7gpBYbJKchBTyTcbmsQ01mfJpWN7AEzIXyzi3_K8LEIhQt90nF04c64rJT~ooiZZHQjOMtUCOTmhCH_Pb80~HUXV66cohXHSPYx2W~Sq4O0ujeJ2pQ7wch~UeacyMvzbcXH5FWYN6hnBMRu_F_MU8Ld_XEyEpHIjU~5BtnEarwBAlMsvs0l5T1PTj4CU5UABAgA--.jpg
//media.inmobalia.com/imgV1/B8vEv5Xh_VThvnEqMx4G0ZxU_YC_pCgmETwWNQKyeMqLb9Afo_WSoi~kcK5mwaepLz96AHEmAzWJQblCNhundhnOIYTFLWoaYUs7CEsKGqDNaDodZjR03HAXriR_leHD11Ig2Xe_SRAWVZtNtJJumngYSfp~z0EJabJH8ZL0SkdUiasR8gNSqT_KV58lKqq30t0aiJhfJJE0F1xQSp6gu_I9uhLHes5LFUjEaykbJTIiYEoDy~XFBiaedjF~I6HiaGn4myv_IhUzH_JVbEJO5M~BP9BfIPwgJMKlNpdBskV5M~S2_J0NT7o5MaH3CbiFMaPWhQ--.jpg
//media.inmobalia.com/imgV1/B8vEv5Xh_VThvnEqMx4G0ZxU_YC_pCgmETwWNQKyeMqLb9Afo_WSoi~kcK5mwaepLz96AHEmAzWJQblCNhundhnOIYTFLWoaYUs7CEsKGDqWBAawrPT3Gk_3DSUkG41iTflyHk1YAApB_04rzPoz3OeZY33y~~aWvEOsYjBuVmfWFv4BMOkNvMRA5d~hFIl486q2egR2FbN87pQbz24HzGKPcL0wMPHXqfxwXvonE2fRQjkq_1k4zQB6lQSBGO7RwKQqJgugt500is2~F3N57N~fmUj7ydAMYL34IxswlrpjA_8MRMBWfB8bxhfWL4~BiLMhEQ--.jpg
//media.inmobalia.com/imgV1/B8vEv5Xh_VThvnEqMx4G0ZxU_YC_pCgmETwWNQKyeMqLb9Afo_WSoi~kcK5mwaepLz96AHEmAzWJQblCNhundhnOIYTFLWoaYUs7CEsKHULCQwrh87MW8_VAwTL7EdYtfAYCFW11BYHhZSy_NcwN24kpFAOYmhP2K5xuJcHi1qOumTnGEOs6hUkzYTS1lZqddBLoeWgQ9Bb0LPkDvjoZN6kRauqrdUoqeXVa80Byog6nFT6eHKt4Rn9DI5abV6ub65KAj5ZIXHCxACv5ec1t4pg2nuB8FUHwXweorBe3i0Xv2Ry_Mnbx8dThVm8VYx5CFBS6Gg--.jpg
//media.inmobalia.com/imgV1/B8vEv5Xh_VThvnEqMx4G0ZxU_YC_pCgmETwWNQKyeMqLb9Afo_WSoi~kcK5mwaepLz96AHEmAzWJQblCNhundhnOIYTFLWoaYUs7CEsKSz7DVdKIx3z2ukt3WrH3gA3N~Z5KKfaYnX7zisZs~MuZLZ4HfZN3TgDPYqogUy4zk8sVeOa43gnRDbv9fd9jPT1kiuZaUTTS~t17War_1DsmLWBO1nzDBCi2sgwQsKkC_uMC22eErZiQBH9HX49krBKOhiiEkS5Q_ds0mEKCKny6q2EIL5dzbItE_e19jMA2QnyzYFSwSxWJxu0IFaGpp0tb5jTedA--.jpg
//media.inmobalia.com/imgV1/B8vEv5Xh_VThvnEqMx4G0ZxU_YC_pCgmETwWNQKyeMqLb9Afo_WSoi~kcK5mwaepLz96AHEmAzWJQblCNhundhnOIYTFLWoaYUs7CEsKH5iYEACiU6zIEfSMoKMskUl7Al0dh5ovfJ2vLQ2FimAO_JA0nw_ipyG1WNQn~4rCcR7Y5A03I7uioX~SyCaTdZs4hLzYg32qXraO3nDGa5VmjIDngDzGDRbbg4WlIK9BH1RezFUeVVa12l~jKsM6mV2WY~oER2ihGEgBBNS9dXsinZoqAhshByZpfRu6LfyXYWUlNe~XxAkiEAJdsr3jsSL9zx~kPg--.jpg
//media.inmobalia.com/imgV1/B8vEv5Xh_VThvnEqMx4G0ZxU_YC_pCgmETwWNQKyeMqLb9Afo_WSoi~kcK5mwaepLz96AHEmAzWJQblCNhundhnOIYTFLWoaYUs7CEsKSsz71h6_X1EbfgbjFtV6NuxpK1Uh9TCbp03UZzqYbOUuyAjt39HolSD8WtNE2ik_9tKV_5AQr5xAJMqkO~n6wqKPawLPizTBIwuUmJFLM2NRWYI74Q5wsy3xxhgDJ0LkiAkrGmQKltt~MB2FAaNne7o2OdSW6gM7523QyU~GFqPAtwX0tgvjp0FFZ4ZRrOK0K6AtQDH7Jp1BnysgLvS7CHBTC2kwYA--.jpg
//media.inmobalia.com/imgV1/B8vEv5Xh_VThvnEqMx4G0ZxU_YC_pCgmETwWNQKyeMqLb9Afo_WSoi~kcK5mwaepLz96AHEmAzWJQblCNhundhnOIYTFLWoaYUs7CEsKGGgo2_Poj2ngih6QxqlNWBgqcGQRiHfzMEwoRNtoROP2yncd91JxO~682WEef70NP3qSEh2qgd7SEQhbhOlIQg8Jz3wh3r3k4FJBRBCSbvebEqcrHC5NFIPk4q~l6mzU2I4DjB7poGKyY~V4pwcoSJoIbihtizmYGWGHegYaqQ93VV4DldC~T22nfU7F7fT91vR9IIWN9l9WtkwPkga_ACtZkxpGmw--.jpg
//media.inmobalia.com/imgV1/B8vEv5Xh_VThvnEqMx4G0ZxU_YC_pCgmETwWNQKyeMqLb9Afo_WSoi~kcK5mwaepLz96AHEmAzWJQblCNhundhnOIYTFLWoaYUs7CEsKH8jlswe1FLy15w6ES2n4Vh0UAytI0gdZ89k1EpAsxiwU9ve_wPs5jRKYjjeT1P1HBwKRjypGOoRF0xEQsUCvsBS0pUd_kcph5BdQ4j54TsyCOVQSsKQJhoDSkQhoabGaBGs5dU8k55L4~~6KyaREyg1A4V_0V2RhRhC2McCJJb6f4YyWUjCGUuicVDCxHaEGinR9sorZqcO0yy48fMOtBaZ369YT_g--.jpg
//media.inmobalia.com/imgV1/B8vEv5Xh_VThvnEqMx4G0ZxU_YC_pCgmETwWNQKyeMqLb9Afo_WSoi~kcK5mwaepLz96AHEmAzWJQblCNhundhnOIYTFLWoaYUs7CEsKEBKA3V9o1bMPLXfK8fAmp_RSURjXg4IZi39kr5Z3K1q_HAyqyfw2fTGtEfXv8CIR~eNs3eDaCm6bjaOo9gq09toeegRKXjpI7hUJuJ~gbITbVxsU1Q7bE_ebvPuxZjSgGq00srWqED18CM5K24PJ6kr4Ay0xzi3PH3Oh0vV3s5gxY2YyVgvv5SeXRRkOL4nG8cL~RrTF77Jhjjv1GKrrWG_iQRJlNA--.jpg
//media.inmobalia.com/imgV1/B8vEv5Xh_VThvnEqMx4G0ZxU_YC_pCgmETwWNQKyeMqLb9Afo_WSoi~kcK5mwaepLz96AHEmAzWJQblCNhundhnOIYTFLWoaYUs7CEsKHH5PNKqErsBznpHJ48sDk5nuT8VPpJZm8uRv~wD~ISQXHTvgfgmRtI4UaI0hGviGA6O94ewSwByD1MOaensQHqrGXP2n_PMudixtoliHZxfsLfEftM3A8jGKPIeC~vgR1f9IKSoy7MaK6bzYGqQ0wYsrVKa_mCgKGflpZLTYZIjhAiT6ZEFei1gC4X9BwXvkorNu8dV7b5GbH5XDFoQ~QNgiW18Srg--.jpg
//media.inmobalia.com/imgV1/B8vEv5Xh_VThvnEqMx4G0ZxU_YC_pCgmETwWNQKyeMqLb9Afo_WSoi~kcK5mwaepLz96AHEmAzWJQblCNhundhnOIYTFLWoaYUs7CEsKTiOFjolCCCJ1_DF_gosoE5vH3I0erMOZx4hVLr_7fPPBVtHyPTMgcbXJR0f5iDHTeD_wb1pKnCyMT5ty8pAKNKbJIPeNCPGlCLH_CL6Z84eBUcUEu9HCOAYCWdaD6GhR~8AeYG19QSLYmufWiXFgm_oXxQiE_gMTux8PIYZ3hco2ZPPu~bAn9vO6ISc~0~LR0NJT3npcydmleGvkK1vgj1jJ77Ds6g--.jpg
//media.inmobalia.com/imgV1/B8vEv5Xh_VThvnEqMx4G0ZxU_YC_pCgmETwWNQKyeMqLb9Afo_WSoi~kcK5mwaepLz96AHEmAzWJQblCNhundhnOIYTFLWoaYUs7CEsKGGrBVOx8PKfLiZHTuUXTLVIH8I5MTEdW2ePY9z_gUhODFvcxswom6vgj_KIDkD5um6L5zExUFLGN178POdJ9PTkWlLGy7afAkB~X1Rg3XB0YGzyFGLiUPNy5OhazsLq2Q2lsIN~O4~2~sJfnnwHbe3Vev3NnZ577bcS5sztZlUh5qBAm8zcwiTLsDfMMJ1UAyXgZdzOSq4t4GzR4zoOfhlMGgC0qtw--.jpg
El Madroñal, Benahavis
Villa
SOLD
Spectacular villa in El Madroñal, Benahavis
Luxury villa located on the cozy hillside of El Madroñal, in Benahavis, with spectacular panoramic views towards the coast, thanks to its elevated position.
The property is developed on two floors and basement.
The main floor has a large entrance hall, interior patio, two living rooms and a spectacular dining room with access to terraces and a beautiful contemporary design kitchen. In the wide access entrance has a garage with capacity for three cars.
On the upper floor is the master bedroom en-suite, with dressing room and terrace.
The basement has four bedrooms en-suite, cellar, spa, laundry and gym.
All rooms enjoy beautiful sea views thanks to their large floor to ceiling windows.
The villa has first quality finishes, all in the gated community of El Madroñal.
REFERENCE

208-01307P

bedrooms

5

bathrooms

5
built

650m²

plot

3.800m²
Video Villa
Video of Benahavis Area
similar properties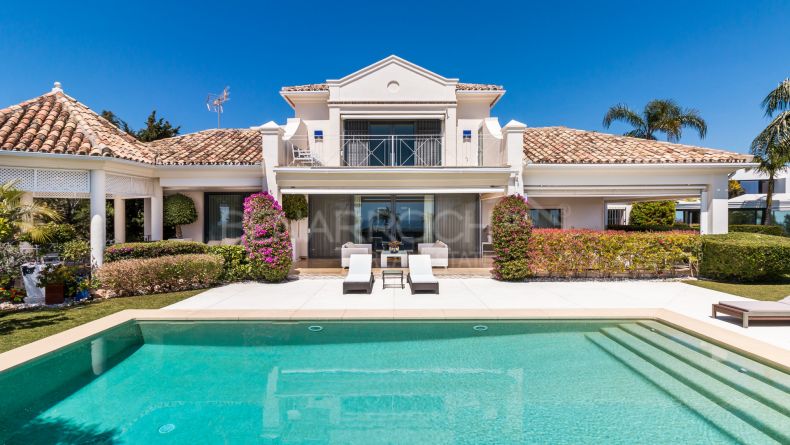 3.275.000 €
Sensational villa located very close to the golf course La Quinta, in the urbanization El Herrojo, Benahavis, with Puerto banus ...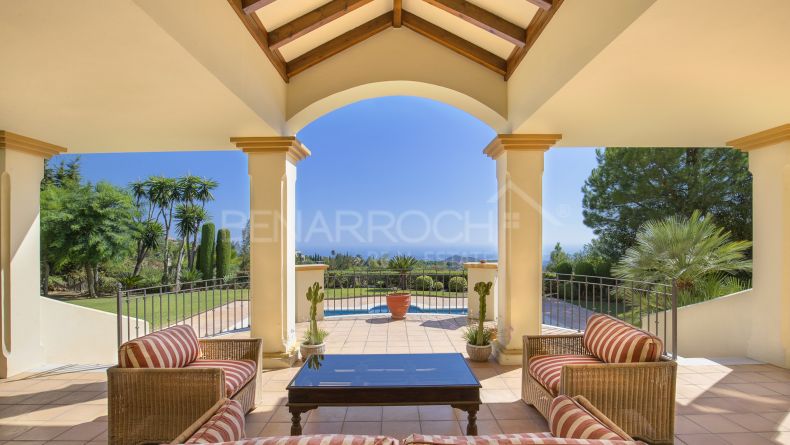 SOLD
Spectacular traditional andalusian design villa located in the prestigious luxury urbanization La Zagaleta, in Benahavis.The ...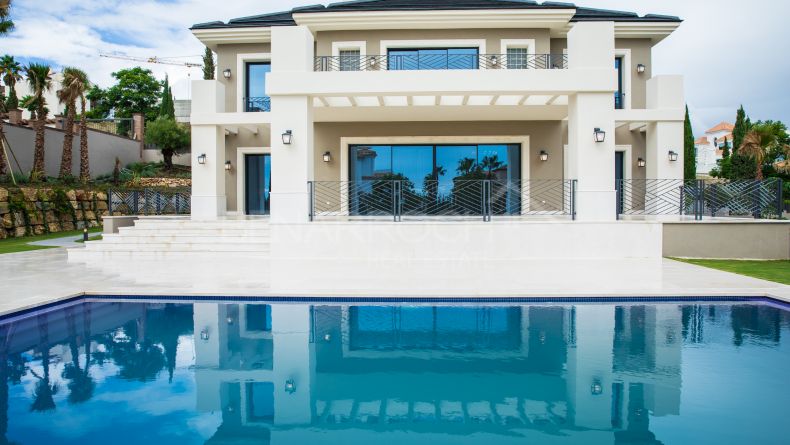 2.800.000 €
Fantastic villa located in Los Flamingos, Benahavis, a gated community with entrance barrier and close to the golf course.Los ...