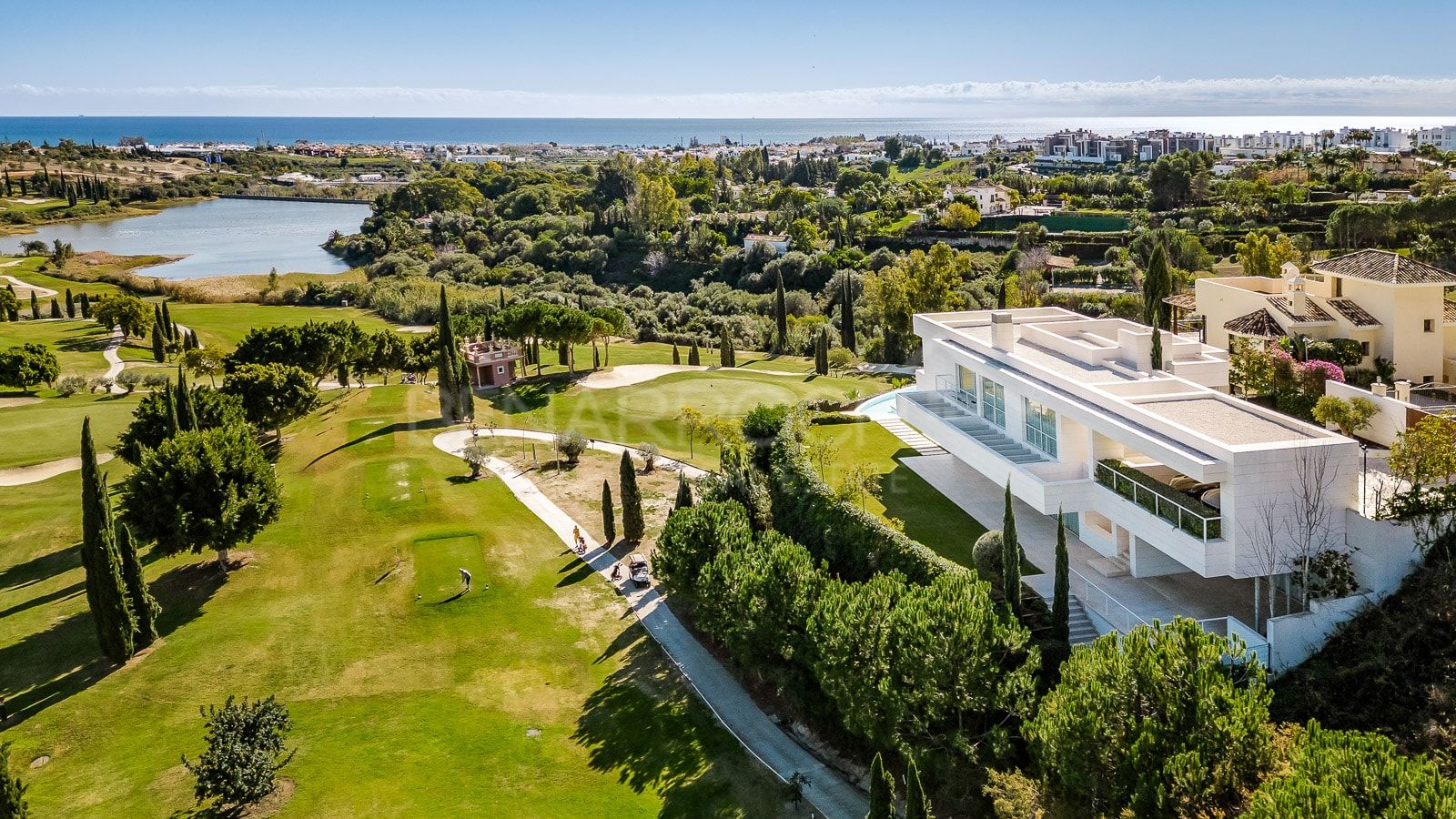 //media.inmobalia.com/imgV1/B8vEv5Xh_VThvnEqMx4G0ZxU_YC_pCgmETwWNQKyeMqLb9Afo_WSoi~kcK5mwaepLz96AHEmAzWJQblCNhundhnOIYTFLWoaYUC4lYeFCtqPrLzYedBl~x62hZwRPDLC3_1uU2k0sJkHJmL~ErrE7uoVVy2vfa1X_XxzSN5gOps5WDI1eaOvqBu8vn~66QBlSse8aR_VXSBiwmyNPrzi1Nw0dywKq9ReQ7XW8gV7t108z2tTZ5cyj53uXzudDzdsu6Pls~Eo1hNzkYRXK3HqN3lInPp2VylDB6jJ0j2NZdpQXogrvVCSsMjh9QhX94ryNUjT3A--.jpg
//media.inmobalia.com/imgV1/B8vEv5Xh_VThvnEqMx4G0ZxU_YC_pCgmETwWNQKyeMqLb9Afo_WSoi~kcK5mwaepLz96AHEmAzWJQblCNhundhnOIYTFLWoaYUC4lYeFWYZKVXZeagz6vIKzIZJIGNIh3WLOkxrGy7la7deglXWMmClccMVCwMHLyB~Jk0ls6WNJWjVu20~Em42UEHHkOm4~gPFHyqXvkEcAP0gBuw23V2R46GoHCHDUlAzS2qgYiRG6ohCM~gqFaLB1l34ziFymMdap~LNH_erRp3QKnLJ0CIQWX7cGlfgNFiSw92CL29iwQbkyQ4bUP5BMmVR7CIJEPD5RnA--.jpg
//media.inmobalia.com/imgV1/B8vEv5Xh_VThvnEqMx4G0ZxU_YC_pCgmETwWNQKyeMqLb9Afo_WSoi~kcK5mwaepLz96AHEmAzWJQblCNhundhnOIYTFLWoaYUC4lYeFXdReMklSBh_QjV86_1jDBpMQLOSUEAZjlrz9fJbNP3Vxu9FtTMQVSOtim9BrmjfGIE7WRyeDZXlADNrYjtrrDHN3787qhGVUWixqLflG6HxacHXxXBRucSZBebTP8HbK4WSCulBrJ0BOTtJSVZwiDQqH0cVC4zYRXC4Me0cJsXmHtZr82bYs6T0cO0B_bYgDtUrACWRrCV6eS5H4G8VrnreLSVKSBg--.jpg
//media.inmobalia.com/imgV1/B8vEv5Xh_VThvnEqMx4G0ZxU_YC_pCgmETwWNQKyeMqLb9Afo_WSoi~kcK5mwaepLz96AHEmAzWJQblCNhundhnOIYTFLWoaYUC4lYeFX0htMaKhwGQLo0tTZzalfU_WwP2WoojF3DwnUkKba4qS08A9JZk7XXzUTt_rpE8LE3~6uTAZXXO98Ku4NEHTHLztZbM5H7oEK7PsXO880PhJB3kNnMg9XArhnAaFrDPzvV5mnPfPjYiFgLXcwk5~IQ5zKSCznqVtffsVvjQWN~OQvMNxKcToFRkLUi4~o6gwHz6viIbAYJzqT3LaZJKKnqNTqohzKQ--.jpg
//media.inmobalia.com/imgV1/B8vEv5Xh_VThvnEqMx4G0ZxU_YC_pCgmETwWNQKyeMqLb9Afo_WSoi~kcK5mwaepLz96AHEmAzWJQblCNhundhnOIYTFLWoaYUC4lYeFXYRZ5r7Z4BMZKj8iW2bA37SmxPDjS~bWfUeAO1YPbzVfcRMFCsMAMzMige7t8uyV7jT3pdI6~nCJQm3wFJXFCVfMjR1EACVSbAFVr8Oiy8XlfhJ0xT2C9POMS1FdZUxZ0avVKXF_5eGas95vrTwNHxgt~54tVjL8NiGSF46OmkUturdWI_M7K70wqKGt3b52qoRTGmzDI~9AkxWSKnddytROfgwSSA--.jpg
//media.inmobalia.com/imgV1/B8vEv5Xh_VThvnEqMx4G0ZxU_YC_pCgmETwWNQKyeMqLb9Afo_WSoi~kcK5mwaepLz96AHEmAzWJQblCNhundhnOIYTFLWoaYUC4lYeFDori2PQop34v1ALG1ODVVzArdRV5GYXZ7pQBUWQUWgDRFeGk1goiIqgPqTw_7AsCpe_WeXL~CNQ2xKJc8~ZD0SAvQVpJSnSuP0x4~vbAomoHyyr5xwWaVBqGkdgpJET4xQuc~SWvWzhI~T6q_BhoTdHa3OX4sF1j5kIyL3UP0EuZG9b0RqhaiS_csXK4ObrPXYypC7nFfJ80sVJJS_c5oRv~OV2Srg--.jpg
//media.inmobalia.com/imgV1/B8vEv5Xh_VThvnEqMx4G0ZxU_YC_pCgmETwWNQKyeMqLb9Afo_WSoi~kcK5mwaepLz96AHEmAzWJQblCNhundhnOIYTFLWoaYUC4lYeFW3o7~RBLCcgBtmfNRlUeO6Bu5axiEAPU3xEPVYIe29XMw5KeF8KwiGUhIeEHPBn67pssuB6vWs5VjxhqBNv8yZnuNQLMWQUDcZDggS8ChIYlst7Q4aMBnxWl7oUEImZELIGkVFO07obeJvS47zIij0fke2tTguSwahPVOi1upQcyOFWjW5hSvZHyCv3RGd~slpjSPxSRn833jpIbYxRg6r_oBwItEw--.jpg
//media.inmobalia.com/imgV1/B8vEv5Xh_VThvnEqMx4G0ZxU_YC_pCgmETwWNQKyeMqLb9Afo_WSoi~kcK5mwaepLz96AHEmAzWJQblCNhundhnOIYTFLWoaYUC4lYeFW3o7_EsT1mPQcmuBgxvWNE7lh1n37D6YvHkWTnc9qF2jZ7S3IJqgMawxjYTOBJV5ztobIaLGI8YR_p_4YwOlM7mgZI99i1SUAGSXuRPSmyBNWC3EAZK6by0vdxZiBSJRuLCSqDSA~MfCpsJiLkLLzWu409cPESrR9LTlFf9fCw0MrEseZ2i6co~MRYvhvd6GrcMiytSkPjo~nWvFe2mDPmfKYoYOkg--.jpg
//media.inmobalia.com/imgV1/B8vEv5Xh_VThvnEqMx4G0ZxU_YC_pCgmETwWNQKyeMqLb9Afo_WSoi~kcK5mwaepLz96AHEmAzWJQblCNhundhnOIYTFLWoaYUC4lYeFXPapxKqyXxIQWmRX6q2sFtXQIDx5CRMv65BLpuHXCwGF0mcrSoCv9xlLtAPDBV0K_iWqZIA5wELzl9EJMImtLa8s8ZUHFQWyAq2lXp8Ic9CSDRA0sVAK5YeR~sc0sg5xNHRgcabpFroIl0IJFhEL~gHwjHFnKsQrqdAox4R8T~bnR4FU8DTYjBIGmrkIgBWOkT2lT8X84r0F0OVkkU~sbLyxCskQFg--.jpg
//media.inmobalia.com/imgV1/B8vEv5Xh_VThvnEqMx4G0ZxU_YC_pCgmETwWNQKyeMqLb9Afo_WSoi~kcK5mwaepLz96AHEmAzWJQblCNhundhnOIYTFLWoaYUC4lYeFWY8Xd9YpV_aa16j7rIQZikpcp6Pmw7uUPQhGbgV0z1PkJZiGFqvBgdpiL1HlsGUE02V8whzvKw6k~m8ktgydGC_M2NMfBMkAHvT79ggqr1zSi~IixtSaiMhLBzJ03r3oqLRaLo7pmI~~IzdfxjMVxBvK~k~beeFsR_sKhZhEHr5XefyhhFmsj6xNqxcTZEM0y25j_UaCtHJ3DImzkheRe0Y6GFUTlA--.jpg
//media.inmobalia.com/imgV1/B8vEv5Xh_VThvnEqMx4G0ZxU_YC_pCgmETwWNQKyeMqLb9Afo_WSoi~kcK5mwaepLz96AHEmAzWJQblCNhundhnOIYTFLWoaYUC4lYeFV5yNHviE1hYNfOa1DH3hfBrQEGwetRtPRsmuANdUYZdYOPjMdfgOXoKdB2UItSAmhywrGc5KChPYfbl_va_tEf226buZHlWE8Db4wL0VFBDdsLT2JxbcWhxStrOC2DB1smI_0Yu~d9q3xhaNE8RkWhh7z_TcnJwOfhs7f_oj5AIXn4cqF8OKmBtJ3an4KuxqjmTd5L3SCtdByfg_r_SFkVhKyRDdYg--.jpg
//media.inmobalia.com/imgV1/B8vEv5Xh_VThvnEqMx4G0ZxU_YC_pCgmETwWNQKyeMqLb9Afo_WSoi~kcK5mwaepLz96AHEmAzWJQblCNhundhnOIYTFLWoaYUC4lYeFWEx2adZ3dwtIuq89ZYkyTYS9FW5bchcwmhuOa~Nf0_~gHuwIS_4Z8Gdz56go6BBUCrBPQEQuiMFwJU6AAmPRE~JVHwGjzKJ2olZaVk6d7m8n3~LO0JfkNkjJ7HcCiYWgKNZI~fCptyD5rLXgHtosJ9whL3uLRLRG8ZdcIqKlYH~wXXxJrF1sLvyN4CqPC3c2cfapWyOgnlY1hrIaQzNVMJtZ47ASJA--.jpg
//media.inmobalia.com/imgV1/B8vEv5Xh_VThvnEqMx4G0ZxU_YC_pCgmETwWNQKyeMqLb9Afo_WSoi~kcK5mwaepLz96AHEmAzWJQblCNhundhnOIYTFLWoaYUC4lYeFDtysShbeS~0v6my2Dy5HcnXLYGkGXWze481pIhDlFVp2ft0Yil5iWfAGS3qRNXWu9n8fZfuOEqsZW1MKbCs67njA_8cmCEWQ_4b0415CnIi2L7sxC5wK9v8ySbP7YwNESPglNhU35O~R4AGMZ~aO9SvIKQG7FI4IOx~pns_4SXgs69lwJ2SZ15~eOTRf~uoShKwnKTkY84wlHQTKWDTnmx9G0OuCHA--.jpg
//media.inmobalia.com/imgV1/B8vEv5Xh_VThvnEqMx4G0ZxU_YC_pCgmETwWNQKyeMqLb9Afo_WSoi~kcK5mwaepLz96AHEmAzWJQblCNhundhnOIYTFLWoaYUC4lYeFWdJzBc~gj9rbgLZ6NJObeTgQNIFHVJLnKuZawA5INTVxr6uoePBZz66p7P3Vplo7w93Wtf6zKp4xqGFRz9e01x7~tj1A~6civFO69GDgovncn5ZwNfxCB5G4YUkOFtVLH3NN8oNQE3x1sHJH1CpGZlbRFqluUtEnnCCZ1Sg0DZ2VoVNz_4dmsbiaUBy5bMzX251VPX~yK~dWkeIF1m_4oU~bZJIMDA--.jpg
//media.inmobalia.com/imgV1/B8vEv5Xh_VThvnEqMx4G0ZxU_YC_pCgmETwWNQKyeMqLb9Afo_WSoi~kcK5mwaepLz96AHEmAzWJQblCNhundhnOIYTFLWoaYUC4lYeFDBwdOGyYf~D6_05b8305lJlowQKq4DtmQVHu2BYChTjUTPQWCI3dm34nrTMnPJSLNtucyoNci~t51bgPmKPB9x0RT5iudjLSEfpE3QF2qlH6tv_HgCi8T64_2TqJv4g2muPvAc0GAk65jSbz9FhvTOfE3YMQrq~VROjWMHjhb6TxpYSXJe_ChlyltrGBZ8BXWDy2Ge0iDoEp_eXYTTjJ76Rf3b5U~g--.jpg
//media.inmobalia.com/imgV1/B8vEv5Xh_VThvnEqMx4G0ZxU_YC_pCgmETwWNQKyeMqLb9Afo_WSoi~kcK5mwaepLz96AHEmAzWJQblCNhundhnOIYTFLWoaYUC4lYeFWEI1T5rE8H8H0ToKsZY1q5ESadFCPI3cC0TH8uxtHyDJO0~8XQ0thWN5gEJVVLikzY83GZ0CH3SlccAF5YlpEuEJnud1~AXmEpitVUyngkMXpyOL85loIBxHqsal98IOcBkLm5sv8aQyO09e0bXqyvVA_qe3xvrPLvxRlQpdopgEvSXSMGpzeKmZWl7ODQVJ1mHwid4dS3m~V9h7LXUNIy7OBAVitA--.jpg
//media.inmobalia.com/imgV1/B8vEv5Xh_VThvnEqMx4G0ZxU_YC_pCgmETwWNQKyeMqLb9Afo_WSoi~kcK5mwaepLz96AHEmAzWJQblCNhundhnOIYTFLWoaYUC4lYeFWqGRW~huKjO_yP4zfchvnfNMXHUzrbdzRTsykJWfBe0u3JAdh7t7TaN8Z8NSdcfcUVL~Y7t74u52Ds~_KtiDS0bDnznIE5hAhW1iXfN1UZI72T9zoJcKKurRX6NAeSFhw1Y3_vUgSLrRBzRFabUgnsghkX4oSKKkzCxb9fP~VJu9NtJCh68Xc1dtJQJbChdAswsHys_67ljog4xm0No58EfGRsGGZA--.jpg
//media.inmobalia.com/imgV1/B8vEv5Xh_VThvnEqMx4G0ZxU_YC_pCgmETwWNQKyeMqLb9Afo_WSoi~kcK5mwaepLz96AHEmAzWJQblCNhundhnOIYTFLWoaYUC4lYeFWYeTe4W7QmW1E3RdtX~Njhfxi3SLzKrW~s0ZDTF_8DlptOOYXiguzQ1pZKBZ0VhXImagO8_1Vx2yGvfSrmaY5vTSKMIbnVGKWCgOhntMjJ5eQcL~Bo6jLy9OluW5TKHHN_7DxXnGsiaNti9wIPt6hwlx9IqzTTjovWENUB6KRE~io0RTZ0OChLXbKitj3ljYJPTxgRJj7LJPhOJyMoYw51HX9R1Opw--.jpg
//media.inmobalia.com/imgV1/B8vEv5Xh_VThvnEqMx4G0ZxU_YC_pCgmETwWNQKyeMqLb9Afo_WSoi~kcK5mwaepLz96AHEmAzWJQblCNhundhnOIYTFLWoaYUC4lYeFCdegYqiAT0DTYcB04UvtBRtcyJWx_7b4B_xkHduytg3n6FZfQFGY9yTe7E495Mj~jEj3m0QoVt7QwelIDGTxDEgNWAjU8WQUw1OOEHq25DqtdiSDB0OOPCl6~pAnT0GTAA_mCWQBw3ox8ZbT4k~tYVsRm5Dce1j8k_8FllLuvKhCV4tBkBOLZkOdUw4aAg0SuS7qCKUqnrnEEV~jfkdYdvglWQUGCA--.jpg
//media.inmobalia.com/imgV1/B8vEv5Xh_VThvnEqMx4G0ZxU_YC_pCgmETwWNQKyeMqLb9Afo_WSoi~kcK5mwaepLz96AHEmAzWJQblCNhundhnOIYTFLWoaYUC4lYeFXYQIKVh0XDHG3gDuwoQTyPIr~D_kXDr0KE9m3FGLXltQ47rWzOnGxKqsgTYSsMRTSuE0MwZUcPNisBM0Oxky8S_w6P4dJM5Z~yQ24bsmOp0QmiCVlVDN3jjaSJk56T3islXaRXmdZJrI2jpbHOxDI4PNsJedcYX20RtVfA5mKz1AkfprbeV4EzhI3kgxGSsFItFQSdvCK1g25nDn1mxpd74PF_wqtg--.jpg
//media.inmobalia.com/imgV1/B8vEv5Xh_VThvnEqMx4G0ZxU_YC_pCgmETwWNQKyeMqLb9Afo_WSoi~kcK5mwaepLz96AHEmAzWJQblCNhundhnOIYTFLWoaYUC4lYeFXKKZK3PF1CZV0yVpVRIPThn4weWlhXhsKajrI2LL13AEW5si0MRB8O2vj1Or140T4El8pqcOC7kK87CZnvZcpgI1lUcsSYc~fH1kHgnMyWjyxPb0DcPxJtXrSWn9n2ZBDdOEVZmWAMKzeqhDjgGCm6O~L9MiP1_E2bzZKnZ4R7TUOMQ9X1AAZ7FjgCTAWFwmxCERuf99jEf2dRBXGMEflyC_Vo8sMw--.jpg
//media.inmobalia.com/imgV1/B8vEv5Xh_VThvnEqMx4G0ZxU_YC_pCgmETwWNQKyeMqLb9Afo_WSoi~kcK5mwaepLz96AHEmAzWJQblCNhundhnOIYTFLWoaYUC4lYeFW3~2nOusmLV8gCZZtjazC9LOVgygZsd~o04CWMkd7ksMAMshZMn5sM~LxuBggYS9s_ZzFY0Fj~DQvZqMmkyX1GeGJqepJW7R5GZ~XTigGWdlAAEFJDaMMTUY9C_gy~JF~iywQKOi3u1jPpDTDwcuqJcv_UMfpxA5UBqjp6ZsmMfibZCW72oHkdlSWDHGIO5qd69wsPf~62vE5s5fqnFTCvoxeNbKjQ--.jpg
//media.inmobalia.com/imgV1/B8vEv5Xh_VThvnEqMx4G0ZxU_YC_pCgmETwWNQKyeMqLb9Afo_WSoi~kcK5mwaepLz96AHEmAzWJQblCNhundhnOIYTFLWoaYUC4lYeFV5KWhjMKCZ5M3blB7XmHGOwQnnqnm0ExUPkxyShTQvz3bGDpbU9Y_9LsXhauh43opQmShbQ18DSxbS8rqavBcpc4QRg0pqkoCwp~1guiCsUJxx6L6W3JykWOlznEq1JU0MN8HGnV39H46_Q9uSx2hDYOVVRqAC_8G_yuLN28M9EmsdrGsn7hn1OHOn6rHhVzOv8dbPtp4h5rEruHGATipyP0BrJkWQ--.jpg
//media.inmobalia.com/imgV1/B8vEv5Xh_VThvnEqMx4G0ZxU_YC_pCgmETwWNQKyeMqLb9Afo_WSoi~kcK5mwaepLz96AHEmAzWJQblCNhundhnOIYTFLWoaYUC4lYeFWE3pXK8MAY22Yxa5OLhzSuSPGBr76R9eTX_guF0237lVe9B_Zs5wWGQRjDfLLDOM9gZr21AXmgsGnMwc8EK0XRdj60N_lw0KulozWlqH9RqZm0zis8vi~J~IMy0PuQxcX8iKnqK53x4LQYddMVVEWYsBd4JMt9xmSSTUaJ_CQeKblES7wvL49UsvHSl3HXtvF10QIvUAEetP~rrCGIAttI0ak49oIA--.jpg
//media.inmobalia.com/imgV1/B8vEv5Xh_VThvnEqMx4G0ZxU_YC_pCgmETwWNQKyeMqLb9Afo_WSoi~kcK5mwaepLz96AHEmAzWJQblCNhundhnOIYTFLWoaYUC4lYeFDtmIzMXFENTmkI43x1tm5mrXJlHAT5MAHvjAJLP7mBPVwNGRlLeUYH9RJAJtwT8ecuIBUwEZn8kWQHOYXq~45sXNYGOhoyHfycslZm0WOZda59lsKXnvZHO4wcJ7TKAQDC7pHH0Kvue50NBvLyc325B5zOk_mxzX2b8vu5~CMkyFc_KncPIga1ILq0aKKQgCQcbM1~R6hQssVY2DsXOy~BokExld0g--.jpg
//media.inmobalia.com/imgV1/B8vEv5Xh_VThvnEqMx4G0ZxU_YC_pCgmETwWNQKyeMqLb9Afo_WSoi~kcK5mwaepLz96AHEmAzWJQblCNhundhnOIYTFLWoaYUC4lYeFWB6dY38TLCGSWW2EqnotoWw8AZRCdXmctptkIsfm_tBWt0mtHqBXkMEl~USWMV3xpBLtUHsQ7YS6zw3MYaIvQ4VXyZ0IfHf~DI9XFuGrprKEthYhDand18yW0JrKd7_qGEEqyRKyeT5aD9udUIPDjrOxGQHT6p9EbseCuYsfJbOQ_9E9T~_Yi44hjoZIV7q95_nU6FTfMO_sfqdux~63y7h2VFjtsg--.jpg
//media.inmobalia.com/imgV1/B8vEv5Xh_VThvnEqMx4G0ZxU_YC_pCgmETwWNQKyeMqLb9Afo_WSoi~kcK5mwaepLz96AHEmAzWJQblCNhundhnOIYTFLWoaYUC4lYeFX0g83JehN0PxHbwpGq8KZ7g~rqH2TfQWNOOLSsJWPpQnDzztHx1NjHTm3RWJps5odrNOCsCe_ohGJnuNb1g7f5JoAIZ3uxAJQhkncujONffxHUeBKT_fU0h~4ktIqmx0aM5zVtUYgDaY_I8wlTydEJzCOv0eRYZo2ysbH1g3HhC_JZDKpDDWQ8RxnAu0D8LlZ92wpVVgQZS2WcmY4gJ5db9G_jV7ig--.jpg
//media.inmobalia.com/imgV1/B8vEv5Xh_VThvnEqMx4G0ZxU_YC_pCgmETwWNQKyeMqLb9Afo_WSoi~kcK5mwaepLz96AHEmAzWJQblCNhundhnOIYTFLWoaYUC4lYeFXx9pCUPpsMiXNNpCArMZ4h4s8yVPSskbBLkqrUEduflZ9curziCpWQaXKN3kf7oJwbFKIcabVqCne_KJKjgPkRmhu6dK5lsr~R35Kp3aPR_qT3MKo4fiGhn_GiOY6WmuLv19dtxVU~x7ruHiDuc7Rwi4lTXn55F_oL~hO6uUnEaRCfhhAYMXVWdFn5RYzzqmXGRCB8UZ7aOPzY2TIRUC0MfjXCE5WQ--.jpg
//media.inmobalia.com/imgV1/B8vEv5Xh_VThvnEqMx4G0ZxU_YC_pCgmETwWNQKyeMqLb9Afo_WSoi~kcK5mwaepLz96AHEmAzWJQblCNhundhnOIYTFLWoaYUC4lYeFWvxcFp5YiDh00GVllnNQOo_kejivk1uFp~IJhKQRI8TLk1AUBvp0cWHjYvIzTEruybdhU4V7aQwCrc1Uxr1CmrRj2lt_YjlA14rfihuGzw~1muareY1bL8AuTJpsk_Dv_zUqyBTOdmDjPQ5xlrMb8038Kjl3Gbu1j6w4mJiq1nR2lmkqAOrcwF0q9V61Z4hYSBkw5bAUwVk~0h_XByf9dpvcSqUthQ--.jpg
//media.inmobalia.com/imgV1/B8vEv5Xh_VThvnEqMx4G0ZxU_YC_pCgmETwWNQKyeMqLb9Afo_WSoi~kcK5mwaepLz96AHEmAzWJQblCNhundhnOIYTFLWoaYUC4lYeFX0ysLXB9t4_r6VUqn5LnF8LAeEvACdZYOTCAuFqZArhotqeUtodhYXNB6T4ytmJ5e0kSsABc6a2r3FQXYNqDkq61T4RKdGZJJxbMdFCIBQEit0MFphYKgI3mP5gqFPwXV79r_BzJEZJ3E2GwsSZ5~6kaj3ZtLQU61xpthhoweTkiSidpTiGyN4fsMWBNLOEwbJHrXuhyFFpAlgiVEU76wN44UkQxcA--.jpg
//media.inmobalia.com/imgV1/B8vEv5Xh_VThvnEqMx4G0ZxU_YC_pCgmETwWNQKyeMqLb9Afo_WSoi~kcK5mwaepLz96AHEmAzWJQblCNhundhnOIYTFLWoaYUC4lYeFDo9UyNkOb0sOQqT31s7cuJlIooDxpGpYq~6bqRt~rX83JRBcuj_i~hcLbvpJRJUkZUsxEKT2tgXPKXzzFyUzNrKGKhBG1ca9Gjxrjvub~0ZkMCoBZuST1qLbjUG~27uNIMJUTByjC3N66r2xE6j1dpJtIKWltDJXDECL977FHMwgm~t2S_DzToHLLPC4fN8laO1XFFucYJnnbi~qe2YzTKA20C7lVA--.jpg
//media.inmobalia.com/imgV1/B8vEv5Xh_VThvnEqMx4G0ZxU_YC_pCgmETwWNQKyeMqLb9Afo_WSoi~kcK5mwaepLz96AHEmAzWJQblCNhundhnOIYTFLWoaYUC4lYeFWy4HwFvi8fh2WAMYnRuPelioavfM~9HMlh3EQQMhfHkfFdIDirFK0DCT5u5sIifFMUGGdPOH5c~sbsp8yIMBY4EbU6gFL_vXRo3n2nhTh7oQ6H75YZS3hH0DDQd1iUVBI2djYxDrv6WjJfc~D~URrTroob~Uja12AxptgICTdSCY2QrwyWzIbWnoCZVqMPyhbODMqdR6cOh6E3~NuafK7vbN_9BSyg--.jpg
//media.inmobalia.com/imgV1/B8vEv5Xh_VThvnEqMx4G0ZxU_YC_pCgmETwWNQKyeMqLb9Afo_WSoi~kcK5mwaepLz96AHEmAzWJQblCNhundhnOIYTFLWoaYUC4lYeFXKGg8bm~5dtnRCwRvR~7u_Xt6kVwRPK2qAIl5PzDvLLIlKav~Ql3Yi2pY9drtG4Wpja2gQUQpgI2gmCh7exyn2RlpFmzvK0ByvpxgbyacdqacBy7XveaIZZfJsLSfmauMOFTKEdw4MaiV0uRXDR0Kq2BifyFLyKcE_3VguQi~exL8EJAqhhhV4kau~~nVs_eP1MiMvd9k0__sp9MPtwru7jL6U_21g--.jpg
//media.inmobalia.com/imgV1/B8vEv5Xh_VThvnEqMx4G0ZxU_YC_pCgmETwWNQKyeMqLb9Afo_WSoi~kcK5mwaepLz96AHEmAzWJQblCNhundhnOIYTFLWoaYUC4lYeFXKySnltAneVuarpBfdkihvPfGbYyp7F2gIbd5beyjeym7Jd3UtS4xZkGHKWaC58Ptn8COWvZUXgCwUZRZzA9zXq8cOfjJb7euB0IX5cZ_7fTR4IdeW_qz~qGn9FNY2vLhmVzs79AeZ8imLfESimarnb~sgnpowupNdbZ9zM8QTiLt2w_dSLJm8z0BbS4zRDsIKzik6fCx7khzAuCphTcv6EnG6FdcQ--.jpg
//media.inmobalia.com/imgV1/B8vEv5Xh_VThvnEqMx4G0ZxU_YC_pCgmETwWNQKyeMqLb9Afo_WSoi~kcK5mwaepLz96AHEmAzWJQblCNhundhnOIYTFLWoaYUC4lYeFXmsUCobc~Vqb6IfWFxvAzGXRndZnI_cSuA9vm75eOpkbxDSL3mI6NeU0fZmLJjDyhdxQoJK48Hzzuk0nlof5hLg3aZbb3fMa3kaLV5_FhVjVV4ULF6ewSnohOJvjal~iY7VHHFtCPgwMM0GpE0fHLMITvc4q1pWzpRelfsh5SnP9ZgAKSoOm4RAvlyDb5sanQzqdYXO8DOdjLJSpQWyaOmt~MaAWBQ--.jpg
//media.inmobalia.com/imgV1/B8vEv5Xh_VThvnEqMx4G0ZxU_YC_pCgmETwWNQKyeMqLb9Afo_WSoi~kcK5mwaepLz96AHEmAzWJQblCNhundhnOIYTFLWoaYUC4lYeFVtXXPjKzCxpzf0pDhMLFLqSpUWQduZM591Oo5KSEbHc1OvIkzhSriZnGWOUugPU00Cg~qadroTTR9rB3J7yphKBKbVfInyTKV~J_0_VSSl9GpC3r5nTslSMPvrBWngvBAJxCEKqWSqs_FqV63RG5mKcgrT_yy1YlvLmE1NuE~unydYqkz171v2DCpvhDhtQ96DmdkOhRph1dIInTwDC_CiIjoAt0gQ--.jpg
Los Flamingos Golf, Benahavis
Villa
SOLD
Modern style villa in Los Flamingos Golf, Benahavis
Modern design frontline golf villa situated in Los Flamingos Golf urbanization in Benahavis.
Thanks to its location it enjoys totally unobstructed views towards the coast and the golf, being one of the best plots.
The villa is located on a plot of 1350 square meters and has a constructed area of 751 square meters distributed on two floors and basement.
On the main floor there is a living-dining room with fireplace and direct access to the terrace in front of the heated infinity pool and garden, open plan kitchen with island, guest toilet, outdoor kitchen with barbecue, glazed patio and one bedroom en-suite.
On the upper floor, which is the access to the house, there is an exterior carport with capacity for two cars with electric charger and inside, the master bedroom en-suite with private terrace and two guest bedrooms also en-suite.
In the basement there is a large loft space with natural light to be adapted according to your preferences.
The villa is equipped with all amenities and is located only 10 minutes from San Pedro Alcantara, Puerto Banus and Estepona.
REFERENCE

208-01828P

bedrooms

5

bathrooms

5
built

751m²

plot

1.350m²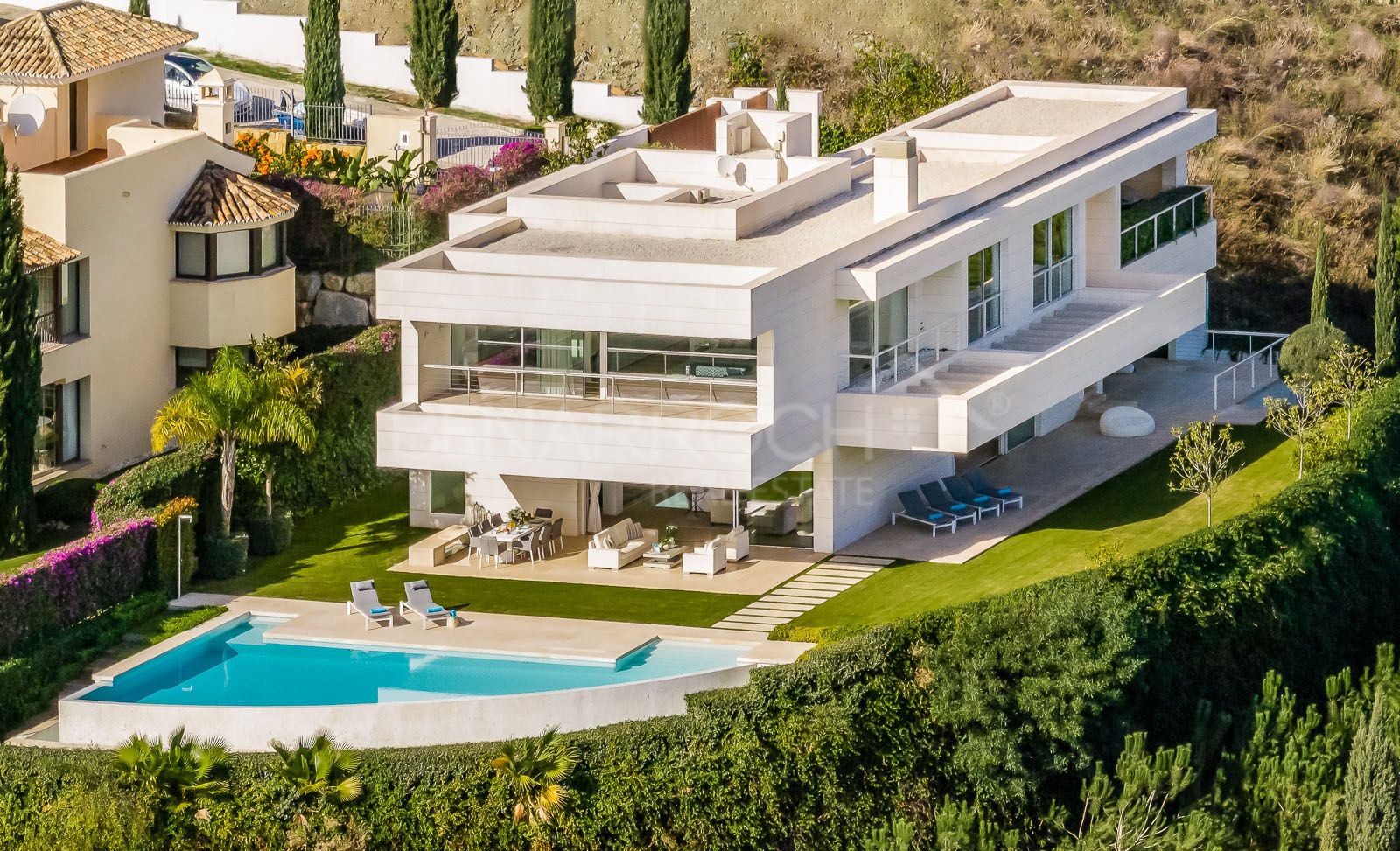 Video of Benahavis Area
similar properties
6.250.000 €
Villa situated in the urbanization El Herrojo in Benahavis, a few minutes from San Pedro Alcantara and Puerto Banus.The villa has ...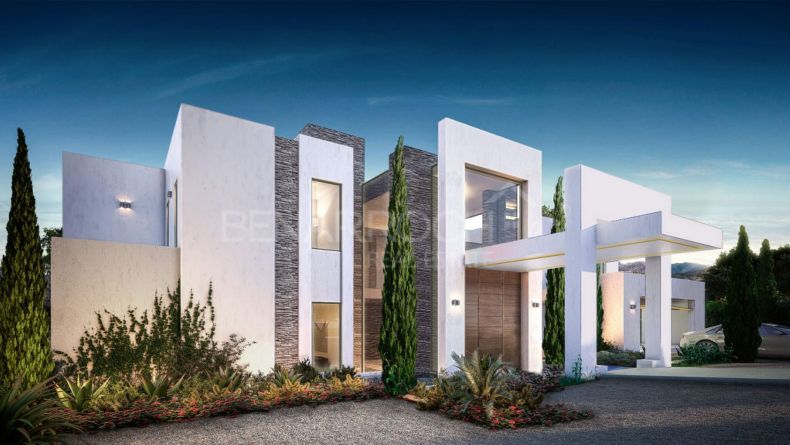 3.850.000 €
Located next to Los Flamingos golf course and Hotel Villa Padierna, in Benahavis, this villa project in avant-garde style is just ...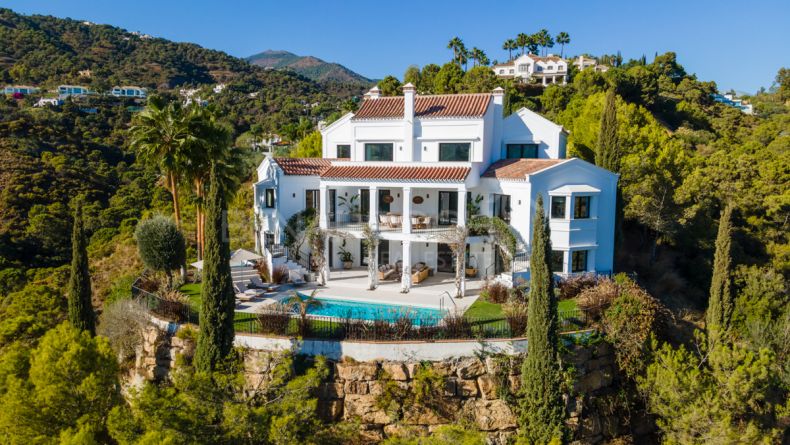 4.750.000 €
Andalusian design villa situated in the urbanization El Madroñal in Benahavis.The villa is built on a plot of 4017 square meters ...