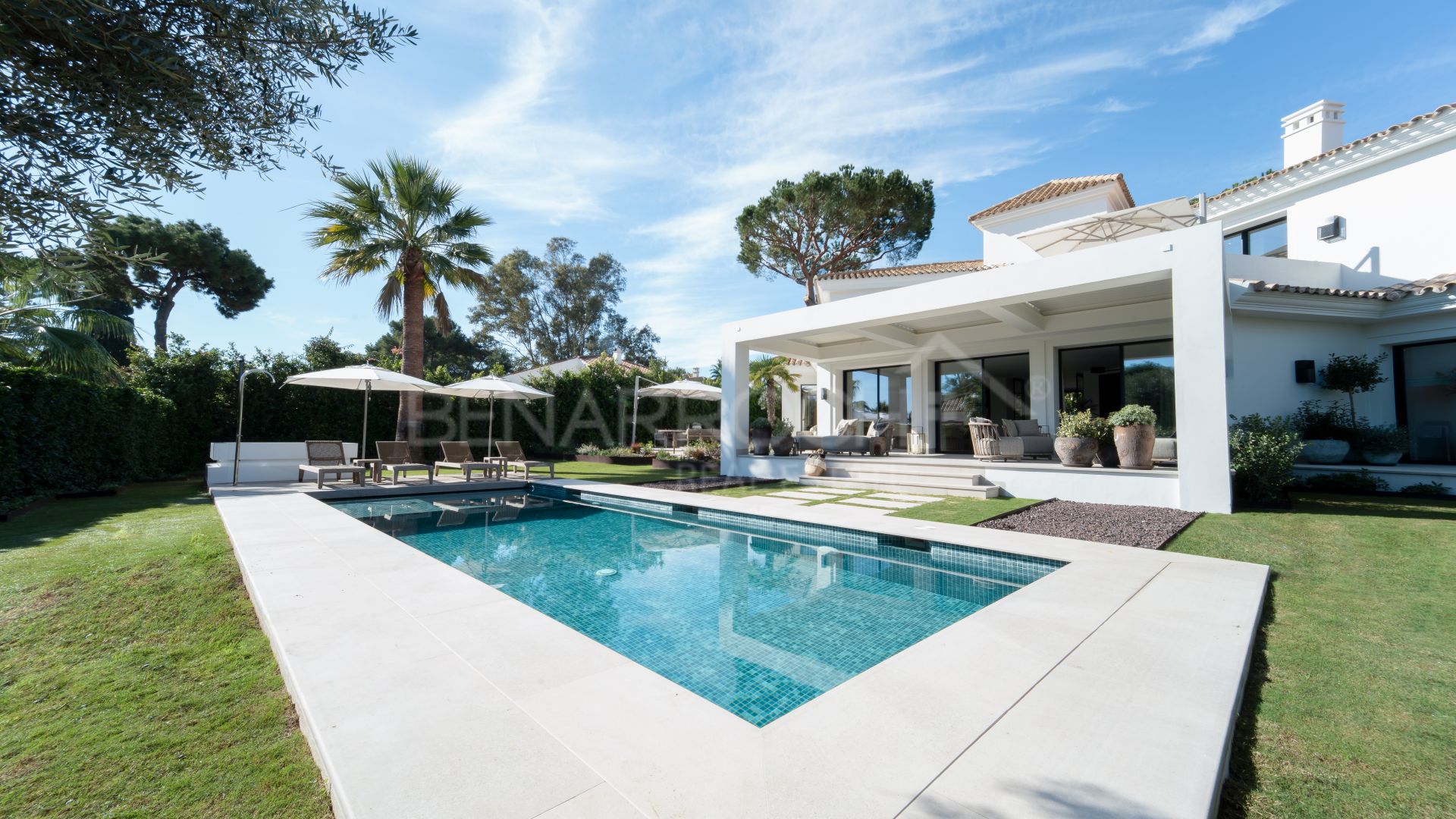 //media.inmobalia.com/imgV1/B8vEv5Xh_VThvnEqMx4G0ZxU_YC_pCgmETwWNQKyeMqLb9Afo_WSoi~kcK5mwaepLz96AHEmAzWJQblCNhundhnOIYTFLWoaYUC4noLqYMZNdRDSoAKO34dtEdpujZuCxOAO0aMonlXaDYT1qLBMRzGP0aFwWxzQ50LthyzhJdDFv6tU0~8xF9P_hNyipXI7MGF_dh02cAMI1Njo~OwYe2VmGMolveAKhNsXHbxYt4CZ7UoDJ2nhU43tfHevWteqv3V2cKk70DPFuW1jbAI_JSF5FNTnSNYwVFYO2pdAO3ZkkH65LBKVVt49UkbdZl6sKB3mZQ--.jpg
//media.inmobalia.com/imgV1/B8vEv5Xh_VThvnEqMx4G0ZxU_YC_pCgmETwWNQKyeMqLb9Afo_WSoi~kcK5mwaepLz96AHEmAzWJQblCNhundhnOIYTFLWoaYUC4noLqMU2wtjVzMuKNQmxVDcZp0HyfAE7L0F9TD_9yerX0nJhdJwtFRGuoSkCJb_yMRf6lRBt_i3wKQxXioRC1poBZP8uAuaF2vU_mEvkA6BhuLci_Exn7kZZJhC_aRAeJX3kyB2oIkCZl7M57KhToFmu3TbTS5YpZBpQYdBM6x1fR5L7AS7nmuvD5iD1XZVNZAJPIEOuNY8d4EsU~3Nn9oUI65qMrVpNdrg--.jpg
//media.inmobalia.com/imgV1/B8vEv5Xh_VThvnEqMx4G0ZxU_YC_pCgmETwWNQKyeMqLb9Afo_WSoi~kcK5mwaepLz96AHEmAzWJQblCNhundhnOIYTFLWoaYUC4noLqal8_tWv87lxRsL1XsuVX_ugS0S0PLSmVQ2Pj3igzxoecJSJ1Dsq9XvSgTv0sdpGcgHuQ4gMlo32N3HzqekiJeAkvyXmCgVnP9VTCTHz8O_NTTmLmkx2D~WRYAp~OPu8Sa2YMOn8TC1KPeJ4hoRHpMrdS7kcBPlUIS6vtuRp~38EgwtZzsVZj3I8D1bYKHj5avx0~nbgyyLCN44VOGTxrmsJPBEfDvQ--.jpg
//media.inmobalia.com/imgV1/B8vEv5Xh_VThvnEqMx4G0ZxU_YC_pCgmETwWNQKyeMqLb9Afo_WSoi~kcK5mwaepLz96AHEmAzWJQblCNhundhnOIYTFLWoaYUC4noLqM0611d7aU0hg40U4u2577nZsrcI3GCzzx0PRG~4eakDG_JQq_AvZlmfR9RUWs1Wj67mDSKcf5hwmhftYyQwxfKgFRqVqS7G1qNu1vwWfpc8HdKaZZjXKFXAbHpywZspJFLYRM2Gwv3Y~QnsxUGTdFVNTkR79JMpSQ_0pL~9Uxx8lHlaA~M4IoWO~z1O2Xav0z_z8U8x4G1qMGjncG~_7Mp7GrhZXfg--.jpg
//media.inmobalia.com/imgV1/B8vEv5Xh_VThvnEqMx4G0ZxU_YC_pCgmETwWNQKyeMqLb9Afo_WSoi~kcK5mwaepLz96AHEmAzWJQblCNhundhnOIYTFLWoaYUC4noLqZ~Zp6TxkDH8jpTqrNMQWWjeODcfzStMBH5gHRNA~MolbNcyA7JS8zVgWgmdHY4H_Yj1dznJur9ruPCQ~RRVO2t_~ct4wHktXIbOFqJZtE_W_VJxwutAx76eTnPFOEUQ9K6sICO1ADcpxd99y08LpQtS72vvY8pXHWXjYvkz88hkh2IhOOXsXNU8HxsnoH7dNmF14kLjOJjd1XMeFh~JxRSoUEjLK_A--.jpg
//media.inmobalia.com/imgV1/B8vEv5Xh_VThvnEqMx4G0ZxU_YC_pCgmETwWNQKyeMqLb9Afo_WSoi~kcK5mwaepLz96AHEmAzWJQblCNhundhnOIYTFLWoaYUC4noLqYwuszEblf1KzLbOS3gobdEnlHuddnutr~9m8hx_Jgp731vbRwDDph0CnksS8CEWlUSWoGidEbRHxVr3cDgkeCBj5q~imrCfMJlsT7n8alqhlPB1G6mZL~2KxME7CJx6JqJxi9ZTWbaKgPsKafxrlganZCU7dKV36D61L7KqTpPa6djCC0TZkNnsjuf0ycIjF0jsVZqg8O~LzIa4EDAetYpdXmKuthg--.jpg
//media.inmobalia.com/imgV1/B8vEv5Xh_VThvnEqMx4G0ZxU_YC_pCgmETwWNQKyeMqLb9Afo_WSoi~kcK5mwaepLz96AHEmAzWJQblCNhundhnOIYTFLWoaYUC4noLqZaJ1g4P20n1f8ppKBOqNzAEhm5AiaFPrRm0XYrSV1auMICttE4GDdqRdNlOQXgOZ_JLZk23oYD0McxhyAgZ3TjLe4044xusyAdPWccO9MwC7hZDltoL3_ZhJEDej03jSG2LL8Nks2fsOk97YEu3S4JXf8Hd2KRnr1UPLPu_7SMV8d4Q2lWDLoDJA6tBCnW_rZtjUHmtVCruYYe2lnWqqadMsmHB4YQ--.jpg
//media.inmobalia.com/imgV1/B8vEv5Xh_VThvnEqMx4G0ZxU_YC_pCgmETwWNQKyeMqLb9Afo_WSoi~kcK5mwaepLz96AHEmAzWJQblCNhundhnOIYTFLWoaYUC4noLqagVKIeUb8EwKOyC1xOuK2Tdq9Wpm2Vcty3ZtUC9POORnlxk4f0bmYrsR38cGDnuXBytUCe_cdUnf1Wph5sZJZBnoPxikRL0X5EWXjVY32G4LVKOOQAutwju5LTJObDOqn31tkPenUFuua7e4Qf5OJj2P~ADqWp0igXNzjkSYpooDRp1~x9Od4wC5fN6u9WeAmuC9qQvWqapFVoKtA58_saoo9Q00LA--.jpg
//media.inmobalia.com/imgV1/B8vEv5Xh_VThvnEqMx4G0ZxU_YC_pCgmETwWNQKyeMqLb9Afo_WSoi~kcK5mwaepLz96AHEmAzWJQblCNhundhnOIYTFLWoaYUC4noLqYchkYorWCqwTu0mn4IahwMDgABOL5rM6Day2sjjBeXnQLKKV2HQxupJ4DLhQngH8EG4bhzAjvus2zDHzl~GM1QO1GTtKJJ37LHhBVbkIOsr~ZDQjY4ihw9Blb8vJ8IqlJNRjQsYJI8BftmhtUyWnDrhaIOOKnuoEe1CwkHeHA8fmQQKorpbQLeO5FhB2LEiicpX_ExhN63gGSumCUA7e4~O7sMIVIw--.jpg
//media.inmobalia.com/imgV1/B8vEv5Xh_VThvnEqMx4G0ZxU_YC_pCgmETwWNQKyeMqLb9Afo_WSoi~kcK5mwaepLz96AHEmAzWJQblCNhundhnOIYTFLWoaYUC4noLqNLdjWnRrqONO6F6Bw7H647GXLsvmdpoHjlye4mrL0If6k8aPZSq6DvRjiOvLp3VwVCDxb_NF4cagufPmK1xDDvFwIoqQwJZZrhYYH3fJvC7FNC_buJxinmF3VdkQiV0IgU6FR7ADGxtuQ5e_l9HP21HLdP_zXyO~VNomb237_GPTYuScijyEM2ykSu4xJywKBtPDR~NV7ibb0VPRdeGOaEyVD59WNQ--.jpg
//media.inmobalia.com/imgV1/B8vEv5Xh_VThvnEqMx4G0ZxU_YC_pCgmETwWNQKyeMqLb9Afo_WSoi~kcK5mwaepLz96AHEmAzWJQblCNhundhnOIYTFLWoaYUC4noLqNwnJC7qATXYXi_XY1ZwDlH8gz~8kAnGa9KCQXWUT88_ZJdDHx3z9UJkjx0hvszF2PpjudzdG5z~OflVmfy_mHfDLZG_v0uot6yVmEWseHnkvvN22qUz46eUJFqpotXz_QZeIZS_wDJzI9VFU3g6Jo2Qpghyy6iR~jaOzYKVKU5keDLOa8tiD5hEVyT_aEfm3XbJ8bgUg_XpXwnBN3AwLM7wKglaIAA--.jpg
//media.inmobalia.com/imgV1/B8vEv5Xh_VThvnEqMx4G0ZxU_YC_pCgmETwWNQKyeMqLb9Afo_WSoi~kcK5mwaepLz96AHEmAzWJQblCNhundhnOIYTFLWoaYUC4noLqNwLMgzCrHb91aC0k0RLQmwJDu0Czb53ApDHjaTm4S9KO6tJFcHbeQSIQki085tokL47yxp~fOA72BSb72pcMgglu~2y64HTTE6de_exqzPYM4LYEw5PhR8hGJkI1AsRE_fmBNOXc6dFV86PeAxRjgMaJoDMddzPEoWz_VZSsa~fhquflzfMGA19T8HFTNFTL1jQ9yN5fZdp_OaI5ai7Qw~NZ0XtF6w--.jpg
//media.inmobalia.com/imgV1/B8vEv5Xh_VThvnEqMx4G0ZxU_YC_pCgmETwWNQKyeMqLb9Afo_WSoi~kcK5mwaepLz96AHEmAzWJQblCNhundhnOIYTFLWoaYUC4noLqYc9~9zpQ7gRvotfgxQQja_n_7xYPv~aC3U1abx3n7n5p_DNb8iFZhl6IiC_bo9xyb5WkT5FLa7e3t1EgJa1N6THul1PsYtu8kjrUKimoropprY3Dyri~yJHxOoH78LgWP1H9IRldxezLHOMG0JPvYkrCgv7W_vgSNmlx~UqGo9RojfGCCys93fy~DWPoMkVx3sPlB7KuBWqLcBqITKQMmxwWKVJIPA--.jpg
//media.inmobalia.com/imgV1/B8vEv5Xh_VThvnEqMx4G0ZxU_YC_pCgmETwWNQKyeMqLb9Afo_WSoi~kcK5mwaepLz96AHEmAzWJQblCNhundhnOIYTFLWoaYUC4noLqZ~WMOoKd3XrMbN~CHrgXtikZQBnnCRIDrpYKhBv~yTzq~VzzBsJmh~3UvG8NJhmEyFiw25hGZH9yffdrNGs134iSC3SrU9U6B74g54PCfiOksKjBWvd9ihJXmymSgX14bnwdv7CuQwKNZ9d2q3vh61tdQ7vhOrWk8sknzo1dL54ERmq9A7Isjmlnq5_LR6NvHT_Bch6bhPBtQwZsxpjcY8Can2Gtpg--.jpg
//media.inmobalia.com/imgV1/B8vEv5Xh_VThvnEqMx4G0ZxU_YC_pCgmETwWNQKyeMqLb9Afo_WSoi~kcK5mwaepLz96AHEmAzWJQblCNhundhnOIYTFLWoaYUC4noLqal7CIjah28r4YtFXXne5AO1PNl4TXpPQbzZodfm4PTDNliIFgM9bA7j2xRMdWw0rWvKL1ldFpEekn~aomJFSLHhgkjQCf1pIjDv4vlimBHKRrieE8Jns3SbCB8MBY5aQHhA7xuusI8mOzbJoPw9RKsKHSCnU0T0mPsdzYb9S_R79QlT15tRaN2mhIyTQQtkvi55GuDCVVE0qBuGheAiGkPe~Ch24~Q--.jpg
//media.inmobalia.com/imgV1/B8vEv5Xh_VThvnEqMx4G0ZxU_YC_pCgmETwWNQKyeMqLb9Afo_WSoi~kcK5mwaepLz96AHEmAzWJQblCNhundhnOIYTFLWoaYUC4noLqa2iSY2_Lg2QixAYfM_81NBHukKNc8imE1w4GlQCwLf7acq1tpxKfqUmaKGUguyLaRXwv~Lm2DmKTFhCnPGYJR_3Y81qdmE0z595FUZeBg52fEpFN~JIiVCBjoydmc9WNT7bzPApPvkWQvDgyZk4gkdHwp6S9Evm4na3pFaqPV9cfrfzMtGio1ItUtM2Fp7dABQ7KmPGeW3uScBUJsz1bNVh7Wr4EWA--.jpg
//media.inmobalia.com/imgV1/B8vEv5Xh_VThvnEqMx4G0ZxU_YC_pCgmETwWNQKyeMqLb9Afo_WSoi~kcK5mwaepLz96AHEmAzWJQblCNhundhnOIYTFLWoaYUC4noLqYrd4tD42NakoF6sZfpcDXtL0B1jTVsM3pJOp8pV1c2tlMQK1ydhzCgzBwMazmliwuUz_7pqNoaB8AeSckmxic8XWTVaOJ~OO8YxQGxqyqghwCabWrhF5L1KrNE3T7EZ~ZZxCVwF9KhZvj2er61xsyTGY3Nq1UgRbJzfQCQ99DHOQOBhWWATwKtPvNG9uN7vVsLFyfBxg~uhNn8ACpcqqSTeXCasfxA--.jpg
//media.inmobalia.com/imgV1/B8vEv5Xh_VThvnEqMx4G0ZxU_YC_pCgmETwWNQKyeMqLb9Afo_WSoi~kcK5mwaepLz96AHEmAzWJQblCNhundhnOIYTFLWoaYUC4noLqYuCdfNaafF0lC0vHEfmwfCgw~H5ZplTZEcvhniALFHrvHtpiKW2GkhCIQm5gipOZ6oBQEl3DnCN~wfr~rC6kBAeuC16XaJYWv48mawXy8oQg501aCY1Vl24RboCodY5ihNLInP76~9ttsTSeywEFiyryjn5CJHimwCajehxdId_se2KQHv2rpHop5X8c6wyAFBbRKyC560ZGP8S6Z6tuG0YorIz18Q--.jpg
//media.inmobalia.com/imgV1/B8vEv5Xh_VThvnEqMx4G0ZxU_YC_pCgmETwWNQKyeMqLb9Afo_WSoi~kcK5mwaepLz96AHEmAzWJQblCNhundhnOIYTFLWoaYUC4noLqYw3VyhsFvda9v5oRYji3v9hOW~1N~rXRlEbCblXm9eIMimf1ucDZqmQXHrtwUgflHHBtVbq0Fw8NuIki2W8nl3Q39TQUI~byaSlGBTd5MIoni5E4XTlA7OQHuT7vy4zvNY6mp_tIK_izvGU1EhOozeSAqYzR2RHJbdjuhzUMFzpOU0zW1CGL678PZUvLfvOaP0rr0yzueOetFKvoLqzREH3pcQ6NgA--.jpg
//media.inmobalia.com/imgV1/B8vEv5Xh_VThvnEqMx4G0ZxU_YC_pCgmETwWNQKyeMqLb9Afo_WSoi~kcK5mwaepLz96AHEmAzWJQblCNhundhnOIYTFLWoaYUC4noLqYMctM1a3w_VYp85pfxWX55qcxy2il1nEY7mVQMH9jbT5oa1FkS77T6OtBQna9pIFd2ZcuzYWAj2zXdi5EsaK3DuSrT4PoK2Fg_9xgraFiFxCt1MtzZZ6RpRVCN6vxU~E90Vq3tQNl~3GZ7spxPTLOyLRlw9Q0hnMVJtSO_rrZY33eahtg_VXwaclcT6WTVyon9sUq0JuN_TeItUHo4mgr3G~bIDtaw--.jpg
//media.inmobalia.com/imgV1/B8vEv5Xh_VThvnEqMx4G0ZxU_YC_pCgmETwWNQKyeMqLb9Afo_WSoi~kcK5mwaepLz96AHEmAzWJQblCNhundhnOIYTFLWoaYUC4noLqZlguv4rwjEXvefYbssYedKjwDFUbVMy6qxsnh3ET3yg6tqGL7GsVYCuWkm5Pxb09yriUmdioRj2eecsSZFKGicK2NzUULSnEifUmOxHQ0V7rrPB24Q9lIOGjDA7RXsmzWQ23OyzgAoRQjwtrAtKJpZmjtsUKDqfu9DcDCuY32mKs_VjDArEwh1JO7ijElKyUOjodJ1u6FwtxwV1WiN1fFHBlxTNjMw--.jpg
//media.inmobalia.com/imgV1/B8vEv5Xh_VThvnEqMx4G0ZxU_YC_pCgmETwWNQKyeMqLb9Afo_WSoi~kcK5mwaepLz96AHEmAzWJQblCNhundhnOIYTFLWoaYUC4noLqNLOBZdbIIfeXPQOh9v4iEeAc0YBYqWcN0WbGyS5C9OR1Ds2lUdpkWlTofoHamjxLvJ~ZDeUVC7X7xKaRwzutSLI~5DVJY66qV7xpx_NM526r5dT6NeRG3UJabykTbvS_hMYNZKjmPWlblzvysN0joFWTMaHKZAfKMVx9SW0AUPIaa_ONimqiBmLPdOfYvgumP~sN~UCY9y8zpiGTLR_LZ3SqtQLe7A--.jpg
//media.inmobalia.com/imgV1/B8vEv5Xh_VThvnEqMx4G0ZxU_YC_pCgmETwWNQKyeMqLb9Afo_WSoi~kcK5mwaepLz96AHEmAzWJQblCNhundhnOIYTFLWoaYUC4noLqa2Pmxyo3lnWQ4hZ5jOhcKkdsKVg6oy_lXwWsIUUlrI5H~k18UK270kRWZrSR6ZR2Y95XerVnWO_1oaCVaXz63N86kOMQjgMbLKVPDFu35_URAFtIf8jLMrV3n1TWD3gq9At192CK7nm5HbzAxUaShvfa0FRFwgCKF3198CAC0UhlnuGmlvMooFHzCDDxbeuDI15j6q2XAsd3GSq87vem5IJmgQ2tbw--.jpg
//media.inmobalia.com/imgV1/B8vEv5Xh_VThvnEqMx4G0ZxU_YC_pCgmETwWNQKyeMqLb9Afo_WSoi~kcK5mwaepLz96AHEmAzWJQblCNhundhnOIYTFLWoaYUC4noLqYuEJEmYfM6QLESWY7j1VjLziqdlIxfc5mcayB1eSCQ65COCK_8GJKYgLxTdQTaNEQLZMp0ADJUsx37rDIM6DHjQSEpJ8urCGpjC4d96LyJhSSo_N4MMbHf0itaNqeW8E3SOrE37Z7k_tX8O5Eq41RUktozjb_Ky1xhehSLpJ7M~~iT8iEL5R8MkNXLnA7rUSK3geeBIrtnSPh~SmOL1i3WPwJNcfuQ--.jpg
//media.inmobalia.com/imgV1/B8vEv5Xh_VThvnEqMx4G0ZxU_YC_pCgmETwWNQKyeMqLb9Afo_WSoi~kcK5mwaepLz96AHEmAzWJQblCNhundhnOIYTFLWoaYUC4noLqZfJz9~2JWt6JMVAywdOQFIepEaXsPd9X0QSbXZfbx3dzgooMM1kU2rHQkC6pRdRSV2uxhWMcuKaLVBMRvLIwePA20_rFItitHdCgOJoB~FqzsZsSK5~LUE9xDhmRBpNJckFmtcCIn0KL_PqfogId1BtaiK7LmrGSfGprrFdgnwSTCEzPLtZ3TyqHQL3A1v6VhZORbI2RBlFgQQ~0T4vRq6vXE5DRCQ--.jpg
//media.inmobalia.com/imgV1/B8vEv5Xh_VThvnEqMx4G0ZxU_YC_pCgmETwWNQKyeMqLb9Afo_WSoi~kcK5mwaepLz96AHEmAzWJQblCNhundhnOIYTFLWoaYUC4noLqM0U1n0IrSLieW9I9O0eNp6w8~VbKuX9HjrLucl99g8Dk4RrLzGOT1LPRWDnNBvnIMzYHlwamhitrU6r3qZwW3~2t9zz7yQ9UX2YwgTSd99jnBkjPnt4l8zFNWB9I3vDWO4pteFVl9CEBUSfyrbVEyRFKAKvPVBRlE0Z5jN1v0_TQ8O_CuW8KLvEPevUQpiE1WGgjT1R_ml5JgPilKD~r~RAv_Tgc8A--.jpg
//media.inmobalia.com/imgV1/B8vEv5Xh_VThvnEqMx4G0ZxU_YC_pCgmETwWNQKyeMqLb9Afo_WSoi~kcK5mwaepLz96AHEmAzWJQblCNhundhnOIYTFLWoaYUC4noLqZgRzB7TmcsRFxjiiqadOx5eA_Lk_4PQ7_dJtela9jJUycVNxBh5mroYNbJyvXcsI0iSd~CITNfL1q372pXhs3XlgruEXvKubYxeFp2fd6mutCgaSppg5335jO3mdBa4ZiwDQyFJy99queU9WxLWA~8k0VXX_mJnaJSaNJuXqbmU_NeHYAKprOX42jCJa18j_cfCjxD3Pn1s11mjqLYtRhMHMKPCy2w--.jpg
//media.inmobalia.com/imgV1/B8vEv5Xh_VThvnEqMx4G0ZxU_YC_pCgmETwWNQKyeMqLb9Afo_WSoi~kcK5mwaepLz96AHEmAzWJQblCNhundhnOIYTFLWoaYUC4noLqMDzRLHVknI~fcjiDUvuveMokinYKfsgPfUS8fjuTJ3M9db54uSvTO4pKUrQDeClJozKHObTejDFJJcJRiE9fbB~LOi93JWi7f1noica9zEmUIci7_hnjzsfnWLtJFigCC1x2poi00q~lA0YaweGDZPPXob7IlRc~Ek~7blgpVhGpl8sM741~0oc7_BBUPmuV5sphA2ccF5pCAsKieo7gKKiUasHqPw--.jpg
//media.inmobalia.com/imgV1/B8vEv5Xh_VThvnEqMx4G0ZxU_YC_pCgmETwWNQKyeMqLb9Afo_WSoi~kcK5mwaepLz96AHEmAzWJQblCNhundhnOIYTFLWoaYUC4noLqZIryJaCSfuTWGu~jGEWepXqcGdshEj0nE_wl_bJ6mX9fMeuGBfIeqKleIcyVJ9dw2qkG~Rq05eZYq9beQmkyAAN_45k39mwaohoHWG7NRED2gM3hszJxqIvwtgszsymPiYPi36YYWEddB3T1HqL7Lqgtl5DnNsjpGuh0cS~a_Rm~dl5jZYdfX0IKIV6W5VW9Zs8YzDvibcWyryhsBlGveC6epRQg0A--.jpg
//media.inmobalia.com/imgV1/B8vEv5Xh_VThvnEqMx4G0ZxU_YC_pCgmETwWNQKyeMqLb9Afo_WSoi~kcK5mwaepLz96AHEmAzWJQblCNhundhnOIYTFLWoaYUC4noLqagRvh_QxLUGNa_1sdQDXqVYH01iyYTNmux7rGhHUFJyiTU~sMw0nQU_XkQwP33euz3udxifcsaYzJGg6EsqU8HSCmEyV6uJxJdfmdV1oZyug_3tOgWZcFBz8hYgu0OEk6iyKPULhKAMlnxXmyycwu~jfCJ585QpdUaJzWtSalV0yH2EZX97Di2yUVj22xsdDhjXB4dMh5s~sV~TInx1RrBWQLT6XOQ--.jpg
//media.inmobalia.com/imgV1/B8vEv5Xh_VThvnEqMx4G0ZxU_YC_pCgmETwWNQKyeMqLb9Afo_WSoi~kcK5mwaepLz96AHEmAzWJQblCNhundhnOIYTFLWoaYUC4noLqNLc40av5io_pAb4_nzEtV~S8SeodsWjQwAqk7ALgzt4q6GMS_PhJlMvzkctAmiHhMoyzG2a9SSxaTuYbkIf9oTdXc_Pnzk6i4MzuBl7UvpXzNp2VIByq8pAjMHR6pyAYPTQ0rV9T5aRQ4wv3ZXcEse08rhgSozWPlpmdQPKKoBI4voV9~OEJX16e0dr_RB7sTpxyoKTmQn8WE~oU2RqgAKgxKS8XdQ--.jpg
//media.inmobalia.com/imgV1/B8vEv5Xh_VThvnEqMx4G0ZxU_YC_pCgmETwWNQKyeMqLb9Afo_WSoi~kcK5mwaepLz96AHEmAzWJQblCNhundhnOIYTFLWoaYUC4noLqMD8FtDaDce7sPYpuSe2vXfc_TAIe_27JY~mpWmbFVDLDUltgLqYGmT4pphMts9iaAsDcMrKDXvJC8je6bUFcFEZ1Yps6xe0d6o89sZLckkEt_oEPEZhP_qLuAFxD7iy9tKwyP7rnXHmjHVsiiQ49UQzwg~O7CQ5ZHvQUihXXzuYt3TlNBzVFJeIQVamT7GRSirphVOkpqmWeYizFKthcH_mJlR~6zw--.jpg
//media.inmobalia.com/imgV1/B8vEv5Xh_VThvnEqMx4G0ZxU_YC_pCgmETwWNQKyeMqLb9Afo_WSoi~kcK5mwaepLz96AHEmAzWJQblCNhundhnOIYTFLWoaYUC4noLqZaiQJX33aHyfLDsMxwF1cjUf9_iUrK~mW3B8blih7Rgn52EdiGH7dRxQg5Q~X33GYR2bMb0IQFVNdaygXPUnz0Uxb0nGSmVlG2ojLLUpiXme48RLCMOCOpMdB~av7OvQuFE5HTb_VBp~SuHY2NIPs5m7F8j5QD4SwbHxY5EA9cHsTpk_GzGMxELnVCxKpw7XhtRt2zexf_paiX5bDubmzCMdS0gaeg--.jpg
//media.inmobalia.com/imgV1/B8vEv5Xh_VThvnEqMx4G0ZxU_YC_pCgmETwWNQKyeMqLb9Afo_WSoi~kcK5mwaepLz96AHEmAzWJQblCNhundhnOIYTFLWoaYUC4noLqM0usIdhq9tVAJraPoTvfj4FTO6ZoL1SdimqHjCL4kWabo1DJ4dHBFuI9REx1esDUH2qRMkIRT3HYtdiJKvu7DQbmrX6Ao_g~7cYphpDRGkMlxH86~hsMBX1c7w_l_nzswolV8n8Rlgu8MRe8Ki9cIU6bhIwdQ~2Auwfn0PKbSzrDbdf_kNAtFGdQfp_MQKUi9Msf0ru6xEAD0uxBetfChm4wcrAAzQ--.jpg
//media.inmobalia.com/imgV1/B8vEv5Xh_VThvnEqMx4G0ZxU_YC_pCgmETwWNQKyeMqLb9Afo_WSoi~kcK5mwaepLz96AHEmAzWJQblCNhundhnOIYTFLWoaYUC4noLqa2JCXgkqmSOnekRz6LswasK1FzaakFOadY8ctrgc5IxDzntU7nMsUyEn8SVLoNJ7RRQU8di4VNXgg1l8nAyfyDo~4_~pgLOq9tUTZtTDoLPNOY63lCgGXZsIj1UfBh0bkQeyduiFX8bvXMUR4HDzFz4yEm1lrGu6Qm4Q2mnxWYEs5tekAZ0N96dMexvMaspGzPqaEUj3c0Hkr9v8ct3GC_My0wuZ3Q--.jpg
La Reserva de los Monteros, Marbella East
Villa
SOLD
Immaculate villa in La Reserva de los Monteros, Marbella East
Immaculate villa totally renovated within walking distance to the beach in La Reserva de los Monteros, Marbella East.
The villa has been refurbished to a very high standard, taking care of every detail. It is distributed over three levels.
The house is accessed through a beautiful entrance hall where we find the fully fitted kitchen with high quality appliances, a cosy living – dining room presided by a gas fireplace and with access to a covered terrace with a bioclimatic pergola and the barbecue area. On this level there are also two bedrooms with two bathrooms (one of them en suite).
On the upper floor of the house there are three en-suite bedrooms, one of them the master bedroom with access to a large solarium with sea views.
On the lower level of the villa there is a massage room with complete bathroom, fully equipped laundry area, a wine cellar and a garage for two cars.
Outside, the garden has been carefully tended to. A spectacular centenary olive tree presides over the main entrance of the villa and in the pool area there is a wonderful jacuzzi.
There is also an outdoor parking area for several cars.
The property includes a complete Sonos sound system, air conditioning hot/cold, underfloor heating throughout the house, a well cared for interior and exterior lighting and all the furniture is bespoke.
Just a short walk from what is undoubtedly one of the best beaches in Marbella, Los Monteros beach. For golf lovers, we are less than five minutes drive from Rio Real Golf, Santa Clara Golf or Marbella Golf.
Location, light and the high quality of construction of this villa are its main assets.
REFERENCE

208-01823P

bedrooms

5

bathrooms

6
built

710m²

plot

1.215m²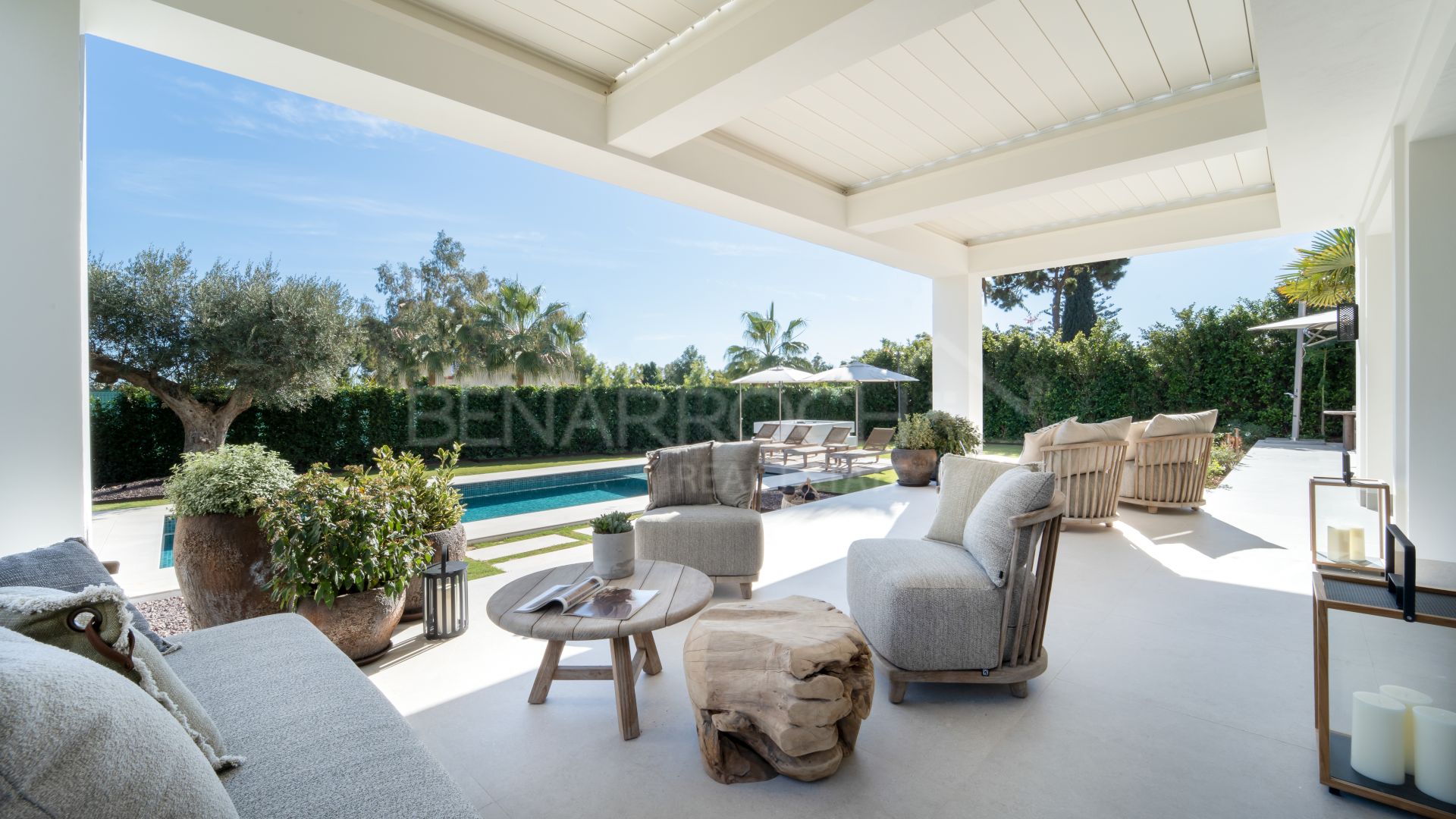 Property Tour
Video of Marbella East Area
similar properties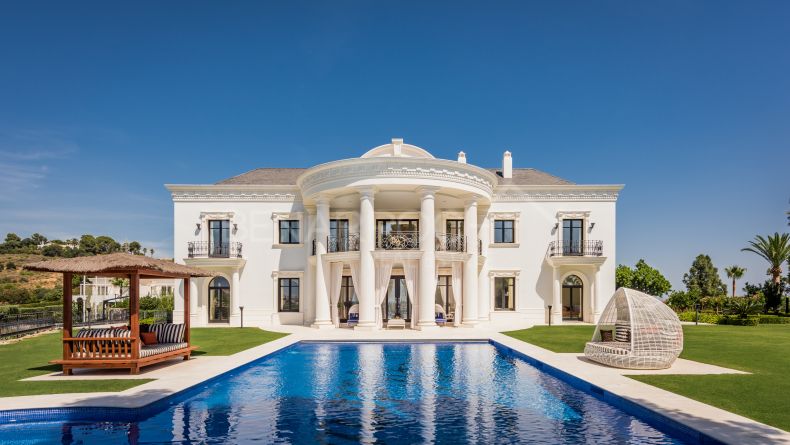 9.500.000 €

reduced from 11.000.000 €
Luxury mansion situated in the urbanization Hacienda Las Chapas in Marbella East, only a few minutes from the centre of ...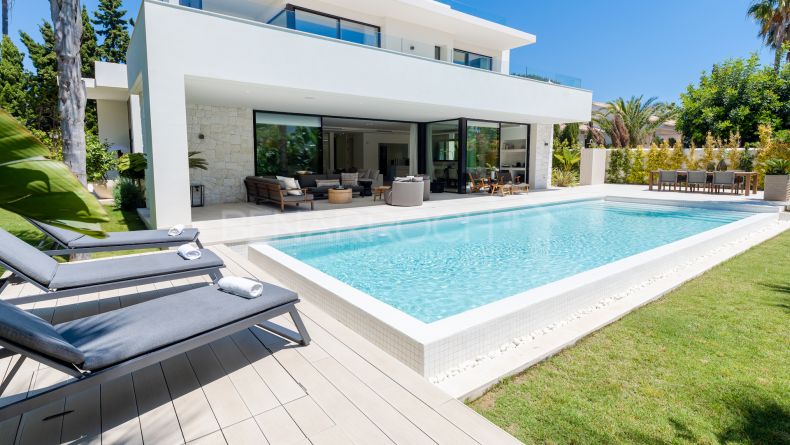 3.950.000 €
Contemporary villa, just a few steps from the beach of Marbesa in Marbella East, very close to all kind of amenities.The property ...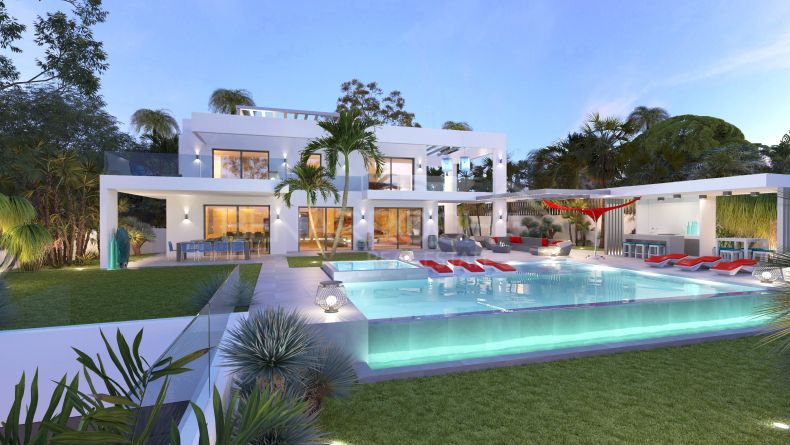 4.184.000 €
Contemporary design villa situated in the urbanization Marbesa in Marbella East, just a few minutes walking distance to the ...