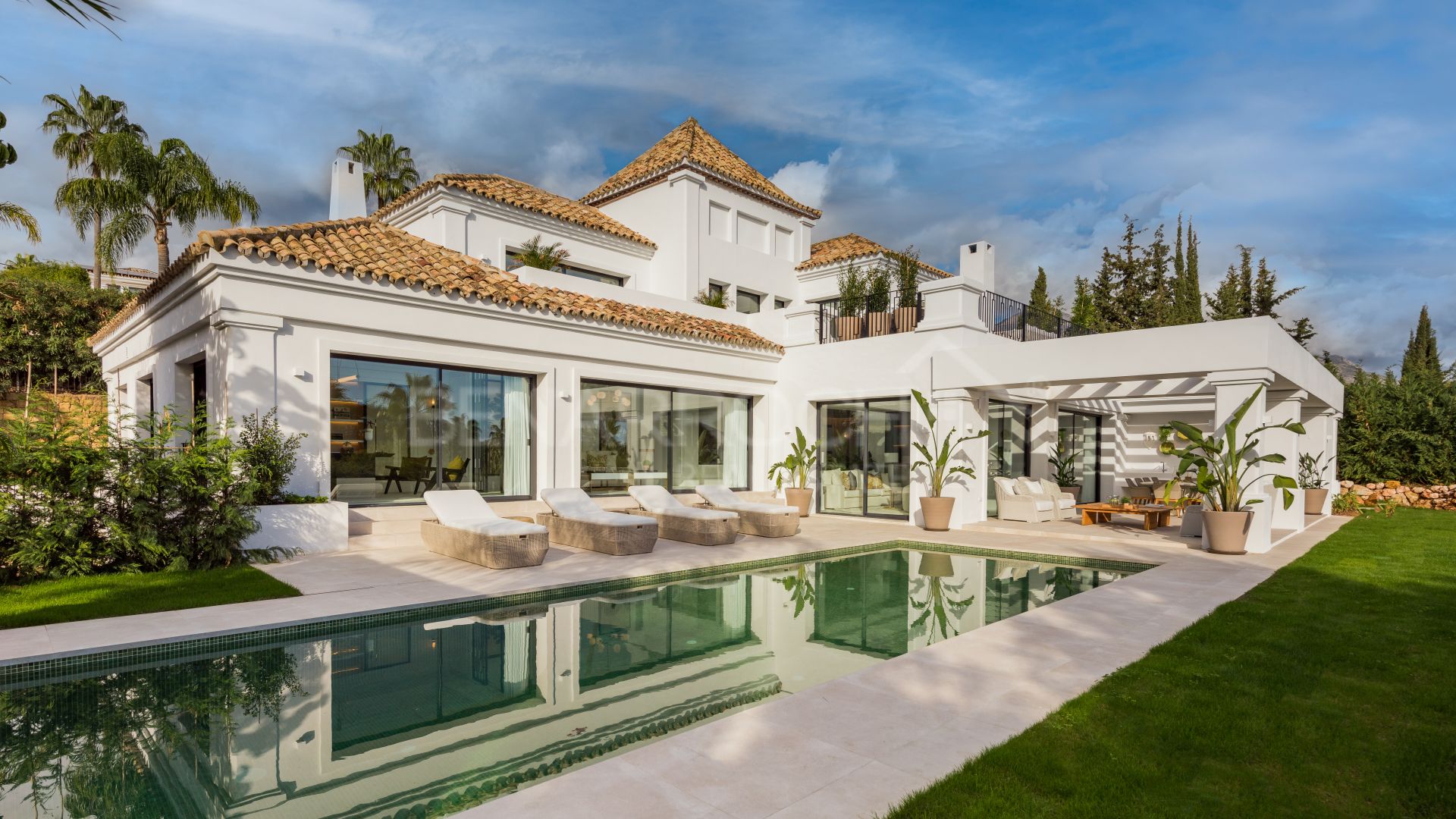 //media.inmobalia.com/imgV1/B8vEv5Xh_VThvnEqMx4G0ZxU_YC_pCgmETwWNQKyeMqLb9Afo_WSoi~kcK5mwaepLz96AHEmAzWJQblCNhundhnOIYTFLWoaYUC6JtKp6Z8Hbie3iHnq4Dovz7ic98FVdhVdwKH5e5IRr4Yqi5Gyxo4g_ICCmJWihOpe6XYWSn9h43yz0YqtxFUy0p138_uClPGtPCObsxtuiPaoEh29cKGD1N~qAudtsDsNUnjjsyEk~65MsPaZjt2VsbVhKnGX_QPadbUVZbwWb5pKp~Gx6w0AuwhrbjSyyS_Qk2y0xyy0lMlLrLE_ISLvV4rQZ0yltQzWFQ--.jpg
//media.inmobalia.com/imgV1/B8vEv5Xh_VThvnEqMx4G0ZxU_YC_pCgmETwWNQKyeMqLb9Afo_WSoi~kcK5mwaepLz96AHEmAzWJQblCNhundhnOIYTFLWoaYUC6JtKpuXYjcj9jLmdRcgTwCNZbJCrVS7EYzYB6OVvdNMTArmhNkwyDMqaCZQIyPohOG2oF78OPyoSCaLatm9qx0CvcJJc2LKV3_lLC20KvUUj5o6qSVfWEZqISMZ7Cg6_IXM53lAOw97zjT28QmE3B_Idfplm~YiaQ1LM9izbDxhZY2LwVPnrjlfzMVlPMiLQ2Q_AIB39p1ItqvRVPRzvbyO1EMqr~Havt0g--.jpg
//media.inmobalia.com/imgV1/B8vEv5Xh_VThvnEqMx4G0ZxU_YC_pCgmETwWNQKyeMqLb9Afo_WSoi~kcK5mwaepLz96AHEmAzWJQblCNhundhnOIYTFLWoaYUC6JtKp6ZvqU~dRSCQuXToo_m5r~eJ6tLUfC76~OQCqXwacq~2XDjdeJ1nA~l0lA5l4NSbvjFTXNW_N3ZU0QuSnXSZEwhDoinfbkN62OwG6eE_CTZKajINPyv93uUGNoi6iW28vBkMACIEWNy1YvfYWS3SZFh~NS7I~hVdKZjvbAlilBAi1l92WDCBfm3wCeeHuSQ6QhXVz0U~tivGKnBISK4Pbt2S8D4aV2w--.jpg
//media.inmobalia.com/imgV1/B8vEv5Xh_VThvnEqMx4G0ZxU_YC_pCgmETwWNQKyeMqLb9Afo_WSoi~kcK5mwaepLz96AHEmAzWJQblCNhundhnOIYTFLWoaYUC6JtKpu2JD_LfNIMtbRbpfFDEykziiSRL0Pwvq6ZdQKkCceMIEpv5S7H8B90jTVorbhnYnlCKkroFbgUUE7MBkmCFYY1FaOteOgR4bycMjq2kby0KcpQlSBVPjrBC74WgNgrEtFw0mU1j2czyq_hbDsCGsPrv7weLJHTHNo~ywGFRE0MYr6iNNpXYali2KiaTNd4Va05yxdeB46hRqltbMGEEdbBa8hsYNTQ--.jpg
//media.inmobalia.com/imgV1/B8vEv5Xh_VThvnEqMx4G0ZxU_YC_pCgmETwWNQKyeMqLb9Afo_WSoi~kcK5mwaepLz96AHEmAzWJQblCNhundhnOIYTFLWoaYUC6JtKpunnBf_Kd8CN5TcQvPfHzgIsay3Ybh4Tts1dvyOvXZTwp0t2x8Y3YECi9pHQsmMdwadreiCbeFm6_KI_E5Y3TXQyU3H9t0NohkEMmhqZFGUD9UoKrinlgvDi04jJTXwg3zqU9yIrl0KUw6XQ0iRMicYa~ZrZhuzhQblhvcshRP6AIYIIYnli4qgrQGCfwr1xkGmWGxE6PH50B~wq25b_jmelHkjUNWw--.jpg
//media.inmobalia.com/imgV1/B8vEv5Xh_VThvnEqMx4G0ZxU_YC_pCgmETwWNQKyeMqLb9Afo_WSoi~kcK5mwaepLz96AHEmAzWJQblCNhundhnOIYTFLWoaYUC6JtKpvTdhIA3hisPYkQTTCWXQXLjbGSsLmimMx21uVNckERutAZxMtXutCm9ijZRNVUgXGbuK8f3Cn7Tmhv_6d~hpYp2y4EhSkBtug0~KFu~U4mzUAcYT4n~F5bg4NyJdWrYKY1zvUD6IxkTjw0P4DRQHCUHOJL37FdGKmM7BJC6gJpWqAa3WcSSFEGAgkBikqA7dlQndTj8WbVmPyye2IwbVL_xEGdfLuA--.jpg
//media.inmobalia.com/imgV1/B8vEv5Xh_VThvnEqMx4G0ZxU_YC_pCgmETwWNQKyeMqLb9Afo_WSoi~kcK5mwaepLz96AHEmAzWJQblCNhundhnOIYTFLWoaYUC6JtKp79sfQiWXMx4V0ca9QROcW6j5eSk5Nm89CHC811ww~kcm_QZHg__MWy0Gsg1UebFBVredLfnm1b8~9v78SNv7IikfYzB5Kdt64YciKM3PFqNFlFbf5SJjE8uJEf~2AifspxwYd2pOIN6~x0GAvqRcSVWF71dZ2iu7128qFX82LpRyUOFs0ajwd_x1quS9zCY8zQjChV5bpoy9Gh10JIQdTFpkpI8tEQ--.jpg
//media.inmobalia.com/imgV1/B8vEv5Xh_VThvnEqMx4G0ZxU_YC_pCgmETwWNQKyeMqLb9Afo_WSoi~kcK5mwaepLz96AHEmAzWJQblCNhundhnOIYTFLWoaYUC6JtKp6Z28jiqYVj~4VCM2EdjXn8LwIFk01K1iQ1iUMyqk2FY4ulFfsjMebU6tAyr7giVElk7uxJWspoiPdQzxYfdxkT8UChciqkx24cPjBWYSCYlfOz36jAxa16YLizL0yYM9WH~tcjAR_Xk6T5pW4raoTYeYa0KVH8K7raeGwk3OPkXflufCqzwq3MrFNytsjOaRVUw4ROkU047dsyY9diUdG6zJpdetKQ--.jpg
//media.inmobalia.com/imgV1/B8vEv5Xh_VThvnEqMx4G0ZxU_YC_pCgmETwWNQKyeMqLb9Afo_WSoi~kcK5mwaepLz96AHEmAzWJQblCNhundhnOIYTFLWoaYUC6JtKp4TfhvqkzeM3pHEG5XJcGkpdpNuevCH_UurFjEMvkKv6y_yiOP4Ou4LIkkkliB5h6bMUK~MEd3nhRm_g_~CST0GrdSVaaxq7syVQqdOVuPT8DdrY7Wrtuu3O4Gd3eiJRaUHJsms2ATEhtuav1SVYRlSaHVppbcvvX5Da7fPH8czN1BdQ3WJ9YP2CatrzrLCVlsag9Vx7bygGYlr1_hCNwjj4SA8dPjA--.jpg
//media.inmobalia.com/imgV1/B8vEv5Xh_VThvnEqMx4G0ZxU_YC_pCgmETwWNQKyeMqLb9Afo_WSoi~kcK5mwaepLz96AHEmAzWJQblCNhundhnOIYTFLWoaYUC6JtKp7PWFMDVIYN4cR3sd29qaZyPpIw0BMsI2FQvpRkNGhHTxd7o94_TVMRo2q3Dc9TIAbCr9Hf1rczle7xp0xi13ljYvgoPye2GtpDs_S4Gol8zH3jQrFNNuPMfpj8_DtN5SSq5DABwfqyONcL90cPOwHdC4tepvpieaBDJg34LwgAuXDofHNn2dWqNj8mUTyF7xtyvQnByP7Eay2F6qiYmtrplH3e6N6w--.jpg
//media.inmobalia.com/imgV1/B8vEv5Xh_VThvnEqMx4G0ZxU_YC_pCgmETwWNQKyeMqLb9Afo_WSoi~kcK5mwaepLz96AHEmAzWJQblCNhundhnOIYTFLWoaYUC6JtKpuSDZqh7N94Fe24GX4b4v0oTKeWm~Kujqbl6KvVriMtKlIO5j7d3bPAOV7d0prjlVQvuKV3ab7Ej10vs8cNXHNJRO_hG6bZ9h_SV8cgqNf1qulqp0uHeoUPJl13tezRaRXrmhQf89INDZjtekfsJv_ZXSQgSaHEY~o26mNAweb_rz7LBcS~BOHkgtmf9c1sp8DwkTBEyfdxszKM_EdWPwmCxjNdZ1zg--.jpg
//media.inmobalia.com/imgV1/B8vEv5Xh_VThvnEqMx4G0ZxU_YC_pCgmETwWNQKyeMqLb9Afo_WSoi~kcK5mwaepLz96AHEmAzWJQblCNhundhnOIYTFLWoaYUC6JtKpu2XsjQKg~O3JUR86Q3svJ2WdaE63dm9Zqvkvo4hsE2PyXxiupjvHO5HVLpWfn1uF~cJEsfKJBM6oDbgCJj0kcFnmPmUfuTH_YtznBxt_32mGZ3hjBNf6Vk50_yzal7uWkbMJ_mWYLVw9byzWe8dNKfVVICWn0gqOIN4FUqDZVXb14yqMwQOU7wgsPPnxFd5V1iN4Eg56E3SxPOOiD177l3tOGYVI6w--.jpg
//media.inmobalia.com/imgV1/B8vEv5Xh_VThvnEqMx4G0ZxU_YC_pCgmETwWNQKyeMqLb9Afo_WSoi~kcK5mwaepLz96AHEmAzWJQblCNhundhnOIYTFLWoaYUC6JtKpuXfLR5nt4PoUpITjEQ1KspPGdUZkUO5Jgvg16YrKKFRdvBkHHMhJigoqsfstZMOSuIAjY7R2lfS1uPUnR8rFSw_aj746f5HfB9JdffJq~KusTJVBSBftlR3bwWybmU2iaoPApdkZyk4XbvQrmzJjJmrzXvtwcTFuaVZqWpKPCBTkcueEX_rDYw8lyHvr36VpqND8prapc5Tth6s19q~Dzn9n57VPFQ--.jpg
//media.inmobalia.com/imgV1/B8vEv5Xh_VThvnEqMx4G0ZxU_YC_pCgmETwWNQKyeMqLb9Afo_WSoi~kcK5mwaepLz96AHEmAzWJQblCNhundhnOIYTFLWoaYUC6JtKp6sqfIW6Yodn85~szBXFCKZkAWiBnm0l3FdQmpyEnKq7H_mOx_~_5K5CJg9JkyBjT31KHB8s5dlG0gZrWj0n29T9UDW8ssctzuPTi2RCDenvKraqP_LwMoaSn3_Mt6dsp3ff4xrLfqC3mOasvGFXMGDLuAHLqMxUEsFs0b6CJHKCXpTK8u9716nP9ZNFt3Ore0x0cdNNzj4QavWiTafXCCPCLHoTn7A--.jpg
//media.inmobalia.com/imgV1/B8vEv5Xh_VThvnEqMx4G0ZxU_YC_pCgmETwWNQKyeMqLb9Afo_WSoi~kcK5mwaepLz96AHEmAzWJQblCNhundhnOIYTFLWoaYUC6JtKp7c6SzWKr_9kH6fvc3mpqu~V~q_OP41~v87Qh19gKuA3rinCJXlkQ3VXPdT6oSt~sxhlaIpnUjtmNSO8laGjH~6f7MxLk2ncWFjKgXsuyQBVITGQBlUB1buWb58OZNRGmOrc8r0ab8jc1a0ttVWiP0z5mSKByopz9FYdygFlKC46GXpiqorxtRB0WcddhqCt4NevHP2dPwvvrKzqlBNmnKac0WO_FlA--.jpg
//media.inmobalia.com/imgV1/B8vEv5Xh_VThvnEqMx4G0ZxU_YC_pCgmETwWNQKyeMqLb9Afo_WSoi~kcK5mwaepLz96AHEmAzWJQblCNhundhnOIYTFLWoaYUC6JtKp7Z_lSDOLi7PeDKgZIbg2P4ZjhfDspkuATkXrYZ~fAOIW3wwB6bDOrHNay4eSbhvOcduU0sZtPU_dTrG_8c0qMRCcPvJ0Ztri2Vg5oAy3VnNSzqvRz7ENJbZAjlzdu8nQS3sJsUukkKXA6mwcvDeNzS1cHVw6bxJ3Jn3gnRFzM1y7JarySe59vIPNL_Zp5sbqKqq2f2JFSeaIkhIBiKWisu~z4w27Qw--.jpg
//media.inmobalia.com/imgV1/B8vEv5Xh_VThvnEqMx4G0ZxU_YC_pCgmETwWNQKyeMqLb9Afo_WSoi~kcK5mwaepLz96AHEmAzWJQblCNhundhnOIYTFLWoaYUC6JtKp7KMne9KBTOcebZzKWCwnN6XFASyuJq80mVFnX95KqkKAQGbtalSzyoRYu915XF778LLdtTzCC~wvPyl0fEeYa0tnRTCFMzlyl0NngdI5Dn5xjgc3WPqQa9T_sgqXIeKRO7h0SZg_~~6h9dpG73MZKLI05CsLFvtywSTMQiDFa61~uqVxCGrDRILrP866MzfrLqcld4IJksHv3~MxGIwH1ZxNHfTa2g--.jpg
//media.inmobalia.com/imgV1/B8vEv5Xh_VThvnEqMx4G0ZxU_YC_pCgmETwWNQKyeMqLb9Afo_WSoi~kcK5mwaepLz96AHEmAzWJQblCNhundhnOIYTFLWoaYUC6JtKp7pNjV8by07TF5Y0S_jTpWBu6REqWMxmbf4P28gl5nQg2bBSVEIDMRbWjWQu_aHwNR7756Zz5zFVDFhCy_SkDK4hTVVva6MXduTHALyf_MA4l5M8jhQpHEmyWDFLeUd5jRu7krJroNMN9uHcK0SPLQbNXvcgy1gNtreExUNjlFCkokM5Aj~LXi3mQL7NMxOIx3ipbjTpZuZwFZ7kqUON~3JFnyNM7rA--.jpg
//media.inmobalia.com/imgV1/B8vEv5Xh_VThvnEqMx4G0ZxU_YC_pCgmETwWNQKyeMqLb9Afo_WSoi~kcK5mwaepLz96AHEmAzWJQblCNhundhnOIYTFLWoaYUC6JtKp7sXxdNU7MLsoPzthtb7cMAtX8BqUaHNfTdRL6CHziqtup2SFt5AxxyB~I0JA5FjBcIfm5976UpSe~5GuGbo5esMZ4HAPMODJBNDh~QHt95VDNMgvhKR3OT_NSRBI~u4x2BURfEvUJbzw0f25ElsVt0uTR7xkNd8_gvDvyWW8In0L4xEYWYzxDrV9Ixk2vyh1ZpM3NfgjwMRNHvf~QP~0YAMOsTx~5Q--.jpg
//media.inmobalia.com/imgV1/B8vEv5Xh_VThvnEqMx4G0ZxU_YC_pCgmETwWNQKyeMqLb9Afo_WSoi~kcK5mwaepLz96AHEmAzWJQblCNhundhnOIYTFLWoaYUC6JtKp7pAXKkEYH6r0km4YIfjwk6mA1rtAtpgHFdYYDUTgAXQlWLrb5qpLzrA2RZDUyirMspubpD_LwSMOp3eTdSrZ9VdIHhNqOqhYsigcGEgO_4sEk4If3Lo8Y1~kjqOVIqPzEiQaz3hG04lJYs3UP4vk~8EiTH859Z2WtlSQbmY2ueAac1IOMTLTnOb519BCsOaeSIgRKKMfcDjiXG42puxNgiLF8njILg--.jpg
//media.inmobalia.com/imgV1/B8vEv5Xh_VThvnEqMx4G0ZxU_YC_pCgmETwWNQKyeMqLb9Afo_WSoi~kcK5mwaepLz96AHEmAzWJQblCNhundhnOIYTFLWoaYUC6JtKp4GKkkHHBEZqi0N36LCht2jLqSP_fWbjlT1dEgyUcUhVKcnz~G2ebYI7zaM0pzb4Kf1fcNpyk9oruBbDm_Q0EDD1mrTn_3CdccwGXvG1~rIuRaVcct230fgmKs4NuBgDRJWeGOZsr6QWUKDbcMDViq9wPaMjTe88w8nhNtB7YOxrPI6ahkMB3Zwu_CU_L46L8u9tTmEqLt9T6ETH3nYjVxD1ec~DD2w--.jpg
//media.inmobalia.com/imgV1/B8vEv5Xh_VThvnEqMx4G0ZxU_YC_pCgmETwWNQKyeMqLb9Afo_WSoi~kcK5mwaepLz96AHEmAzWJQblCNhundhnOIYTFLWoaYUC6JtKp6ceAaPhkqPddHmC0w4HQ1tgsMACRjmevFHUT5FaY_a4~FhHz~9cbOG11twJDbdMGsBlkgATSv5N2~66ExuX_iuc7sbkVsto4fiG906j5rD4Fa68VIYF9A8TvKK8lxVyql~5h6DShX8wt9H~HeqopVYD~HwRg69LhgK6tT98DWgmzaGJKSstJK~W9B50stdkHBS73SRUirZqr0QREQ01R6jqKnGodrw--.jpg
//media.inmobalia.com/imgV1/B8vEv5Xh_VThvnEqMx4G0ZxU_YC_pCgmETwWNQKyeMqLb9Afo_WSoi~kcK5mwaepLz96AHEmAzWJQblCNhundhnOIYTFLWoaYUC6JtKpvWRx1Y9fv2GL9Jp~EsZWw7IFpvfIEfHKIh72XhEinpAzPwEdIQfkEiPd~SAJo8xqd0WLekZzqpKfOLiqe3S7pNtCP0cdWd4ag9Xdps2xewddAMS6WsEdniyZbIElTKWEHty3hUhB~HsGW_VEdq9ziG19KjO9az4jaZFuo6BWWM1qJinbOH2Ys7YQ_CkxGFCtkcCBCfh9gPpk3pZUKF8wHVhLFBAtgA--.jpg
//media.inmobalia.com/imgV1/B8vEv5Xh_VThvnEqMx4G0ZxU_YC_pCgmETwWNQKyeMqLb9Afo_WSoi~kcK5mwaepLz96AHEmAzWJQblCNhundhnOIYTFLWoaYUC6JtKp4TJRmOKhH0FMRBJEyn5BO3xq9Zo5oXKOQNR1igjgJvehYuy645wLC3WY~MAYuWUxvBdUbxJaAsdM9LlD_z~ECaI4xSEoiYGNtUz~LFAV97HG6MaGp9xhiaz1fibtLqYVq2c2Or7Lx7KhR1fJKUg0kDhyUxkr8~21VOgtYHUVE2AOQpTzU~3W4jV_lN6DwNs25~DwDptIccIhcywg65i7iA540G2eIA--.jpg
//media.inmobalia.com/imgV1/B8vEv5Xh_VThvnEqMx4G0ZxU_YC_pCgmETwWNQKyeMqLb9Afo_WSoi~kcK5mwaepLz96AHEmAzWJQblCNhundhnOIYTFLWoaYUC6JtKpvDbyEaztUEO3ZpbEJP1WgD~OifaQUsbTbxwZEkjwkGgfMmMJFzSh7BHCV3v45R1mBWvV0Dj~1oYQ74FAbPYbYaYsxlAnt33X7q~d1b298nnT~~bQ24QdDaNOiM8j1qfeDK9LNtcjb48eQQlW9lBlk~S4yNcz6rE_Ju~RZehlfw_0naW8rX34QLUhWZPFzCI7BuqK6YVgEr6BA6GP58WlLP5XIqvjhw--.jpg
//media.inmobalia.com/imgV1/B8vEv5Xh_VThvnEqMx4G0ZxU_YC_pCgmETwWNQKyeMqLb9Afo_WSoi~kcK5mwaepLz96AHEmAzWJQblCNhundhnOIYTFLWoaYUC6JtKpvsslWh5uFwMoYt1Xh8JRbiFQ0UUiwySeJFVpmJNigxkkeY8Dxm3XA7RNuveULe5Na_ul5RdbE14WozxkhBLxr94CGFzYF25lyzjZxhx6bO2Rpy4BdrFq4wc1SUy2AryV6JvEEhK13snsnPaSQwquZN2VT8~mjYXTEE9Y3r8jHNysEAdhwK9_hkSTr1EVs5L2f4l8FQwam_wjd2N0I2wM5L2_Oxc~Bg--.jpg
//media.inmobalia.com/imgV1/B8vEv5Xh_VThvnEqMx4G0ZxU_YC_pCgmETwWNQKyeMqLb9Afo_WSoi~kcK5mwaepLz96AHEmAzWJQblCNhundhnOIYTFLWoaYUC6JtKp7csE5jblo1alH20qxyxM69_N5y2Gm2oLUx6hO9wQvkJ7g5C4HDfy~NsAT9Y9M8DZaWyph4WTjvqOHNs8kO8jfc70A7nUVgPUeJlpRM556a_Ge3PzpwxKkFfGmxiXzc10o72mloeof3F1ZqseJoY8JspyeMCyN0WaYveDMZShNEN0VxPghkRz3~jcF5TlkbbQGqsggkMipzHRqMiEyGMeffC1bnbIoQ--.jpg
//media.inmobalia.com/imgV1/B8vEv5Xh_VThvnEqMx4G0ZxU_YC_pCgmETwWNQKyeMqLb9Afo_WSoi~kcK5mwaepLz96AHEmAzWJQblCNhundhnOIYTFLWoaYUC6JtKp7Z2h2pi80jd2~4aBn9L0I~4UDyifoyXIMkDNwEW5gMtUHQbwSu0xIWycd4w8LKsBG8uFj5N0x1EppCRpcszM3XesbD9dHSqhcCPnCjeN3_vzQGReytig18pBogfGvQqZQYg6YhkivuKEEJziJWcEsCu~R7v80gOYZdxYlI5~5dZ39rS834PpYgvIVBR_tzMHKleMGiMFUvwO8742~KaSAgPJJh8F9g--.jpg
//media.inmobalia.com/imgV1/B8vEv5Xh_VThvnEqMx4G0ZxU_YC_pCgmETwWNQKyeMqLb9Afo_WSoi~kcK5mwaepLz96AHEmAzWJQblCNhundhnOIYTFLWoaYUC6JtKp6cogsxjdVYxxWXv6q4i_9dHKTFQ62yUCxxJKeoVP_ffzjAWMYp0eMDlBWDNk8b5hC_wrIk7wQ2coKzTeUZmY_I4mcJaofZZDO7AH~fbf4IUQwi70H6uBxObldw03kQj~Yv4CY5HoztIIY3iKrbTFv~n4uyOTzO9jhx4I~fZrEuBc60D3g_DrKq8m8gICZz6n823sXWZ29Xz7J8DA2enYhPIFjXuZtg--.jpg
//media.inmobalia.com/imgV1/B8vEv5Xh_VThvnEqMx4G0ZxU_YC_pCgmETwWNQKyeMqLb9Afo_WSoi~kcK5mwaepLz96AHEmAzWJQblCNhundhnOIYTFLWoaYUC6JtKp7KLZ83OZLu5zO1Um_qxz~hM8fGj5VGEfMiwrxzMDeupcWDlvhOvKwk~kEZk2XgBAwmYKMX7smrm9GYnSWgntw314kliTsTYfjs3EN5oBNjFoHWyrRbqakIZCr_dzXWw8ryGCa9gkr18xeF9XTwnLUDUEQNCwu48ygD4ophcksRttBo04HGhyo_BuwyeXVFAejV7gx3FnzFUoEp0gd9mevyXKgUKA4w--.jpg
//media.inmobalia.com/imgV1/B8vEv5Xh_VThvnEqMx4G0ZxU_YC_pCgmETwWNQKyeMqLb9Afo_WSoi~kcK5mwaepLz96AHEmAzWJQblCNhundhnOIYTFLWoaYUC6JtKp6c2409nup0UaBngC1bt6lFFfzimHCzfLfkNSf4JlGMu1aNss2Ih05dLbWoBFNbsunLRJV_kJ2867pVp7TnsVIv5qmd1RZkHLABG8T5kkots1IJtgRGtIrKS27EW~T1OLvSPbgkMoxu1HD4VTQm8FevCXBnlbZ5fRjsqMX067lM3fW6vnwD~BXCUsNAA46yA8OylMsNTpA5gDTn6XfUdv34JL9_kQJw--.jpg
//media.inmobalia.com/imgV1/B8vEv5Xh_VThvnEqMx4G0ZxU_YC_pCgmETwWNQKyeMqLb9Afo_WSoi~kcK5mwaepLz96AHEmAzWJQblCNhundhnOIYTFLWoaYUC6JtKp6cvVotU7_lHfny0psDhe~dzA7KgCtinc859lBOtvlCdyCusLmQPKbwRQixZVF49C2i27s9mldegs5WS4a7DGaMTOXEjWDMx8XZZK18HoraRFGp6hAxWP0v0NYLY2zRAea9wYXmKJnJG9S9~~5fKoM8c~OzxqXEogpwrSShEjWVZjmQwptAVynyvzHcvr8ni02wedQwuewfeOc1Qxblhec~zonhxXmQ--.jpg
//media.inmobalia.com/imgV1/B8vEv5Xh_VThvnEqMx4G0ZxU_YC_pCgmETwWNQKyeMqLb9Afo_WSoi~kcK5mwaepLz96AHEmAzWJQblCNhundhnOIYTFLWoaYUC6JtKpvWbwjHsGW4dHsEG0bLoqgKjEOpYK5BNQbZZjWkbe3~yjc9E9nsDGXx3l5afbeSClKV9mhTrG_hdh7mYxJzxmohXmiJpD_pGL_KFqOG6RqOQ0GgJ6NFiPlguVtftjY~UfYbM0ZcMaLdpziOPFko8ss2YT3AnWnmzBkhG3e0U~8BpjA09SllxRhzKPhjQL4GXgeRflVh77318UhAPBQFBiN0iPv1c~gQ--.jpg
//media.inmobalia.com/imgV1/B8vEv5Xh_VThvnEqMx4G0ZxU_YC_pCgmETwWNQKyeMqLb9Afo_WSoi~kcK5mwaepLz96AHEmAzWJQblCNhundhnOIYTFLWoaYUC6JtKpunXH_XFN1scpAirA51nvs119jKZBfQRWGh0gRWRxQe6~UieVTX8lVMIuuN354xKQ0KKtGySevuRAdhEMjwbwsTF2SXKfOj2icb7OneKanKQvny9hF1XQT60hQUNCN1uj1UIZ~4N~33jzbAo4daVUXrheOvUgLECiguhZaRSW7PTOPeniPyP1vTHNr5tlWNAyaYCqEPQmYCaWRnweA_PX~7sJTQIn8w--.jpg
//media.inmobalia.com/imgV1/B8vEv5Xh_VThvnEqMx4G0ZxU_YC_pCgmETwWNQKyeMqLb9Afo_WSoi~kcK5mwaepLz96AHEmAzWJQblCNhundhnOIYTFLWoaYUC6JtKp6yoZJWqZRtM3e87yGnLNuDiLr87nkPC9bk4Ia6ZzIHri9_GdoGO~FMIXOJghlqDdQ7FCmfbxQGipphDF3M9LVQA_E_yp84Hdl7~V9NHi9RwQkK_YNldrBO4d61oz11HsrajpjQCqhQcbnZGxGv9hG1kK7mNaVOz8CjW0rskQ0LUCrhcsyv9KnWFNd0LT53BVMLkJbuf1_4ZmyVPO0i3G3QHk~Eivrw--.jpg
//media.inmobalia.com/imgV1/B8vEv5Xh_VThvnEqMx4G0ZxU_YC_pCgmETwWNQKyeMqLb9Afo_WSoi~kcK5mwaepLz96AHEmAzWJQblCNhundhnOIYTFLWoaYUC6JtKpuSczko0Uy2EstbE3IKhl_nSmMzMWN2sd~g_wxA01vjGqZyE0hW7r3R_J_ZSDqpFK0HlrOfkDCDFisATC1BpxpYglvKCNxbg2~aSYgXvUh3mxXN5hP4POjNt0oP9SC_JmHf78msZng4WExt1gyW_W93NMXt83XCBw~EX0Wfdmsqi6ILCtwB93A88g5WpocpGtALc4~vDOxJS0vBh~MBUIgg6seJllLg--.jpg
//media.inmobalia.com/imgV1/B8vEv5Xh_VThvnEqMx4G0ZxU_YC_pCgmETwWNQKyeMqLb9Afo_WSoi~kcK5mwaepLz96AHEmAzWJQblCNhundhnOIYTFLWoaYUC6JtKpuXebxf5WUuZjxwPMYLC_YLXdGnfjqJ~78hAUggQ4QQ7tfw0v__Yp9HCN_rbffNY4iPLxCYS_yz5rRyQLZPSA0kOgZRTwXOE19Ewkma_tC7MnC5cNGJ07dr1HuQEBMp43ZlUlQEslm7DmYQGSVkQBFdze0VGaX1JwyYxM8YEi1ShM9cP4YOLF6c67TGFQpHjERBig_UD95ix3euzL4wQKWY7ggdDnQg--.jpg
Las Brisas, Nueva Andalucia
Villa
6.850.000 €
Andalusian style villa in Nueva Andalucia, Marbella
Andalusian design villa situated in Nueva Andalucia close to all the golf courses of the Golf Valley and just a few minutes from Puerto Banus.
The villa is built on a plot of 1604 square meters and has a constructed area of 752 square meters distributed over two floors and basement.
The property contrasts its Andalusian style exterior with the modern and elegant interior.
On the main floor there is an entrance hall, living room, dining room, open plan kitchen, office and two bedrooms en suite. Outside, covered terrace with kitchen and outdoor dining area.
Access to the upper floor via an impressive spiral staircase, where the master bedroom suite with dressing room and private terrace and a guest bedroom are located.
The basement has a spa area, gymnasium, cinema/games room, laundry room, en-suite bedroom with separate entrance and garage for three cars.
REFERENCE

208-01808P

bedrooms

5

bathrooms

6
built

752m²

plot

1.604m²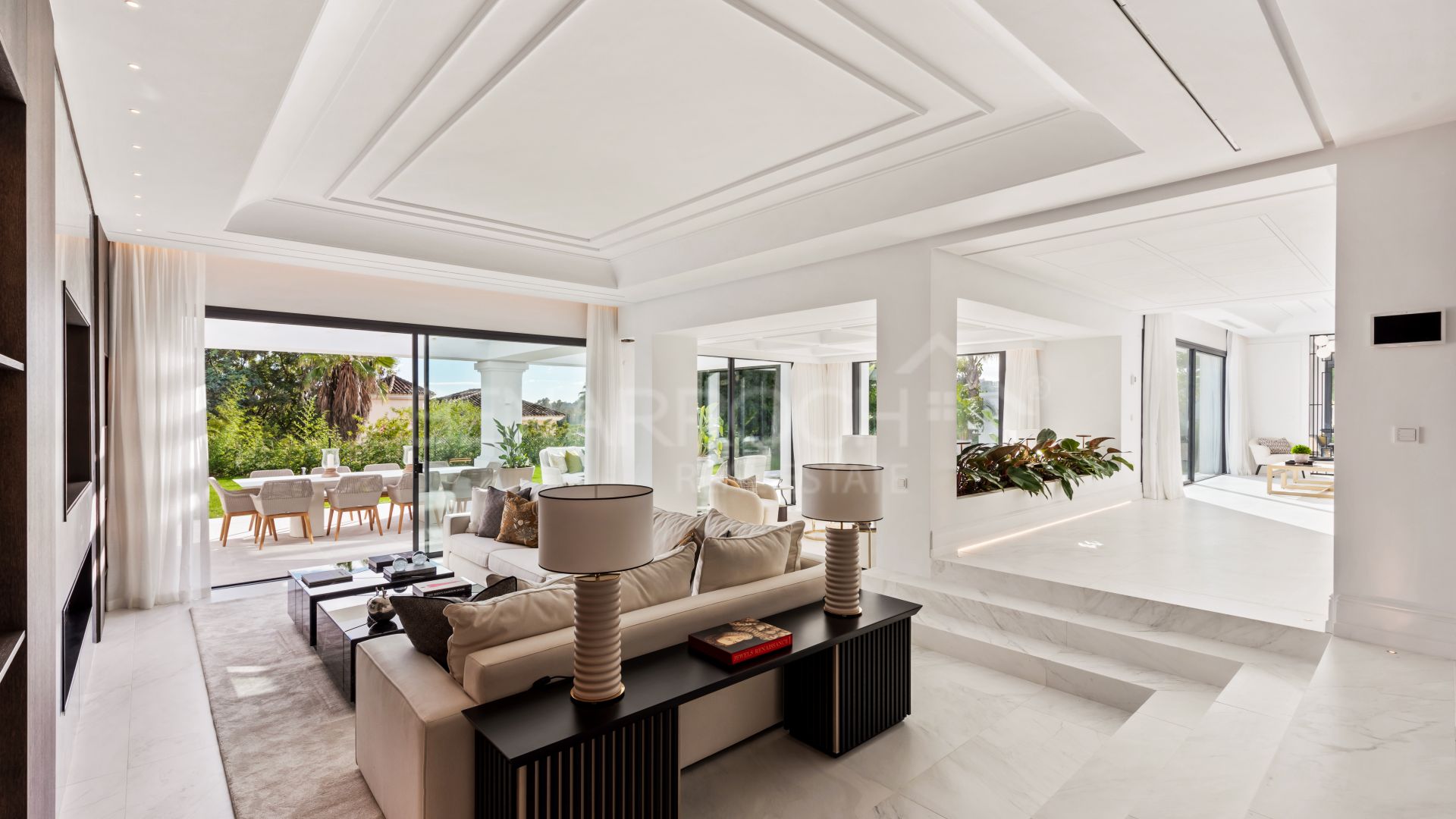 Video of Nueva Andalucia Area
similar properties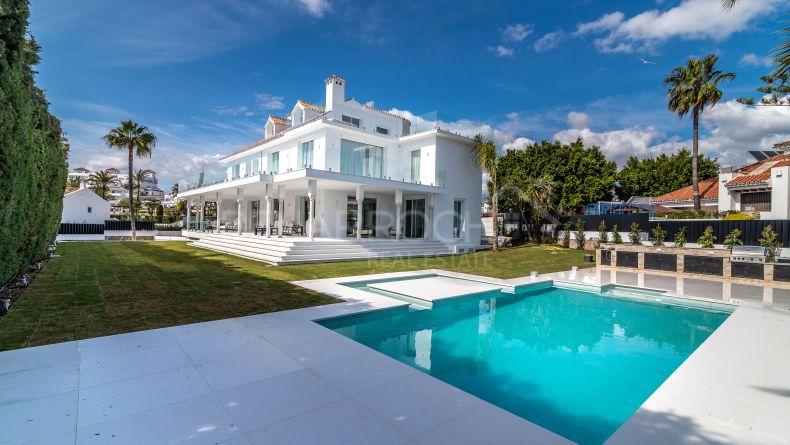 6.995.000 €
Luxury villa located just a few minutes walk from Puerto Banus, in Nueva Andalucia.The villa is built on a plot of 1523 square ...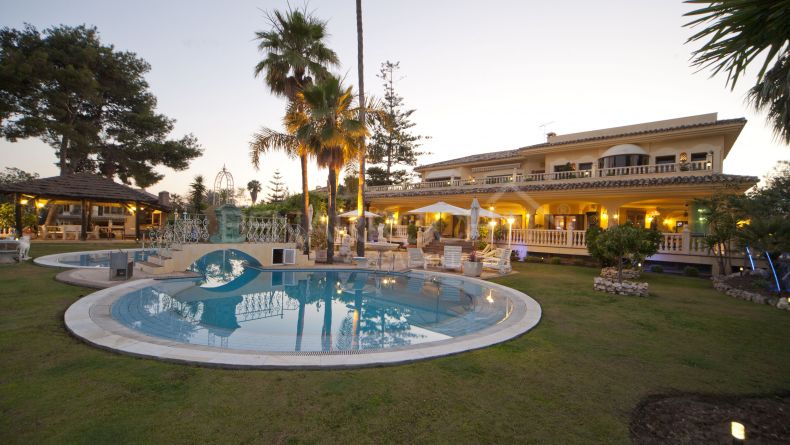 8.000.000 €
We introduce you a classic style villa located at the beginning of Nueva Andalucía, a few meters from the well known Puerto ...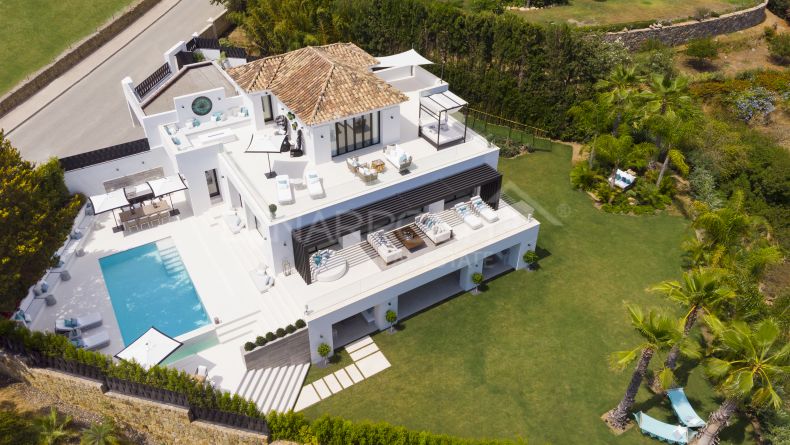 4.250.000 €
Modern design villa located in Nueva Andalucia, north of Puerto Banus, in the Golf Valley, with the fields of Las Brisas, Los ...