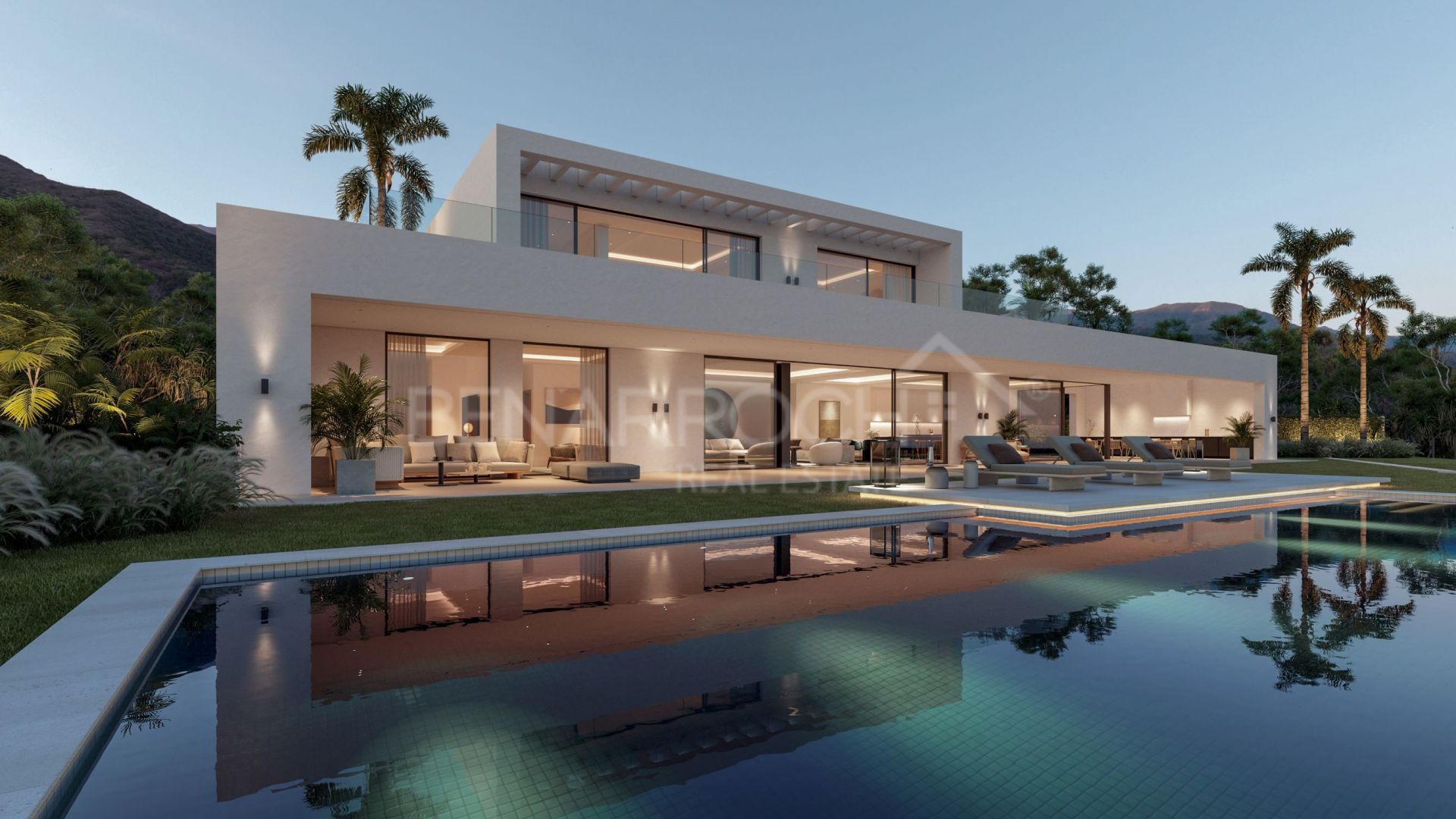 //media.inmobalia.com/imgV1/B8vEv5Xh_VThvnEqMx4G0ZxU_YC_pCgmETwWNQKyeMqLb9Afo_WSoi~kcK5mwaepLz96AHEmAzWJQblCNhundhnOIYTFLWoaYU72ItD5ddS_KFlaBuXs_4cW6db2zU_Tk5RGDg99oatcKTS_Usxr4KGY4KvrGU~1cF~DoP6dYcWRVF~xzAHFXiWn82c1wovQ3r51vDnpM4h8ZzT6Y4zhQCubpXghy3YTn6~7MtI6QKj_AnK5KGkooXfj1Z38ecA16m3SiCE3~sN5ULa80gdbvfygiBdI1cQ78tNEDWYJ4oz8r~oUTq30u~EHqQassqDofdP6Ug--.jpg
//media.inmobalia.com/imgV1/B8vEv5Xh_VThvnEqMx4G0ZxU_YC_pCgmETwWNQKyeMqLb9Afo_WSoi~kcK5mwaepLz96AHEmAzWJQblCNhundhnOIYTFLWoaYU72ItD5dAc5ECYnFcMlcWwNsVtmOBc2YVFAeG6bItgTy7gcIrzNX0TaswjOE4PQ4sBX6SHrBDQHlJXilfJsuMM4thfD~GpC12Bf0U2pErj4djP3TvMJAbRdimomTPTqE8mV_vlOxi99Jv5QkzL0fIhEcj8hd9IhysJE1saRQAkIgpYtWtQ90q~VzxKUTHV0~_eI749yf_shyI4UyKUHjg9iSPHQhccmjdPaSg--.jpg
//media.inmobalia.com/imgV1/B8vEv5Xh_VThvnEqMx4G0ZxU_YC_pCgmETwWNQKyeMqLb9Afo_WSoi~kcK5mwaepLz96AHEmAzWJQblCNhundhnOIYTFLWoaYU72ItD5cQKJWt4HmafqUSCuVYnJSj4ZIRP_gG4COuiTkja1~RYDikTmYzDPzRQV36yZSNuTSj~urE85m9WBqPrd7QnkxiQvLK18AGHzQOgPalcKK1~bNxTgZSXNUkpp7H8OZaHurUt0GclJDvsJb_FDmFnVlHzctfuqK0JhqJgDQZN3gHuJUaVFyRBKiuKEbOVAFdgRZh0SvVZNy87udT80bks~bZzssE3~_g--.jpg
//media.inmobalia.com/imgV1/B8vEv5Xh_VThvnEqMx4G0ZxU_YC_pCgmETwWNQKyeMqLb9Afo_WSoi~kcK5mwaepLz96AHEmAzWJQblCNhundhnOIYTFLWoaYU72ItD5IH_T0HF2Tul2ylxvuPj0yXpvP1ymRkl27vMwPYj_Sb~Dd9oGGPw9W6wVLwOiN1szuFJGmlhEZysVRzqkgGuyzh23fZOdMwhLYPKDbOnnGTloqAXkIxRHFh0ysNMLo9ZCEnQwXiLmiBBUA9ckyPyS8vXyYXfHEtyisj1XJZrKqk1OeqlwODPuYIAVcOQXeerTq3VQIVQkezPcW9ls~t1QJ0aPkgrc4g--.jpg
//media.inmobalia.com/imgV1/B8vEv5Xh_VThvnEqMx4G0ZxU_YC_pCgmETwWNQKyeMqLb9Afo_WSoi~kcK5mwaepLz96AHEmAzWJQblCNhundhnOIYTFLWoaYU72ItD5Iid1h49tRynmTPPPrG4mhe4MlDmW3~glAH7ltLUHZgVueYRXX0DbnRscM~xfo6rhl2hcFMUsXkSmEfbT~_tL_AyuZT8NBpEZVMwdbwYM_au9FZuwxjkk9Ain1kzlZygGSLijHqPSTrAhYC5p~bPH22rnMyksQfOI~To7bHZ2swHf6txVZPNA9Gb0jjNFdJOQvVOjgQOLV1QTplnrp_z9we0x4Ks7Ag--.jpg
//media.inmobalia.com/imgV1/B8vEv5Xh_VThvnEqMx4G0ZxU_YC_pCgmETwWNQKyeMqLb9Afo_WSoi~kcK5mwaepLz96AHEmAzWJQblCNhundhnOIYTFLWoaYU72ItD5IHq3Qm~586qgEfJmudTay1RKw7xs1AnsLovOSBpZT3CNoJcHq0pz5XiGg~8re8kNj0PAixTjT1eg2JPaJnMnx8DpAcxJRdSDqRTDTVLE3YXrYwreEjD1d5VaSoTtAsxOlhEE7wYe7b1bw2ZTN9KQD6Kfg9GIc~_IznpjdBIVF5Qf9ow45rxILI4ku_RMUPfgcOpV283LNXCBVxFrqbVOuMfDehOcpg--.jpg
//media.inmobalia.com/imgV1/B8vEv5Xh_VThvnEqMx4G0ZxU_YC_pCgmETwWNQKyeMqLb9Afo_WSoi~kcK5mwaepLz96AHEmAzWJQblCNhundhnOIYTFLWoaYU72ItD5JVYzw6IqzGstbrYhi84uGFxLKi1FEL3KJ~EG~3XW5HCTMHffbX5u56RfaJTlGpIwb0oj4JJUaJ7kwEqDF27aGj151adBx8EOIZTnChzi6x5PtTSAuzfSM_eYWVuB37fTXGtLjdbhgAizFeQpvsReBlsvCTHUsj3adu8Yc2XzNpV_~yJRIVhbfrx95F6uXaTAWs8U5DUfNbH0WQ9MnpO~da~7k0sHow--.jpg
//media.inmobalia.com/imgV1/B8vEv5Xh_VThvnEqMx4G0ZxU_YC_pCgmETwWNQKyeMqLb9Afo_WSoi~kcK5mwaepLz96AHEmAzWJQblCNhundhnOIYTFLWoaYU72ItD5JQDyd8_r~oqON4gZ8yde24LYf9AkTetXshsQfVYWAlegCEngPk4myDJQMCp8zD8czy37yQUL8ZOc1flN_h8hJuDRiuB3~w2qCvOyxaKasEN_GkOmgk9uSOdxqf0IKgdxmaqIXJxtll2Q1YysKuiMCk9elROyJxNgCharGnWY0pO0dmh5m_W3cjciwggulF8H4SoYOUSTXHPqeXRhQzG2qE6YbvbXYw--.jpg
//media.inmobalia.com/imgV1/B8vEv5Xh_VThvnEqMx4G0ZxU_YC_pCgmETwWNQKyeMqLb9Afo_WSoi~kcK5mwaepLz96AHEmAzWJQblCNhundhnOIYTFLWoaYU72ItD5cnx9yMgGCLEHEXq0p910UyteFDd3jNaxSTMyfgNnVjES4J1uO2zEnXI~_qHcQhUbycleWLPbvpVk3GK9PQGSLx5LoMfz0W0TXC1ym82BVQ5P5DMMAb7PTCW0VqRYaKlnaEvKi~EBCt4ZXjq5rUzH7pm_50Z1pKCqhAej3x0Y_NtBUmr2yXCYeh3UUlGXFjJurecLRoSS6eu_D8fMldU3bOuW2TEfmA--.jpg
Rocio de Nagüeles, Marbella Golden Mile
Villa
4.900.000 €
Villa in Rocio de Nagueles, Sierra Blanca Marbella
Newly built villa situated in the urbanization Rocio de Nagueles, next to Sierra Blanca, just a few minutes from the centre of Marbella and the Golden Mile.
The house has 1081 square meters built on a plot of 1705 square meters.
It is distributed on two floors and basement. On the main floor there is a spacious living room with floor to ceiling windows that provide a great luminosity, living room, kitchen with island, office with fireplace, two bedrooms en-suite and a guest toilet.
On the upper floor there is the master bedroom en-suite with dressing room and a guest bedroom also en-suite, both sharing a large terrace.
The basement floor consists of gymnasium, massage room, bathroom, guest bedroom en-suite, laundry room, garage with capacity for 3 cars and a large multipurpose room to be used as a games room, cinema room, wine cellar, etc.
REFERENCE

208-01650P

bedrooms

5

bathrooms

5
built

1.081m²

plot

1.705m²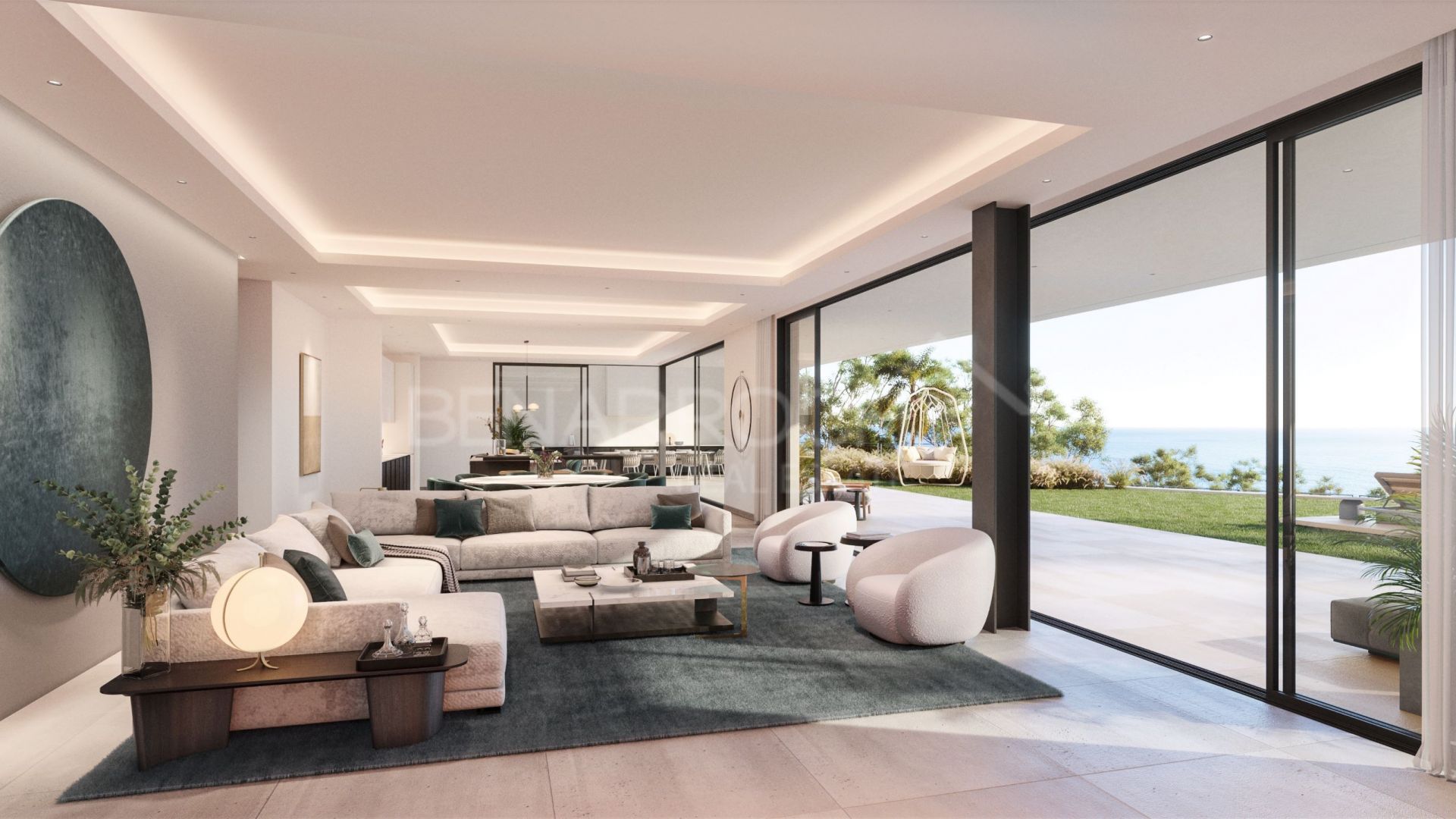 Video of Marbella Golden Mile Area
similar properties
2.990.000 €
Semi-detached house situated in Sierra Blanca, in the Golden Mile of Marbella, urbanization Meisho Hills, a few minutes from the ...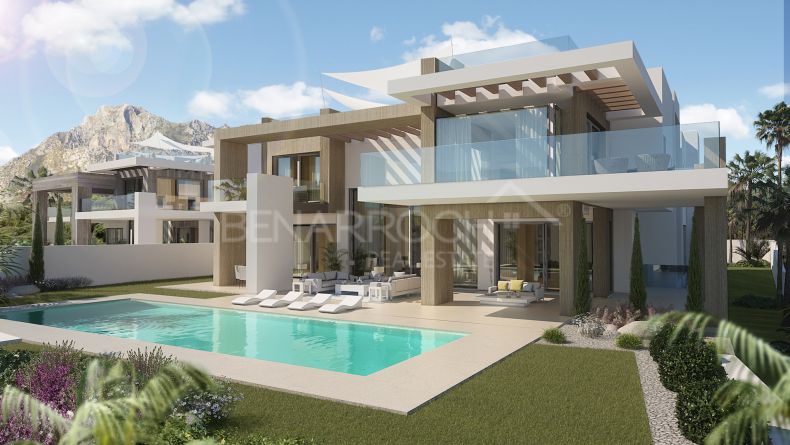 6.800.000 €
New villa project located in Marbella Golden Mile, Rocio de Nagueles area, designed by the famous team of architects of the ...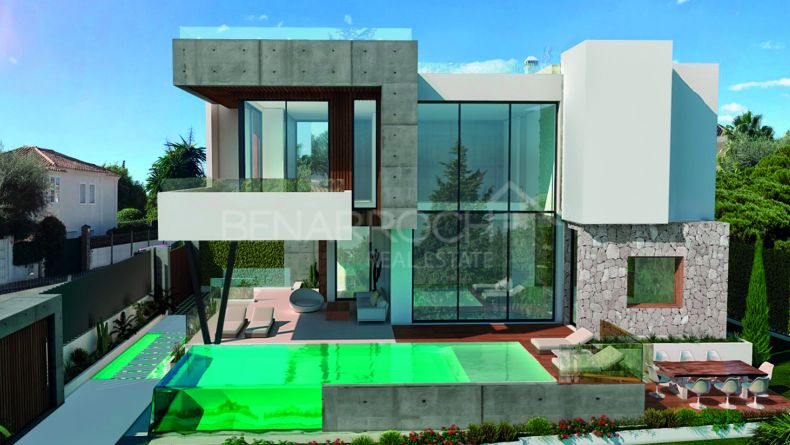 4.650.000 €
Modern design villa under construction located in the Casablanca urbanization on the Golden Mile of Marbella, beach side only a ...