//media.inmobalia.com/imgV1/B8vEv5Xh_VThvnEqMx4G0ZxU_YC_pCgmETwWNQKyeMqLb9Afo_WSoi~kcK5mwaepLz96AHEmAzWJQblCNhundhnOIYTFLWoaYU1QFk_Gvtwj2_vjcWR_ipivMhm3aHMy0Hxx47sajkLcrENu_a36syIYCSaCBqHknoO7Puqr1txEWm4q2N9gnYukRDjGZn2LEp3RuzOvpd~tRWn6sL~NfB8_xR9dldxE6MSWCqFSD3xdANcnD~tkdz1EVNEYQixVyYPIgAC2On76vtapw0fHPQJSCnLuBOZRhG522BqzyFpPSjpIBMAzi1sDcNrVv9dQix7bKA--.jpg
//media.inmobalia.com/imgV1/B8vEv5Xh_VThvnEqMx4G0ZxU_YC_pCgmETwWNQKyeMqLb9Afo_WSoi~kcK5mwaepLz96AHEmAzWJQblCNhundhnOIYTFLWoaYU1QFk_Gv1_0V2~hhQkucNL9OmF7gza3FXg8Cjprf4mezt4Et47JjvRY2pldUh2TwIlETsZZZ9ssqDL5coFJ1YIrOSGyb6sBLuOrDycVvzFAY9lZzK3F38pj~cWLdb4sie875WQ35uIpy~BdDvVnLe7RjyKBRKd9oCQ1B2WYJaqnBF12AbQfmAIFSNQh2qM7QxFdSjfhTsXP4IuZe6pl6exNmKjBnyoAVnStbQ--.jpg
//media.inmobalia.com/imgV1/B8vEv5Xh_VThvnEqMx4G0ZxU_YC_pCgmETwWNQKyeMqLb9Afo_WSoi~kcK5mwaepLz96AHEmAzWJQblCNhundhnOIYTFLWoaYU1QFk_GtRomg44Y8X~_JLFBEq5D~E425uM445I9a247TTHy37Dd7snEHdUhBt68u35Uqh5UEbxCUWcB_P~jI1qi~bf88uFtikAq3MKhk58GfH~wqN4eLZ9aLNhH_Q2438u4NBilzJsRpg0e0YbFCdnfiwuhhG7iAkztHv0r_cOtInWzTFnCuIhTIrimxsuIZQru_czgv3KC_HFOWe8kvxnPDFj71droUPHGTA--.jpg
//media.inmobalia.com/imgV1/B8vEv5Xh_VThvnEqMx4G0ZxU_YC_pCgmETwWNQKyeMqLb9Afo_WSoi~kcK5mwaepLz96AHEmAzWJQblCNhundhnOIYTFLWoaYU1QFk_G5CiwtBcVEVmxcyb~NRpVpgtVjvWKM6bbquiQTlhMF4U~7~YwDjTexJJg6b7bE1XwmnPqxy2lynu51jHhZ1l3lvsOkLlUFllUTFJ0blMP2DhEEgqDahUGUot6eOK3YVV6YOWROHrf1j0iitFrg6DgiZllaSgucusd_pkLELl1aJZECRqHtvb245SE4NfRdpcMoB9ajtS8QpUlAKHNq1sTaq8OtjZWfw--.jpg
//media.inmobalia.com/imgV1/B8vEv5Xh_VThvnEqMx4G0ZxU_YC_pCgmETwWNQKyeMqLb9Afo_WSoi~kcK5mwaepLz96AHEmAzWJQblCNhundhnOIYTFLWoaYU1QFk_G4Y4R1F3PHP~LOCQnktLJrIOPWxZhttDt6n6kvIDjm7rULOq_xfRXcGmn~pn3AZtu1VUEI9R4FXhFP_1ZyjnOs1PRvI4_5rRqLcdjftHYXcI5DDTSoCma6~RqgzVON1ZZDMehvB_TryS8YCZ0QQMOCDSzRc5Zp6emiEyePtMzEbSkntSEDG7FLFFvM9lfsCvOhc97RJMWf~sHMNCVUDo80Y2a70ws6g--.jpg
//media.inmobalia.com/imgV1/B8vEv5Xh_VThvnEqMx4G0ZxU_YC_pCgmETwWNQKyeMqLb9Afo_WSoi~kcK5mwaepLz96AHEmAzWJQblCNhundhnOIYTFLWoaYU1QFk_G4kwlei4~dlEX_76hzlQ~aZBsvltVBV5NB3h_y6EcJUT2XQ_JZnc7ff_zxTfBEShP5srDDARw6JKtyncypp2zz3LyjrKFaYP18YTRZKumx~G1Zqo~FRDbAxjIUPcpjYaenJlmER_kYXPyVol~SedO3b0TqL4C9ixSpxmA58~aOIr_uQYSynUcmoJsrxOcVaoAq5UIrh3rk5D2oIot2FqE4WAAc5HS6w--.jpg
//media.inmobalia.com/imgV1/B8vEv5Xh_VThvnEqMx4G0ZxU_YC_pCgmETwWNQKyeMqLb9Afo_WSoi~kcK5mwaepLz96AHEmAzWJQblCNhundhnOIYTFLWoaYU1QFk_Gv12YEZLmXtA_AhiXr4lNmYg75BritVETPUclHBCcPn3XIxK9OPOcAeIG3ik~Z7ws0XOtdf8KKkGHz_MbaGf4EaGl31gC0VdZOQS76R52W150obUSMhc1M0~7KPSnJ7HjHszeByI7DCTJGS9XDX0bSJNPtBAkJEx6GT9hTWwt5u4BxY6bXDzljrN9W1MFd6iXki6D6A6Q1NH8klsuzNOI_G4WhpIwLg--.jpg
//media.inmobalia.com/imgV1/B8vEv5Xh_VThvnEqMx4G0ZxU_YC_pCgmETwWNQKyeMqLb9Afo_WSoi~kcK5mwaepLz96AHEmAzWJQblCNhundhnOIYTFLWoaYU1QFk_GtofF3_8js950yIcwCAX8q8MqO087NBbBtRySqOQWj32Xv2v4zexzgrNSWFqVdAvrxph3N61Qion2umbdb5d6Y~5TpQ_0QG7SgkWMEJzYbZN~jiRxvfkz3asIjgQZfxNXyxzlSpX9_AmXN0MwZOwdA~H1_7qo316KVW16yyaR8TJ3yzIbFCSfGjrGohrt6FptgCQMxGF65CBD9tP6F5nQjB~uWv3OJg--.jpg
//media.inmobalia.com/imgV1/B8vEv5Xh_VThvnEqMx4G0ZxU_YC_pCgmETwWNQKyeMqLb9Afo_WSoi~kcK5mwaepLz96AHEmAzWJQblCNhundhnOIYTFLWoaYU1QFk_G5eVIel5Bjmyd9LmzqMfiefBwltsBkK5nQ27cXWkUD_j_Ld6OI8Kpu91avARVEgabYOVTvNshkgCI_FwCtJjXvAqtp7vFcJ0Z~bxx9kVizUDv7fUTo7MXlANnUIFELp~SW8ZCbcDOO1Sw7AUkcfPTgbE3v~WoUpoZoFbX2VXSSiawp2g_CA0Ml4Fo24QTuzdAm3pukboIV~kV~rwTh09MP1XcQysvYg--.jpg
//media.inmobalia.com/imgV1/B8vEv5Xh_VThvnEqMx4G0ZxU_YC_pCgmETwWNQKyeMqLb9Afo_WSoi~kcK5mwaepLz96AHEmAzWJQblCNhundhnOIYTFLWoaYU1QFk_Gsa1_JQjv35Q_vxlWw21USqyo3HpBLVmY9bPpnNiWjmPLKTp3mBmz96iCnt1NmKEyzcNbog8JqsM7Zq8cUn~Mv7v11K6psIXfUhv2cO_kOfDfTQCTB2ys7_YrbjIfKzg4bj22yj7zHQtSpkk8~FOAA9CYbMuHsKWtfR9bqKFFCFanku3dOdZu7w2Hpyflv9XLn4HFqJqGklCVYA51ES8tW2B~zWHf3g--.jpg
Casablanca, Marbella Golden Mile
Villa
4.760.000 €
Villa on the Golden Mile of Marbella, urbanisation Casablanca
Newly built villa in the Casablanca urbanization, on the Golden Mile of Marbella, close to the beach and a few minutes from Puerto Banus and Marbella.
The property has a built area of 470 square meters distributed in two floors, basement and solarium.
On the main floor there is an entrance hall, guest toilet, kitchen with island and access to outdoor dining and barbecue area, dining room and living room with access to terrace in front of the swimming pool.
The upper floor consists of master bedroom en-suite with dressing room and private terrace and two guest bedrooms also en-suite and terrace.
In the basement there is a large games room with living area, wine cellar, gym, spa area with sauna and Turkish bath, laundry and two en-suite bedrooms.
The solarium has an outdoor kitchen with dining area and a relaxing area with jacuzzi.
Outside and next to the entrance to the property, there is parking space for three cars.
REFERENCE

208-01558P

bedrooms

5

bathrooms

6
built

470m²

plot

503m²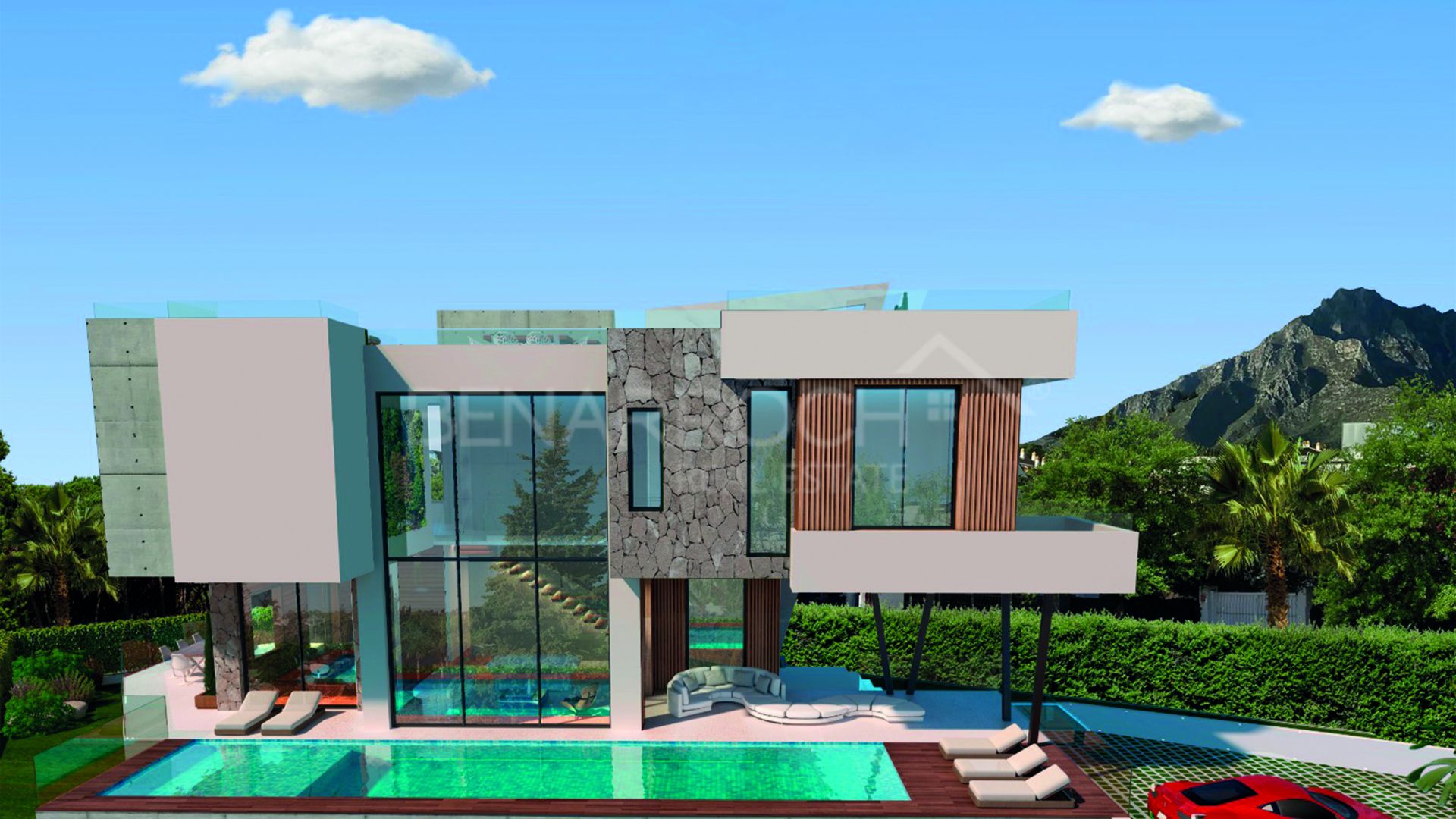 Video of Marbella Golden Mile Area
similar properties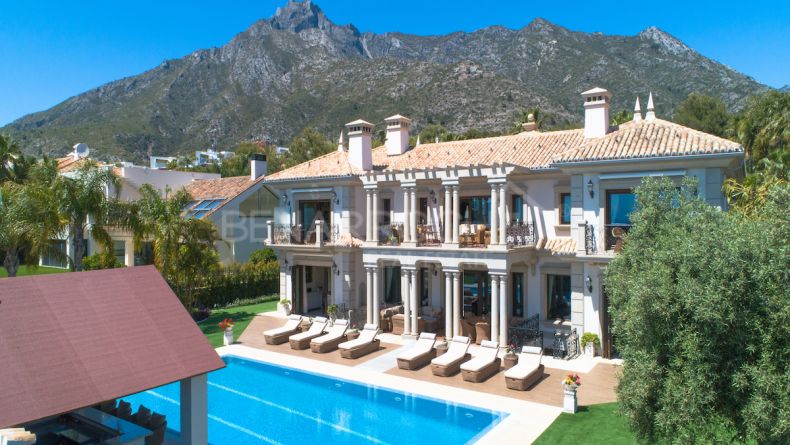 5.495.000 €
Magnificent classic design villa located in the Sierra Blanca urbanization on Marbella's Golden Mile.The villa has been ...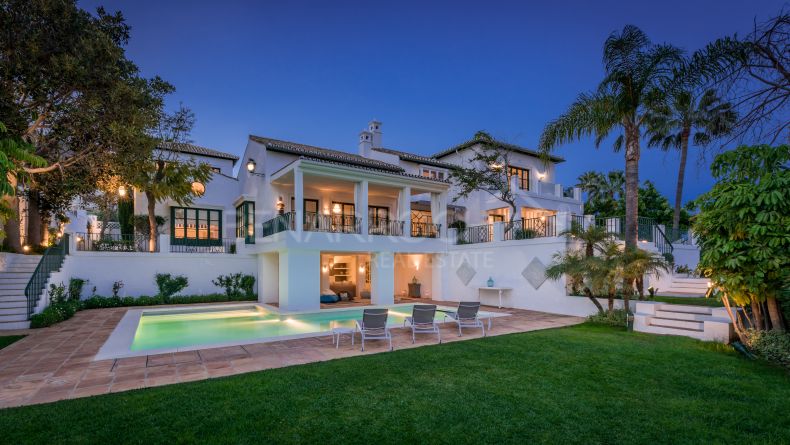 6.500.000 €
Mediterranean style villa located in the prestigious area of ​​Sierra Blanca, at the foot of the mountains from which it ...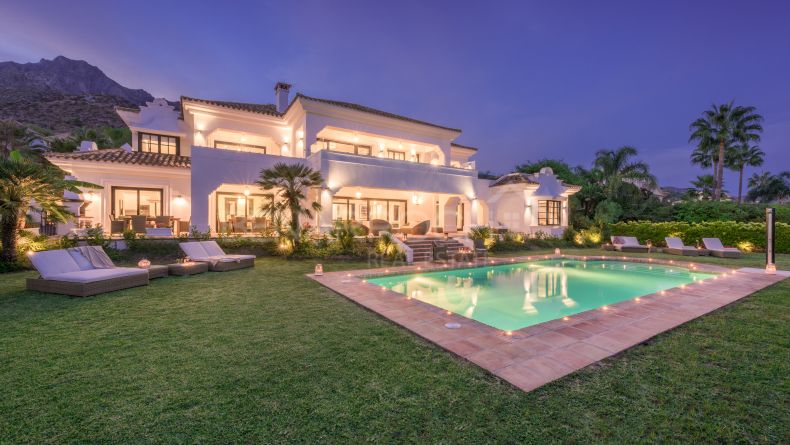 6.500.000 €
Elegant Mediterranean style villa alternating with a modern image in its lines, located in Sierra Blanca.The elevated location ...