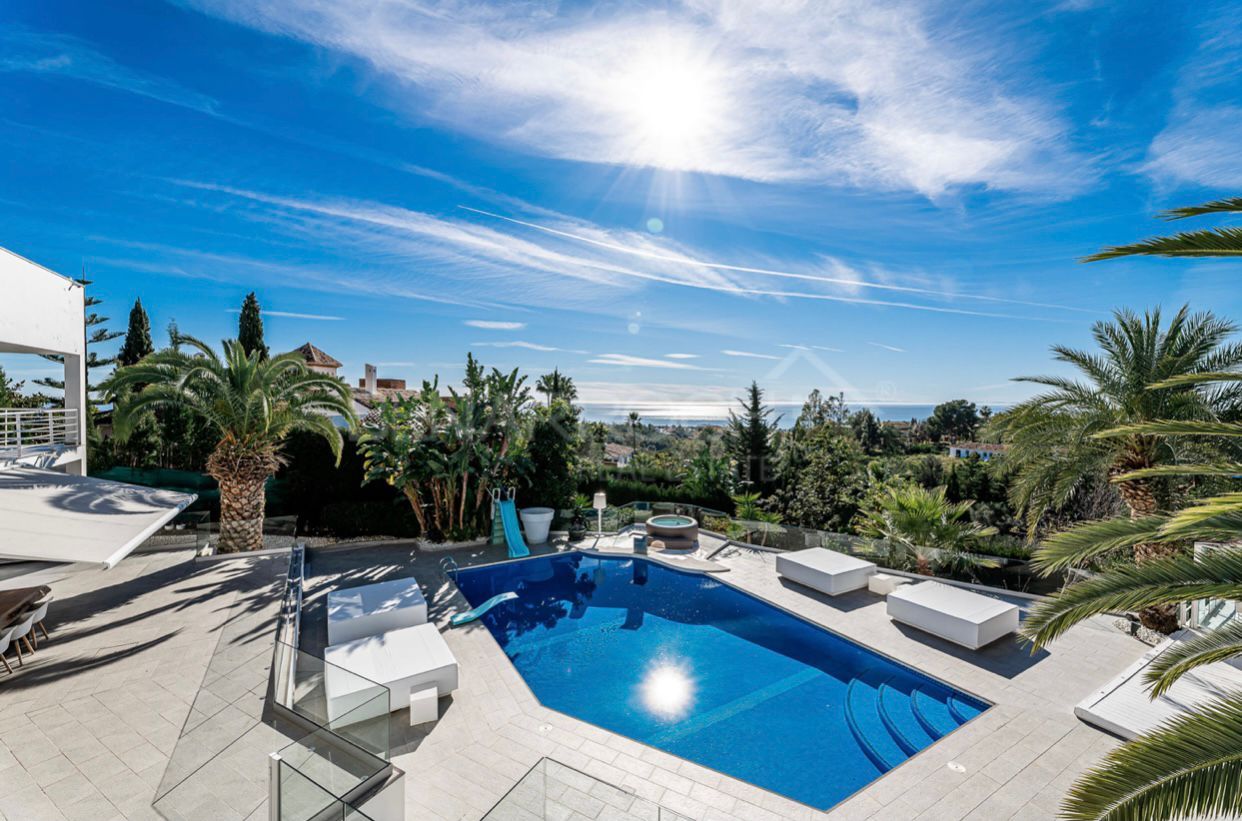 //media.inmobalia.com/imgV1/B8vEv5Xh_VThvnEqMx4G0ZxU_YC_pCgmETwWNQKyeMqLb9Afo_WSoi~kcK5mwaepLz96AHEmAzWJQblCNhundhnOIYTFLWoaYU7zY56c3_jkGr8MbJiaU7SUBiyqXOIrXjoXvnsAPbwa4v0P3XMUKUOpFWP7mEaua5qjpTtv_mgwNfSoK4jXb0zxdKjPhYjgkieMo5ez7J6cOr3jLsypn6H3dyVVtBZN42M1wB0upZe8BV0mY4~Mk1XJn1SM8I8AWRBeBY1zB4sM__v~g4FP4hDDdgeoBBT0x1QFm72vxqzxMl57tzCmc1ZKTCeapTqSNbICiw--.jpg
//media.inmobalia.com/imgV1/B8vEv5Xh_VThvnEqMx4G0ZxU_YC_pCgmETwWNQKyeMqLb9Afo_WSoi~kcK5mwaepLz96AHEmAzWJQblCNhundhnOIYTFLWoaYU7zY56c3ZDkOxEpUKwyuUntR480oUguquPYIyIvBpGnegiKmd8A4xtY_bGGw_eLnLcvIu172RVa5~BwViakn~Mpm7NQXWokH50l04Yqw5qEPWSIXS13VHniUqYRj9thRc9jpI20djxiSMqTd54thwYR4INLqtPPHOZHGNyTo3qF56xoHE~otyJdufmzP8Y6rGBDUWz7Xo145M5sQJ~baxNYXvE31bF4GIqLdg--.jpg
//media.inmobalia.com/imgV1/B8vEv5Xh_VThvnEqMx4G0ZxU_YC_pCgmETwWNQKyeMqLb9Afo_WSoi~kcK5mwaepLz96AHEmAzWJQblCNhundhnOIYTFLWoaYU7zY56ciBwFwUi4kzJQ_SjddJ84jehBNa1VFvOKk6E8kjMUQlIbChM7Js~QVd8Eh8wGVj2NfttcPa2kmR_6_AtJFIWhfViLLihopKexzE9Xdz3i3tGBbuVCpaduZ7FQY8JrduGF7ZYn62JMT~FgWwmHA0bR_E_wtmKLrmFL8JJfgaMnBciOa6eIUNgxkYupbjRnPbo5s12F_5C5XGIVs49kl57PCm9moIxh_Q--.jpg
//media.inmobalia.com/imgV1/B8vEv5Xh_VThvnEqMx4G0ZxU_YC_pCgmETwWNQKyeMqLb9Afo_WSoi~kcK5mwaepLz96AHEmAzWJQblCNhundhnOIYTFLWoaYU7zY56cgBK_BiTd1ychKyk3pVSXqxul38aRNIXnPphEB~watJslmf7NiwDPY9ldWOud396eK7d55dgvI1F~N7cGsWNz2_IiSFk9yQ1YGBM1TU_n3SScPz0AHmn7bJIdaoLsSG8z~TNO_GBxKuitRJRP399dBhsjphzF3Dc~36tPJnZOvcww~oe0z9n6nlRGV7GpNckasvteN5EUlFiN04DP7bs4qiZMlWsM3w--.jpg
//media.inmobalia.com/imgV1/B8vEv5Xh_VThvnEqMx4G0ZxU_YC_pCgmETwWNQKyeMqLb9Afo_WSoi~kcK5mwaepLz96AHEmAzWJQblCNhundhnOIYTFLWoaYU7zY56cjevWZ4P7r5vpNlwWBI5N8m~F46OTXHYZ7N4QQETLtj7bnOeqwr9x0h_Y0VRP1fnUWKvQBu_OTVgXR7RnP_0arlWJeX4rY6IN_RNxPIERfgyaG9hMgNKoCduYvam5PEvzH09JMFVttEPv5Ucke_yHHD3WphmJyoducvW6M9O8fFn~dmmxot8UGeSNn3hKpNoXLcQ3TsjyuGZ1BGaRzMiWxHrFcMTB6w--.jpg
//media.inmobalia.com/imgV1/B8vEv5Xh_VThvnEqMx4G0ZxU_YC_pCgmETwWNQKyeMqLb9Afo_WSoi~kcK5mwaepLz96AHEmAzWJQblCNhundhnOIYTFLWoaYU7zY56cjHxVQC63Otgm8cMT_wQGdyG1yv8bRexRSbkCcujDCrbUPOtTBdZoXJXpkmeT5Xz4q2i9x9qIli9eZkZZxJSsHqh10WFyQ6qZ3rXF7WqdbZaMOYQA173633xmtwfD2vcgT5g2LP7rciRoJhuvfeO0hCBwV8U_1HqbufTVdCCXQr0H5I9auWTuONnYi8n92RdjzDEp_XmNCuPOnsA45f1beNm1lsVipg--.jpg
//media.inmobalia.com/imgV1/B8vEv5Xh_VThvnEqMx4G0ZxU_YC_pCgmETwWNQKyeMqLb9Afo_WSoi~kcK5mwaepLz96AHEmAzWJQblCNhundhnOIYTFLWoaYU7zY56ciqQTs30Vohto1M~TNOY9zH8ZKTvmDLlMtV6Am9Z1hzVEwoerkXuaSbGR0DnUetVC6K~Pe_OWOV23QdnikitwUYqQrzbevX3HGxu0wkI7rvKaLzIXNG6aa4ENRmRYD1nHOCrZDyk2bgCHJWj6kBTH2gZaC0_WlBrTE8BD1w6B3Csv06123ocGC3mb_kbW6lu522rFQcDOSVEEpFEJxCBp7xu7rsECUg--.jpg
//media.inmobalia.com/imgV1/B8vEv5Xh_VThvnEqMx4G0ZxU_YC_pCgmETwWNQKyeMqLb9Afo_WSoi~kcK5mwaepLz96AHEmAzWJQblCNhundhnOIYTFLWoaYU7zY56cgRa4hPEOZrfc1OeBPEL7vVdAF9zOZ~_8KU4Z1pBzLnGSftQkmviYMCNFAb_tpNbDli8ML066K~GL4olMb00H99oUTRqpdn_5ZGwTXGkE6uMInfu7xk~h9A6pPv9HFLSUsXGTAamy~npi7AJ2EEhXEpOz4y6GG~mm~gcCGgpx3QRd0n18SQokmgE38OVj~t8SiLl_Ytxy7NcGrPLYYs5o5UrB9w60uQ--.jpg
Cascada de Camojan, Marbella Golden Mile
Villa
SOLD
Villa with sea views in Cascada de Camoján, Marbella
Villa with stunning panoramic views in Cascada de Camoján, on Marbella's Golden Mile.
The property is located within one of the best complexes in Marbella, Cascada de Camoján, in the heart of the Golden Mile. The urbanisation offers 24h security and a lot of privacy.
The villa is distributed over two levels plus an attic. Through an entrance hall we access the house. On the first level there are three bedrooms with panoramic sea views and the master suite with dressing room and a private terrace with stunning panoramic sea views.
On the lower level of the house there is a fully equipped kitchen that connects to a separate dining room, a wonderful living room with fireplace and a cinema room. From this level we have direct access to a magnificent terrace with breathtaking panoramic views, the swimming pool and a great bar area.
On the upper level of the villa there is an attic bedroom en-suite.
The villa enjoys spectacular panoramic views from all rooms. Situated in the upper area of the urbanisation, southwest facing, very bright and with lots of privacy are the main attractions of this large family villa.
Only 5 minutes drive from the centre of Marbella, the multitude of services offered by the Golden Mile and Puerto Banus.
A great option to enjoy Marbella at any time of the year.
REFERENCE

208-01605P

bedrooms

5

bathrooms

5
built

470m²

plot

1.898m²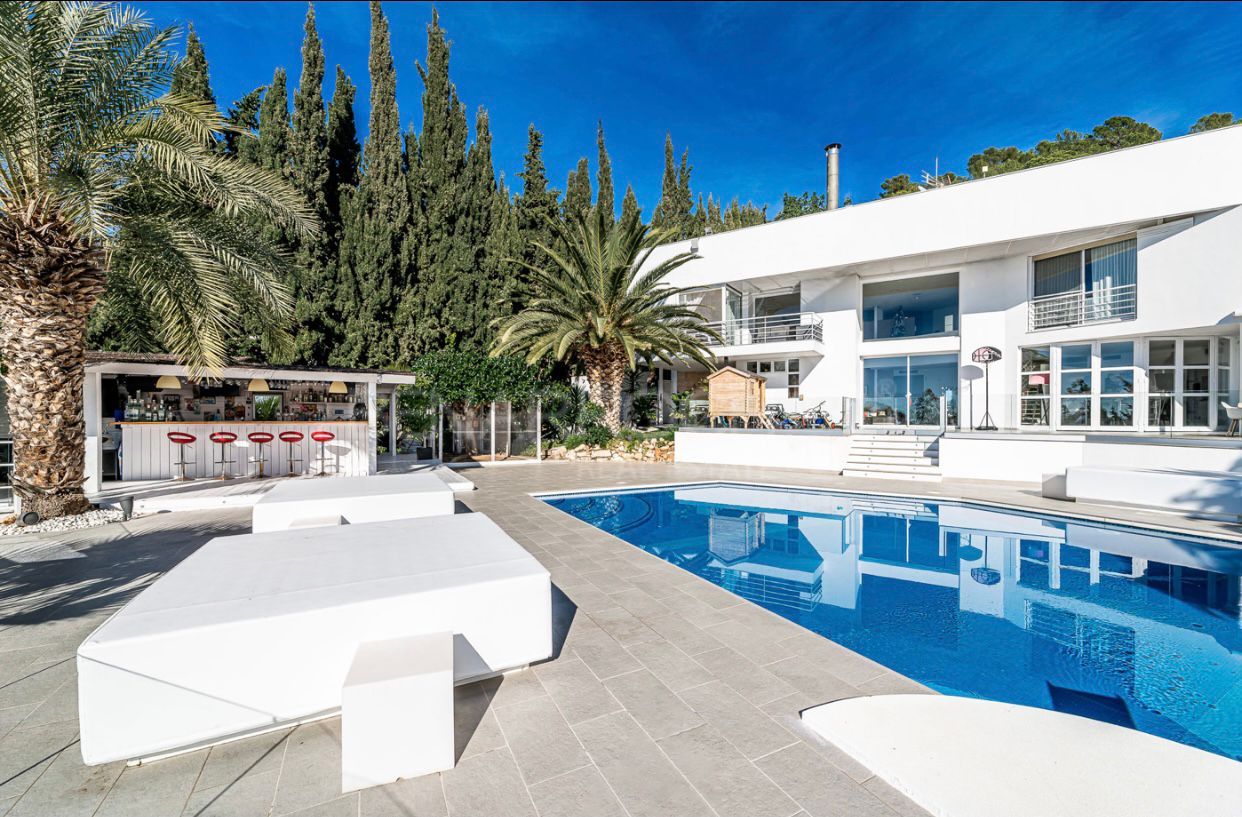 Video of Marbella Golden Mile Area
similar properties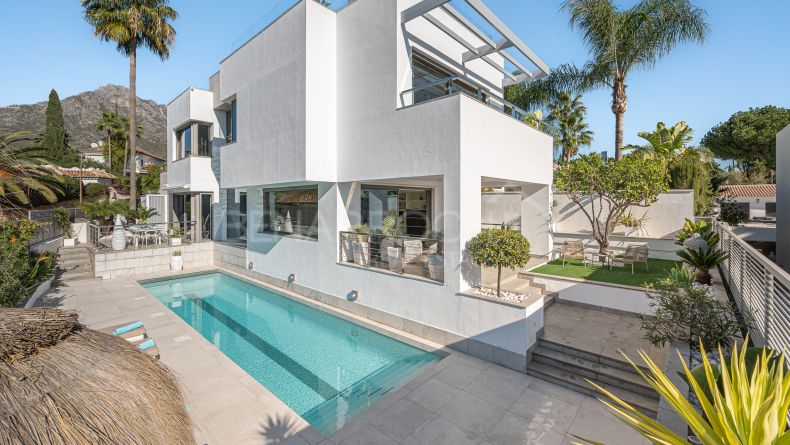 2.750.000 €

reduced from 2.850.000 €
Contemporary design villa situated in Marbella's Golden Mile, Nagueles area, a residential area close to the Marbella Club and ...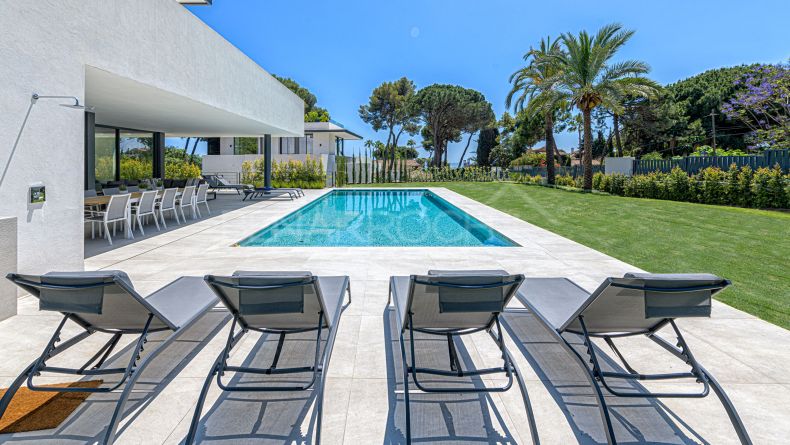 3.900.000 €
Brand new Modern villa for sale in La Carolina, Marbella with 5 bedrooms, 6 bathrooms, and 1 toilet. This magnificent villa is ...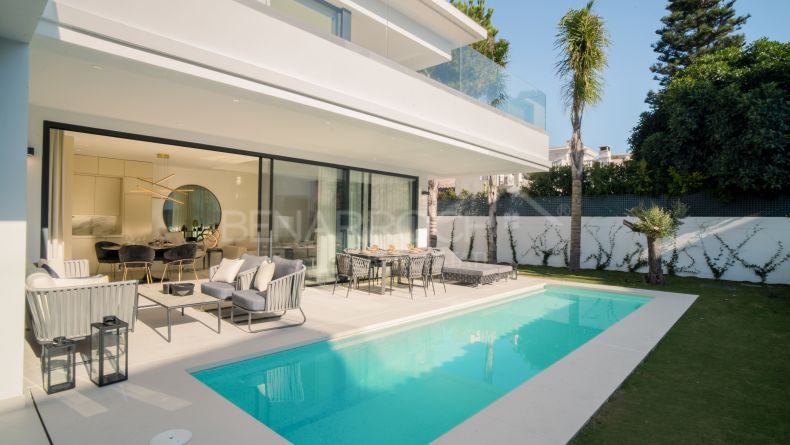 3.950.000 €
Modern design villas situated in the area of Rio Verde beach, in the Golden Mile of Marbella.Rio Verde is a secure urbanization ...