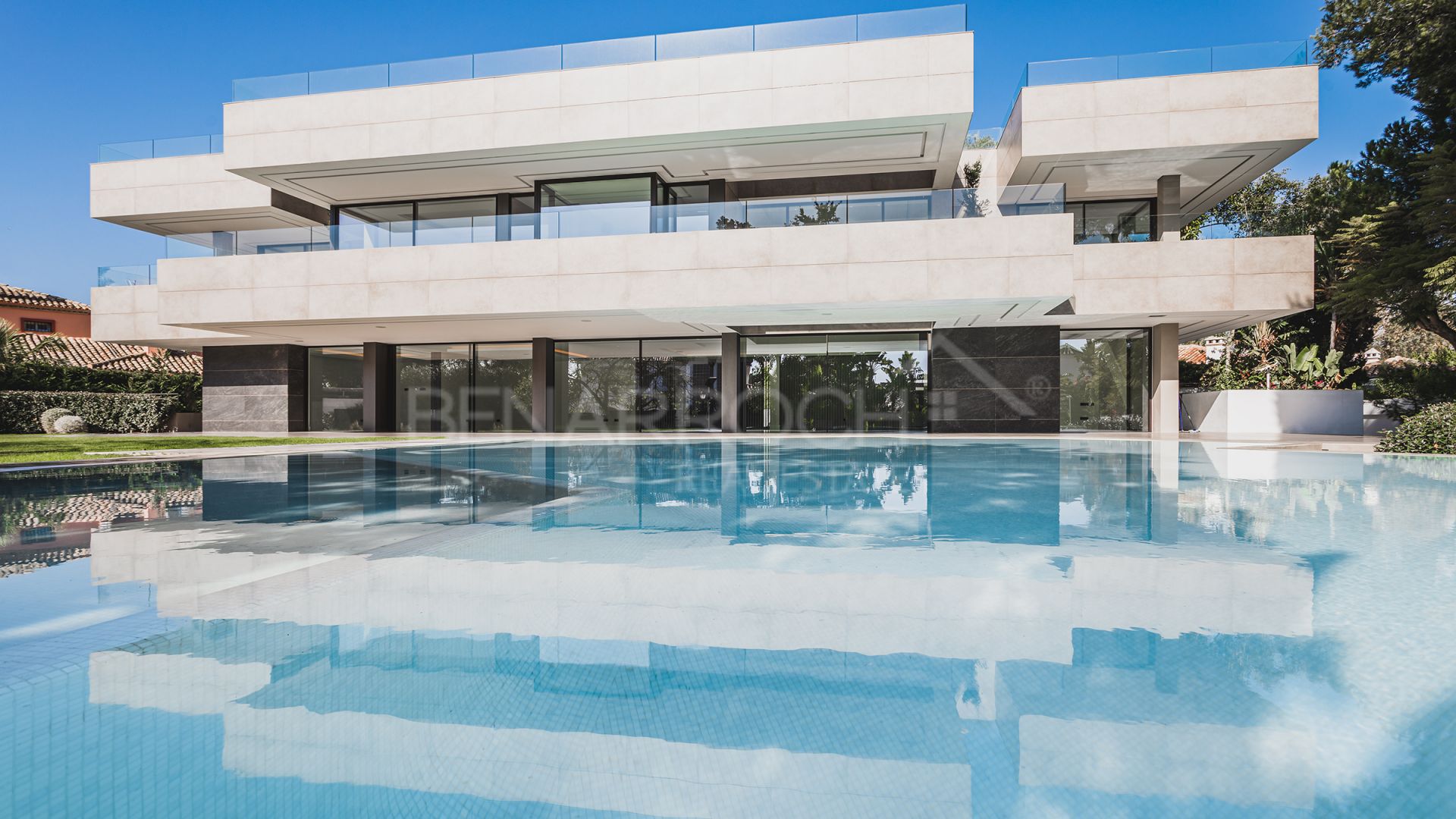 //media.inmobalia.com/imgV1/B8vEv5Xh_VThvnEqMx4G0ZxU_YC_pCgmETwWNQKyeMqLb9Afo_WSoi~kcK5mwaepLz96AHEmAzWJQblCNhundhnOIYTFLWoaYU1dEZmr_oBg36D5f1u484w~ZvtDcasKVuXpFSCv4oDdXePvvSeaRs1UGC~AI1mjgv1NAOOXMmAlz~BMgTSmH_oy702~I1aYwXUVIaXxXub2W3RH8Y4izAmegbS4F6EgqpT~zlYgvisMtY56YQJB8NbuaXS~pNCtBcppwCkJIA3ehzRbTrjCZlxvdPQzXz7Gpq_ACiYKqwvd8BIGiqvj6yqJ8WbjFeVipXW6xA--.jpg
//media.inmobalia.com/imgV1/B8vEv5Xh_VThvnEqMx4G0ZxU_YC_pCgmETwWNQKyeMqLb9Afo_WSoi~kcK5mwaepLz96AHEmAzWJQblCNhundhnOIYTFLWoaYU1dEZmroOG_SyLCh5gJu8iyyvA4VpI_Le_XZjq14tJSRXfr2NMONWkEcHEsG8LSOGx6HndhiBoI7q1fUfarwmDC7be~YQS3ey21gOXi6qtUH9crt9riLtMhWJUqh8rdUGKzs6rCMk0ymwxlkyNuU_VS86TiJippMxQIqqi1MweS2~2LypF0DAcExv6O5mn7UR~dSpONEjX4SWrqzLV7Aum0Ss66HNdjVt6gTw--.jpg
//media.inmobalia.com/imgV1/B8vEv5Xh_VThvnEqMx4G0ZxU_YC_pCgmETwWNQKyeMqLb9Afo_WSoi~kcK5mwaepLz96AHEmAzWJQblCNhundhnOIYTFLWoaYU1dEZmr~3DoK9fl6Im2K~boQIqmh0B~HQ0TiU_RPQCaOaB4ZTGWmo2VipFNINDnFSKDILWrkGRKOVZVC_glBD5dkInm08SW~AfGIZjko5iwXdLfaZXpqBYTalAqIzmvCuSd014dBbr13aF0ILnKIbYhTpczkExmqY6EHgsRImHoBhwyBb85M11BQdxXVPmwCTTDS7r_Xd~X7ENUvupgjcDZwijwzYvtUElSpw--.jpg
//media.inmobalia.com/imgV1/B8vEv5Xh_VThvnEqMx4G0ZxU_YC_pCgmETwWNQKyeMqLb9Afo_WSoi~kcK5mwaepLz96AHEmAzWJQblCNhundhnOIYTFLWoaYU1dEZmrqYHRf7NVZK6Zs9YrJILNnZjo6BbB8ZoDb6gOQlrKGc7k4E591WZxxySwaCSu0arbxEtERUAI7CtZVSiW_po6q9x33sE6rMdS_KnrJaSNEydFJgoTBCC0O~nigwHo5__uXUqSXKiyUP8DCF1SxdrI0m6Tzy0XW_XuhTyPOz22_FX8~ws0LDgUvpFO4ndzBXCyrD__mYVK2wIJf_lknNCAQbSh4ooz3g--.jpg
//media.inmobalia.com/imgV1/B8vEv5Xh_VThvnEqMx4G0ZxU_YC_pCgmETwWNQKyeMqLb9Afo_WSoi~kcK5mwaepLz96AHEmAzWJQblCNhundhnOIYTFLWoaYU1dEZmrqqUpjq7tioepNIlABziZCmu2ML1pcymqJQyXQCkZ36kaZZtDVwNOakuYHsZZaqyT8Z81fEToQwu6G4nf8Ktf1xIc9Laa1MM0FmWgRFGXVs5LRZB152f8jZv6cydM19kmpoECV_5kgVYmwGai912aHP7kcGSxyWW3r4JMPmlkubn34MOTSgnI5AkAsd_jtzk6q19onsGzflsVSiT4~a5BQ0vNNNqvEw--.jpg
//media.inmobalia.com/imgV1/B8vEv5Xh_VThvnEqMx4G0ZxU_YC_pCgmETwWNQKyeMqLb9Afo_WSoi~kcK5mwaepLz96AHEmAzWJQblCNhundhnOIYTFLWoaYU1dEZmrof~ew0rqz2V44afxFO72nCS~9~a_DdIQ6V~Ps93gFK5U30WG~JzcUXjffPG2wfkViv9rdZRzd2WGRgBb59HYs_vRWJrTIhQGtbr4E9QBPxmfoR_xPJj15BpE6N6J_wihrj6c0ye4IbjDgd0b56rtiUC1md7n1rUoN854GHzfEqxQ6lCDID0zfWU_dB8Su728nGm2s~m8Nlwu~Ot9utL9SkJTzBWZyw--.jpg
//media.inmobalia.com/imgV1/B8vEv5Xh_VThvnEqMx4G0ZxU_YC_pCgmETwWNQKyeMqLb9Afo_WSoi~kcK5mwaepLz96AHEmAzWJQblCNhundhnOIYTFLWoaYU1dEZmr~eTlZdoO73Ag6zFz1ZZthXQkqL_1aIHdQTGqfslyp1ddvTZz28amTjgAz8CF8Wqs1BQka6LEPRKmI7c3WOtF8QLmpc5fP2j3ejrZ9tFgliCexHcnPug~Yjr5K7MVlTT~oUMsZy64c3IKmXhscNQ3wLyL3MAaAAwJAXUXDiWDE~Fm12ecRaQfbRWwgUZSUbRdp5KD8MzKA0fAUgNMQ_g~bFuxhlMHwQ--.jpg
//media.inmobalia.com/imgV1/B8vEv5Xh_VThvnEqMx4G0ZxU_YC_pCgmETwWNQKyeMqLb9Afo_WSoi~kcK5mwaepLz96AHEmAzWJQblCNhundhnOIYTFLWoaYU1dEZmrrNFwZY7bz0YvNw3q95rJ25nMTLw0SZn6AlfnLY2kTsleNVu2qjNJKhgkJoDLwUVB2fs04zgw10wm7997sLQM~y~GHx4uNGzgaoS25sc0j0I2yV_PAYB_7IHFImZE7WZIENB0dFTyIcHS7hfKXNlPr4ep1cN0xXjITYi~8s86luCFapTuaGnBrdd0fecDuEoZzTEQ9vbeyhdOCOGNJ5dleSVAIdYsoA--.jpg
//media.inmobalia.com/imgV1/B8vEv5Xh_VThvnEqMx4G0ZxU_YC_pCgmETwWNQKyeMqLb9Afo_WSoi~kcK5mwaepLz96AHEmAzWJQblCNhundhnOIYTFLWoaYU1dEZmrqqNVcikreFANmgFb0Fck394qq5R3N1tVEcJZrD8QcS_PG8L_hUb587UBSSKWHt4~dUju5zRwqz2~ObcqJBV4lh_0g1THulsGNivuiODSd_jlocEvoGuaT_E1GB2zuk4Uni00mtmKz~UWyhEEMdRnu1qUQyjcmV_9GoIqCPWYriegVau0Pdy1rtPCIx5kEtkkNEt91i1QTJqqGQKp221oWJTDwfRf_A--.jpg
//media.inmobalia.com/imgV1/B8vEv5Xh_VThvnEqMx4G0ZxU_YC_pCgmETwWNQKyeMqLb9Afo_WSoi~kcK5mwaepLz96AHEmAzWJQblCNhundhnOIYTFLWoaYU1dEZmrqqIiB_SR4_N8_dItR2cEv_neFH7fKk6a2cksoBhd2vSAP_bDlMTfVU0pRQ9RMNkL9JNvzRfADP59pD1Yz1i72ahKPf6ngMcT_GnJa_Uk6O6Gh7HrWIP9nXUBjAZ0fKWijmkEKaL0tJCUDGK6EViOqFR4p8p0gqunF9Nfk2qyUhKACJErJUACfzPbaew6_0TOmWOWh98tVQouZCWK7cDMR_MZxgvpIg--.jpg
//media.inmobalia.com/imgV1/B8vEv5Xh_VThvnEqMx4G0ZxU_YC_pCgmETwWNQKyeMqLb9Afo_WSoi~kcK5mwaepLz96AHEmAzWJQblCNhundhnOIYTFLWoaYU1dEZmrru7SBwOqS0~fXrzDq6Q_q5EFIBZAFu~4I2dHF_rxf6lNdo8GyUqPWj1~kJfxMO28hUuEkpq5GmT3Edk85FBxvT~s0VvhyEaJvWuMWYJkUh84Z~oK7CQn9DtJPHXOyxKhKtt7N0YJ1MagEY~JvIEnRxD1rZzgwEqNcyBuE9YNkJECWPwUwAbm0QvMG00wX80GD7o87_W5xRnVyXka1QI1pp8x3txtWg--.jpg
//media.inmobalia.com/imgV1/B8vEv5Xh_VThvnEqMx4G0ZxU_YC_pCgmETwWNQKyeMqLb9Afo_WSoi~kcK5mwaepLz96AHEmAzWJQblCNhundhnOIYTFLWoaYU1dEZmrrdBHZLgrAExG9bIyexrsNZYgC_Lxv3HQ_j7UQD8Za4JrHrSuGyc4qNF4Xf_IUZzVZaTaSbIhnajpr0bPHCPFOD8hExt5HsBP3bHP5dno_5rVCgY~iHseXr7btAx6OgDaR1MrEkKeW_HafVSfcIifGKx_8OcbnBCtxcur8psz0oXejGVnRwJqdL~rpo_Gu95aBdQL_4~gRlzj1qzPyb5JIxtMwVn9nQ--.jpg
//media.inmobalia.com/imgV1/B8vEv5Xh_VThvnEqMx4G0ZxU_YC_pCgmETwWNQKyeMqLb9Afo_WSoi~kcK5mwaepLz96AHEmAzWJQblCNhundhnOIYTFLWoaYU1dEZmrrr8t9MqU9GMIMFoVtRqI0qDn~5UgTG8e5HYlZy7PM1lJnnHP~i7Msa2kVDkVOfTHUiIkpdyH4XT30ftXUixV2uE05pSRzDcthS2YsRAPJoA5HhAVskRGaIEYyXH8er~aympa7wPI8eBZEyrVzRN8Uo4VtvB1tVIzWxA1DUoDh4Vx5JtaBaZ8BeF5gcM4C8fV0Bx2IrKPiC3A_wWXwymNYEcNrEH9bA--.jpg
//media.inmobalia.com/imgV1/B8vEv5Xh_VThvnEqMx4G0ZxU_YC_pCgmETwWNQKyeMqLb9Afo_WSoi~kcK5mwaepLz96AHEmAzWJQblCNhundhnOIYTFLWoaYU1dEZmrofv8EvWxr2o6emkbvRDZrrFgrDZ9QsoQnjIpLtNu6PzS1AK5Z~CMfdA8tvaC6lsI7vEMM_0JOBoA65bgCs0vLDTXCYpUceloC2oN6cfkZ3qogcgR5m6LRUj9fMF_NLJqDptZ8ysI6keGEkxE0JjPTP5ACMZSuBFPDM62teV0lBcoLhgLvCAdkZrq_KpK4YpDoC7gQfV1pXytH1ahaRsgRdn2tTqmyw--.jpg
//media.inmobalia.com/imgV1/B8vEv5Xh_VThvnEqMx4G0ZxU_YC_pCgmETwWNQKyeMqLb9Afo_WSoi~kcK5mwaepLz96AHEmAzWJQblCNhundhnOIYTFLWoaYU1dEZmrrYU7xLS94ssZ8rXmE_lR9fMJYyhvLmaZ7fBhuTE~vUFEnWFXdnyzHWixFMLgAB0qOeXH0jFkx6E3ETuQ7bOLG30I_lFETvX2oriIkaBc7li0jTqM_lcvxF3oqmjBdBfGJAnZzDaAyvXOgAchb43o6Eaozg90TQv1FmxYdAjxM5Z340WGEAv1bmpgT5HEASN2_y2jqhtTF~v4310WVRhHNx9pJNbAsw--.jpg
//media.inmobalia.com/imgV1/B8vEv5Xh_VThvnEqMx4G0ZxU_YC_pCgmETwWNQKyeMqLb9Afo_WSoi~kcK5mwaepLz96AHEmAzWJQblCNhundhnOIYTFLWoaYU1dEZmrrYVuHtFlfVt0Ms9_hwrTQcaQSJdMmSVNk8ygRrZjyRW1Q_kK7Vxj3y6xP4gp6UVQgGH2ptqVT9wMWnazTASXMwYVZqBAKdjd5sYN_VpvFAXf0HWgmXOxPqk29eO6AjmIl_Cr6BxoEzXabluVM4Awy8Q6kNQHGQJ1DlxfCKs3gZ0Hi6IaY9vAXs3agtHv3mIbIaiTnVhZ2amPQKUQQj8H7uqzd~RQxw--.jpg
//media.inmobalia.com/imgV1/B8vEv5Xh_VThvnEqMx4G0ZxU_YC_pCgmETwWNQKyeMqLb9Afo_WSoi~kcK5mwaepLz96AHEmAzWJQblCNhundhnOIYTFLWoaYU1dEZmrrIcKhA_4rpJI~treApL2q~Ccy7mnJcM4n~Fc_JAtyk0pgqDsCos~B0JVh2HZ~5LEdTUX8igjXMet_3xX361n_adVEWVgLfeb9ELvCNRXjMTS3BydyW5hh31e_KDN6Ms26l1pK6O1aw9GJsGXM1xjPUoKeVeAkN_z1cD~tIffeWEpNo6Vzf_9Pug895XagHYk3Xo0Br3EazLqSR36Q65bq23jw837vg--.jpg
//media.inmobalia.com/imgV1/B8vEv5Xh_VThvnEqMx4G0ZxU_YC_pCgmETwWNQKyeMqLb9Afo_WSoi~kcK5mwaepLz96AHEmAzWJQblCNhundhnOIYTFLWoaYU1dEZmr_ATk9FxFWF~0aSKiPiU_xrsN6hw0LlWlrFzW1wP2rxQJ86VZpRsF3gCsbDoZZho2qXFayRS3ikGQz1AZfA90JXKEJ11jiOJa1AwDh0Dvi00CXwuKnAewNN3AnrGYLys0kQ2sh1imFnspmzWaD0BvWwPmMCimofEGfqNivjyWPsuLUhUIu8zi9tLo5gn1BzXVsROQsahBnyzUKQlMVsTfMfzinYyIGg--.jpg
//media.inmobalia.com/imgV1/B8vEv5Xh_VThvnEqMx4G0ZxU_YC_pCgmETwWNQKyeMqLb9Afo_WSoi~kcK5mwaepLz96AHEmAzWJQblCNhundhnOIYTFLWoaYU1dEZmr~e6Ve81UiYKRzyobuUBJyD6PWXtxesm8c08TK6GcSPv1BvDAuv9P6GTczKgLNfADSZo0e_cfj1LHyjEQUpDN5nLibOTNgWMR7mqi0RZwPBdpF74VKV~F0E16_JzqkXM80GWiFzUGU8mZU7RaPlwaRN1uvVaXIqZvl2NIRKZFNj_rfp8hbP7bdO9BULI_WA0ds8cBvnS0WNQWJ9m~Hvznn0bWLTZ~ug--.jpg
//media.inmobalia.com/imgV1/B8vEv5Xh_VThvnEqMx4G0ZxU_YC_pCgmETwWNQKyeMqLb9Afo_WSoi~kcK5mwaepLz96AHEmAzWJQblCNhundhnOIYTFLWoaYU1dEZmrqYZyxjqWm9VIiooPUSsgzNtVhL_cUO5X9jSsEyRQJ581Yp8t9QXhfqMf6EhF5X88p6c98VXpcrP9YudyvRROCgCcX5es7G3sgrai3VTm9m~cDKQEkxD93J0ExXOFmSfRb0DgF96eWquluURu4k7vMCz1kXo7i261aI3NuSy~Z0V3eAUGLTGDOVYq8VCJgTegrP_l7XnjSKeUpitZnTRPX9znM6V0Dg--.jpg
//media.inmobalia.com/imgV1/B8vEv5Xh_VThvnEqMx4G0ZxU_YC_pCgmETwWNQKyeMqLb9Afo_WSoi~kcK5mwaepLz96AHEmAzWJQblCNhundhnOIYTFLWoaYU1dEZmrrY0IsK6zwWjVf7TU~yedvEkPggC9T867VJ0jlCKucY9TjyfF1sTNZXcTF5Y29kEWgelAYuZy7oryoAmNX5f8rnx8MLSIGp2BWzCaBj_T6VejMbhuaqHg1mJaHmw824F56~3zj3qXt7zuknaNtSNksD7os2OLdh88Sk4eJ1Z~w5yRmNffDuQDCF6mXqr1CQcRcqEcJx05Le9u0cyOw6gG82CKUMfjyQ--.jpg
//media.inmobalia.com/imgV1/B8vEv5Xh_VThvnEqMx4G0ZxU_YC_pCgmETwWNQKyeMqLb9Afo_WSoi~kcK5mwaepLz96AHEmAzWJQblCNhundhnOIYTFLWoaYU1dEZmrrYw68~~coBCZm1llw5LUALyA5LHvtGDUjKiGcREWFFnOnIr~rflL3KltBIeyZDLOodcuahAOuTRhC0OZ0YFsEtflxRYHeEMalO4tJiiez0bkO4ooHaMz__7yDevRKzcV9Xa~Cdv7O2qhnQumkq6xwoOKcrRhrhV8f_htsXaCPS8sq9vFofZw4l3__KFI5tvIzlNCUWxBiwpBqYRQt~VioMwi3cCIyw--.jpg
//media.inmobalia.com/imgV1/B8vEv5Xh_VThvnEqMx4G0ZxU_YC_pCgmETwWNQKyeMqLb9Afo_WSoi~kcK5mwaepLz96AHEmAzWJQblCNhundhnOIYTFLWoaYU1dEZmr~eKolwCtOb9Q6KfacWb1bqFvf1Orx9i0RQiSz_8Xe0MQ_6fNFGLqbQsgO9hF3XGJUCXTpeGXMf~E3s3EzH6ls2t9tLGpnYkG4db1wTVKIDHdX06vSmoYLsM5OvcmhKpoTK2CYNy8q_s5kKnPYK5RE_lpoSTTiLjtr_wtLR2yluU5BUzGpTV0kQfxCN5Xqd2tE3abUuKHPj1Ic4gLbbcGMsPsKyHQYA--.jpg
//media.inmobalia.com/imgV1/B8vEv5Xh_VThvnEqMx4G0ZxU_YC_pCgmETwWNQKyeMqLb9Afo_WSoi~kcK5mwaepLz96AHEmAzWJQblCNhundhnOIYTFLWoaYU1dEZmrqvUlZIQ18BYfHoG1bO2Pf6b5Gb0NRiSU~QihfRRaXKeqeJ_O3q3JjuY299FEcaTYyUe7NQbpc_33AXEZiOMXJ9R7CO9pZ1gqxnEK734V8ipRS~Zt7JtKu2e0WHzPmaK7iz3~ypMWd_juSFjk5GjgD6ihglh0fA_pVhqEYICfuL7t9oYQxriMfzZciy7aoJCqPlFyuVgXTP~NG~CV~QSAf0~FO8PRUw--.jpg
//media.inmobalia.com/imgV1/B8vEv5Xh_VThvnEqMx4G0ZxU_YC_pCgmETwWNQKyeMqLb9Afo_WSoi~kcK5mwaepLz96AHEmAzWJQblCNhundhnOIYTFLWoaYU1dEZmrr3M~78yMiqXfHVDoJW14yCsFEktrO6o2K9WBi8Vj~ECUp2z3NcpQPkd9otNHU_euMLRgQ5XN~pXw~A7mzuCIhW6OW2cRnaD9YuUJz8M~ZC8dpJWFEoxMuMxPVRbh17Xg3g6bjw5eqxJ95HVKJp_KkZJ_x8GDYw6Z6LXDkncjCtENfBsoUDdTIiVLDj1sUgXJ4SHhS4m~CEJISzR~6nJ8fFV69tfgxg--.jpg
//media.inmobalia.com/imgV1/B8vEv5Xh_VThvnEqMx4G0ZxU_YC_pCgmETwWNQKyeMqLb9Afo_WSoi~kcK5mwaepLz96AHEmAzWJQblCNhundhnOIYTFLWoaYU1dEZmroa0k~LmFH8WyQ0ZL8Yd8SMjkAh4CLqfU8qw57IAkfXwUTlqczHcFwJZo~g9EQBfiBbynDZrhT1m7_JB4xoFsRuP50dEmIdeekMCBQsdWrijh8I5YQzk_gwZsxc_L4whVV2mfo9ov4j8mrAeLk~tC9cTL01lImAK2bod8k0l~AwDckbbZfwZyMvdXS6niPHkbwOX0Sm5X2yyox2FI_NgiiDPEFbSVZA--.jpg
//media.inmobalia.com/imgV1/B8vEv5Xh_VThvnEqMx4G0ZxU_YC_pCgmETwWNQKyeMqLb9Afo_WSoi~kcK5mwaepLz96AHEmAzWJQblCNhundhnOIYTFLWoaYU1dEZmr_oe_hQEoWqjN7qgN_17HS40vZeEMlmaGCOuYgOWGt1ppw97acWK4FM2ADf0okRvJ~Q9YFgWwl8_rOvbOHi0L9Tfl7mPAwCDjcDIg3~G2e9ZR7LpKEYBPjMdSWT5TXwFz8CTHmyb9CWLfaBlG4LWKtEhUsH3X0Zh4bmzLz4p0TRrf3OIl8P9g22AmHXCG6kars~qWEngUTeja35ohoI6PrtG9AKI4eg--.jpg
//media.inmobalia.com/imgV1/B8vEv5Xh_VThvnEqMx4G0ZxU_YC_pCgmETwWNQKyeMqLb9Afo_WSoi~kcK5mwaepLz96AHEmAzWJQblCNhundhnOIYTFLWoaYU1dEZmroawM2upGFFTgYlzgS~4_dDOtfh45bAX_8m7GJQkgVzRzjR2WAWWlNZQT4QokJ1EpFthuASQh_Uk8dSZndUrgwB56yecZlWVAhK6A23VE1T5T6adBIQltRYY9p7F57Bb5m5uH9zpTnKnaj92K2koMF973lg~sewF4sSNx19aKik6rl0pt964jdqdWt4KI7C2oDGL6QxNNEiGHcJVo7vN5WeQZDZHAfQ--.jpg
//media.inmobalia.com/imgV1/B8vEv5Xh_VThvnEqMx4G0ZxU_YC_pCgmETwWNQKyeMqLb9Afo_WSoi~kcK5mwaepLz96AHEmAzWJQblCNhundhnOIYTFLWoaYU1dEZmr_1dz7PqVF4IpqX0obKAib83o4yGpOzKz1wTIMRS6yo5jbigdGWMEIp39EE~nv9pgO719QN1YxOcTzCxaNaO7dLyxcSbb_bv8LR_3WIUJNsHlohxSbCmU~bbX~tJZwrR7bwjayge_vbwlFi1sYzh25koVOb5DGOZWlHhTaWVfXIbr5p6_~yf9Y7F9EKzca843nNeZkCMjz4sbmEeqRM6psJ3hCJSpyw--.jpg
//media.inmobalia.com/imgV1/B8vEv5Xh_VThvnEqMx4G0ZxU_YC_pCgmETwWNQKyeMqLb9Afo_WSoi~kcK5mwaepLz96AHEmAzWJQblCNhundhnOIYTFLWoaYU1dEZmr_16c2Dslf5j_Mqq6lx7Jf2BHFSDPkcrvtBeaT~BNQmdyVAQfIjbiVou0RNzVrJtTlcivGOFmF05UwSmkRtrf8XZRfYh_ZKaKLtAKotsswz3V_zqK8o_pU1W2ncgVyK2U3D6Lm8qXxHGxBdgzdGmbRG97Xp0ekTs8NFDjAg6v0y5dk~EIjbmG4sad498afvMpE3I52GN9SOpx8uVLjEeqMOW7gF_1YQ--.jpg
Casasola, Estepona
Villa
4.995.000 €

reduced from 5.800.000 €
Modern villa in Casasola, New Golden Mile in Estepona
Modern contemporary style villa situated in the urbanization Casasola in the New Golden Mile of Estepona, just a few minutes from Puerto Banus and close to the beach.
The villa is built on a plot of 2.25 square meters and has 1.204 square meters built with south orientation.
The property, which is built over two floors, basement and solarium, has six en-suite bedrooms, the master bedroom with a large dressing room and private terraces.
The villa has a wonderful island kitchen fully fitted and equipped with top brand appliances, domotic system, underfloor heating, air conditioning, bathrooms equipped with top quality taps and fittings and outside a large salt water swimming pool.
In the basement there is a large garage, spa area, gymnasium and staff quarters.
Casasola is a quiet and very well located urbanization, with schools, restaurants, supermarkets and all kind of services nearby and with very easy access.
REFERENCE

208-01587P

bedrooms

6

bathrooms

6
built

1.204m²

plot

2.025m²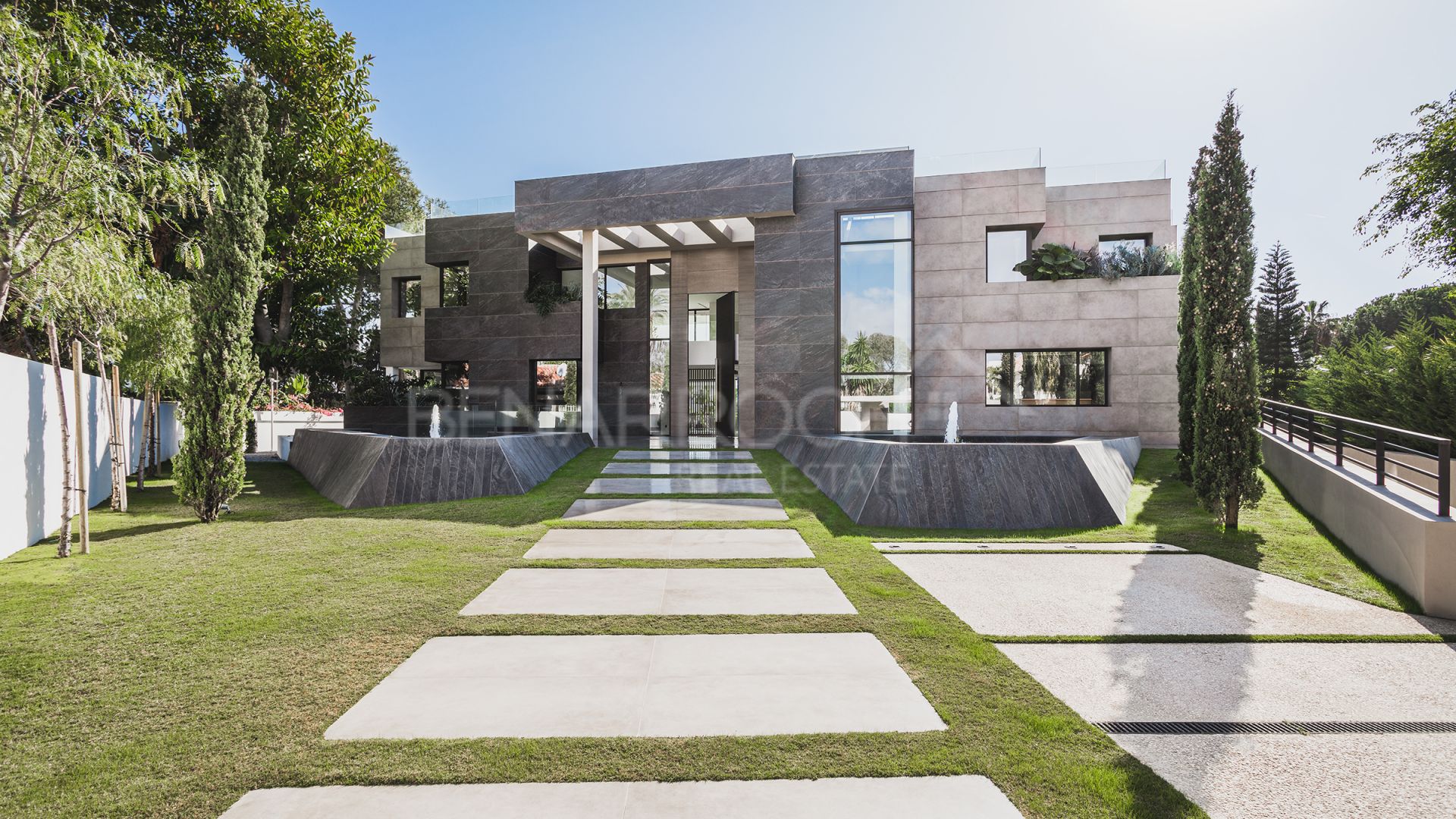 Video of Estepona Area
similar properties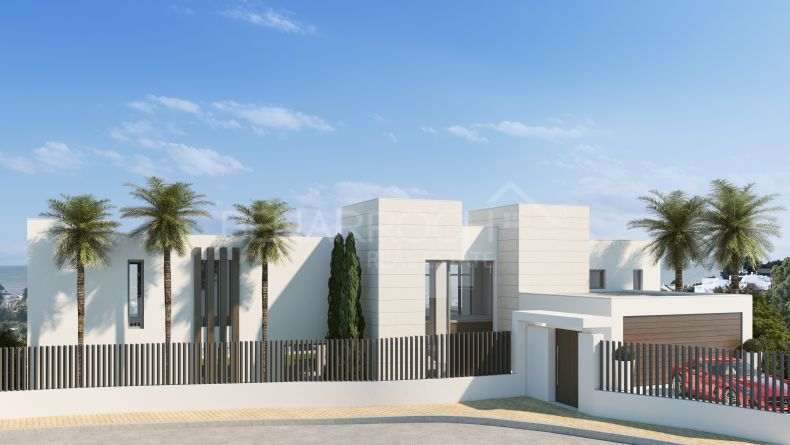 2.950.000 €

reduced from 3.250.000 €
Luxury villa in first line golf with incredible sea views in Nueva Atalaya Golf, its characterized by its private residences of ...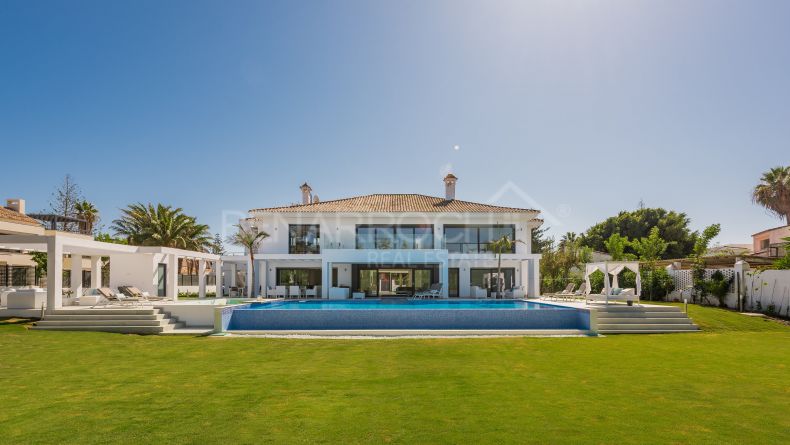 4.450.000 €

reduced from 4.850.000 €
Villa in the urbanization Casasola, Estepona, very close to the beach, golf and only a few minutes from Puerto Banus.This ...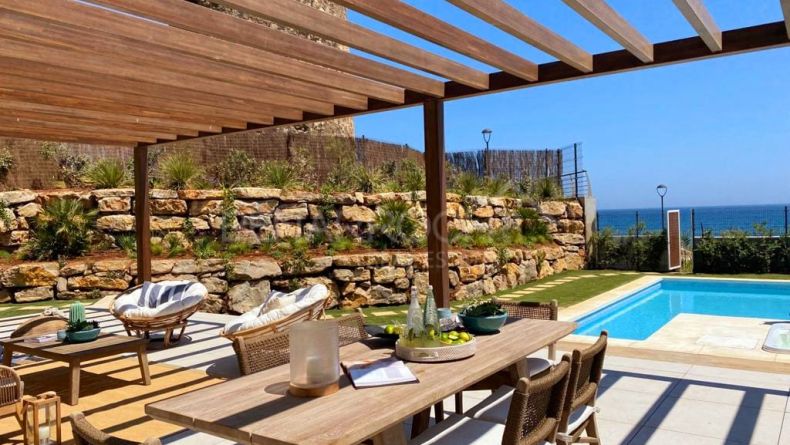 3.960.000 €
This brand new sea front villa is located in the Urbanization Velaya, in the heart of the new Golden Mile of Estepona.It is a ...