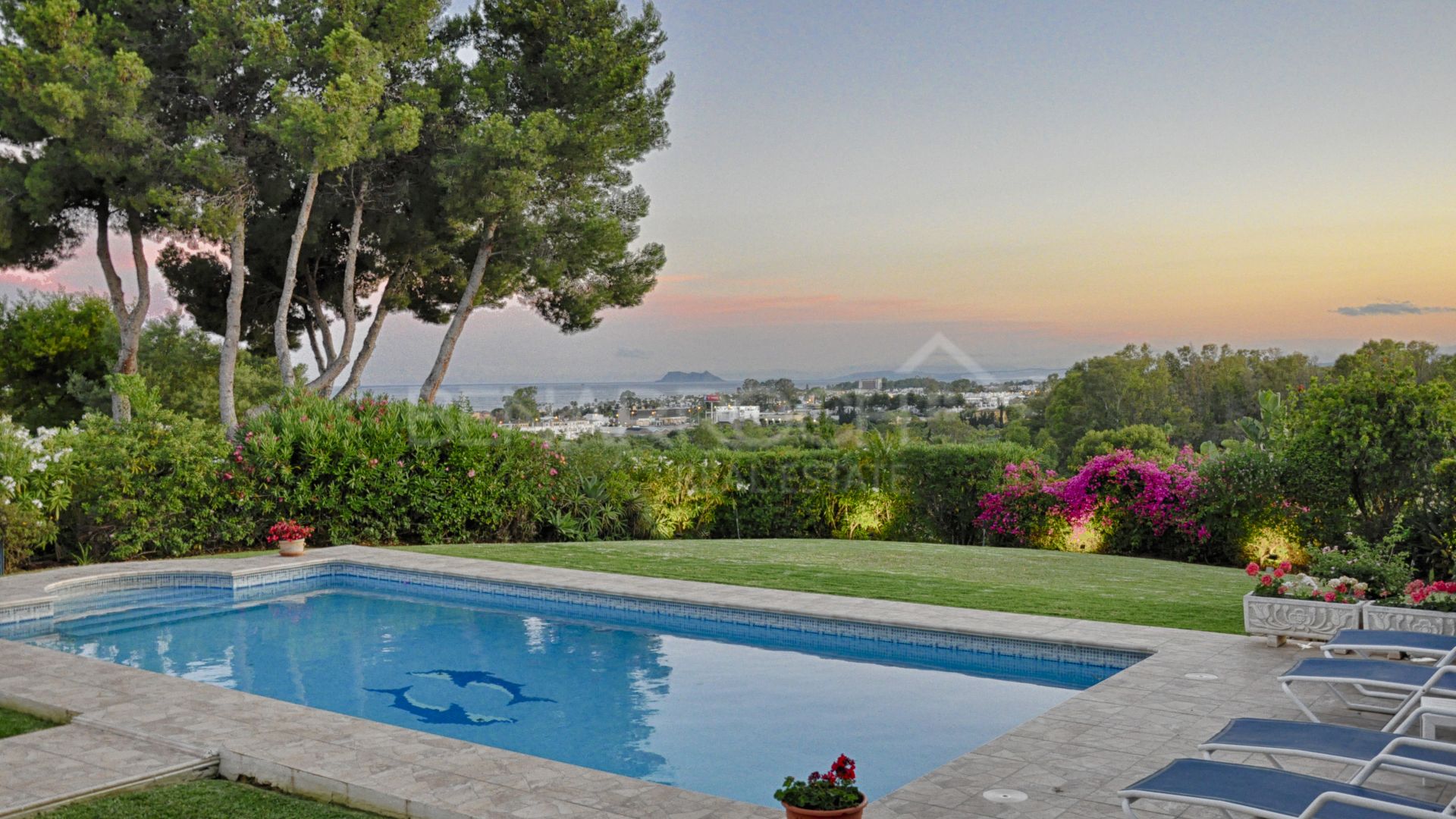 //media.inmobalia.com/imgV1/B8vEv5Xh_VThvnEqMx4G0ZxU_YC_pCgmETwWNQKyeMqLb9Afo_WSoi~kcK5mwaepLz96AHEmAzWJQblCNhundhnOIYTFLWoaYU1U37nHeTE4Mdu3yg2se2CELUU0EEDVgBtg_l1rA6eOv732Mqp5o62pfroXZUMpH5SYHPIEsRuO666ZVsiio490mGFwVcB9L96FE3W4UHdYnOtVfXlnM6gQg_1PifM6DyVETRQuyf9sAnOvcj6RaPQJw0Of0amcPfegntyQPpyPE7sJHj~iNVyfG7Dp1tvNh3BN47aHN71A0XwjtyrOBDTAcZVpQLnUI0BW3w--.jpg
//media.inmobalia.com/imgV1/B8vEv5Xh_VThvnEqMx4G0ZxU_YC_pCgmETwWNQKyeMqLb9Afo_WSoi~kcK5mwaepLz96AHEmAzWJQblCNhundhnOIYTFLWoaYU1U37nHf_tePf92UC_De89qKsZjAXrGBJkzlB1_8wjxCt1J8vcC5wLCBj5DI84UZ1xUFQPt0Vkck0VYxOY9h4Z4zQ52igEPxaI0j4TuE2BR1~ODP3DAMwntcxJ2SXYr0b9mrFDORuVDb3omzzMyvTJgfUc1D5lg62I8DRIcdS1DmO7DvzaOBB61pBjHflZ_ycunCXst7CRbcO4fWvwkPLvQEF5kJCWY5w0_4w--.jpg
//media.inmobalia.com/imgV1/B8vEv5Xh_VThvnEqMx4G0ZxU_YC_pCgmETwWNQKyeMqLb9Afo_WSoi~kcK5mwaepLz96AHEmAzWJQblCNhundhnOIYTFLWoaYU1U37nHLC~h9feFIRMZlxxmKOD3qs5EYigGRdLnsqpMuG0fKcts2ZGgmguuqloGcSmGnE8BnPIPh53PieHDgz3mf6VpD~zhfNysiIp2nEIpQKiAdXNPmih9qP37xIXdR6svH9pCKzd6Tf5J7HIdjSriqcj1pICKnXubPoB_dWZJwA8jWfnN3ehR21OP78GJSs8l0YGJ5clEG5rMrS72q_wwFOGW2w_r4j00Cg--.jpg
//media.inmobalia.com/imgV1/B8vEv5Xh_VThvnEqMx4G0ZxU_YC_pCgmETwWNQKyeMqLb9Afo_WSoi~kcK5mwaepLz96AHEmAzWJQblCNhundhnOIYTFLWoaYU1U37nHf_oZ6UJm4mqA5MDCn1lFyAHKTyLlKoiQfgBAwAum6oxqvC8sho5C~HOpcpvaslezhAVNVIZobvdSuSB1Fsc1eJ2nhaYPV64AT_2wDJ0bL9I1tUAlXHHPRem_CRQBjK_4CeRbK4jglEdAKOSWVyTyQLg8CrKowFTWXw_spIq_m8wzTYM5WucuoZufry6zyrQujNWHI1HBORcwaFrDjqqwUq~wZDGJag--.jpg
//media.inmobalia.com/imgV1/B8vEv5Xh_VThvnEqMx4G0ZxU_YC_pCgmETwWNQKyeMqLb9Afo_WSoi~kcK5mwaepLz96AHEmAzWJQblCNhundhnOIYTFLWoaYU1U37nHfqBahElw~fNS4urjvyXC5Ts2MMO8FjZeOWiewf1evQfKK3LhraC4lR5AjWW24B3oUsVtgQ7~Rx6MvJU_q3OD0HiXDnOw3Sh3FoIYWp4r5NSjJGFlFBup4XfWnUnzagxp2B2uxNj5MkgDc21gRNjLPb1hFSEZbFTTXdOhHOkAkCwU5jlxGuNE9Hvzxq1Aym8cZTD20gjQDucCHvPOuq1Tni4dRmy1bw--.jpg
//media.inmobalia.com/imgV1/B8vEv5Xh_VThvnEqMx4G0ZxU_YC_pCgmETwWNQKyeMqLb9Afo_WSoi~kcK5mwaepLz96AHEmAzWJQblCNhundhnOIYTFLWoaYU1U37nHLsRfzm61f8O6xmaD56LzgZRI4VAR8BGUyquTOYlp0qmMRa7HOdD4FawFiAlt~TXYUyCJf92GuAmDSKgm~bvPfdTLhnSbzZJx6OE5lbi65LaDcWcgYc3ExG1cj0t797VrmWTOxNVBddbJlFJU1mOXoEF8pbow1qgoCNsPdp1FIhSIGf9GDTUEJ7_mxIO7HQ4CEwewWrH3tdW98ePku9qiTIjqbSWX~g--.jpg
//media.inmobalia.com/imgV1/B8vEv5Xh_VThvnEqMx4G0ZxU_YC_pCgmETwWNQKyeMqLb9Afo_WSoi~kcK5mwaepLz96AHEmAzWJQblCNhundhnOIYTFLWoaYU1U37nHe6H0y20T~YjUdED7qsQfOCHTuPPYWbQ_dWCcMbX9dF~g9EPDfHsULpBjsjhxO7f7V4dmqLqcyvfD5czijjz9rIcwli9QezNSTk4B0S4iA6egMDVK4T0M1559Gs6iDno2A49rIT5PsX_M9vFG8WUHHI8fmsI4gkjGwg0tq4Jl1SttErTJKVtCYSm4xXMKhKHghTncxiCjjBiFDDwDGvr318tKKSXx1w--.jpg
//media.inmobalia.com/imgV1/B8vEv5Xh_VThvnEqMx4G0ZxU_YC_pCgmETwWNQKyeMqLb9Afo_WSoi~kcK5mwaepLz96AHEmAzWJQblCNhundhnOIYTFLWoaYU1U37nHLpAqkKyuiuu01HkgMHW4E91G61_8FDKm3sgirkgKo8PROrHWgVEgJZX7QBfXikrW1Z7IjVToSfQwiCbXTgO6FO98_50Wd84LfNIxF89RsqBwu03y0wMWCHIKZeInEdJfVFkoQmVkHbYuTMAhh8IuPHXjW0BnaI6FEMESGwkj~D9GowQ12kKjLRI~HkzkCI_9AQ8un~iCEvF7W9YX~IULySgoITtK_g--.jpg
//media.inmobalia.com/imgV1/B8vEv5Xh_VThvnEqMx4G0ZxU_YC_pCgmETwWNQKyeMqLb9Afo_WSoi~kcK5mwaepLz96AHEmAzWJQblCNhundhnOIYTFLWoaYU1U37nHfqf9rUcQQCVY~2J8NjTLwUugCL8~AhLoLpavJ3nGRugDAPjgEp2junDZd9n1tQdnYRhIqB2zy~KABxeuXlxlGAP3aoNYf2CKAeHdtCA3WIcLcihgkgQVBrUkLFkallFfUlNVIHoh5TL47rGDmnEeujql82cD2z5~g4JTITJ4Q21GeVhqHIjspd5XJt_pvaEEzbHpC7JczDm8CaDGMuvpL5zN~pkZoQ--.jpg
//media.inmobalia.com/imgV1/B8vEv5Xh_VThvnEqMx4G0ZxU_YC_pCgmETwWNQKyeMqLb9Afo_WSoi~kcK5mwaepLz96AHEmAzWJQblCNhundhnOIYTFLWoaYU1U37nHf7KXkn1mSaPGnHwAQzC4ekZ3qKZqBjvMVcgh9244NcjdpLFzPn8N_MlBPHwdg~PZC5wY8BI5ZOuGD0d6BN22fPw0Kqx0ka0UJ~to8P4XdKqZcR4OSrFpRc23yi~TmDsePIjPRc9TFEXUwInEhKfoSmnGJpVlwb9TtB7BuDgSPXyWGn7JM7WsqHvI5vOsaPHSmxfxsLtM3iIvMyDAqiHOUgbG1bSqGQ--.jpg
//media.inmobalia.com/imgV1/B8vEv5Xh_VThvnEqMx4G0ZxU_YC_pCgmETwWNQKyeMqLb9Afo_WSoi~kcK5mwaepLz96AHEmAzWJQblCNhundhnOIYTFLWoaYU1U37nHf_ej8_Vh~NbTtJ6Tmb13DyMHhpJd6zpQ3p7TYqOiaXOzhibOzMDEuGM67shi85_yAddqtEzA8l77eie~RE4YJchj3XRBIK5j6HTXwwYwJ56JCDC6obOTryy1L2qKrJ7JdYpo_uv3tBzvzbreqNEvKUmQBpBT2DpxWCh5m11bMW7WZ_mjhV6cOcEan6uNIz9wtgYt8UqA3bQ2f0oZ3a67GV9QFpyFBg--.jpg
//media.inmobalia.com/imgV1/B8vEv5Xh_VThvnEqMx4G0ZxU_YC_pCgmETwWNQKyeMqLb9Afo_WSoi~kcK5mwaepLz96AHEmAzWJQblCNhundhnOIYTFLWoaYU1U37nHLsNCNyEKmrAErjQIDnTgjZRJaowVXSS9KALYxy0Pyotb8~t_woTKvwt2JLhJLeaWtIjYp_so3xd782yNriNk52sVG8iAKZmiZHHpeefixL8PdFAN2cCoTgIOAniYgceSsVq8kyQvl28govDgFDls6jd8foc683enX4ejZChyFbQI_ULrY3J3ETokQPbIlEzPryUb4~ov2CKzziuLRxtyv8Hi0X8ykA--.jpg
//media.inmobalia.com/imgV1/B8vEv5Xh_VThvnEqMx4G0ZxU_YC_pCgmETwWNQKyeMqLb9Afo_WSoi~kcK5mwaepLz96AHEmAzWJQblCNhundhnOIYTFLWoaYU1U37nHeTNc6tepSTlMN8ZUPAdlTyblzhzMJYHL3vwktU9FXm4T7rBSjmt0P0KeBecZRoqtcE_xGYe5Wy58byqS8fU95qqyTLTeR1~nt871g7LKa8flGlJlzWyw_TkYmO0wTEabA_01oae8mZ5CBNRmNsk_nXp8ga7KTKpn4sWadXrkhxWy_6F2YMx0b879kXP3rOqYq6NfKaMtYEs4yd4r6QabDs_oVOKLtA--.jpg
//media.inmobalia.com/imgV1/B8vEv5Xh_VThvnEqMx4G0ZxU_YC_pCgmETwWNQKyeMqLb9Afo_WSoi~kcK5mwaepLz96AHEmAzWJQblCNhundhnOIYTFLWoaYU1U37nHLpJeQcEVzr8e3oTO6c4FEBCJthLX3d3LzW4wvA1Q17l1D~mm2XOU3U~1kYd3r_d~lhmTZCKyMVJACPjRJ9ED046K2FkObq4EPDPHWq4BhCuUbXAUpJStYtL4Uf6iHB5rb8~2Voqnv5ouEhZ1NQEiWqQ9NoviC~npk9bffd9oHDGyumRYpAh_K7FDTu8J0HcVSw1i90c2Xpf5mGxg~fmMLsBvOtSYzQ--.jpg
//media.inmobalia.com/imgV1/B8vEv5Xh_VThvnEqMx4G0ZxU_YC_pCgmETwWNQKyeMqLb9Afo_WSoi~kcK5mwaepLz96AHEmAzWJQblCNhundhnOIYTFLWoaYU1U37nHKJxVhTBaH5hgFKYUu2JbqW3ypt9X7DzVIgBCqUiTm69KRyKk~ffTWuqIuREe4T~egaO6TqOjJiz6K0wQPScRAtvN4zw4LJymW~r8jAO3E28j9EmB38ATawHbge4FhM4Z6~YuFMsU3mkURG7~MuDdgEHWyVAy7xC7Lso2MvkR3Y5e1nwhZLRIMAuGZzk4qAM~Ahj5ZDapAPum1sZmL4Gz6VMsi3sbeA--.jpg
//media.inmobalia.com/imgV1/B8vEv5Xh_VThvnEqMx4G0ZxU_YC_pCgmETwWNQKyeMqLb9Afo_WSoi~kcK5mwaepLz96AHEmAzWJQblCNhundhnOIYTFLWoaYU1U37nHfO_J5NbwSQZsnveu06WSyDjemA6ny8zOMVR_1t7ejOJ_w2UTvR1CoGDuYwHcTWYvqJECFEP4R82dfmA0tVgYrAH4j9fuT1rSik1QAwr4pmenh15SzaBpFTRJqNaBBtoLy8n7KaQuC~VfC4hQEexBX7jG40sMXi7nrl40CAgxmuya2GfvzDEgEMannYktdurUaAwYGM5cirtkf6JEoO9EEI8P2tgz8A--.jpg
//media.inmobalia.com/imgV1/B8vEv5Xh_VThvnEqMx4G0ZxU_YC_pCgmETwWNQKyeMqLb9Afo_WSoi~kcK5mwaepLz96AHEmAzWJQblCNhundhnOIYTFLWoaYU1U37nHKZeaaLFALuetKrzwMNvBESPwgX8mO5d1BCAtTIurj78pHwJ9Dbb9INqL8F3fF9Q3SH0Q4ufV7zvt4RaI1PjavE0E5vgAczkY4yxKiHwWrkLFxWpbCvS7hqe_YZnhF22p1Ki~HUNsXNnOwK07tSQccRwuVBPD~10NoiYMpHiNzB7MRPxRJZ4oK_Qg3Xx9yY72evT7pjECmZkZlu90r40VdU3_AJVMVQ--.jpg
//media.inmobalia.com/imgV1/B8vEv5Xh_VThvnEqMx4G0ZxU_YC_pCgmETwWNQKyeMqLb9Afo_WSoi~kcK5mwaepLz96AHEmAzWJQblCNhundhnOIYTFLWoaYU1U37nHfR3T36Se~AxnkP9QZ7g6psK7by9LQ87r6rrKoy5YPdkH6kJ_FbKqLlClmYOabqBxbkU26KcmQlfns6ydleaaIQasqvUjsQnYd6r68y5rdWV7gzTGYdUOczdI4qQmOeVIf9ZHdW9VXaOo05j6CeiijoEqTe3WalmgDk7Meyh59484VcBA7QKcjFBrYfodJ8wr97_4T8rLITxGB9YrjKeEdHw9sgsASA--.jpg
//media.inmobalia.com/imgV1/B8vEv5Xh_VThvnEqMx4G0ZxU_YC_pCgmETwWNQKyeMqLb9Afo_WSoi~kcK5mwaepLz96AHEmAzWJQblCNhundhnOIYTFLWoaYU1U37nHe6DA7wg4ztmIjtgsVdwTraNP3a1sDDxctVNAbb682ZE4R2UEmwbtnLZtSZ27IVz1gEMecHdqCJv76Qasicx8a59EHjM4YF0qzT_JtSTznxNQJjbo_40Xc33PaF6n5pxeg1BwlHE4Q7z9gAwhRaVBlERQkspAaP3yF2O8TSY7B7vNKiZQL88vb5tsbnukA714yZwGiimarA00neLBy8vv9NF2rbwO~w--.jpg
//media.inmobalia.com/imgV1/B8vEv5Xh_VThvnEqMx4G0ZxU_YC_pCgmETwWNQKyeMqLb9Afo_WSoi~kcK5mwaepLz96AHEmAzWJQblCNhundhnOIYTFLWoaYU1U37nHf7ForKJTtdFN9yHEZZ0822o9f2jdmu6iH_11OMQv0xPwJ06pdw5yl~B~5wVKPBCJbkc6_cThY6Tx0Hmf73x_SP~wlTx3fygHmakPeIzxeWa7ctWtJ7PZ4NrmAHmuAT8XsteNfRMJIKMu98HBJ6V8BY6ecPRzeXELf~OEQtJ~zpSWBQRA86bCJmhEa0RG5~SYxyW2aA~IhhaZk~DAAHx540f4uVciiQ--.jpg
//media.inmobalia.com/imgV1/B8vEv5Xh_VThvnEqMx4G0ZxU_YC_pCgmETwWNQKyeMqLb9Afo_WSoi~kcK5mwaepLz96AHEmAzWJQblCNhundhnOIYTFLWoaYU1U37nHKMYnv8~t52ljTjqO4QBBhM1Ho2RMcI0PYeVPU4XobmrZzqgd3DhomK06Z8IlJ4yXeXQUdMKHb9SjJPGnDxky5g6AetAzlQaMSE0dh2OI7P9C78Wvnd9rwFDjmtCQ7lt9MZdEMPBWKf04ZnBBbXGXhK9IrmVGprWMHo6kI25WHAVPCT7eQMnWYMkkXfyz6mmWnL6hk1Hy~oy4qRvHfolAnApv~CRe5w--.jpg
//media.inmobalia.com/imgV1/B8vEv5Xh_VThvnEqMx4G0ZxU_YC_pCgmETwWNQKyeMqLb9Afo_WSoi~kcK5mwaepLz96AHEmAzWJQblCNhundhnOIYTFLWoaYU1U37nHKJYriWT93Co9zC9jIyaOe9T4tNlHbWfm4YdUFnGRA_NQ2KmtgT4qR8ybzofTJMk~TTBry5KKT5J1PqnV7khepfyQwYH_815tW4tKY2e2Av4AyTWtR0ALT_ueT8I12lgzGWzPiL~xdhFHc5A4j0mNCwN69E~fkIqsV5KbUqvpR7ctLSL_WOSjH~T8QJjmld9mzwRsZrJvdOn2tzhZRjs8IFnZc4q2MQ--.jpg
//media.inmobalia.com/imgV1/B8vEv5Xh_VThvnEqMx4G0ZxU_YC_pCgmETwWNQKyeMqLb9Afo_WSoi~kcK5mwaepLz96AHEmAzWJQblCNhundhnOIYTFLWoaYU1U37nHfvU8zA8uxFr6IGWpZeEKz9OMiOjz46XKXh8dMs8TdXuHVRpnr77mpqefsgs5kYWwa6AREHBp04y9u6LWS7Fbw4v1dfMTgzLXfzV98tQOeJyH_IxLwx8KRZkJuyfw0B1y1Dsjhzwx3h8O2yO0uv7AWy_OwKmcjgtNh1gl826eJkzHSDlLZIJWyOthjopCbGze2uJhOU5mVmcGcw5KWtP8bZGWxXtByw--.jpg
//media.inmobalia.com/imgV1/B8vEv5Xh_VThvnEqMx4G0ZxU_YC_pCgmETwWNQKyeMqLb9Afo_WSoi~kcK5mwaepLz96AHEmAzWJQblCNhundhnOIYTFLWoaYU1U37nHfO2F8lp8dqVtb01SsFvU0cTmH0EYhhqs4oaqIJYecKKjDmrX1x8Uzbw15HScQXZ2fImM5iZ9QJf7jjgd7fJcKDP6YWYmGhr0rIimdXUhsbf8dN7Kt8PPGjhsB_R3YZU0DQ_wTj0KHeNiZmypFH4ZjdysZ6j2kwfdb67ANAOCqh6GRPnrdLRD~F~1auprLUJ1FxQCn4dvN2f_d4k~egZtdW~05mS5WA--.jpg
//media.inmobalia.com/imgV1/B8vEv5Xh_VThvnEqMx4G0ZxU_YC_pCgmETwWNQKyeMqLb9Afo_WSoi~kcK5mwaepLz96AHEmAzWJQblCNhundhnOIYTFLWoaYU1U37nHfU7bTSz7iWGQP17GUR5rW9M0ao_30OP_rHv24EaDsZDiT7WBHhfxNEc0DSg5BSZ4Wc0PHkNHlL5XpMCaR5O06_e_Okwx0~C6UqJh~1AOelHn8YYFfcOTJl2gKuMHy~ESZHyDdLUTHgjHqccrmfSRXU2X~FaolbW4zNJdBbJ_ZDfsu302wpkjmOr~e6uEh50~M7iaUeMyvK2ptcDIQ13VjLIDx_lyTw--.jpg
//media.inmobalia.com/imgV1/B8vEv5Xh_VThvnEqMx4G0ZxU_YC_pCgmETwWNQKyeMqLb9Afo_WSoi~kcK5mwaepLz96AHEmAzWJQblCNhundhnOIYTFLWoaYU1U37nHKZebYinLhdaWAslItoi0apcowOcqFE3Z4OVDNQlev6A2uo05TGQzVhtx5SNzYBeXo2PxfYu1Qtmwv~xv9cfn_JZSyl~A8VYLofvW4QDoTBl3rYqZA1r5zur~_MJMfvs93k6CzHzH37SazygPZ9RFimA0aTjq2DqPykM7TgjBjQXsXmgG54mTAhyIIOzo3rhHUM1ALZgz0gbXu03PaZZkFiAae7Q5fg--.jpg
//media.inmobalia.com/imgV1/B8vEv5Xh_VThvnEqMx4G0ZxU_YC_pCgmETwWNQKyeMqLb9Afo_WSoi~kcK5mwaepLz96AHEmAzWJQblCNhundhnOIYTFLWoaYU1U37nHdRrJxyiVaEhGhoKdwFNPE_cCLwQFwUybbS~VabW8TA2GkHvcufdT8jdEkzKt1_RsXQ~A8Y~EiKtE9IioJrZyO_9lpedFbQB0NTNNp68s4_Nqbunsvbx6FRlyOObdJRpgxe5HbugaAWnNTCwC_98v6cSOIPJl_5TcedUMzw0MmHMwukd~IOTQ0iB1JaGpDA_AKHA76CVpECKkOmdBtrEIqz1v_IPjeg--.jpg
//media.inmobalia.com/imgV1/B8vEv5Xh_VThvnEqMx4G0ZxU_YC_pCgmETwWNQKyeMqLb9Afo_WSoi~kcK5mwaepLz96AHEmAzWJQblCNhundhnOIYTFLWoaYU1U37nHLsFM~wpYTQHVsVmVcSuxWgmFx7RHtfEd2UgBgNv5VUc~QDuv7pmkZXScep4NPQdpMhR_gnKFsgAluPUNvNpZTj~bzzFLL1yx9tsXiCZW~ZLRP8COI4XNKAUkstvm~Cjl6fIEBtyctX7YwuWQy5MtTv_duNF1bZDzTY7ftghjgCYD~5i9DqYdqz6RBMNraVp0e6WjXS1sa66Aaf6X1WUAwY57Lo0jkg--.jpg
//media.inmobalia.com/imgV1/B8vEv5Xh_VThvnEqMx4G0ZxU_YC_pCgmETwWNQKyeMqLb9Afo_WSoi~kcK5mwaepLz96AHEmAzWJQblCNhundhnOIYTFLWoaYU1U37nHL5syTXALbEvctZ9tryfHBXXbkdoMMuUBaCbWG4UgG436BYW6JS4_T9qAr3fWQoaXolG7m_7MgfE2aw0c7uJ~8lVCawdEWI4ZjMs5BXayOD6hgoNyQ23X9yKjuj~qLElbwO41xcFspOjWSAE3FP~dkZzP0vuUS4ORYUXPXdLa6vyDm3Gp9dOlWV6mSukaRLHQQrAjbXtFPzR5CZCBr02IEXHhEaphjg--.jpg
El Paraiso, Estepona
Villa
SOLD
Villa with stunning views in El Paraiso Medio, Estepona
Beautiful villa with spectacular views of the sea and Gibraltar in El Paraiso Medio, Estepona.
The property is built on one level. Through a beautiful entrance we access the house where we find a beautiful central covered patio with natural light ideal to enjoy at any time of day. In addition, there is a guest toilet, a bedroom en-suite, two large bedrooms sharing a bathroom, master suite with shower and bath; large kitchen with a central island and dining area from which we have access to the terrace with two areas: breakfast and dining room.
The house also has a wonderful living room with a fireplace, from which we have access to a wonderful terrace, the garden and the swimming pool, where we enjoy amazing views of the mountains, the sea and Gibraltar.
Closed garage for one car and outside parking for another vehicle.
The property is located in one of the best streets of Paraiso Medio. A few minutes walk from the shopping centres El Pilar, Mustang and Benavista.
Property on one floor, private and with spectacular panoramic views. Without a doubt, an excellent family home.
REFERENCE

208-01518P

bedrooms

4

bathrooms

3
built

320m²

plot

1.325m²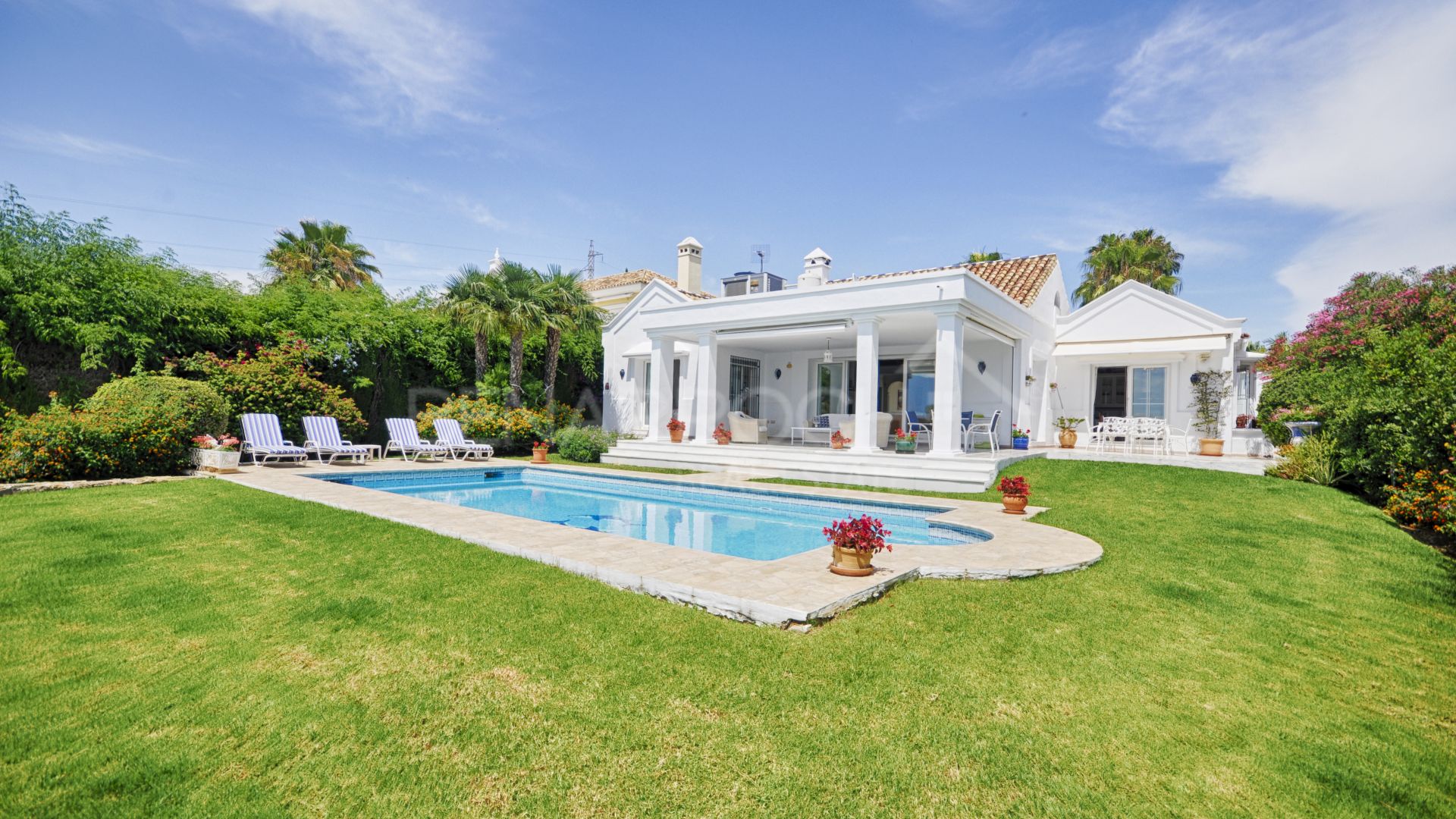 Video villa
Video of Estepona Area
similar properties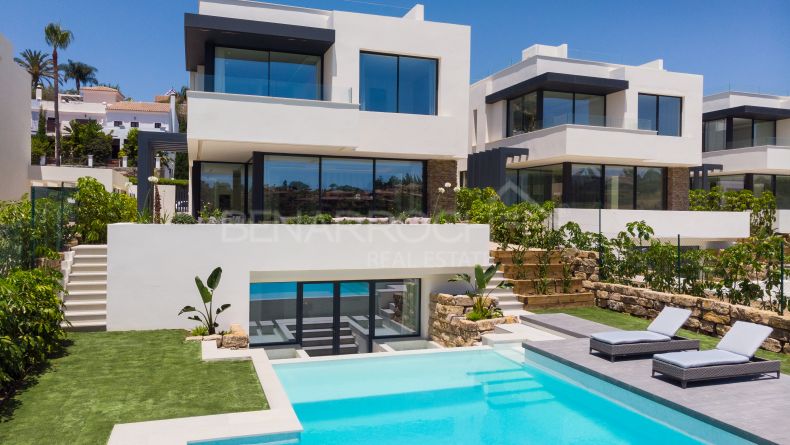 1.325.000 €
Villa belonging to the development Belfry located in El Campanario Golf. The urbanization is located a short distance from ...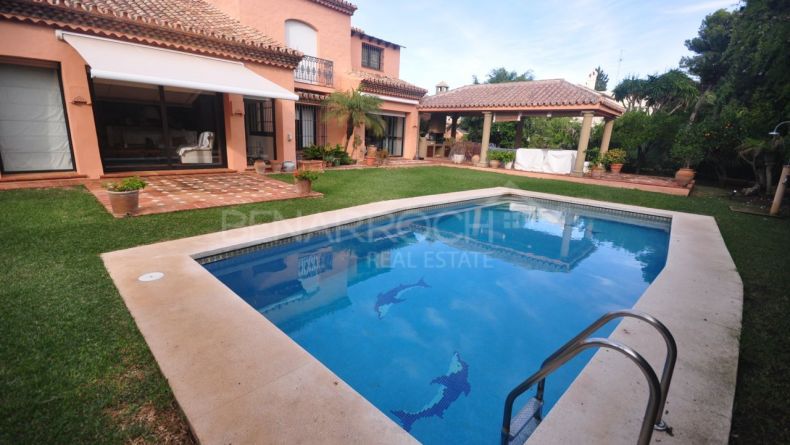 1.150.000 €

reduced from 1.450.000 €
Magnificent contemporary villa in the well established El Paraiso Barronal urbanization, located in the second line of the sea, ...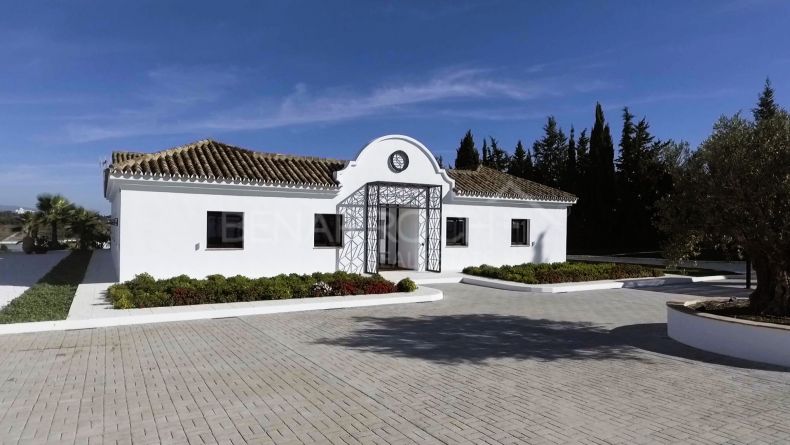 2.300.000 €
Recently fully renovated Andalusian style cortijo situated north of Cancelada, on the New Golden Mile in Estepona, a growing area ...