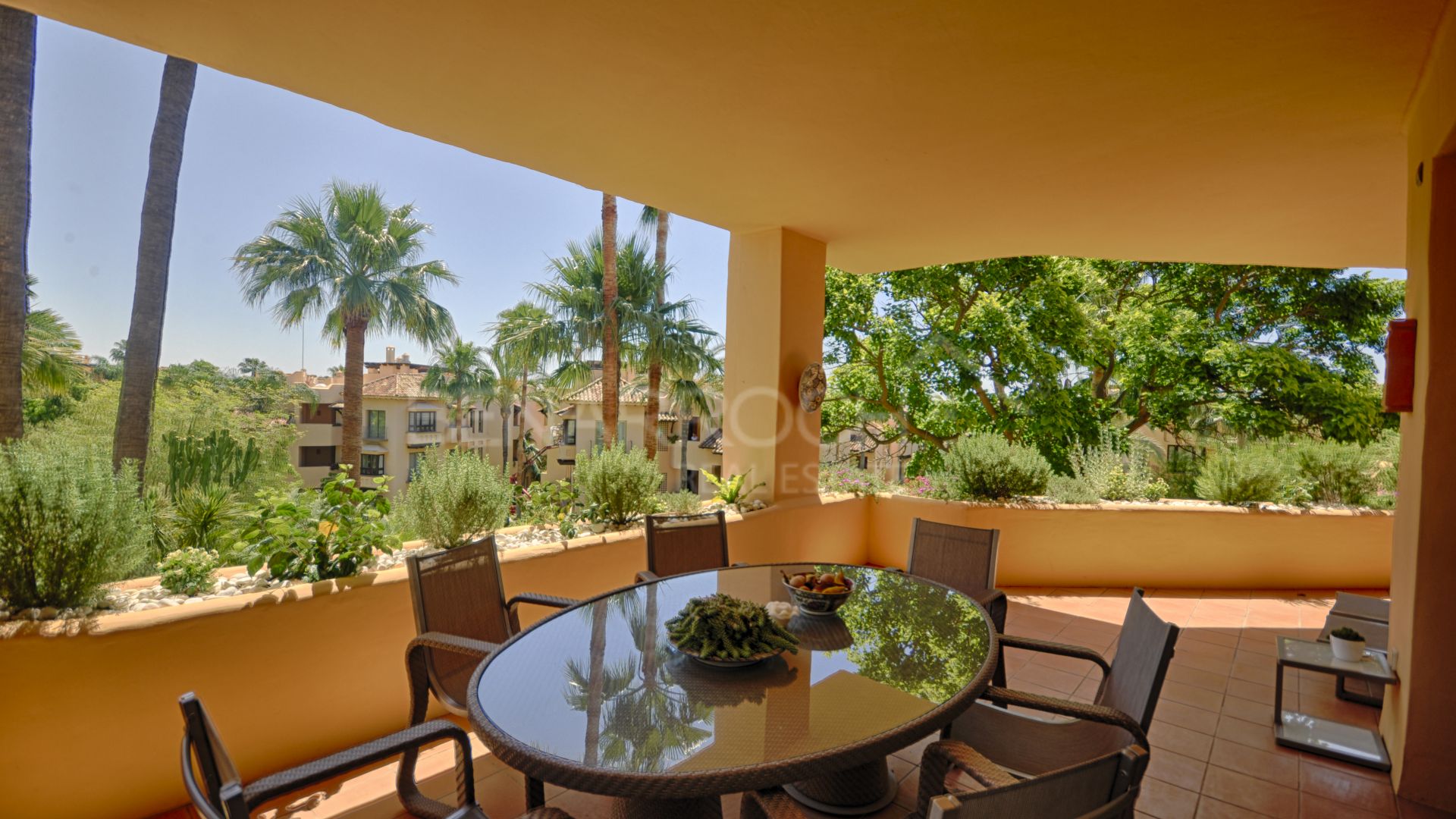 //media.inmobalia.com/imgV1/B8vEv5Xh_VThvnEqMx4G0ZxU_YC_pCgmETwWNQKyeMqLb9Afo_WSoi~kcK5mwaepLz96AHEmAzWJQblCNhundhnOIYTFLWoaYU1VgYJ94EWyFc9l_ujokKLscTjfm1VpmtFOPDULP0GQAHrrCmzLFZvhyfnd4x_4sKl58_dupvwxA73S0h07NcvnJ2Q_FGVpZRl1hYleGa1jJR6chWfyG2a7iI80~8AOzh7TL8NS4DVGYNZ~hnoO05zizFbTifPr7DM_FgEGlPPwF~MHTYwK3RarT7BUWlaf3mk9iqQ7N0EHmqAlSpmFcVYhQ4OcgWsTy5gRKQ--.jpg
//media.inmobalia.com/imgV1/B8vEv5Xh_VThvnEqMx4G0ZxU_YC_pCgmETwWNQKyeMqLb9Afo_WSoi~kcK5mwaepLz96AHEmAzWJQblCNhundhnOIYTFLWoaYU1VgYJ95dO6znVO14tCYSM6ABJmTeJF9zhQwUBHIQnA61Qy6r81uzr5DK4sFWG9vMdfnnRJRL4cFqrCUH3Z3ITh16lhAfUcTlbAiJA0KN_wQThYVkvz4gCpVxke_1MgpFiIhj4f1NEOHBSE7xCjpWabKogzjKqql49dMbV81Le6aAiffat5NJ522YDv2WftgAU7FstwQm2OMj4KnJ816xdE_RdpoEHkp3EFGw--.jpg
//media.inmobalia.com/imgV1/B8vEv5Xh_VThvnEqMx4G0ZxU_YC_pCgmETwWNQKyeMqLb9Afo_WSoi~kcK5mwaepLz96AHEmAzWJQblCNhundhnOIYTFLWoaYU1VgYJ9tvPDpZUIKzHpb__5NLPXqCNuszxCA3pXLIuhHIMwr~3qTatfzcVqoQleoKOvE7iSzSBLNf2nt5rBctjK7vnWowaTTd_1Je7hGwxrlo22ytJTkG9_fuBJ1kDt9LMwryjO6HwDnj5kE~xVkDAQsumV2rqUHoh8aDaw~5~XobdwIhfkRSz~OLL3mkLvw1r9osEEawLrVVGvRXYLJ7ybKIHHNVAugstRVw--.jpg
//media.inmobalia.com/imgV1/B8vEv5Xh_VThvnEqMx4G0ZxU_YC_pCgmETwWNQKyeMqLb9Afo_WSoi~kcK5mwaepLz96AHEmAzWJQblCNhundhnOIYTFLWoaYU1VgYJ94jboZiZ2JAIE_aRrhK0AwaCDJlfVSaetpzJnaKRjZ_EL~qLNGnEFCmScpDY04RRe9nf36~V2ZZWT_RLD_UD_E5F5czE~Um_T2HE9~L_ZlrHu7zEIXhslC5jugqxWaYDFxzWuANm8rtYD4ZyqXB_tb2FYclCxiCQAd9qWV9wjISQ0oTBAv7G1NpG9tDZjJzPPJg6zI6Xi07QcFKA7AdwEFiA~dkypxA--.jpg
//media.inmobalia.com/imgV1/B8vEv5Xh_VThvnEqMx4G0ZxU_YC_pCgmETwWNQKyeMqLb9Afo_WSoi~kcK5mwaepLz96AHEmAzWJQblCNhundhnOIYTFLWoaYU1VgYJ9tqC7BnFTmvWDslersSuV7kaP20XE7LxuDOd~dQtc37rSNdJvlvVtclTWY1V5dW9w44yySEVjtbz9hssSoGqbWMHrOWip6y9tSbz4rHaS34k_1Bcy9HNchNpBLkT3Uh_fWO_YYH0uGv~qrYOk0l4sugMwfPicKGtDS1Vmni_26UtCOew8Iudw3_For8IH9atFAc5ORcOcek4M88n9aPfO1BYPI4EXtA--.jpg
//media.inmobalia.com/imgV1/B8vEv5Xh_VThvnEqMx4G0ZxU_YC_pCgmETwWNQKyeMqLb9Afo_WSoi~kcK5mwaepLz96AHEmAzWJQblCNhundhnOIYTFLWoaYU1VgYJ95xXLGMRwwnENaUEw~HVmJ20Pdrr4~DacUjDKEwgMX4SNlKRkXXFpdqt6Ue67KMST6hNfhJwnxOXInouetzT50ikvO470qoCsnT_cuRzu2r3urD0~POccLF7COgD8LiN_fhredjJuzz4APVN5F3ywcU13RRZ6ViW8cYfzrpiaIZqmR4LTIdBnjuxefC_utt7W8DTnWRs7QnLtVvRdC9W51cuKje3fHw--.jpg
//media.inmobalia.com/imgV1/B8vEv5Xh_VThvnEqMx4G0ZxU_YC_pCgmETwWNQKyeMqLb9Afo_WSoi~kcK5mwaepLz96AHEmAzWJQblCNhundhnOIYTFLWoaYU1VgYJ94jRh4SNAMrYf~dKmB2ZF01jJmQ4e4F9bmlO3G4PuKrS3SrU0HU7rJoWRlR1lcCiUco2Rz2dgaA3slP5x~MZlaO4K_wnlVQtdOvRBsFhTH7Wl8Kaq2U4LJTM4rldJaBbsYTrM2q0GBhuI~7rGNqfdUtxfUtzZ4wIQtv3zEiGMjCLOKRTKnwwuKffhdpAE9xAYgMc2_5ZUS0hYhldXnvCZTEdEshepYQ--.jpg
//media.inmobalia.com/imgV1/B8vEv5Xh_VThvnEqMx4G0ZxU_YC_pCgmETwWNQKyeMqLb9Afo_WSoi~kcK5mwaepLz96AHEmAzWJQblCNhundhnOIYTFLWoaYU1VgYJ9tacy_mwQe~XP5yZ3it~sX_MGXxTOYxo6~TKextRsQ8~dU97Td3WnZQ8X~00UcjqETr_GTwH4_7kPuQ_tT~n7qGKiUe6IdmwonVIgxS8Y~TvGmtT4xhVPH0pZsqpaBFbEGFicMIGRTWcPtiireWu2MqJDBUXeXnGEducEpXWpvrEOZgNGk5_XjJtSXiZeTYEKOQSiaOouIR0fcF3ZenBRYWowl3XP0g--.jpg
//media.inmobalia.com/imgV1/B8vEv5Xh_VThvnEqMx4G0ZxU_YC_pCgmETwWNQKyeMqLb9Afo_WSoi~kcK5mwaepLz96AHEmAzWJQblCNhundhnOIYTFLWoaYU1VgYJ9sYYTp4vyYVRCcGmAXir37oLCm56QCIHrcymVbzYTThir85bDF9kdaLuFhKSmp5UaP314~2xxl4NUL9xA0QEiFJcnaf0N4UXw7fL6Nen80byHJL4T1Ngu~OJcLUKqrP6uJCL6iXBs_cSDlVorMkThJqhAes0SFCICxmaRBqiPP2EZoG5N~gaQwPODVVhvr82I0GqEL92kYRbsyvbfY21yYMPGzcNp2Q--.jpg
//media.inmobalia.com/imgV1/B8vEv5Xh_VThvnEqMx4G0ZxU_YC_pCgmETwWNQKyeMqLb9Afo_WSoi~kcK5mwaepLz96AHEmAzWJQblCNhundhnOIYTFLWoaYU1VgYJ95ddj8lqekdIcasjjJtbNCuwCK9VvP9I62UzzNvxycITKGbs9xtm49GiFkLqZh6IIU_6Nuf9lxq7dgaezsZelmCmoqUuYpbc4bij7JnSu1OvMRqe4_2YmDi84tG4ZsiVG4xOwcZaGpVQI_PcOn857EZO3CZqDXKFXpGWwRojjHdq1iyx5oPRZZBXBtUkxPl0AJpyL1nC7KRhxCtuRee7lhM~HAc746A--.jpg
//media.inmobalia.com/imgV1/B8vEv5Xh_VThvnEqMx4G0ZxU_YC_pCgmETwWNQKyeMqLb9Afo_WSoi~kcK5mwaepLz96AHEmAzWJQblCNhundhnOIYTFLWoaYU1VgYJ95dhTKlQKXWlnY9Udmtxj93o_G0inOnhxXmE7dIBukbaT6ZIsZ4LjkCdfdDF8P1gbM3zfmLxwmJJepongi~m1Q_KoEZ53fiyCvFyK8dlY~QcHAQW4JMGvR0JeK0DHJwmWmeJzWx6ODsMiVqOE~BI1a1Afs6KoPDfLpkSdvdj~1o9gXpNCmPjyX_ATUUl2vzxef3AryrwCSL6mLDqDv0Xys2YN12LtYw--.jpg
//media.inmobalia.com/imgV1/B8vEv5Xh_VThvnEqMx4G0ZxU_YC_pCgmETwWNQKyeMqLb9Afo_WSoi~kcK5mwaepLz96AHEmAzWJQblCNhundhnOIYTFLWoaYU1VgYJ9sxYB5jKXt54ZRRkDCyzKHpUwMZCmGBucAi_2qZiTsW8kt5XAyC8S0HxFJIs771CQsSVbQ86KxLwn~B6TfrtxQGNLVfMlb05bQYuDH~Y7JG4GxJQ8yZ_uVWSZ8PCgRBEpoJHalwmxxNvCftxo~Z4HNErZmIudlwMO_Y2MGdE9EmeFbDXzJepwEp1YaasMr77Y71L4kth~4NPehP0onMXbMmXiAQzKTQ--.jpg
//media.inmobalia.com/imgV1/B8vEv5Xh_VThvnEqMx4G0ZxU_YC_pCgmETwWNQKyeMqLb9Afo_WSoi~kcK5mwaepLz96AHEmAzWJQblCNhundhnOIYTFLWoaYU1VgYJ9spDFjs4ei36EPCR8NFFc3w9AAWePXg_JAiyWApeZn73PwhLaxDRezQ5xdLYGuWIXCYJJl6jvnjwS1Gq9EFMU~i~tss2~P24rKCBkN8F3ZVJLT3qgw76bO1xu_WG7EISkUaiaaxbqMqh1iunD9s85FygZoh~p4gYWmrVuKsxXV3rQf9aExcG9sqzhmz2GTl63fB~SVDRBYbyqoaYTROWN2kr7Dysoew--.jpg
//media.inmobalia.com/imgV1/B8vEv5Xh_VThvnEqMx4G0ZxU_YC_pCgmETwWNQKyeMqLb9Afo_WSoi~kcK5mwaepLz96AHEmAzWJQblCNhundhnOIYTFLWoaYU1VgYJ9tqS1sOb57_9FkvDTNLQ0lxHT_16jSYlpeRQ2R3eVqciU0_b2ciPU0Uk7yORFo3_GoUaBIgqPgbGrlBsYfwcymNaxajpRd4FqY4unVwv0dy~3GqLrWBdUvatq0rl0AAzFCDC7wAlWQZXKXYUsKeUIlkWSlxCsIlR_yAQrrmVNkGMWahryL5HeAD2OGCNu_D7m_GFSWuSrvvmW27MWEZ96XDnZLQzzVQ--.jpg
//media.inmobalia.com/imgV1/B8vEv5Xh_VThvnEqMx4G0ZxU_YC_pCgmETwWNQKyeMqLb9Afo_WSoi~kcK5mwaepLz96AHEmAzWJQblCNhundhnOIYTFLWoaYU1VgYJ971wNZ0u8AEY2rdcJwjB5CjNbyxzidQoY9MQFzwgp_P_xtOPPzy6T56fMjAjwn1N0uuzkQZyg8mtXC6AAKf1QUCTFxF5Q1s~OvttVp8g4s_Nd0RWu~EMttmmhtZu1Asrta_oMH7mkfd4N2oIY5t9Ye2GFQHwCkH~uT0HpLDH6ZV5J4iEPBGzsroJx3GKljRejFBuePXxQRArstczmswIycBXUAZKa~w--.jpg
//media.inmobalia.com/imgV1/B8vEv5Xh_VThvnEqMx4G0ZxU_YC_pCgmETwWNQKyeMqLb9Afo_WSoi~kcK5mwaepLz96AHEmAzWJQblCNhundhnOIYTFLWoaYU1VgYJ9tfKkfDBvKieIZnYSstB1SXL3IDZ6KiJZAnFNoqW_zDVU7VWkYI1GSAs5XupiifqT9y8yJQibf1egY3JlI7J97fNGXduqc8WuC4AiHz_76YeQIkOKalkzF1SIyK6INOCNAPJBdD5skMwAHrTgld78lPz3S8w6ivKS_BuY38hiBtGcaizJMjXqesDGmx06DO6G2z5Mp8u7li3BMERMmjXBVxgDlcUEgQ--.jpg
//media.inmobalia.com/imgV1/B8vEv5Xh_VThvnEqMx4G0ZxU_YC_pCgmETwWNQKyeMqLb9Afo_WSoi~kcK5mwaepLz96AHEmAzWJQblCNhundhnOIYTFLWoaYU1VgYJ94jXp4Xg1zXtGDoPPh1_1LZbl5NjmiR7M0IpZSEG14slhriMuh1JisVYMrMjyOMTOoO8qbv1o3SAzr6d5NZdGdNtFWTFFXL_GCF6o3Yvh__nzmGvc94Hibpg43q0Z~9BPCN3tcbqntQN7JSAs_gI_D1QMvZNnetLo6OfbcMhFFKLZPhq3OgrIh2~rtlAH3vkqnkScrXlewx4V53OhoQDOGycPjDi5Ag--.jpg
//media.inmobalia.com/imgV1/B8vEv5Xh_VThvnEqMx4G0ZxU_YC_pCgmETwWNQKyeMqLb9Afo_WSoi~kcK5mwaepLz96AHEmAzWJQblCNhundhnOIYTFLWoaYU1VgYJ9spdq~Xqy0DtNRIKos8JKg7sNg7NegWK_m~4Ycy61gBE36jPpsQgLsLGsSv0qI5708tAYPvLUSERW7_zcaiFsvxKx1jUQgHWpCSgyvu2P6Eq9heAchHotknUINZqpn43TjGLdJAlcRgtfwd0GGe2gWUXXptObX9eKTwOmCezgINeBo4Xmlk1XFv~YOSl0XVN6a7e9Ho4jUd7ZVeTZlJLNbSAW_8Oqvg--.jpg
Mansion Club, Marbella Golden Mile
Apartment
750.000 €
Fantastic apartment in Mansion Club, Golden Mile, Marbella
Immaculate apartment located in Mansion Club, in the Golden Mile of Marbella.
The property is located in one of the most exclusive apartment complexes on the Golden Mile. Through a beautiful entrance hall we access the property where we find a kitchen with separate utility room, a bedroom with separate bathroom, large master bedroom en-suite with dressing room and a large living – dining room with exit to a wonderful terrace overlooking the gardens of the urbanization and one of the swimming pools.
The property is in perfect condition and enjoys a lot of privacy.
It includes a parking space and a storage room.
Mansion Club in a beautiful gated complex with strict 24 hour security, impeccable tropical gardens, outdoor pool area, heated indoor pool and gym.
A wonderful apartment in an unbeatable location.
REFERENCE

208-01508P

bedrooms

2

bathrooms

2
built

160m²
Video of Marbella Golden Mile Area
similar properties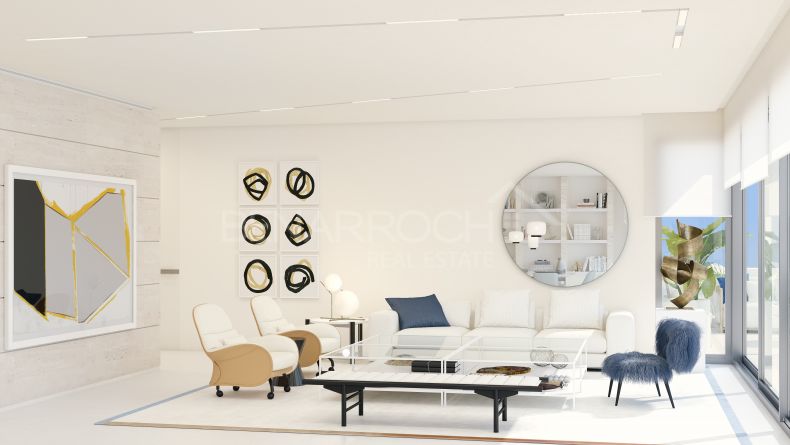 SOLD
Magnificent two bedroom apartment in the Golden Mile of Marbella, in the La Meridiana Suites complex, a luxury residential ...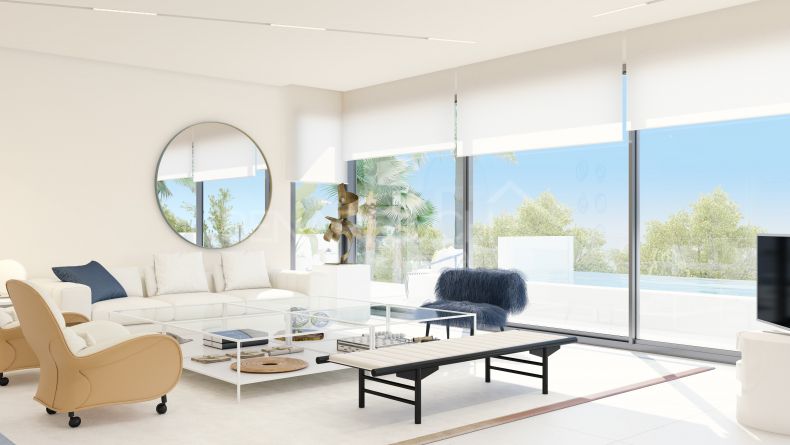 875.000 €
La Meridiana Suites is a residential complex located at a short distance from the Marbella Club and Puente Romano hotels, in the ...