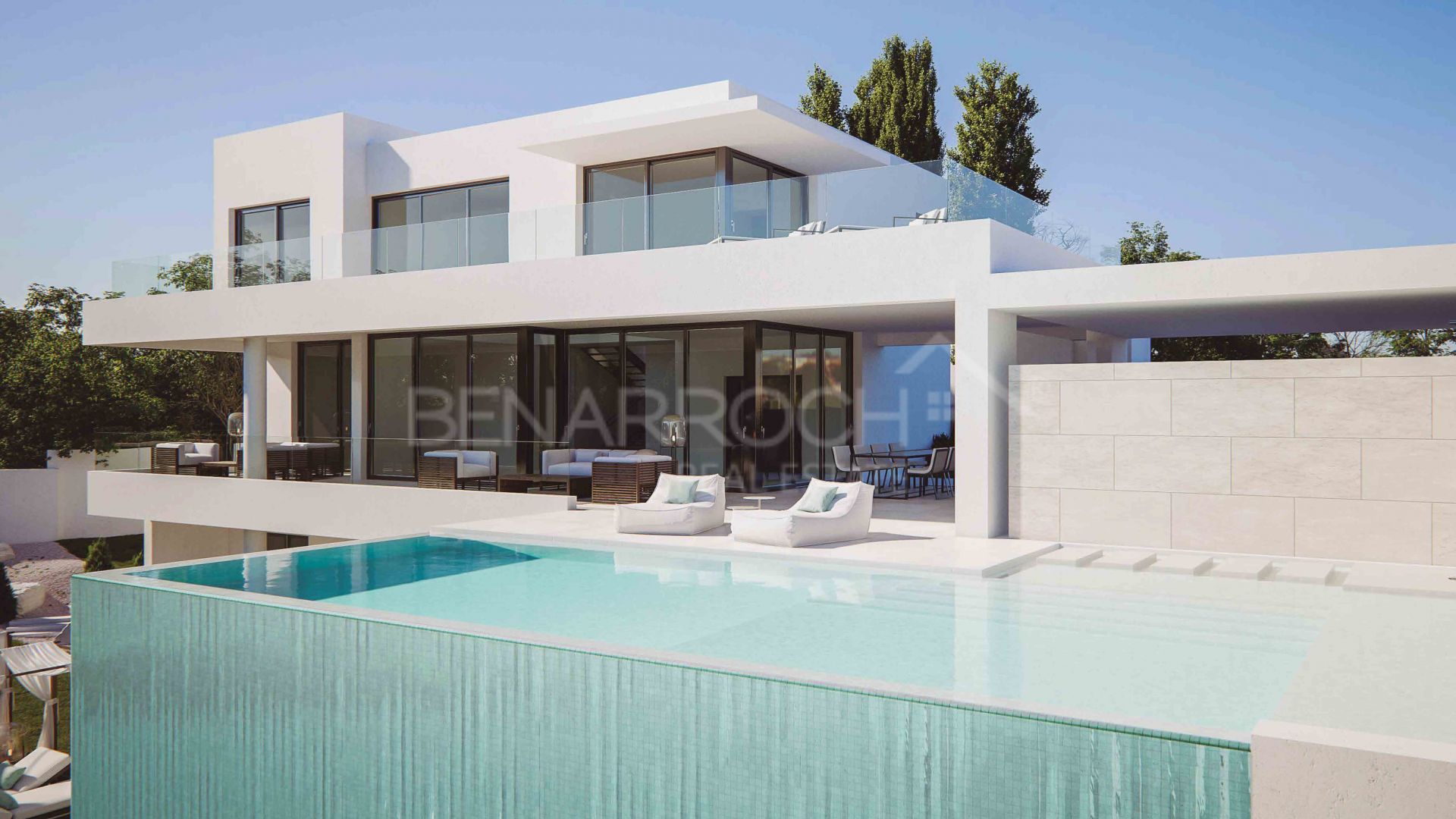 //media.inmobalia.com/imgV1/B8vEv5Xh_VThvnEqMx4G0ZxU_YC_pCgmETwWNQKyeMqLb9Afo_WSoi~kcK5mwaepLz96AHEmAzWJQblCNhundhnOIYTFLWoaYUwlpLAJ7e06lGbR6JnGeU_t7qQvMLf3ijxjgxeduZzdg362XF2qGVUOEV58z4XO3u_73NByBqPHoRhk3Bo~rsAov0uBs9ycu5Xl54KvB~DShmMdFnZd_x8oHzVqXZOsF4ZStfyWeWej0TzHkTNL6LuUKeDe751ardZsVyloz82W3q4vG1kMqo5iX2cNs8KJAWoFiAXuUBYjwy61Nj5Ln7dTZ1e5jxNPfpa5Lg--.jpg
//media.inmobalia.com/imgV1/B8vEv5Xh_VThvnEqMx4G0ZxU_YC_pCgmETwWNQKyeMqLb9Afo_WSoi~kcK5mwaepLz96AHEmAzWJQblCNhundhnOIYTFLWoaYUwlpLAJ7MH~k41z9SaL6mQBWE_mM1NXcCf_x1NmIwpz7~hm~mT7f5DulvNIwSx6Qv3fLcyuGumV6pshJeUQmVatcOzP3tFal329u2w7ik~Rjjru1kpqbRdBlgq~IXaEm9D6kY7moQHb7xZsXiN1O9JO65zCi~wy~1j4xyKE00tBiZtFHQj2IJ7B7S8oWI64e2qZ97jprOYdUAz2TXLbkffVDBjZq66xTgwZ0g--.jpg
//media.inmobalia.com/imgV1/B8vEv5Xh_VThvnEqMx4G0ZxU_YC_pCgmETwWNQKyeMqLb9Afo_WSoi~kcK5mwaepLz96AHEmAzWJQblCNhundhnOIYTFLWoaYUwlpLAJ5Tk96pJA06Ip9fowO5CvLAlEaPOB4FC8qtjnSjtg4J9b470K2MTWnw5Z3TYqZFhJo8pJxUb_WPB1MKQBcpL18RhrNJCO3quourIPGch~lprojg_ccZkkqf2mGLiT0a_kMl42UC7dMGJjRpOgQsSpc6xbUdR53gJFNawjrn_FP7nhrq2JspQsF4v7LGGFXK1zFL5qIirT92_KVoXH0rvlqEcGzfJd9A--.jpg
//media.inmobalia.com/imgV1/B8vEv5Xh_VThvnEqMx4G0ZxU_YC_pCgmETwWNQKyeMqLb9Afo_WSoi~kcK5mwaepLz96AHEmAzWJQblCNhundhnOIYTFLWoaYUwlpLAJ5_xFjWZMvybetUf0v4ypHeixTwS4r0eDx4Z07pCWymw_eKAotPunIDGyQgcKVuS5Ap1uEE6W2u6crzUU0JqPDE5hurdohll56R1pP~bLVBEM1agzekfX14KBoRnnMeHmgw4tGyDe7M~z6mke1SmrQHGS7cvwcMrM2O1Aw0nesr6oGh_qNkgafmBbtSoZQsDLBZ0Gm655qOYXdJQEn8y24gLVcOupPg--.jpg
//media.inmobalia.com/imgV1/B8vEv5Xh_VThvnEqMx4G0ZxU_YC_pCgmETwWNQKyeMqLb9Afo_WSoi~kcK5mwaepLz96AHEmAzWJQblCNhundhnOIYTFLWoaYUwlpLAJ5_17JNI8JTs7H2AN8meBoBdRoMF0spRb1Yp6sKda6TGwbGtCrQuBECXyEGjMWlluoNazFZ5QTbpIaCHLnqBJX5DgxORQUw_K~BUrXgHBH8e2kXT0R3Og~oBFhW4Hq0NFP0v1AT0HDGYRYK35nBEjx5RdpwSgoDA95J7mdGdpzGQsfmOwPh7OXR3qWAjzCatR2ehNcknrsugI_8Ljq1G8fE1SARyW5g--.jpg
//media.inmobalia.com/imgV1/B8vEv5Xh_VThvnEqMx4G0ZxU_YC_pCgmETwWNQKyeMqLb9Afo_WSoi~kcK5mwaepLz96AHEmAzWJQblCNhundhnOIYTFLWoaYUwlpLAJt7_YxPhDaOtMvFQjaYORbOtuDHxhFEMAbskGxz19yqq6HcxXXf7Ln8Fjkq~r16~9r5pjk28_VZJuK3IdexnX07qtS1CnD7cLk7K4Qli_EzNpMyCosuLmMt5BxeR9trnRQMDpNvKSy4~FOtNceAcRfmTJFvBCkwoYyjiI6IVs~8P9P7niplBRGgFGQ_ZN~m_jrtnhVffE6EXsVGpMXy2D5iNKcBPyJg--.jpg
//media.inmobalia.com/imgV1/B8vEv5Xh_VThvnEqMx4G0ZxU_YC_pCgmETwWNQKyeMqLb9Afo_WSoi~kcK5mwaepLz96AHEmAzWJQblCNhundhnOIYTFLWoaYUwlpLAJsAO65O_63PKU2f0_~0svItiJQPXlga9NXI4Oze8bf0EFlc9ZL8eoNP4R1nDACv1AIFTMAKKuJeAz2J0z3lwuJcKm_vBlct2CaA7L1NBCgjZPS~fmA4HJK54BGNOl5AWijTZ0E3Ij_Lo2CmG0_386fuRTU_sQ7bKttlCQChR7nI4Jck51jC3qUMrJz2MMDFSCIpPjhLriCJPYLxSzQTEtouNV2iTACw--.jpg
//media.inmobalia.com/imgV1/B8vEv5Xh_VThvnEqMx4G0ZxU_YC_pCgmETwWNQKyeMqLb9Afo_WSoi~kcK5mwaepLz96AHEmAzWJQblCNhundhnOIYTFLWoaYUwlpLAJ7JQ97CeZj~asMfwf4ffvVEMpPTwzDn8cKE1bgJBE0fPwhuC67rXZGgNW~PFDlaKVeHVR_zBX2HCRalFHs3DBLpgYcS9wL3zWj3ohbMIoSOWED2xqgNr4LUz9IAIDCbBRl6zO2Io3PSk6JjycvRXV7ZwyP15edGB687826vg_rkqgkOIwu~MMSQ7XN0rstzWbncvLF4TRFTThtIwregbCuOct0AhiJg--.jpg
//media.inmobalia.com/imgV1/B8vEv5Xh_VThvnEqMx4G0ZxU_YC_pCgmETwWNQKyeMqLb9Afo_WSoi~kcK5mwaepLz96AHEmAzWJQblCNhundhnOIYTFLWoaYUwlpLAJ7MH_bEkcXXrz31DsRjpzVJjrp3IwLdbyK5CRZ~Nh9Q0AwmcsqEACk~Fovkv1jEHkX6Z6QEnqoKZVCibRSuqXFYqkdJQWqfAck93uxE_5Va7ixFjjNg3LHjHSeCVBPcuS6ShP6XxoRO7_Zos2kjq1Wv2O5L1Ur5n5ZQf21wIywWwvRbiPfYR06I2xDL08_iaSzkJ6m02waqI7X6O4odf2jFWKP36kZg--.jpg
//media.inmobalia.com/imgV1/B8vEv5Xh_VThvnEqMx4G0ZxU_YC_pCgmETwWNQKyeMqLb9Afo_WSoi~kcK5mwaepLz96AHEmAzWJQblCNhundhnOIYTFLWoaYUwlpLAJ4ocuzkClm7m6gMii9jSbK3DCkuksCGR1q4PoLEhJr5BAnCeVAe7zvcY~_8~~nqcXyBrIsvo_AZym6akfx1a6xiAP9OJq5Dp6CYT7G9dOaP_~OQi0G_WbF42lJYq3cd1Js30mKuQzwMLnJGahEYPReSTsg9SngsDre_UoXCVPxf~B9bo~HVvl6Y1mxKvz0ZbzoJJhDC2ZATf_3WLEXvhwqGCoXvoJWg--.jpg
//media.inmobalia.com/imgV1/B8vEv5Xh_VThvnEqMx4G0ZxU_YC_pCgmETwWNQKyeMqLb9Afo_WSoi~kcK5mwaepLz96AHEmAzWJQblCNhundhnOIYTFLWoaYUwlpLAJ4D~G5oug2bh41jNaX7MKyBa9gNvWN8rvjDVD5p5fzkLQSG0J4wjijCwqxxoiTD1Qp_4xozo2B3DPDOmgD51xPKHmCcqV0WLHJtLHDyFLojrFGSM9VC7kdKj8AgENzlEGnu5GF44f7R~ddS8QZ16dbpux6PiGaZfa1IJepvH5l2GXesNJVf5V3h68iXDDxnxXpuSUhNwTTsErYe2kssqWHiKTufUybg--.jpg
//media.inmobalia.com/imgV1/B8vEv5Xh_VThvnEqMx4G0ZxU_YC_pCgmETwWNQKyeMqLb9Afo_WSoi~kcK5mwaepLz96AHEmAzWJQblCNhundhnOIYTFLWoaYUwlpLAJ4Di2UOhWkc0tlqc4e7p3PmlZzl2eIud2dRRnFTEb2FTEF5Ck1Qnd~iMDwpMsFyaqlFNyTxmg7jKRCxSqjDqBhak00GP8YzBt2IPn448AgHuRBKxpsE1lqFzltAHxMiwZw3AEYsndVoDltNnQ8XzcdyGJjGVV4i0S4_FFYaoVQV_ogwl8xfdk6KJbyCsrlC11SEnic8mIOWKnmYMADU~~~Bg6~8ETRw--.jpg
//media.inmobalia.com/imgV1/B8vEv5Xh_VThvnEqMx4G0ZxU_YC_pCgmETwWNQKyeMqLb9Afo_WSoi~kcK5mwaepLz96AHEmAzWJQblCNhundhnOIYTFLWoaYUwlpLAJsVRMM~6xSms69H0dmQfF5hqaaWWanexPhmjJ_ddsAe5WkBOSvlvBb~IVJConnGueBLqbVrTgPcqWomWwFv__772xkdIqMEc75e2H~1YWIFpSb1Qs85EZHJrVWXVeD8mIJ7cezTEzr~yHPmYSyQXBg9943iYop8W71Up9tsDDFjjBjeYn0YXhtYv55nbczpSQXuh8fLXTSvnnsQRxF10y8CWZT136Hw--.jpg
//media.inmobalia.com/imgV1/B8vEv5Xh_VThvnEqMx4G0ZxU_YC_pCgmETwWNQKyeMqLb9Afo_WSoi~kcK5mwaepLz96AHEmAzWJQblCNhundhnOIYTFLWoaYUwlpLAJ4oFAjp52QRLv~UiQa1pGTdLVDOuRc7vkiLtPh0oHuhqHzgIFt67VWDkNzTE_Z_EvtVnuX4fkDs2Oc790nod36fTtWn4w_LitwHNZIMJlab2320mrwqPWrWvYPJV_0HzxmuVv7W2fh87jqnAQcjxtFdcNj69cDWQPW4vtKHEL13JHpTs8m99j~QIwvgFO519DXdZ0Ig9xZiSOKfmeB85Nd80Lf5a1zg--.jpg
//media.inmobalia.com/imgV1/B8vEv5Xh_VThvnEqMx4G0ZxU_YC_pCgmETwWNQKyeMqLb9Afo_WSoi~kcK5mwaepLz96AHEmAzWJQblCNhundhnOIYTFLWoaYUwlpLAJsAeoxptsFfvVZNAN5z4S4g9lWo_gpvqgPG4tnJD87VGke8hL_4nah6~zBJ1ZuAoxkwzYa4OYB9QUwT4GqEedCcALdDQ5lmskLzczzJbHS_V7a7Xar_Hv0667c6Ett28ocOtn3XA_GjhLYNAgj90hJ5k~zRfa6WFVKoucozrT3BesmOs43AmZh7o28tvBhAwj6zQMmOIO6vg5G1cq5TvBseiXdQXfeQ--.jpg
//media.inmobalia.com/imgV1/B8vEv5Xh_VThvnEqMx4G0ZxU_YC_pCgmETwWNQKyeMqLb9Afo_WSoi~kcK5mwaepLz96AHEmAzWJQblCNhundhnOIYTFLWoaYUwlpLAJ5_wRN7pUmBYanR9avBevE0w_jWNwKBqfHrsUZf6wCOaND8OqILZVdmkfMYCGDV3B8lJw2D4Ktwi8jZNbn3iZe5MAFZ2erzy3ojPy6vzXs2sd6xyqrtShZ3_canVwWcTYurgB5~6SwpgVe1_UL27skiZtD2U5nQYH1t9nFZ8sTRo89xjDIDxOtE9~BqsLgrY8wGotz1y3GhhQpimDalEThmWjtcgSJA--.jpg
//media.inmobalia.com/imgV1/B8vEv5Xh_VThvnEqMx4G0ZxU_YC_pCgmETwWNQKyeMqLb9Afo_WSoi~kcK5mwaepLz96AHEmAzWJQblCNhundhnOIYTFLWoaYUwlpLAJt71ZSUIEXZm0l5NsoURnrOrXciYrV7tOQM2sQjRHteMXm5qbByXBQj3UQ0jGDUPT1WEODkUCd10yW11jDaEvho7jMa7sck1ydXuWihYfBWI_Z8K9jbNO~J7eqam0_Ztlq2W3l_kbFFE1QAdI0p0rtVWQFrISMIjuFlzOYLchT8OmhdCgDBDz8JaGBOWIqSsJZ896iysJs~SEPXSZYa_idU6xfKONoQ--.jpg
//media.inmobalia.com/imgV1/B8vEv5Xh_VThvnEqMx4G0ZxU_YC_pCgmETwWNQKyeMqLb9Afo_WSoi~kcK5mwaepLz96AHEmAzWJQblCNhundhnOIYTFLWoaYUwlpLAJ575q2M9gZSzaFdNqYHcCfyknCkgYsCPn3U4Y6JMEkcxI4rEXbAeF2gUpUMtnPr5JL7nZ2M2jVA7yBMslAi2ZdpgufpviPohOHxpxz~ygnjlwkeqhZ3G85C1lkFLXr_DRt3O0eMPRxQS~L0o7~TxDRXKm7RSnxQEfcDY0wwKPDcNrf7faxkeiu2DZ3BEtZlx9DT75XIeW9tWOjbzU5Gg8ZK8hOEb5_w--.jpg
//media.inmobalia.com/imgV1/B8vEv5Xh_VThvnEqMx4G0ZxU_YC_pCgmETwWNQKyeMqLb9Afo_WSoi~kcK5mwaepLz96AHEmAzWJQblCNhundhnOIYTFLWoaYUwlpLAJttehI1C0fR9_rpOGGW3tPTLZCi~h0m8D2uHo_~z~FCpl1ZIGwNB9GHjwqi8o0x8eSZ~B8LD0H17hbLXelQDR12Yj8wx99ks9_V3bxJX~73Ol4qZ8TvrJ6fxx_IaPvWLfZmsBkQ7vNjJTDBmn3PkK_M_p~6gvELj1Iq331e10LyiVk0Dkjinyz~~OSD7o3hNu3FOm8xWek9VVTuCADj~BDByVtnb6IA--.jpg
//media.inmobalia.com/imgV1/B8vEv5Xh_VThvnEqMx4G0ZxU_YC_pCgmETwWNQKyeMqLb9Afo_WSoi~kcK5mwaepLz96AHEmAzWJQblCNhundhnOIYTFLWoaYUwlpLAJ4X3~mT4Q4R~kiFXc5J9tjEoC7FBu78HGDg94k7ZMq1k~5kGg2EaWN27jI5Nv3z0c_7x8R35F4CCc8oOasoFvmBaqQ8BxRTurJBrF60l2QPzFcLVy~I7l9xFXySw0l1z1WKndJKwGnJKt275Q2Hgdz1_B2N2o2g~BoOGzzusc6QDfh9y8AONLpc5dt8K4zwFRVUPIpHqCrYKJ76F2p6qSdDMJ9LP5YA--.jpg
//media.inmobalia.com/imgV1/B8vEv5Xh_VThvnEqMx4G0ZxU_YC_pCgmETwWNQKyeMqLb9Afo_WSoi~kcK5mwaepLz96AHEmAzWJQblCNhundhnOIYTFLWoaYUwlpLAJ4SHR86AkmwSgTtdkKkVZ84bi5i0Y4U1zTXuEKMsX7b~jsXAYcsuv7yEnDCNHKgB1xpuFsiIyvelSEy8dOuA2iWgLG_3CoV9KDLYS~kao5FdDyeJSbM_eDglP7dSuga_qhAlbIoIvw_yD8mpHYMOWIYc78qkeOie8sfBLT0jW3zeqLXxhFTzJ5tY~z6rgP1S8D0tzbwqKFEyY9eYSGIHu68rqkRsNMQ--.jpg
//media.inmobalia.com/imgV1/B8vEv5Xh_VThvnEqMx4G0ZxU_YC_pCgmETwWNQKyeMqLb9Afo_WSoi~kcK5mwaepLz96AHEmAzWJQblCNhundhnOIYTFLWoaYUwlpLAJt7ihawvosQ294VZny7aHJK1XIL_EFa4K3G9NWa_gqEYKoysAqgiwpav_yW6cdurqtiHEt11MdgM7GclgKcH5GFAaqbOMvZhZucHgGc9dK9AVnJvWTrEkryVU7EbA9JvX43tDnt2G8UIv6F_4HY67Jx7ZKBahZDetYjBvT22DZEDUUOV~zZE73F0H5wfQ66~rIBeayxuvwEFSzaKuL7X2K~NYwL5~yQ--.jpg
//media.inmobalia.com/imgV1/B8vEv5Xh_VThvnEqMx4G0ZxU_YC_pCgmETwWNQKyeMqLb9Afo_WSoi~kcK5mwaepLz96AHEmAzWJQblCNhundhnOIYTFLWoaYUwlpLAJ5AQLcmFBU1tbX5rN_Anun430apRER0l_o6l9KezaQA~E9chVW9zrdXHm9djjqSGj75SpB1BKWqLsVHiNjJhUeCKsOVMV~r8iNwBKPnw8pwYF2CMMkZpSqSwCsFxKnRJ8JRCan2OL9D~HlYrhHZ2RKGMrVq63Je4n62pgC0iXg2XK91jN15AmvKAKX_cI_bRAYwUepcR_ZY4cEkxAOtGahIyriVVxsA--.jpg
//media.inmobalia.com/imgV1/B8vEv5Xh_VThvnEqMx4G0ZxU_YC_pCgmETwWNQKyeMqLb9Afo_WSoi~kcK5mwaepLz96AHEmAzWJQblCNhundhnOIYTFLWoaYUwlpLAJ4oYixR8lmDEdZYkRuhfHerA65NyoB6Vj4YBfTbZZwTf7PsP9HCSKIi8~FLVfjtTkFQ3HwAXfvAztEqX6HFGFlAMTO_heC6dBWhskkv_9CyyiTAjqqQbsR~KcCmtEcSDya5FhQmnTDDVEqON7By3fp0l6oNWJjmAasUmj47B5G0oCNqXyLmDL0CUraxuomzF5h7y1cWncvgsJE_a7jQyMW~PEWf31kQ--.jpg
//media.inmobalia.com/imgV1/B8vEv5Xh_VThvnEqMx4G0ZxU_YC_pCgmETwWNQKyeMqLb9Afo_WSoi~kcK5mwaepLz96AHEmAzWJQblCNhundhnOIYTFLWoaYUwlpLAJt7kiXnlgyp0fXZMI~j3fc2Tbx4V7HE7XJVGVL7mCdtrYFORxzCiDoefBRziEafC6qUYQfWjtJwJkkU8fDJd2CKYCxY9X6FIYhE8GUMG~I14M1tEKeVStL58Ux9MqqgbI~lNctsdfnV8jNr1jE3ihgATgra9tUC0aedN59U03cqx3ZiTxOmLfzN8aQVRdOn2il4Im5bGj66E2uRWh3K1iAeCRFT7BMg--.jpg
Mirador del Paraiso, Benahavis
Villa
SOLD
Contemporary design villa in Mirador del Paraiso, Benahavis
Villa recently completed in the Mirador del Paraiso urbanization in Benahavis, very close to El Paraiso Golf Club.
Mirador del Paraiso is an enclosed and secure complex situated in Paraiso Alto, to the north of the golf course, comprising residential apartments, townhouses and villas with magnificent views towards the coast and the mountains.
The villa is developed in two floors and basement. On the main floor there is an entrance hall, guest toilet, kitchen, dining room and lounge with access to the porch and terrace facing the garden and pool.
The upper floor has a master bedroom en-suite with dressing room and private terrace and a bedroom en-suite and private terrace.
The basement floor consists of laundry, toilet, gym, a large multi-purpose room and two en-suite bedrooms with access to terrace.
The Mirador del Paraiso urbanization is within walking distance of a wide variety of services located in the shopping centres that border the road such as El Pilar, Guadalmina and Diana.
REFERENCE

208-01460P

bedrooms

4
built

430m²

plot

803m²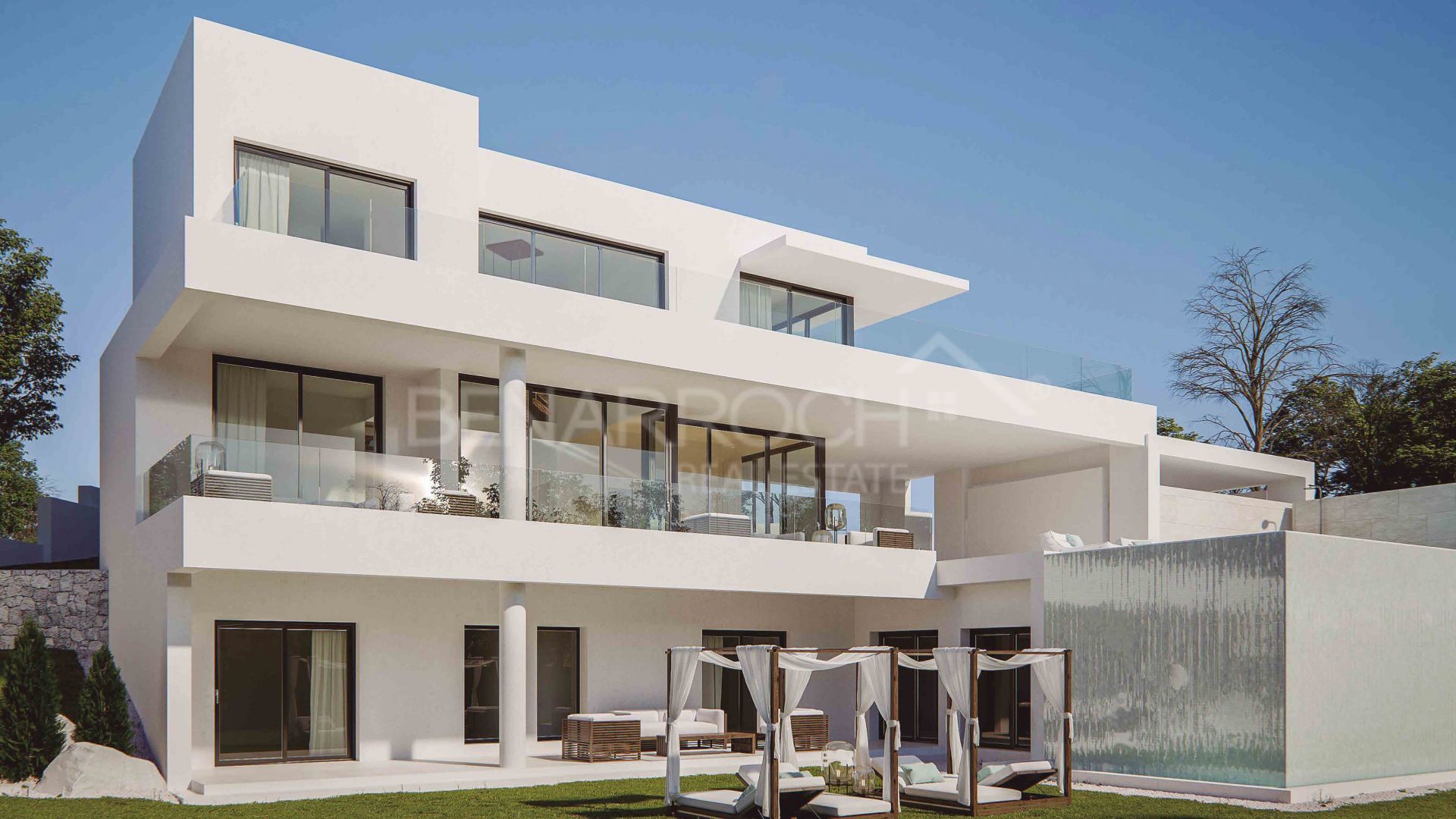 Video of Benahavis Area
similar properties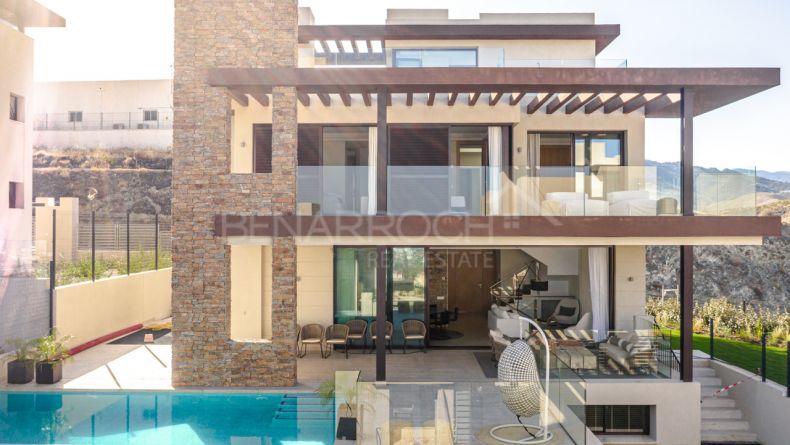 1.950.000 €
Design villa located in the newly built Be Lagom complex in Benahavis, a residential complex comprising thirteen villas, with an ...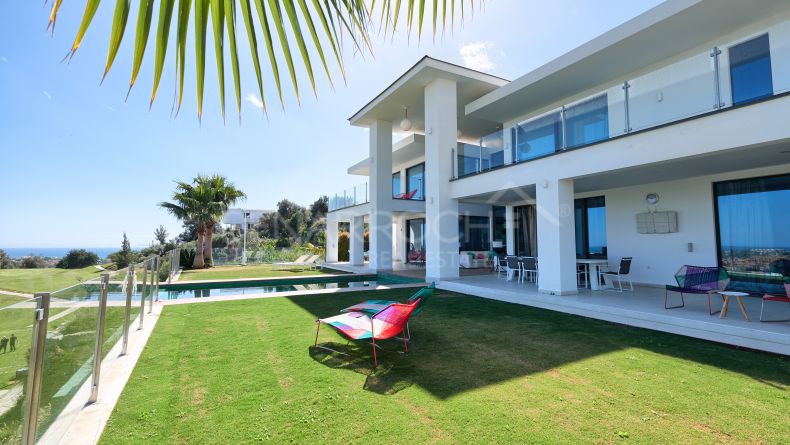 2.875.000 €

reduced from 2.950.000 €
Front line golf villa of modern design situated in Benahavis, urbanization Nueva Atalaya in La Alqueria, with magnificent sea, ...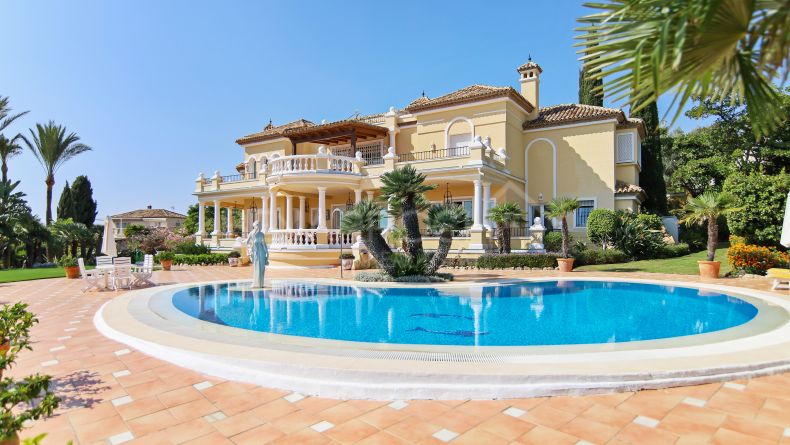 3.700.000 €
Traditional architecture villa situated in Benahavis, in the urbanization Paraiso Alto, a very quiet and secure residential ...