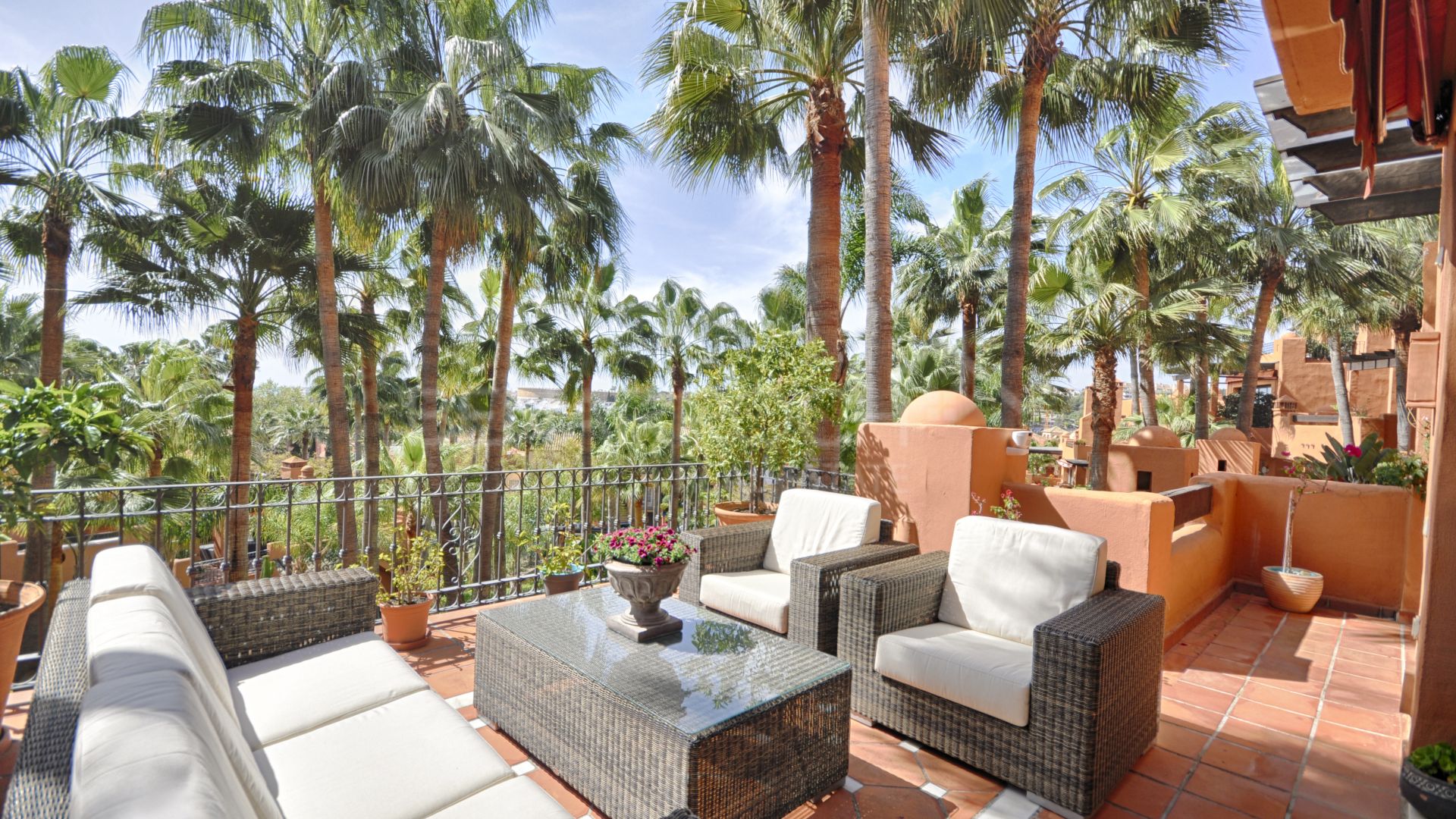 //media.inmobalia.com/imgV1/B8vEv5Xh_VThvnEqMx4G0ZxU_YC_pCgmETwWNQKyeMqLb9Afo_WSoi~kcK5mwaepLz96AHEmAzWJQblCNhundhnOIYTFLWoaYUs4gLK7QBPjJIii9BpSJv~lBuL1ojaDVG298DWUBUcSXuYS9fMHKXl5uo4KTLNhVc744UJveL_mJjxz6hAd87mdbYMN2jxTb46bnnYZhkPG1ZGVdJoMvTmdGskbzOl3ljfNxG1zwVN1Nfcf0Py~x1PSNOuiuxdqWaIrpVMTO1_8V0VGNsu_wY~PwzT4LQYE~uPiDeTIQRbyh49a55C7GdVYpKn8Lx3H033asg--.jpg
//media.inmobalia.com/imgV1/B8vEv5Xh_VThvnEqMx4G0ZxU_YC_pCgmETwWNQKyeMqLb9Afo_WSoi~kcK5mwaepLz96AHEmAzWJQblCNhundhnOIYTFLWoaYUs4gLK7TbFZrietLtktsYl8BnArIJGdU0HNaUh2wH2GrMxR0~BVK0X35P~tg3nR2ZIRquBbYTkqL5zj6BMGQ_LOYSwDYKwRkzTNgRhgF290J9P8bw4yHv0QrYrHM2JHUgxRema6VDZSsfPcNtGtD8jhFQmWfvzthZIZLHtFmdS2GCO5jE1uCDRgC32Z8kOYglyzpfsm5201KH6w2M_~EMDTxXPLEOtzApvvYA--.jpg
//media.inmobalia.com/imgV1/B8vEv5Xh_VThvnEqMx4G0ZxU_YC_pCgmETwWNQKyeMqLb9Afo_WSoi~kcK5mwaepLz96AHEmAzWJQblCNhundhnOIYTFLWoaYUs4gLK7Qi_Tl7IFAhBXztcCUDH7SXXEuLqi~3GV1GjwoR7OYOTYRUYGMX_uBl5bMW0DeaARxeyAW4z4CmOjCgQ4zcsFjAjUvm4kcN~abBneAsfwJstN5Qahn06n8wU0s31yKO1dAChA4pb6PHDUAL_6BzTziGm8xl6QmtLWA~3F_Yxb68ud_tRPI_E8ylmDPzGPK4D8v~NcwqUYrxxGyQX719gxtRNM2Ww88A--.jpg
//media.inmobalia.com/imgV1/B8vEv5Xh_VThvnEqMx4G0ZxU_YC_pCgmETwWNQKyeMqLb9Afo_WSoi~kcK5mwaepLz96AHEmAzWJQblCNhundhnOIYTFLWoaYUs4gLK7TbFYWPfDXtIIPch084Secsmd7fcWSoGIJOX5r~PhHSP9y0yer4FQwqiOStfeSACTU8z~rxX21klHKobS~jBqsods1OUl3Bagwe9wVSxw922O2nlHbf48eUtSS9Uzz_3K8Z62MDA9wrlr68o~4KK9MGpcDTRQeJGPxthDU~pyZpgf28qB8oHFVC_GA54wguiEAqxSKJQq5z48s6SpoE~eX7pTxwSLMg--.jpg
//media.inmobalia.com/imgV1/B8vEv5Xh_VThvnEqMx4G0ZxU_YC_pCgmETwWNQKyeMqLb9Afo_WSoi~kcK5mwaepLz96AHEmAzWJQblCNhundhnOIYTFLWoaYUs4gLK7QStRRzIzECXtZps7UmVmrONJlwjIS4uzkNawj7px5ooJOHr6fP0eglxxsTukks99l9C4k~2xU92hUioa~36S~Coj1SEfnVUlyJeeEN4eZ0nvS9Y~2Oc9_10eVhu88hjd3F3fY2389~kzZ_znQGUOCX98PK16FFM6yNDzF3ShDZqPYljONqtwnbsCgl5uRJ45mBLdmWlJ6AZC6AzdYyY5rcJYsImAFA--.jpg
//media.inmobalia.com/imgV1/B8vEv5Xh_VThvnEqMx4G0ZxU_YC_pCgmETwWNQKyeMqLb9Afo_WSoi~kcK5mwaepLz96AHEmAzWJQblCNhundhnOIYTFLWoaYUs4gLK7ROSHbS5CPhbUJh7UMPuudY7UJdyRgbjQv02dTqnDWvBoKiwoUF9sRT1X5HTBxkqAfpegSXTIS3u1T~u02MJTfJ0xOW4SYM5Y2lnUOt22H9qHk8Uu86DXVd0TW3eX6bXt~hL3r6O06Rt_HRZokQ3i8CeD4Bw~rHgh9sMLpzXu0isbTue0z52If1uOktxEgSux0HB4YtgklMovggmNo~9utlSXsAPuqA--.jpg
//media.inmobalia.com/imgV1/B8vEv5Xh_VThvnEqMx4G0ZxU_YC_pCgmETwWNQKyeMqLb9Afo_WSoi~kcK5mwaepLz96AHEmAzWJQblCNhundhnOIYTFLWoaYUs4gLK7ROMehfWRAUazH8VYde~2LCUVU8qeLr0KJR0eyIv3y0CItRU38WJABr4wJI59qwZ_DHqG2LyQNAu1R73HwYXovJau7Z8ugmXeE5d2RL6KdNRPhsghF3kywb54yDRCC88dzm9ePU6Ok2Uqr2b8vdxnMp6tzjLFD2lKxp81WmBYorDWuM3lbfTMGme8h7ED3rUjfMCKuFGNdb5AYC4qw2iyq2p65XbxVQ--.jpg
//media.inmobalia.com/imgV1/B8vEv5Xh_VThvnEqMx4G0ZxU_YC_pCgmETwWNQKyeMqLb9Afo_WSoi~kcK5mwaepLz96AHEmAzWJQblCNhundhnOIYTFLWoaYUs4gLK7TGNLXkKa_Wa3pWxdLhsoFyQclLJCkRaIY9JII6xw9aYlZ1Kzt15a9LaK4NbmfIgsuA7RvJYoUHMBckryeuxEYQ4WcWtLy~e7qzWVefHxf~vBOECH4tTPs3W628UgICtIBY_86e6KV6CjxaPK3iixzl930Atuc~uMTH4i_M0wMOHVWDScpRLn_8nRT21rfu5IKs4TDA~ywjhUpGaZYkQXG03PpUIzCA--.jpg
//media.inmobalia.com/imgV1/B8vEv5Xh_VThvnEqMx4G0ZxU_YC_pCgmETwWNQKyeMqLb9Afo_WSoi~kcK5mwaepLz96AHEmAzWJQblCNhundhnOIYTFLWoaYUs4gLK7ReRthYIKapgAxsvMNxMV68BN5EYNPrpZoX6HTUeJgeNTfhOuVs9o7xWO0wl4dzqAQZNX3pmcgxydZRz0CKkd99dP~RrKSYBHIY3hZCwQ7ds8A3L5VnBZOCCEeT8yIdH5rD1oqaFMmmmJgsmaWeI0OAVNEJubyJeK5F~lFEcX0NrL0CxjIZ_RR3axXp6Dxl~S2S3spvBXE8BITT3bkireHjR_UWi5sw--.jpg
//media.inmobalia.com/imgV1/B8vEv5Xh_VThvnEqMx4G0ZxU_YC_pCgmETwWNQKyeMqLb9Afo_WSoi~kcK5mwaepLz96AHEmAzWJQblCNhundhnOIYTFLWoaYUs4gLK7QnqcC_ZrDJdBT~SaG8WO6uDTT8gNDkbCwPDtDHOjtsI60T5nQXCHYvxQcdHX9woXim5d1wh~QNYOkqbfF5qjcSRfT2lEvCP3A31zCEpaGruvaLao2xNNAIwXWNdQcdiT6Wy8JxA~n91OzO~fdFlSrqiuAcGeJwqQ6y0HbIj5vAdOMxKrf5WxLCC7E0hNXGdA6Fvq0TGwxNkSq0LsH5qVFdnd2hI0RA--.jpg
//media.inmobalia.com/imgV1/B8vEv5Xh_VThvnEqMx4G0ZxU_YC_pCgmETwWNQKyeMqLb9Afo_WSoi~kcK5mwaepLz96AHEmAzWJQblCNhundhnOIYTFLWoaYUs4gLK7Qi1fYCKiQc7_I1WqPrK25UR00RNap~xyNxQaw1mogJEDhWxf9NYMlRjZ0Tr6QIyr009FHneu8bfX3awB4ReTp5tbkCJpWpFaKbmIjRm02MJKAsg_KC2nhSFgULVetmewwKIOCxri0Ige7Y10HAQqog7PQKBxLivJeo~0YjkqdrXQbsjs5XTjsOa6b8ey8amL8Ds62Gpz7DmUMzlOvuCf648gddGcFg--.jpg
//media.inmobalia.com/imgV1/B8vEv5Xh_VThvnEqMx4G0ZxU_YC_pCgmETwWNQKyeMqLb9Afo_WSoi~kcK5mwaepLz96AHEmAzWJQblCNhundhnOIYTFLWoaYUs4gLK7EQJFM91jryXBYORjEa~03lObBeEoh1BS1LBkuF0zr41IyyqJay~PL3I0gbrXMpABsKMvLNsygHZPXj37dpMDmJYh3yHDr65vDZqtqLHYsLtcM8Zqb6dRXLgIsPaUxsYg~YKV~o0JEHa1ZGz7_0eylvgB9VkMj895z6txwoJkAdxD~~4QGQU81esbvkitRNvCWfYh0dSLCJnH3aOrIFFF6x9BQYir9g--.jpg
//media.inmobalia.com/imgV1/B8vEv5Xh_VThvnEqMx4G0ZxU_YC_pCgmETwWNQKyeMqLb9Afo_WSoi~kcK5mwaepLz96AHEmAzWJQblCNhundhnOIYTFLWoaYUs4gLK7EQISsQXEy6Id2hAok8u56HDmMVzDhggFxaRSCkQ7EEWdfvLLEjKMdZYAX_kONmbGY8O0ZYxwGpEq~J~5446hby3g4VHG0o~v7hSDbu5IkSBNv26cVpP0vjXnE6hBg6PyX333zbPxbvfUpv6TMnYCnMAzmeMXtVKgjBVUE9MqncNf3XyDYMs8wiI9ia5yw3Vk94dbDMJ0J40KWBOZns3tkDQA3KmWoQ--.jpg
//media.inmobalia.com/imgV1/B8vEv5Xh_VThvnEqMx4G0ZxU_YC_pCgmETwWNQKyeMqLb9Afo_WSoi~kcK5mwaepLz96AHEmAzWJQblCNhundhnOIYTFLWoaYUs4gLK7TbEOjkPnQT7cH8jSKNcI8vFzUwFbLLF6S1myDcq7smxNgCuEgSzr9jsuOHE7UEVPZOE4EAx7o9ecr_VaI2zBg4HwjrtOWCsTUAW87Uwk1~y5OGimIoN6F5Tvzo8AC10OqK9kajA72RGcOJaLTy~2Z53vYEuKfIwhFXX6B58aoz62pwtUNLIQELvHu7jz8IZ6e8jKJZUTO~LX_Gngb62ajcof9KAGYw--.jpg
//media.inmobalia.com/imgV1/B8vEv5Xh_VThvnEqMx4G0ZxU_YC_pCgmETwWNQKyeMqLb9Afo_WSoi~kcK5mwaepLz96AHEmAzWJQblCNhundhnOIYTFLWoaYUs4gLK7EFVlPNfnTVTDHTMlg59j1ycgpardKpq~7pj_s~~Yfwov97XpwI4frb36EIToZUWK6UdNM1Gmo~UmgHrpULtZYEZDRoSIAXQ~U2mz_3Hen504eIxUQlgtZg8KDiJHAMhjEkTEnOhErGnjygRWu2wfXoJhoVBWsTu0nga7Mk0rhVI~cHVxFB8Zs1Q0aIEEE_jnV1tVrGAQUYsyWDD_HKUErpXpi8KmMw--.jpg
//media.inmobalia.com/imgV1/B8vEv5Xh_VThvnEqMx4G0ZxU_YC_pCgmETwWNQKyeMqLb9Afo_WSoi~kcK5mwaepLz96AHEmAzWJQblCNhundhnOIYTFLWoaYUs4gLK7RLUgH2fjOveKkgljf8_rXyFXvQHKFeGXNEWi7hCP8ZKYP3ruG0uU7UD2QvE2pS1~LzY~fqqmJ85DrrKzPwKugIGw_zj27mUsPK5b3o3ZQp5dh_4ZUCwNqJcL5hWamLBY7~5Zde~GcExkmyliIYH787T5WGL94Qz6utk1LfIsoDFN3geNX_~JxEfyN86ua17hPXG6O_QBKV9d9JH_Jl7zsSlFxM6_Mg--.jpg
//media.inmobalia.com/imgV1/B8vEv5Xh_VThvnEqMx4G0ZxU_YC_pCgmETwWNQKyeMqLb9Afo_WSoi~kcK5mwaepLz96AHEmAzWJQblCNhundhnOIYTFLWoaYUs4gLK7FPGmXjxyo4k~JRO2xMZI83MlKuE2hS~fjrKUpROeMwz~ptR0uOX5mfRccNhMe4JgrPEWJ3aWtyCBHINcWTq5Y3Vwa5LqezgDo5vaoGANllzFFTdZYHqyyXor_u856GAirWBRmsVAUJF5iQ3TRQD29cLMuJef8B2JkpiCKc~ericmjn1aDj1c3psh_UQb9jTb~j716Ul1NYmNMeSu9vldqzW2H~eEdQ--.jpg
//media.inmobalia.com/imgV1/B8vEv5Xh_VThvnEqMx4G0ZxU_YC_pCgmETwWNQKyeMqLb9Afo_WSoi~kcK5mwaepLz96AHEmAzWJQblCNhundhnOIYTFLWoaYUs4gLK7QSpZjSEe1Br~LeIEJMSzGX8gNi3~zc8LMGrqVuMybHYPqUfsEu7UOw~uYfgvzvyBwTR~ycKLNJHAJW77jht9Af3eBFKz~jfp3WvC3rRZoixXqA6nhTwkjCcG7U50pwfz4UjAsdMpnveHd5zaVN3HygzSiTFj2Tmwoi73TRrZSEwe5EsPiDXU9oKxRGZqCKyO5kIaO0pXF3LmDlMUyFRq9Ok_JxAIjg--.jpg
//media.inmobalia.com/imgV1/B8vEv5Xh_VThvnEqMx4G0ZxU_YC_pCgmETwWNQKyeMqLb9Afo_WSoi~kcK5mwaepLz96AHEmAzWJQblCNhundhnOIYTFLWoaYUs4gLK7QElM0Q_iVH9PgiqSt7uDQ4b13ZMxHz0x1BIs13Mn3IPgbd_qJbSV1DkhPr2y_ZF5XWdqJgeLs1qHAN4T_aozuZTfxeON4qWnb9ZGC1_6GKhNlJdmiDoDRmoNg09LBHKrTiXHtUU1uDo_XzNOB8~a1CoBy66SDC~ZisFMvstJwTbeoeNMCltmXnjMqICQQnBBwCL~TQoZ7goASLYDuhzAaQcrpRueKg--.jpg
//media.inmobalia.com/imgV1/B8vEv5Xh_VThvnEqMx4G0ZxU_YC_pCgmETwWNQKyeMqLb9Afo_WSoi~kcK5mwaepLz96AHEmAzWJQblCNhundhnOIYTFLWoaYUs4gLK7TDYXMMOEIcSIeLZitfWmlJy82IOIyCisw6RL_XRJDp2gCpu75fGuPLTMyGRrLReJiCBTA91c6nGnFMbC9NLDxWkt3F2Zr3sqzn9m9Erw6QeHZ8qiB6w5wX3ZduOfIL7JjR38Mnya3w2sBQqxjAjRMFdx2llSxtrUwFl8IQx06VzZ2xgniFbGytzKYBtcflnTnDtK7EEHAxe5lsrpE~y4CBITGHmduw--.jpg
//media.inmobalia.com/imgV1/B8vEv5Xh_VThvnEqMx4G0ZxU_YC_pCgmETwWNQKyeMqLb9Afo_WSoi~kcK5mwaepLz96AHEmAzWJQblCNhundhnOIYTFLWoaYUs4gLK7FydUfVoGqENe1v6l59DJL1rGfUjR1WL5BLUkHw2T5RX6gVDb7sdHv20CbMfq3o_zZuf3Ml6qK~b5vkg7B2xtN3ody9BPy0VhZK6gHi09Bic9s4RtpfXdw132TWzVloAZg9N08EOiLxmkERtBVZmnoOSYz2B~OeaVJS5TsxEu46M0NVvylxnX6Mhs334YDC8rokjb2UHul6J0MtLZ8cHK5M3pjn9T9w--.jpg
//media.inmobalia.com/imgV1/B8vEv5Xh_VThvnEqMx4G0ZxU_YC_pCgmETwWNQKyeMqLb9Afo_WSoi~kcK5mwaepLz96AHEmAzWJQblCNhundhnOIYTFLWoaYUs4gLK7FyNZ69WlnJBpqOlo4vQPWDpN4c0aO_cRxgWOivx8STzdhkJ6RqN8a2ys2XKwZiOiZm_5FayBdaFQ2psU3OKbUKtgdLGfMmOcJREUrn3L3HeGn_0R_fpIAbFv8KTrYwg8pyjaIPR20t4ao0m4thBYgTnOymAFJJHgKsKvSHsfWSJ2nc5KhOv81hh74TzG1oqYFYwdnjaTkhYPDhWv_WbxffRHyPJGLg--.jpg
//media.inmobalia.com/imgV1/B8vEv5Xh_VThvnEqMx4G0ZxU_YC_pCgmETwWNQKyeMqLb9Afo_WSoi~kcK5mwaepLz96AHEmAzWJQblCNhundhnOIYTFLWoaYUs4gLK7QEQbOAPxNpOJIvHiPTqFYRDSywJ7pBmwnPcYbJJARBVsFtx5LeC2XwHj8S8GS0bZULTE2vkMNgUg4Ul3FYTcO14M3hLoJSIyCntU3qp9BKVMMb6mwRLyVaLY5o37tQZ8dZhs5jFBVGqzgkkC5qLbNpOeN8_WtZSm~0fKxUZ63QjpMR9vXrND2IRbXlMM7XqVu6Fti90qYUQs1plPoURTe~PazG4bWw--.jpg
La Alzambra, Nueva Andalucia
Apartment
SOLD
Spacious apartment in La Alzambra, Nueva Andalucia
Wonderful apartment in one of the best complexes in the surroundings of Puerto Banús, La Alzambra, in Nueva Andalucia.
The house is distributed on a single level. It consists of a large entrance hall, completely renovated kitchen, guest toilet, two bedrooms (one with private terrace) sharing a bathroom, master bedroom en-suite with a large wardrobe area and large living-dining room with fireplace and from which we access a beautiful terrace overlooking the well-kept gardens of the complex and the swimming pool.
It includes a garage for two cars and a storage room.
La Alzambra is one of the most sought-after luxury resorts for those who want to enjoy the wide range of gastronomy and leisure activities offered by Puerto Banús.
For golf lovers, just 5 minutes away we can enjoy the well-known courses Aloha Golf, Las Brisas, La Dama de Noche or Los Naranjos.
The urbanization offers 24 hour security, a beautiful communal swimming pool, gymnasium and beautiful tropical gardens.
Ideal as a second home or for families with children who want to live all year round in Marbella thanks to its proximity to one of the most renowned schools on the coast, Aloha College.
REFERENCE

208-01339P

bedrooms

3

bathrooms

2
built

174m²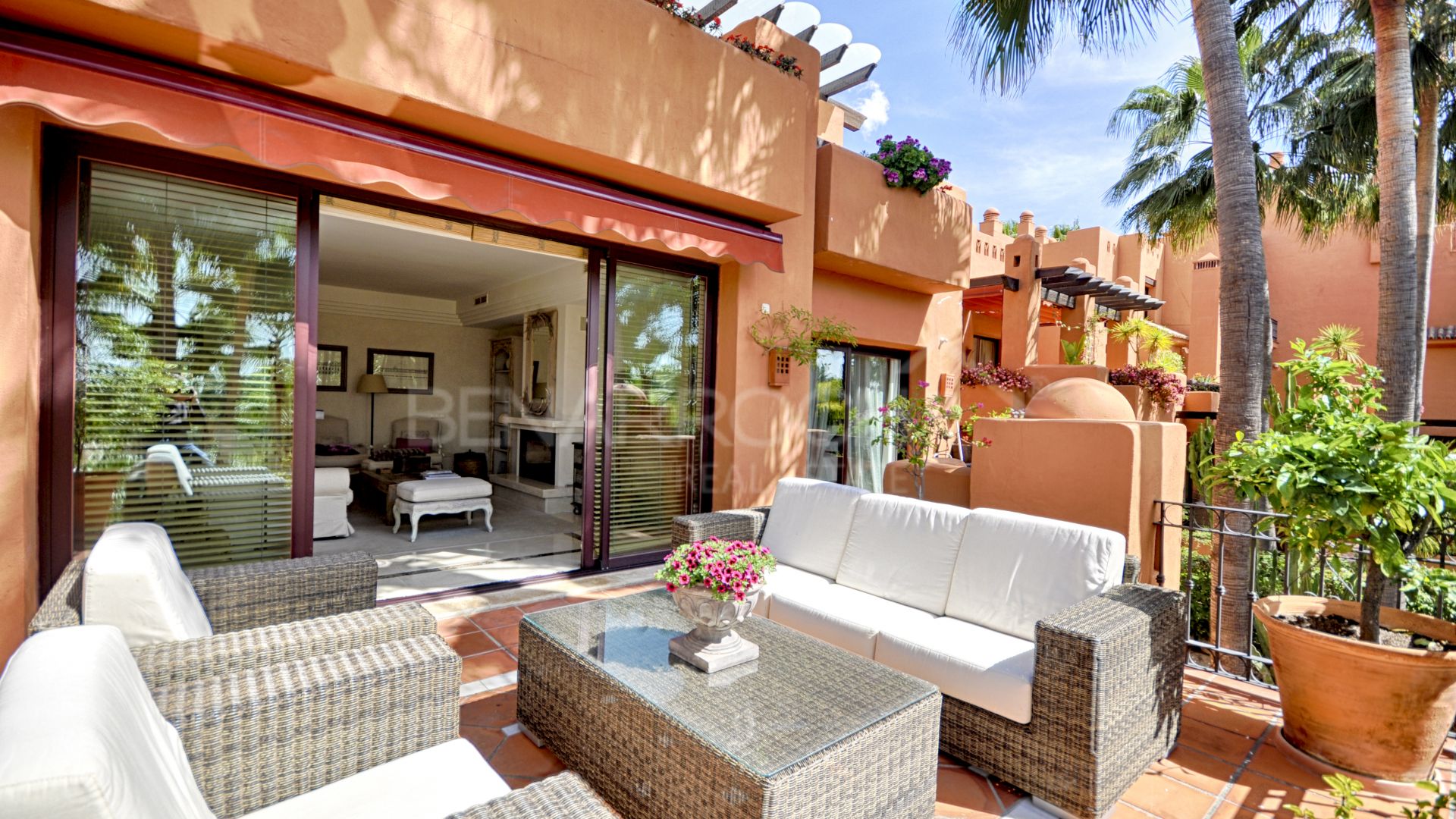 Video of Nueva Andalucia Area
similar properties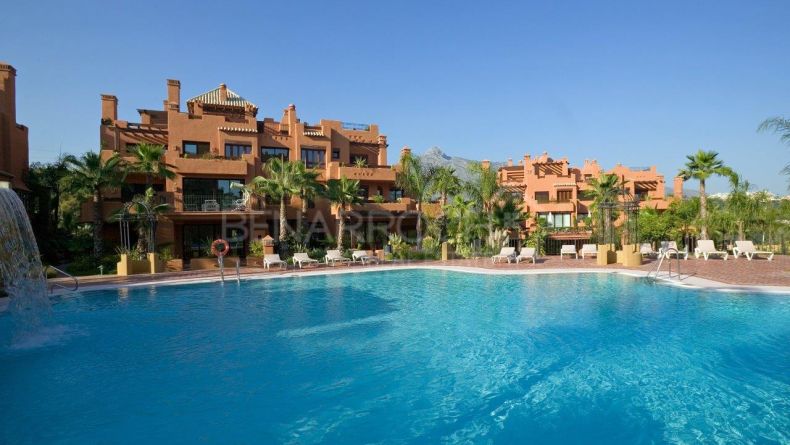 900.000 €
Three bedroom apartments located in La Alzambra, one of the most luxurious urbanizations of Puerto Banus. The community offers ...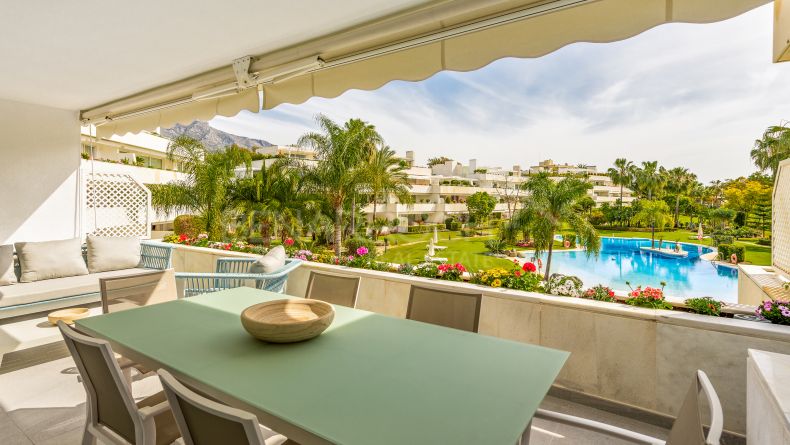 765.000 €
Recently renovated apartment located in Los Granados del Golf urbanization, in the heart of Valle del Golf in Nueva Andalucia, ...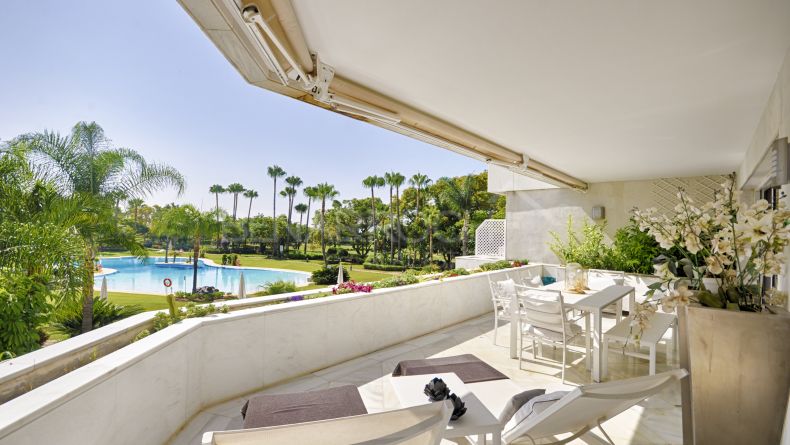 1.900.000 €
Elegant four bedroom apartment in Los Granados Golf, in the heart of the Golf Valley, in Nueva Andalucía.Through a large ...