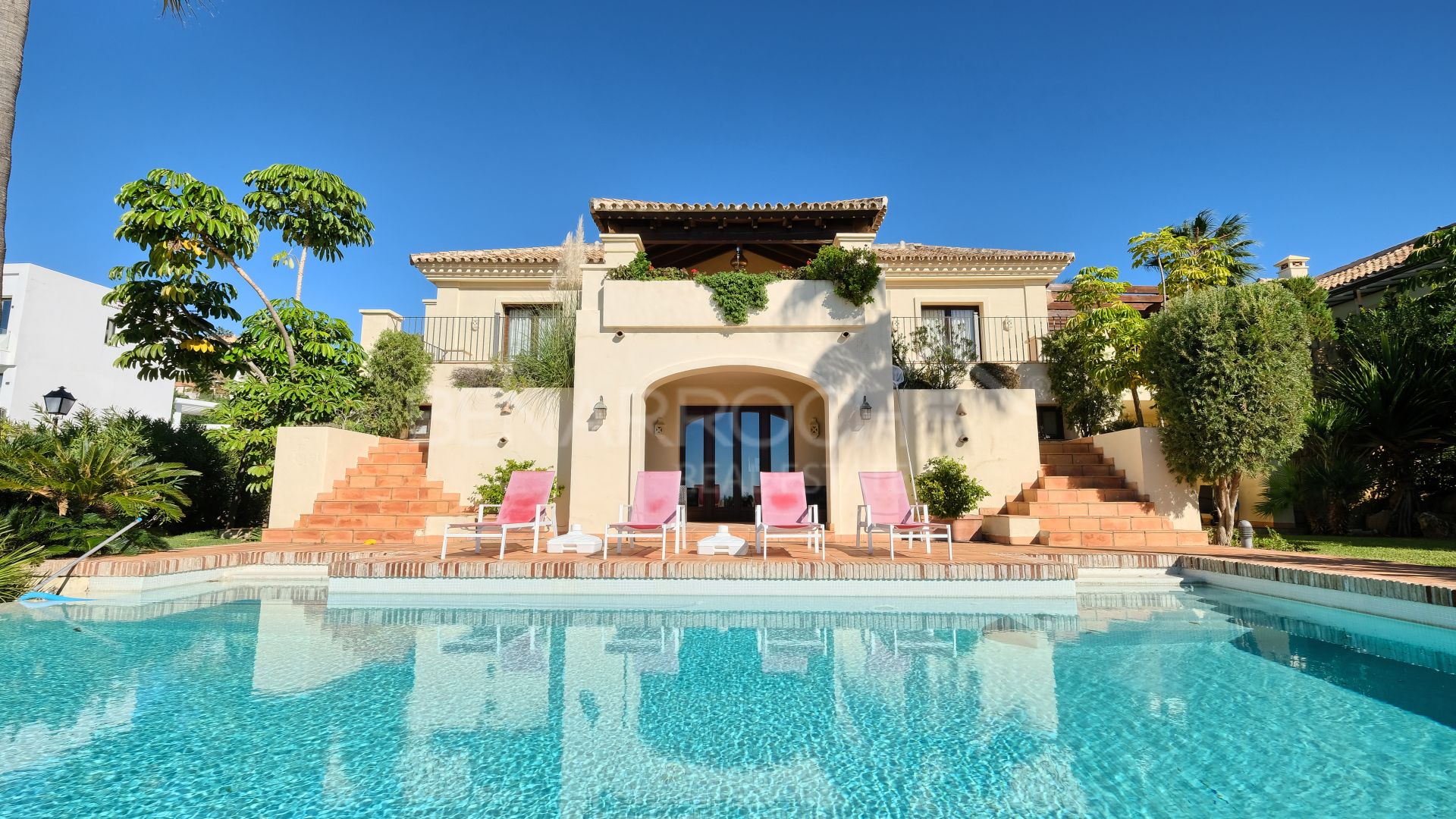 //media.inmobalia.com/imgV1/B8vEv5Xh_VThvnEqMx4G0ZxU_YC_pCgmETwWNQKyeMqLb9Afo_WSoi~kcK5mwaepLz96AHEmAzWJQblCNhundhnOIYTFLWoaYUojZOdA3MSJQWt7BvB7ravAlvSwbpny2d61cIfkdFwlnbA2Qp5kpc0ZCSEy~0r~TFrIzTguMojY1FK7D5Ey1_~AqzHdoKaF_Vtli453c6JvZ6478N7OQIur1blfR_cOIBbDz6DZ6nr2aXvFB2x5kU4AYRlOHg1MNkWEeg4nP_k5hU6jMAqt6h88s0VpjrO1szzn81m5rW6XFl2Al8osLdzT4X00gYZsDQ5xEQ--.jpg
//media.inmobalia.com/imgV1/B8vEv5Xh_VThvnEqMx4G0ZxU_YC_pCgmETwWNQKyeMqLb9Afo_WSoi~kcK5mwaepLz96AHEmAzWJQblCNhundhnOIYTFLWoaYUojZOdA3WVqU8WKYO2LvK45fknuzU6WzJnxqndFF7rzs5MTIie4nuaAj2~eDXB3xAjAXcHzUPMNOqNieGRb~_VUCx0hXUk2IbLAA7h6lCnw0oyuJnSw4_3CxNLquKKRVTpaINkKts~TiyumdX6tdtz~URziqME2WwS855Mymy0mqWssnhkXZumo~UpZyS0y2jimJAwW1ueR5BaVo8Rqd~58YdR0~I9nRFkFSQ--.jpg
//media.inmobalia.com/imgV1/B8vEv5Xh_VThvnEqMx4G0ZxU_YC_pCgmETwWNQKyeMqLb9Afo_WSoi~kcK5mwaepLz96AHEmAzWJQblCNhundhnOIYTFLWoaYUojZOdA3JGwkCDPrw7Z6PUWzgtxVKFPgjHKAbiWuH_bCbIaz3HUBfGRwmefjyZiLU6tcZC3YC~6rP05tmMqkPXnJ~qqF6KpvXjlcMrshVNkrHvhMWLuAmFhyVVKSmK223QEgy2m2u4hbgGMxImVMn2M3FQavIi7rU1bEDcMsyFfBnHM7O9iy~k1qWvhHOA9M~FrUFNHWoO0wbYAr0j6EOFe65uro2OOUXWmZw--.jpg
//media.inmobalia.com/imgV1/B8vEv5Xh_VThvnEqMx4G0ZxU_YC_pCgmETwWNQKyeMqLb9Afo_WSoi~kcK5mwaepLz96AHEmAzWJQblCNhundhnOIYTFLWoaYUojZOdA2DqGSv7NJFk8JC60HPw1fodoWtC3FY_edl1mNlZGiIwl2pb4HyweIrt2tS_05iu_~YiGMxvc~lu102RA7nRiU5SuXgN6DJdvPSiXIy8IYNNBKFakciUSdFLsbSw458MSYNJD0BN5N7BQvYIwX6nDDJMsRUu2FpUF59N4gRf~Od6~wzEr4BQ729QCu~gTSQOqsfVONjbgCdeyXwJq0QRT2AX_l17~7Q--.jpg
//media.inmobalia.com/imgV1/B8vEv5Xh_VThvnEqMx4G0ZxU_YC_pCgmETwWNQKyeMqLb9Afo_WSoi~kcK5mwaepLz96AHEmAzWJQblCNhundhnOIYTFLWoaYUojZOdA2f5q5__YgBVTobEeK~IgDbSZr2lZpwdn12iR0KpasBd6GSzJab3hiuBZozpMQ~KiWthlNpBA1N5YmrQTVznPOv3Gyp3J~0GxevvUZqZClIRQfE~vlZ4oa6DdRpT08G_l2H1eSMVCvozvqtsqevfzvgWLTpU8kJ3Z177eX5mZxVKH3iB6bz3h96Oqn6OGFuTba5nkGPMeLDC4UYAazKsmLe4s9~L13w--.jpg
//media.inmobalia.com/imgV1/B8vEv5Xh_VThvnEqMx4G0ZxU_YC_pCgmETwWNQKyeMqLb9Afo_WSoi~kcK5mwaepLz96AHEmAzWJQblCNhundhnOIYTFLWoaYUojZOdAj~IN6AgkU2Rv6g9xpEBg9C1~4Ng34m8zgid49J5zRHME8dCsbGwuafcYqrqYve3WBcW2iqiD8W2UrYM2ZAQY28uVt048CdJf2nB8j~2KPCscub89hw~IgoutILx13VZNN1JbrMllX1o3n5S1c1Cf~JsHh1ND2~6xqXP8O0Om_J0izevbNbbVbMhiDAUzNPxjc7XMUBeaOFirfIKXCXpmKD~ElYDMgw--.jpg
//media.inmobalia.com/imgV1/B8vEv5Xh_VThvnEqMx4G0ZxU_YC_pCgmETwWNQKyeMqLb9Afo_WSoi~kcK5mwaepLz96AHEmAzWJQblCNhundhnOIYTFLWoaYUojZOdA3MAI2_XwoOeP4WJbDClehxPHwcxtqFiuicD92oT93aT4ZCrAEzi66NxBtj5QSBf1j32yl0mD4O4whNV70EpkNU~gznnX6cFb81HoaiPIYAe9AEb9DgoVx5YppA83Ef0wGw585l0ucH_NsDHexoSpjwSMifO28zyZxfR27QN7qJJo~yvKY~WvdBfv1zflkphDhTeTy6p0p0SpLoS6bMU2ZfSVoooGxw--.jpg
//media.inmobalia.com/imgV1/B8vEv5Xh_VThvnEqMx4G0ZxU_YC_pCgmETwWNQKyeMqLb9Afo_WSoi~kcK5mwaepLz96AHEmAzWJQblCNhundhnOIYTFLWoaYUojZOdA26mWKywICAnaW9pMvg4bPw71zj~PX90LPwU1MLdKQYfcJkWmT5vxuato5vXVg4k0QoND_utYozXZyN50efxjaItV34Tb7wc00IXVtzVjVna5PK0Rj7ot6W4dqbWCU782wVzBUi_aJC85XTHK~oHskOhZPIXYY8GpM5fLICNWHfa4uTUivglM6~mQEOF_SwQspRE53pSiFamylf~PTjDcqaVjOjBVGg--.jpg
//media.inmobalia.com/imgV1/B8vEv5Xh_VThvnEqMx4G0ZxU_YC_pCgmETwWNQKyeMqLb9Afo_WSoi~kcK5mwaepLz96AHEmAzWJQblCNhundhnOIYTFLWoaYUojZOdAiw4u9tK5W58FtQ8Alvo0gRgnzityV9oaOi79lJdnN_S03HW8lE1glJhbsYj9PKeBDdCz9OYb3kh2yFgslwpwNY1~_5yYceP2zE6wl8fNp4zEghKmTQeoav6yVIZh2lTz9yrcZgtAgbbvnon1sUknIdIGwBHRPoWQQ7aliurMmryRJZ2zYwUxEY7wd12dfGOF8LrNUGW_ZGApmz8lttcb8A_UW~N7lQ--.jpg
//media.inmobalia.com/imgV1/B8vEv5Xh_VThvnEqMx4G0ZxU_YC_pCgmETwWNQKyeMqLb9Afo_WSoi~kcK5mwaepLz96AHEmAzWJQblCNhundhnOIYTFLWoaYUojZOdA0CmyCkVx8pgKJOpVLfksF2hoTkIjVrddbt_DZVyW0WtVCWjShaCoZBJt6lqGx0dBqNmwQG9j~X8_v8qe38ZoQCZVohXZKjBNWQeum_60uBq87LOdETigq6Oza7qe3etfjuBj_B3jqo_rXSlNOhmKuXayWGQszyrAGQFVOsK_bVBUUqRddrz0E~ZvJWuCNnLq55y70Gr7g0SVE~zbOFcRpRKhreRDFQ--.jpg
//media.inmobalia.com/imgV1/B8vEv5Xh_VThvnEqMx4G0ZxU_YC_pCgmETwWNQKyeMqLb9Afo_WSoi~kcK5mwaepLz96AHEmAzWJQblCNhundhnOIYTFLWoaYUojZOdA3nOMkE~24~tVvQAF07dg~1WDqcTCyBaAeT2F_ie5O~kMmpmkmMhetI_dK57FXBNWtRGCsgHJZ4yjEYF6F~GHqP2vRJwSqjztJMXF6Na8BLpuidetAPAasfmOxSCYv9CHyVfTSeB37oxajWpcCpt5O2QNozid4BSNoU~jniZ1zP1RsLGtWni7Xs4O6LBl6tj6aTNal5h6rSDrJq7SIovGA17Kuo3LMg--.jpg
//media.inmobalia.com/imgV1/B8vEv5Xh_VThvnEqMx4G0ZxU_YC_pCgmETwWNQKyeMqLb9Afo_WSoi~kcK5mwaepLz96AHEmAzWJQblCNhundhnOIYTFLWoaYUojZOdAiKJ~auBQJPItv10XsBdrMGthV1AowRvC0snOXrgrUADV7sxVFUA342Jcg_k0ReSv_WqHM4s6y5Yn_fasxA6shDrEj2m24fQBsrrB~v3QYr3jKtPy0~2NOjKttFb7AL8filjQIpU0278LJXf3bOxuFDVsFRXVPSmdMb9Nxkb7SGo0ox2ysJyFpCg8Tu3jXVL3h5MsdPYOCFf_xd5L3qAW9UPF9D0D_g--.jpg
//media.inmobalia.com/imgV1/B8vEv5Xh_VThvnEqMx4G0ZxU_YC_pCgmETwWNQKyeMqLb9Afo_WSoi~kcK5mwaepLz96AHEmAzWJQblCNhundhnOIYTFLWoaYUojZOdA3itJdGZsuib4UGcoP0l5a~tqbBIr9rbSJG6s~N63t25dciTysKdfe2cuNU8Q0qzFh6LtEOVDnbGdjBnqG9tnwD9nxqeX~B9Cm8scfmtBNF5na0Ct~orYL~qgbR2fdyMXrwI7M3~i0MrpVvUkz9v3PhSh5WquRM9_OMaDlKCQlc4VVFNj4zlkMPIYKI_xEOIbKE_9PowRIXmiqO9cRUrK51FX5iMEYA--.jpg
//media.inmobalia.com/imgV1/B8vEv5Xh_VThvnEqMx4G0ZxU_YC_pCgmETwWNQKyeMqLb9Afo_WSoi~kcK5mwaepLz96AHEmAzWJQblCNhundhnOIYTFLWoaYUojZOdAiKJ1FHvHYgcsANja8koOBxeUWbUwQlbe1ELu2OZseUNT5MPGy1kRqkT46ItYLThsWYZD2fyUckkFKmXsuxwfxt0KbfXuncvi0pvtflvxhRqZAC6yVAYxpIhYRzJqE2JcYol6RDdEH2sbBiJwvn1k9UZmYrhtT4NxiiNMLqpTjTVpG1Tsa8yDJAYK0m6BcD4HBGkzirNNqtCzYmpQ6AvwKBsp6KANIA--.jpg
//media.inmobalia.com/imgV1/B8vEv5Xh_VThvnEqMx4G0ZxU_YC_pCgmETwWNQKyeMqLb9Afo_WSoi~kcK5mwaepLz96AHEmAzWJQblCNhundhnOIYTFLWoaYUojZOdAjMMoXNUWv1zTYGNQQcWovKC0UTsonn5jiSNkdgISZ6CssUBUTT9AeOH5xIP18SIvM_JCMgYF8QFvkZI6dR3RD2PpS~1OtC_1LM1629EEImxtf0vjtOrZ6~dEtibGr6cNiQcAZ45R2V00IHI4RjdfHLhmqGx6GGsfbxJIMfNMhZNXv8jZ7pllWNf8KsS_fvEjuXJMp94Vf7O2MsTYxcWXRwuhDz34gg--.jpg
//media.inmobalia.com/imgV1/B8vEv5Xh_VThvnEqMx4G0ZxU_YC_pCgmETwWNQKyeMqLb9Afo_WSoi~kcK5mwaepLz96AHEmAzWJQblCNhundhnOIYTFLWoaYUojZOdAj~Fko4koOiDC7ysyaECRhGNSBXf2vdAAX4bG9Ad4UQeBmeCGHkZHJIbspTnAWKgqU2GMVdDMap5m9ewKtFMNbZjWnQ1gG~7KMfjX17_8oMenWHYnvX_7Y51nZpdrRxdJ0JgHQB8Qo1EAKPHqh4copxrl0RZBN_VvdtYUmMERGWBKFqJX1feDaqp~mfqKkPWQRDpNkvaOxj6p8n2aMiIImAM_k9lPPg--.jpg
//media.inmobalia.com/imgV1/B8vEv5Xh_VThvnEqMx4G0ZxU_YC_pCgmETwWNQKyeMqLb9Afo_WSoi~kcK5mwaepLz96AHEmAzWJQblCNhundhnOIYTFLWoaYUojZOdAiwjPMkinKQ0vfcYPVaFWJ98RhgBn~l8MQ6BXCXszRqBmZX5O4eNlAX2WlYWVN74bwfkMEHyrnfLFZuCP1ZkH3nKELfwHjLjlzGFwSBCoPUUemyBpdleRTmZR8h7TEUT0zAbpab2V_03SqgGotMZr6VTZcI91xanqV9gRxoBuHbc_N8J9xTnH5i9T5~0fQIHwXYWQw95zQhB_NuXHWG_N744hyrm6JQ--.jpg
//media.inmobalia.com/imgV1/B8vEv5Xh_VThvnEqMx4G0ZxU_YC_pCgmETwWNQKyeMqLb9Afo_WSoi~kcK5mwaepLz96AHEmAzWJQblCNhundhnOIYTFLWoaYUojZOdAiKMHVzpVxjqsD6FIQ6vGuw5eLaBx1RzvkCtVjQ8c_eAPiKd2NxbN933pRs99QMwMcnSaRP0vXHTfp_WAQ~SeWrNUhqOszIqfsGPUnAevUBtun_QF33TSry3f9JWe_VP0z6gJmE2G9xW07tKCLlaB7mIlmV6aBiFeQIXjuSM~cODNTxIJBIsYL8wt0Pmj2LWUJbRtJaJ70ccEWZiGsbaynlBtiEYm4w--.jpg
//media.inmobalia.com/imgV1/B8vEv5Xh_VThvnEqMx4G0ZxU_YC_pCgmETwWNQKyeMqLb9Afo_WSoi~kcK5mwaepLz96AHEmAzWJQblCNhundhnOIYTFLWoaYUojZOdA36MeLs36azW9E1SNofGrWqrtrFir8VjzjWEz2M6Jow~rozQiPwwL6YEOiY3WSzVgZU74g3nmtAzogBwfpQjG8wE2_ZR3dyNStz9mzJD1RP48JmHALop6ZQUscRo_G~xwYdbUNTP2hb0QUm7P7sDT0L8iWmGjAdsn9Nl4wdqIRzM~UU~8WfVAzntaehR1Lu7TRJO3UP4E1FMbC7WTAIbgQSTEZenJ9Q--.jpg
//media.inmobalia.com/imgV1/B8vEv5Xh_VThvnEqMx4G0ZxU_YC_pCgmETwWNQKyeMqLb9Afo_WSoi~kcK5mwaepLz96AHEmAzWJQblCNhundhnOIYTFLWoaYUojZOdA261Qn3TE3jXGswDc484umP5KqBGipekK_aGSvaRuqSaosHNXnc0KweYDG4EtmHXYuA06mjQ2UrpwSOJUnD5241eA~TlK1Pn4Lh3w5Assv51c6zZm4IGLJ5JbJU_U2mnfDZEbEJmQsToiaAFr5REQ1wN9C_Mn9HTUXLJ8EyK1eXKdepLFXKbFxLt~lFMmdHoEMHXAVkB7klDNmn9Ue4LEQFXVnLnWcA--.jpg
//media.inmobalia.com/imgV1/B8vEv5Xh_VThvnEqMx4G0ZxU_YC_pCgmETwWNQKyeMqLb9Afo_WSoi~kcK5mwaepLz96AHEmAzWJQblCNhundhnOIYTFLWoaYUojZOdA3TShIRkEuFMFIG~MGVDyyM_uyrgubAlZohSfjrv6tMD4L_kmVyYUgdzEiQ0EnIAb0Uo1JuJ6GNNdc2F5lLacBxzLu~DyvPTrHR74YPAb6dGkvIYdoQVulV0HuOqHXWxChO3N5g_nG2zUqumDv~iB6PZ~mcWGVBVEQi8xUpAfcdhyKqYdiQRxioiYV0sKNnTYawGnX4SaUFWuyfgytO25u6jgxouAmA--.jpg
//media.inmobalia.com/imgV1/B8vEv5Xh_VThvnEqMx4G0ZxU_YC_pCgmETwWNQKyeMqLb9Afo_WSoi~kcK5mwaepLz96AHEmAzWJQblCNhundhnOIYTFLWoaYUojZOdA2v6TWO_X8Xb~gbv7VB0f6~h0gcGvGHq2G6jnFydbsHQk0QkRXnOFYsNzO~8uo5Afm~SdbU5J0fw8Sohpi4~Jq5tDdnnafqYeqoUhoeTpPggSXierTKkGR~gJFs~DNeNg0GqXpNZa~7CsDfd8RWaHNmmdr7B2D05mT3A7hjmVQfa20sBSDeJ95Ej6gCdLAOdzAiIP0IGTg8i6aOZkhPK8q5NyACJYLg--.jpg
//media.inmobalia.com/imgV1/B8vEv5Xh_VThvnEqMx4G0ZxU_YC_pCgmETwWNQKyeMqLb9Afo_WSoi~kcK5mwaepLz96AHEmAzWJQblCNhundhnOIYTFLWoaYUojZOdAjdWy2zKUQdURwDoFDI6SYGuDYwYtT_dIRnk17mpzl~zd55ySUAXAAtcxKJjuRdczRg_Ka_YhcSdRLbTigXzzZGlCOfOfuli8lq2J0q9Nom8S__D~47tINx0mKBvYT~Dl3BqjJltyD9bP2wBRBy_WA_A1mIv7UQhh_EeUfjNXMHmyu3iFauHOugakJhNmXjpW5PfxG1Y9aRJVYJffRwx_uAkDuEcqVg--.jpg
Mirador del Paraiso, Benahavis
Villa
SOLD
Classic design villa in Mirador del Paraiso, Benahavis
Villa located in the gated urbanization Mirador del Paraiso, in Benahavis, with a charming classic style, in a quiet and private environment, facing south and excellent views of the coast.
The villa is distributed on two floors. On the main floor there is a hall, living room with fireplace, dining room with fully furnished and equipped kitchen, master bedroom en-suite with dressing room and bathroom for guests. Direct access to terraces and porches.
On the lower floor, at garden level, there is a second living room with access to the garden and the pool, three guest bedrooms en-suite, laundry, storage room and garage with capacity for two cars.
A property with an excellent location, not far from all services, the beach, San Pedro de Alcántara, Puerto Banus and Marbella.
REFERENCE

208-01265P

bedrooms

4

bathrooms

4
built

359m²

plot

1.042m²
Video of Benahavis Area
similar properties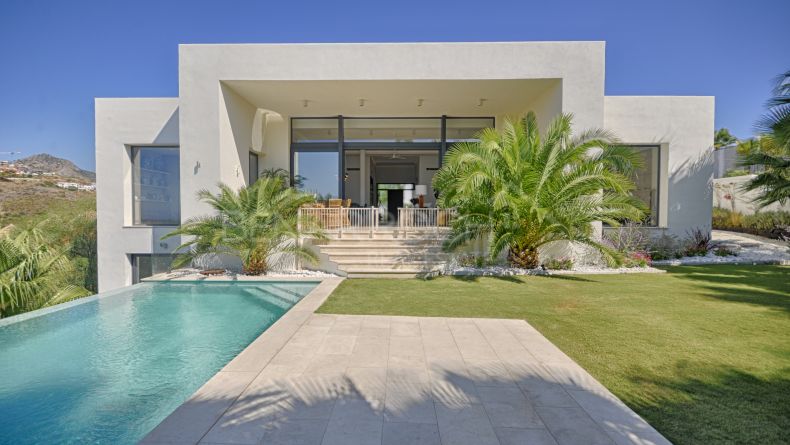 2.250.000 €
Contemporary style villa with amazing panoramic sea views in La Alqueria, Benahavis.The property is located in one of the best ...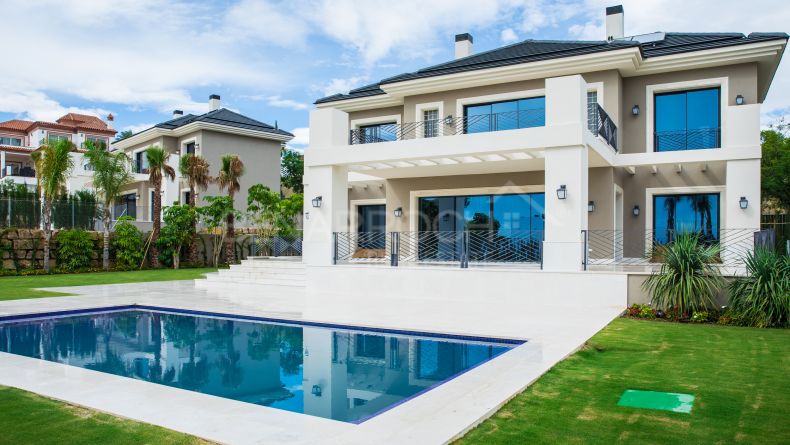 2.800.000 €
Newly built villa located in Benahavis, urbanization Los Flamingos, a short distance from the golf courses and with amazing ...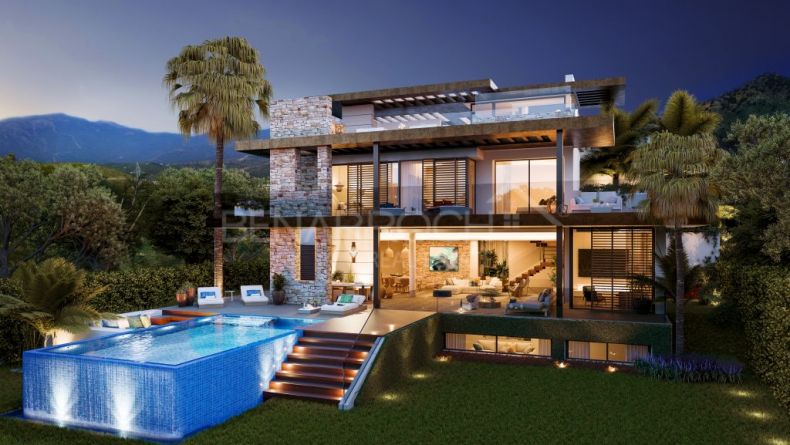 1.350.000 €
Design villa located in the newly built Be Lagom complex in Benahavis, a residential complex comprising thirteen villas, with an ...