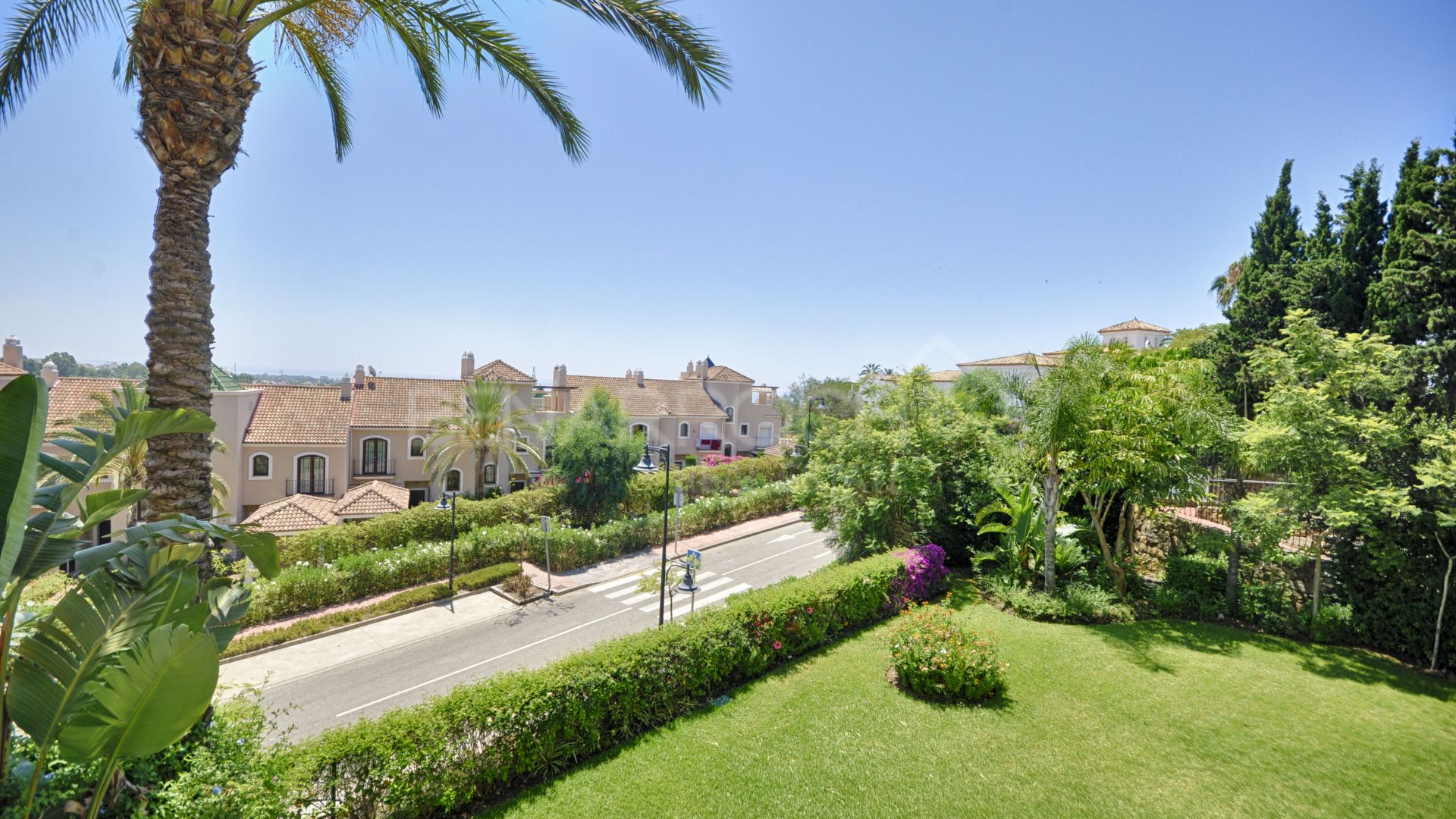 //media.inmobalia.com/imgV1/B8vEv5Xh_VThvnEqMx4G0ZxU_YC_pCgmETwWNQKyeMqLb9Afo_WSoi~kcK5mwaepLz96AHEmAzWJQblCNhundhnOIYTFLWoaYUonY9~q3XzjWsXZ6rrQV3a2SL9TqqI1k2NqVjqmJ~MbbJON2dm8AqvlgD7G6FNHRmkaPAoQ8NENXVaH6Vzty3YGTCsLM2YnwMDH67I5nva_wUNyx_VhOnG4jbqlmQJI1ZUUfbt4bzD63u6V1wIvKWBhJ1XKk7dxDBDf5O52aXS5gIC_crrUI~5iFKAnSgfB~Z7le3gOo_eFR8NdR4G~q3lUqabomBbJQUUWVA--.jpg
//media.inmobalia.com/imgV1/B8vEv5Xh_VThvnEqMx4G0ZxU_YC_pCgmETwWNQKyeMqLb9Afo_WSoi~kcK5mwaepLz96AHEmAzWJQblCNhundhnOIYTFLWoaYUonY9~qhmvjn6y9TBTDXoXR38wi0u1NiGnMhJVnuAHtG94mT6YNvMmtpNR0wakopvyPDm9fmzYnsfi9a~Qlr_BDrXs1GWMwbyCdmxCkzCwzrXCzGhB0Eqy4yf8C7w0NUnFxNMMKSHhUS7xGfaa8FOanUgObk3ZQkV~1fmZBf2wYgd2l2dq~fiqg4H6vpn2TGvXVmSq4nwScVebno~jM7DP~nueC4V0TMp~UWQ--.jpg
//media.inmobalia.com/imgV1/B8vEv5Xh_VThvnEqMx4G0ZxU_YC_pCgmETwWNQKyeMqLb9Afo_WSoi~kcK5mwaepLz96AHEmAzWJQblCNhundhnOIYTFLWoaYUonY9~q0IQEpd2z4ItAgchol0U5rswU2nIju5uZoA7Usd4_htf3tjk8wFS6dPvWPD1_VDb4hQnEQ4j9T5iaRC~s7WJ9g~HKcawOWoJlqWQ~Z3JtqLMm1ywmNiftpXvzwQsq_ellLF7dqpUUHXd3juhcNVWqLNU5xLK5wpWYgl~S8QKnac8hcT2PeAlsgIaa4D3MloqPGC5zUOCJeQkW0oVQNpwjCqlyuOULJQ--.jpg
//media.inmobalia.com/imgV1/B8vEv5Xh_VThvnEqMx4G0ZxU_YC_pCgmETwWNQKyeMqLb9Afo_WSoi~kcK5mwaepLz96AHEmAzWJQblCNhundhnOIYTFLWoaYUonY9~q3GQFJCR9IvsDRYAAwRywzdshdPczqnhPjquB07Kvw6WvF4fw3I3khFrzBp68kDkHWHEcwae2lpB3Kvjp_TN2R4dxCBahLuxHPQdsAsuEGheo_nqI9fx56FemMGVfsvoqkw68~W9_bHQEoqH4l3rvHhVvHgOkMDls2hL6WicmiZEBhO1Pxcyd2S6WirpWoIs3MrPKSHEPKNJ5plA8pUUY7mZp6PG3Uw--.jpg
//media.inmobalia.com/imgV1/B8vEv5Xh_VThvnEqMx4G0ZxU_YC_pCgmETwWNQKyeMqLb9Afo_WSoi~kcK5mwaepLz96AHEmAzWJQblCNhundhnOIYTFLWoaYUonY9~q1KotbRvEdp5PM0O69PR1oGfOc4yhgQJ9_3RVAtY~biRUa62B_fFB0YTLvPeAg9R6zfBLzUPbnUMMBajsodShNu2OrnW_HvrzTAg5ebH5LQiCSvAB60EyBFCTguEjFr5wEczsoG~P4NcdwCVNQij6qJpmvr_EUvxs6lwkI6GWJ_ICZG97BI8heaH5UZS~5~fvtj_sIgQXg7bd~YjEzvQOaIqG5AjUcw--.jpg
//media.inmobalia.com/imgV1/B8vEv5Xh_VThvnEqMx4G0ZxU_YC_pCgmETwWNQKyeMqLb9Afo_WSoi~kcK5mwaepLz96AHEmAzWJQblCNhundhnOIYTFLWoaYUonY9~qhFOltme1yNb~QMjbbFgWBQYu9uRQ9krpH6H7TKpo5qwtuEXW3gdITVM7Dna3KgWOS0HUubTbkfZvXgrdfZjKR~0Owb0BhwubSS9o_BsqZvqtMFxsIc~iYLpFscAApxtlIJvWc8PIZ1eIWtTjFNJ4obEegeSlKyh5d_wBnyxXHJ2iEAcp8qfXSlmrkgVwJDN1dxAgd8GcZ6x33_smqQOSerb16iqDtg--.jpg
//media.inmobalia.com/imgV1/B8vEv5Xh_VThvnEqMx4G0ZxU_YC_pCgmETwWNQKyeMqLb9Afo_WSoi~kcK5mwaepLz96AHEmAzWJQblCNhundhnOIYTFLWoaYUonY9~qgfKwwLt0gjh8Ww9lrJEAh2XJ2BiF6qpKq1~fRHug7W3UP5YJbMgp~oZCyrUki5eCvgquwu3Hr3pCuFKO1eB~QW2bMTtloLAPbGiottvbrJ_xz2o6Kil1AeS5LtwMyNF9PHXp2hkuwSiHuc1p3FwSUnAxoPw4lxDUochQq8CvUwDzt6Pu2Sw68Ij7UNEUf8jFseajPQVPOCF~JulpmoAcXJ1xeboocg--.jpg
//media.inmobalia.com/imgV1/B8vEv5Xh_VThvnEqMx4G0ZxU_YC_pCgmETwWNQKyeMqLb9Afo_WSoi~kcK5mwaepLz96AHEmAzWJQblCNhundhnOIYTFLWoaYUonY9~q02fiSqO8ZVxTYYCLNo7as7PY5HKFyL6p9n8Sbx6dsK_CoVpG6jRAwJNvBKJ~XcK773yuxbO20IeV6h3C_GKZMGoIU_7cOzR_iXaNJpGKAu~qR~adamAehPt5mGsnBoPaO7eGzvSUbUzzifR5GRlJ3tj77OPgF~Hki4qZpFFOEb~1cdXnek6QWVa_PWjyyfowX2ExG5_sNrbEuAj52IPCDQhGllhQ8A--.jpg
//media.inmobalia.com/imgV1/B8vEv5Xh_VThvnEqMx4G0ZxU_YC_pCgmETwWNQKyeMqLb9Afo_WSoi~kcK5mwaepLz96AHEmAzWJQblCNhundhnOIYTFLWoaYUonY9~q0I5BpAYAS0rfZ8kePTCBAwE7UNvv0kW0UprBjEMLna89zJSJ6ImMQwbzrWezmLailqJ~nWrnXw6oEDDCIDOALsVFV40Tvz_rLcuahFVQJw~CxNsoU~RARhplv0Xsk93HeAjBkVWw8_rqZnn8J0ITZjxaanXDAv4TL_73POX4urqPRMjR~2CvaoViPXoXek8dH525kuVoX437akoPPpJ3tYrwJmUgkw--.jpg
//media.inmobalia.com/imgV1/B8vEv5Xh_VThvnEqMx4G0ZxU_YC_pCgmETwWNQKyeMqLb9Afo_WSoi~kcK5mwaepLz96AHEmAzWJQblCNhundhnOIYTFLWoaYUonY9~qgwDvQnUEcyHGWRybwVlZkx3nk~guLwLoxsXkD3Z~A5BD9m~0zE7Nvij1qsCQBqiotXcke797iRxlrATXsYdr~~GUhmDfpc4yZq43W9N5HI1BxDuh~MlHOy6uiL3QaRRIPRT3YoXJa8ZnQHJxR9YsOMv~u53qzB8txTyRcYTVZhN6EJuIxLLb2LJTLQD6IgcsnLO_MJ_5CfWB1Bk_EjLRYSixP69~EQ--.jpg
//media.inmobalia.com/imgV1/B8vEv5Xh_VThvnEqMx4G0ZxU_YC_pCgmETwWNQKyeMqLb9Afo_WSoi~kcK5mwaepLz96AHEmAzWJQblCNhundhnOIYTFLWoaYUonY9~q3GemsL9UPVAjODXYil_sd2RIxJmB9UUy1la13MGFGfHhn1gWk7jRu2u0puQtpWsoKwOIk1dVSPLgfs1cY_1yReQKZY6tVfWxVv6HEhApdziNSnU5umJ~V3otuUDUhtDHXBGXpNGreOXR4e6_gIFAr06QQYmBESpUXp0FsP8UNiJMqyHfDXp4QQ0Q9IhfWK7bpCLF3xgNmJ1h5RaH1pp7O_GV6iYcYQ--.jpg
//media.inmobalia.com/imgV1/B8vEv5Xh_VThvnEqMx4G0ZxU_YC_pCgmETwWNQKyeMqLb9Afo_WSoi~kcK5mwaepLz96AHEmAzWJQblCNhundhnOIYTFLWoaYUonY9~q1KFlgwrwW6EYKuH47KxmFp0XMgUONNGcx8708ovAyGFcnDg11x8ROAK8fhLzf7hiLjT_S~uFPyc7eoAWiZezO~iR6MpcmjAm~NCYOfmmQxgWvluupL1QfNyOFne~_gxCx3A3uB07jXpad7jv9ALCQMm86sEhFpB_d7D5SgJpbTwsiBE53gp73SGzOJryllC4iBYB~kwx9ut5W9~oLU1sfRFPgYi0Zg--.jpg
//media.inmobalia.com/imgV1/B8vEv5Xh_VThvnEqMx4G0ZxU_YC_pCgmETwWNQKyeMqLb9Afo_WSoi~kcK5mwaepLz96AHEmAzWJQblCNhundhnOIYTFLWoaYUonY9~qgaCeDwgh0vWB8YiCkuqZJLoRhVMT1PQp5ypEM_Xabibz9cw8wcAdAzvA0ZdrcS3bqCkXEHYP~h~gnLgOpV~~DC6ZLDmdQbYYHsFY3DwpoYBt8fFYPsEjfI84pFhbwmYoCM0SOz0Hg8HxO5Yeg3A3jsg~_fQ0AuWpPzEKzVgiJ0iPWbOsgN4q~egTvQPesWYeIaU6moJWXALN5qdjkHrYPghpbTZLTQ--.jpg
//media.inmobalia.com/imgV1/B8vEv5Xh_VThvnEqMx4G0ZxU_YC_pCgmETwWNQKyeMqLb9Afo_WSoi~kcK5mwaepLz96AHEmAzWJQblCNhundhnOIYTFLWoaYUonY9~q3X6FufXfaME3l__ez1HQCUx2H0XfHeyOiT3jm2GasZTlmuqVVmOlHAH~GgNpwjNo66CXveXhIF1S8FBn6a0~fcSGrw7FpxNMQPVRi1WpJniRAIwAMv1k9jF83xS7iONt6xFMB4koXAzaLP~dHI2QDWg7X6HkiHvw0ZsViXq2dvV4z~DmJj2Z99uWdP37MvPnMq5ygfz3zmjB52PVg9eboWlBAxWn3A--.jpg
//media.inmobalia.com/imgV1/B8vEv5Xh_VThvnEqMx4G0ZxU_YC_pCgmETwWNQKyeMqLb9Afo_WSoi~kcK5mwaepLz96AHEmAzWJQblCNhundhnOIYTFLWoaYUonY9~qg12xsOHSwvF4x8zSzdAMhbL2kz98NW8MHCAEUkh0Mi4_2zpaNLp1niYf~_fAD5FJkZs_IaMz7OGW1d18obtSmn2QsHbyeb7aZRM_04doZ~uNp2vbCFY1J8kozX09lgJ8SWGEbDBhl_KgMEwrSSxcVvTC36IinAjdLL9IRZ0Dnu33UkzizZzv3p9Jbk2jEREkuvlCvf0FJG3BBI4~bT82r3_~027Hyw--.jpg
//media.inmobalia.com/imgV1/B8vEv5Xh_VThvnEqMx4G0ZxU_YC_pCgmETwWNQKyeMqLb9Afo_WSoi~kcK5mwaepLz96AHEmAzWJQblCNhundhnOIYTFLWoaYUonY9~q3GG9_RMcYXWoIMox_GvIv_a1yV5GmMcXJuJ5yFr_cvGHTeNGAHnuD3dYHqduudDNB1IaXm4gEEtA5zzi8WCJSPmCeUxzja3~Z00UavisZ_kiy5Y0R4QIArWC3imFVndo3t4MKVdqsbxwdNK5DqJ8RWQHr5cxfXm6EUup488pNAgGbWpWqG7I7CmHTaRyqsVGSLqn0qR1CPWlL0Ag81fSGFkoqJgLBg--.jpg
//media.inmobalia.com/imgV1/B8vEv5Xh_VThvnEqMx4G0ZxU_YC_pCgmETwWNQKyeMqLb9Afo_WSoi~kcK5mwaepLz96AHEmAzWJQblCNhundhnOIYTFLWoaYUonY9~q3X7WyN8mhnZaCfsRaW78w6MAaZ7qcnJTOjlAH6gFqkc3Kv2wItm4wE6N0Ur4LI9CROksdXv~0j7XxujBWirNZhL_KxN9qlrrg35Pa0tcL~mBOS4KeyPTsl12f_i0jPf~kwsC75jpX98c3Q2CFBHML1jAQrNXkx6EWVqzJycM2GV_~8I~nii0hhkf2kOnoac9EdIvBwLVeX5_HUcfDocATwNvm2MXUQ--.jpg
//media.inmobalia.com/imgV1/B8vEv5Xh_VThvnEqMx4G0ZxU_YC_pCgmETwWNQKyeMqLb9Afo_WSoi~kcK5mwaepLz96AHEmAzWJQblCNhundhnOIYTFLWoaYUonY9~q18I3U6iiMQVx0RIYW_sCvdjilK6lqH_eRiIkm5xGouWAJrESQsqkPfA7UGSrjfLPmsWRfgWu~xKVHbVc9ol30fTrAWGuQZ~t6jD3k2II60cZAcJ1RXc6p_ItcxcbWBg1BJRQuSGo0_s1F4~yrAnSsuXPzOCZJQoClu9z7V29OAFWVRS_FhX_RhdNCcfZobYzckyB2q86Egx0QaG7qD3411YW~CkPlg--.jpg
//media.inmobalia.com/imgV1/B8vEv5Xh_VThvnEqMx4G0ZxU_YC_pCgmETwWNQKyeMqLb9Afo_WSoi~kcK5mwaepLz96AHEmAzWJQblCNhundhnOIYTFLWoaYUonY9~q0I8MDYjfpqsDhGyfg1gTe1YW0K4Rebv1_O5k1Gn96S8KXoCGSxG9Euj20Qw8_DLG2QukvWMdZiuusi5PYDpS2COIto4ty0h7Ko2MIco1BALh6yvUJLIZ0up2wgiGydH9XCwTcCF7NQuyJ_hUDYkyelyjVghcYflOk1E7Vo1IysAEad5Mb6g8nq2k3_21asflE0Cs6gDC96wejFl_HYHRUNb8336E2A--.jpg
//media.inmobalia.com/imgV1/B8vEv5Xh_VThvnEqMx4G0ZxU_YC_pCgmETwWNQKyeMqLb9Afo_WSoi~kcK5mwaepLz96AHEmAzWJQblCNhundhnOIYTFLWoaYUonY9~q0advauiwKxZ3iQH0uX54zGQVauxz4yyR7yicLTvXtztTBdXn8F2FfPaLb5zDlzc_YXdzgWeTeWWNtKPDS8ZnofQgTXG9T0LnwPpX3YxmEAe0kNWp0w0vHL3hl7qcCgmB8WCacuMf9nb~AGFN01Gr3yzIqaqiLBrP2aLezluA142nwu_s1zFfUhWR99SJatA_70z8~GttB3jtzVo~s5wpUXVltLzHGg--.jpg
//media.inmobalia.com/imgV1/B8vEv5Xh_VThvnEqMx4G0ZxU_YC_pCgmETwWNQKyeMqLb9Afo_WSoi~kcK5mwaepLz96AHEmAzWJQblCNhundhnOIYTFLWoaYUonY9~q0I1IILU4gZFKc7uzDhYBJN6H7gbKtIIYrAL7TOpk1SxjL4Ih7H8JJxsXUvUAmShrUjD7ysd1PTcwLpsgPgDm1fTM9i6laB6OfVpU4iqJBhB8Srbr8brhe4zmK75EFGkUjd5TFQsaFTRp8lpaHjTK1XA9Tl6g~X3JXzUzOxCT4GEgiZbvrbXUQ_xARPCWhbc~_6zWvxDR5XdhGSdKNfzDTz2xYjmNEA--.jpg
//media.inmobalia.com/imgV1/B8vEv5Xh_VThvnEqMx4G0ZxU_YC_pCgmETwWNQKyeMqLb9Afo_WSoi~kcK5mwaepLz96AHEmAzWJQblCNhundhnOIYTFLWoaYUonY9~q1KFgBEY9EUgVXuWrXi5EQSY7ArTZE~OnvxTZ3xBQfyE2QPBmh~sl_6fumbG3UGH5CaGnBk4Z8DpyVONqlMo5ZQf0qg_uJg2D_nB9qrAbb2rxd1ZUfzc2xQmSm4QnQfjwXnfK2ooWo6zp3ckI1mvCg96WlU4SxZYWGmu0N8RFSHchEibue2XE2uXok8LIrZ5icUOPEOokxu9GVTad3nvKbuO5PNJ8ng--.jpg
//media.inmobalia.com/imgV1/B8vEv5Xh_VThvnEqMx4G0ZxU_YC_pCgmETwWNQKyeMqLb9Afo_WSoi~kcK5mwaepLz96AHEmAzWJQblCNhundhnOIYTFLWoaYUonY9~qhj3AhL23xiMDyTWja3bU5Gw1XFRQwjonFS3Jv_Oz57lQLye4cL_Mk_aHkm1nS0bLJwGJHAz8kblYzZ7vryi13uWpQiNmoi5ar8O1OhEk74AJBbNYsqgZ_BVH~x5bGBV0dffD2390I7nxIIXEDyjmIUqBKiuE3tIc9QHys_HivFblhhSLy7MJLrz82MKnFHbGDqqFdhYoJ~gvxQJNzs2nfUqlx93Wew--.jpg
//media.inmobalia.com/imgV1/B8vEv5Xh_VThvnEqMx4G0ZxU_YC_pCgmETwWNQKyeMqLb9Afo_WSoi~kcK5mwaepLz96AHEmAzWJQblCNhundhnOIYTFLWoaYUonY9~qhjw12gbuC0JouVdzl4eMxYZ_YQCEFeowhi2AuQxIbe0dG7mNLDFa0CIovsOyDxY1kWtqcyNHgtW0dWqsJRqPTQWwv1zIWCESzA_p8NnyXDtSyGh2lUFku_imJ8FQDRYqr2FwXBiIpV7ID2I82pX70QEbMrWJFbvNRs4771xTgX_WpJubEjqeSG2rFyvR1MptIOx6Ub0SIoHtby5Kvmiaom3ceZ9xFA--.jpg
//media.inmobalia.com/imgV1/B8vEv5Xh_VThvnEqMx4G0ZxU_YC_pCgmETwWNQKyeMqLb9Afo_WSoi~kcK5mwaepLz96AHEmAzWJQblCNhundhnOIYTFLWoaYUonY9~qh6A1GK4evYbndMM4lGuTTzZdG4r7TTvWrACl0po4Ga0KhoOEgbZLUoDDnFrVlQgY~YaouK9j4WXHRYKXokbLcAQuvj7XIy1g2T505t1RuOpewgbsE2oFbXWxKTLJ3dSNOCc7ZSjL__qt6_FQ_nhBWcsPNNF3Dy4~ANPTkvkOPbAI1S7SAlbAYOlK0ld2_wyviGjUsf0ulUSfxi1YOI_zoPNnz6kYpw--.jpg
Paraiso Hills, Estepona
Apartment
SOLD
Apartment in Paraiso Hills, El Paraiso, Estepona
Large three bedroom apartment located in one of the best complex of El Paraiso, in Paraiso Hills.
The propery is distributed on one floor. Through the entrance hall we access a kitchen with utility room, large living – dining room with access to a covered and closed terrace of 45sqm, three large bedrooms and three bathrooms, two of them en-suite. The master bedroom also has a large closet area and a private terrace closed with glass curtains. The property is in perfect condition.
It includes two parking spaces and a storage room.
It is located within a closed complex of 38 apartments distributed in two blocks with a communal pool and well-tended gardens. In the surroundings we find the well known El Paraiso Golf course and the Campanario Golf & Country Club. The Diana shopping center is a few minutes away by car.
REFERENCE

208-01221P

bedrooms

3

bathrooms

3
built

150m²
Do you know Paraiso Hills apartments?
Video of Estepona Area
similar properties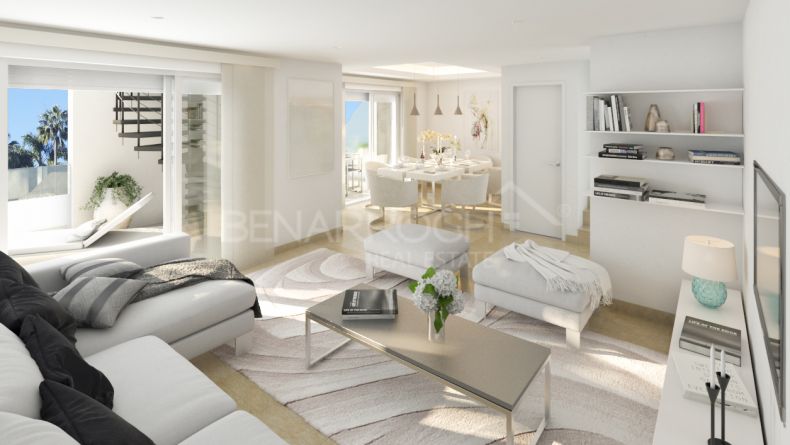 SOLD
Apartment modern and lightly, belonging to the development Marques de Guadalmina in Estepona, next to the golf course of Atalaya, ...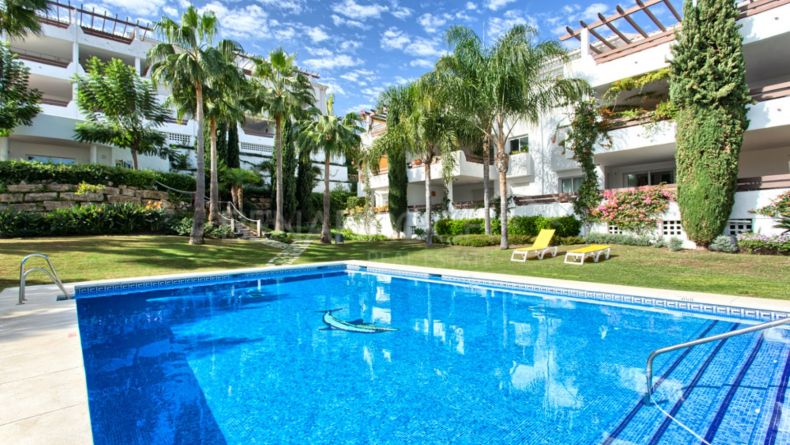 SOLD
Amazing two bedroom apartment with sea and mountain views, situated in Selwo Hills, a quiet area five minutes from Estepona and ...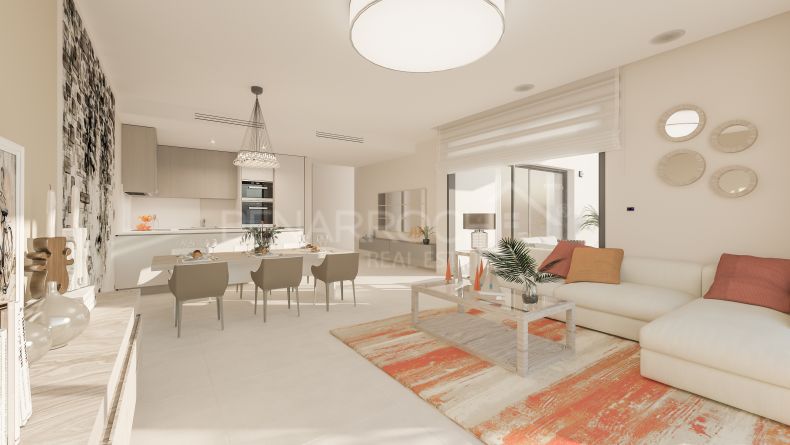 335.000 €
Modern style middle floor apartment belonging to the Cortijo del Golf development, located in the area of ​​El Campanario in ...