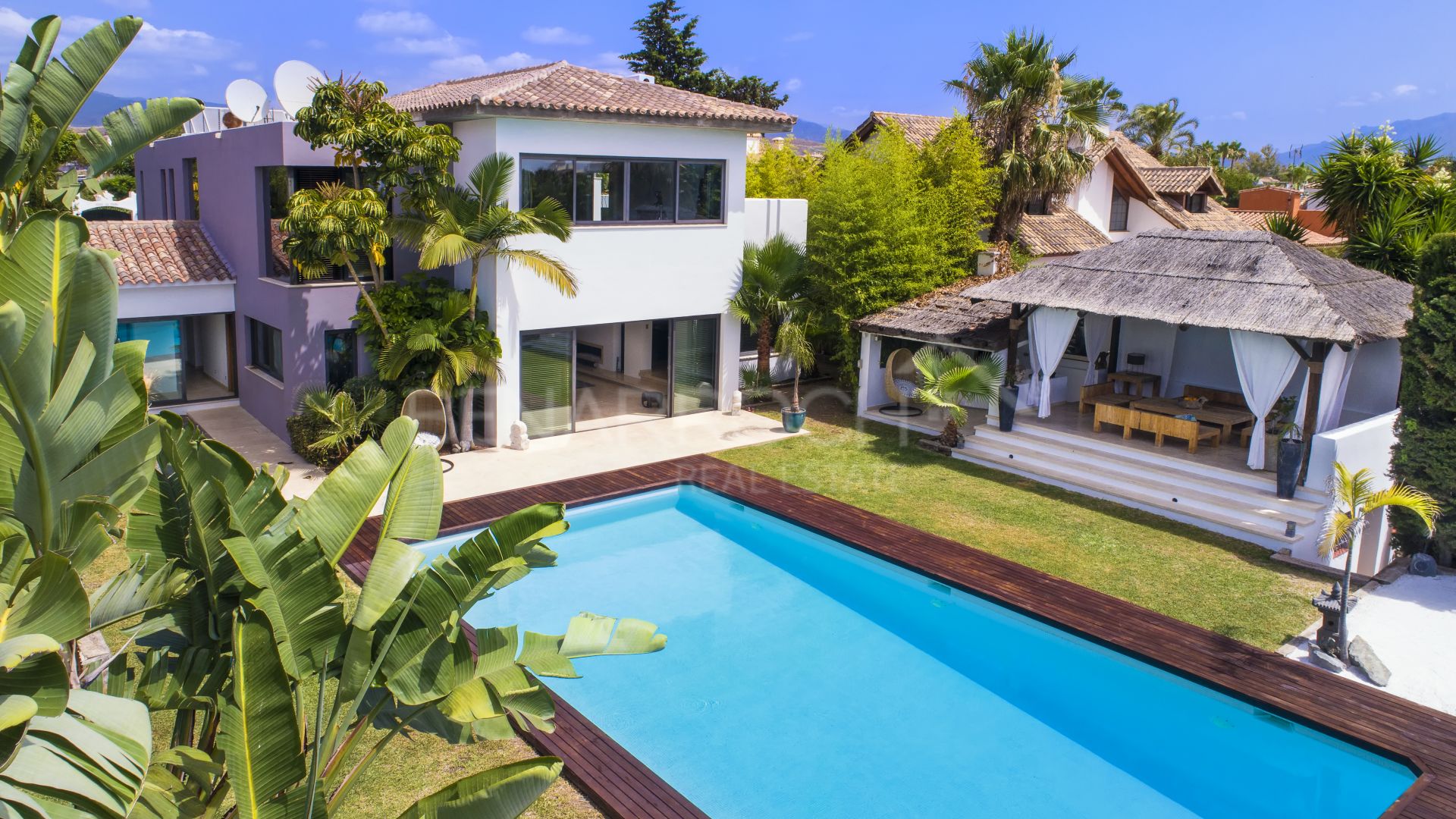 //media.inmobalia.com/imgV1/B8vEv5Xh_VThvnEqMx4G0ZxU_YC_pCgmETwWNQKyeMqLb9Afo_WSoi~kcK5mwaepLz96AHEmAzWJQblCNhundhnOIYTFLWoaYUmeQ_4a3kdll6GAH5x1d0WS0mIUcBp1QTSfdopplv6spwf5tud4W5UTNnnLYNKKtzM4YuzNAQ~89XfL0UC10twa_pKxsxX8frDPXd65Ru1yMtul403CVsKjpXiHgxiolGHBh~3MFxOa~ZqX327r5ylFtu6XcvYSbI1E~~1wP9bgH9K~lcgXf5NAmPBdT1ZAlKso8wMlyEIsq~APg1ZHlbLkqLT5rege0VgXLg--.jpg
//media.inmobalia.com/imgV1/B8vEv5Xh_VThvnEqMx4G0ZxU_YC_pCgmETwWNQKyeMqLb9Afo_WSoi~kcK5mwaepLz96AHEmAzWJQblCNhundhnOIYTFLWoaYUmeQ_4a383u3YMdjegGoIGuFgAAIP_3z8nytmcTzUDOEBaW7pcKVAbXoceu14nCbyhHxAzHNf1WhfW9bOKK8kEmaEQuS5WzxbrVqY570LcbTtEcem_wdA8d~uOBdzYME5d~zkYRfI9VDFP5ESVMnbYWg4hvDc1Brfj3pcm24etrJs3~vSXsEC6PFQ5c1iUQw3Qe5E3gIq0U~5GAyWMOEbEGIP1i5rQx26NQbA--.jpg
//media.inmobalia.com/imgV1/B8vEv5Xh_VThvnEqMx4G0ZxU_YC_pCgmETwWNQKyeMqLb9Afo_WSoi~kcK5mwaepLz96AHEmAzWJQblCNhundhnOIYTFLWoaYUmeQ_4ajefyi0gKDErXhIJPuyNYYyYQ1MbBF1NMr7nsVxaH5BPjm1_fMzFyEGKkputTEPs_yV3hexBDpU0I~UzwInGu7GWRJxiqx04q_naKvj6O0kz9~f3H_gZEGV3Y~b5rYawnfSSV8Jg2sx0U0TCpS_HuOuV0CekQCIMfCskpOmBYtzuDgwTnIC_xAm7whDlTQ6f~aLRJtyuP9D62~KpNsdTGUJboQXYWzQ--.jpg
//media.inmobalia.com/imgV1/B8vEv5Xh_VThvnEqMx4G0ZxU_YC_pCgmETwWNQKyeMqLb9Afo_WSoi~kcK5mwaepLz96AHEmAzWJQblCNhundhnOIYTFLWoaYUmeQ_4ajeSR1ih5TDRy4DoZD3NQ~F99ZwUsVHifXr1uehHcKBq9Al6rND6xk6y2zli0yb9GM3sddfehDKvjvxtYQDBKJ7VRg1H9DQyTwlz8oct5fos3HRVPf8Jamv1jGAbZEj0T40odQWdWrBNcCOcsPl~NQdDV5RNlh0CPr9rnqAKFXKAVzDCzPVk~BpPBBxTAqal50wKQnom5MO~1klqWp6WCDsZz4oR8jw--.jpg
//media.inmobalia.com/imgV1/B8vEv5Xh_VThvnEqMx4G0ZxU_YC_pCgmETwWNQKyeMqLb9Afo_WSoi~kcK5mwaepLz96AHEmAzWJQblCNhundhnOIYTFLWoaYUmeQ_4a2~Hbxlz2JOfgry4LKD_92icZ4U3BJCL~lXdHXmRxjxcxzOt~T5CChABMNMn~c8Sy8xG~uBzjn15wkitx4mxUKfK~lElJGLQWcwEusweVbUpJ5yb5gvZWM~6r63WZt2ZhnGjhsEAOOrFaMQSRj7y3SIydx7YrgFVU2jaH2oclaTOU_1QWDl8F10LNDI3yjqjEW5BsQWnTCio7mhdgKWct5LGTNk9pYA--.jpg
//media.inmobalia.com/imgV1/B8vEv5Xh_VThvnEqMx4G0ZxU_YC_pCgmETwWNQKyeMqLb9Afo_WSoi~kcK5mwaepLz96AHEmAzWJQblCNhundhnOIYTFLWoaYUmeQ_4a2KfUOxTzGWMnux0aIFsFU007Zph8cDzaK69Yqbj6BIzqR41LnSPn~mg6WWk5O9_VrdIaILRFi~Zp44vlEjhXR22GQZCLgARH8C6jiVFMs3x7AsdnCz432gOm~t9YWEx9C8flXIwxs~B5LzBJ1daXGfbztGepWrc4PcXH5wHQe3DsfyjgQQ6l1V1ayfmnoUeBe6909TiC5lfyv_CkcW6IlFig3ARuBw--.jpg
//media.inmobalia.com/imgV1/B8vEv5Xh_VThvnEqMx4G0ZxU_YC_pCgmETwWNQKyeMqLb9Afo_WSoi~kcK5mwaepLz96AHEmAzWJQblCNhundhnOIYTFLWoaYUmeQ_4ai79vQTE9vjngkAcKTVnBUqBWuJH0ok5jg8SnnryptDYFgD0rYXttILy1KjMTMUsPSiGtmvWDGD8ChA8l8M2c9yV0v5BIKAC211c8oSqLXtb2DdDNA6VNvMAY~Hmcs_2LBUy7n0F5F2tDlFU1mdYo~Lun4NS6LccY~W~wk8D0IAdgh4XZ_bPbUL6iMQc4PS6tJxg~9woRmF5~PljY09MBf7ihFJ8TeQ--.jpg
//media.inmobalia.com/imgV1/B8vEv5Xh_VThvnEqMx4G0ZxU_YC_pCgmETwWNQKyeMqLb9Afo_WSoi~kcK5mwaepLz96AHEmAzWJQblCNhundhnOIYTFLWoaYUmeQ_4a35DLj02HgNxqL1VI5T6fgFojgOlHNBRaywH_k3INCM5dpkmkfhlfuL9ttZgte~L6Rd6ab_EP12gL~KLZUwr6GNXQvbi~NdJEVfl8zePAj1Ug0PNUyO0_7Ju2Po~6Nv6w5QElTVvGfzRmvjGXUFNE6_dTwdJyUVP1U_mGf6S2F5EqnBNIufwa3IedfJdoTsC2Wxh9rp004lArY~iYWDMEkckiloTCuQ--.jpg
//media.inmobalia.com/imgV1/B8vEv5Xh_VThvnEqMx4G0ZxU_YC_pCgmETwWNQKyeMqLb9Afo_WSoi~kcK5mwaepLz96AHEmAzWJQblCNhundhnOIYTFLWoaYUmeQ_4ai780ZTi2kwr1Pd7wJ82~NIVYBHnqJ8WAd3KwBf9yUOM75A9g~4UPozbyuuR4O0CFCmaH8KeqB5Vtwm30bgA51cXmVBI0S~g9S1Bs4mhm9X5yOI01Mse5ine7_LFQVlRvNRam1IOQi2opjcTLjWCacDE1cAbvPOZiwr5nooksFDgBqMT2DVuD2BZDwtua6sVlsqcZ3xFJnYXRpLKpDY_qlLOgIohDiw--.jpg
//media.inmobalia.com/imgV1/B8vEv5Xh_VThvnEqMx4G0ZxU_YC_pCgmETwWNQKyeMqLb9Afo_WSoi~kcK5mwaepLz96AHEmAzWJQblCNhundhnOIYTFLWoaYUmeQ_4a3XLXqC4YJaC32UBmV1n1~9f_UGV4n5cna9d0aoNv3HUIr0Pm2xEq5LsePx94HMAV8fd4vOSrPOnA85~qec7gxjf98WqlUkdX8ldikaCswZ3sA4MUclVbGSggCRT5lDp6X92FqKqb00uDpva1wlUusycVzFl0b~oWBch6V8EMKPI0lDUeblLNLXJRtY0zv3IRwD2SGs_ulyanI2WfKs7SjU3iEJkFwA--.jpg
//media.inmobalia.com/imgV1/B8vEv5Xh_VThvnEqMx4G0ZxU_YC_pCgmETwWNQKyeMqLb9Afo_WSoi~kcK5mwaepLz96AHEmAzWJQblCNhundhnOIYTFLWoaYUmeQ_4ajlFPdWCGT_87_uAfJ1u9vyEHbHeQND2O_pBhtvu_6OFHdOUnzbAQGbCiEkNdbgJi_Idm3aRst4u1E1NYfDoJNC9iehnCv3reES8HhInsMOsqG5EXmM1iWVww_ZHhp1IvzssZYSnDEJ4QicZCyPsBUp1ZxjVhgZc8~z_3t8Cu61WgdBzsE6_8vuKC4JT6RrwBrLDFntOxXshxmLhwhmqUgNOsYIuijA--.jpg
//media.inmobalia.com/imgV1/B8vEv5Xh_VThvnEqMx4G0ZxU_YC_pCgmETwWNQKyeMqLb9Afo_WSoi~kcK5mwaepLz96AHEmAzWJQblCNhundhnOIYTFLWoaYUmeQ_4a2KYxpYVR8e7tUh5CKca~UbtAN3Hk5tQCvCFQ8oKhK5DrXzsciY5nBIDuMw6SnM8iq~vT6ur97t0QwrZKtksUuFWhDZ8ueSFye6gSqqZdnQSKMF6MDf_6Y4c7Z_st_Egf9IwA0WwiNUTAgXapXRO8HNaoPTqeTWEU7~83bVO_XsjQSZSJZrboUUNbdEzzQRrhSCyi0tNNQ26uGsGM_X60YHj5in7uvg--.jpg
//media.inmobalia.com/imgV1/B8vEv5Xh_VThvnEqMx4G0ZxU_YC_pCgmETwWNQKyeMqLb9Afo_WSoi~kcK5mwaepLz96AHEmAzWJQblCNhundhnOIYTFLWoaYUmeQ_4a3hKnp7n3wBJl8JeBYdYGvEC2F~lChgFe5_LzzOC8I~5zzdyzZOTPEg7umT8PSqesO8ML7ihO6g~_57kvsNTnsLBSkt4Uzl8wR63HI0d4n4x3RgwPXpdp81VrMpQcPihG1H7KSUuKfqedmfC_SRvjsc7FSZ6WNDmlSwrCOGIMDyb0RcfkfI2knWeZ6l2k5WrrrrlRvKl4DZAGWZTZbC6HRWcfZPfG7g--.jpg
//media.inmobalia.com/imgV1/B8vEv5Xh_VThvnEqMx4G0ZxU_YC_pCgmETwWNQKyeMqLb9Afo_WSoi~kcK5mwaepLz96AHEmAzWJQblCNhundhnOIYTFLWoaYUmeQ_4ajOdy_IKQXO2OBFWqz09Puw5N2Do8hfuZpvCSbGuq81eyEYVwKg2kifau8vKevexa6KWFizfNvlT9Mj01c0ToUvfOhU9i8z6KUUQWUFej8SWIKhuDsLyQWlaWqqFsE3K8vT8NkfapHQ4p8SpHXJJGAkQZNAsZ_alGU~UFV9pE2TQfdtPL4HVZjEtbLvolqtzhaO1CHglyxBYOLR~zpagPPv3efOQrKQ--.jpg
//media.inmobalia.com/imgV1/B8vEv5Xh_VThvnEqMx4G0ZxU_YC_pCgmETwWNQKyeMqLb9Afo_WSoi~kcK5mwaepLz96AHEmAzWJQblCNhundhnOIYTFLWoaYUmeQ_4a3GknnFRsC~vAbrlfrVSEPo_hZJykVJJgRjmH8KitNugInfwJExliaB7BsfcS5ANiCc6f953jWLm94KGgXsF~bTm9_Ng2Z6aGxLaYSuXgSjUFht7lxjpMNMAnT5zqqAW3Me9wLj_B2uORaKFoLt2wiupFFFUsW44SIKzL1f90LX7RuCwka4yKTbfoCTKjPfniCpo6Y5daed9nr2sAJEdQRLIKrRMLSA--.jpg
//media.inmobalia.com/imgV1/B8vEv5Xh_VThvnEqMx4G0ZxU_YC_pCgmETwWNQKyeMqLb9Afo_WSoi~kcK5mwaepLz96AHEmAzWJQblCNhundhnOIYTFLWoaYUmeQ_4ajO6bz6lagJAVcodUxl0FrCwccz8ynhdDPYmrFISyLFeEUQ22gn0nZHbN8Urh8Hs5naysyKlXOj4KlOFOfR9_uHMQGQZH4RrSfrxHPPYF3ySVT2omZBG5t5fAE8Ea2EFQrjmncLWebz~cWBL5lRG4swp6rg5MxKfKVSuXOmp0yoDVzTirB2_hrZ1yuMsSbMMOIne22JDiqULD7bVEtHJNhmJgK_YPHQ--.jpg
//media.inmobalia.com/imgV1/B8vEv5Xh_VThvnEqMx4G0ZxU_YC_pCgmETwWNQKyeMqLb9Afo_WSoi~kcK5mwaepLz96AHEmAzWJQblCNhundhnOIYTFLWoaYUmeQ_4a3hN7CdbCMAQ5pw9DOvvlgFY8no9ObqA3Kl1iXpgDzoPYc2rzWFq7fOtWqNn8h0ClnYYe3nLB1CPGNMHbAWdAjjwYnTRTcPAADUQFutFXQ_UihHheuOWi9d2mB5Yz~hzOhatsRdHQqYt~CBhrBd~X69rZMIo1RqvMpD7wjkqQREbMKQYPeQQo2Aal8yP8K4h6iVw_U5phyyWhoJZRljP2FR0BPIdLSA--.jpg
//media.inmobalia.com/imgV1/B8vEv5Xh_VThvnEqMx4G0ZxU_YC_pCgmETwWNQKyeMqLb9Afo_WSoi~kcK5mwaepLz96AHEmAzWJQblCNhundhnOIYTFLWoaYUmeQ_4ai7q3SoqFCDQxYDzNx9n9D_1RgZGnT14pn7TM3hMZzNvPN8q~lGXxcOLS1m~asRl6pJ2LGu63so03aQ224EYx~DlRYFoanpZ9gEK5_DPqqYYbtH~Os_kjbNhqK_Z12xmxVGd2hMwlGrtd29jp56N_nrDu_8Q~MRnjHil~~eg1hD4_lpfxMaaRjOPcWbXUcooWe4cNd8SDhqZSqz4c4PzBriWyFX4Rug--.jpg
//media.inmobalia.com/imgV1/B8vEv5Xh_VThvnEqMx4G0ZxU_YC_pCgmETwWNQKyeMqLb9Afo_WSoi~kcK5mwaepLz96AHEmAzWJQblCNhundhnOIYTFLWoaYUmeQ_4a2rSY3KvWliSEbq8SsVsPSP8Rzui~7GZDRW4A3hqOifGHyUHxP036~aRYIAZ3AefjMQwkbAR8CtxnSD7jYkmsefVhhqvVSwtljxzrDY196eu9SV_I38u5diGTemk1BHZr~nYB6EUE88et67l4zTqF9E9JkK6NYD_eMN4xqEXVWA1S7MW7JR1d8XqanaWnbx2AXqqhsXQiBG1dj2BtGZZP0as_xY1SlA--.jpg
//media.inmobalia.com/imgV1/B8vEv5Xh_VThvnEqMx4G0ZxU_YC_pCgmETwWNQKyeMqLb9Afo_WSoi~kcK5mwaepLz96AHEmAzWJQblCNhundhnOIYTFLWoaYUmeQ_4a3kkfWi7fRar9yrBQltkgXdE9nqOiSWrHfTNH4NEfGaqDoSHHvI9uXjyd0aoHx2MWsNCvKBnR6sam15stIyA~J4IQQ6NS~LIXEEo4GkR2rGXVRuQ14Jl69tqo0vG8497T1va~Zqm2dR9vKW27QKZ7z6bf5_eATdwVjyaUrB0JFFxo1~2JfnVwsoYaAQoL1TuiTORZ5OaDAwkitcjNA5giXqHL76dFmg--.jpg
//media.inmobalia.com/imgV1/B8vEv5Xh_VThvnEqMx4G0ZxU_YC_pCgmETwWNQKyeMqLb9Afo_WSoi~kcK5mwaepLz96AHEmAzWJQblCNhundhnOIYTFLWoaYUmeQ_4ajeCs6EeAXKvcx38pknM3ThxUH~hXNE2UO7SpBtLXCGkwlaeB94YAiL5148L0y5JVjn2AHxIDpekzx82FNHqmUrrdsxo3G4yR9D21~jB8jbLfUR7UHv51XVWDmjYS1GQu7oShvk6vxC0ScA5osF2nNuDidFzLQXz7ZdPXEW8wydFvBujZMG3C4p0mijP5yP_iF0CbgowZbMIgpGVxi6Wr80TPDbbLpg--.jpg
//media.inmobalia.com/imgV1/B8vEv5Xh_VThvnEqMx4G0ZxU_YC_pCgmETwWNQKyeMqLb9Afo_WSoi~kcK5mwaepLz96AHEmAzWJQblCNhundhnOIYTFLWoaYUmeQ_4a2bGPw_zKUteM8NxZmJu5PE~5ptEkimGwqhyeuZj6u1fZKpWckBK5U08kbBoP~_wUZ9w1b44~mqbVLD11PCLIkKAWrE4xYIulu0B2gLJ0299TE_1P3vv7cxpG89lPCgz7d6NPjF2KOScEmaqIfweGP73ZYOIrIUwgTCA8heMcz9pxqIYFl44cTuVxDxsZIPZeRtcLT0CbalXHWZ56HbUIO8OmfjiQUQ--.jpg
//media.inmobalia.com/imgV1/B8vEv5Xh_VThvnEqMx4G0ZxU_YC_pCgmETwWNQKyeMqLb9Afo_WSoi~kcK5mwaepLz96AHEmAzWJQblCNhundhnOIYTFLWoaYUmeQ_4ajlK1cbULuiL~PlgjtalsBo9opg59nyfDWquypXd46mCYrrzreAqs7nNs4XeoOrgAzHlQhOby6IbG_uEnevV5aJ87BIMJ_KJnD_ofMHMdYtKscXhUbIOlR1Ol9E~05dWzJhyQLE9BukNjePPa~bWLUczK5W9cMcs5Ao_6camTK4fm7L8K0miFrGHU4INC8qy2d6LESFVPsPNXXJxG7HauFTrEUJT6Mg--.jpg
//media.inmobalia.com/imgV1/B8vEv5Xh_VThvnEqMx4G0ZxU_YC_pCgmETwWNQKyeMqLb9Afo_WSoi~kcK5mwaepLz96AHEmAzWJQblCNhundhnOIYTFLWoaYUmeQ_4a14o6A6SzpBh~qXPOtrBzO3VGih1i5rAFBo4Oi1Ob1oplYy8S3kSvNC5AGeIOXS1iPOurb7SExY8QiKJTociHUjehum7uj2U18kGAb1HOQmBrO~nbsOpKABcmRH7JojIiC0fL6hhfKC5WGmqE_Ja5iQzz97sDx_8zLRjnI8NKHaFL5~YfDfEZfytj8lgyMjnElaE3Zm41GtAg~DXY785Fv99JycodtQ--.jpg
Villacana, Estepona
Villa
SOLD
Beautiful villa on the New Golden Mile of Estepona, Villacana
Villa located on the New Golden Mile of Estepona, in Villacana, and a few steps from the beach. A very quiet location with all kinds of services in the nearby shopping centers of Benavista and El Pilar, equipped with restaurants, supermarkets, pharmacy and banks. The beach is just a few steps away.
The property has been recently renovated with a modern style, taking care of the smallest detail in terms of technology and design.
It has five bedrooms, four of them en-suite and an apartment in the garden that could be renovated for guests.
The house is accessed through a beautiful fountain that gives us access to the main entrance. Through a large entrance hall we access a guest toilet, fully equipped kitchen with materials and appliances of the highest quality, large living-dinning room and three bedrooms en-suite. Also on this floor there is a great indoor pool. From all the rooms of this level there is access to the garden with a large pool, a barbecue area and a chill-out.
On the upper floor there is a guest bedroom and a large master bedroom en-suite, with sauna and a large dressing room.
The property is especially bright. Both the exterior and interior design are in perfect harmony.
Covered garage for three cars
REFERENCE

208-01168P

bedrooms

5

bathrooms

5
built

600m²

plot

1.550m²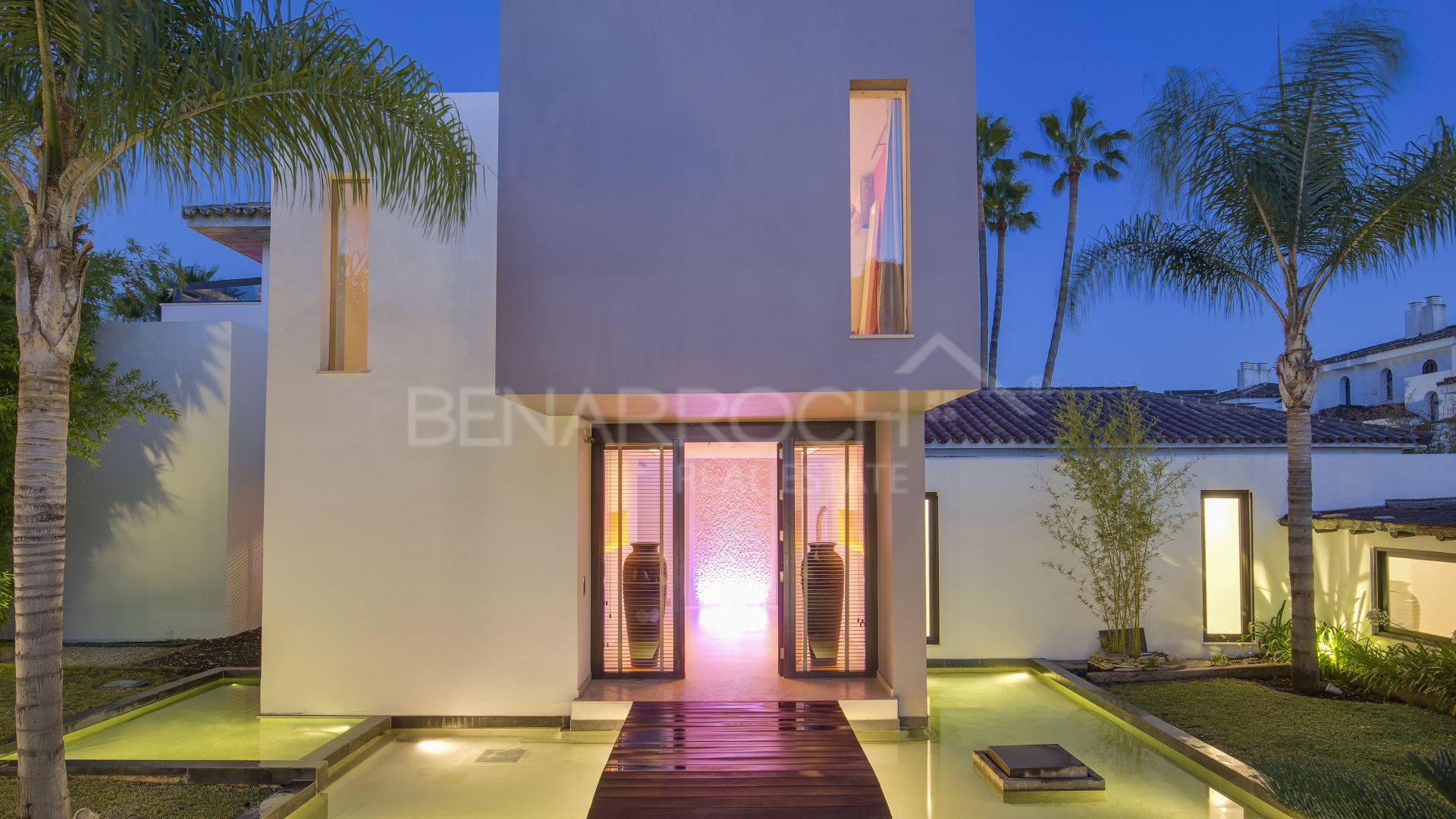 Video of Estepona Area
similar properties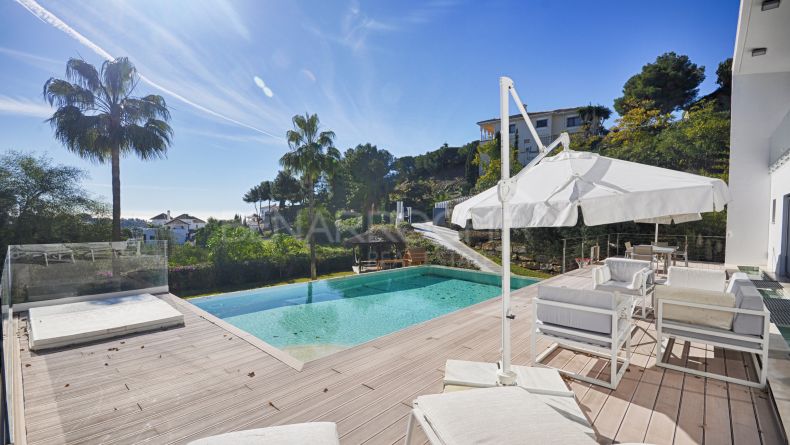 2.050.000 €
Contemporary style villa with panoramic sea views in El Paraiso Alto, Benahavis.The villa, built in 2012, is distributed over ...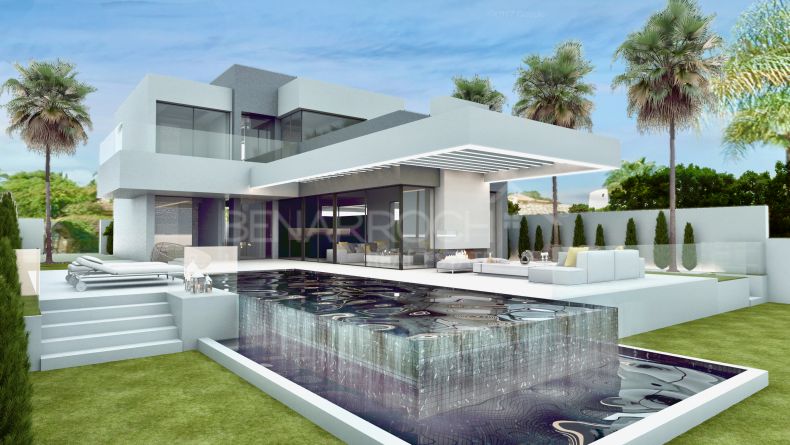 Price on application
Modern design villa situated in the urbanization El Campanario in the New Golden Mile of Estepona, just a few minutes from Puerto ...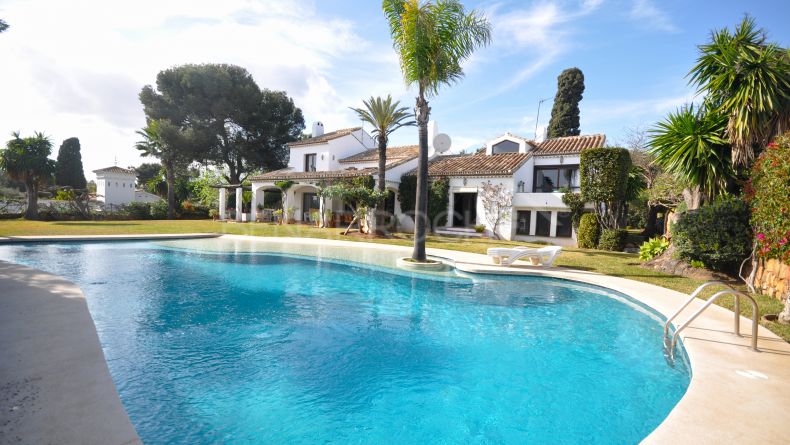 3.200.000 €
Very cosy property situated only 50 metres from the beach in El Paraiso Barronal, in the New Golden Mile, halfway between San ...