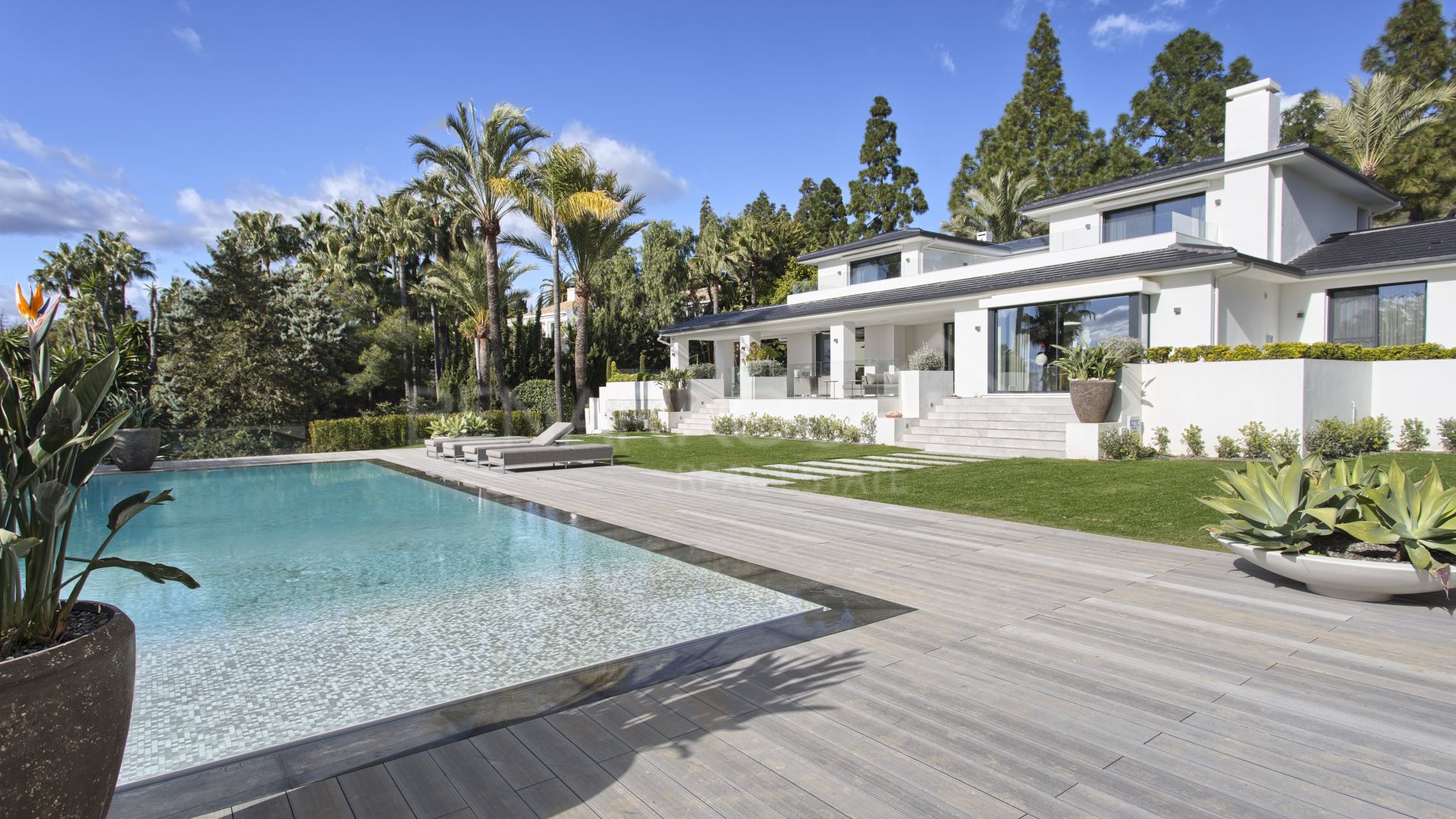 //media.inmobalia.com/imgV1/B8vEv5Xh_VThvnEqMx4G0ZxU_YC_pCgmETwWNQKyeMqLb9Afo_WSoi~kcK5mwaepLz96AHEmAzWJQblCNhundhnOIYTFLWoaYUmZG~r469ztAKdPZ8BnFw6RwvSt0~DJ18r8xXRhJkyp7Lb17~QmDJyfE4xxOWyQO~xp84dPy28Cl6Wf0r8V9uy6IJmUv1IPGCm5lhQuhjxxwvrCUjYHbS2Ka6PyhDPitXW48F9w8WSkiPlazAHsx_OrnXwD2I3mJ_wN19AvjPazYjbpIoLhX995izKkNwmyf8Bl8r9jcb22uSsCyIaVOi3YnwgF5GQ_STJtYg--.jpg
//media.inmobalia.com/imgV1/B8vEv5Xh_VThvnEqMx4G0ZxU_YC_pCgmETwWNQKyeMqLb9Afo_WSoi~kcK5mwaepLz96AHEmAzWJQblCNhundhnOIYTFLWoaYUmZG~r478ptwU~RQ9Ekk653iNOJ4TJ3CvF3UluxaBDFweBTjLPuodgfGAF~pPukmG1_1zlsLYW9XwhUEFKNGXbqX930v2Ap3fj1Jr7h3vTgDi6Ad6Gw2jNhcbuZGUkHsJOkADAD5LVWHQfNyYBIwlpMT8iHn0lAZhMahu53wo6vPZRMtGZ_wPzfgyb5glhqqua5lLgxcFXQ1A62vMsD~8v5a6ecct4kG4kOmg--.jpg
//media.inmobalia.com/imgV1/B8vEv5Xh_VThvnEqMx4G0ZxU_YC_pCgmETwWNQKyeMqLb9Afo_WSoi~kcK5mwaepLz96AHEmAzWJQblCNhundhnOIYTFLWoaYUmZG~r46Vt9ODUg~reEjEixBvGpY6Uzz59EqK7a0BW88W4xQMBUrevMogJW_LA4XY_cIEQ6_yl97KuNfyrcj2RfS7aG9H0ROlmer5hAgsHcLWd0ReVYLnMkQ12SFZPS7aidceX_hPBthjIssB4CUWxRpQA0~uW4YSNyb9ISf39tC~2Zi4jFNTclbEM_v6B5M~2zJkpcMNPNCIPHqNrX4werhK~AidB~E644DQ--.jpg
//media.inmobalia.com/imgV1/B8vEv5Xh_VThvnEqMx4G0ZxU_YC_pCgmETwWNQKyeMqLb9Afo_WSoi~kcK5mwaepLz96AHEmAzWJQblCNhundhnOIYTFLWoaYUmZG~r47ZNvI7M5OESlDg0zv7lkKUD_o65PGzh9OtU_B2W7TNAQp0zGIKksgE1pK79mesHDjmYFIyL2QtoXHR2xjDYpdBQp1VP0p4ugt83tHDd7k7rkx9EPm5JVEoSBAxg6TM0f_9tMh67TCV8KZ8JuMjC6t7XVbfV~1GHuYFw2br43ux5yYzQIpvDnDnJeRNNqcQaClbAyeFFW5F00oFFleTGuVofufcbQqA--.jpg
//media.inmobalia.com/imgV1/B8vEv5Xh_VThvnEqMx4G0ZxU_YC_pCgmETwWNQKyeMqLb9Afo_WSoi~kcK5mwaepLz96AHEmAzWJQblCNhundhnOIYTFLWoaYUmZG~r4vMjG8vxR1fL2EjCyn5mZXhIlht5OSmhDHTotYDGfM~6O7dYaG_ohFamN1yvO8Br_vNWp7i8mWHKZ4gmqBpDO2sTYHzj4mHHTkm5FDJhdQeliiRfovP2u8KYUA16O42~Xy56eg4E9zJJCOrLoPYjrF4sidW7gIJ_XG4Qaj~kuSD15A0Fd5M_9SAZTICtttzux9U83T9FDKGrPfH1P32UfUeWFPX~pIw--.jpg
//media.inmobalia.com/imgV1/B8vEv5Xh_VThvnEqMx4G0ZxU_YC_pCgmETwWNQKyeMqLb9Afo_WSoi~kcK5mwaepLz96AHEmAzWJQblCNhundhnOIYTFLWoaYUmZG~r4vJ9GyH8Z5563YozfMiY7cZmJznLBbGE6r_9ZsBVerBv_uFA2ogr8KAlRKCdCcBmhIos77lv1jYrNzwJRuFdm6lAJrVEPc2zo3ApqSwMqLJsWmummTIdyWRc6kCPWmp_VRBIbTtR9aYLlynQ1JBVK5QbpdkBSHu4pCtFvALvHxqVs8SFb71l_AbBGJqZyGZZHnXGBUpmqmOHAK8NZnA7DN0D2WOHcSQ--.jpg
//media.inmobalia.com/imgV1/B8vEv5Xh_VThvnEqMx4G0ZxU_YC_pCgmETwWNQKyeMqLb9Afo_WSoi~kcK5mwaepLz96AHEmAzWJQblCNhundhnOIYTFLWoaYUmZG~r4780QWNoMbDu~50wdYfQ2yrUOf1SXYGWUXRCFVh4SIWkYVXA0i0at3_jsIDe_QFZPrilGM0v9~eTlfPxeD_EznOT1ueNHU2Kp~S09RjNLxUFe6TbFiBg8RI0e~0H3j862TkofWrModV8xcH~tXKr1iLFFAuo8OvSIllOR841UPKdlbMzFJ6fg7UZeJ5TPSRNETki0KpH2_2lm4I6CQpys~tvG8DWiwA--.jpg
//media.inmobalia.com/imgV1/B8vEv5Xh_VThvnEqMx4G0ZxU_YC_pCgmETwWNQKyeMqLb9Afo_WSoi~kcK5mwaepLz96AHEmAzWJQblCNhundhnOIYTFLWoaYUmZG~r4vaosIxTzz2jauHv5d7EktV6AmxSzPnyALrvLKncZkkX4TRXRdzjCxUDx4T2KwcqtumuVVOKne6FvnNM4Jp3JXk70kNQj2hGMY6B2yEPRbbh_jAKd3SyPhJkC2rSWUZowMI4xuAw8D62uVujOdW~cKIYS67rlJhnN4Knas5NDk3FVPghkkJGfsmbVy~ntqamVx46yHmORBTB~7Z3oFHyr35mVj0T5cQ--.jpg
//media.inmobalia.com/imgV1/B8vEv5Xh_VThvnEqMx4G0ZxU_YC_pCgmETwWNQKyeMqLb9Afo_WSoi~kcK5mwaepLz96AHEmAzWJQblCNhundhnOIYTFLWoaYUmZG~r4uhs7_eqLp65cyaVO82umNzMmTffZqOOJgHP9U~mF1GkWdspcpJ5UEhixxr_tVqUI9We0LbeW7sN6rLvBxiujbIbs3BnNp5qgl5mawtPNZCoAmsZH8N4dT5qa7r_a42kP9sSCadjLR1E9851EkslxhwS1Kh_W3eTLhlCjqMsI5s~p350biBWwXkmD5b6bUtuXZh6ymaeLr3_fr7cmOLK02~40S8ItaA--.jpg
//media.inmobalia.com/imgV1/B8vEv5Xh_VThvnEqMx4G0ZxU_YC_pCgmETwWNQKyeMqLb9Afo_WSoi~kcK5mwaepLz96AHEmAzWJQblCNhundhnOIYTFLWoaYUmZG~r47LBPNeWPUiBGZPfjzPzErwxzbeKe~Hd8_6RG9_XEfJ2oHh4OHwkQWMZhPuCjRLeqcmmYSgXnFb2h_GxzIDhXEl9uCrb7CBeGEOZah8RpJeGkO1Ws0g59nDQd80pxsfqXIfW~DYUPkTUJFj6I5Xkz2AQE_Ln97I6jxdwwhG3vykE1iJo1RpTG~g69NUECtkQqLJcfwxGnlQZ0s9mWkeXjVpyV2pSsgw--.jpg
//media.inmobalia.com/imgV1/B8vEv5Xh_VThvnEqMx4G0ZxU_YC_pCgmETwWNQKyeMqLb9Afo_WSoi~kcK5mwaepLz96AHEmAzWJQblCNhundhnOIYTFLWoaYUmZG~r4v8jMHHTH3LksFuQ54TfnhLJtxN~gZm19Y3UX8f1Pt0LshFO~6GRsXYehPm~vJzW3HDBKutQNhRavC9UAyVzzZIdKx6S5o05l7OXemQ2GjIUYjXthjA6snYTySpMU0jnf5aa85FpMH82LbsNAeTlYdhXWrVRPIuonXtVSEV9hIqgSGxnEWa0g4l9lB9a_eUAQ79CmPL3JtMDJ~pW9smJ6SNWVxlKytw--.jpg
//media.inmobalia.com/imgV1/B8vEv5Xh_VThvnEqMx4G0ZxU_YC_pCgmETwWNQKyeMqLb9Afo_WSoi~kcK5mwaepLz96AHEmAzWJQblCNhundhnOIYTFLWoaYUmZG~r46Mosuv1wk9okiwSugkgW2UBPKOFJL5Vt~qxTBDni2Q_YvZa7nvHc_6PlxA~rNjHAyeVtWGlpnnvJugWlGUPuCg2lcQ83jJ~tngQWUSPGyCMPwsO2Vt_MZsJ0tBQoOew5p1iH8Gq5jPfV3ns6_hpOciIDL3BswCICegDN4fs8gwvnBHTv1C3kVmgQq7KJhK~VZZxEBKkUERGD08EWwxpz4euDXhsdEg--.jpg
//media.inmobalia.com/imgV1/B8vEv5Xh_VThvnEqMx4G0ZxU_YC_pCgmETwWNQKyeMqLb9Afo_WSoi~kcK5mwaepLz96AHEmAzWJQblCNhundhnOIYTFLWoaYUmZG~r47lGKHhCVNFb4pr9QPXXKTrBN97Bayc07YfHaVNQUf6SCTF0XjQhC3gNSTHhM1mARD8Nlv3jiiWY82uELBtZbVeKIbhx2EAM5PIMgowyxuMxjXgIxoLAO27nt2Ox8vQA2Cq7EbxDlOg0mtT3CVFkKQdFfgJoe~VcjOXPyniMoSTH~g4GD1615XFZJYIX8bjV1x8TIxxJlO3X6X93xuv2gt8RAq3WBXw--.jpg
//media.inmobalia.com/imgV1/B8vEv5Xh_VThvnEqMx4G0ZxU_YC_pCgmETwWNQKyeMqLb9Afo_WSoi~kcK5mwaepLz96AHEmAzWJQblCNhundhnOIYTFLWoaYUmZG~r46goFkYOKuQZD1HZZVgRwy_4nSvWa38Z3VAkV~zDQ0axClvh4TCh_vn2ZHqYB8HhGUGyS6bHCQonqbGVf_Itf6~I14mUWG3Dtuyc~SePbvWeqk7Q1svsKYbWklTC_AdMqWaQHGrvA51U~OdP61S9fiSaHCjrlZscBhYczZJRSn4Jmv0962b3CgFLXZlpnFUjpLRB4HcKAcE5D_4PLSYlPKUzv7MsdTg--.jpg
//media.inmobalia.com/imgV1/B8vEv5Xh_VThvnEqMx4G0ZxU_YC_pCgmETwWNQKyeMqLb9Afo_WSoi~kcK5mwaepLz96AHEmAzWJQblCNhundhnOIYTFLWoaYUmZG~r4691lbU3PGbwxEh8dQXCYZ9w6Qk_~4K6m8jpCL4K65D8f3O4TKKZviGY7qkZHMTB1thmQedy7Q_98R6bmwWTPhdZSQ~wpEWN5d28cFm6Yq__33fF8W491hKxUArpOplKfO_WBQOsAZSCPMJ9H~r_q3ehziPpnEeaVFaPDOM2LNuIukZu_ZKXqk87eVHUCflKX3y~oS4PKneALGTiql4Tx7jTqzPyBZQ--.jpg
//media.inmobalia.com/imgV1/B8vEv5Xh_VThvnEqMx4G0ZxU_YC_pCgmETwWNQKyeMqLb9Afo_WSoi~kcK5mwaepLz96AHEmAzWJQblCNhundhnOIYTFLWoaYUmZG~r4v5TEBskpN2L8Fn~79FaEYScm6SwxjnTuABfm0ctneKvl0_48KbzW1lUQ_bLwwlGPznxrnEDrZFWnePUvAJfyKfo5O2fgtCKIHFQ8SsN94P5BMnDQH03ugvjx5ls8BqRk3OKmQfHeWxyhjF5vaV3yszVrSSn3o3PI4EgqQApNsDBnViQ3DeAmU7TK9CahLtsb9difJH~cgWQzeSh9k7kzlQxnHMqSLw--.jpg
//media.inmobalia.com/imgV1/B8vEv5Xh_VThvnEqMx4G0ZxU_YC_pCgmETwWNQKyeMqLb9Afo_WSoi~kcK5mwaepLz96AHEmAzWJQblCNhundhnOIYTFLWoaYUmZG~r4u88gqAVbO51CgduxcEFJBQjY8wSelilWlEGYZg2cTfNGA7QUDDr7CGnUbukPlqLsoTuTs8QeF0XensooCsv39qryZTHCrL3rxUISZdNEVFJa3GWdVIwqzeUSy5SKHxqaFlXOBr0psSdQRDnaarPDCQzDHJAPvfwoNlNh36w6_9u_azLlz8D3~_hna55kcU6bDmjw8gFjovt~CJo0PShL9eCOexrsTw--.jpg
//media.inmobalia.com/imgV1/B8vEv5Xh_VThvnEqMx4G0ZxU_YC_pCgmETwWNQKyeMqLb9Afo_WSoi~kcK5mwaepLz96AHEmAzWJQblCNhundhnOIYTFLWoaYUmZG~r4uPpas7rO82PoNkxGCfUUmWDxp_uPL6E64ZjbTYLZ7tVUmLils5vgPWCyLw3Hf3Kv5ynOTJN_7dFc5J~JnExGbwaCq8ORN0ifG4zeJwsPtKi4HgJE0RC1gFpHa7MTE7AFPud9RzxwhP7To5GuY0gtyU2hDDDT2xjWBbD1XveGnjLh5QVyEuAuaWD47DqDGM6WxYMsYS8LiDenrF0uKfXS3W3n6dQh5A--.jpg
//media.inmobalia.com/imgV1/B8vEv5Xh_VThvnEqMx4G0ZxU_YC_pCgmETwWNQKyeMqLb9Afo_WSoi~kcK5mwaepLz96AHEmAzWJQblCNhundhnOIYTFLWoaYUmZG~r46l3zL67o5p5kkNvIVS1v0GyXB96Wt7DVtqKwwWEXUN6ZDCy2SmaSp9qEgtLIcTSUcew~vsvBoQy8AyjYIFGoMwc9UuHfEHwrxzbFyXeg5Ymm66Z3l_OkdCBhKhxMheMr5pWVjOVtm3dzb3T0Xx1LUVgb_FmjLpvh4ILfVX4gBZgm3uGkqZ5BPXSq6y0Pisc9e5Ix7ozkxxWNz5SPrw1DMXyF7xP0hg--.jpg
//media.inmobalia.com/imgV1/B8vEv5Xh_VThvnEqMx4G0ZxU_YC_pCgmETwWNQKyeMqLb9Afo_WSoi~kcK5mwaepLz96AHEmAzWJQblCNhundhnOIYTFLWoaYUmZG~r46gpTTS6hpyBnySndRUddlgfbPZdCV3M~XPfqfJrrMpTCWemXccTDQpboqIqnAm04xINlwESLkpiS6rdq_ahaCrmcT900ARqa8lN03Lj4OxxD5AfKCp_pGjjWe2itPQaGEeOPl56oZS0jA9EkrZWOSRsSr0o5PHDhdTaXZOhUUGljDaZxSegxLVWrm7NGlLpRhe52LbPcSEH9EnFN0g4NXMwdnRwB5A--.jpg
//media.inmobalia.com/imgV1/B8vEv5Xh_VThvnEqMx4G0ZxU_YC_pCgmETwWNQKyeMqLb9Afo_WSoi~kcK5mwaepLz96AHEmAzWJQblCNhundhnOIYTFLWoaYUmZG~r4ukwbs6WpoAZTsq5JO3RAauk8gu1N3PCuiPtpAI40dJGdw3rPqpzzXoibt_8uV7IxdR71ojdYC8eU40cQKLOKruxy9cFU5KjCebgHHrVlt1JwbtbIo0NDq3970M9MfVitYGvBOWoNSmOlUEnxyM1a2HXjl0qV2BqKv7_5eKfFKIjeVWUgdXohR9JKgg67XJg2y1l1nkz172fHUXWtqB9FOpddvS3~kw--.jpg
//media.inmobalia.com/imgV1/B8vEv5Xh_VThvnEqMx4G0ZxU_YC_pCgmETwWNQKyeMqLb9Afo_WSoi~kcK5mwaepLz96AHEmAzWJQblCNhundhnOIYTFLWoaYUmZG~r4va5Hd0dHIZXtyHOPIGJUATxC4sVkny3lwd~S2G37~yRzKkxUUq229S74msFyAvsc0F~nKHvniBL3dfR0AidAa4D56D16ERgLKmPQZAGy2vCauAr6aQeyTFYzVLQztCBdR38QbNMt8Q_IdEc8dAEPZHjC06QLl2HzZg7_jAG0QlcatUo16UjmVFK1VMgbEowGXqxFepY9SpHZCANFyXDnkQVLm7n3lg--.jpg
//media.inmobalia.com/imgV1/B8vEv5Xh_VThvnEqMx4G0ZxU_YC_pCgmETwWNQKyeMqLb9Afo_WSoi~kcK5mwaepLz96AHEmAzWJQblCNhundhnOIYTFLWoaYUmZG~r45zHX5SApzZPy2wPFrAokJQIu7DUSg2~B0loKWP21Q496G1vN0ilu_lggAD3shbxezw5RNraBdryNGt34lvzy5oAgvgL4qByZg49E4j2Jcjz76duu14msyTgen57H5J92xQ14xQFSOqd68L76mOKQB7pW75yg9TbionJYi54ImCBbk3NAyHzbmRtQ6f0AK2zxaefG0JaBBHYjmkPiHBBiSU1fG54zRg--.jpg
//media.inmobalia.com/imgV1/B8vEv5Xh_VThvnEqMx4G0ZxU_YC_pCgmETwWNQKyeMqLb9Afo_WSoi~kcK5mwaepLz96AHEmAzWJQblCNhundhnOIYTFLWoaYUmZG~r464yAMOybKnYvjIiDGeYVP6IyFGnAirNt4CyytkHYUkm4PuT2Zd42q2rLsOpWAPZ8Ht3nF9dEzMIBwE1NSgbNR_S7sAkk0QFYAVqnzwUmGU~Ow1ay8LkhpHjo0mP~iancSYdRy1VORNu3yhpdMt6AVccGMp3RAp8BZTuhHuC6WYz89HLvf5cro3G45SKP~kr796C6Xl2zofSsMkw~HaVjWxtfPnNPfQ--.jpg
//media.inmobalia.com/imgV1/B8vEv5Xh_VThvnEqMx4G0ZxU_YC_pCgmETwWNQKyeMqLb9Afo_WSoi~kcK5mwaepLz96AHEmAzWJQblCNhundhnOIYTFLWoaYUmZG~r4uKBbN7MjAvIPR7wjlmhzoLuqK2CRlTIYsF1wu1yfmTDdJ9P74_cYBA26DxJ42vCVNPk5G71sNHXBkMFh9ZMDd~jywOQx3YvdOhx0aebRftHO4~rfAZt0NswMaNdZg2AvRwOSIeQ6uTsk6namF00oShyUFo8OFui_Rv4cA7d3lVO5x9Fq77OHU5wfDgeDZ0X_YUb1gZInwsaNSilhwjo_LZb1eyAW5w--.jpg
//media.inmobalia.com/imgV1/B8vEv5Xh_VThvnEqMx4G0ZxU_YC_pCgmETwWNQKyeMqLb9Afo_WSoi~kcK5mwaepLz96AHEmAzWJQblCNhundhnOIYTFLWoaYUmZG~r4va5GFqkMQBkKBQOOCd0EOJdzd69T4QUNUe4vLrIYrt~bZX4GXSkYMMzRtY3A5hnTs~t7aIPDwu1aXPmdVIR9BK1gE49HHhO43txd~gpZa7Dz6BcpYrtz0XJf5lRB1NHv9AaA~QCdSfk~xpAicW2GTOnlwqxTpP2M4ar~uZnFLmg22DqOMMj9zNnDP~0y8aTkQ74bxeSS1iNfXhTSbg5_6EO1wU8zow--.jpg
//media.inmobalia.com/imgV1/B8vEv5Xh_VThvnEqMx4G0ZxU_YC_pCgmETwWNQKyeMqLb9Afo_WSoi~kcK5mwaepLz96AHEmAzWJQblCNhundhnOIYTFLWoaYUmZG~r46J6KTj3yJn6ZBNrWy9tgVRm3jed1PHfdnvn~BEzivI6fF0DTiOTI6m~euUzQhqdHdFCPKEELb6hOUUFDuBcyWGNLuIYKQx5FPzVgwuCyXRQq8fwt~wlgGYjqLoKKL~ZDuQlgt9h3G~uBauzs_UXcY2N_MgTEMZPDBHaerual_EYeiWA~OZLRgwPutZxu25j2rZP5C6xHAMVJhKV82jK71e99viz8gg--.jpg
//media.inmobalia.com/imgV1/B8vEv5Xh_VThvnEqMx4G0ZxU_YC_pCgmETwWNQKyeMqLb9Afo_WSoi~kcK5mwaepLz96AHEmAzWJQblCNhundhnOIYTFLWoaYUmZG~r475SPBcPqPCeaHT9DYpRdcJP6QjQE3xITBAV4GRPkzB2IzErVOE5ojFwkX2QvBMutA9P4eyQJs1Z9nfxF2j_aWQmZ3_TwJY6HGbgkvifHIYldRRuJWk8HqfqGPxy24v2AbHPbm2yyYQhWXpvaZ9opPJxMHGh3YlyxHdOlwEIfc7szFJrsq7SyGXCzdESBFogP75UOCkfWSnp7dBezDeelD09BgMF7vg--.jpg
//media.inmobalia.com/imgV1/B8vEv5Xh_VThvnEqMx4G0ZxU_YC_pCgmETwWNQKyeMqLb9Afo_WSoi~kcK5mwaepLz96AHEmAzWJQblCNhundhnOIYTFLWoaYUmZG~r45tined1PPdW5PxC4gdZQ_wirH_L2bdR5BWIADDqb9YoiU8W9OeVWgNtPkD888eHLdQmmzPcAbHXj952vnYF7Vo0J71BjAeP46ItLb9JYWJZfJzS9DrRn_hvhJMDVVQXLvZpaonJGObK6bAANIsIAHhPoHKgo3IQajSt4ll8uSwI32DriozfuEpoHUz6VI1tJ9uSgWgdCsJxWuUid6DrNxwPxrOEugA--.jpg
//media.inmobalia.com/imgV1/B8vEv5Xh_VThvnEqMx4G0ZxU_YC_pCgmETwWNQKyeMqLb9Afo_WSoi~kcK5mwaepLz96AHEmAzWJQblCNhundhnOIYTFLWoaYUmZG~r46Vwc~Y9ZW8vmpbhalY456FiSrvTyGI42pcjOeYKq_Z2c8XpjT0uA81F~KQucFiS0crgcLeeMuNeRxjXDrO1LvJeTqvQ~9vVF2uWNxpB~tZGRXKpg~crP70YIFVsY0MMY6UWULC~gVBSzHh8ZpmBuxrV7DcZFjYl3hO4aE5S8HqPgljxFzqiG~atYwpSgC~t_EAZ4aDkU9MuO9oh7I6SQyNOXu0mZhg--.jpg
//media.inmobalia.com/imgV1/B8vEv5Xh_VThvnEqMx4G0ZxU_YC_pCgmETwWNQKyeMqLb9Afo_WSoi~kcK5mwaepLz96AHEmAzWJQblCNhundhnOIYTFLWoaYUmZG~r4vMjFpynMZctw~G4yWHTIt970bbPQ9kyZlPdckrIO~tzJQAOez3lxiveahu8ySFHZokgqVwQEnxrbo05~nAhhezDhhW0i~tSjkJxCxETAFq86eWli6rk_xQfYBeZdM3Wak2FYGpbXiK0FDDvMEArtQzX22ylE6VUllLxlwJ3NVxSc_rbpCcePVDmlJeKXNmNbIeH6uvmex67SFiXl0jlED~aUVeo91w--.jpg
//media.inmobalia.com/imgV1/B8vEv5Xh_VThvnEqMx4G0ZxU_YC_pCgmETwWNQKyeMqLb9Afo_WSoi~kcK5mwaepLz96AHEmAzWJQblCNhundhnOIYTFLWoaYUmZG~r46JvlFVQdIrdBMwqv33CknszjKrluV5Tqhjjg8KopqDW8N7l1~GuXBec0L60DabSo3~EidrSJmkKFFsWgyJC9~cpSLmi1K7F3p5m0XHDdd3r9swemID03NMCUEaiHIx5BVujMTKb1G6PT7Z8WhIp80yrxBF880cQYPbAIHayw9I362FBP7gBHBQeoO_N9obSHyNPu8oGXDaOBs7nCjKqA1q3w1SshtA--.jpg
//media.inmobalia.com/imgV1/B8vEv5Xh_VThvnEqMx4G0ZxU_YC_pCgmETwWNQKyeMqLb9Afo_WSoi~kcK5mwaepLz96AHEmAzWJQblCNhundhnOIYTFLWoaYUmZG~r47OYwVoFO81jX6O3ipaMwOZ6_5zozN62Xoxxcn~LC2UQtaYyKPM2J5_pkLwBEfWDkg3_V6MVn_k1xeOhv3MiDHx148QIfc9dS7ga7DfRi3hw7rJVW1MKYPZuKCv1OEbFiCECAgmDsOOD50e7Gr_WYsLQY9pCioko5f9iT2a9Gscrdqf885No_9cRFjXv30~Sz4DdIAFieHU6EBWO7N3eqZXFhnVrk4A--.jpg
//media.inmobalia.com/imgV1/B8vEv5Xh_VThvnEqMx4G0ZxU_YC_pCgmETwWNQKyeMqLb9Afo_WSoi~kcK5mwaepLz96AHEmAzWJQblCNhundhnOIYTFLWoaYUmZG~r45twj3a7hjiwl5a2HHdtRJx8Ai1iV2ybPxTvm_wWJYACStePiO7KFjmbu5T1h3ulJ1ME6X4YKmbEdmgnaUCXhrzllyIvbclDmBU3YUNct_KF2jv6b_TOArBaGk5q5WH2bLT8yCoVD6jpWHak49slXpRHYDNfVv0FcCQFGwdIdXu0Y1i20QBQdolWBZYIpdyDjg9bm3rdr0UroDmeTTOhKJFBU8Q_w9A--.jpg
//media.inmobalia.com/imgV1/B8vEv5Xh_VThvnEqMx4G0ZxU_YC_pCgmETwWNQKyeMqLb9Afo_WSoi~kcK5mwaepLz96AHEmAzWJQblCNhundhnOIYTFLWoaYUmZG~r4vJhtP6vhwrzfARU0yKSlL6ryETuHFyGPBhRInyeh6DsO1fYSLTSXvIwxKIn9MF8bFBLTSEltHfVMN7m4ZmTGTqXX9JiL7tHQeVHNmtJl5ExEInSf4pzsp1UB4pAK~M7kJqE0mHfjWjh6Z6P54ikEskTaaZq3FaVqyENj0U9Na1yGwv0f4FkSblUTDu41oOummuQVQop8cH2GHfw~QIPn1nvm6mPPqQ--.jpg
//media.inmobalia.com/imgV1/B8vEv5Xh_VThvnEqMx4G0ZxU_YC_pCgmETwWNQKyeMqLb9Afo_WSoi~kcK5mwaepLz96AHEmAzWJQblCNhundhnOIYTFLWoaYUmZG~r4v5kmNxjdwPaojPdgjBIU_XW6t3ui3IbRmEdJhZPH9ymh~iVnCi6fadpR5J~kEj9u~~2BM0ZIVitwDljileWira2G1i8xKhDbgEtuwaOIXv_uvNThbpIPtjFm6kR7WGtqghqL4xLm31UZX0Xp1vUiaWwqT7yGAgp048xEGSWfXVAdU6zx7XbXk~P5AtMSqjwgIgyVbnYfY~ihQ8BJrH~FXaaw696Iiw--.jpg
//media.inmobalia.com/imgV1/B8vEv5Xh_VThvnEqMx4G0ZxU_YC_pCgmETwWNQKyeMqLb9Afo_WSoi~kcK5mwaepLz96AHEmAzWJQblCNhundhnOIYTFLWoaYUmZG~r4u5MhsIy~vuu9hz4lkUlzoJJON6pLznuE9Y88_QK1PzTELMpBbwc0M3CwwlbpQE4E1pPHemT2ccBt8f51xbR1hSKvLCuKpbt0O0cG17FZKqxu8mD3gSsfEpY3GN1HbrGEp74M0n~_tcSfNbMDljtBa5bNymDsjCLLJ3Za0XqflovyCYgDoWa6taygMQjwK_ZNCIFQdqibD0eycpEu1kXCKED5kmX7Sw--.jpg
Hacienda las Chapas, Marbella East
Villa
SOLD
Modern andalusian style villa in Marbella East
Spectacular villa in modern andalusian style, recently renovated, located in Hacienda Las Chapas, Marbella East, in a residential area characterized by its tranquility and magnificent sea views, just a few minutes from all amenities, golf courses and the marina of Cabopino.
The villa is distributed on two floors and basement. The main floor consists of hall, open plan kitchen with pantry and laundry area, guest toilet, dining room, large living room, games room, one bedroom, bathroom and the master bedroom en-suite with dressing room. Large terrace with barbecue area and chill-out equipped with gas fireplace, facing the heated infinity pool.
On the upper floor there are two en-suite bedrooms with access to terrace with sea views.
The basement has a garage, bicycle room, storage room, an en-suite bedroom with dressing room and a small kitchen.
The property has quality materials and air conditioning hot-cold, underfloor heating, home automation, sound system, among other qualities.
24 hour surveillance throughout the residential area.
REFERENCE

208-01119P

bedrooms

5

bathrooms

5
built

737m²

plot

3.081m²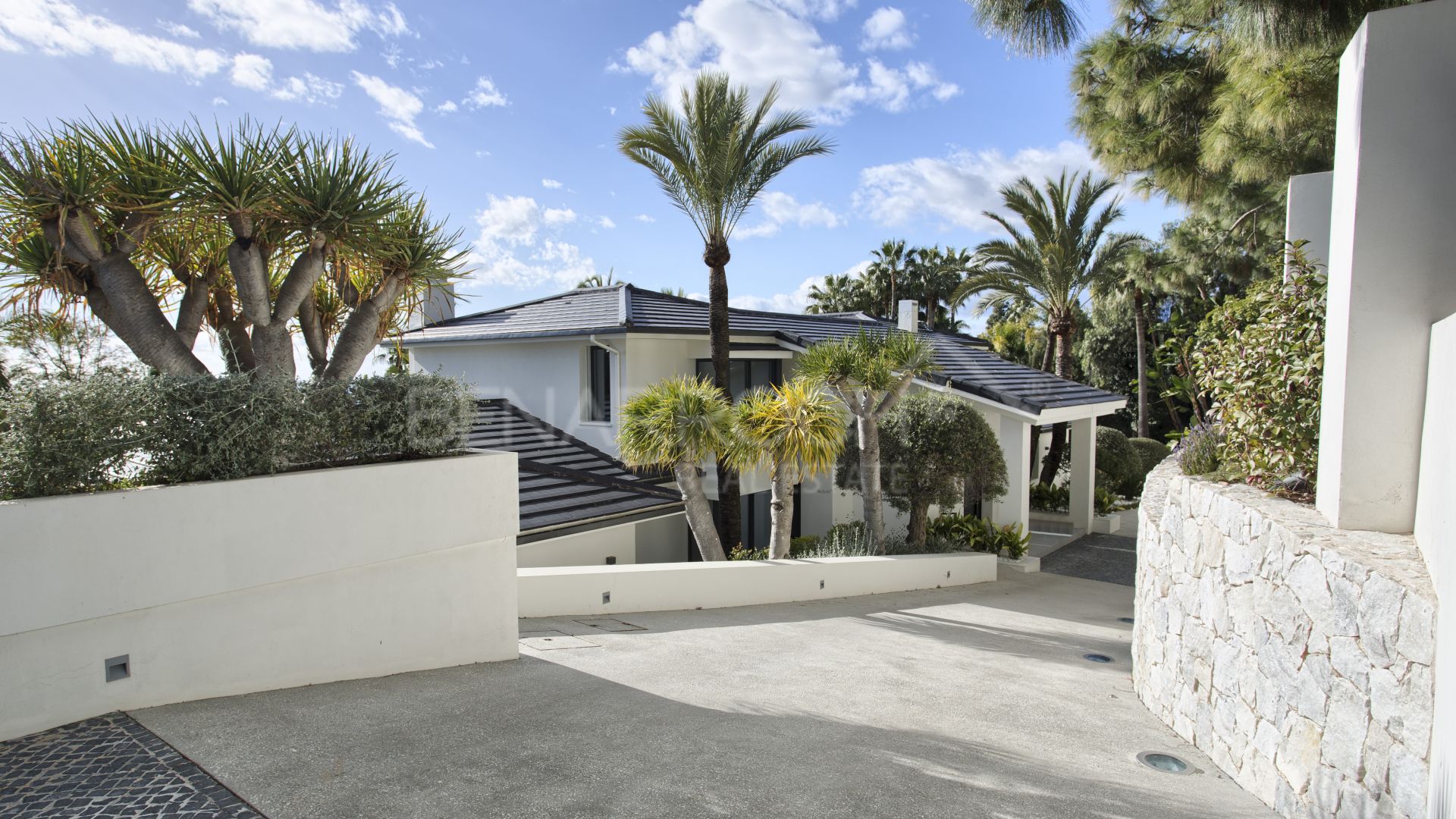 Villa in Hacienda las Chapas, Marbella East
Video of Marbella East Area
similar properties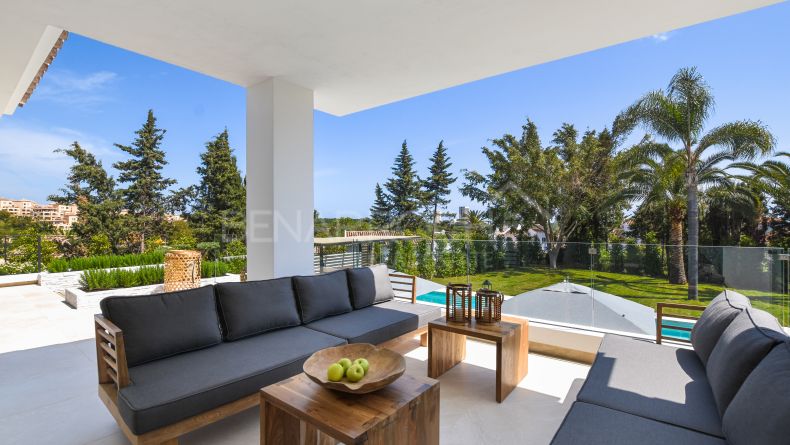 SOLD
New contemporary villa located in Elviria, in Marbella East. A residential area of ​​villas very quiet and familiar.The house ...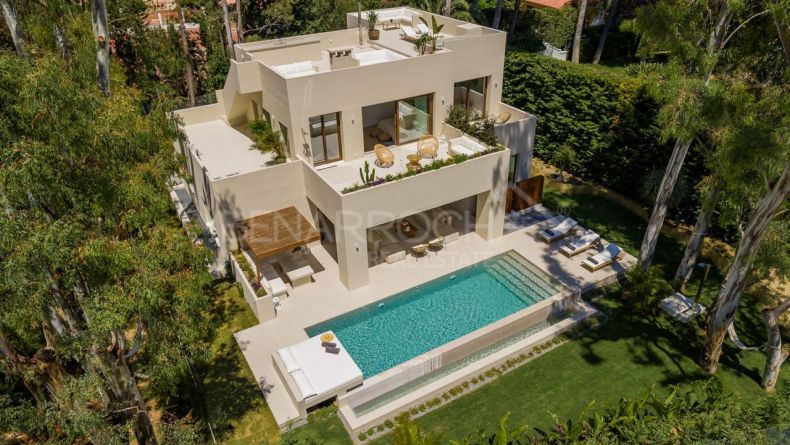 2.500.000 €
Recently completed villa located in Los Monteros Playa, Marbella East, just minutes from the centre of Marbella and a five minute ...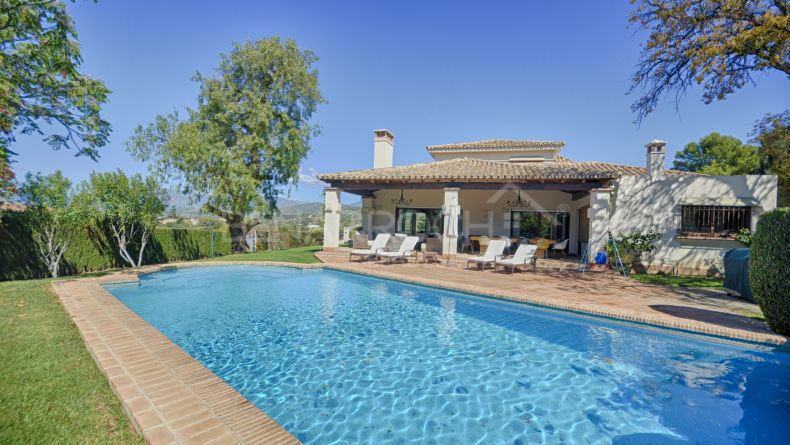 2.650.000 €
Fantastic villa located in one of the most charming urbanisation in Marbella East, in Hacienda Las Chapas.The property, built in ...