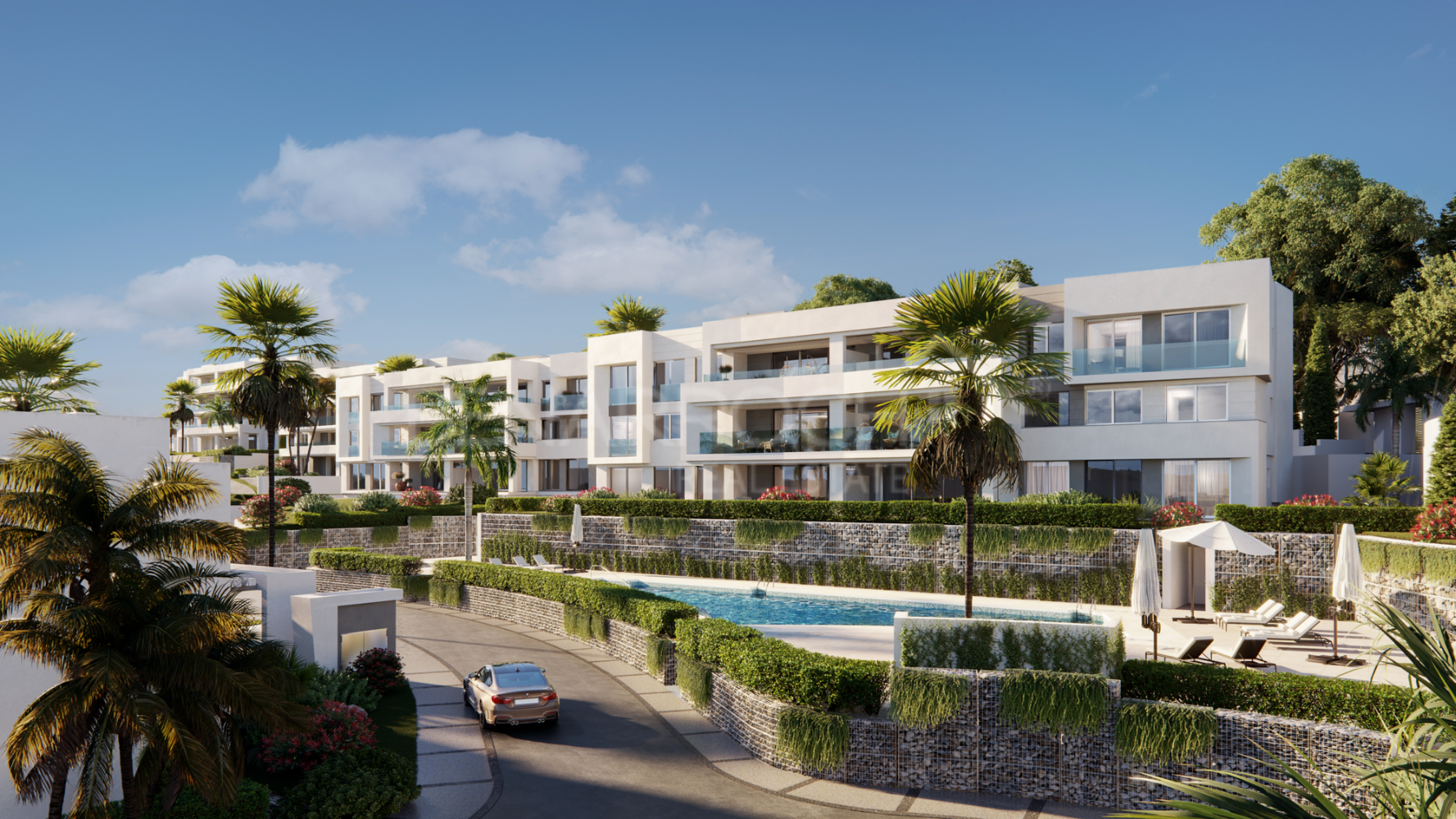 //media.inmobalia.com/imgV1/B8vEv5Xh_VThvnEqMx4G0ZxU_YC_pCgmETwWNQKyeMqLb9Afo_WSoi~kcK5mwaepLz96AHEmAzWJQblCNhundhnOIYTFLWoaYCUgwHyblOqnoBK_PsoEHZBTVkH6xdSRVvhUFrbh4mwKNLhh2cXA9GBEKWY4pkUHflgLwT5h~UJi4fa8gi5mfGdS5ROQ0O8IivtBqjFvNOxUVJi_c5cU0quJPCP0~~kMZBTfYbJCpwQZNuxTS1d~~maswwTcOA_1NnGlGZOe7ww5DLrRr~Z7moUiwQRNnif9zmxa5nS80W4po4G1uFZbmRPPCwFWdgcqAQlUsA--.png
//media.inmobalia.com/imgV1/B8vEv5Xh_VThvnEqMx4G0ZxU_YC_pCgmETwWNQKyeMqLb9Afo_WSoi~kcK5mwaepLz96AHEmAzWJQblCNhundhnOIYTFLWoaYCUgwHybww3uALE91Hh0P8GTUFzZG9QDaRiAvlWVaag0FE8YofjKO~E8STpgkhU27wBV8DyIC9lmQygZYrmTvxMlo8uzwSEbKnL5EnTGdljE8KFZOgj0BjpmaZUEfBbBxYWZt52_ZR1SEnGBIVeL4fCJGiJJMEj9hRmU~QUZIYBNIFo5Gh27U4ogaML2B~yDhATBn287xvP5pGvzyNvSYXeWSX~UMYnZWcjTow--.png
//media.inmobalia.com/imgV1/B8vEv5Xh_VThvnEqMx4G0ZxU_YC_pCgmETwWNQKyeMqLb9Afo_WSoi~kcK5mwaepLz96AHEmAzWJQblCNhundhnOIYTFLWoaYCUgwHybk5mnHVqhq59b1_No_9vcAN6AhkeQyCwIgmM_YPVUnnmGZws3KaUofqEnYGsQgm1PvbjfNCN8pFaySecffeEv9t60UEubSdAZjv9xvzFBa59~WHQUBWiHiwET468oiJ7~p2mpRtfO24vyMWkzzU1hYQuZgVepY0UP~5ljU_xzWrT5OoCoI3DnHyf7rjwnkAlIOweV~IoJG1PlY0P0YUinJ_M_oj0liQ--.png
//media.inmobalia.com/imgV1/B8vEv5Xh_VThvnEqMx4G0ZxU_YC_pCgmETwWNQKyeMqLb9Afo_WSoi~kcK5mwaepLz96AHEmAzWJQblCNhundhnOIYTFLWoaYCUgwHybwm03qpMF0mD6Wjq7B0O4OBeTg2WSxGOBSoAKLm16H_OqDdOnjY3Tecr56u_9BIChSIs_yj1SX6U8KdVimeUdKJVEiHg7c2uTS0NUBDx3cMZY~s2iqnnO4LM6lOnNpNf1RJ0GmHXLA8G9PziO0wPR1NSd7_23TwooyMmdPVuZzSTWLGkWYjAWNW3gZcTIjmKLXDsxusngfWLvG5IP08pAUCeM6mSUow--.png
//media.inmobalia.com/imgV1/B8vEv5Xh_VThvnEqMx4G0ZxU_YC_pCgmETwWNQKyeMqLb9Afo_WSoi~kcK5mwaepLz96AHEmAzWJQblCNhundhnOIYTFLWoaYCUgwHybk8406ue3J_dDInmh2anuJO4k161Mx7CcwT3VlLqk4k0Ax6kswy37re468Vin_G~05xPoKf_ApJRLd36q_UG9BSsHJh1kFbEEvSAzkLvnW3YVht1P0DSVUrKU~U_JfZRaygkGbs~XRp5P1i1V27y54Lr0Egu~omA~mk_XyZGXOiwaDhfUom~7907vgIzuJQj2W0MrLHLE5J~FJpegD5OgIJieTdSleQ--.jpg
//media.inmobalia.com/imgV1/B8vEv5Xh_VThvnEqMx4G0ZxU_YC_pCgmETwWNQKyeMqLb9Afo_WSoi~kcK5mwaepLz96AHEmAzWJQblCNhundhnOIYTFLWoaYCUgwHybxIwQ2dMG5QGkTSuU6RgShcYMrwFulYDw1kmpu9SSvj6~m1lSj1LPF~iC~LyrjJYKN3NTde213MVovxTIDUoofz~W8ppYAHWTfeYeu1rwfSZVYwUKDdlCQI__1UNsxVpnYppWQgR6MUcDG_ELYnnqwU59As~v40dlIT3CId7Emn88mEZJG4HYGiPW5gUnxtz1pjfWi3OMjsRQ5LbOykj17jdFA3vNPw--.png
//media.inmobalia.com/imgV1/B8vEv5Xh_VThvnEqMx4G0ZxU_YC_pCgmETwWNQKyeMqLb9Afo_WSoi~kcK5mwaepLz96AHEmAzWJQblCNhundhnOIYTFLWoaYCUgwHybkdLOdLXkY92nTSrhkLo3k1waKsLAJ~60sloGqXbsl88SqbqCxENxNbHfreoXvP_gDQwgJf1lo9umRW_S6mMF~5vTFd4SY5Gh~DDIW3of2FUd4OjYpovG_cHeJkC0roFNhYfSrbotfQs52gxGQneTFdZsKC_7CumjSANXGgsQqjgP_WHJyBnxPHs93kpOAhLwrkBORZ2jXyJIvZE9XoWp6udFuwQZgQ--.png
//media.inmobalia.com/imgV1/B8vEv5Xh_VThvnEqMx4G0ZxU_YC_pCgmETwWNQKyeMqLb9Afo_WSoi~kcK5mwaepLz96AHEmAzWJQblCNhundhnOIYTFLWoaYCUgwHybxt0LTjihyAD2f~eZioHBl2TPZWq5We3GjRct_n0BDlBQjEptSXubwwQP65vfOPxCKAIHpMGJv8OqyWl9niiMrst9snBcMQp2R5TydYvFOEZ2Yiy0wTMH6ccMHr_RiENPd6RxqUAQU34B2ZDHjdpUBOvQCETVJBf6jXmrYu0AbUmKJtI5mG3pqPZtW5NFpKwwhK6QarDs3aI6awyxDFiC~J9rpIwArA--.png
//media.inmobalia.com/imgV1/B8vEv5Xh_VThvnEqMx4G0ZxU_YC_pCgmETwWNQKyeMqLb9Afo_WSoi~kcK5mwaepLz96AHEmAzWJQblCNhundhnOIYTFLWoaYCUgwHyblfc4Pe6YfUclEixMepyN5aZjAO9Tfx7IxGDJ5lH5zaZL6ViFtD9qa8tmUCPgC76nkAkdWQjrLS8TbxUrim9Kuqpz6jj7dZLSsbHB3YIuFsLvS1huzSCZus2FFylR0PYIiWgo8ClqZdX_Xcuc5qYeJGMhxg4Nfq~M9ovr0YJX3pjn6iETd6GHrr1~KcamICULVSqYhPWqZ4LHaLsv1Q65oV0l_4YCNQ--.png
//media.inmobalia.com/imgV1/B8vEv5Xh_VThvnEqMx4G0ZxU_YC_pCgmETwWNQKyeMqLb9Afo_WSoi~kcK5mwaepLz96AHEmAzWJQblCNhundhnOIYTFLWoaYCUgwHyblpMn9ITXUcPUSlUHCHdWvbOLZ0DlWdgBtzQuupvB2krTyxGLl8lalAqcQYFwohE8_w9R3ZFcPlh0SYNqPTlop5H29bm3Dvt5pQ6Fe7gsgD82n21zfrk~h61mDx~uMSGXGSjrZsXcD8JpjqA2Q4nS41OPWfYM0hkWztjNNV9CA24wz4SSmri64Vmz~vQpBEtoE3bmkvibf2FkDAhvhccMs6EIbByM5g--.png
//media.inmobalia.com/imgV1/B8vEv5Xh_VThvnEqMx4G0ZxU_YC_pCgmETwWNQKyeMqLb9Afo_WSoi~kcK5mwaepLz96AHEmAzWJQblCNhundhnOIYTFLWoaYCUgwHybxNFEkNtq696H3UuVEcjkEXH9Yt6FAiKbqJHEZnpMG7oiZ_sLH19wb2j7Duq9VfXbeELrbiJu3tNn2FmwYVX7VViiO5RKm0JtvrtTFKHAWwjOTyLPvO45A1j6fvZwRBNpg8odn_wv1~xmBrTox8iQoC67FHyHmhBeOf~uHQgQYYzBqHrk8feR8Fzlf6g3I1dKX64UGgyI84rD~EUy93R5eWLrCeu81w--.png
Santa Clara, Marbella East

From 835.000 €
Soul Marbella, new project in the first line golf in Marbella East
Soul Marbella is a new project located in Marbella East, on the first line golf in the urbanization Santa Clara, which includes apartments, penthouses, townhouses and individual villas.
Soul Marbella is projected on a 120,000 square metre plot in the heart of the Santa Clara golf course and will consist of five phases with a total of 200 luxury homes, in an exceptional location for its peaceful and safe environment, as well as for its proximity to Marbella and all types of services.
Soul Marbella will be equipped with five swimming pools, fully equipped gymnasium, spa, cafeteria, social club, co-working area and concierge service.
The complex will have three levels of security, the first in the controlled access to Santa Clara, the second in the access to Soul Marbella and the third individual of each property.
properties in Soul Marbella, Marbella East
similar properties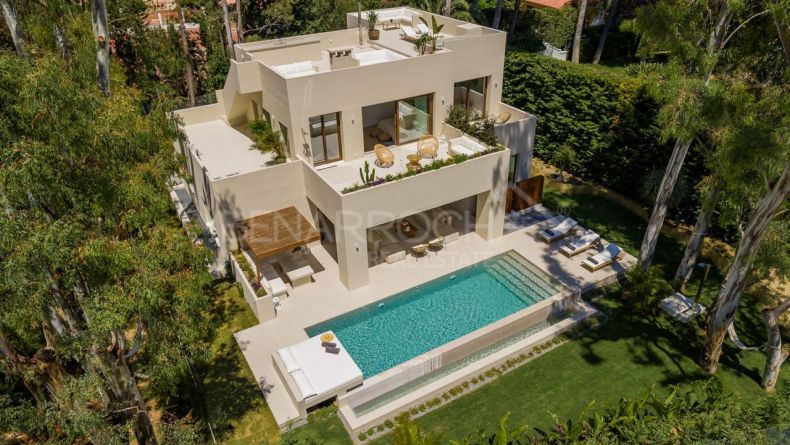 Price on application
Recently completed villa located in Los Monteros Playa, Marbella East, just minutes from the centre of Marbella and a five minute ...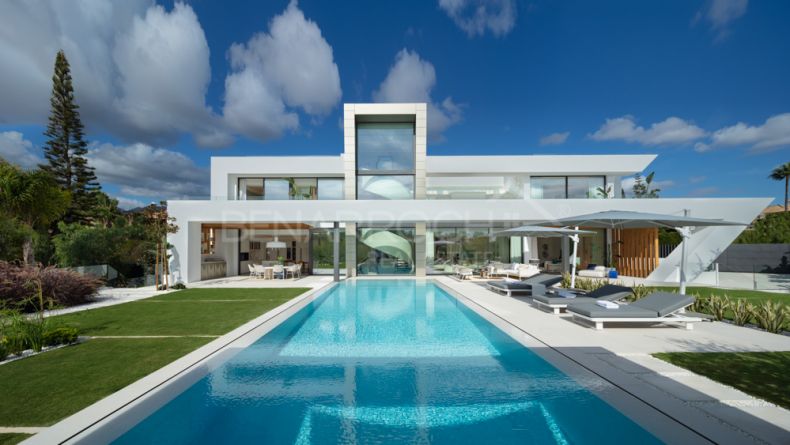 Price on application
Avant-garde design villa located in Bahia de Marbella in Marbella East, a beachside urbanization and only 5 minutes from the ...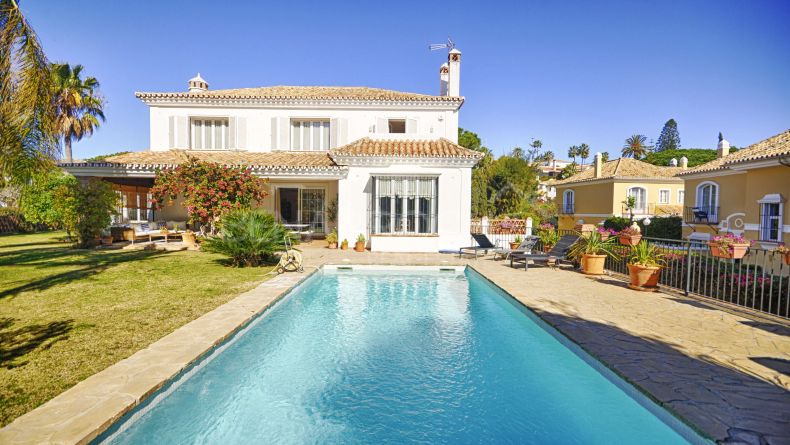 Price on application
Cosy family villa just a few steps from the clubhouse of Santa Maria Golf, in Elviria, Marbella East. Through a pedestrian paved ...