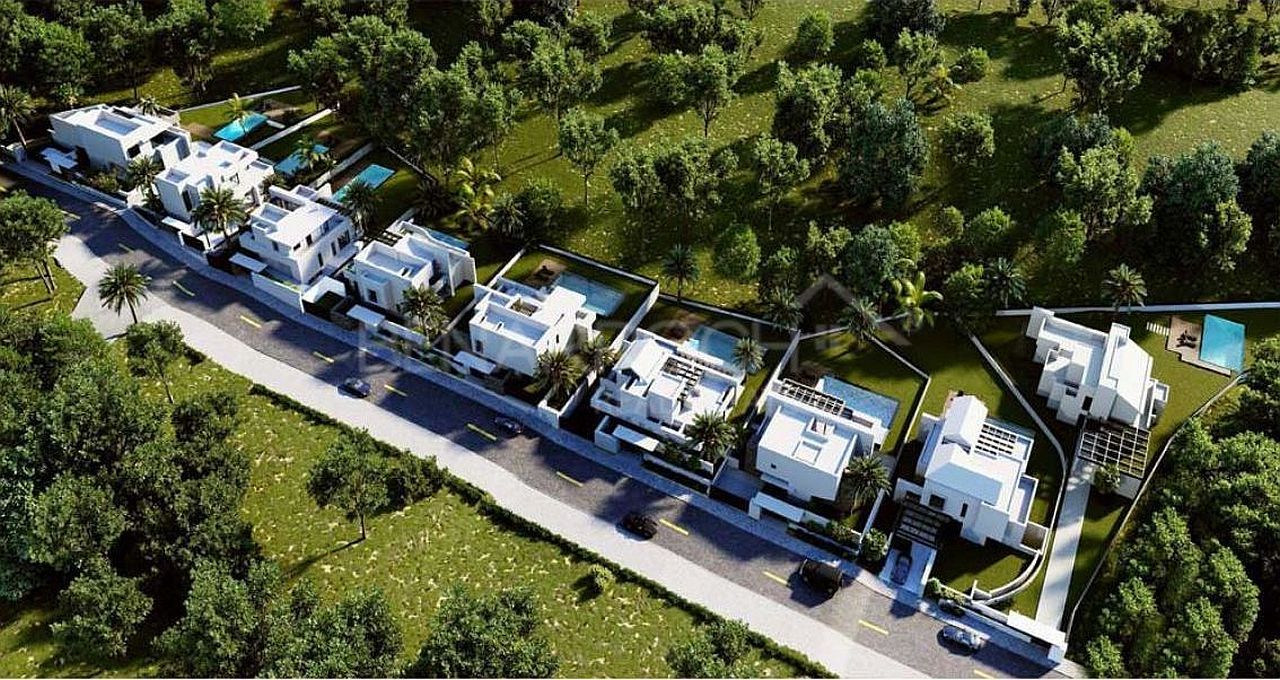 //media.inmobalia.com/imgV1/B8vEv5Xh_VThvnEqMx4G0ZxU_YC_pCgmETwWNQKyeMqLb9Afo_WSoi~kcK5mwaepLz96AHEmAzWJQblCNhundhnOIYTFLWoaYCUj6fDdfAoNQBJIepf6TKTGTRkBhFztL8Q9C_qBC7Y6A2gKTw~L4UD_UHpJDpUIys7XBT7jXiiJ4P~kf89gzg5HG_tnXqKWE52ztsD4lDFrJ9isPI0YejHwgcBF3yzn0PTSrHpMrQsB5Dou24kwuCSHZjUh6arwTufEi4ElDsakUo1co9RxtrtsxkHKIVBpBHx_CHHXcMT6SE3YVyy7IrqDJSrL9RlSvqawZQ--.jpg
//media.inmobalia.com/imgV1/B8vEv5Xh_VThvnEqMx4G0ZxU_YC_pCgmETwWNQKyeMqLb9Afo_WSoi~kcK5mwaepLz96AHEmAzWJQblCNhundhnOIYTFLWoaYCUj6fDdLHGwaaOTcB~SB375kWXopRtgfH5Gezb1AH_qkTdVdIdd0iwKCS6kGumHWrgSPA3OgkqLhlZ3I4ntZPo7HbQrvGYIKIn11VdcfbNJNN7aeTIiD5s1BN~H743MVJPpuAYOZP8qE~hiSGL6p1EH5XdpKYURgV0xJjUQOxnWqJqIQD1z_UG6XPZe3KN0iwfdMuFhcNDN7haEyjx_3LsD8Fs38cyloQdOTQ--.jpg
//media.inmobalia.com/imgV1/B8vEv5Xh_VThvnEqMx4G0ZxU_YC_pCgmETwWNQKyeMqLb9Afo_WSoi~kcK5mwaepLz96AHEmAzWJQblCNhundhnOIYTFLWoaYCUj6fDdfFvQDz5lM4KZeU1WQ5xSka~sLLuCWnSxI8de~T3KyZScQTbWWndsAAKIbVxium3w4Wqp7sqzhddtsxQG8sZAu8kDw_NDc2u3NrLOTzqsCHWhh76qgvy41a8UGS1JpwmPLpI~RtzmmmqxtJ_qY35GuDaB5j858zo6ONkNX96zNNYdztZjRPtLiv8qUUC6jd11h2BvGkF2RHgQUUl0a1w~Y2k2mXZeIA--.jpg
//media.inmobalia.com/imgV1/B8vEv5Xh_VThvnEqMx4G0ZxU_YC_pCgmETwWNQKyeMqLb9Afo_WSoi~kcK5mwaepLz96AHEmAzWJQblCNhundhnOIYTFLWoaYCUj6fDdfFKb8oKi3udGxES6QmEvavq0eZ01U4~el4jF3eARb8TVbysaUADPRuf8PU84_jq_6adMhDDikhnGW3N2k_whuJSkUmtXPbwHLN7IqiwEFMPAAeq3V6wB3bTXqm8khPLmYgoIf2gOG4_bBRFBoCbFB3yEG9K00as1tVDTihfWQccUEoeAwapBbpwhnWLsCNQkoy1uNMCETzJHuOW~VF1_vKeJsFIs8A--.jpg
King's Hills, Estepona

From 1.595.000€
King's Hills villas in El Paraiso, New Golden Mile, Estepona
New development of contemporary design villas in the New Golden Mile of Estepona, El Paraiso area, very close to El Paraiso Golf and Los Flamingos Golf.
King's Hills is a gated community of nine luxury villas located in one of the locations most demanded. The villas are located on a plot with southeast orientation, with easy access to the beach and all kinds of services in the surrounding shopping malls.
The villas of King's Hills are separate and independent homes, different in size, style and finishes . All are distributed in three floors, including basement with customizable multipurpose area, with the possibility of including more bedrooms, gym, games room or studio.
Do not hesitate to contact us for more information.
properties in King´s Hill, Estepona
1.595.000 €
Ref. 208-01271P · 4 beds · 4 baths
Villa located between San Pedro Alcantara and Estepona, in the El Paraiso urbanization, very close ...
similar properties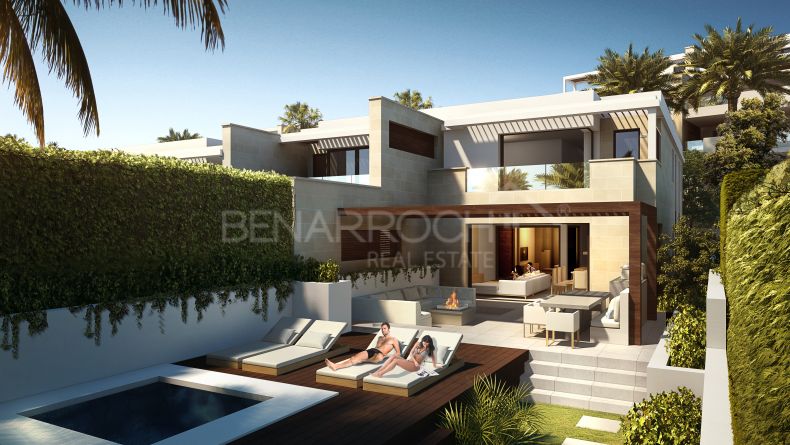 Price on application
Townhouse located in the New Golden Mile of Estepona, residential Velaya, a complex on the beachfront and only ten minutes from ...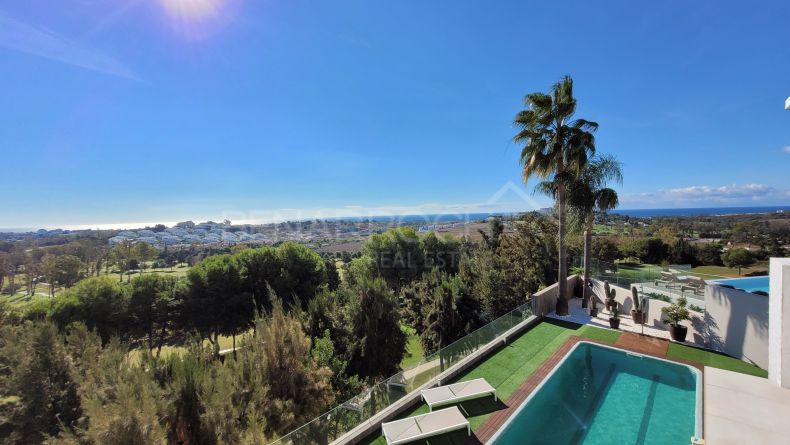 Price on application
Recently renovated frontline golf villa situated in Nueva Atalaya, Benahavis, within easy reach of San Pedro Alcantara, Benahavis ...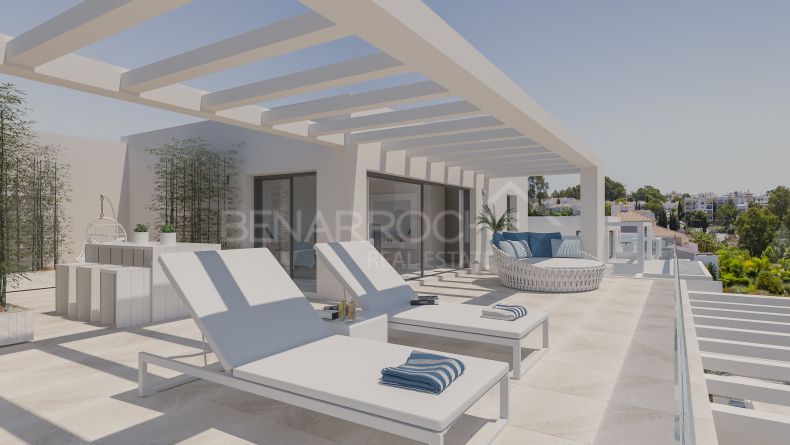 Price on application
Great contemporany duplex penthouse located in the Cortijo del Golf complex, very close to Marbella, in the area of ​​El ...