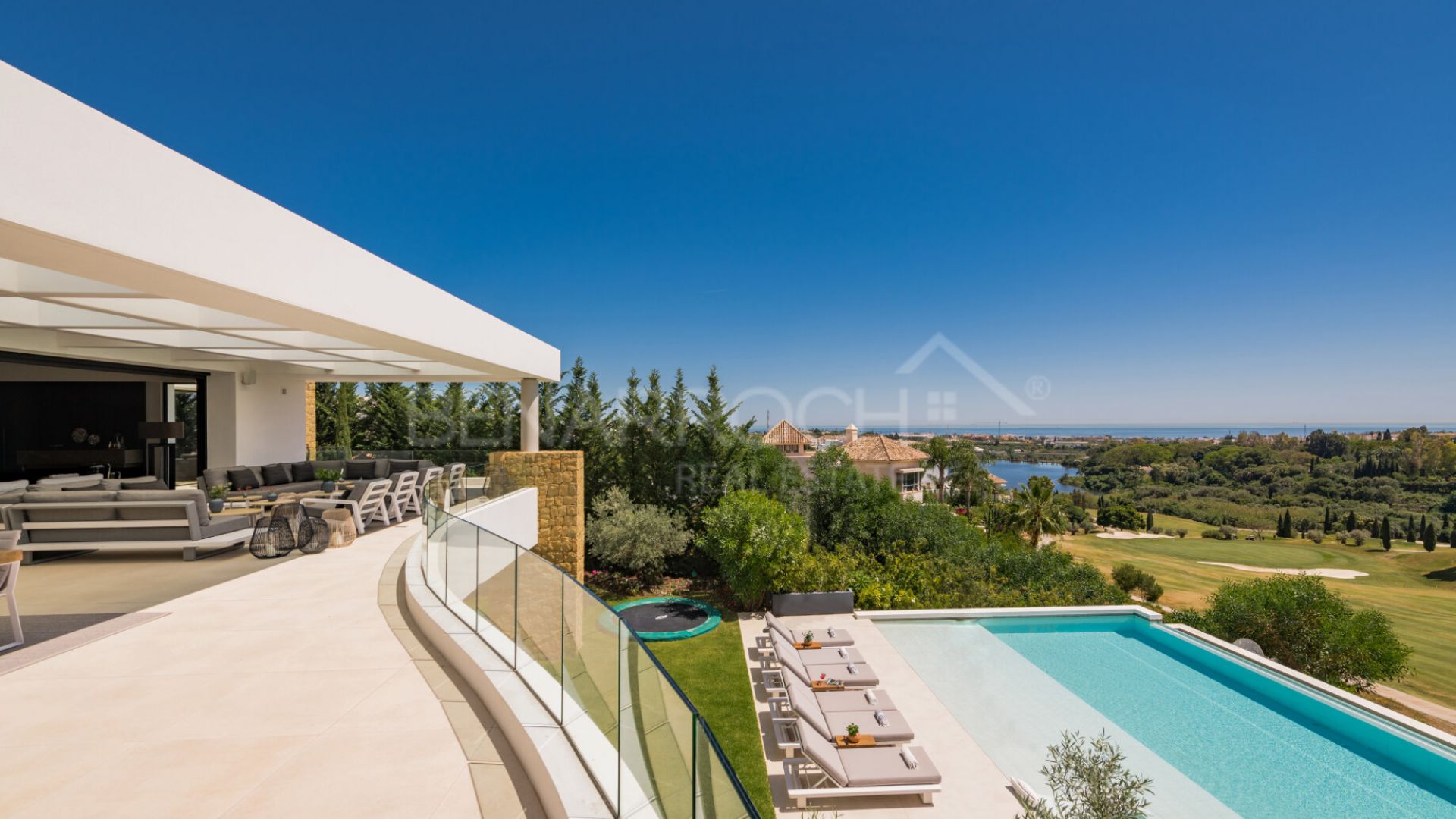 //media.inmobalia.com/imgV1/B8vEv5Xh_VThvnEqMx4G0ZxU_YC_pCgmETwWNQKyeMqLb9Afo_WSoi~kcK5mwaepLz96AHEmAzWJQblCNhundhnOIYTFLWoaYUC~8oOUTVPD8wkWmx7szhk17HevpIG1JGf1BkJVoEouxlVZJT2_DDzOUOVAQeZvJNlnFIks6vP~a62oyMXoO8CISToHXmjQMVrh_JLbJ6OmIb1Jeidx1PwwQdxLePvXHH_LVt_j3NR3HTanJ9XLEiSvDgqNKy9IaWp1FRWlFI64KvNJMfh95GnlxVxKvs2g3bXGsg7RF8bwZ8Ls86~6XQa_bfYxEBV7fSUWQA--.jpg
//media.inmobalia.com/imgV1/B8vEv5Xh_VThvnEqMx4G0ZxU_YC_pCgmETwWNQKyeMqLb9Afo_WSoi~kcK5mwaepLz96AHEmAzWJQblCNhundhnOIYTFLWoaYUC~8oOUGQpm_UhTniYwPyOZXAWQp_bVcllabE61GozRxli2H1Yh9wRbRuXaDxslf7r7a8DuBb8eQJp2DF~gunIuzs51enAJGtX17xLepxZ3bkqMjTHY2rjp31wlnNwlQsW~X54urMiVYTcZGSG9L5M31AvcUJtxi335K51EJMuAUtUN2gF9HzcuDdNfHr2s2ZDJc~_zynwvmMdVO4CMiN2RanoEea0Fl2tcGg--.jpg
//media.inmobalia.com/imgV1/B8vEv5Xh_VThvnEqMx4G0ZxU_YC_pCgmETwWNQKyeMqLb9Afo_WSoi~kcK5mwaepLz96AHEmAzWJQblCNhundhnOIYTFLWoaYUC~8oOUSKQT2zgeib2JW6lcsMoFud7IwcfNPOWTlPpvBt6Y48a3HT9G5cg7cEEKpyzyJ9_BrwTzn4IgE6kNxCgY4prYDjADszrpHIgKBntyhUz016Thk0ObyDFW1eLf6kTT6vt1n3Vts4aVEA9e5euoDPLru3C9EQ2HNQRv7hVJrPppLsRaDUwGdDyKduZGtggu_I6T~JLN_2TMOUG9~_BXmK3xZuGjOWdgAA--.jpg
//media.inmobalia.com/imgV1/B8vEv5Xh_VThvnEqMx4G0ZxU_YC_pCgmETwWNQKyeMqLb9Afo_WSoi~kcK5mwaepLz96AHEmAzWJQblCNhundhnOIYTFLWoaYUC~8oOUS6UkJF74JCX04KiPvwgd6jNb1Pv_48Cn4Acz7qSn_NkmrEsc6jB7zVhE~3GoAui4Dl_7ECH9p0L75MPMyLdsfx~qHbKUNcT1qcMaEZ~SjLeKX0dC6LVdhnPz2rTTmAtdeigcAW34GhK0ABWOQhsKrGtkK_PefFR_qRKMxbT0hE7DGnTn5ZIWWLy7fqYtLphEdkekwBmamqXkqNzd~0Mfy97wp1C_Kw--.jpg
//media.inmobalia.com/imgV1/B8vEv5Xh_VThvnEqMx4G0ZxU_YC_pCgmETwWNQKyeMqLb9Afo_WSoi~kcK5mwaepLz96AHEmAzWJQblCNhundhnOIYTFLWoaYUC~8oOUTQdnkVHv4Bq9sqFc_thrlj_gclepoPPrJDpJTTT2yV8miwaZB6Fpnbwlky5qunEDlN7v6ihgvxVbeO91QRO8fwmOOiQEpeKv8POCXxrbmw2KYHu591U~Q0pEtJDiYVPoOZPOCb25QFcRgU~_rPJ6RNqw5FKOG21zuGBxFh334g6faxukx7PVgDPsgyPvqAhAE2gfqSBTQhVxd3j3nuWLG3uce~8s3Q--.jpg
//media.inmobalia.com/imgV1/B8vEv5Xh_VThvnEqMx4G0ZxU_YC_pCgmETwWNQKyeMqLb9Afo_WSoi~kcK5mwaepLz96AHEmAzWJQblCNhundhnOIYTFLWoaYUC~8oOUG5hnREphyo7KObRvgR2qjqeZ58JEGAGEXoZRnFRX0owBlWarpclmzvM3lsRQBaNWBGj~3j9VyftOofRY9vu9ql0IK09am1WE5K5E4fGtm6B72red9k0OTT5SAHmUQ3uTGN~L8ALWpWy~QZJ7lZrMq5ZTYFPpQXQclZO5yWajFXA1kQTGSbFMv8GuN6qX9HDP2PI57M5QcESPDZeHymLClBCafTuHdQ--.jpg
//media.inmobalia.com/imgV1/B8vEv5Xh_VThvnEqMx4G0ZxU_YC_pCgmETwWNQKyeMqLb9Afo_WSoi~kcK5mwaepLz96AHEmAzWJQblCNhundhnOIYTFLWoaYUC~8oOUH2HIWbvFyq~cq3qONwkb8MIMv3BrW2K1Mzb0lYJNwfs0_Teufc0vhalsFayW6X1pjxxpWLr3YKz36JAX7mjOHuLQjrlXoYoh3~Bzuyg7p421PhVUvcgaknfVdsmQzXT~cNplMoS31mXhz4tWZ9GuFuGvqN~fNkehqEb22F8zrXpLpBmeIndKkNVgwgRdQA6Fd3~nfS4dPe6aq2uys3VbWbzxs_AE0Q--.jpg
//media.inmobalia.com/imgV1/B8vEv5Xh_VThvnEqMx4G0ZxU_YC_pCgmETwWNQKyeMqLb9Afo_WSoi~kcK5mwaepLz96AHEmAzWJQblCNhundhnOIYTFLWoaYUC~8oOUSrirzAvV2F_7IkMjrt6eET7taWMdkuG90GuZYsrDzRdYMkTd0P2bwd8V5IHse_6esIWoSfi5DV~RmGoOElhMohN5MOsFjPa2CAMaJ07~MoOha~74IP1v6QWqdL7YQ6o93QIfSHVoI2q0AwTCPeH7ycmIobSEcC~Zih0uaG8KDbrnIrGDfU2MM99eFHeTWtGdTjWKLxuDxNJy9yQ5qMGS2Gj8ZFbm7g--.jpg
//media.inmobalia.com/imgV1/B8vEv5Xh_VThvnEqMx4G0ZxU_YC_pCgmETwWNQKyeMqLb9Afo_WSoi~kcK5mwaepLz96AHEmAzWJQblCNhundhnOIYTFLWoaYUC~8oOUH2GS0bml27pb8gDQrOiPVpgSTW1MnCH2Sz1l1o~bjjTquF0qbD_YzzPi4ZVjsJKHTPIn0XJ1pCBL26Nebnk16BM2koM6T~p5u8btvV_KYZQgiixsZ_8txyX8uFxBI9IyaHGwCkSGC4BpLcPG4Jnj1YkeISX1mn3HleSMb6hDcI5sT5SWDPxBeIeilqVhv7OjSxAmjyVbi165QOj0nvBze8jB4QTznQ--.jpg
//media.inmobalia.com/imgV1/B8vEv5Xh_VThvnEqMx4G0ZxU_YC_pCgmETwWNQKyeMqLb9Afo_WSoi~kcK5mwaepLz96AHEmAzWJQblCNhundhnOIYTFLWoaYUC~8oOUS~a2bLerwaSLn74MiiGs214h4mNOupoRJM_ZP7lLsQ7C85B_kKragAoVRHqVrfolbERNPylQYNUmKXAEBhPZteV1K8hC6fcoscLKrYwfltpXON0wYu2_nq3_1FYq~u0W2JbRY~3xFpxNXS6lYHI~AoB9i2iSOJr8BfuEHmY5zEgBWhuuD0n3awnt~Bz8tm66Fcx2byE6e~FBwbG4ZSF823h05Q54cw--.jpg
//media.inmobalia.com/imgV1/B8vEv5Xh_VThvnEqMx4G0ZxU_YC_pCgmETwWNQKyeMqLb9Afo_WSoi~kcK5mwaepLz96AHEmAzWJQblCNhundhnOIYTFLWoaYUC~8oOUHW09soQbNSi2GHtQhhMiyHOSj0mJ_gVYYyW5puqcyYAMXKb5Rw9IvAFt_cFku7qjJk9IYjbDnpbUq6z5qyiqV06X9N8qkbGaC6v8JvsmlW9nOHgZ14fPpK4wDvB1tzATfX9kPyY0oXlwY3elj2FjWidF4APMJYFcayn5Q3Y8wzSDOgszxOovYYyWLd7h6CO_Qb7Y3_Q1othEdCzheKtTJRMMGqISyQ--.jpg
//media.inmobalia.com/imgV1/B8vEv5Xh_VThvnEqMx4G0ZxU_YC_pCgmETwWNQKyeMqLb9Afo_WSoi~kcK5mwaepLz96AHEmAzWJQblCNhundhnOIYTFLWoaYUC~8oOUTVaXf~ACqrTFbBfxpMiMYyYX~2zcaFHfO4bhvmaFFNGJZ_Rwo1dg~9HqVsMy5xqJO46ynN6r6UPs_EShwIqnymB95LRv1bUX_1nTJEUpmcAUUY7gZ970QFZCfnCNtt~bYdHA7FVgTd4x4AQwkmm8HNIuP0FpelIvZsmfV~mdkjqRLzVf5VM~_ccZU9Hu5NAVyXcJeI57Pocwz_F1gz_aBWTLj_duGg--.jpg
//media.inmobalia.com/imgV1/B8vEv5Xh_VThvnEqMx4G0ZxU_YC_pCgmETwWNQKyeMqLb9Afo_WSoi~kcK5mwaepLz96AHEmAzWJQblCNhundhnOIYTFLWoaYUC~8oOUEPTk33AZa5uqfTO6UDRz0dx3nQyCjckndHlWu9cRdyduxtSV2BQBsIL_Rl_0bfYOjOq8qhw1p7f~EFP_9YlXlg1RSmaCEHnstFvIj8g4j6NLZGX0r1eYiZPk6cx0a7g6MvhFIAgtTNwySRncpLDi_GEFc0jSFeU1UhlKgYS9C6i5IvKyFQjPkT7UViCZIi5KIy0n7QSaltTRD_FdBfr169yPcRC1fA--.jpg
//media.inmobalia.com/imgV1/B8vEv5Xh_VThvnEqMx4G0ZxU_YC_pCgmETwWNQKyeMqLb9Afo_WSoi~kcK5mwaepLz96AHEmAzWJQblCNhundhnOIYTFLWoaYUC~8oOUGQWOjq_F5Q7wsn9KigNijy3ah7JAzlvqrGC1kdLjCV0Hoh2DF3Cd9giyf4ODEALTNHSB993aDs4mZNCFwkUnpddPsh2B0sImOfTby0hHf1MoCqD4S_reSbWRSPKI~Hkh8E5O9SwMe7YibyqQPkOiL4rtIVZm6eKFbHQmhzyla49cXK28nl3FGHUSC~~3rfBFXH~ILUgvGd90ULZqLPq~jb2wVTT_IQ--.jpg
//media.inmobalia.com/imgV1/B8vEv5Xh_VThvnEqMx4G0ZxU_YC_pCgmETwWNQKyeMqLb9Afo_WSoi~kcK5mwaepLz96AHEmAzWJQblCNhundhnOIYTFLWoaYUC~8oOUGEixL4eae4MTtaAWBp3CliDwo8h3M0nugrKWnYbAfq4fw3CdYQuz94UcX7aZUacgCqu_M0mlsZP40ZRLqW3MEGww52QORYiRofiIINQCQEolVPH_jnEPYdH2MpF6xTFS1aHHTKSxmGxfe8XtIaT_lvYs8Zr9Gv9DRsWx01roJuDTl0mDOSoYPGJdndv4E80odDISvvr348lXCOM9dF_MWvpzt~4AAA--.jpg
//media.inmobalia.com/imgV1/B8vEv5Xh_VThvnEqMx4G0ZxU_YC_pCgmETwWNQKyeMqLb9Afo_WSoi~kcK5mwaepLz96AHEmAzWJQblCNhundhnOIYTFLWoaYUC~8oOUGlrMz~2n~S77dltk16uWprJ0tBIxy6VpSWIR4PNZzo0LdEgoH12Z5Gd8oxeLSOYGCSu4lMfeVaiKBNhbs5XYucUuffvaGQVhOLkBcBJ78XsQrDQcmzzQJlBAOJ2DBpI5fsIIfPxTAFUnwUKIaRgAL9YdMVcatzJA4xC1Bkrk5RDzpKAbj4IryywPpHieUOPFP1ysNa4IAy_Zf2i3oAGU2cDdxnRUaA--.jpg
//media.inmobalia.com/imgV1/B8vEv5Xh_VThvnEqMx4G0ZxU_YC_pCgmETwWNQKyeMqLb9Afo_WSoi~kcK5mwaepLz96AHEmAzWJQblCNhundhnOIYTFLWoaYUC~8oOUG54kmUMOwtYRXZxCS6ADv1nqLKSmapuWlMMTbClzacbAJ5vLLkQnGt~xOkUWWDwwkmnqU~L3O_5twL9gL_J3KtrwJZ93VH08CT4A3u6Oto8jxr3H28PZ0sP6TimsGjHjF7XHpDeBnCmEzjkDnV~XVLRJDfhz3Sayvh1u7tOavFFqI5C~XETgKAtCQbKdEaOU85ykClqu3G332Ur9hG7jrPkWuh22nQ--.jpg
//media.inmobalia.com/imgV1/B8vEv5Xh_VThvnEqMx4G0ZxU_YC_pCgmETwWNQKyeMqLb9Afo_WSoi~kcK5mwaepLz96AHEmAzWJQblCNhundhnOIYTFLWoaYUC~8oOUHWkGiWX8Yb9W722_1ueZnebEHXGBpfH1heDKweaXfMfZvAlfE02PRamJBN3B90mX7u1DjVVBRGN_neSGcCARTb_4w01yiiXkVef4JCII_nry5m8hk8eAtLJH3IFGCKqE82TX99dRkTfXkS_PG47oixXHfu6Uqy9r5~jOSjonFr3pNEbeSD2OQGcgiO7shssLIui~Wl4H6whpJo~qHfomhoZ30GBHfA--.jpg
//media.inmobalia.com/imgV1/B8vEv5Xh_VThvnEqMx4G0ZxU_YC_pCgmETwWNQKyeMqLb9Afo_WSoi~kcK5mwaepLz96AHEmAzWJQblCNhundhnOIYTFLWoaYUC~8oOUSuekLST0PNsds4Dj7o_IVdujei5Syd3UhqIqeIWJ~QS42ycNIeKxC4~2TTHdZqhzFmetDcoGjfLInbOU_fcNarOT14fIwTeF18jiZ2LfXCHaqJG4BNH5p1JCmvjsDzvzpRIoTt0uWT_IaAh_KSI6V2VYhmVy~vD2qkcYzsMeu3rizoCo7hSJrKRLE7lqzgwbRkMgAWdYmZFrae6pl6sbqv~ESHWFtQ--.jpg
//media.inmobalia.com/imgV1/B8vEv5Xh_VThvnEqMx4G0ZxU_YC_pCgmETwWNQKyeMqLb9Afo_WSoi~kcK5mwaepLz96AHEmAzWJQblCNhundhnOIYTFLWoaYUC~8oOUHzRn6ZCyDqV4PclA2E~LAMmcCARctRo8BmQYKPjBq79dkDb3sLVyFIo5_s14cVDxZyTg3t_0S3nUf3gcJq8wWDMMTEpUdTIBzx5Sk4pHFqiS~nEz2kMboJgObtCNBuPPtwLF9cuwVINBbSNo3sSWf_gXW9_SvQFDDbXgd4A6STa1gDRU5PdCgXbEjRtgOQj6tp6sxQ_xVpagq7HzqqD4C6J7WVzHmQ--.jpg
//media.inmobalia.com/imgV1/B8vEv5Xh_VThvnEqMx4G0ZxU_YC_pCgmETwWNQKyeMqLb9Afo_WSoi~kcK5mwaepLz96AHEmAzWJQblCNhundhnOIYTFLWoaYUC~8oOUSuBo0kFwZ_kq0AmkUsW4r6gQr2iEUmHt55J4OQTcm3_~FmaDaOTUL33vKfZQl_BcaGUuochmWakhyy_KibuUqoCXYiakstQTi4W_ir4D_r1YXjYmBPUIBZmya4N~fOAknpJJ0YyJsfMsAr1BhwLsoPHukZfStRdzq5CzKgoUKir1Xob7TpMiIppjRkE0vo~nU1BZPXJ~sBUmoSeC8WEWYutqWw4e7w--.jpg
//media.inmobalia.com/imgV1/B8vEv5Xh_VThvnEqMx4G0ZxU_YC_pCgmETwWNQKyeMqLb9Afo_WSoi~kcK5mwaepLz96AHEmAzWJQblCNhundhnOIYTFLWoaYUC~8oOUHWrPS9uuaCwNfoCmHf2~BWgrvJdJbvZd8u6Wr7nbu_1_Bp4P44399kS8jLk2QrcrgSwjk82Kse_GwAHTFl0ZYgFVu8aA5Lwib8iCFxNnJ6TGRbWNI_46W5e1NNpZIxdSRQXk1~QjSz6FgcLhA~rePd9AyhgxW94M00jdRzfEKAfwTm0h52sZdmtt2QwByS1FNp8e8CRYIgmE~KvokdEpDhnWCaqD9g--.jpg
//media.inmobalia.com/imgV1/B8vEv5Xh_VThvnEqMx4G0ZxU_YC_pCgmETwWNQKyeMqLb9Afo_WSoi~kcK5mwaepLz96AHEmAzWJQblCNhundhnOIYTFLWoaYUC~8oOUT0Zbc_Mf~Se63HN42X~fo40U0Qj52P2MIeYG0IjqlH1IFRdsNQi70O5Qf8WXFyhSsvb~GdXdvsU4w3u~DQnfCy6lXCDY~7Or041T3roPhMAs6KUlUwBpU95kGYd~IAnT_SqwAiuKc8nLisQBUwrQLz9UVTyK3Mj8pc9EXTAspDQfR6bgGu6DoeOa0iHzdVDMdqUXSWHLVVHuuhmPh48cvnIQinRpdA--.jpg
//media.inmobalia.com/imgV1/B8vEv5Xh_VThvnEqMx4G0ZxU_YC_pCgmETwWNQKyeMqLb9Afo_WSoi~kcK5mwaepLz96AHEmAzWJQblCNhundhnOIYTFLWoaYUC~8oOUGEnNMmGMYs91_gpqz5Od04O67XWj1pb6dyZTHl3Dq1stxqqSXLIcTTGBEaL9SYbb_QzWsJaXsFs6PArdtpEhi4d_SLi45rG5J946hCAib2bZAiEqV50KdbeEn6qazAhxkvanmboBf8roUl3dusVoMTkFX98NoxIb2IM3z0AM9Dp9WJqwei4cQaGuOtapj9nt9vkYRSOErduWNOSxsVtGER2GvmbK6w--.jpg
//media.inmobalia.com/imgV1/B8vEv5Xh_VThvnEqMx4G0ZxU_YC_pCgmETwWNQKyeMqLb9Afo_WSoi~kcK5mwaepLz96AHEmAzWJQblCNhundhnOIYTFLWoaYUC~8oOUSrS~vyspXF9RnIVq_OGUVbTJhaFUJvUtEX4411_KJxdQJAd56ci157sf~sJEnBEFAteQ5auETMp~oKcFFrxNTV99Nb9d2s16OmaK4KfGEwTI1~4ZZFpJoOnXpGbgPugVFQoXNz5VZRGB97Q5EY09mbrXNKRBQn7O1URDOLIhysGE6~o0GbSPDdddV2HDwYN2b5IRJ4~QXcfHtTqshmxns0p06THyhw--.jpg
//media.inmobalia.com/imgV1/B8vEv5Xh_VThvnEqMx4G0ZxU_YC_pCgmETwWNQKyeMqLb9Afo_WSoi~kcK5mwaepLz96AHEmAzWJQblCNhundhnOIYTFLWoaYUC~8oOUH2MQSwN27m~0VhcbImFm5SxIIyCzypk71FOBnlDgceTuWlTNRHeGNKOVmkf_y8sU8jmE0dcLaNhnb7iShGnKeqoEtLBlsHPc8G3H3i5hZVY1jRDMYGzktfjE1a~aI1Td3CprAqFL4Za6ol49X_tdWYIuTk0mmgUCZChZmS~ltTKzA1zhsXz3XJwyliR9SyK0mZkQJBZPkVf46lOFbwbwO0gklM_nWw--.jpg
//media.inmobalia.com/imgV1/B8vEv5Xh_VThvnEqMx4G0ZxU_YC_pCgmETwWNQKyeMqLb9Afo_WSoi~kcK5mwaepLz96AHEmAzWJQblCNhundhnOIYTFLWoaYUC~8oOUT0YKHM5dNWLo0zAcm7IJqwkHQ138OPUMUDutmYeV7vZJkv_HPY_ah8QowZEh8zGJtxYiGpur~gOdbwcLBwYsEGXDB3AoUzEyCDWUWPT2MlOSUvQT5CanEHNvN9R_4ArNGvxqr2EZYvPhH0CcDpGwWhqglbw4KVfVaM0m1ox9v021lbURl9WyZ9cqFcJJ28Ywz2k5htrP8ThAEcdpRba0tQzDN67xhg--.jpg
Los Flamingos Golf, Benahavis
Villa
7.950.000 €
Modern design villa in Los Flamingos Golf, Benahavis
Modern style villa situated frontline golf in Los Flamingos Golf in Benahavis, very close to the five star hotel Anantara Villa Padierna Palace.
The villa, built to the highest standards on a plot of 1448 square meters, has five bedrooms and is developed over three floors,
The main floor has a large entrance hall, guest toilet, lift, spacious open plan living-dining room with fully fitted designer kitchen with high end appliances and service access, direct access to the terraces and master bedroom suite with dressing room and private terrace.
On the lower level there are four en-suite bedrooms, all with access to the gardens and swimming pool, full gymnasium, sauna, wine cellar, cinema room, kitchen, games area, garage for four cars and laundry room.
On the upper floor is the roof terrace with outdoor kitchen, jacuzzi, firepit and relaxation area.
The villa is equipped with domotic system, underfloor heating, air conditioning, direct access to the golf course and parking area for buggies.
The outdoor area has manicured gardens, infinity pool, outdoor kitchen, barbecue and relax area.
REFERENCE

208-01854P

bedrooms

5

bathrooms

5
built

701m²

plot

1.448m²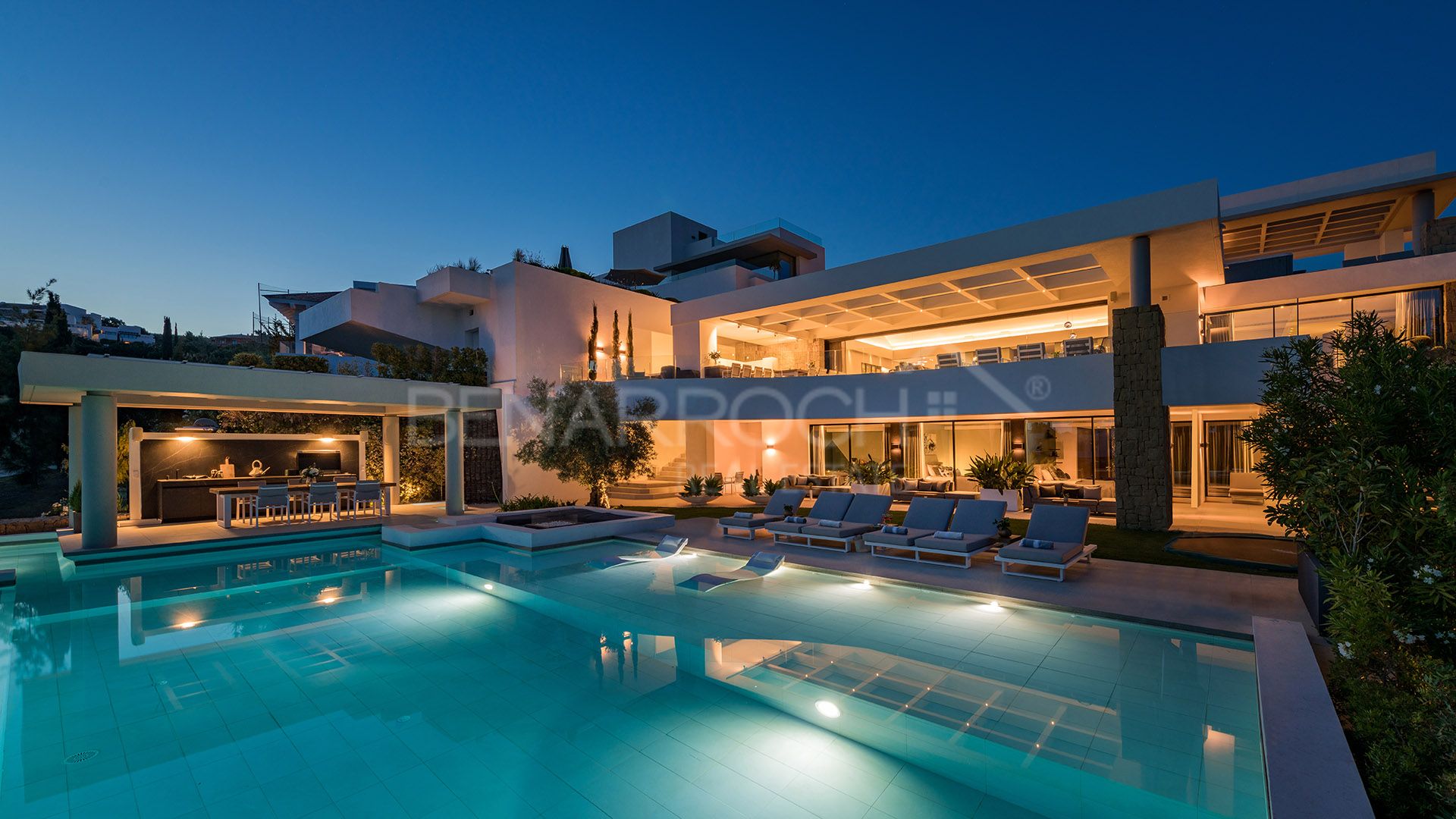 VIDEO
Video of Benahavis Area
similar properties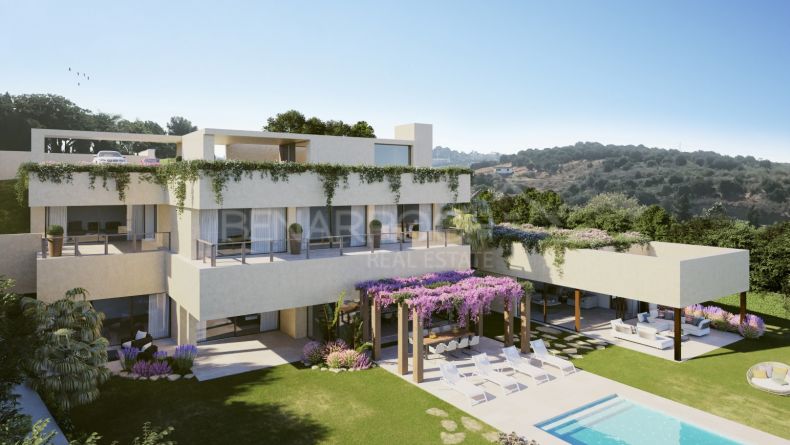 5.000.000 €
Villa under construction located in Los Flamingos, Benahavis, next to the golf course and with all kinds of services in the ...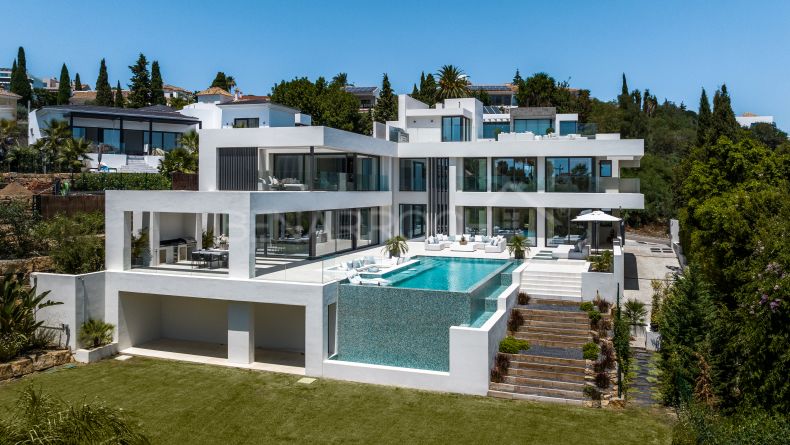 4.500.000 €

reduced from 4.950.000 €
Contemporary design villa with sea views in a privileged location in El Paraiso Alto, Benahavis.Situated on the New Golden Mile, ...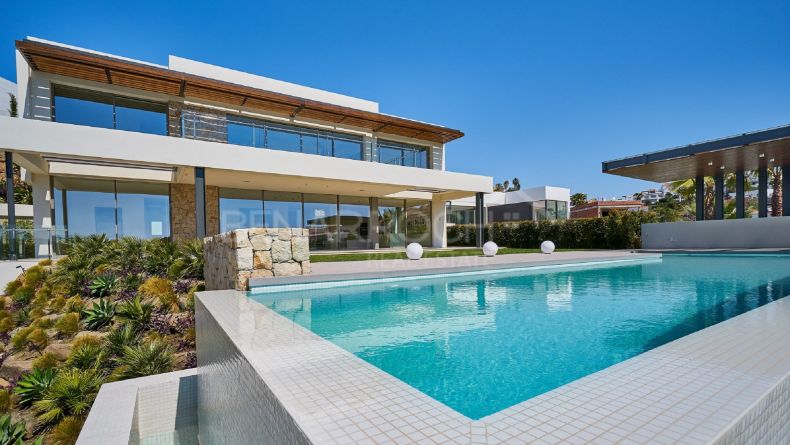 4.500.000 €
Contemporary frontline golf villa in Capanes Sur, Benahavis, close to schools, supermarkets and only minutes away from San Pedro ...