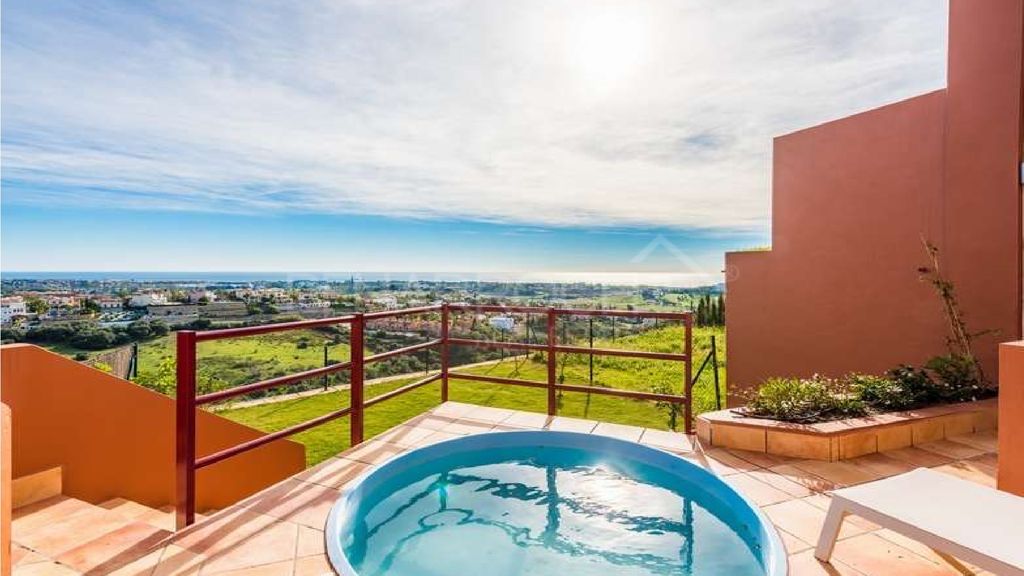 //media.inmobalia.com/imgV1/B8vEv5Xh_VThvnEqMx4G0ZxU_YC_pCgmETwWNQKyeMqLb9Afo_WSoi~kcK5mwaepLz96AHEmAzWJQblCNhundhnOIYTFLWoaYUC_Uy80WCTdsSfmrssW35x0T7NOGT2U9T_IQpGy_Le9SRYV2rScH3NXQ9FIiVXGgAKTlCxPGQnrocjgs0J3FSM1EstJM8EjjIbt8rl_ugIH5DlleR6U00zmQzqNqM8KbnGvezl48CdgGXeQH7LJxrSRh2Fzez2CVfFsN41zfxdNBTJ5gMrtnjXk6y5XjO6M7Mpk7pwgzyqlyfVn_ihR84lGGjvH1aIKOejuHQ--.jpg
//media.inmobalia.com/imgV1/B8vEv5Xh_VThvnEqMx4G0ZxU_YC_pCgmETwWNQKyeMqLb9Afo_WSoi~kcK5mwaepLz96AHEmAzWJQblCNhundhnOIYTFLWoaYUC_Uy80CHV7rRf382nhWU0RSUNvUgfBmHiVEMKNBsE~RXFGin5FBkYR4Utlgf6L33MXAH6U1ITMSa5nr7iCWKF~Ki4mMV3uQGF2D5ygAfu9SkjinO90IuNpRKE2OX4BPZc~bJzwUmEGSbnM0FqPRnSTGqcYVMDLYv1iZdvdqcird10KsENaXuFs1sXkcMR3_mUQYebdaC~0YGxW_zXsVRWifJ6TOcwNBtVYrg--.jpg
//media.inmobalia.com/imgV1/B8vEv5Xh_VThvnEqMx4G0ZxU_YC_pCgmETwWNQKyeMqLb9Afo_WSoi~kcK5mwaepLz96AHEmAzWJQblCNhundhnOIYTFLWoaYUC_Uy80DMqEkUthBV7GBRLPcxl91pzNRiGn27srcOGmhVMRV_kQcboNjYqEOCrKHZ7N6n_k20SKYeQJ_yiUBYn~ZHIVUO7bq1oy3_BrNs77sGeLDTB5wrkwHzAHpFM5OH7UY8DehuzzgnBokMc2vfhhxX4_1i43avgDhodESS1thN8tTKHJpyOBU6SZzwd3RM4X_21~0MQzQWjQGh2UzHINYGvlfSl9N6~xcA--.jpg
//media.inmobalia.com/imgV1/B8vEv5Xh_VThvnEqMx4G0ZxU_YC_pCgmETwWNQKyeMqLb9Afo_WSoi~kcK5mwaepLz96AHEmAzWJQblCNhundhnOIYTFLWoaYUC_Uy80DJpoVVkw71t~t3pOvNqPA0uGjzFbMxvV6fbeveDszTg1dI5Z6y1xlQDn3jr79gGDzM4gr9CSuiOb2sCQ316M4Fq889D78SYS~XkZQqIaR~YpDmN~BmYfxe9J8Gr6pDfibTVTF5zznJ~NEQpsDRj~2dUkwvXRZqAnrM2UGryQxC_P0b_xEdThfQahniuRFlWPg41CLuA0J51aXwBDE6YbFbIBZJ58cQ--.jpg
//media.inmobalia.com/imgV1/B8vEv5Xh_VThvnEqMx4G0ZxU_YC_pCgmETwWNQKyeMqLb9Afo_WSoi~kcK5mwaepLz96AHEmAzWJQblCNhundhnOIYTFLWoaYUC_Uy80WU6i~vIKsKgHaXNnztPz3Ec4fT9djQdC34Nf9GciqlD4n3z~6cVlYa0rKRss2r2e9WFB~V0OJ5b4mQw~dNYFsqekilxwO8XlGmbw391CFZu5bajS6sCSpB9MKHRfO6UdkDmSe81XmWueLHH6H6qaZpR7HsxtPp4tvD72SWaJ8X8py4jZIJ7mITK0MFXkSeSuW2DKaIHcuClOkMjMvT3WsKGGvhFg2g--.jpg
//media.inmobalia.com/imgV1/B8vEv5Xh_VThvnEqMx4G0ZxU_YC_pCgmETwWNQKyeMqLb9Afo_WSoi~kcK5mwaepLz96AHEmAzWJQblCNhundhnOIYTFLWoaYUC_Uy80D3ZZup_FxuK2p7Y07mpAd~niCs25HdnNrajnfvkCr9JdW2NsWaoo6MMRONAJy5xqiyzNKxTlo6ozOcw_7yaVFyIgIcQCtE9iI5Q3RKiggj8i~2bBepry0an7fVz_IipJA_Vx9xU94FviiNOo2YYq6fCsjuGB3RGpUtsY15k_9NEIDB8to2H1Nx1lJwbF0~N4UcbaV9UzHH78LOvA_fwtbm7PL1rThA--.jpg
//media.inmobalia.com/imgV1/B8vEv5Xh_VThvnEqMx4G0ZxU_YC_pCgmETwWNQKyeMqLb9Afo_WSoi~kcK5mwaepLz96AHEmAzWJQblCNhundhnOIYTFLWoaYUC_Uy80CcYizAIpPeQ~VUQdjucOl6G0MY0UITHpbbpzxahxvBoMwBigaR4IR7BuSGQpHsfc8MfN4QqhctwIFtkjPMi85IJw~pAsr8pjhSZq_FI06d7dN8hxBwy~RmCSyimsgE6IFIsDyw~5iWZvzwA1KT4VEfowUftfa1Tlgwl7e5Il8fmBXko6Lm1Y4w0Aj~Wpk8Tw30zuWuRopMIc18J2W2LNkYf7QnWkWg--.jpg
//media.inmobalia.com/imgV1/B8vEv5Xh_VThvnEqMx4G0ZxU_YC_pCgmETwWNQKyeMqLb9Afo_WSoi~kcK5mwaepLz96AHEmAzWJQblCNhundhnOIYTFLWoaYUC_Uy80CvieWoW4ITUSiymGNzOwVUCkEwTIGO3H0motAfShFfnVNNh611QqJct_jUBluXZTCsv6JRjw3yOUY13B6FahzCKB12mGW5cUwoIj3WeA_MES9uf~4Cd43Ucsexw0Hgg1yCpAQfY9TFjcbOf9gHg7YzSEsfHpnENk9PdcG7jf24z8U9iHo0r6AcYL519~Zojal5bQu2QoTYr16i2V13a3ilpUVOuPwg--.jpg
//media.inmobalia.com/imgV1/B8vEv5Xh_VThvnEqMx4G0ZxU_YC_pCgmETwWNQKyeMqLb9Afo_WSoi~kcK5mwaepLz96AHEmAzWJQblCNhundhnOIYTFLWoaYUC_Uy80Aoiu5nUbyraaTNvUCH_sS2ambPGpS6Plkmh9H1UDU4QXOd3Ijt~YhdcT0tdnnzdbkRxQo0tRNJogjEa_q54AqwDSL1w065V4LFMut9KignuJ7I9ci3EopXRO8cMNtaXo6Q8U8sRNx1y2IkbgeYJ1LkhaiuFgFb8fsxcN_ftXtt6dW5Ib9~~LLdbDDH0WsEq63kR~3zSlGx~TbF3K2jKt6TTEImKSgA--.jpg
//media.inmobalia.com/imgV1/B8vEv5Xh_VThvnEqMx4G0ZxU_YC_pCgmETwWNQKyeMqLb9Afo_WSoi~kcK5mwaepLz96AHEmAzWJQblCNhundhnOIYTFLWoaYUC_Uy80CcNetEvmJzw8~OgTmlReXkc3Y4Z4rJWRFh93z~NuKedDe0V98qr1Yi7LnD9j66tHz6r8U6d2KVTtduT45nc7ZWaRafgvVkIVtHGDGWC6Fj0AGikQPT1pmfrYzj73NjkC_e0XWAQ_EOF0KD5ZQXCM5LnyUKGJw~W9~2LMJQ~DnaCzI9~U5qMMBYn5UFUExnXciePmTp~hPOPJGDcMWpcr~A0_fSJGhw--.jpg
Paraiso Alto, Benahavis
Town House
495.000 €
Townhouse with panoramic views in Los Jaralillos, Benahavis
Townhouse with uninterrupted panoramic sea views in Los Jaralillos, Benahavis.
The property is distributed over four levels. On the main floor there is a guest toilet, large kitchen with utility room and living – dining room with fireplace from which we go out to a lovely terrace with stunning views and to the garden of the house.
On the first floor there are two bedrooms sharing a bathroom and the master bedroom en-suite with large wardrobe area and access to a terrace with views. On the upper level of the house there is a solarium with 360º views.
In the basement, at garden level, there is a games room that could be used as a fourth bedroom or any other use we may wish to make of it.
Outside the house there is a pleasant garden with a jacuzzi.
From all the rooms of the house there are panoramic views.
Garage for two cars connected to the house.
The urbanization in which it is located, Los Jaralillos, is a gated complex with large gardens and three swimming pools.
The urbanisation is located in an area in full expansion. Nearby are the golf courses Atalaya and El Paraiso. Only 15 minutes from Estepona and Marbella.
REFERENCE

208-01848P

bedrooms

4

bathrooms

2
built

467m²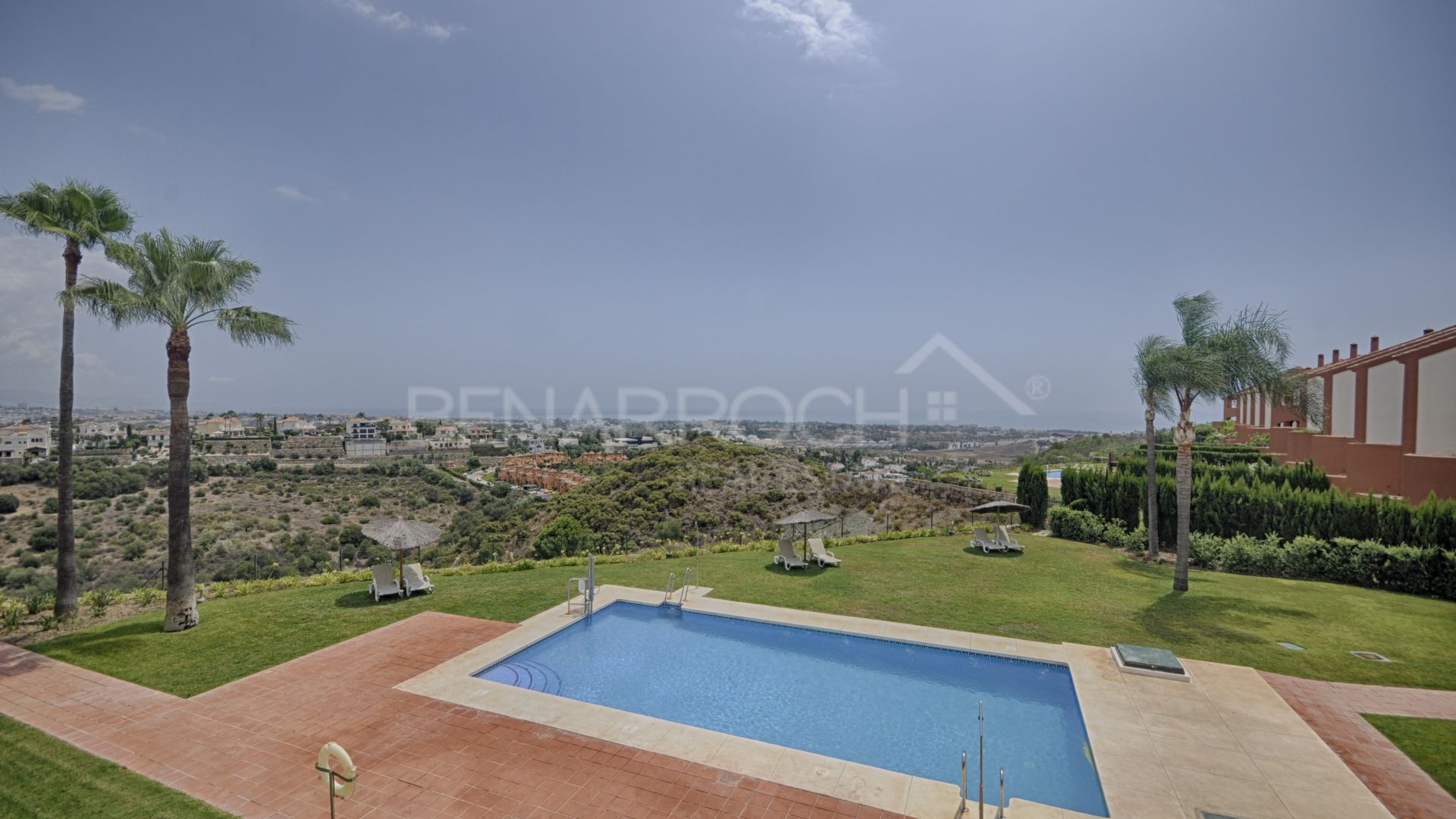 Video of Benahavis Area
similar properties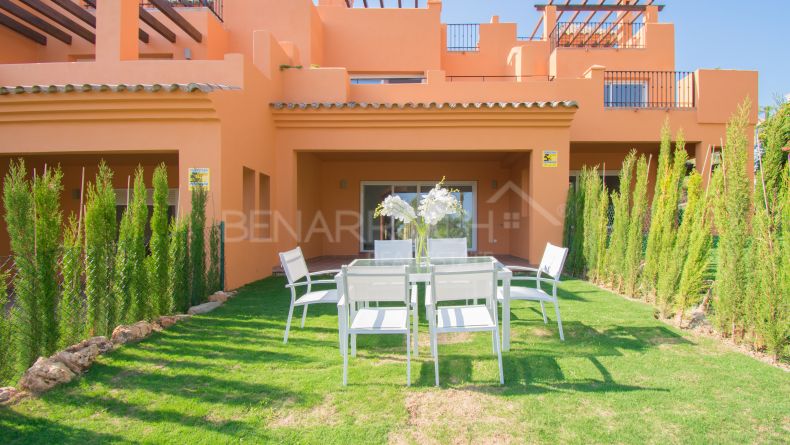 460.000 €
Semi-detached house in the residential complex El Paraiso Bellevue, in Benahavis, just a few minutes from the beach, San Pedro ...