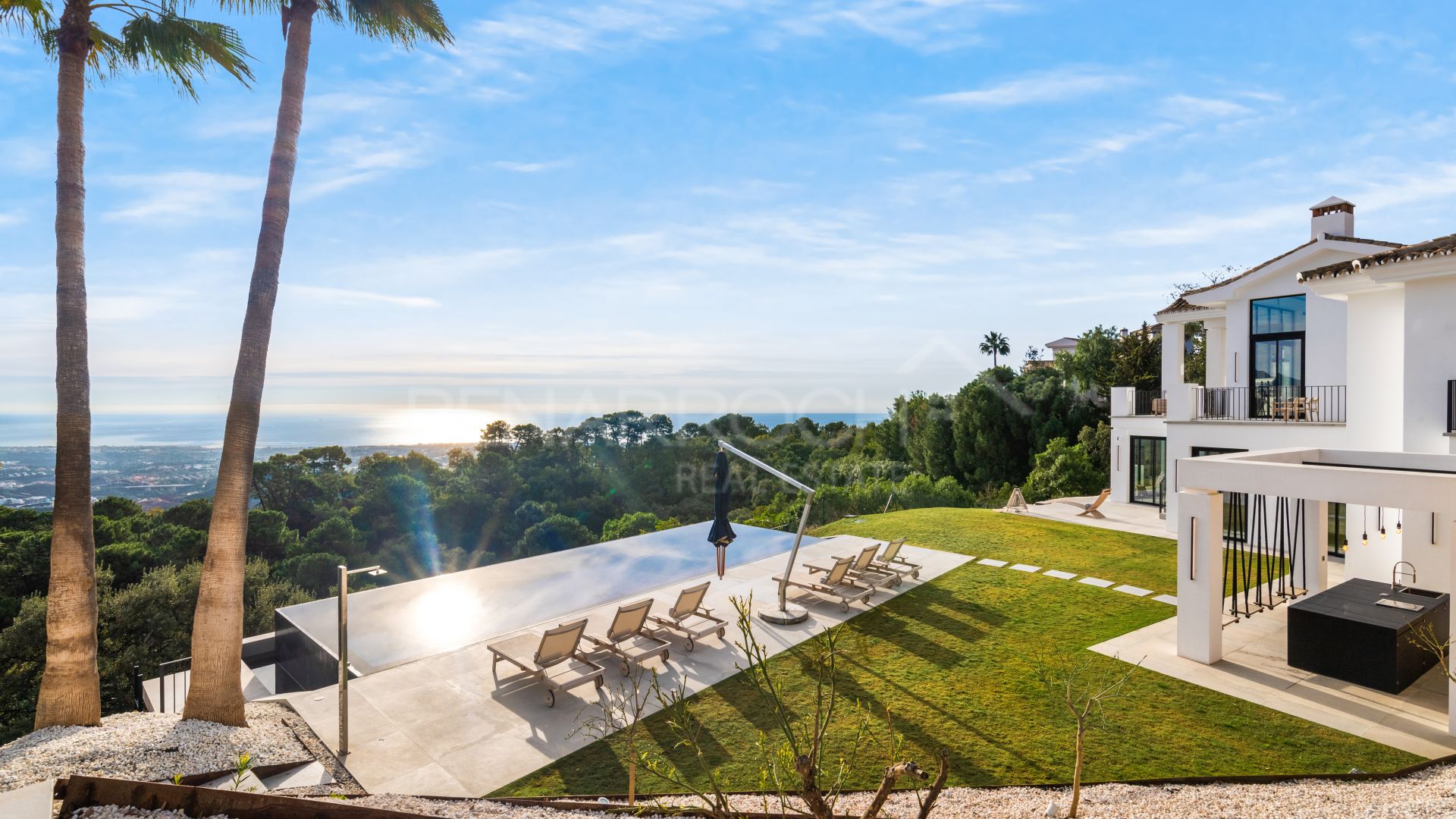 //media.inmobalia.com/imgV1/B8vEv5Xh_VThvnEqMx4G0ZxU_YC_pCgmETwWNQKyeMqLb9Afo_WSoi~kcK5mwaepLz96AHEmAzWJQblCNhundhnOIYTFLWoaYUC5foJ9OS6m9ioqUHMmIw3IJ3h1KaTPWm~qIB~p0D5umjqhKRKaO0gRlv97BHbJiwbeoo~0ktfKjOGPK7SP5JrpWTtrsUuDtqHbl8MfBJcQ0mnmudsej_TpVHyZ~K9hN_8IwtX8vTRRIlYMLTztYZLUPfWVhR6gg4Bv33Z1PPsK8ztQ~9VabJ2VqUhyW9GvGKNpdtq54VWCfCjBJb3Dk7sOn0mH7YcwGhaW4w--.jpg
//media.inmobalia.com/imgV1/B8vEv5Xh_VThvnEqMx4G0ZxU_YC_pCgmETwWNQKyeMqLb9Afo_WSoi~kcK5mwaepLz96AHEmAzWJQblCNhundhnOIYTFLWoaYUC5foJ9OmUkazZ~7_DdBQL0G_GKyAOKVe73IK~hOtL0AJC0EWYvPQ9JGbD4WtPYTM9Ims9UySkbtuwrcyK5kPaBP3XExXU_OOy5kU~wkRWde3jo1ABvrtC2rUkiZAWNPXiMVkfeWytVRtiBGiotho1QHx3PuOKQ~BKZt~YCaaOdfzZ3_0r9BNAAHGTih_ebw_JcBZZ5hFzxGo~uWHtpOecO1aB_2vR0Cz_PIw--.jpg
//media.inmobalia.com/imgV1/B8vEv5Xh_VThvnEqMx4G0ZxU_YC_pCgmETwWNQKyeMqLb9Afo_WSoi~kcK5mwaepLz96AHEmAzWJQblCNhundhnOIYTFLWoaYUC5foJ9btJgcdkPVzeAkgqHRLUbTSin5Mb1wWSAyJPZrRIlNBVETRjBIyr~xknphkSXKp1qeXZusFDvhcqo8zy1U0B8kS_cUQ2v354019SoNXUARp5sln8qEjAHP9YoWi5vC8CgkPwM92ewcsIQdgWcePl6M3SbqhicgfpgcGino3iBfTyLYk1NmkWr4~AjyP1ZdC4aA4kqv3M1YsinxX4owjbqgDHMRPFONg--.jpg
//media.inmobalia.com/imgV1/B8vEv5Xh_VThvnEqMx4G0ZxU_YC_pCgmETwWNQKyeMqLb9Afo_WSoi~kcK5mwaepLz96AHEmAzWJQblCNhundhnOIYTFLWoaYUC5foJ9bRUcNU0_GEPPktbFjGo5TY2R3WUGGuRpYi1Y5xtGo6Ah5px84xGSbcWOwajc1rfuIJ_QPuMHV4GFe85SO3Wb63WFi4idWbD_LA_YvRs_tNeqp7j15mo60ZByqR7ypIYfxFN~KueGNhzGdjWXGsAj1nCU0ISbZeIz_uxNgD4gahGuHnFdZXAATVyPZHSCby11M0G1WpWTewA09s9lPNTpLNczUZx3Rg--.jpg
//media.inmobalia.com/imgV1/B8vEv5Xh_VThvnEqMx4G0ZxU_YC_pCgmETwWNQKyeMqLb9Afo_WSoi~kcK5mwaepLz96AHEmAzWJQblCNhundhnOIYTFLWoaYUC5foJ9arYSeM6KpaPzt15yrFf03~nhQCKKQCyYIWNHZTal1gQCTjKzo6Drf2KOkeB4aXCD7MDN9hc6o1VDeK5JsyjwPrdzgur40fSOAFVf3uZAISgzXKsLlum8tZJjJycyqkLPcqXr_LkRFhj04ITe~nGi6iJ6P12jMwAF7zN2wmmvVsqTjPHeE_Z2P9vRSGS0m~DzvFoDrIeMUvYIHu8oDtyM15P3Q25fcw--.jpg
//media.inmobalia.com/imgV1/B8vEv5Xh_VThvnEqMx4G0ZxU_YC_pCgmETwWNQKyeMqLb9Afo_WSoi~kcK5mwaepLz96AHEmAzWJQblCNhundhnOIYTFLWoaYUC5foJ9Yol5qsJ9n7LREjUAw7xJ7g118U72nFlanUIH7d~_940TKKmP_A4m6DA1lNYac0kQAQiZ6839mY9XpbbVZpxSBCp2sCG_Nx5h85QDqkXMaSTQWEYEzYeeCNfK8C_w1_RPeNEh~~BpTtdGrrBZYX2k8yEN1hwMT_evxo5_lU3tfjBgiKeYTyx1rIAfVDf~xlVm~SQrEPI2M3RfWwshB0~bkHdh~1hwcA--.jpg
//media.inmobalia.com/imgV1/B8vEv5Xh_VThvnEqMx4G0ZxU_YC_pCgmETwWNQKyeMqLb9Afo_WSoi~kcK5mwaepLz96AHEmAzWJQblCNhundhnOIYTFLWoaYUC5foJ9aueoeYG6EWitkh8JaQOwEh4CwzUYNRSEOOUdjKcGWgJHne5qPvKLRkrqsz0QeqGZdCWZ2q7vFD56UM7J1ldJs8BFP7zOl8vnEmrEoqe3hOWcCLJqCm_PMD0xGw~5NbQRA3lcRplie~gK5oeC5EM62oHrQ2R8lKvGITvIyRv7RG3tue4U4nyGx~PVYkHVg5gNPpcYGLYkREme~rURTSMAm7E10fsiEw--.jpg
//media.inmobalia.com/imgV1/B8vEv5Xh_VThvnEqMx4G0ZxU_YC_pCgmETwWNQKyeMqLb9Afo_WSoi~kcK5mwaepLz96AHEmAzWJQblCNhundhnOIYTFLWoaYUC5foJ9b__nOySrQ9O3X5oFRxezCwb0Cq0uU2Ak2oeax9EpzAgdHZJz34YIYiudvbCdYU7rNEpG0KHqCtCwN2dS9T2JkN4zLoB5baifPIEdlxj7PFuhZulqyRCmh_O6OezRBp2Fi5Q44IV2rdOFmNY_38VkcahmJh~yg~fKctLMQVVO3PqecPeZ7rNlr6v7EUQci7k2XJvUNYd_J99gNV1Wo_kGuU4YP34urw--.jpg
//media.inmobalia.com/imgV1/B8vEv5Xh_VThvnEqMx4G0ZxU_YC_pCgmETwWNQKyeMqLb9Afo_WSoi~kcK5mwaepLz96AHEmAzWJQblCNhundhnOIYTFLWoaYUC5foJ9bUIp~l1Yxna8p6MCLDI4mu6UlXDazF7a8cQG4H5sdYii2UjRb1SuWbV8wkUpbrbS71q6MldIsVeYGjPj~ADi7arprCxhT0e98rMEUTlg_ASI3xBJCfCPypsjkIqLQ2AL4GdGw_nWrbBZKDnWCq57v139G30LjaWIRkKuzr1Tj4So~WtwS3QMupRNhecpm74L5FvXjCt~XURkaHgtu5vlIS47_MBwXg--.jpg
//media.inmobalia.com/imgV1/B8vEv5Xh_VThvnEqMx4G0ZxU_YC_pCgmETwWNQKyeMqLb9Afo_WSoi~kcK5mwaepLz96AHEmAzWJQblCNhundhnOIYTFLWoaYUC5foJ9bRYnjXztzzSwoOi35jANX7BQHfBUbEZUJL4vaUttJyzAy0poPYmaSxxjmN_Q8sViVZMGd1CPkR5KaR5DUsr2mk0cdRu7GisTRB4huLCASTasQ7oEtMJC8AhGx4fXB54GkMnF3MdJ7CTwBCuhtx7FaPCF7vig1HmOGr0403gwEyvy1EX8qq00n6ccdmPVRHvBf~Jb03aIqpVJRKA~c7Y0tnPWFyd8YQ--.jpg
//media.inmobalia.com/imgV1/B8vEv5Xh_VThvnEqMx4G0ZxU_YC_pCgmETwWNQKyeMqLb9Afo_WSoi~kcK5mwaepLz96AHEmAzWJQblCNhundhnOIYTFLWoaYUC5foJ9bHpH_maliTA83tV9zvTr33OzJg~HJEDGh8KqEpSpTFiEZA14Hw67WGJqBB2n5sKeu20jpJP51458BoGf~7BG2sRfx1d0r69YXW6DyznGirzVTLAS2xRnKz7hgzys35sh~UndtQGmaYLNcJeOheHCVnDIAHuS~RzkBK6YZNpQSP9jldujHGOAc7dMP7wV0ATv8_8hcwcKGk_OUFHH0q8W9f7_vvLi_Q--.jpg
//media.inmobalia.com/imgV1/B8vEv5Xh_VThvnEqMx4G0ZxU_YC_pCgmETwWNQKyeMqLb9Afo_WSoi~kcK5mwaepLz96AHEmAzWJQblCNhundhnOIYTFLWoaYUC5foJ9auA_xYqlSYTGDlFnD84r~SA320mrf7cuA2CAa0mcrr~w9qAhmMOcydl05YIDXpLs4G5Izr63B4D2Jr8mbo2j9XOxz1O5i74H4NB11ME4pFx8Xxj7RG5dcvKkytoKG6yTzJoZFzsyf3x5Q2q_btNWqSNM58fCdokp6hdyJaV07~CUaYAaTP69QJp557mDZMHXGAHtSJ8DPu07tfua9kNHDNzNC2At1Q--.jpg
//media.inmobalia.com/imgV1/B8vEv5Xh_VThvnEqMx4G0ZxU_YC_pCgmETwWNQKyeMqLb9Afo_WSoi~kcK5mwaepLz96AHEmAzWJQblCNhundhnOIYTFLWoaYUC5foJ9arFn_alKyCldEDa_wam9JXWOqW6EzBUBnTohKMlYpb~OLQKGkt78pqY2QFRlqCY4wAGZTaTmYDld7fGBBBYeo2p0OdrlUeVuLnDnUAoV7cZLeRMx~DtWUQJjK55cJZ3~cP78W3Qn3GU0W18Gc5cHQyj9rbc_9OC0AD66L7ZQT65jlCRJbXRHhJkoLnLr1ZptanqGCKeaK5nbzDDhhm09m8V43nPmkg--.jpg
//media.inmobalia.com/imgV1/B8vEv5Xh_VThvnEqMx4G0ZxU_YC_pCgmETwWNQKyeMqLb9Afo_WSoi~kcK5mwaepLz96AHEmAzWJQblCNhundhnOIYTFLWoaYUC5foJ9OXojFveBbaZBHKT2cF7I4ocCkoiMMuTJ4db6nk9eKLOsx65NG1g8oGTQqHybxRw2kseBOceCuHh0y9Rr97NI24sQKt0Tu3WQ6dezCCm3Wa_m3VwsktBeKhfnxmOnGF2OH7AYcPF5CDyh~Wn5A632GoZgJd5OQ9ooizbKK9Pw2AxObQBd~6n_9~Y4RdckZhvsfFVC1Agk8y0l2iscjJ~_IXCpv6FGVw--.jpg
//media.inmobalia.com/imgV1/B8vEv5Xh_VThvnEqMx4G0ZxU_YC_pCgmETwWNQKyeMqLb9Afo_WSoi~kcK5mwaepLz96AHEmAzWJQblCNhundhnOIYTFLWoaYUC5foJ9OXsF5r3WVQyGJnMibsIwOeTOHZ6ZCKoDRz~nNukwBywdmFQTP6Cd5YOjVwtlkVntQYvPMaezCvb3mQCGzQxL3H3hF9YJF3jz80tnYANkff6ALzF4omaioe6Md1jWhyeuPYQOJ3fmV9ZwhTV27MbiG7Iygww3Va5veidnncW22LuzZQKdWqNGVpUUNJcDVoLyNJ1Zll1a4vuvRe72q_USRJoJlILphQ--.jpg
//media.inmobalia.com/imgV1/B8vEv5Xh_VThvnEqMx4G0ZxU_YC_pCgmETwWNQKyeMqLb9Afo_WSoi~kcK5mwaepLz96AHEmAzWJQblCNhundhnOIYTFLWoaYUC5foJ9boMgsJNNpIKSNX9Tal1y0wBl42UfG79Xg5514BvMjLm_gQ2CmgVoErN3dSTeVqjJnMzmsNr1p4D8~P~DjGRyeIUptPb_QSi_5UkNHjXKYy~bU77UKNcejYqOV81_R1gfgzJNk5JtfMoXxNfyN5euniodBnIAefA2kmYChK1aAHGD6A_b2jgQIelREJDYapTbX7S2drWFZmkd5A699lWLn2Wd_ui1jg--.jpg
//media.inmobalia.com/imgV1/B8vEv5Xh_VThvnEqMx4G0ZxU_YC_pCgmETwWNQKyeMqLb9Afo_WSoi~kcK5mwaepLz96AHEmAzWJQblCNhundhnOIYTFLWoaYUC5foJ9btN3qxCBppLlErUPJMWMMuEvG204OqDqksDQ85OzKyVC9rBhA2NPfVcpxwW~0X7aFQH3Kdk8oHfLoCQPGZ~Rr0xVcJWWdW0R~BAaMcndVwWIE4JTjVUqIzrj5kx1aB_G_sHVEQuXB8en0eMdIRpVs0rZ3xTPNhTabNekxyeB2Bsiiy6EOm9wZR68ThnrjgeDsoji6yEYeX9NIwZQbKjRJDLaxNxwUg--.jpg
//media.inmobalia.com/imgV1/B8vEv5Xh_VThvnEqMx4G0ZxU_YC_pCgmETwWNQKyeMqLb9Afo_WSoi~kcK5mwaepLz96AHEmAzWJQblCNhundhnOIYTFLWoaYUC5foJ9a_MxZT9KTaca2OXCvzKZiXldkDXJ72HNLsUeoFoqCTMytAkkL6Lf0sK8pqt2qif49UYJ8klh533G~Zv4uP93_RGfTQukl_cpT1TnGeJIJwFe0SuwSavkICzjmDStO5385mPRJJrWXT6PLLOEVDgu7dFsKJuUsWrMYqRhETyeBfK3E2D2yJjk2mGVDokWtO0jlSLLeq1jt5SvFRsrd9hK6mbnpc9jng--.jpg
//media.inmobalia.com/imgV1/B8vEv5Xh_VThvnEqMx4G0ZxU_YC_pCgmETwWNQKyeMqLb9Afo_WSoi~kcK5mwaepLz96AHEmAzWJQblCNhundhnOIYTFLWoaYUC5foJ9OmY~g78WVJiqs5vPUjoZMwgWoJWSrGcYG2tNwsMBT8sPA2Fyy1iix~G2_qs4RTxuxUYSE0PHkrHs~8CLnJpRxQr8iY6eYgz5T2uS3FwkkaX8ckdiopGJ70~HnLk~CcB7XJteDXwzVrpCys~BDZsjzUy8Y4zBl9Rk5cuvY2RLifdh8XFT7Cn9q8ngtvkEa7_9Xp5344U8oiuhp5I71p5tUbQ43_aImg--.jpg
//media.inmobalia.com/imgV1/B8vEv5Xh_VThvnEqMx4G0ZxU_YC_pCgmETwWNQKyeMqLb9Afo_WSoi~kcK5mwaepLz96AHEmAzWJQblCNhundhnOIYTFLWoaYUC5foJ9a7DOQ5dcf98ZGP3Nd81NrkgYN1IvGqfWnGfvp_YwIJYalmFVj8gkdEWg7c1K1lseWRAOpQYFzgqSHCgphzOmcFFkvWfdGlfo9~Pu4ttKGgK7cbZfx6QNTxjFbxA8bgCcjQTIp87HgfAxe8PtT3AGtugPoo1mj2L8iEMSMh1Iga7W_haoqOvYjMRr1syeCGAzQqQd97vPkklzor3Yt8CGWS5H0uEeNw--.jpg
//media.inmobalia.com/imgV1/B8vEv5Xh_VThvnEqMx4G0ZxU_YC_pCgmETwWNQKyeMqLb9Afo_WSoi~kcK5mwaepLz96AHEmAzWJQblCNhundhnOIYTFLWoaYUC5foJ9abTOr_watsaaM_XcM7v7gAztbOg1TN6KeoC8TUarB5SnZXmRusGZiEXfkPwCYbR3J6vFpc7zh~M8MW~pxNa7Clw4oMIYlgIwyGpfvtwG3EAbZ1uslDT_~mKAf6OXhDoWqKbbJcXXV56VR61m944tXOs9wRKvr5jhqls5~g22puVOe_1ULPKEx6ZiWlS6vEbxJmgoJs2Xn9OXLylb47qTceEeBknHxA--.jpg
//media.inmobalia.com/imgV1/B8vEv5Xh_VThvnEqMx4G0ZxU_YC_pCgmETwWNQKyeMqLb9Afo_WSoi~kcK5mwaepLz96AHEmAzWJQblCNhundhnOIYTFLWoaYUC5foJ9Y7o1De98uITW5nvExpdeUUwuq3ABYXMqVbMJ1moYMPYkd0a2Lm~l_~B_8~M4ktrB7kmhbKJiDOGLcFoGGPbaww4Mi6IiRWf~O~z4Rj~~cNd6mHzhqlkLBph5RpQCdZ5W35MOiQcrOg3mIQXvOg6e1jtTiLFRyqfYx59YrVrfn9MQOjqSN7KyNNM4iceRVTouF_lKccCefngWrobiKm~ET_9Mm266QA--.jpg
//media.inmobalia.com/imgV1/B8vEv5Xh_VThvnEqMx4G0ZxU_YC_pCgmETwWNQKyeMqLb9Afo_WSoi~kcK5mwaepLz96AHEmAzWJQblCNhundhnOIYTFLWoaYUC5foJ9aPFW7cF7GZaF61PJrXhQcOlOBmLi2JlwK0_DVORPlVPQGuNNoi0epUue_h0PX3DFX_PceMPns5nogKE1PfXVZh~bXOIcJD1XsSvCELVMUX5HMCjWgACkMPsV1oOOaisTe0D6vqSnvp3VaF25uO4hMNEn781DIVSD7jqz2E9ClD7Qh~zaN32KKUr~Rv8Gbk8il7byzGjL6Mzu27eKr5Jcs7Q1gu_g2A--.jpg
//media.inmobalia.com/imgV1/B8vEv5Xh_VThvnEqMx4G0ZxU_YC_pCgmETwWNQKyeMqLb9Afo_WSoi~kcK5mwaepLz96AHEmAzWJQblCNhundhnOIYTFLWoaYUC5foJ9OLt864uArPrTl9F7FEe_wUUV6Gjf5hF0d5DQ5kVSnevvl8GQBRq_qZW6DnxtxmZfKhK1HH7C2cYNUmlVe_7I9rVzhoVs9Aa4pLPWVaNJDgzVulS4334PBUutvx3R9ArminpAhRc0c~CYPqjs4huhDnpla~yjjS~t_fQ1Mg8DRTb7COGvY2UuY1Wn~uP9yKc2qKJXr_0ov2OCeGuzs1Bhc0CjqNVOIw--.jpg
//media.inmobalia.com/imgV1/B8vEv5Xh_VThvnEqMx4G0ZxU_YC_pCgmETwWNQKyeMqLb9Afo_WSoi~kcK5mwaepLz96AHEmAzWJQblCNhundhnOIYTFLWoaYUC5foJ9abFo7vvBiJ4oxh6jAFWVSEAkkk7qWDtcZcgaISCT9akbAp_5Ep0jrfUzwcRt5buRKBdmhQGZ8qsmn2o7O28nc3EFvzcYK0j2Pl2V2iCn0RkUuHi4Sk_iT883aWEX~vDGWTT66E~LBVcTrJND1Bs7SUN10oDe8Wr_lmObVNHffynPxpuT~vGz_dEnahwkm_HaSdcZajS5i5UOwSapvNs1Q57onwf1IA--.jpg
La Zagaleta, Benahavis
Villa
6.250.000 €
Contemporary style villa in La Zagaleta, Benahavis
Contemporary design villa situated in La Zagaleta, an internationally renowned complex.
The villa has been recently refurbished to the highest standards and equipped with furniture specially designed for the house.
The property enjoys spectacular views towards the coast and the mountains from both the exterior and the interior thanks to its large windows that also flood the interior spaces with natural light.
The main floor of the villa features an entrance hall with outdoor seating and dining area, open plan kitchen and dining room, all with stunning views.
The house has five en-suite bedrooms. The master bedroom has a private terrace, dressing room, en-suite bathroom with separate bathtub and double washbasin.
The basement has a living room, gymnasium, spa with sauna, steam bath, plunge pool and jacuzzi.
Outside, garden, infinity pool and outdoor kitchen with barbecue area.
A magnificent property in La Zagaleta.
REFERENCE

208-01831P

bedrooms

5

bathrooms

5
built

434m²

plot

4.022m²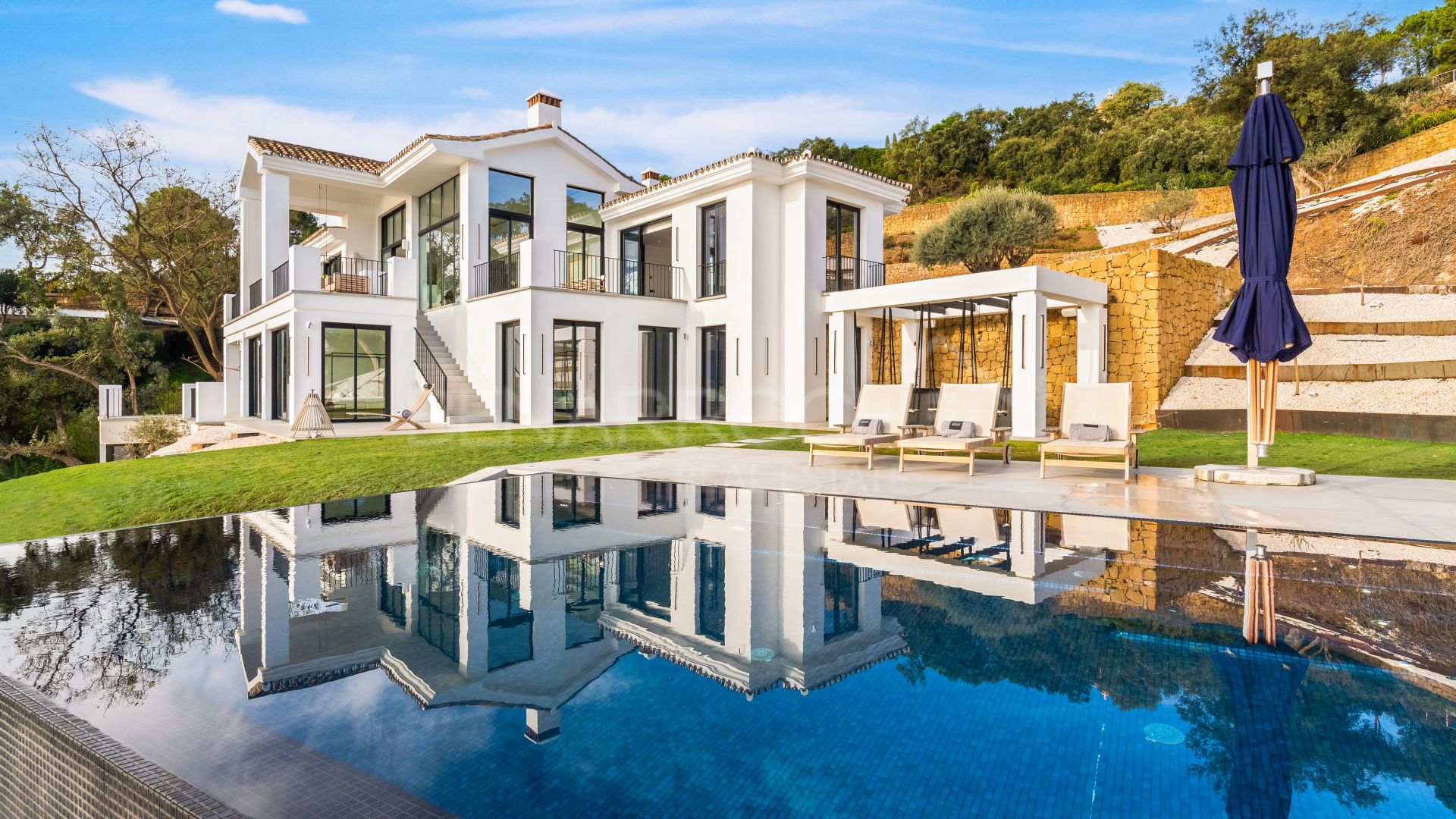 Video of Benahavis Area
similar properties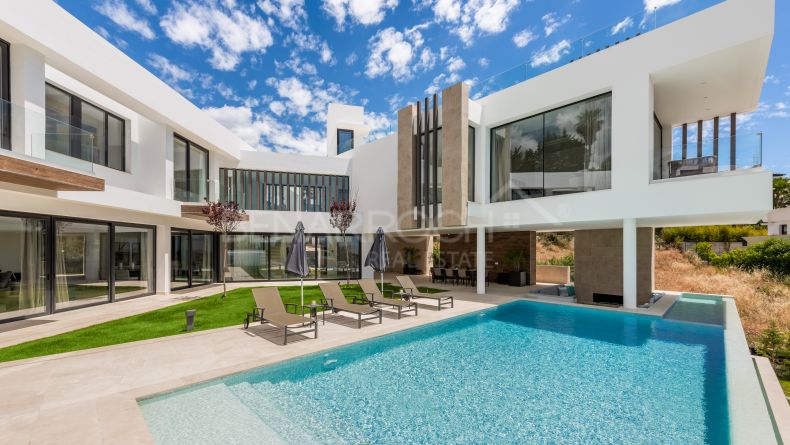 3.495.000 €
Recently completed villa situated in Capanes Sur, La Alqueria, Benahavis, with an innovative design in a modern contemporary ...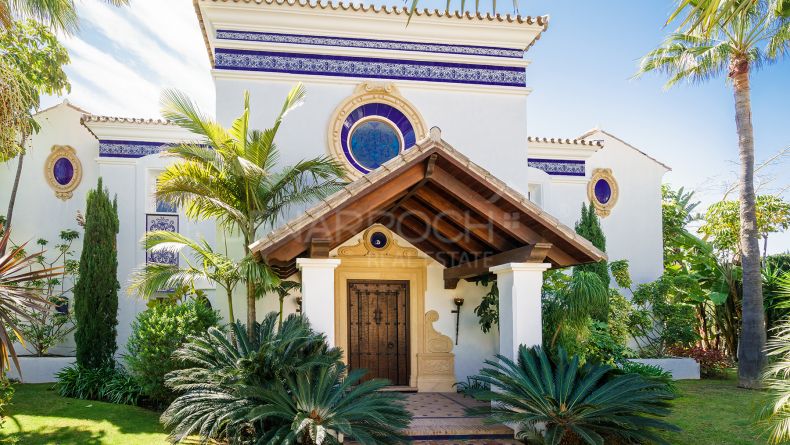 3.495.000 €
Luxury villa of classic style with a brand new Spanish character, in Capanes Sur. Surrounded by the golf courses La Alquería and ...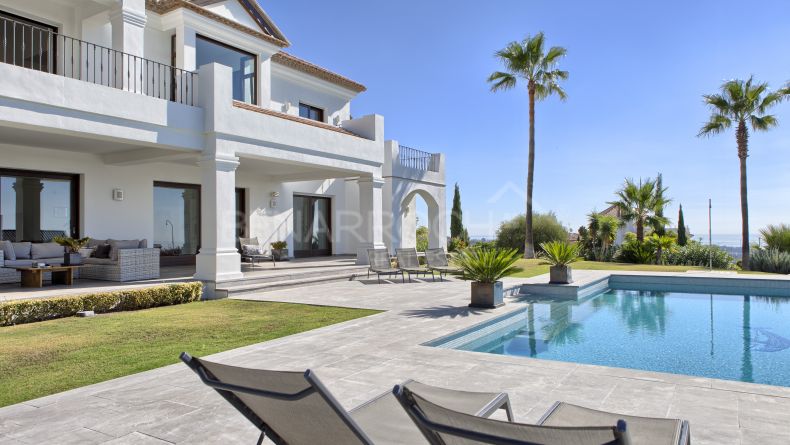 3.395.000 €

reduced from 3.695.000 €
Villa in one of the best plots of Los Flamingos, next to the golf club.Located in the residential area of Los Flamingos ...