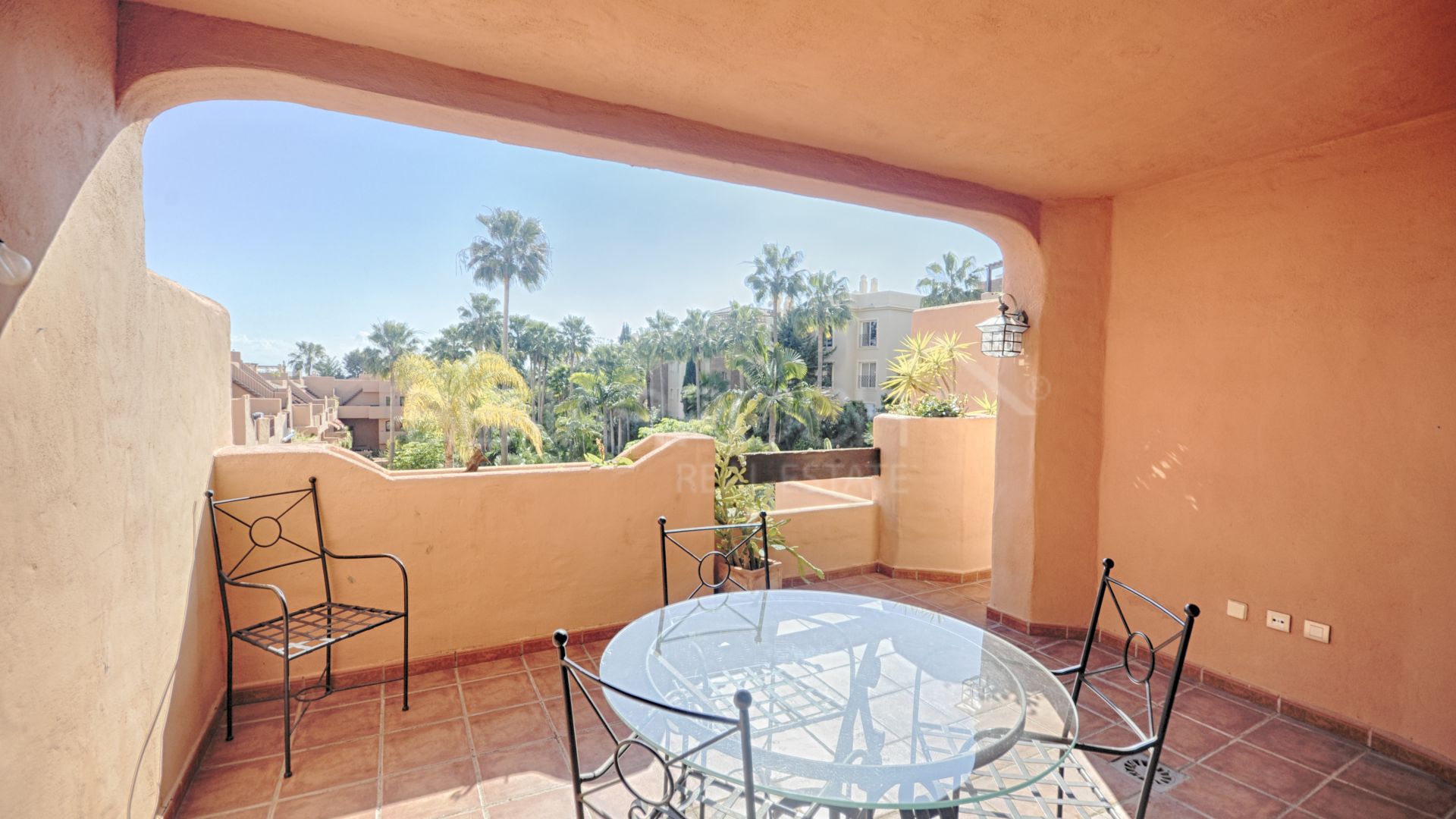 //media.inmobalia.com/imgV1/B8vEv5Xh_VThvnEqMx4G0ZxU_YC_pCgmETwWNQKyeMqLb9Afo_WSoi~kcK5mwaepLz96AHEmAzWJQblCNhundhnOIYTFLWoaYUC4mUY7rfQrwNAHwgYk51NwErmXgV2tQduZXMiHKNdDox2oXBNfepe7wabCFMT9vG_ecqkYz3AlDXT7KRZg7GOmnP_B9hWa5a6cratbGg3Zjb~eWoeTh3T8xV_jmhxYZVDuyLZu9Yv4HZw1af938ZceYBpEzUdOJyEPqWSSlZSSMRyHjOSTZEJpfKqVlFEpd3aw0mtu9~Fhv8YP1qabhu6dKEsOFnVHV44pDg--.jpg
//media.inmobalia.com/imgV1/B8vEv5Xh_VThvnEqMx4G0ZxU_YC_pCgmETwWNQKyeMqLb9Afo_WSoi~kcK5mwaepLz96AHEmAzWJQblCNhundhnOIYTFLWoaYUC4mUY7_QwP1MmqS5rX2yQVq3sMbK6aNp8cX6nBBCIZQ4Lr0BzWXD60JqPLvPmg_xa90GZ4RIcs3qdN23V6Q1Rczxr5Q0WujLxfCmXBce8SI0NP2A88VTE8DbR1cux33IZ1aQSDxRlelqdHLVxgQetkgpa888LoRNhaAXKNfQ756qrWgIE1tuvrCqxjDbR5yxzGgWGxB_xdL6GgsPAI1x9uXrtCVr4ddnAFpg--.jpg
//media.inmobalia.com/imgV1/B8vEv5Xh_VThvnEqMx4G0ZxU_YC_pCgmETwWNQKyeMqLb9Afo_WSoi~kcK5mwaepLz96AHEmAzWJQblCNhundhnOIYTFLWoaYUC4mUY7_QjCPkSlVE~SUCmaEY_Ee3chpbDu~OCkCByB4X0REqtw0BW2Fy2~ZmmnzyJx~HDeh9Sg3i4sTkOdbULWjMhMfd2DewbFj6LogvrQPOpxgx9xExmh13VZqewnyXDLgRTQ1ZynIJGARqavX7ADR0vFiqLpg~WSXNfV336TrUGIYAQYeaWbgV1MnK4gWlfJ0ktx50TC1g0dKHgu3zMtm_ECsnhR4liLtg--.jpg
//media.inmobalia.com/imgV1/B8vEv5Xh_VThvnEqMx4G0ZxU_YC_pCgmETwWNQKyeMqLb9Afo_WSoi~kcK5mwaepLz96AHEmAzWJQblCNhundhnOIYTFLWoaYUC4mUY7rCY_LeG05ixpmbQhJWQavWQIaDSmuFa9IsI7Scxok41isPrxBKnsGheiWLIIfPPFwMHe5MRe~eSJ~OLFcjXgoIShawz3vPxpuA8jUvwu4GkgjkUOuwAr~b~E_dz1JUjzYVByto8YFculmMnK75TvzqDYKPCF9lSG21C~og6b6~wnNYwK1AQB9ehtss90In2NH~iS0Q6iA8lL7fOtIrmN6GNHRrjvxQ--.jpg
//media.inmobalia.com/imgV1/B8vEv5Xh_VThvnEqMx4G0ZxU_YC_pCgmETwWNQKyeMqLb9Afo_WSoi~kcK5mwaepLz96AHEmAzWJQblCNhundhnOIYTFLWoaYUC4mUY7~sscSIy7GyyiZpnTFlSGCFhyhDOKrbfRi2SqqgSAVcw9vTfVokYqpKlbK9irWn_0n0xYNfsaEqL4GZD5rJ4S3Eest2uEv2ULsEvp45luRBFp~fm26kR8wyArIklsUobzY4cDPNepx0pHEnkilBHQBq95YXtQ1kWR9lh1NF8HnAyfyREh9hRLW3pX5KITsYD31OBxkF54nhShQGA9CaUHTdHfp77BKw--.jpg
//media.inmobalia.com/imgV1/B8vEv5Xh_VThvnEqMx4G0ZxU_YC_pCgmETwWNQKyeMqLb9Afo_WSoi~kcK5mwaepLz96AHEmAzWJQblCNhundhnOIYTFLWoaYUC4mUY7rlf_FXRG06RwViO1tQ9qEcRc5muazx2W8yGENauBWJMMIqJIKcNtfn5WSMtpT616ey54YKLrIRflw65pJ7VBC75_qfZqP2vij1hxmsec01nD2FojZc3fQhHJaRoCmyFXGi_Nzafmt2INqKngFz4lFu5KEVR4q_2DEOnlbLpCx4iAv~Vk7msh2X1~~UYq1GS_eJ5LDGQQGlhD0W7i0poEjKvAfrUeoA--.jpg
//media.inmobalia.com/imgV1/B8vEv5Xh_VThvnEqMx4G0ZxU_YC_pCgmETwWNQKyeMqLb9Afo_WSoi~kcK5mwaepLz96AHEmAzWJQblCNhundhnOIYTFLWoaYUC4mUY7rlmOGZzhEydsQIc3tZTaOGZfY9A~krD6jQDe8vcoslK5HpZvmF0p4g_OE9rwcAKCZzwrIgWGIc9e7DMQ6qspvxUD0amfiiZaL0E3WYujV_S_hdwM_WkNzC__J5JzMi_JIx~PhWqUIuwIAH7ed6u8VVpQj41VoGZKQQiXycN_OIzYD9EcwDjxPZoLU7qsJdQF1ZUhSxrodu9WfP3TmmU4M~zJSji1Yw--.jpg
//media.inmobalia.com/imgV1/B8vEv5Xh_VThvnEqMx4G0ZxU_YC_pCgmETwWNQKyeMqLb9Afo_WSoi~kcK5mwaepLz96AHEmAzWJQblCNhundhnOIYTFLWoaYUC4mUY7~BdNuduBGTOuO4L0OqAkeVrOw64mqSYB0NnGm7ud72c1~HQMxRQZTGj_waJieE_m0qwz3lOTkDsw0l5j7PWqyNqaAjtbax8cTa9F0u7yfeYiQMlMGLXioIYPadVIDUe1Noz3eyuBCCjoU2ptFVh9yK5gjAMZv9NnZvXpfK56oXcujRiwDuKBbbcJGFO2JCOndVKsjcXlw0K3SUZfv~FFAaXC74XAeA--.jpg
//media.inmobalia.com/imgV1/B8vEv5Xh_VThvnEqMx4G0ZxU_YC_pCgmETwWNQKyeMqLb9Afo_WSoi~kcK5mwaepLz96AHEmAzWJQblCNhundhnOIYTFLWoaYUC4mUY7rCtFAv5FanJAwZuYdjmpFcL7EBTCtDw6U_nnNxFERrJ2aXLR8GrB9WrHozi9nNnvWw6YOsMkgPijSTyeL_zN2AZ1t62DVCIgKTQ1K_PYO5_WiibjM1KU6tEYOw5amXs7MFa5mDOExPGKrUiLQ5ZQbK3PldbKbM_yJHgHx6axu43rO58cHFvLO1X3JxSlyXy0CzUpIglkWCWY5Bj_WQWkRf8fDNeY_g--.jpg
//media.inmobalia.com/imgV1/B8vEv5Xh_VThvnEqMx4G0ZxU_YC_pCgmETwWNQKyeMqLb9Afo_WSoi~kcK5mwaepLz96AHEmAzWJQblCNhundhnOIYTFLWoaYUC4mUY79rdNomjmzsl5aVmeSLRweLlC5zKwSfLo3H9oWjw1e9qSH8DfGAPKNCaqZINdjQk3K3y8H9tSwR1FzRCBVIJJ0a8WDURlMhDSMLaxLVjpjJJ_Yzh0wpoEk5U0k0elSZfuzWFrtvNabC1fQdHVumU5b7GjmQuRsfVU5VV11WJZQAoUfNbdO0awTQFhjV4RTxsAr~wfDmsGJ64TImu5o2HhNXM58jt~Tg--.jpg
//media.inmobalia.com/imgV1/B8vEv5Xh_VThvnEqMx4G0ZxU_YC_pCgmETwWNQKyeMqLb9Afo_WSoi~kcK5mwaepLz96AHEmAzWJQblCNhundhnOIYTFLWoaYUC4mUY7~U2Jjq5zQ8SrU2ld2ZqsK~C5Im6Om9x3CQW2SUn4_En0XjtWxnN8W3K7dAORrc3pPa_WXW8C2RtPeQFIhMoDQGF7VR9H1d6RdU5gMoOCn5Rlj0oGXBQTluQGHMZoFZC_ND8eAJEA3GWM7BmRTGyGmUSQSHVeCRi0ZsqL935o95RzFWd9_U4UWYuopMN60HV2qG9Y6e_PK904N33C0nqIrKldDFaQwQ--.jpg
Jardines de Albaicín, Benahavis
Apartment
269.000 €

reduced from 279.000 €
Spacious apartment in Jardines de Albaicin, Benahavis
Spacious apartment with beautiful views to the gardens of the urbanization in Jardines de Albaicin, in Benahavis.
The property is south facing and enjoys lots of light and beautiful views over the gardens of the complex. It consists of two bedrooms and two bathrooms, the master en-suite and with a large dressing room; kitchen and a huge living-dining room with access to a lovely covered terrace.
It includes a garage space and a storage room.
The urbanization in which the property is located, Jardines de Albaicin, is a gated complex with swimming pool and manicured gardens. Just a short walk from Flamingos Golf and its renowned Villa Padierna hotel. The beach is just a five minute drive away.
REFERENCE

208-01824P

bedrooms

2

bathrooms

2
built

126m²
Video of Benahavis Area
similar properties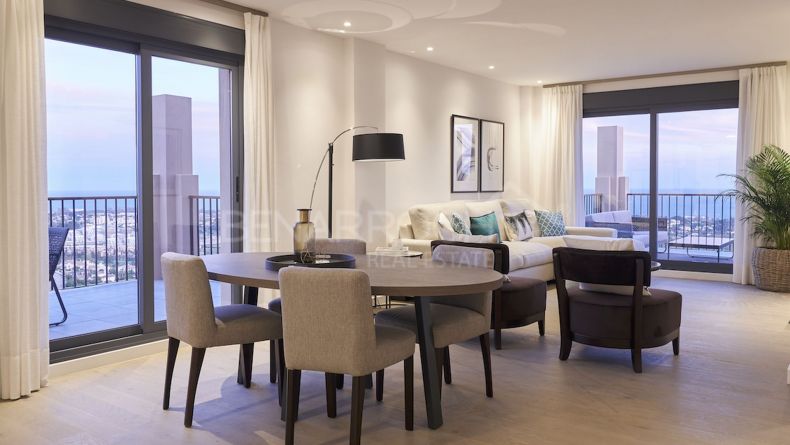 335.000 €
Firts floor apartment in Señorio de Cifuentes urbanization, in Benahavis, with a contemporary andalusian style design, in a ...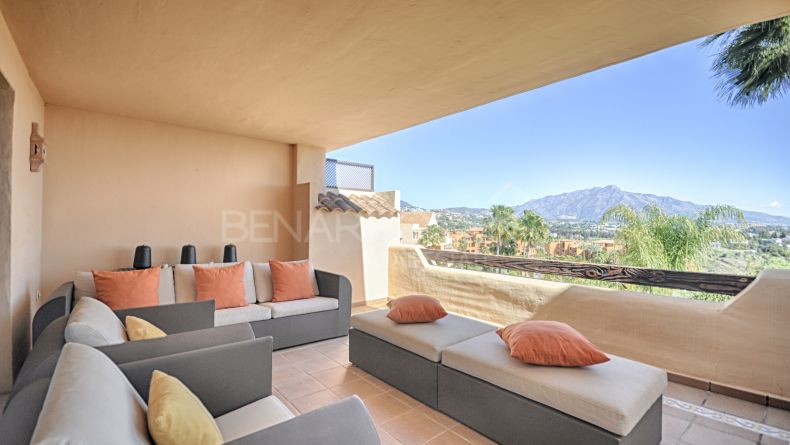 360.000 €
Immaculate apartment with beautiful views to the Concha mountain in Las Lomas del Conde Luque, Benahavis.Through a lovely ...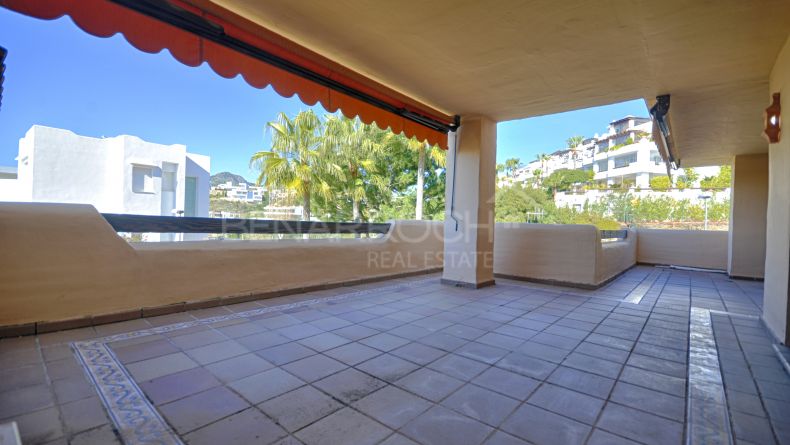 320.000 €

reduced from 330.000 €
Apartment on the middle floor in Las Lomas del Conde Luque, Benahavis.The property is west facing and consists of two bedrooms ...