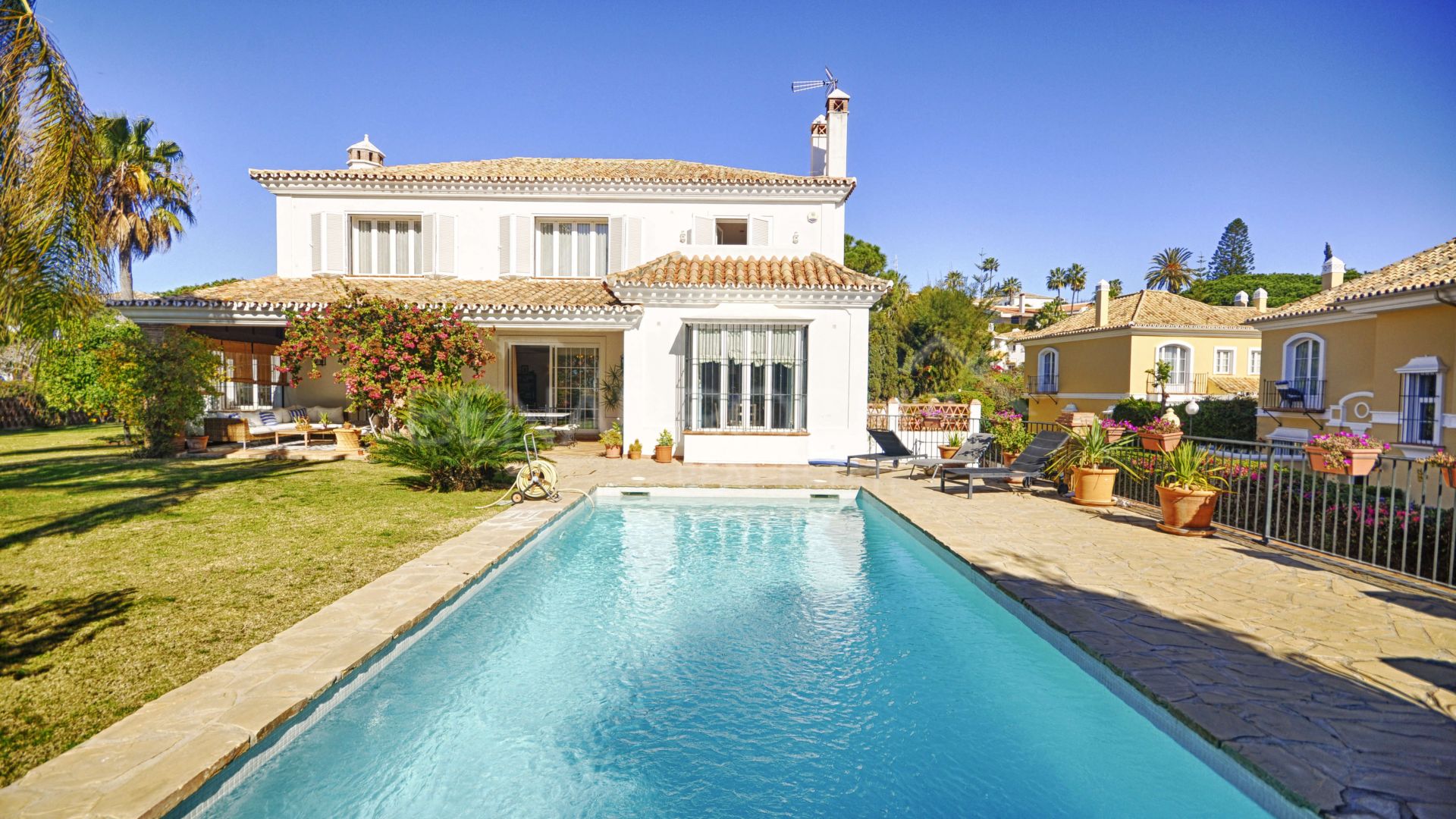 //media.inmobalia.com/imgV1/B8vEv5Xh_VThvnEqMx4G0ZxU_YC_pCgmETwWNQKyeMqLb9Afo_WSoi~kcK5mwaepLz96AHEmAzWJQblCNhundhnOIYTFLWoaYU76261iJCOyo91YH7xteqq_fhr1_fJfmey93x4TP3XFbpKbL~bz1~V6GAM3yTcWPQIW4b8IxEB5pXsVhcJZ75FnRHG4se9vx79eD90ztpigbnIVd7EfVCtQNFyf2gFbjKRtCbe2WDFg16yHXZ8Poa6eTmnUhUGBcoqXupU4kPWGMChl0k43ETVJK4Dz4CtR_Q6ZzzB4mxbioKZC35aHm7rg5MVUcR9pJTAi8g--.jpg
//media.inmobalia.com/imgV1/B8vEv5Xh_VThvnEqMx4G0ZxU_YC_pCgmETwWNQKyeMqLb9Afo_WSoi~kcK5mwaepLz96AHEmAzWJQblCNhundhnOIYTFLWoaYU76261iIBjVIJgiib2cxZq~ew8OnkMZ_zWVMFFOl1FBSmsigbIDNHudfPF7flurAPeZaXkMCss9NkfGJuZXdz1x8ht3Cl27mgJq_8Atthcz2duRii4Xk~1Oc_5zbjRbeTasZOXUrs6H62Vb8no4Ze5BnB4JHsawyQ1f8eMFGY9qcInheEzqThXg9nZjWzYUqI953rl_2gHDBPwm_o_xxzYJlZ_VpXjFZp8wxA--.jpg
//media.inmobalia.com/imgV1/B8vEv5Xh_VThvnEqMx4G0ZxU_YC_pCgmETwWNQKyeMqLb9Afo_WSoi~kcK5mwaepLz96AHEmAzWJQblCNhundhnOIYTFLWoaYU76261iJ4kvZmKRX7v9LPA9nEeG9gzvgMKV3A2rI08FHIVXA6cTgtriq9iX1RKFM5jByMeUStdR1p9yP0lTHDf_7lL~aNoLRlp8pPq9ol64ly_KCDvfRv6fog31y6FShkP1yAz7kN1vpMJp4c86uZS9U1UBfWAyib4uDY0nTGjAFOrCKi0wBPvwnAf21rK_d3JHYIbpGbRy2AtHtVPL7iCTufP4m1cI3xBAmg--.jpg
//media.inmobalia.com/imgV1/B8vEv5Xh_VThvnEqMx4G0ZxU_YC_pCgmETwWNQKyeMqLb9Afo_WSoi~kcK5mwaepLz96AHEmAzWJQblCNhundhnOIYTFLWoaYU76261iJCc0rQB6p7IajTYyezS7abJjqKcR75Y758mXfZBMUPHZDR8swLT5HCjYzPyhVTqlyokQaw9iBWFEBboonziLWBWtv15p8TGcWOgCFXOeizQG4AEIYGmRnWNFOdtplOUYiJ0FwNV75TAUbMG6YJ95gvGVnBd90EvbaEOyRWwxseYSdprQvC0~LpHwEiaBglsZMYSu7VA2OaFGFyS_0PQDwv5LpMlwQQ--.jpg
//media.inmobalia.com/imgV1/B8vEv5Xh_VThvnEqMx4G0ZxU_YC_pCgmETwWNQKyeMqLb9Afo_WSoi~kcK5mwaepLz96AHEmAzWJQblCNhundhnOIYTFLWoaYU76261icrLcnqK2LXiN2b3q9BStsoRLdbuTHxXX9ehHAqqs6_jJg2Q8TiyjFopuK_Z2m3UawGDM5zFVeRDGt97rqpxI7Ndn2VGNs_TIqp5rMHD6iOyQzgaF1Hvr6yTAcJ7FQn3xEA5gmlJFbIAjWWMt3szhKqrXceJpeBrUgCuMdRjJ4QX6TBrirw9CD0Bh13hX6EhIJ0NUFd0oO8S8~wfRIqHKfkk_d53yYw--.jpg
//media.inmobalia.com/imgV1/B8vEv5Xh_VThvnEqMx4G0ZxU_YC_pCgmETwWNQKyeMqLb9Afo_WSoi~kcK5mwaepLz96AHEmAzWJQblCNhundhnOIYTFLWoaYU76261icS_r7kT6bTcR_F034SThjGBZ5q8fsEN_hToWY86gvzu9hVZrSW1MSOBaR724RXg0PpCEFT52XrJTAcz34B~pLUn4mYCDUM8TPO0rX7s2xa4LQTmtCB90ZaVSqzEQtpT8Ddm0ImrGn_QaTcwJ4OZqL7PSArdZ1hqlcl~yCLURCVtGkCNpDcYOAG~Y11b0ABc4Ims1c8fhDJa3ijQnFRrhTI1RMfBpAg--.jpg
//media.inmobalia.com/imgV1/B8vEv5Xh_VThvnEqMx4G0ZxU_YC_pCgmETwWNQKyeMqLb9Afo_WSoi~kcK5mwaepLz96AHEmAzWJQblCNhundhnOIYTFLWoaYU76261iJHb~MwoxHwQ6t_Pc8o6WY76x8BhzSLI5vjnmoW9v91zo70e4kYjC75aKQ1oWAUpPY1uQoKcZro2MFnhfNzl1UxlMHNqZ0jl7NtQ1DVJU289RJH1ttIq~sbfcdWslGVOvRam78AI8OY5wB3O~lgu2NQ7pl7LpoeKGtzFkkwDbdrIaCpE4y4dhoyhSspCfEYiXGK5~648jt4s~6S7P8WRrwRsXfYGAfQ--.jpg
//media.inmobalia.com/imgV1/B8vEv5Xh_VThvnEqMx4G0ZxU_YC_pCgmETwWNQKyeMqLb9Afo_WSoi~kcK5mwaepLz96AHEmAzWJQblCNhundhnOIYTFLWoaYU76261idZVBdxs_AeQRevpIAy6M5XEUuASn4wt_c4Tpa6nqrwlJQ5BDfWQx8H5NlfXg_JCXGY0AU~qdgQMyqLBpEWSvp7C0gI52ylZE8g2qTrPFjgHbZpk_kXV833q0tkJNsYETkvnZXYtXEvLx~cMUGEWFEf0v0VVXmoSjOeB_DXc_e601z~aogqDQmmZbxD151pcqh~v5l6s9gJw~z3yOQbDxjrfNW1eWDg--.jpg
//media.inmobalia.com/imgV1/B8vEv5Xh_VThvnEqMx4G0ZxU_YC_pCgmETwWNQKyeMqLb9Afo_WSoi~kcK5mwaepLz96AHEmAzWJQblCNhundhnOIYTFLWoaYU76261iIYo_duyxNXxMFq6DouI5pRum1AR58l4W~9mDXZaJSZDgws2ZjmsiCjA~CAoZse5Mu5Arr9dDvbX8DiuXwAy_8xxKugCKFXf0akV8kfUc9Q1sP4kHWfdYtoXGWZEWlkAsGr8q354iuWGZLD4CzGtMIyMYMhdPzVkHQMlfWPe2KLlSdcHsBGpHp~Ha~GzX8a2syepZFGkuwfaOBPZ8vKGG9q~4GJh4~w--.jpg
//media.inmobalia.com/imgV1/B8vEv5Xh_VThvnEqMx4G0ZxU_YC_pCgmETwWNQKyeMqLb9Afo_WSoi~kcK5mwaepLz96AHEmAzWJQblCNhundhnOIYTFLWoaYU76261iIE2bsgpfzmaR4Mq3yqFITbp~ZPaI4V8ga49gdFJH_fi9ZKSu84IBQV1p5BbfLk61rfGmvRl_KS3bhgDyKsLRoJ4wKzOFzO1S2cccwoBSUi_ZbKoqHLH3mtd31lhplBU6rZb4k5QWg7MoE5y1tpSeTrUWf9jzI1QF3Bf_HXJK23onIR46Hu17fOMHryvLoygHCOhuZVb7kom9VSRKkmtbNI6ZaNnwZw--.jpg
//media.inmobalia.com/imgV1/B8vEv5Xh_VThvnEqMx4G0ZxU_YC_pCgmETwWNQKyeMqLb9Afo_WSoi~kcK5mwaepLz96AHEmAzWJQblCNhundhnOIYTFLWoaYU76261iJiMctSZPFoFWGuSnJygReg6DEHL6Nz6UOsrPcXxWWEUPx~OWGaLmIo0xyIFMsgyCDiaANCIzqf3IWLCm9KH1h8Rp_RSJ4jUlIOMHgTzZ7XFYwi3a_EYDw_i~YmYTgvfMjNwiMZq3TJnbQ1y58cIh_ENfzOpico4TL0NjlY9kp~fo~3ymxXy_arwnJ8TVRI4U~6GCE2_t0xIuI6eTTGXe95vI~6YizQ--.jpg
//media.inmobalia.com/imgV1/B8vEv5Xh_VThvnEqMx4G0ZxU_YC_pCgmETwWNQKyeMqLb9Afo_WSoi~kcK5mwaepLz96AHEmAzWJQblCNhundhnOIYTFLWoaYU76261ic3ZQ5nO_21TuFmliV9m69x~kxfHfebtZmRsBzrWLqq4upFy3cW_Kj5Zs6LIz0Tm3PUJdGGiD_c4B52lGTV7rX3DWJ0SHqgEj6zE4vs0vhrWUTRD1n~QOFlXvXuugYF~wibJ0WvOpqAuKLWXxaFIpQFQv4aDDBci5Dh5e3wKCNNfNNIh7kEa4X82LudihI4jrFqKyi0A7uMQLOnRY3FDb8K5StCrwJA--.jpg
//media.inmobalia.com/imgV1/B8vEv5Xh_VThvnEqMx4G0ZxU_YC_pCgmETwWNQKyeMqLb9Afo_WSoi~kcK5mwaepLz96AHEmAzWJQblCNhundhnOIYTFLWoaYU76261iIBiHzuuchurH7I2kbrywjaEMwLyThgmOuhyzX7NaMPJtAuqvEVqOkpVacClafDJ5oGcFWzM_Hhi4jSf0wnL67vSsu8boQIvw0YH9FsbzukWrfc7d7XIAsPZtrqNSPdD6UX3jqNZeFT~ZeA9YKC9L1cunnD34f5G8R~ftNpre8CM3I5b3TmwQsQiGu4ISh7NRy1NCcvdptvuPf2JoqgnmHCr3ceN57A--.jpg
//media.inmobalia.com/imgV1/B8vEv5Xh_VThvnEqMx4G0ZxU_YC_pCgmETwWNQKyeMqLb9Afo_WSoi~kcK5mwaepLz96AHEmAzWJQblCNhundhnOIYTFLWoaYU76261idq0sqSg~klRaifwfCp6aKV40bCj6ZgoUjWtMhCfPMwGl0VEZXEFGaVCQ8TY_W8g2QeTwbWARXfb9JKmKsSl5gapS65u2i_09INKC6Kk5NT4pOOdpfM_32Xg9Ttt5FvOWxsPTaS9OLsBhQQ0J_yTcYmSZm5OMzDb0JQjNpooZ08L34iB2yF7KiwvG0Qrj2REgl9ly8A3UGOcRZ4mU5sQVoQYR1GQmtQ--.jpg
//media.inmobalia.com/imgV1/B8vEv5Xh_VThvnEqMx4G0ZxU_YC_pCgmETwWNQKyeMqLb9Afo_WSoi~kcK5mwaepLz96AHEmAzWJQblCNhundhnOIYTFLWoaYU76261idPABHNb8Cyor3N9QIogmoMY9MG7xJk6jWi5jrGR3Pc9UvtrcsGqfnuqbzvAUffWgeu5Q9FL0d0glYDb6B8HL17LoVVp5DTLSCL4McX9FQdgA8KGwQAPweNrawQ9p~gOYX8e9CrlgmVqg36323PRyvV8hCKz7DmFJz1jluXgMXSOMeG4fBZeKvgxR5gCu83yljkrnfV9SJm0RZaTUl7WjcqfN620Iow--.jpg
//media.inmobalia.com/imgV1/B8vEv5Xh_VThvnEqMx4G0ZxU_YC_pCgmETwWNQKyeMqLb9Afo_WSoi~kcK5mwaepLz96AHEmAzWJQblCNhundhnOIYTFLWoaYU76261iJiJZnJJ1_cvmiy~lk26Y3WBULwYGyTYvtJk1UvSineE03bBwPsgAjr7IvxrrVbjuQCXvS2gQ_MbZSq~fobdH~mxQSa4mAMXUKFIWsCMfcwGsXGbUEdnfjB9T9pPB05Y7tyl5c~bnFaLQem~__wbTLBQD3NJuMoT5YZzEit1iwugC9JYi0TOh68nzhryOn3ySCU719e6ThaBQvsVZSGGwTxvsXQ6Pqw--.jpg
//media.inmobalia.com/imgV1/B8vEv5Xh_VThvnEqMx4G0ZxU_YC_pCgmETwWNQKyeMqLb9Afo_WSoi~kcK5mwaepLz96AHEmAzWJQblCNhundhnOIYTFLWoaYU76261idcdOmYGpr3vN4CBI1VTprA6jXPUmrrZ8cphalcdA2_PmSId39wcpxWZ_5U2N4c6D2XQPO3CeRAs28e7Iipjm~DcOaD5XOm1P1eYXM4Yq1o6dDlSdxd2vEeJCqzwaB0pnpoVhs9UwQEJqRINM4ouWhRWwqx4HMpwWdur9zxRt2hCGn4ucMJ~Qu3KtlMzHS54ScxWrLAriWwgjAS3HVZrL4NOm5mOINw--.jpg
//media.inmobalia.com/imgV1/B8vEv5Xh_VThvnEqMx4G0ZxU_YC_pCgmETwWNQKyeMqLb9Afo_WSoi~kcK5mwaepLz96AHEmAzWJQblCNhundhnOIYTFLWoaYU76261idKT_83XqKcqYVziPXEHknEz1gosdSei0FilWHNmNu3rRaSd~YxkQoxCWkCmWycO5~PJHiCQArTw2BVueDyyCGPMKxBmQZrZybfEhNfqgBOWH64Fl4EcetCIoZhxJeqgxqpSEsc6ayhWZtt9jOhvc_zI3sNbbbc4nlAlNvU9DzpvCPCkbx77Rwkl6FzJT2TSJ7URbO9C_MhdiOMlTgwD6KLxv19~axA--.jpg
//media.inmobalia.com/imgV1/B8vEv5Xh_VThvnEqMx4G0ZxU_YC_pCgmETwWNQKyeMqLb9Afo_WSoi~kcK5mwaepLz96AHEmAzWJQblCNhundhnOIYTFLWoaYU76261iJC1InCuE00M8mhCSgT0FnF4OBBrCvSESBO8xtGQXe8qpUHkOz27ZT4tf2yhb68FyDAKBJ3y6KJX1hHc8GepybVFX_xPgMP2kh0ZKSkvfP6PXXQKqjlGjtE5sKA~0ruMv06jbYQHY~2kQaZENleaG7ccg0Bs0lgSsWeOCVmjOnFh4sT6yMbBiIu5H374g9mMjmrQKAW2TA1j9qg9ZzAZ3HMuZe4qgxg--.jpg
//media.inmobalia.com/imgV1/B8vEv5Xh_VThvnEqMx4G0ZxU_YC_pCgmETwWNQKyeMqLb9Afo_WSoi~kcK5mwaepLz96AHEmAzWJQblCNhundhnOIYTFLWoaYU76261iI1JJK75vp_9rVB_s4I~WzHIaEkXgg0RsWa2~UDvfYBY8wqcjo~~C7BOe42TyOURBRnDNBz7o7XkBTkvPuqf~YrComK5jRjIpT5Mipyu8sm~XYECe3qYVawitsQVCVDwbYlVPo_HLLS0~LI9TZfFrB9igOuHdOLgMI~U9Sm5r9bw07wFc5gbxmVHmR5W~~rgU02t15StnD0Wndc38QKzRySrxZlwfnA--.jpg
//media.inmobalia.com/imgV1/B8vEv5Xh_VThvnEqMx4G0ZxU_YC_pCgmETwWNQKyeMqLb9Afo_WSoi~kcK5mwaepLz96AHEmAzWJQblCNhundhnOIYTFLWoaYU76261icDhK9yW0GWitC7IYufC_jKUF1jdBU17~xLnkOD~YB1OmtC2o7yS_eGG8ZXBazv~seTORoXdcwKOBAc9QeOpqvwDWNWKklKiN8NeS1Ov9uW8gVJL2NyNhM40u8Y4Xn7XilQHm1NLKVKpoi~zbvozbn0~eJp75y5fYRQbTa76sPrZvOF6SSZJEdKehj1cAm0cA8YW5wVxyhI3_cMvfcCoESXDJDl2vZA--.jpg
//media.inmobalia.com/imgV1/B8vEv5Xh_VThvnEqMx4G0ZxU_YC_pCgmETwWNQKyeMqLb9Afo_WSoi~kcK5mwaepLz96AHEmAzWJQblCNhundhnOIYTFLWoaYU76261iIY_vW05BabMBJhMW1rxRqbJEasvqzLqYiXewuGTAgbc577DIM1bT64WRutMsIBIVvPRQZH20UienREWVM92l84MZuIy7BRFB5_rfwk5QjgBvuslMlzHx2uosmrUQF3Xzp9SfTwx~O_ADFxrgpcqQK38vFrhLDxLtEFf49cxZkhiQFI8CD6hi_rQb~n_Fv6KqzK0QLuyU2pynnUQ1MEqUdB~QPmsDPA--.jpg
//media.inmobalia.com/imgV1/B8vEv5Xh_VThvnEqMx4G0ZxU_YC_pCgmETwWNQKyeMqLb9Afo_WSoi~kcK5mwaepLz96AHEmAzWJQblCNhundhnOIYTFLWoaYU76261idPNiTmg8L9HLKlsXaeieP8u6AXygyzqvaXr_Wos0jQyrMC_dqdzWJt0yzleUhVp2UztS3QAOsnq3DyTc2VXZfzxxnCKNd3CRHeuyJIonLRpdFlPyQ8zsZU~q0XbVR~uuanLLxMRJFk_df1tXY5LvE7xP7JNe8VCLOBreANbk8AptSGqisTPiPAW1FADbP4Aq7lAWxkHG~gXWV9OTr3zD8J_54Is1uw--.jpg
//media.inmobalia.com/imgV1/B8vEv5Xh_VThvnEqMx4G0ZxU_YC_pCgmETwWNQKyeMqLb9Afo_WSoi~kcK5mwaepLz96AHEmAzWJQblCNhundhnOIYTFLWoaYU76261ifI2feHqzJQYZaemIuzlcWzppPc7zPmvGhpARisjDdFsRRBur2kBZZ_gRyVyjP8wjE4XNd8ayVbj~kQTawhs6e4TPa9XHV6yQpn9yNo~wx2mb9G8BOLT3NdsTMaD3TSBRIjCg~fkhgYj6saqa8cWrdwxS8vwka~TEEnHAHdJfU2Rm4isWEvK33Ksqjth95u~TpTlEOf7vD9KW8dhQN0mkSQ8sw8t_iQ--.jpg
//media.inmobalia.com/imgV1/B8vEv5Xh_VThvnEqMx4G0ZxU_YC_pCgmETwWNQKyeMqLb9Afo_WSoi~kcK5mwaepLz96AHEmAzWJQblCNhundhnOIYTFLWoaYU76261idPfzk180rlaVXcTvepaZoYM0hN2aWthfUHF1r7FKLoK2fu2bHgKorSwf1yWxwbXGhYXUIZ23KsgUPMWu~oWVqLujPo3wr5j4pMQSs9776DPc1nfzf~r97Y4SZX_NOvxFNV12434lN7peeUwboQ353F5bxTKbAqX5vn9b5SISq7f2oNBCwCS5NacVjhoIv8AJJaBh4_YxqX2iUM8xSGRbnb8ZiV6TeQ--.jpg
//media.inmobalia.com/imgV1/B8vEv5Xh_VThvnEqMx4G0ZxU_YC_pCgmETwWNQKyeMqLb9Afo_WSoi~kcK5mwaepLz96AHEmAzWJQblCNhundhnOIYTFLWoaYU76261icX5DVR~a2z1Fu055G59u~MucaKZ7JPFjiZjJSVzq0ISyKCbZKKkT464YooINTRlt75BbTx41zPaGXxNw7YMOBSgYPbP58IuOWO4JnYmw_nT_0PT_CVKaVWCelG0eDhu42sNf6fzWbYC6mvpGsNd7I5vgPkfQ7PPYXBqZtUcHIeokCfmZS4xwGnt566aWMpjrxRJSU5FM~fmKgmUa3vw1rjSVDCSA7w--.jpg
//media.inmobalia.com/imgV1/B8vEv5Xh_VThvnEqMx4G0ZxU_YC_pCgmETwWNQKyeMqLb9Afo_WSoi~kcK5mwaepLz96AHEmAzWJQblCNhundhnOIYTFLWoaYU76261icueDc546xwF3bAIO2YDfzi7k_BbMpo1li82D08myNhijecWrh97~bUeLMwQgdyILZfZSmreVQTNNxEyn_vT7u3eep0Ov09fiaA9Wa3lSJa_yKmAbwYOD94ZbAakiwwMBA_ANq52njfsSjiTCOVPLSGPunREjZ~A5Qgyu3PgoQv9haQcaaYr4Lkgf1iH2JX236w_kLG~Y3DRjL_KptLSAQZ8QoN2lPQ--.jpg
//media.inmobalia.com/imgV1/B8vEv5Xh_VThvnEqMx4G0ZxU_YC_pCgmETwWNQKyeMqLb9Afo_WSoi~kcK5mwaepLz96AHEmAzWJQblCNhundhnOIYTFLWoaYU76261icD3yC0iuKeKksqd48I2ErNieRFQpOa2~76n~LUYU_d3c9DyoD0G4zWvjKqjfgaKNWCB8fEm17~KxxrByViJV_mQFvk6nJBnYFeSQjocnNxOT4QNTLcQ0udoBp712u1Ogot7ml~4II~bumMlRu6tpw~jThzpTuBx3o8fB406BIRZbueT7QAnp1LEH2jNO2j6bq863TO3vQv4opXrUzNJF07M4spdYIA--.jpg
Elviria, Marbella East
Villa
SOLD
Cosy family villa in Santa Maria Golf, Elviria, Marbella East
Cosy family villa just a few steps from the clubhouse of Santa Maria Golf, in Elviria, Marbella East.
Through a pedestrian paved driveway we arrive at the front door of the house, which is distributed over three levels. On the main floor, through a beautiful entrance hall we access the villa where we find a guest toilet, the master suite with a large dressing room and direct access to the garden of the house, large kitchen with breakfast area and separate access from the outside and a cozy living – dining room with fireplace and direct access to a covered terrace and to the gardens and pool.
Upstairs there is an en-suite bedroom with private terrace and two bedrooms sharing a bathroom.
In the basement there is a staff bedroom, a large games room and a garage for several cars.
The exterior of the house is very pleasant and family friendly.
Located in Elviria, where the famous commercial centre is located with a multitude of services from restaurants and supermarkets, a few minutes drive from several international schools and golf courses make this villa a great family home to live all year round.
REFERENCE

208-01690P

bedrooms

5

bathrooms

4
built

493m²

plot

1.084m²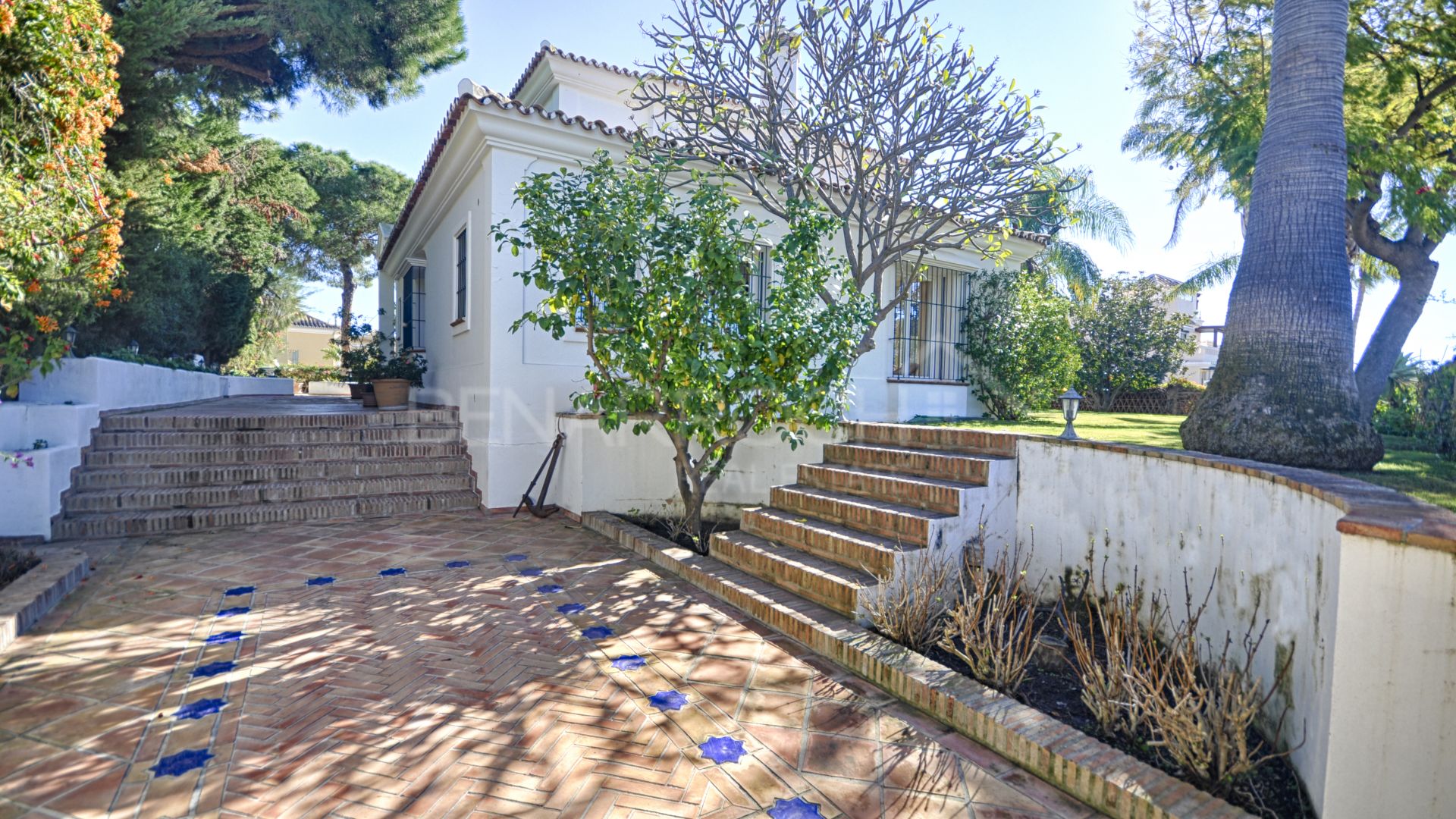 Video Villa
Video of Marbella East Area
similar properties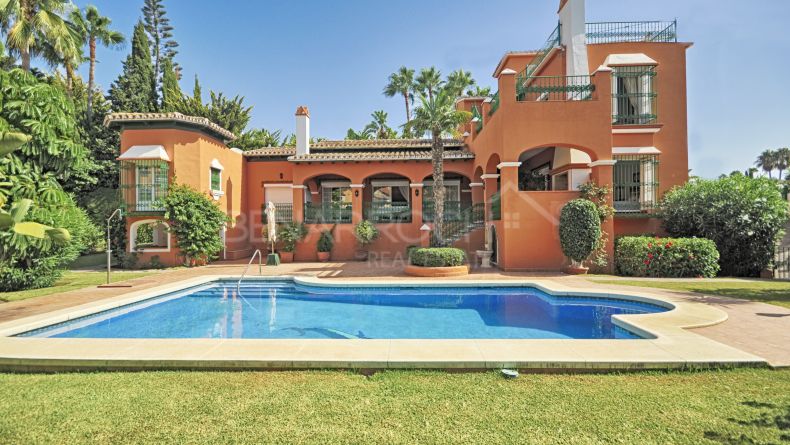 2.200.000 €
Mediterranean style family villa situated on the second line of the beach in Bahia de Marbella, Marbella East.Through a well ...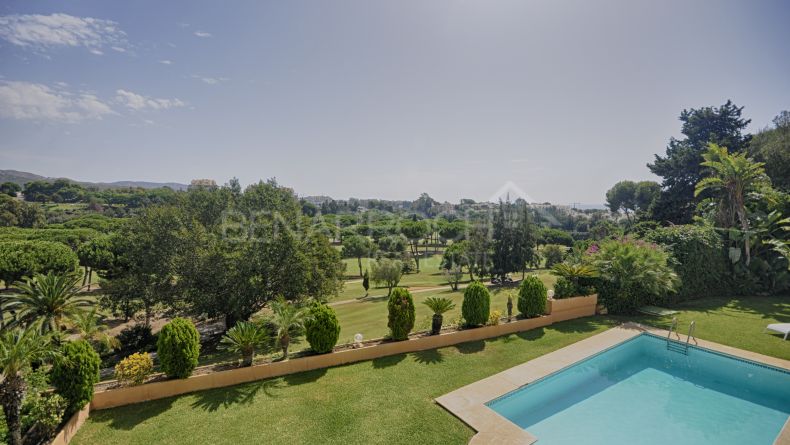 1.950.000 €
Cosy frontline golf villa with amazing views, in Rio Real, Marbella East.The villa has been recently renovated. It is distributed ...