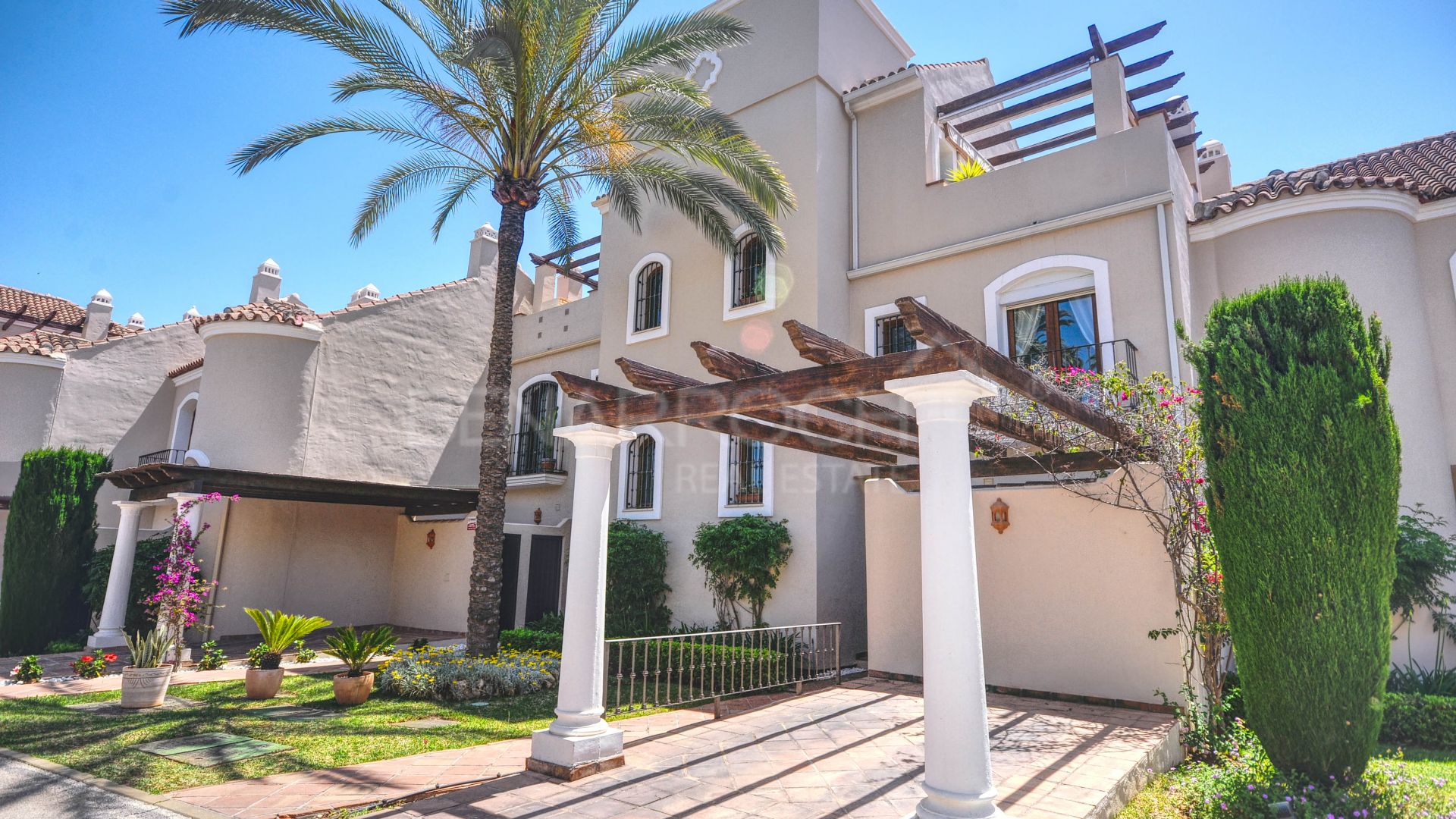 //media.inmobalia.com/imgV1/B8vEv5Xh_VThvnEqMx4G0ZxU_YC_pCgmETwWNQKyeMqLb9Afo_WSoi~kcK5mwaepLz96AHEmAzWJQblCNhundhnOIYTFLWoaYU70iqYZwWh4cjvbTVKxdUNghMw~kNn5uFTdpiiif0nkoJLjSu5vOWCTc7~mhiyZYbnBHtNit5bdiI0HOvZLVyGzfVWOuN3sSMTu5RzD3~x4DktkhSorcgnnsspOjra9zukda31eTUYnCH_AoJ_WCsQFJYQuZ0q8iE_9i7tBX3sd6kToKCFosi46VyFSuFtvItbb01BcvYvtfvKPCoN6fT~ntD~0Yp5Kf_1DUQ--.jpg
//media.inmobalia.com/imgV1/B8vEv5Xh_VThvnEqMx4G0ZxU_YC_pCgmETwWNQKyeMqLb9Afo_WSoi~kcK5mwaepLz96AHEmAzWJQblCNhundhnOIYTFLWoaYU70iqYZxDagbH5p3cuwV9eJH5V_OqtePBdSTgasaFQ7i9GydZNemDRWT7Erzs3FOwrNUY19_q6GQ22jUdgy0JkQp2WB0cBRtu5sWb8TqcF1AcaSuKblTEBJQXdflgTtWwpvBGyPWxs~MBRGBfU1_~qeZ2YngbWtryOrRZMUry1DU8XwhEP0ZnR6r0IuIA_8TU14EeGiurJgq9NH~gc23d7dcnbYQHpdkcSmHA--.jpg
//media.inmobalia.com/imgV1/B8vEv5Xh_VThvnEqMx4G0ZxU_YC_pCgmETwWNQKyeMqLb9Afo_WSoi~kcK5mwaepLz96AHEmAzWJQblCNhundhnOIYTFLWoaYU70iqYZxglpfuFvavB5eZE0hltJXjs3NHzdl7DSRJb8Ktqyy0NCdt8gsxpt9oj2uCVjFu7EOIlrYDTL9d6R7INYibKy9dd9s01q3K7UnhNSfIz4vJ0byelIxNTQBWnzlRsQaRP5tIOIvLmyQ2VLkxf7cPmdeKjGrSgApkrEAY_ZjXhWvfg4Fo3uKRylwNWuCEkm~IxT8f8zUQd_xxRQfTjYoYxPLn4MfFbH6g--.jpg
//media.inmobalia.com/imgV1/B8vEv5Xh_VThvnEqMx4G0ZxU_YC_pCgmETwWNQKyeMqLb9Afo_WSoi~kcK5mwaepLz96AHEmAzWJQblCNhundhnOIYTFLWoaYU70iqYZkcPXNgrXch8FgPgWtxppn5PxWLEeDL_XbxzQu_5Xqd~g4RUoYx05PJINK6mlwlRtnGPCWkRkRfpyKPoXgxUCeAgYd9ibiNefzLq5sVCoSHgEKpZExRLce0a9KGCkzF6W5szbTxA5FQPPewqUMb4kLGcL2V22KQhzpXtUVnNsOEbhIofvlt~SSYmVeDSr4hf5U9LR3~Zd7Odl9AnCgVa5KTU1UYHKIQ--.jpg
//media.inmobalia.com/imgV1/B8vEv5Xh_VThvnEqMx4G0ZxU_YC_pCgmETwWNQKyeMqLb9Afo_WSoi~kcK5mwaepLz96AHEmAzWJQblCNhundhnOIYTFLWoaYU70iqYZkcYs54vOEMzqJXmjCenBxxHcgXdK6Hnaohos0e~EAxJj6pS7O1bXSyCLf2fHAfeFcS57aIWcTXMYa69nG77~Lii0li0KFEVBSG7k8WGV9k_nOp798X8ZG2aADkEpCrcLzEZeYsTwHWl9EAXPwVHWcyu3AI73qSpXRpnvSJjyR_Sf5mToc22pNqqbSFiolh6fII7StTPd6CCByrrs27neI_vbvnN3Ew--.jpg
//media.inmobalia.com/imgV1/B8vEv5Xh_VThvnEqMx4G0ZxU_YC_pCgmETwWNQKyeMqLb9Afo_WSoi~kcK5mwaepLz96AHEmAzWJQblCNhundhnOIYTFLWoaYU70iqYZz~RjSGU9rDfSvYGxGltIhfMuenHDHCBMGNak9507YYqrngxW5FfmJPMQHgqgwdyo9pKcINC1YlBljNJZfKPisEIALEHQxwgNpyjRLNNhHiKty~uDuiHuTlIOk3hJ9_zFnc4WDDAgg978PNHs~saQx2YboOMeZxAwdLfOlLCj5CgpkiZhaiByJecKyYWpouEd0hK4OlHXVn7QOPUJKsiHvuKzJDutmg--.jpg
//media.inmobalia.com/imgV1/B8vEv5Xh_VThvnEqMx4G0ZxU_YC_pCgmETwWNQKyeMqLb9Afo_WSoi~kcK5mwaepLz96AHEmAzWJQblCNhundhnOIYTFLWoaYU70iqYZxQZ2lJlOTyLHFTq_OGYOWoZwOP4AT1zkD0rNEi433rQoC3_KsTYgz4h6jufu55PiBG7XHllCOJ2_UnVXOAqYIlN35m2vnpADZUz~rmNgBr5thgimpi9dyVmBpmo_wzo6PFAwiFmXV_3f_rNS9jvozkwmwtle73FIhypRUm3xkUayZkPumBt5jJBdgonp_CYi9anF~kG7m_lvDVCjhTS1pdd7XrEwhw--.jpg
//media.inmobalia.com/imgV1/B8vEv5Xh_VThvnEqMx4G0ZxU_YC_pCgmETwWNQKyeMqLb9Afo_WSoi~kcK5mwaepLz96AHEmAzWJQblCNhundhnOIYTFLWoaYU70iqYZz~fRKlGM6lQn7JbyLHDRGRqhqXwyOrOy7decT57YvU6KPbxR63jBxOpqg3SKbYQjz0NknaE6T7F4wkGAqpArdadZFHCPorSm3D3b8omJXz0DZSXQq~8QErDC6BdOyBPYMuX_NOscirpvEzuDC9pqeifIgOozGP8GZ_GMSmktP8F3xo10qv43~oGnXG5D2Zeza_4pXACcbkJoadajblRiG8oo5Fut4A--.jpg
//media.inmobalia.com/imgV1/B8vEv5Xh_VThvnEqMx4G0ZxU_YC_pCgmETwWNQKyeMqLb9Afo_WSoi~kcK5mwaepLz96AHEmAzWJQblCNhundhnOIYTFLWoaYU70iqYZw2dvn7_WdRgaygABwcrkPyPvazTragWnE6Lm4Kpwa08QTthCij30yHo8gsFhwci3z235LJINUQYERLY7AdOURxDXjO98Fs8e7YhJY3E2C0FwprJsJU8aMlVzkq1C13YPedw2cXXped4nOFphvLwSSjIKJIpfGzpTRib4zXuLzZrbIiAc6JpywaJkgPHNo5MgvJ~_AsqTBmCRKpQr~~RYvE08s2X2jA--.jpg
//media.inmobalia.com/imgV1/B8vEv5Xh_VThvnEqMx4G0ZxU_YC_pCgmETwWNQKyeMqLb9Afo_WSoi~kcK5mwaepLz96AHEmAzWJQblCNhundhnOIYTFLWoaYU70iqYZkcSobq~xoWJXWVo4if9ZN~gXs2RmOs0kGCPjGnB9NEKESfXxGwJwzVcyVA2FqKv4uAUca56HGrBxtBEiiw0DiwH8j6KsCA5YxztAzaaL89W5Mo7Q2PjdR97GkiKkrhPgnCLkycanEmmKxZTmnwP_HIqHLms1oYb6DaVh1A_UmV9HNSSqQ75DTE8Gc6AVGv8nlJvNosbIa35uxMRlcabcmRUcz1vJxQ--.jpg
//media.inmobalia.com/imgV1/B8vEv5Xh_VThvnEqMx4G0ZxU_YC_pCgmETwWNQKyeMqLb9Afo_WSoi~kcK5mwaepLz96AHEmAzWJQblCNhundhnOIYTFLWoaYU70iqYZzt63wTatMA5ZR98V3cL7UWX3L37QgPvSW_jNsOABNTO5h9zsZEtbtA8zpof6ohdswvXxbDNAP5HJhcrYAYe8xgwQv6_bYib7iB6QPK_kFocc_6FdyteoeVOi7ghcxtM7p9vrfeSKYgRm5pupqh0YI2LPf_xBSiHPmjhsyYjpn9z9q7gW~tu2VoPrwWl3rTakg1V96f5LzIq91dqpjUxBi9bGmt90iQ--.jpg
//media.inmobalia.com/imgV1/B8vEv5Xh_VThvnEqMx4G0ZxU_YC_pCgmETwWNQKyeMqLb9Afo_WSoi~kcK5mwaepLz96AHEmAzWJQblCNhundhnOIYTFLWoaYU70iqYZxQQzjIpit_ztofvv7EtpRfYLsMPM81GdC5TjjBPQPVx89C4gcEVa4NrPvq6T3b2oHP25QfmXkKpYBiXudaaeyzGIp7~t1YP~1uQjrlMvDatM4W0BD4MN8CXRcgjjT5JKAQERyzznE3ItfzLEWLy6SGWRCLD8gm6J~GhaeJ_Gc11K37RFYu6tvRwB5G9i2oQrbWPLOPd5B6oAwhXgCs4u2ZPZcqtCvg--.jpg
//media.inmobalia.com/imgV1/B8vEv5Xh_VThvnEqMx4G0ZxU_YC_pCgmETwWNQKyeMqLb9Afo_WSoi~kcK5mwaepLz96AHEmAzWJQblCNhundhnOIYTFLWoaYU70iqYZk6Ny5khMi5YGUiT8ye7BEC0qX95ohB~Td7FtgmkCesD49M_S9095JH~pc6VZcWBOKeoK47VZlv13kVRREwX0_XVQAm3ormO0WXnVEIyFgEtxBPoURtGIe3FVck~uVOcnvGS8JfrJUOVYYltNXDIHjyQmKaosGFT1HvCL0_SvRFueg37leFrwt62EDpAraPBZty2tDqpvXCs4hGB95084AfJtDAwmkQ--.jpg
//media.inmobalia.com/imgV1/B8vEv5Xh_VThvnEqMx4G0ZxU_YC_pCgmETwWNQKyeMqLb9Afo_WSoi~kcK5mwaepLz96AHEmAzWJQblCNhundhnOIYTFLWoaYU70iqYZk~ZY6hmfabZnJOwaS5mOD~CHUNssASuK~MUFIouCjlpIA1BZsjLvyqUQ8qGHrXCu38MP_H3EezGDKSJ~kAqelXOMbJg56PILi18VzRRxoqM6rkOpwEzyQLjiEVwtKxtazVUGc1zrgkWV503_7m03llIQD~lHArP8aWCzXzNnNni8IsTaxmQitjio42D_rsl~9mQmaIPIhs3UtSGoj8NRL8MmFxMO2A--.jpg
//media.inmobalia.com/imgV1/B8vEv5Xh_VThvnEqMx4G0ZxU_YC_pCgmETwWNQKyeMqLb9Afo_WSoi~kcK5mwaepLz96AHEmAzWJQblCNhundhnOIYTFLWoaYU70iqYZw2diWiwN02xlstVstGxvi3JPw6F5ye6qBI9GUPqWgmVeDCzoyDkmi4T2w7GQnVXUwk2E36L~zSydghUEXfhN6AOQUApOIpdF1MgtSRRZQ6MUlqu44CZwNWAxIou9~cFlvTaj6a7ztj_pRPbnaGLzxBQghwxB~VUbXIY65c5ATMQvZewV29GdEB1NjhwK15BnOqAXIWJy1msXn5vTrUOv_qIL5iWdYw--.jpg
//media.inmobalia.com/imgV1/B8vEv5Xh_VThvnEqMx4G0ZxU_YC_pCgmETwWNQKyeMqLb9Afo_WSoi~kcK5mwaepLz96AHEmAzWJQblCNhundhnOIYTFLWoaYU70iqYZztsKaxPbF2v11bptmJtlMJbUGYyrz7aM95F2bqbT7tIwoSKTpjQMN7KfAygHj0yonawtrmao2pk1MAfRSpG~Gue1hqw40nwY7StZWp7aotz0n35Y3f2MYplXJYQ9MEOF7mQx7yGCHKb9zxqtUunQpisr20JmGLK9vJe9u4cAvkSTm9YdMh9BPjA~0vxxhaoV7YgAoucuExHl~M4IP15sDXkOiV2NBw--.jpg
//media.inmobalia.com/imgV1/B8vEv5Xh_VThvnEqMx4G0ZxU_YC_pCgmETwWNQKyeMqLb9Afo_WSoi~kcK5mwaepLz96AHEmAzWJQblCNhundhnOIYTFLWoaYU70iqYZk6kI0HNLqDK9zdt8ZVZhEmLkQtB4vb2yXwzebrkth9m_qFWWeOn41KHPnznVQzaPAEJBSeVNRTbTznjQSd3XQ_vePj0BEAlKMGkAtlS7_t5RRTJkIxvB0do2~HUvxVatYtznPQ_8tO3fg1cb6mcDNBRtLKZE6aIzhbZJttMD6fljsQBrVhAsC_wUAqA5D3J_lKPfFv4PUGbkMq1lp5pDMH4rAk_KRQ--.jpg
//media.inmobalia.com/imgV1/B8vEv5Xh_VThvnEqMx4G0ZxU_YC_pCgmETwWNQKyeMqLb9Afo_WSoi~kcK5mwaepLz96AHEmAzWJQblCNhundhnOIYTFLWoaYU70iqYZlL1AuJTnvfFyx0bcq36mE6kBfSW~raGVf_J9tprvuvhkPtBH_V7CCjNkkRciiMhXDblHJwhaCQaK43z4bALZpw8eXXSAc8q8SIP0vk0aLaIzRNc~0Km599IAf_U_qsQiUpTEOqzpHslqi~8K7QhFePkEKSPFT6QWbpfsgvQQNvEPI9qAj0OXl9FLfLq~YLUTFHvG_apNiZ5YRRhZwcXYZ8nhrplirg--.jpg
//media.inmobalia.com/imgV1/B8vEv5Xh_VThvnEqMx4G0ZxU_YC_pCgmETwWNQKyeMqLb9Afo_WSoi~kcK5mwaepLz96AHEmAzWJQblCNhundhnOIYTFLWoaYU70iqYZx66IjA7nnITi_81p8fqcAyw_pb9Yqt6E7YyKIvgXTg79WHV0R8VC3LT6kJE_WqBuuGWIwVHh4XL0gkqkIHoe~sfevyED~_L9DrIhlFEyvat5rhmTDdZ_a70X_UNxtIFLu98GFaCDxjo6TCmm1KicOhFvdLsRZ7Z5umu2HuwoZTnlDiChd_K7xnjSsd1FEpR3HGazGcykm9ObkLdZdL6ZHUGyLokbVg--.jpg
//media.inmobalia.com/imgV1/B8vEv5Xh_VThvnEqMx4G0ZxU_YC_pCgmETwWNQKyeMqLb9Afo_WSoi~kcK5mwaepLz96AHEmAzWJQblCNhundhnOIYTFLWoaYU70iqYZx~uMM2F7uPhSjZupAULd5CabwGrVgDYHUEEYxjswVQssi6bdW1M5Fc45Qj7sMgtHXXXKoGkm_mbO3dW3OzR2Qdu3_jJdf_4JHbLMYZktrzIp~M~Ol50Aa~0ooiZQOBK_MIe97XrcJ6lTlAjM5XqB9vPYWkhTy2mmdWxjZ1zQkwJ3nkBOpFIy2Jd0NEThKAPzN8RUirIreWV_2PBkbiIdsK_11E89iw--.jpg
//media.inmobalia.com/imgV1/B8vEv5Xh_VThvnEqMx4G0ZxU_YC_pCgmETwWNQKyeMqLb9Afo_WSoi~kcK5mwaepLz96AHEmAzWJQblCNhundhnOIYTFLWoaYU70iqYZztzXXcWTKAYq7Xe1e~3zcKo~wWhbWQcCgC613XcQV8Yvw~Wx7noXYr7dj0mfsDGnfO8aHDC84VDuQMbXmEGv6Z3V1w1KPZyhJSyGNwQ8e4G_ZqoHaOrp3EIffifz0LFfRn_7VMVxkYo2BwVqOmXlBPWtlyEAB47ERht2mgp2UaVRi4ZlrFYHRL0iCxMY6id~zv6riSxmvNmunBjGFXNI08zVvaTHeQ--.jpg
//media.inmobalia.com/imgV1/B8vEv5Xh_VThvnEqMx4G0ZxU_YC_pCgmETwWNQKyeMqLb9Afo_WSoi~kcK5mwaepLz96AHEmAzWJQblCNhundhnOIYTFLWoaYU70iqYZx6siGvaIt2GJZWoTPnebFrYkhi9a6GH~SRbwyQQ0t0Z_4Yywd1~aqGKCS1~FAC4d~FZFsWu3JhTyxSRYP3TAT~QPk2XONf_CVjbxXL_I4Ifx1YWurQGIAa5CxB~t1X6HMXagWV8VABQRrRlBYLvr3hBcKeEK9hNv6bg1T0REtnYagoJuorhdQFtmZC_Qc~YD4Zf0zHnvaQs0nEpxDOEoNJSFoQJpMg--.jpg
//media.inmobalia.com/imgV1/B8vEv5Xh_VThvnEqMx4G0ZxU_YC_pCgmETwWNQKyeMqLb9Afo_WSoi~kcK5mwaepLz96AHEmAzWJQblCNhundhnOIYTFLWoaYU70iqYZwrnIHjdjlGNlInKJCP3mpd77pvw7EwVrnZlfT14FmN~MChp5zqG5cBcb_Q7O2FKw0AfQG3NKThyHoxl~qiK0ytuXshStj3PNdr1lv_zNu2XyMqR0bpzD~oP6mTzEumANvBmuDuEruHLKGvDT2ZZKYvcC7v8xdR_Er77VBBADTgAnkg69N5Lblz959LxEfP2Gkgh~c1Cd43zwrmHB0Iy3iPznJAiykw--.jpg
//media.inmobalia.com/imgV1/B8vEv5Xh_VThvnEqMx4G0ZxU_YC_pCgmETwWNQKyeMqLb9Afo_WSoi~kcK5mwaepLz96AHEmAzWJQblCNhundhnOIYTFLWoaYU70iqYZwTh95TkSTS~bnsT5hSUNzmVfMoxNb1Gq5LInE8wAnGlDkDHnaaPxFYJlDwffGrOU4A7NmSGFt0~HUspbJEC0Oj_I7ydUNjTvdcPHpXqtCyVkQbUUObHKYVq33~H9ARhWVBIlYRHfkrNfI2uCrsQCloSHYYxxXjSd~Fy81ZThflB9KTL0yOR75t4fANFpAA_PmvLY2mkjIDuR6Jbfl~MXvwvL7uUROA--.jpg
//media.inmobalia.com/imgV1/B8vEv5Xh_VThvnEqMx4G0ZxU_YC_pCgmETwWNQKyeMqLb9Afo_WSoi~kcK5mwaepLz96AHEmAzWJQblCNhundhnOIYTFLWoaYU70iqYZlLuAItZcnmwk7Ptc754yj9hasC9c7ytc1WxCDQmrzEKyVfpR56nHRE8kRMgDJgNBBosQUGh6GkOhk9njX8GOMVDjJkXvf~jpz4eCa5kbaj_Vndr1XOHmPn1Vwft8UeWgne34_K2~_hZ8V1FTAHxMwTZVZGs7Em3sGsubj3jvi_r5uWMJvDrYoC1Wq9f30bXJpWTF3OOH_FSLFJi_g8GjnQw4UZ4UyA--.jpg
//media.inmobalia.com/imgV1/B8vEv5Xh_VThvnEqMx4G0ZxU_YC_pCgmETwWNQKyeMqLb9Afo_WSoi~kcK5mwaepLz96AHEmAzWJQblCNhundhnOIYTFLWoaYU70iqYZk~YNqr_c5aDRHoXK6mKme7dzgI~ccHsvxYhhJuDC8D12Mon9WJF9am83YWQ0e_jRddCqdfjLKEkaACHnBr7TubP2eYHRCezFTw3RFgwRKgUxU7OIAj18sHBtgrK2wYwV6i4TAWPl__7BXuRaem7BLvH4KA~RC9a838uFaRg~k12BQxEYRbk~icgnFyhTOKO9oMXAIINH2Yt_8uhN9TlNTBuz9vW73w--.jpg
//media.inmobalia.com/imgV1/B8vEv5Xh_VThvnEqMx4G0ZxU_YC_pCgmETwWNQKyeMqLb9Afo_WSoi~kcK5mwaepLz96AHEmAzWJQblCNhundhnOIYTFLWoaYU70iqYZwMtIUN5Z_FtNGo8XQ1RImbDHNQdDB8on74o7e9e6Vq84jKHItdPnhhy0G2d4VljZutFLNsQ1LY2QR~AHpyOM~CN9ji9~yPtK_1hWK1k0uTWiTGHTVLNPZwpOR_OpIuYw6eKx2JqiShlYoTzWFHp0AVnut~10qECU3mSLhHWIQIDxpQQ3gp7s9tvc~Snk4gyhtHMN3tgec3CMLNBX8R9WLu~NKvCLng--.jpg
//media.inmobalia.com/imgV1/B8vEv5Xh_VThvnEqMx4G0ZxU_YC_pCgmETwWNQKyeMqLb9Afo_WSoi~kcK5mwaepLz96AHEmAzWJQblCNhundhnOIYTFLWoaYU70iqYZwrnCQrwv5bjV1HStxb2Cse6CwUEoOfD9Uh2bhqH~m4LWVtdc6St6MTIRvqp44dn0Dv81HQ9N~M1Qqt_EelN1jWy4VpXIpe6eF11IhN8he6eulX4mZ~S5bBVFm0z~C87gj4WfxAybeilQgrG_Gu4k7XVCFfmMCQNZyRVVRo~EuqpdM4Tqh1uVFM13y0nnvLRxMPy2enSPMbFcPllSbDmw~fcIyYZ4Rg--.jpg
//media.inmobalia.com/imgV1/B8vEv5Xh_VThvnEqMx4G0ZxU_YC_pCgmETwWNQKyeMqLb9Afo_WSoi~kcK5mwaepLz96AHEmAzWJQblCNhundhnOIYTFLWoaYU70iqYZwM6G2Xk9YgDo8FCO0S6Ea9r9XJdXN_nK8aTDG5Pazs3HYmYmuKgIk6JHoVl~I83W__JR7I7syDYb~QcSi0b2n_joTCDOa4iLF65wt3V5YOTkOGhivjSjMPJJ~cdLZDduLx9A3wFatMjWENwuTAsbfctOGPqtQmYUHvZz2NHdt21RbIh~PUoMHu_EvnGjd~27kLAriVmt_dyqFBrKMmqFnYLJEy09Mg--.jpg
//media.inmobalia.com/imgV1/B8vEv5Xh_VThvnEqMx4G0ZxU_YC_pCgmETwWNQKyeMqLb9Afo_WSoi~kcK5mwaepLz96AHEmAzWJQblCNhundhnOIYTFLWoaYU70iqYZlkhf9rtZvSfFyBwETc5nJgvs0H4GyNrzdLBrudbByBJ9kYJpefJgKi_KhbCj~0owpk5kpFU4P3un~CJBPAVcjOiaoZqNkBU4YSFNeCnAPMdRXAtLTw8OWYFz1FW~5xbku7jDfuR_PRTjNIji0jQc8pbDN1i3OOInS1LNGdNK4m6jcxqqlpiP6msPbV~ft2MpLVEXjh9V8i9rY3Vj20E11Brpyf9TMg--.jpg
//media.inmobalia.com/imgV1/B8vEv5Xh_VThvnEqMx4G0ZxU_YC_pCgmETwWNQKyeMqLb9Afo_WSoi~kcK5mwaepLz96AHEmAzWJQblCNhundhnOIYTFLWoaYU70iqYZwTyMmd8k0iD8j1Bg0BMlM~cClVzZcoGqn4CAza3xZpNIAZaJDwNfy6~FzKgZ7NOIwX6OFtSR0je_5w5j5IC_Oqvgc01rt~nQHkVGCq~UHXkKAj~7MRTzH~4P72iqSdekz6iIGb9rsDWBdKNhmIGFO3kW3fRqnnaWwzcj6OxPvLy85QjKCDvb3BI9DPpuJV3GzaCZI1ytoRmoOikm01Ii94qIUUiSAg--.jpg
//media.inmobalia.com/imgV1/B8vEv5Xh_VThvnEqMx4G0ZxU_YC_pCgmETwWNQKyeMqLb9Afo_WSoi~kcK5mwaepLz96AHEmAzWJQblCNhundhnOIYTFLWoaYU70iqYZwzA~m2kHJ5LCkYgLMmhOrSI_crRNPIKu6snJZVZx4Wwb~6vEC~TZICVqJSL3II20yOxVFFal9fGiio2zMNNAbp13dShI2fXz1HzYBJP9n1N9vsdTIyrDYYRZYbHN2Op88mSTd9IuT9857WJ0C8I0iNFM6ck5kyltR9IaxbPo0n7lqOctAnMMHacTDkEBU1h2xgkNzYsK4ooVIkH3dIN_LYEzb8W~fw--.jpg
//media.inmobalia.com/imgV1/B8vEv5Xh_VThvnEqMx4G0ZxU_YC_pCgmETwWNQKyeMqLb9Afo_WSoi~kcK5mwaepLz96AHEmAzWJQblCNhundhnOIYTFLWoaYU70iqYZwWgsnvIwH3kYxToMeU5rRjDVo~b22AY2eF9FnDzcsBb2jnSFscWd7Jl0TWbpc9iCnkzQuChZR1JMo~u~swtCVCaXQ8VcUlPtDwOJt1PsUiXELGbKUbrrkd8URGdDL41Z4VmJXbZION9RKqwdT6BJmy~9jSthToC13ZKXJt_5GWOpnDeN4SrmhQgnqbE1FgWRzJ0Zo8a4cxnLcw7165U0dQe9244QHw--.jpg
//media.inmobalia.com/imgV1/B8vEv5Xh_VThvnEqMx4G0ZxU_YC_pCgmETwWNQKyeMqLb9Afo_WSoi~kcK5mwaepLz96AHEmAzWJQblCNhundhnOIYTFLWoaYU70iqYZlL8kOH7tdI9BclNiZ5iaaEHOIGQhCwg6Z~WsS6yNuJAyDRzoAZ1gKR5wK9yYHcMRy4Y9P_NkMc1bnZ~LhZz8_wFDdYy0HVOl7HVal609fv0jOxMiQ2KFoV_aJ4eutpct7mE9UotSEpr3IdcvPeB9UYPuUpmqlTqaYslAzJOOaTYv72qtsN7fLV4UU46zFpTdvPDEzWEYlCEZheQTEKtciXBbh813LA--.jpg
//media.inmobalia.com/imgV1/B8vEv5Xh_VThvnEqMx4G0ZxU_YC_pCgmETwWNQKyeMqLb9Afo_WSoi~kcK5mwaepLz96AHEmAzWJQblCNhundhnOIYTFLWoaYU70iqYZxDMbvm_r_8QvjpP0Yp7qhvSjsexFXpXTbakNeNwmIXtvyiyanxKrow9ea1zGRu3tlQfxUHvFLTF3zv1F_D5CgzIXHlsko16ItZ4AMVHf9O8oMiZ~pk3XFGIh3v4u7pOTyWrYDXL74PP2OFHlin8pKntVJfzW_cDTICrhcDWrRIootPRA~ONGk9nqbbph8fbFft_POr6X9bt1Ato11iGcxXD6XTsXbQ--.jpg
//media.inmobalia.com/imgV1/B8vEv5Xh_VThvnEqMx4G0ZxU_YC_pCgmETwWNQKyeMqLb9Afo_WSoi~kcK5mwaepLz96AHEmAzWJQblCNhundhnOIYTFLWoaYU70iqYZkZaG3QDSGqT9dTW6OanuiBTiTx5dYegdW_5kInSTIXiSkDwGxQfws2gfNrZQuGOjpa2u0nfWjS07NvUqoRpi9lGT~dwmeF6~Hx1ga8wyvS5v~Y4XPF246DLf7q6TAgEwFNoNdtDMhcgAe2HNjzcwGuNIrqQHkVUV8D0iM0lccCRS4skW6QPBsnR2wmo_mdaDc8Zxi_PMxo8Ftok0nsrLq179uhEZFA--.jpg
//media.inmobalia.com/imgV1/B8vEv5Xh_VThvnEqMx4G0ZxU_YC_pCgmETwWNQKyeMqLb9Afo_WSoi~kcK5mwaepLz96AHEmAzWJQblCNhundhnOIYTFLWoaYU70iqYZkqjkRuXK3Q_wXiXGtDpPNe~69WPnNnmKkY7h1hZJwffoxUTUV22vKH6JYSjsTOV1NCG8mymk1itclZt6qi_fbb76O6bzENDf0p79BKJ2TBkbHwbZ1JRYPDe3VXH8kYv5KvtYqmIsPqHnZoSpq5zjRce_w2I9vjs2BV9hxroFRRfc_n_9Fm6_sj4DGCAWiWaOoDCo4Rz40Q2kbpYMQatB0X7OlwwKzQ--.jpg
//media.inmobalia.com/imgV1/B8vEv5Xh_VThvnEqMx4G0ZxU_YC_pCgmETwWNQKyeMqLb9Afo_WSoi~kcK5mwaepLz96AHEmAzWJQblCNhundhnOIYTFLWoaYU70iqYZwMtP6qinUP2z6neZyX0teQQfOqISmAWwGtqOrypRLUqZY34LGPtlgYSkfv6mB6ob2xRoHT3HNPPwx9wjGAbonz1WWPrlqfeWjjcQLKlCAOuYT6Ut5wahM4bosT0cRrYs_oPkHfXDUQstCyhA8IS41CjdCdl6R5D~LfaN~fXDhXRdDvfjarhsVrDTaMRafyvHhU0sjIa1R8a2AiY0p1bP7KbHUjxZiA--.jpg
//media.inmobalia.com/imgV1/B8vEv5Xh_VThvnEqMx4G0ZxU_YC_pCgmETwWNQKyeMqLb9Afo_WSoi~kcK5mwaepLz96AHEmAzWJQblCNhundhnOIYTFLWoaYU70iqYZz6d2zpmCi8ylI9jdtxwth3vHrwc2pTUwdz_oN8yjZjuA~CAzWEp6Q8tw9HtNav8WEL4TCE9pnFezKpRH7uy1~1XSW3ZhQwMOBvJl42Qmj0PwWik9erqHp8yOCDVkCvVDnSgmzaYxPE2RJXMe1SUNAJdgQdwaWfCAODpp9rTHVs6hbXlxIZartlTBnMtYDHQwwOCh1RKA2qR02RlRgbfI8PhqQSPUxQ--.jpg
//media.inmobalia.com/imgV1/B8vEv5Xh_VThvnEqMx4G0ZxU_YC_pCgmETwWNQKyeMqLb9Afo_WSoi~kcK5mwaepLz96AHEmAzWJQblCNhundhnOIYTFLWoaYU70iqYZwMiNhB5oRwLxXy4hIT4htZ3pCIZEjkofv1OwtELcbYHW~AEJsis0ohHd~1YO_X13njgl45xtNg4ko3iTaAjatWbpa0m~wnt9mZxSpxzuJGghCISZLUsDHnVSZlEugdJsYXXB0Zlln~epAOspjOrFhuAUCatCiFHukl6snfNaVZ2J_3rouoz_Q75zlal5xhm0kmxwFGCbLmxW~k0R4eDGFQOpgCa9Bw--.jpg
//media.inmobalia.com/imgV1/B8vEv5Xh_VThvnEqMx4G0ZxU_YC_pCgmETwWNQKyeMqLb9Afo_WSoi~kcK5mwaepLz96AHEmAzWJQblCNhundhnOIYTFLWoaYU70iqYZx67cQ6OVIOSXhQIq6QANJS6U0aia52h5oxte_Za42IcuG2DNpIdhXubeFhjwMMPJFAa6S__VY7Ar3uN~JKJlvd1yIyazLCNd_JNM4eq1U8PNs9Vztbdvw~UL~6NpXIfaFOOJemgesztrxv8esSbTdntRmCsxmw8eJLmTI0fgnGMFzKH683xDuQoZd4mYGNciGWFgxpKF1oEcDQMmg0QHwLwpwW10hg--.jpg
//media.inmobalia.com/imgV1/B8vEv5Xh_VThvnEqMx4G0ZxU_YC_pCgmETwWNQKyeMqLb9Afo_WSoi~kcK5mwaepLz96AHEmAzWJQblCNhundhnOIYTFLWoaYU70iqYZwrzuDD2WXuF2z~N4KdffbqOntEzN5MyFoQ11M1ZE1~LRidDZ255KvoXS7UZo6dHji7Y0u7S3TFgYp4hVh1Gzwgv0gI~zFm0BHms9l0a_1HEqPvnH_xvnzDpfc1oF0NS~bSqflK2_SYaSSOXdWCbFZGc8n2AGtq1h0neEVs6_5qnauBSiIVKxkeKlNKvgwvDBcgp8aq0~dLOXHxXdsjJmZminTe3Tsg--.jpg
//media.inmobalia.com/imgV1/B8vEv5Xh_VThvnEqMx4G0ZxU_YC_pCgmETwWNQKyeMqLb9Afo_WSoi~kcK5mwaepLz96AHEmAzWJQblCNhundhnOIYTFLWoaYU70iqYZlk~r65vyfxU8AHhHswS3SzRs2dsW_UP6HmMQLhryZ8WJgRy9~OmtrV0KY4vSgg3ZrneeZETA2bc1Cl5oQ3BRSzEo~99ODDEFm8K4bqNVmHdzMe7GZ55KmEdLiYWPvjOdQ6q08KXbHKDOSTkHri2POed~IM6GaSfhF7ABuWDraI9gLkqbmlAgE6irQuhVpEUqzQdLlp3DcLwSk9vSF6vPrBTmqUKXvw--.jpg
//media.inmobalia.com/imgV1/B8vEv5Xh_VThvnEqMx4G0ZxU_YC_pCgmETwWNQKyeMqLb9Afo_WSoi~kcK5mwaepLz96AHEmAzWJQblCNhundhnOIYTFLWoaYU70iqYZx63LDiSuXkWSoGwGx7iqBwt5KVLS48p7NQNZ9EMh9ibbVn_CyasDhPUVr0fBVVqZWNAvP7XD_~GJgtlObQ2mBqBjwIgJX~72cUkTBuYm4yeAFXSAW_U1L_qvfZ5IMbwgi1vqggfIbNiwBFWZ~LHenstbQY~oe7oNHEXJ1apGY1RXynmhwuu0sW4z5gAysLVvFmYN4y9yjNMAqKCsY27wFs46skAWhA--.jpg
//media.inmobalia.com/imgV1/B8vEv5Xh_VThvnEqMx4G0ZxU_YC_pCgmETwWNQKyeMqLb9Afo_WSoi~kcK5mwaepLz96AHEmAzWJQblCNhundhnOIYTFLWoaYU70iqYZwM6CudbQYgneg9vI7GjxsUyI1RaE_Vnnz4dba2oYod1xJwNPSUAhj7vVZlOmMmPpNC8eka0Rcfbqi~b4J6VQKjJlGn3~PxmPHrUHiT29FS3Y3i798MoJcNu5XO1Tm9RirnduRZeQKQUvM4eeAWhm4ppbMPus6_YERm_odT9tDdOdjztu9coxuw1qSJ400u9bK47~~tkdRhCgcXiq600Ryv9MgngoWw--.jpg
Paraiso Hills, Estepona
Town House
Holiday

From 1.250 € per week
Townhouse with sea views in Paraiso Hills, Estepona
Fantastic townhouse situated in the urbanization of Paraiso Hills, in the municipality of Estepona.
The house is located in phase I of Paraiso Hills, in the heart of El Paraiso.
The townhouse is fully equipped and ready to enjoy short stays for work or holidays.
On the main floor there is a spacious entrance hall which gives access to the kitchen and a large living/dining room with direct access to a south east facing porch with garden. The kitchen is fully equipped. In the entrance hall we also have a guest toilet and a small storage room.
On the first floor there are three bedrooms. Two of them share a large bathroom and the third one has an en-suite bathroom. All bedrooms are spacious and equipped with large double beds and television.
On the top floor we have a TV room with a sofa bed and a toilet that can be used as a 4th bedroom. If we go out to the terrace we find a large solarium, a summer dining room and a nice area with sofas and sea views.
The house has air conditioning hot and cold.
Paraiso Hills phase I is an urbanization with communal gardens, two swimming pools, a paddle court, 24 hours security with private access during the months of July and August and night surveillance the other months. Each apartment has an outdoor parking space at the door of the house.
The urbanization is located in the heart of the new Golden Mile, very close by car to the national road 340 that allows us to go easily to Puerto Banus and Estepona. It is also close to all kinds of services, restaurants, cafes and golf courses.
See our general conditions and cancellation policy.
REFERENCE

208-01677P

bedrooms

4

bathrooms

2
built

180m²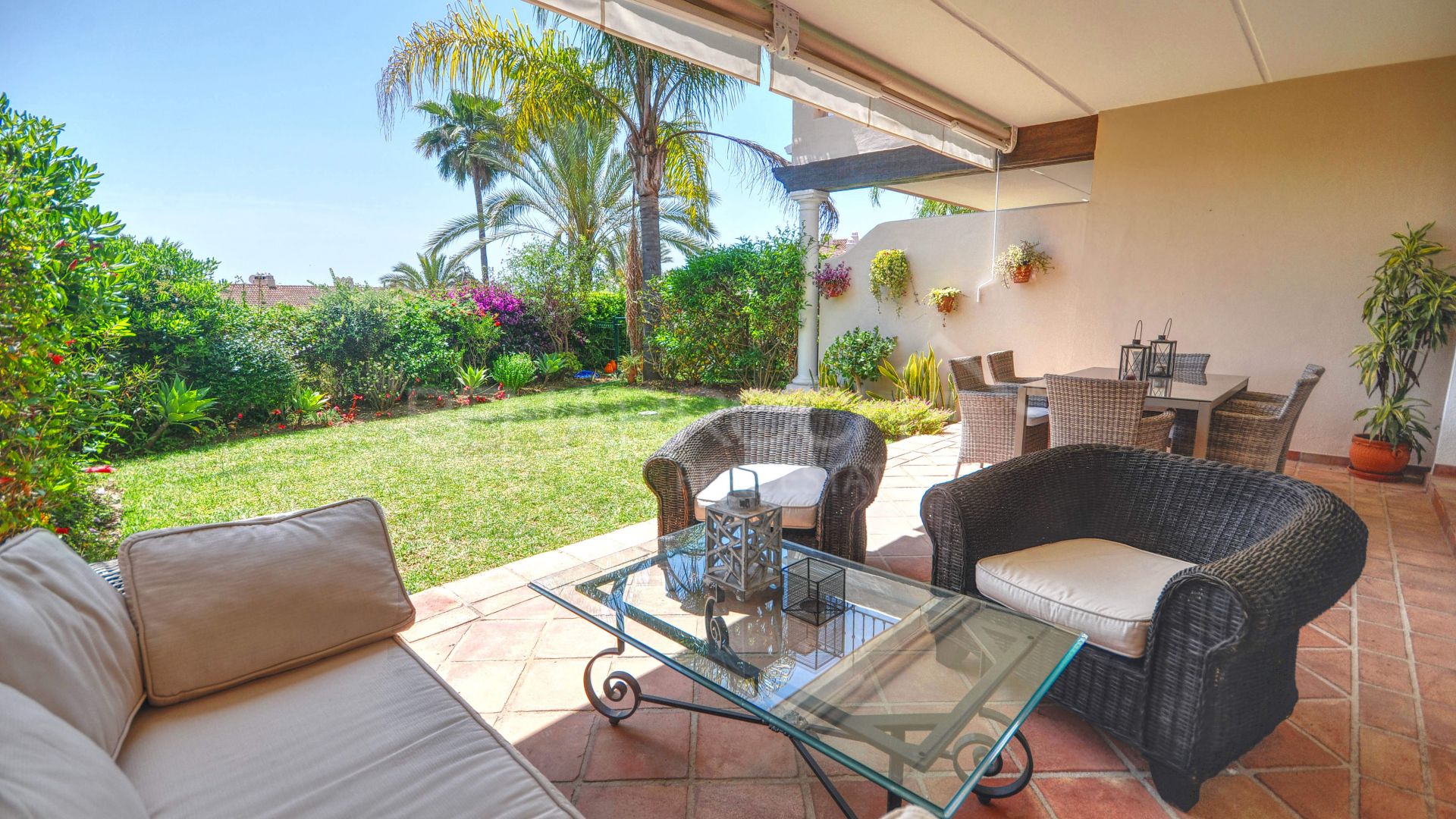 Do you know Paraiso Hills?
Quick View
Video of Estepona Area
Booking calendar
similar properties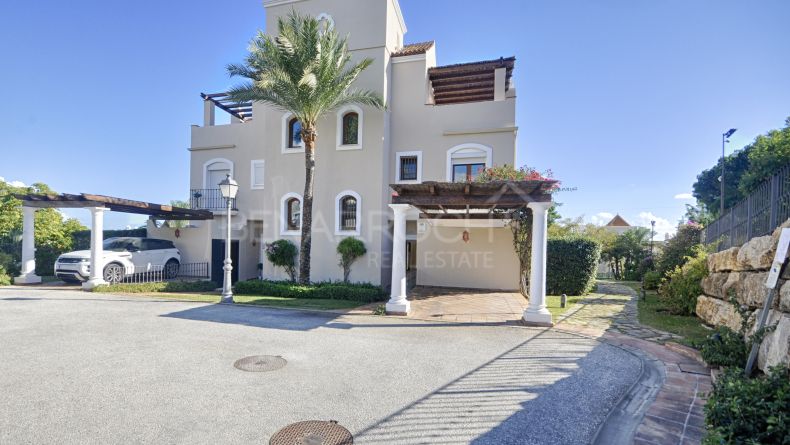 Holiday

From 1.250 € per week
Townhouse in the residential Paraiso Hills in the New Golden Mile of Estepona, just a few minutes from San Pedro Alcantara, ...