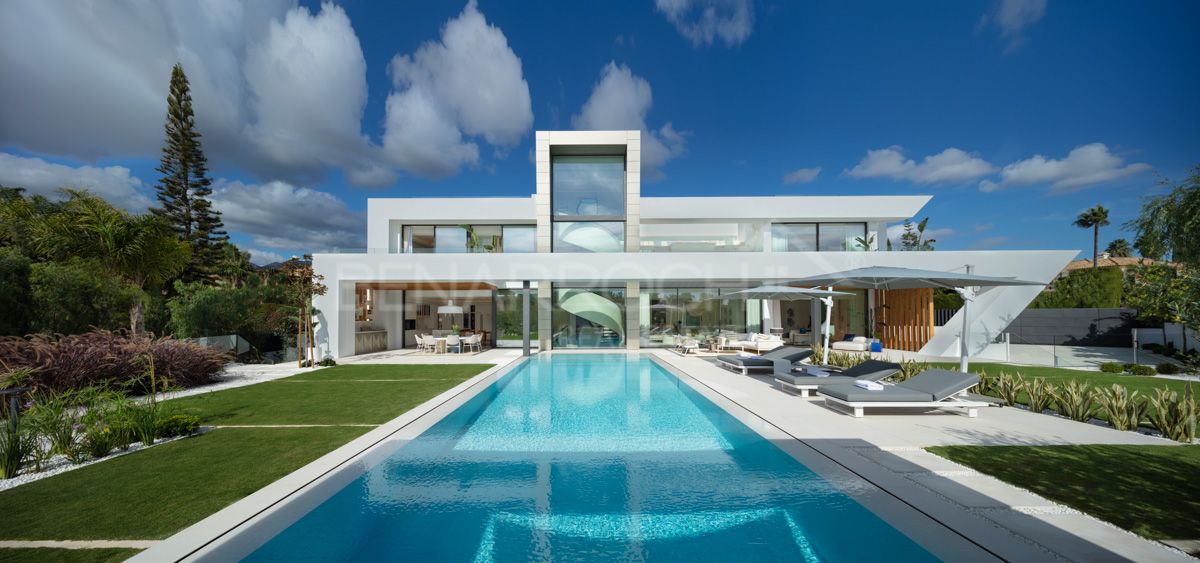 //media.inmobalia.com/imgV1/B8vEv5Xh_VThvnEqMx4G0ZxU_YC_pCgmETwWNQKyeMqLb9Afo_WSoi~kcK5mwaepLz96AHEmAzWJQblCNhundhnOIYTFLWoaYU70jOx7_MUpU~HmMJMbIlFH~ywQ9vnORpWpFBarqrakwENlZK_lTybwu0swZAu5H2LWcOxX6~Xe2D0aOpMEDhzwufDNvI3eACHPjRZvBn56GybT2b~IYuoxZdwBKw3N5wENnX0iabBdFrlrpadoMoYauzHp_8n8SFQL7RzBg89jYiujpnd111xS3dBRGjASpMaaJS4Az8RbjKb4dWh3C6jKNKtwAscnSiHngw--.jpg
//media.inmobalia.com/imgV1/B8vEv5Xh_VThvnEqMx4G0ZxU_YC_pCgmETwWNQKyeMqLb9Afo_WSoi~kcK5mwaepLz96AHEmAzWJQblCNhundhnOIYTFLWoaYU70jOx7quhR6QZLb~3wYoJi07d3UfP9P5BJGVMl_sSmPVhTVrBQpGxNI3wP9rfTho_oioE9vCz5qo5P_R5Tijr3RugBO~3UjLHP_I2U~71ORb44IvbB5xfNJWhEJGJXiRH2Jez5OjKxvSI06W4CUh63ElLKZr27OvqkX89Vzb6U3zZp~jU3INinLLNGX80i7jncfuSHMcpvpgN~J2MGb5WHnYxPkMbqGqIfgw--.jpg
//media.inmobalia.com/imgV1/B8vEv5Xh_VThvnEqMx4G0ZxU_YC_pCgmETwWNQKyeMqLb9Afo_WSoi~kcK5mwaepLz96AHEmAzWJQblCNhundhnOIYTFLWoaYU70jOx7_2JbuuKJJ~oNCfazIqdT9eYEL7RNZWsVoqoqmXuN2RaL0hq47iVOD6SXS4kTbxZb_4lfnNssdKHfURrMNCHDOC6fPMe3fvfS7FieSFDiIfOdxMcUBl6cW_g76xYspRl3t529~AyBechC~9m8c~8AzWfeGFYEbDNBkYhjLlRbBnmfGtrTijQcSPcn9wm2zGuZzENr47XsjwifIVtww8VStEqRVLpM1w--.jpg
//media.inmobalia.com/imgV1/B8vEv5Xh_VThvnEqMx4G0ZxU_YC_pCgmETwWNQKyeMqLb9Afo_WSoi~kcK5mwaepLz96AHEmAzWJQblCNhundhnOIYTFLWoaYU70jOx7q91DY0gipxrx9jAHk95fgSpIpu6SAcXAQfCmALfcnUtV~q5e3wfR0~LscbF2J09NR70mEnHLU8i63vHGViTxZfHys4YLA5e9gysSAMBy_rmv4TF~6Vbh4Mv_nvMHNfs7XyzeS0~~UlH1nDcYwH1s4p99CJuTPwcWhk19T6R6Rb~8jbqSu9r6ip0bSzsU4UH3cyQXx0Tk68DAJ1eUKGe7BvaWlS7VJQ--.jpg
//media.inmobalia.com/imgV1/B8vEv5Xh_VThvnEqMx4G0ZxU_YC_pCgmETwWNQKyeMqLb9Afo_WSoi~kcK5mwaepLz96AHEmAzWJQblCNhundhnOIYTFLWoaYU70jOx7~p9tSXFCXttCeggkzfTs56jshjz9PFV~KULNSdUkeqsjQmb~qMgcrTh8lOcN4GAAfqQ4aL8PxspQZIHoLrxo7~gvnQmAlta9fPUBS6jL1ccppXmq9te7~5WpNbMoOkqx9G0lveNoqyoVDmplzTx8rrcHKXA2ifUhVt0alGGvnzQGyggR26nVqn1c27gdVjmBSqp1KuUIKcy4RZ7hs~tZ4GrX4b0jRA--.jpg
//media.inmobalia.com/imgV1/B8vEv5Xh_VThvnEqMx4G0ZxU_YC_pCgmETwWNQKyeMqLb9Afo_WSoi~kcK5mwaepLz96AHEmAzWJQblCNhundhnOIYTFLWoaYU70jOx7~MpNzqoSxqVegEb4LMvKnhssAGo4GbqTUo~e~aKYV2mry8ch94ekXN5Hz5IIiFTZ6jjAi45QJefIakssg02ThU5Ee2ct3J8HcUWxKkVy7fx22wTy4PutuLNyDa0aqPlOE4~o1TvYzRl7~XAH1EjpGPaEqPcCYyWzwEdQm452WbEvtclZQ0kdkG7mbdOlE5djiuTFsQTf7~9OF~Ca4b85bWnwxNgosw--.jpg
//media.inmobalia.com/imgV1/B8vEv5Xh_VThvnEqMx4G0ZxU_YC_pCgmETwWNQKyeMqLb9Afo_WSoi~kcK5mwaepLz96AHEmAzWJQblCNhundhnOIYTFLWoaYU70jOx7rjF93CpD~mgmVjC0PGOZ1V9e~_HylKceAKLe_M1j5vFyqGzJ8HJmiG_fE2eQbCyh7D_nGsBC3ptJBxcltMEZjhNgRRrqc4~rgdGMEZo55mpiyNyyzarwq3CgMtAOsBca8SppnGlXSpThK9px8jqhjp3CF661stWP_gjGe~KQdHyYruPieY_khE4bM_04efe2syryjnEZ5BPNK8qrKK0cAhqKMqdFGg--.jpg
//media.inmobalia.com/imgV1/B8vEv5Xh_VThvnEqMx4G0ZxU_YC_pCgmETwWNQKyeMqLb9Afo_WSoi~kcK5mwaepLz96AHEmAzWJQblCNhundhnOIYTFLWoaYU70jOx7rGrnlPg~PdgXvk8PM2H8lhh07mmQZojFRbWczAflvCPZwtj_qwUc5wigj7B9GABp6V9EvtAiQhVBcu_UkV6oEMu3sAhYbR2um6mZDiaRRCobFuL59M3EOmuRi6oKVWqk2J2F4ZPvfHDGhtStLrf4JGRRwH0JZhjN8J3jLRLTqfoFbXSjs54z3SWJBrftvPg0zSSDk33~bsinZAnbwCDTdtgwY_ovxg--.jpg
//media.inmobalia.com/imgV1/B8vEv5Xh_VThvnEqMx4G0ZxU_YC_pCgmETwWNQKyeMqLb9Afo_WSoi~kcK5mwaepLz96AHEmAzWJQblCNhundhnOIYTFLWoaYU70jOx7rjK6BdLwn3wV1IJ6tkSmCxE3vepPZw56MDvuItxyoKpnYBtzpfwB7yXC~CgXSgaUVn7PgrkAvSJ0Y_Tsb2v_S1yaKhkdJ_xMdGbMQg2XOw0SDyAFa1LuO9jhJWkEvi6cSxh4XTR7htISwlxr_CmyYv45m_4Jv4br6fQWfrh8z9cDjKWBza_wXMeOQJjIkkD3fUfRgD40kwIcdViDNrSxg~q_mguNkQ--.jpg
//media.inmobalia.com/imgV1/B8vEv5Xh_VThvnEqMx4G0ZxU_YC_pCgmETwWNQKyeMqLb9Afo_WSoi~kcK5mwaepLz96AHEmAzWJQblCNhundhnOIYTFLWoaYU70jOx7~1esZShW_Kb8yLFntYl8c7Li3r9JDNaONySi3UlUxJPvdY6dWobhbjHX7TYGW6uCgIY1VYjywI3SOP_YJUmouJKqm~DpVVDrLD~LOYVx2oX7Zoenw2LBZXwe6B34x4F95bMt5baeUXlmGyZ1dge6q6GfqgawkdbgvGYguPivS1~tDSgmoJXpHEZoVTKbAvYYMAysc~Ur0XvOgn~eM92TguoHfxhrFA--.jpg
//media.inmobalia.com/imgV1/B8vEv5Xh_VThvnEqMx4G0ZxU_YC_pCgmETwWNQKyeMqLb9Afo_WSoi~kcK5mwaepLz96AHEmAzWJQblCNhundhnOIYTFLWoaYU70jOx7qbCmrk8pf6_mVv69ef~Zqyvz59BvlZY~I14Ts4gWrt0ailJLweVU5N68IApdS1oQ6SKxLRFew9cEPeBKFY1GTCLCihuTsXS97m6mCPLCoZomQ05npftEsUwWhoH4SoPUCTZd3DuG3MRb61XjaFRdUNOfce_jUx3Ksw2~rma5myYE5nqguplpIVhn7EMgxtPJKjFchT2t~TLIIvBD3FsyH_Dx9sHk8g--.jpg
//media.inmobalia.com/imgV1/B8vEv5Xh_VThvnEqMx4G0ZxU_YC_pCgmETwWNQKyeMqLb9Afo_WSoi~kcK5mwaepLz96AHEmAzWJQblCNhundhnOIYTFLWoaYU70jOx7~weMwwQxwqIuNhYdEpcbrzVZotnn1GbMHIlKXiw4ImD~iBfFX3dLZvfOgBIf2fKrKqGZbu4ZHIl~aBjKeQaiaXfipRkRo5es4URtyoxwLZzIdC9jNcMCH0QIq0f6dqgkx49mB7ezNr0OpZzqKWOmVMNBWkSiqOl7_8PAvl5lt_Kcdvi1MG7x5PB7ixrA0Hc~9YgXj9HeILN17mvXVUUs3qh4fedqsg--.jpg
//media.inmobalia.com/imgV1/B8vEv5Xh_VThvnEqMx4G0ZxU_YC_pCgmETwWNQKyeMqLb9Afo_WSoi~kcK5mwaepLz96AHEmAzWJQblCNhundhnOIYTFLWoaYU70jOx7qbHXtg1xNMXIhDckFsUQd3MBlU5mzzm3NZZtFo0EgwgFeN9vupGk_1Wy1seqBMIi2WYiGThn3vfFh8aIKvZte6I3YE0QI9lzYlI178iZg6jJVDlS75s3sRvKCIuCerYMtwPwKg_I5nrXSTpNY82_8hAFQZgBY8OUDAXyvkAQ7hGEnwafdQZrHaEHAJUygATOjZa8wHH0wOIdivBNsGWUJYPMoRrFIg--.jpg
//media.inmobalia.com/imgV1/B8vEv5Xh_VThvnEqMx4G0ZxU_YC_pCgmETwWNQKyeMqLb9Afo_WSoi~kcK5mwaepLz96AHEmAzWJQblCNhundhnOIYTFLWoaYU70jOx7q4kiZAWoSLZr~6t1OU1PQ6LnXK_tSxoixEuowJEPBVbYxIxT0ml4kAqJjwzT0RusHc6WC1Zc5Vs~CWQNOpj984svJOD9_29QikEVfuEX0ZSQbNtEST7GEtPxZkuMTBnDCcl6PGIlA8LqCOVn9JCKPV9nMhbNMfl0BOmP66ckn_WCSU3vkrNQ1YyNdaab4_xw3MAoZXw5QnnXVeZwytKGE4OjXMhmAg--.jpg
//media.inmobalia.com/imgV1/B8vEv5Xh_VThvnEqMx4G0ZxU_YC_pCgmETwWNQKyeMqLb9Afo_WSoi~kcK5mwaepLz96AHEmAzWJQblCNhundhnOIYTFLWoaYU70jOx7rGUyIhFcO1Gjm8gTVn2tikJPIvjkeveuTJdAp8gHWtT~1nIwFqa_vZes240U4pDHZleMbM6wJBNsMmLNEImTML8JtYkjxYy~HqHtvWKkRr4IF5GavEHCG~VVq0gUusnapzBJFjNPOXBzybfSxW9rV5LYI9VPptBlMTgctCz55~2OvuSBXU5bdmlltUkGpu9_05EtW4p2P1vrB7AkTP4D4Rqs1zyPpg--.jpg
//media.inmobalia.com/imgV1/B8vEv5Xh_VThvnEqMx4G0ZxU_YC_pCgmETwWNQKyeMqLb9Afo_WSoi~kcK5mwaepLz96AHEmAzWJQblCNhundhnOIYTFLWoaYU70jOx7rmiqhYYSS4SpkQnSrVeZYb08XeE53U8TZLL40RJDWWBD9B0ZVJKE2XWSnkb~1qwcQMDfygQoNK68h78OTTAtY4eDjhagUk3k6e8bWthoSNlod0BSRkGYqP~SbG2TbAwz0D2SQYX~dAoBhJXIBF9YWL1_OUWwj3AMalAteNz0iUywWowgRGrm9uqiuDfNtdeJxgVDeFmFVg4RulhZuYhYTW8fESgIqQ--.jpg
//media.inmobalia.com/imgV1/B8vEv5Xh_VThvnEqMx4G0ZxU_YC_pCgmETwWNQKyeMqLb9Afo_WSoi~kcK5mwaepLz96AHEmAzWJQblCNhundhnOIYTFLWoaYU70jOx7rd5zpA2QC~4usKBh2TmdCDfkdyHiGGnX2o8PfZyKTVEOAo_ZSznhVxdmAJ5uaMkA3fgs8vvvZFY08Xy~lfNNlOPNj3GZ3HCLRi1CJuBpS8g9CY~6t527iJiQfde9lqhUQersX3whjxfjemQQ1VsslhZ8imSyPvDTNvpQ8QayUaivEVHiTxOJzI6pdyLLEAUeZBU_z501~f1KEv2pXkJOZOGSMX5taw--.jpg
//media.inmobalia.com/imgV1/B8vEv5Xh_VThvnEqMx4G0ZxU_YC_pCgmETwWNQKyeMqLb9Afo_WSoi~kcK5mwaepLz96AHEmAzWJQblCNhundhnOIYTFLWoaYU70jOx7_cU9isO6rWB2E1xFXfrnUfodIezXWlERJUatejHEw1u_hyPou0DYHjKGzNnfiRnTBLoeQ3IkNsAOiptDusSP80wG7X2DXb_x0KR3y3H2xdByvO5DbCo6Q~lemQESiowXwxfW85OqiNvVhGFEAsdRatF_1ub~N0xAMS5hh5oOTj7~2nzi3T5G6jnqHIV1spRwuBJwpyqwFfV_x_HWJfuuALiUXPq6PA--.jpg
//media.inmobalia.com/imgV1/B8vEv5Xh_VThvnEqMx4G0ZxU_YC_pCgmETwWNQKyeMqLb9Afo_WSoi~kcK5mwaepLz96AHEmAzWJQblCNhundhnOIYTFLWoaYU70jOx7qrRGQkQrdSJrUhhZs2QKGaSoCE8_qTIzaL9D22rpDANp54o8JTT3oB3p0qF4GU_A_dAVeJevgWzQsyiMHtdr8o~PEpvraLDgwITQSZoOpf~~fF3hEJjk7n6M3NDobH_7crNfuGqUtsT~etv65lzKswjrIvbcGtsVtpZ0YsBMF~EzUOUzSsJGos0WKinxmmMkv9zRfmgdMxwuctP~SW8katAQrBJKGw--.jpg
//media.inmobalia.com/imgV1/B8vEv5Xh_VThvnEqMx4G0ZxU_YC_pCgmETwWNQKyeMqLb9Afo_WSoi~kcK5mwaepLz96AHEmAzWJQblCNhundhnOIYTFLWoaYU70jOx7~Mn7zOUgYCX2tmowQpiw98O8ee3KMhoQcReaiDY8jKCc2iKiVb1PS8Payi7oq4oGNXrCoDDmWtHVA4VQIK04ZqLSyYVB6wO5B1bz43RgQ4YMG~iUkHhWaUcUUV3tLGSzVgmyhbXdusXYe7TnUKa9n~pBOHEOrUD25yIN6z3~LNImRMpnMYpN4vkX3iHgFJoFMnAuvnzxzr5NQ0RPdZ46NDxNFBFg8w--.jpg
//media.inmobalia.com/imgV1/B8vEv5Xh_VThvnEqMx4G0ZxU_YC_pCgmETwWNQKyeMqLb9Afo_WSoi~kcK5mwaepLz96AHEmAzWJQblCNhundhnOIYTFLWoaYU70jOx7_JcjHTB_crYtycEHNvHjoIyqWVvj6DudNhQvDayVnx1GucgqC5NvTHVLvJck~dS8STMXiQFr4LmCVa~t~ZayKIKAWTVuttyxsF5WFGpp5RFz9MKuFqKUNUutFTDC08miRdH_u2Iz2M2FSBUogywjbjrZb5UitkWy3jPL0q0MY2BVCF_P72CkIlf0Hzjzk5kHAptdw~WRGj6e0j9GUGFgW~fCBtaCjA--.jpg
//media.inmobalia.com/imgV1/B8vEv5Xh_VThvnEqMx4G0ZxU_YC_pCgmETwWNQKyeMqLb9Afo_WSoi~kcK5mwaepLz96AHEmAzWJQblCNhundhnOIYTFLWoaYU70jOx7rjEroenJ88ecbzfUicjStmPfEG5TuyTkBckjQjerOlWFvt27pxl8QxF1jf7NfrtdOmrwLqFcBTv6BjiXFVGLjE6Rxv1wVjBlAxyFYJmf2OdDEw4kP6P8sSPhdwDhtyIYZyVs7SA1oNv_vOu1Lz92ayiT19_xIwQ~6hURgAK4SiMN~A7skbwHLUuSbdW~5goBnij66Wccw~cBbGJkaqIZi89D~AlZ8g--.jpg
//media.inmobalia.com/imgV1/B8vEv5Xh_VThvnEqMx4G0ZxU_YC_pCgmETwWNQKyeMqLb9Afo_WSoi~kcK5mwaepLz96AHEmAzWJQblCNhundhnOIYTFLWoaYU70jOx7_ciNpmKBiGRvbn6XjJ_IGvJT4dO7JVA1Ph3z0GipPPP2226CnqWgeFhgWEb6qacEf~2tmqPTjoiovk~qSSJ~5vyPkJs6yuPXIbV_6m~y~wbbFi_9hxYHTdgnWQWT9~bguDqAyZTswNzUMGCQnj8uEQxfzkL8m81sFSboMjquSIeTm~8Q_l5Zp4ubZcccF_HpmSk8QMWGZ973~prvRMXF4815XQ~iSw--.jpg
//media.inmobalia.com/imgV1/B8vEv5Xh_VThvnEqMx4G0ZxU_YC_pCgmETwWNQKyeMqLb9Afo_WSoi~kcK5mwaepLz96AHEmAzWJQblCNhundhnOIYTFLWoaYU70jOx78M0ZW~akQ18Qebc7OyicXhzf6Qw_UZ5aJeH4VxC6ECVbjPr5LgE71qSYkNAaMr3EH7zOLq4E~eYl44BNGFuHyNaq8jw~VFrUewJt72O8WYwz68riWRnomN8Ed~bg4LAH_dmH5LvVNGNSzmzcI3OKHi_pTOHXZU80DJ7ivaAHevDQ7Y7Fjr_3iPJLNjH8_JFSPT63iE1JeMP9NDwpglkzDJOU6kpWaA--.jpg
//media.inmobalia.com/imgV1/B8vEv5Xh_VThvnEqMx4G0ZxU_YC_pCgmETwWNQKyeMqLb9Afo_WSoi~kcK5mwaepLz96AHEmAzWJQblCNhundhnOIYTFLWoaYU70jOx7_2f0YwlBCW9rfLiH~SKpShATCSt~_VH56bART1RWazdmA9qtf42Was7p_azVpo7ufGZpoUnpObMOOrJH1pflwpzP4lEioovm1BSgXvZK3HuX07SF5vOU6vTrYlzNCFKHiqKNQFAbwSG9AC8tppJuncqew~7_W0V0pUS_4Vp6AfjVpQ_KaaYeKZRFK50yxfiXHBpmlpQJVp70DpIKlZbsCIk2DYgVJw--.jpg
Bahia de Marbella, Marbella East
Villa
7.500.000 €
Avant-garde villa in Bahia de Marbella, Marbella East
Avant-garde design villa located in Bahia de Marbella in Marbella East, a beachside urbanization and only 5 minutes from the centre of Marbella.
The villa has a constructed area of 665 square metres and is set on a plot of 1322 square metres.
The south facing property has on its main floor a spacious double height entrance hall with an impressive spiral staircase leading to the upper floor, guest toilet, open plan kitchen, living room, lounge and dining room, all with plenty of natural light thanks to its floor to ceiling windows and its south orientation and access to the terraces facing the garden and swimming pool.
On the upper floor are the bedrooms, all with an exclusive design and magnificent sea views, including the master bedroom with elegant design elements and a large terrace overlooking the sea.
The basement floor of the villa has been used as a games room with pool table, bar and spa with sauna.
A spectacular villa in one of the most sought after areas of Marbella.
REFERENCE

208-01671P

bedrooms

5

bathrooms

5
built

665m²

plot

1.322m²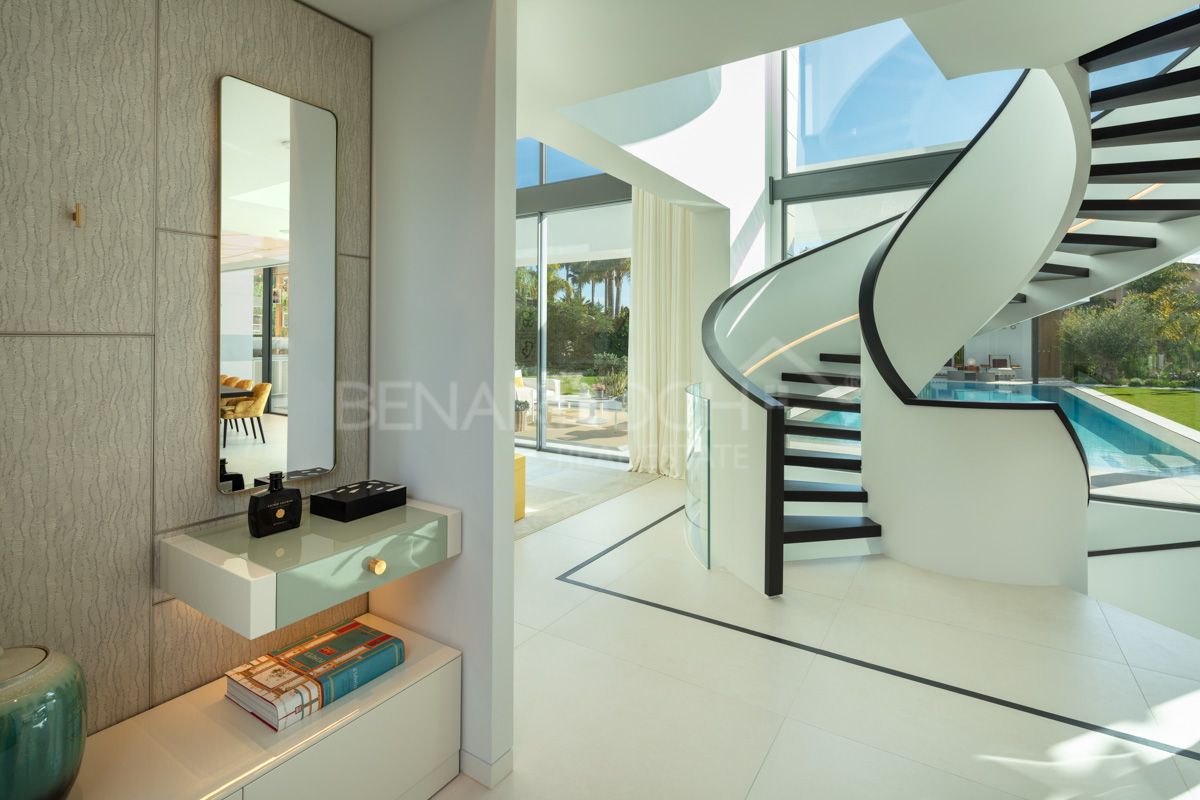 Video Villa
Video of Marbella East Area
similar properties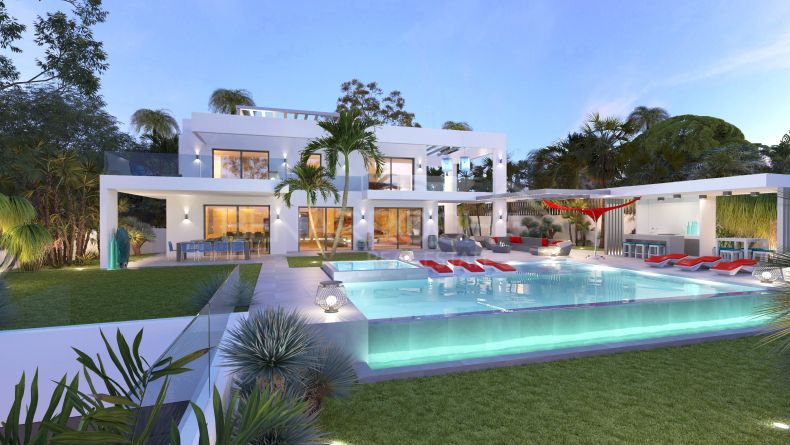 4.184.000 €
Contemporary design villa situated in the urbanization Marbesa in Marbella East, just a few minutes walking distance to the ...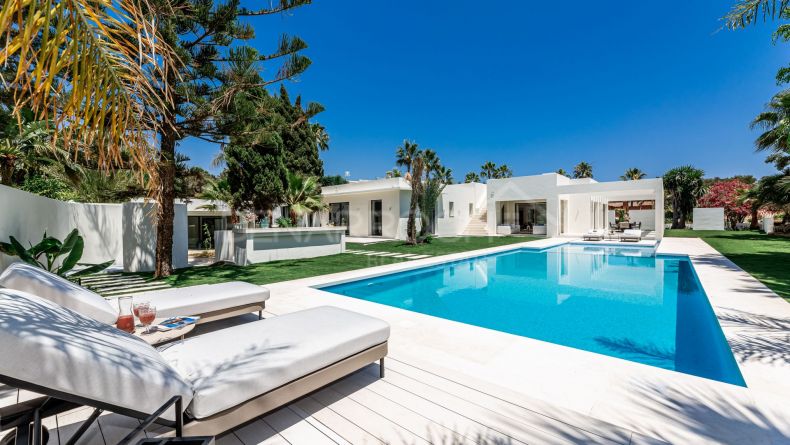 3.995.000 €

reduced from 4.600.000 €
Property located a few meters from the beach on a wonderful plot of 2.500 m2, in Marbesa, Marbella East.In this newly built house ...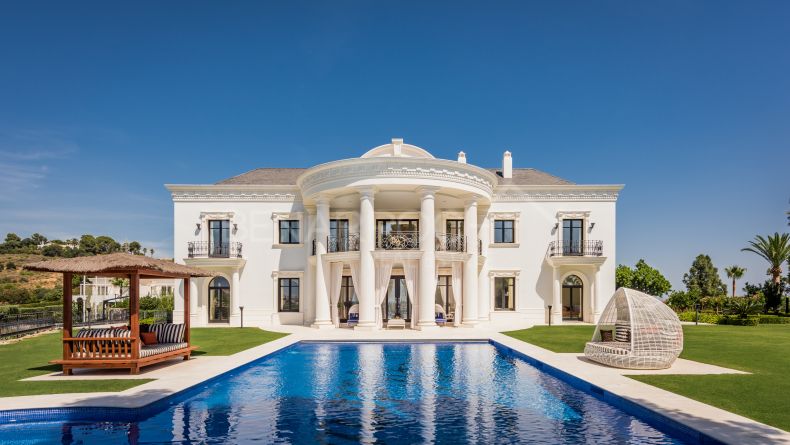 11.000.000 €
Luxury mansion situated in the urbanization Hacienda Las Chapas in Marbella East, only a few minutes from the centre of ...