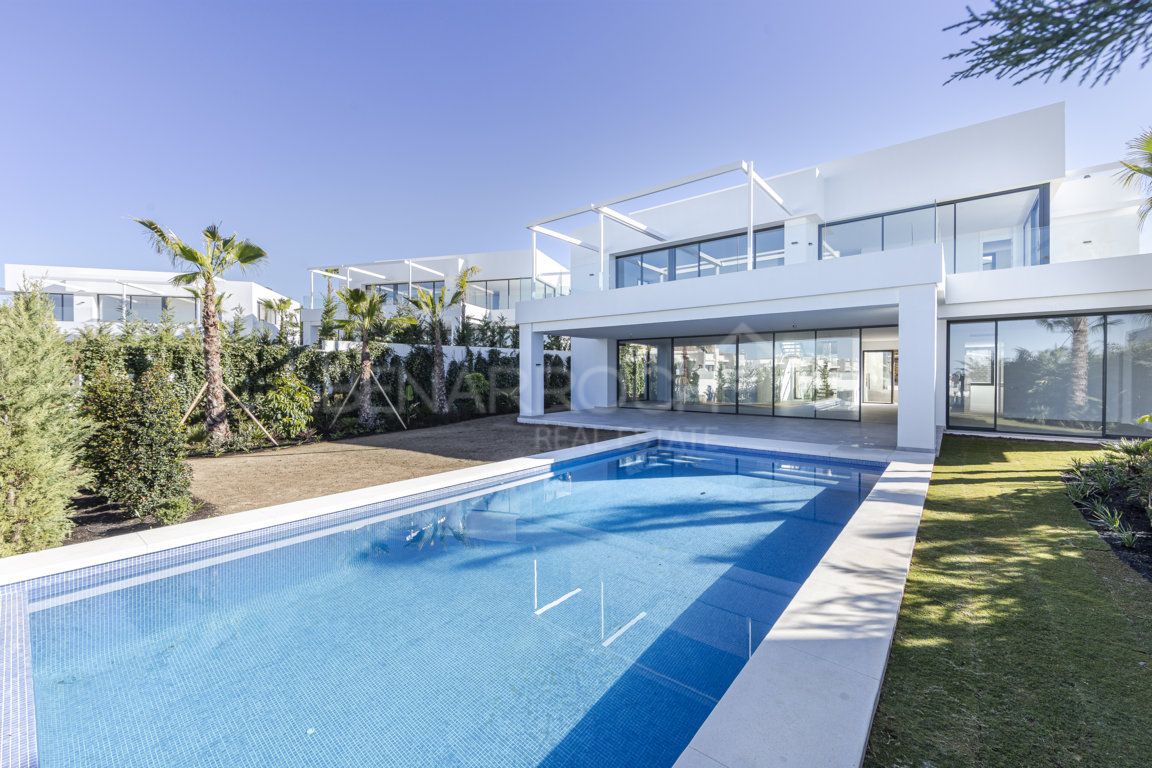 //media.inmobalia.com/imgV1/B8vEv5Xh_VThvnEqMx4G0ZxU_YC_pCgmETwWNQKyeMqLb9Afo_WSoi~kcK5mwaepLz96AHEmAzWJQblCNhundhnOIYTFLWoaYU7wLeROxyO7C5chVpICunjGUNwKlb3BFeAWK~4GGGajazJciLBp_8TBRGAQ_JTmh4Pl3bC8Bn_qcBYCwRWuglvOmEbJ3fYPuWkVg04PQOiE_2B0V7G_BOo~wft0mEU0J5I7VePRSMNY8z1qaw_mAmk5HwtU4puiLzJjIjrmZ2uiI4ny6XAyUP14QcRooc2EiJZtr1ZDVbykWzPQX_iFgqQ4WoqOd3CKGA7nbg--.jpg
//media.inmobalia.com/imgV1/B8vEv5Xh_VThvnEqMx4G0ZxU_YC_pCgmETwWNQKyeMqLb9Afo_WSoi~kcK5mwaepLz96AHEmAzWJQblCNhundhnOIYTFLWoaYU7wLeROxpU8f9bPVoUOMqAljt3ThGaUjheP5dcmWFEacz2okLElDl30MgNmGCvWwk52xsdH73t6UGe0nPEbUlkmqBfU5TPF7k__cWLVJnnll3eHOGZVvqMVv3BnxF~Ny0gxuH0q~G0zgPDUc~FF5q4a_l1hCn1bwjhjnLVbJQoJBg_oXJ_WzuMAq04oVGwmhVX9Tz2z7yGwbvFt8RlRk~NwCtphOX8xMlD04w--.jpg
//media.inmobalia.com/imgV1/B8vEv5Xh_VThvnEqMx4G0ZxU_YC_pCgmETwWNQKyeMqLb9Afo_WSoi~kcK5mwaepLz96AHEmAzWJQblCNhundhnOIYTFLWoaYU7wLeROlvvror60CzcoLuyMnMqvAgHD0rZBph5Ky8wBNSxyaO3RKkbE2subhbGh12KxgTJPU9ImmyXx6HNP9wvTT6pgQlrOqCfK5y3IOUkdhB9ciwVSfgpVl8Ou_EH4w9gLEIKpqVIHvhkVqjcRWifAfwphBIPBY2FUqcWoCmJ9hjAfPe~1Abwy7XMVbKKciYjk8pXfpUZ7YB11nXrdBfsGDnvCZa6UIlmCPw--.jpg
//media.inmobalia.com/imgV1/B8vEv5Xh_VThvnEqMx4G0ZxU_YC_pCgmETwWNQKyeMqLb9Afo_WSoi~kcK5mwaepLz96AHEmAzWJQblCNhundhnOIYTFLWoaYU7wLeROxXT7Pr7OgT6unrARIirhFEeykrmZPt0UjaqFzirnfujASjOrTcLUuSY7vN3qmti1AuySLD22qgslBhpdegxuH96qJfA6nDyHRJB5BDA2kI6JlWHjq3tVG4wErqxDqCGY8~xT1hY8hY~djJ2bWjTvvNZGYZwzeVZWzoTv1wuhoz3iqJxpDMsUvXZNImGzuSZEzQh_gGYBuBnt6EVi8IWmFlnt5zG~5w--.jpg
//media.inmobalia.com/imgV1/B8vEv5Xh_VThvnEqMx4G0ZxU_YC_pCgmETwWNQKyeMqLb9Afo_WSoi~kcK5mwaepLz96AHEmAzWJQblCNhundhnOIYTFLWoaYU7wLeROlvPwqkcKbGJdYDaP~mN1b6NDS0G8iLIsXg8AVWG7MhKrGCUURhy7H4RoJWamzXOkre_uI2Q89OqOWOqbcVnd7wdPh4e5xVcdA0K7yaqgWDsC1EK3XcLYpyFlBEoZWa_kpdq63~RLeanKaW5OwwZ5zT~OL3dpLilyFIDvz0_CDUZ8d8zFityCASJWcxLiWg9RZd9T_~ykYa~em6PMeh9PjkiLrXijqA--.jpg
//media.inmobalia.com/imgV1/B8vEv5Xh_VThvnEqMx4G0ZxU_YC_pCgmETwWNQKyeMqLb9Afo_WSoi~kcK5mwaepLz96AHEmAzWJQblCNhundhnOIYTFLWoaYU7wLeROkVVLq78YMfYF8dDEqj~XP2g0gMPrOx~QhmKDw9AtOPSq9ps9n4iMjzDgMx1fRveoS3smckW10WTwSpJCE9~ZkSyZQ9L_Vb_oYmVdlvjSBKu2KMW7Qq2PBr7kJ7Xc26drtftNNszei3hWtKIOpZoExR9pK~9xecoCQodvEYvuHslGnKU44RcT0kOsn2YLWMpuVQQYHeYjQ14FyV9Q8oZrLlsvHpjGsw--.jpg
//media.inmobalia.com/imgV1/B8vEv5Xh_VThvnEqMx4G0ZxU_YC_pCgmETwWNQKyeMqLb9Afo_WSoi~kcK5mwaepLz96AHEmAzWJQblCNhundhnOIYTFLWoaYU7wLeROxsVZNYUIYWlcoecdS2S2xtPUtXMLqJfSVRkhCIT0vtk5rYyefMWDREQ249xZpC9K6dDyV70HVXWfvWlCN72V6U_ihbpVC0wBssst1x95seTQDwmq5xs86TgN4mE2lN2uhWmIiCFIWsXi0uFO4AeuHqSsiafDpims24QhZcINErqcME0~bgk9n85vWLj3qYaxvYbLszSkEqdHtMOUQRbYUUkbyH8ALA--.jpg
//media.inmobalia.com/imgV1/B8vEv5Xh_VThvnEqMx4G0ZxU_YC_pCgmETwWNQKyeMqLb9Afo_WSoi~kcK5mwaepLz96AHEmAzWJQblCNhundhnOIYTFLWoaYU7wLeROlO6DKcGSxBOzgPrnvfj7MesLF8C2F6rH38Tz4yx0E_ewTyn_PueiiY_d~WHyD2S0S~TC3STz751hlnGj6NCGq2sRqo_empqb910nr5C2J0Jv~wGMdcEX6RkpIWVRxQVyA~7uEaTH4rcDBRIJqUXePx~CRLO8jgOcuXyTBbnNivTtR6uhaNhIcCGcjxtyzRzqq5qB2ZUHnhqiOr6M80pT6nFVtAdiwg--.jpg
//media.inmobalia.com/imgV1/B8vEv5Xh_VThvnEqMx4G0ZxU_YC_pCgmETwWNQKyeMqLb9Afo_WSoi~kcK5mwaepLz96AHEmAzWJQblCNhundhnOIYTFLWoaYU7wLeROlY0gwg6ouRwqtotmipR3wtOIDIiYJlPheoM9cyOCXAElNC0W4sMXxdmk7~MVF7j~FoaUKE1CBEjafFdpPMScrivqZrv9AvjJF7jUCLMTQ47p7PdigDKbPD43PKmRfBwQ6iHICva7srNIdLnx_qdXnChyc_kqfFd7w33N3ff08XiYYKevgmFnRHpmBjR9VHjjy68rX2C6eu7cFHqKCUz0bYH9M25DUw--.jpg
//media.inmobalia.com/imgV1/B8vEv5Xh_VThvnEqMx4G0ZxU_YC_pCgmETwWNQKyeMqLb9Afo_WSoi~kcK5mwaepLz96AHEmAzWJQblCNhundhnOIYTFLWoaYU7wLeROx3c4B0sRJF~0OZT3Do2DD25ylUZb63t~302AAZoxSGf_CyDO3CwsXHZldrgRB_2OwdRCaXSjKnhI4NYidKtHK4C7Rb~ystwqmdqeus6wGM2wwTstfm57RvufpUe13x_pqixOGYUHrs9xpX_NlHGPqfm4gwlBXBZ8T82Rbdf5bgIOnCFl9HAbSD65IRs4t6bnaESv0QW208oEO4fBMiPmSMNqL80WgQ--.jpg
//media.inmobalia.com/imgV1/B8vEv5Xh_VThvnEqMx4G0ZxU_YC_pCgmETwWNQKyeMqLb9Afo_WSoi~kcK5mwaepLz96AHEmAzWJQblCNhundhnOIYTFLWoaYU7wLeROlYxxmYZ3Lp99Ror_dkCgaLN8CgYU5SIoLV7~Eh0mTcSd0hlAcAjtq~JiYG8vzDJGLdB7ctdop7v5xNvVEG0tV4qPgMdX4WM~rJhaMsqry_GaCxyobA5W4ph~DhIWG8B0gRLsaMoYiBPTlT99Jo~yaXhhunpj8iHYMXKoRAbG142EvcItz7OtdqFqjB5u~7sEdMr4NdeoiEOvGkuWw8fEFe~MFEo7Nw--.jpg
//media.inmobalia.com/imgV1/B8vEv5Xh_VThvnEqMx4G0ZxU_YC_pCgmETwWNQKyeMqLb9Afo_WSoi~kcK5mwaepLz96AHEmAzWJQblCNhundhnOIYTFLWoaYU7wLeROwRqlP0WfEXc1Xgkrh2xTNOiL7JUqY26uVFSYHPY6jR0XfOnt4ArBbecu1I4kUvKGZw8vGKJ8gmw29C6rByKlhemB2ZEZ~8oNbbcl7JqtpjLBI9GixuSp_uks_NEeMR75QKW7Q_9Z3PxH1oZ~pmzWQtGf6UqExIH730_3kktDnksnkzCh~3Pett5i63py1Z_vnjzxqNc6LSjxB0wcfQwvtBIkNy6vnw--.jpg
//media.inmobalia.com/imgV1/B8vEv5Xh_VThvnEqMx4G0ZxU_YC_pCgmETwWNQKyeMqLb9Afo_WSoi~kcK5mwaepLz96AHEmAzWJQblCNhundhnOIYTFLWoaYU7wLeROwIcMtK_rJhQrU6oMYW0fBG34aVRPmsXMtQdha_twJ3Bwd4V4v~gBoZu_NFD5JZdzLeL5rc9n9MJO_CFSpXzWMolWk0z_EqOkiN9GofdtKoRO7edf5KFkV1LBn8_06UiODmYRaMOD9Moxvnc4DKtBlk42~LaKoSEt6bCQkG5ajyXS7aJyFOuX~IGRSabHjeaIzHYS4uity8RPDyxlSfZEx2w~7lNzZA--.jpg
//media.inmobalia.com/imgV1/B8vEv5Xh_VThvnEqMx4G0ZxU_YC_pCgmETwWNQKyeMqLb9Afo_WSoi~kcK5mwaepLz96AHEmAzWJQblCNhundhnOIYTFLWoaYU7wLeROlvV~Vg5S_sEhf0lOuLyjf3ZTL2I1vxlEqwVNLKkSlvLdK3XIW9zfuerrEQEXBBtdalIs_hmPUpUT0CPfUWNq_OQnyEI~nqWWDqKAZFUJd6MzG5FF40rbe8U3CSXQabscoewpm4rimOcYIULQsow6OoemXuGiqZ1eSnRxHUBux2dYpvkRsvZWk19WReaRsBqeZPyl8pE7jqKC~M7tn8t~AKRuv9mGvw--.jpg
//media.inmobalia.com/imgV1/B8vEv5Xh_VThvnEqMx4G0ZxU_YC_pCgmETwWNQKyeMqLb9Afo_WSoi~kcK5mwaepLz96AHEmAzWJQblCNhundhnOIYTFLWoaYU7wLeROlvu1GShJ~GfcnwzPfjPPoH1lis2YLIlMtbwoySWXQLCj22SNOLrsO5m79O~TTY47yP0aIBmtTJoOKDTuSFzqKrwJmg7WdI~N5xsl4lL~yzCuU4ooT6KXzYn_4lVusEC5X2Qz~vz_mSZHaWuyYsEPU0ygmwM089oLDJjOMrcw_vphLZlczeP31XaX4bnw5yLfb4XLr2tkkPhqjkLrW4Ecl_xYzoY8Vg--.jpg
//media.inmobalia.com/imgV1/B8vEv5Xh_VThvnEqMx4G0ZxU_YC_pCgmETwWNQKyeMqLb9Afo_WSoi~kcK5mwaepLz96AHEmAzWJQblCNhundhnOIYTFLWoaYU7wLeROkzm4GGzfhalQipTogFlbMScgZSdmourMqbAtJBsTEpJysSVoYyI_AMj3DJ49MpDex0Ln9KzFX2miO9GBmh1sE4c2Ca4UBgDJT4sGrvdcZc~de6uhse~1Sowwa9zmRia3BM5otOT9CxYCMkfxjVqFHSa9JXjvjeTnEvoeDt7OLbaWkh55EZam2Y_EADtjcX4Mz2HtSpflDMQ4VCO2UXJCrEPl0oxzgw--.jpg
//media.inmobalia.com/imgV1/B8vEv5Xh_VThvnEqMx4G0ZxU_YC_pCgmETwWNQKyeMqLb9Afo_WSoi~kcK5mwaepLz96AHEmAzWJQblCNhundhnOIYTFLWoaYU7wLeROwIcBjzGoSqB8YRxdW8V4B0bwoTUE_cK3Dvv0pdL6KiEzv6pEEvIALtnTU09XF7ngHEC5hwpYTSYv~2dYF94DtbbGflFzbtxEtnyR2xwlSCARVBG5sf4aBal6wlyFQ7wFvFJr5LsqY_ltvFGh1P5Ghdy49j64dR2~~IyT_WxvCScQWwTtyy~DCfaFa2lz4Ib0kjq_JzNjMxBRTDk2Goz9MKcACV10yA--.jpg
//media.inmobalia.com/imgV1/B8vEv5Xh_VThvnEqMx4G0ZxU_YC_pCgmETwWNQKyeMqLb9Afo_WSoi~kcK5mwaepLz96AHEmAzWJQblCNhundhnOIYTFLWoaYU7wLeROkKgLOSilS8tbhe87icHmcSp2eywrH9wdzaW4l1L1aHs6Qp1HIFo4dF04Q57p1kjO2GqnSLg7MvwjC3wK9zUazu0eraiMA7JBkKAdDQPSY2XupUZ9pn7ybbPF1mDJ63J7CZvgErFDrbZAMuQfg5ONgUN9_Z033XyNe1vFANf2LTpLjmCjcpjskbc1034Yy88KV5bcWsTKSFwjPLDGHUduyQmF~RCbag--.jpg
//media.inmobalia.com/imgV1/B8vEv5Xh_VThvnEqMx4G0ZxU_YC_pCgmETwWNQKyeMqLb9Afo_WSoi~kcK5mwaepLz96AHEmAzWJQblCNhundhnOIYTFLWoaYU7wLeROlvuwhOczTRRpo0bbCiVyNbBamhI8t1qyDiydTn3Q~c5zNVVsy~CfT6K0vBLY5FOdcMQgGpjl_1LvYuR953yXrjeT23XabxheQ_cRiWyisRBaSnZzO4MfThbktTCS9XxujC1tQcmRSQQI2FC6b~GaDFc4LFUM8SQopJj7yoo_Iw9_aXphE2oCJspVG4_kwVTuo4aFstqP0T1xD3k40f~uKsUWofw9ng--.jpg
//media.inmobalia.com/imgV1/B8vEv5Xh_VThvnEqMx4G0ZxU_YC_pCgmETwWNQKyeMqLb9Afo_WSoi~kcK5mwaepLz96AHEmAzWJQblCNhundhnOIYTFLWoaYU7wLeROxSZY8ArZ9to8LJiujU7_Z23B7xy9hwwXnq7GgaIGW9c79utpPmIGBMQn0xx7T0lDK8HTDqO~ctjyqZ~xe5_3sW18OJ4L6VsOfk9cWHnfI0rpT5cPLJui~ySFsSZmDPs4dRZFKsoHc2FAxLRZ6pc~a87GT8xaovBep3pmtsdY9d9Z1AkSKKcKogxx49LWWPKLqM~v8k7lLGG~3HwUTRDFuFrjXoYWZQ--.jpg
//media.inmobalia.com/imgV1/B8vEv5Xh_VThvnEqMx4G0ZxU_YC_pCgmETwWNQKyeMqLb9Afo_WSoi~kcK5mwaepLz96AHEmAzWJQblCNhundhnOIYTFLWoaYU7wLeROnDSkrm4zgGQzy4kncFZL2g7CeaVEh3Hs_PbTwQKfallFEdjZCZtYM6HN9Dj8Pfox3Gaab955xz6VVP1jkbfkuAminAuIn39N8VQY_O63OMXlF79I9mVgM8LJwuyvZSi_N5IaKF6RFlNeYUYs9kNctQdhqjB0pAfOgutR6U_F2hYCX5nguwbicXW11lv0IPKb1k4GEgAgo_76kBeYmyOdsXnYEvMkvw--.jpg
//media.inmobalia.com/imgV1/B8vEv5Xh_VThvnEqMx4G0ZxU_YC_pCgmETwWNQKyeMqLb9Afo_WSoi~kcK5mwaepLz96AHEmAzWJQblCNhundhnOIYTFLWoaYU7wLeROwUd1zffBDwuRd2tJfvpNL3dhCzPrvNbUUiuaD1zJUNRzy2WiKUG_f6aVlBeLpcpx363sfoUrzrSLyYtaTjD_Hmhh4X1vO914_yY5kUr7jxMhJb~NytKeADlD3VurgyUmMROBde4hsfMvEqjMT57dI32RwKWTD8puLBu_tQBG1uNtDlfbSSmCANi3ySMZHWBYedsxzmEp9NZYxK~Jy6F1NGECUqne8w--.jpg
//media.inmobalia.com/imgV1/B8vEv5Xh_VThvnEqMx4G0ZxU_YC_pCgmETwWNQKyeMqLb9Afo_WSoi~kcK5mwaepLz96AHEmAzWJQblCNhundhnOIYTFLWoaYU7wLeROnS9AwhXFdqsD0CY9myvuOKb9XtkPBYi_X1NSJYHsjkdFBkRTNtvreOm0~_ORFwekJ5imj_QDCiSgK1aWB4~7euKzuan~wRRWe0GCniatmgYzWzd6qXjiJfmpl02EGSoCA_j9COEMTO~IWq3LLboGSxp7bjpM6dQpTmJVexsqWnVvG1c__pTReXtL0_HZOBbEP9FxFTas8jj3bjCv1ZE~sfcDllLLdQ--.jpg
//media.inmobalia.com/imgV1/B8vEv5Xh_VThvnEqMx4G0ZxU_YC_pCgmETwWNQKyeMqLb9Afo_WSoi~kcK5mwaepLz96AHEmAzWJQblCNhundhnOIYTFLWoaYU7wLeROlYk0xXn0Cm0WgC0Hqh7Lhb1RKsxsAZIk19KUCQ95~mZaMJayfrSF3vnyUJbLsehEfp~ggvqjLuCrPyFyAT2krPzaWqiB1zLwWYCsVniPQf6PKsaUkomGYbS2NFEKAVTKe4TbyzB0ePGghrS8~XA8haXhIoyU7lVWXd9skOd_oEleCLkt1ROQe0lsSmOaHKYSMFZULMapnss9aWvPDYASkyMjuRFKEw--.jpg
//media.inmobalia.com/imgV1/B8vEv5Xh_VThvnEqMx4G0ZxU_YC_pCgmETwWNQKyeMqLb9Afo_WSoi~kcK5mwaepLz96AHEmAzWJQblCNhundhnOIYTFLWoaYU7wLeROlLpTdUuRzwSzUrYw1V85pI_fE2CyLMf9zeT54I9D1reRvY4_J7be8PAyWXgf0ATfkuf76ys79NkFK8fJXnzD~fAmjO2cTgO3tsifrzzZo1LFo2VpBpM7~VL6aoZAcfnPKAMtyXOxc6hugy8udqv1BRX0NRlf8QTtRlfcCk1RCFNhS_U2e_e4ASMyuAb0rCBMJPZcz5di2lBT5EUR9SMa0rzmcZpjgA--.jpg
//media.inmobalia.com/imgV1/B8vEv5Xh_VThvnEqMx4G0ZxU_YC_pCgmETwWNQKyeMqLb9Afo_WSoi~kcK5mwaepLz96AHEmAzWJQblCNhundhnOIYTFLWoaYU7wLeROxSBqho6F7D6dDWzpfFo~io5aTsBl0uX2Gv8znG0Q~TEcvv2LWDDvO8HAg0wWVsxLtnsmU14Rq8NMZptQUBbXIA6uC5aBEffRYJ6id~JSzTCmnGJSldD30zs6IS2oSNKtnsCr5dTZIQSxbUtsYyY4JyREBNBct3c_ai9YxpmsCYoGnszNOr5s12iPgW1LDbhupL3P3N4aR9MJwSvff798ZZHeWka4kg--.jpg
//media.inmobalia.com/imgV1/B8vEv5Xh_VThvnEqMx4G0ZxU_YC_pCgmETwWNQKyeMqLb9Afo_WSoi~kcK5mwaepLz96AHEmAzWJQblCNhundhnOIYTFLWoaYU7wLeROxpK1o2jtA_tO1ECOeuzN0tonwaitA4zVLuOGRzRPRgvd2JHGTP2V02YB0YKTEYMNq0rfpw9iPaZhfSa4PHdVTWgcRo5wJtHM8tJQJvv1QEll4fVcnFnJUNj62VKtFR4I7wECS3hhFVhXMNqhWSFbpUfuz0I3V4Xu2S9LGi8d44VgCtbhlb6pe9d_Z6ht0TvJVvMNdOzRJZ4gfIdPTFVfOLYmrDqb2A--.jpg
//media.inmobalia.com/imgV1/B8vEv5Xh_VThvnEqMx4G0ZxU_YC_pCgmETwWNQKyeMqLb9Afo_WSoi~kcK5mwaepLz96AHEmAzWJQblCNhundhnOIYTFLWoaYU7wLeROk2miQ4k0Kw3v0hUkBXHDbBGpKj9qDMeauZwNdNOuirnGmRab9o6dWmVX1qM~idqQ7Do2_kolz810sHlFcEAYKOuXI0rwpOKPnig3qMPlB43FUsdobPtFS9SzaLVh7QfjW8rLvnegdpxHxuQtHAtu_KQdhJnuFvxG4FjbSflKCnxN8ync~JfGP7Lz2xBAl3nl3E5Nmh2g3lA_MRPS7~Xdle5UHGQ3TQ--.jpg
//media.inmobalia.com/imgV1/B8vEv5Xh_VThvnEqMx4G0ZxU_YC_pCgmETwWNQKyeMqLb9Afo_WSoi~kcK5mwaepLz96AHEmAzWJQblCNhundhnOIYTFLWoaYU7wLeROkQIBvVy7Y~xzh4ErSg5GgkyvMIEjeyNTLWJJWucyNOuTVgtOiHFp9L~47mKJ~1GXrLGbe0HSWzmDYcYCkOxO3iO7ZmJbsCG~9mDEF5q_lB~HFF5g6dvxOMEG9VIDJrPaWKhYSAfoCl2KFKUS2nNTeS5O9Xg_GSSTo4e7e~2CxGh8l46BFa6ZH46aPB1UdHV155nJQ0cZmfKqlPYYn8IoOOqQuhpt2g--.jpg
//media.inmobalia.com/imgV1/B8vEv5Xh_VThvnEqMx4G0ZxU_YC_pCgmETwWNQKyeMqLb9Afo_WSoi~kcK5mwaepLz96AHEmAzWJQblCNhundhnOIYTFLWoaYU7wLeROlY7dBQnVNs00rhxSHwlNQHyVIZHmd2dC7f0nGn~Vo9Pk5ECbE0YIM9uKP9UVO_l8q1a~dh2GE760JVTo1xg85kTMbiHsbvk7XbdmUNOm4H6uR4ntrk70~GOLss_ef1xcVJDqqfBhgoX2hkOZMbqlAN8Ch_JFCgqWvAW~YmKpiuKUhVigbd1rSZN6yWrcjW~YlAyG09o3sX~HEonYZAJxwBoUFtMI6A--.jpg
//media.inmobalia.com/imgV1/B8vEv5Xh_VThvnEqMx4G0ZxU_YC_pCgmETwWNQKyeMqLb9Afo_WSoi~kcK5mwaepLz96AHEmAzWJQblCNhundhnOIYTFLWoaYU7wLeROwILZedbp2~ITq46OROFNlZrhj_GQY30PUdUKN_6UkA6hp3r09tWXHlgW37VgFvOGXjW~aW_wJtHZajwJ2KS6j7Y6TSh_q8dY8wel6P6V263upBWonL5CQz12SkS7713oSjSw9xjay56Ix93KWKBuDeE3JnlsbN~l0YY5HnOOVeNXTsaM0oVjTEfR6q~eXgt6BY8M9RgY7TIov9aJgqjW8uslOlMISg--.jpg
Cabopino, Marbella East
Villa
SOLD
Frontline golf villa in Cabopino, Marbella East
Villa situated frontline golf in Cabopino Golf in Marbella East, within walking distance to the marina and the beach.
The villa belongs to the Mirador de Cabopino development, a development of four contemporary style villas on the golf course.
The property is built on a plot of 881 square metres and has a constructed area of 481 square metres with 154 square metres of terraces.
The villa is distributed over two floors and a basement. On the main floor there is an entrance hall leading to the open plan living and dining area, fully fitted kitchen with utility room and drying area and one bedroom en-suite. Outside, terrace facing the swimming pool and garden.
The upper floor consists of master bedroom suite with dressing room and two guest bedrooms also en-suite, all with access to terraces.
The basement floor has a storage room and an additional en-suite bedroom.
REFERENCE

208-01635P

bedrooms

5

bathrooms

5
built

481m²

plot

881m²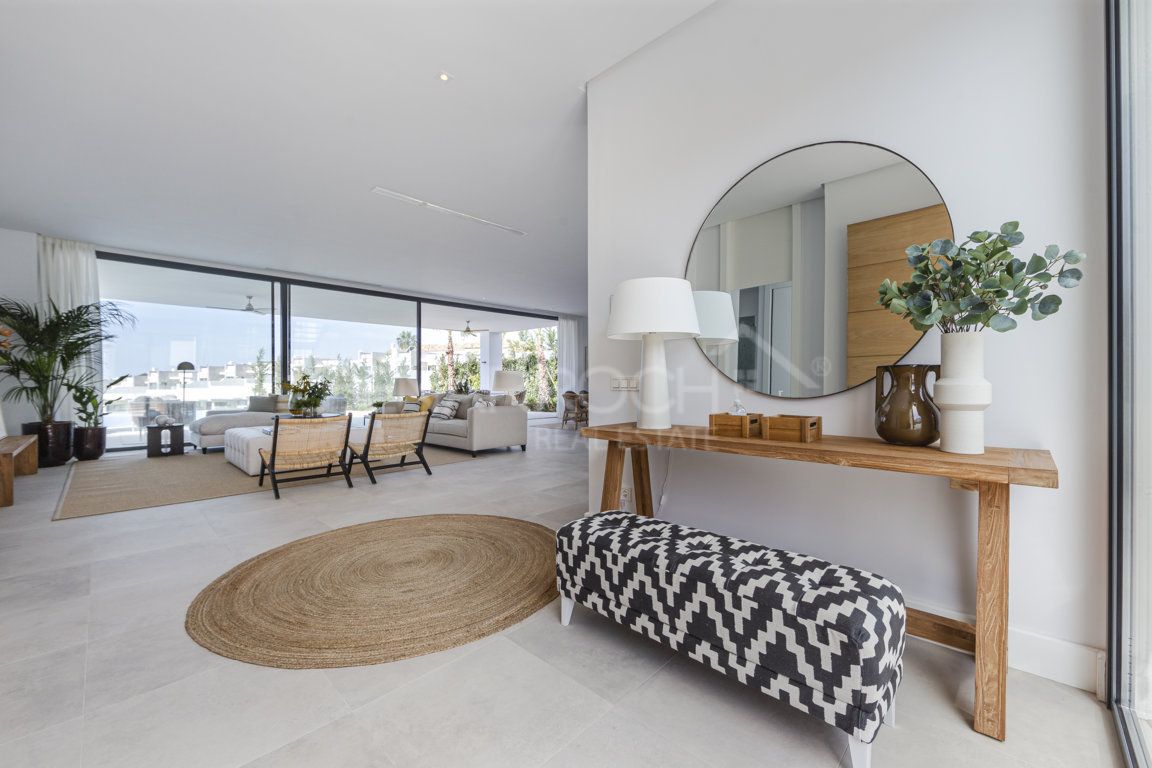 Video of Marbella East Area
similar properties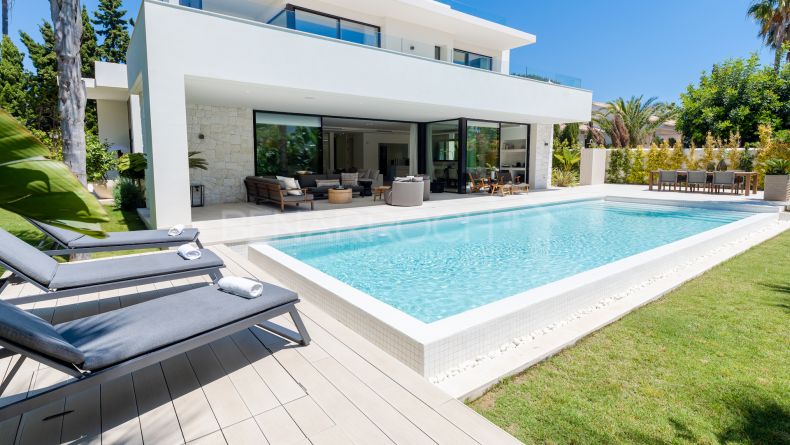 3.950.000 €
Contemporary villa, just a few steps from the beach of Marbesa in Marbella East, very close to all kind of amenities.The property ...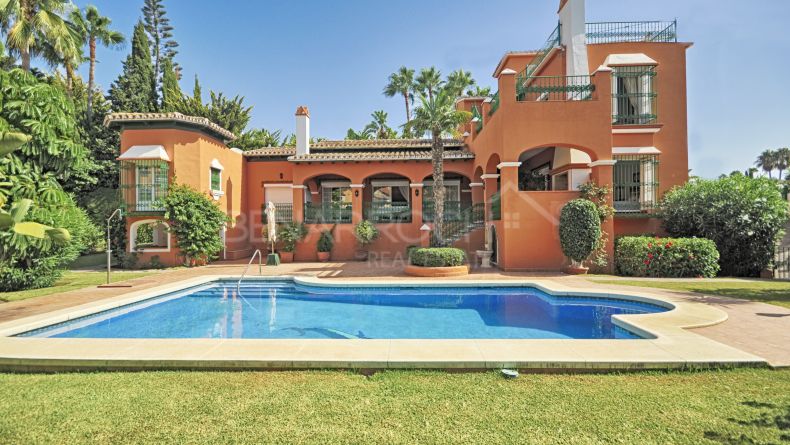 2.200.000 €
Mediterranean style family villa situated on the second line of the beach in Bahia de Marbella, Marbella East.Through a well ...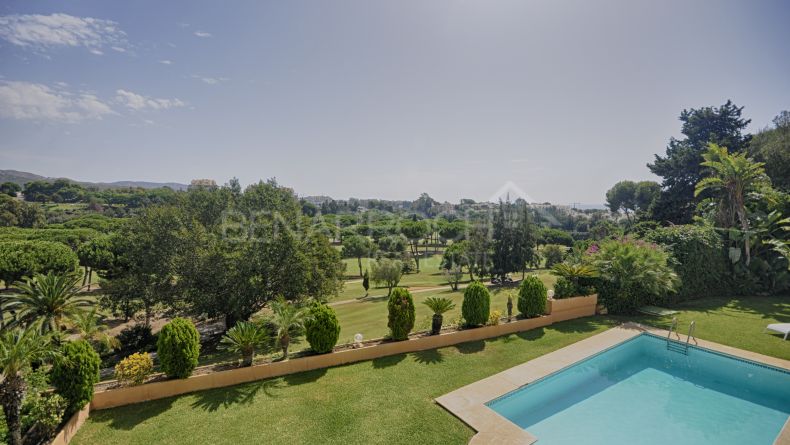 1.950.000 €
Cosy frontline golf villa with amazing views, in Rio Real, Marbella East.The villa has been recently renovated. It is distributed ...