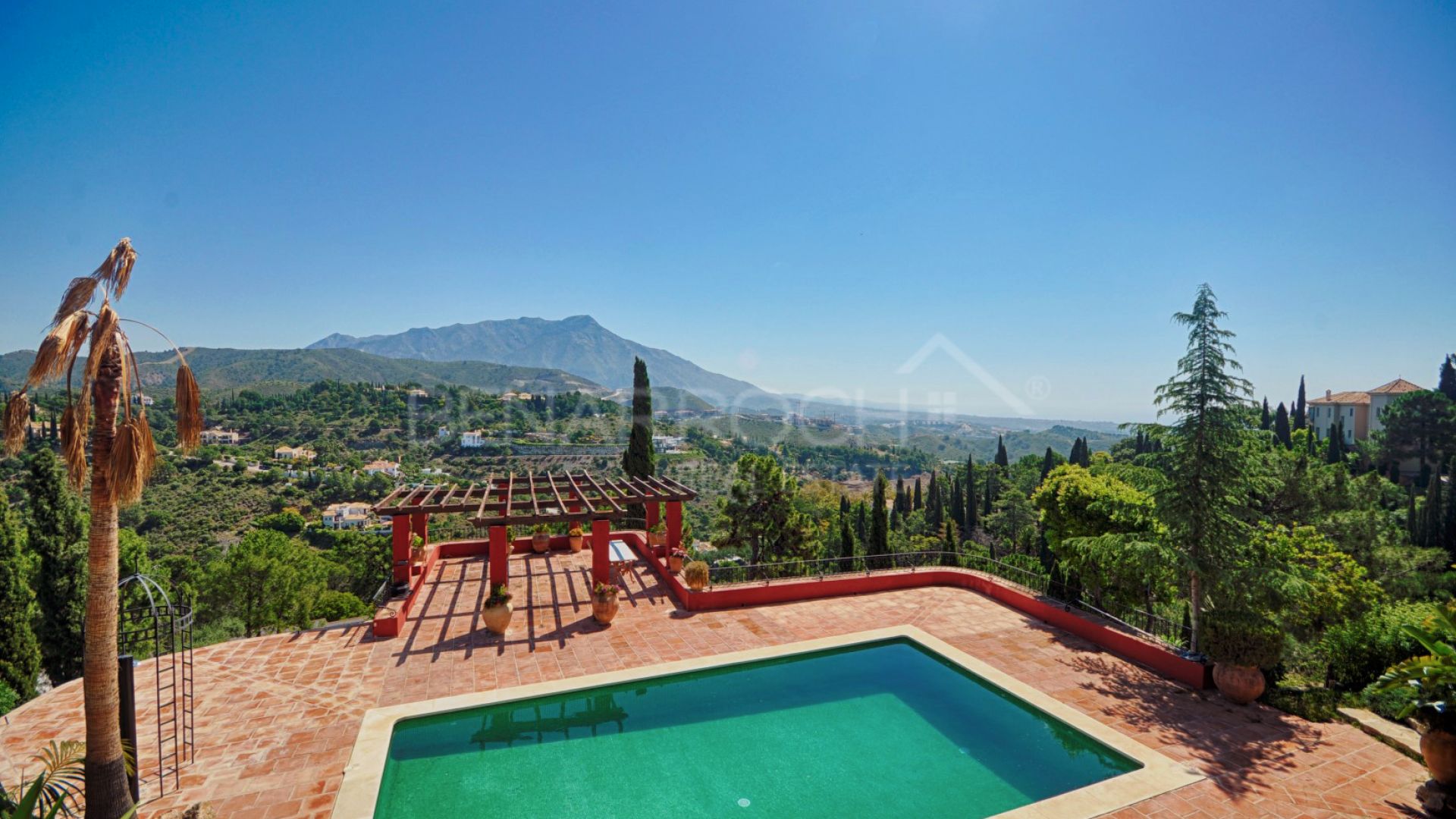 //media.inmobalia.com/imgV1/B8vEv5Xh_VThvnEqMx4G0ZxU_YC_pCgmETwWNQKyeMqLb9Afo_WSoi~kcK5mwaepLz96AHEmAzWJQblCNhundhnOIYTFLWoaYU7yZoj~8EM~gLKE7FhJVx~FFcmZOCgqD536K79IXDajy63e9ppD2MBdpwXhCN4C0_qkf_HvR3DyyyAiUGU58b2iCA70zsoOvsaw~b5JKNJGTbORfLr_by2uOnuDPF3h24V7TTHJkTIY6z~ebCzqTMNvaX4exegejc3Z~EmDuZnT2jWEn1SC1dRFIRfovCjJRsQsbefpyJCRbhmYHxUwfv1oXP11ovolJkftTw--.jpg
//media.inmobalia.com/imgV1/B8vEv5Xh_VThvnEqMx4G0ZxU_YC_pCgmETwWNQKyeMqLb9Afo_WSoi~kcK5mwaepLz96AHEmAzWJQblCNhundhnOIYTFLWoaYU7yZoj~pj_lbfYw94d4gUppvQ9c46rgGOqwGssJvijrkXTIELFKBut9T9qb1v8Rn5na1qfzJ4XbbqA2810UW6RqykkZz8GMwIsBPbjAk~SN~ig4ff~sSvL8AjRbeRzCXOyHv0Ge~PlSrgrFy5eFUXhU4gGo6JJoK1htq9j2wbRLO0pmS8UZ_FaMTPitJG7m6mHz~aCroJ1d13s0Ekn~Jflvw5MRCqCyo6lJpg--.jpg
//media.inmobalia.com/imgV1/B8vEv5Xh_VThvnEqMx4G0ZxU_YC_pCgmETwWNQKyeMqLb9Afo_WSoi~kcK5mwaepLz96AHEmAzWJQblCNhundhnOIYTFLWoaYU7yZoj~pjfB7s_xzxFSWb1lRgVyoCb1FXzjSAWg3u2LcU4P~_opuEVkZuGvcmnEs52WyJUTiK0hLcqsKC_NeNTiBlgR_sWLgAdujINiBbdU9_bjxa23iXqG0G~RtIzIX84XkToCkkv~GzVv4K3cnnQGM98PYjGAW5HebxRMy_o51zEtNTohHVYWsvUP5e4j0Sojzsnb6Jk2UF3n5_82QNXRKcjNrNKWTOHZGA--.jpg
//media.inmobalia.com/imgV1/B8vEv5Xh_VThvnEqMx4G0ZxU_YC_pCgmETwWNQKyeMqLb9Afo_WSoi~kcK5mwaepLz96AHEmAzWJQblCNhundhnOIYTFLWoaYU7yZoj~9PQSFhMZp4W0DCLOjCafxkiHu46jAC62ll3PQBBjDgNlHtcBkaiuaoPN~vQC4kPxOt1CYFo0~ht0IVc185KOukvmqoSMpGVg~o4VNrANnEFZ7QtlinbYG7HW5cX6pFYg15p7mRG3LzXLNcO4m_bObddHedcCpSV8LEEPwdwXsgmNiCp9_HRp_XLixfWlP47mHlvCskI~66VBPXA1u4uUZ16~yn09VA--.jpg
//media.inmobalia.com/imgV1/B8vEv5Xh_VThvnEqMx4G0ZxU_YC_pCgmETwWNQKyeMqLb9Afo_WSoi~kcK5mwaepLz96AHEmAzWJQblCNhundhnOIYTFLWoaYU7yZoj~8U_DAD384jg4X401lVoFHDvJO4reOv65_2kOehsBT8wNqzLe1VRKrmSr9vfHEd7enxlwsR9RYs0ZNTjENYW2j47zI9zBWC8d1X9oHg8IDEV7hdyJA0oZcVE5Of2KJrAw4akAoAaMtShIwFPdA4jD6VxQuXZg9drFK2IgJ87la7y9Mfwaenv0j~FndX_WAd9U1cUTYfJLMa_6A8mH0OaJxcmGY0Cm6g--.jpg
//media.inmobalia.com/imgV1/B8vEv5Xh_VThvnEqMx4G0ZxU_YC_pCgmETwWNQKyeMqLb9Afo_WSoi~kcK5mwaepLz96AHEmAzWJQblCNhundhnOIYTFLWoaYU7yZoj~pdP82DYSo2OGHotQf6Uk7RnEOE7RwQuWBamVfozVVhQxbI_alI~KERnEoJM5_8CjRanvbP0FRWU7uNxYlOtQgllgTqGYZiT1zGbMjFVUyLbteTLyGsupz4WoXGus~E_QVkXSulaHreY7bNdw0hh6lp80o8tIfBy1hKdXrG8AzzPSakjNyWjOeJFfBtWBU1b2s2~ftMUbTI13DU5NL56Dr9ZWQfgheA--.jpg
//media.inmobalia.com/imgV1/B8vEv5Xh_VThvnEqMx4G0ZxU_YC_pCgmETwWNQKyeMqLb9Afo_WSoi~kcK5mwaepLz96AHEmAzWJQblCNhundhnOIYTFLWoaYU7yZoj~oh3qpBlbINQApBw8hvNm80kNASxN3VHcWQcDh6tZnvgsAIQJP7T2PeJrq16k7mlBm67wvut78OrpZW5nf99A4Nv3gTL7KBP1gLwBaMf~k2nDGUVVuL7XUPEzPI8t_2ZWkfjos9sGVL5oUpU1450Qq1f9TqyqSw7seRx7MMLAwzFwKZFpKubOZZ6s2QL6FPGv438WvCqOdlhCAnktZAjeNE_DPeYfaw--.jpg
//media.inmobalia.com/imgV1/B8vEv5Xh_VThvnEqMx4G0ZxU_YC_pCgmETwWNQKyeMqLb9Afo_WSoi~kcK5mwaepLz96AHEmAzWJQblCNhundhnOIYTFLWoaYU7yZoj~9iTOhgR3E_7rAILT6VljYTGc6dT3hsEQ_X~w3NOvrqacwBMVjq3Z38l0EERLpTSKeWeoD80dPB8RyJap4ANI1lFC1AzoQ2pa7vhNRrfn3F9D3HJYfhzbUSxxNMyLYlehAbkWEXlGOA08UvipKnkJsxwPsopzdBfVptW3GInj13zsp9vxKAwsBKMTUEIK~Ae1wvKSL~4cxXTqA4yTNla8yhXKVfZK0A--.jpg
//media.inmobalia.com/imgV1/B8vEv5Xh_VThvnEqMx4G0ZxU_YC_pCgmETwWNQKyeMqLb9Afo_WSoi~kcK5mwaepLz96AHEmAzWJQblCNhundhnOIYTFLWoaYU7yZoj~9nJAF9v6JP669wk2SI6VujIhxtITA57i8IfNIFW84St92hFjjo~sk_Yl5XuPDory_7jON8M~6I21CJen~Y4V203e3S0AdjHltwk2Hm0925OKHFf_lKabwOIFQlTi0dfrQghNX2YLEPrTaXqIskFOXjKTfAvofLqmyWd~D8KH~S3rOS1y_MTlqgXC4ecFH75dHRX4wWplHPbRTdjjsWnZhCX2iPEqtg--.jpg
//media.inmobalia.com/imgV1/B8vEv5Xh_VThvnEqMx4G0ZxU_YC_pCgmETwWNQKyeMqLb9Afo_WSoi~kcK5mwaepLz96AHEmAzWJQblCNhundhnOIYTFLWoaYU7yZoj~_tmxZKbb3RJv_4nUqUJL5eBHngnEV4BP55IEqW~Spw51My5hG1JqJqULK~R0a4ZNicjCHevxLZgmoirJzjyulyENZFFl2mU2w6OzlREgE0aW3veT2XCzhb3bw~hWJe_5JVMti6TSVvdWH~gW2pmfzC9Hv32xisu9hvevbBkmjyQ0ix8yRQA8_bWoe18EKoZNWafzJP6Vo3hVmcddu8U5knDmoMWuCA--.jpg
//media.inmobalia.com/imgV1/B8vEv5Xh_VThvnEqMx4G0ZxU_YC_pCgmETwWNQKyeMqLb9Afo_WSoi~kcK5mwaepLz96AHEmAzWJQblCNhundhnOIYTFLWoaYU7yZoj~9bLhuQnhj7fIO_Y2A4684kdXViqTZz04ap6MMjJVuxmVLJfYwPFpnuNt6SLAlTtH0uP9aOe0ivLRiWk7HZpJejsGdljyi5ULw3S6IJQSgWFdkD0Une~ptoq0xNToMCWlYO~CJqyt2Of9HcwICEhEPz~JqIamGdfnfYyq5hGwF4G2H6nNfY0r1l9OWMV5abWVRpfE1zbL_82Mf~IrLW4O7OPfKhlYHg--.jpg
//media.inmobalia.com/imgV1/B8vEv5Xh_VThvnEqMx4G0ZxU_YC_pCgmETwWNQKyeMqLb9Afo_WSoi~kcK5mwaepLz96AHEmAzWJQblCNhundhnOIYTFLWoaYU7yZoj~okqHikihEyMXM4Mcpd1WbpfQNU7bsi2n~3gHxg5r2hSxLM_s6hxiLI469gBE7Kx6Dp~TMX1SFrnrDt44EuxgCMJhBsotXya5mjGZ0hFQBU5h1kUm0I78kcHPYSQl1J2Q69mEeTgT0~atj1lFV0_vKCegK3jN0SrQ0QR0kT0EHSviDKGKLLruOxnGzlPRWI~V1sEbq_hOfzMzQlIBVydsq4OOXgeOLw--.jpg
//media.inmobalia.com/imgV1/B8vEv5Xh_VThvnEqMx4G0ZxU_YC_pCgmETwWNQKyeMqLb9Afo_WSoi~kcK5mwaepLz96AHEmAzWJQblCNhundhnOIYTFLWoaYU7yZoj~_~XeKMxrNFn7uPUJtyamnvCHPXjOT99qNcgZHdsJHycwEEs27T0TAZrdIwHjz21TTjAOcIEErfEpNr1BzDjljsJLsHPEFlU5lSOjpCcTTa9wcuVGSzjW1asJZyvE77mNd6cxQjdeX9SinvWxoVL2dTIGG8vl~UdAQOoT56Xz0kVKDlCU4fSpVzGCROSp9bpfhS~W1cJR_Ux8sMD~7uuE7PU5jgjcUg--.jpg
//media.inmobalia.com/imgV1/B8vEv5Xh_VThvnEqMx4G0ZxU_YC_pCgmETwWNQKyeMqLb9Afo_WSoi~kcK5mwaepLz96AHEmAzWJQblCNhundhnOIYTFLWoaYU7yZoj~pjJXdV9Br7zUs5PGR3qz_gsuCeEiCsrqYQLCiG4P0zfrp4qdYto~7af_WSKcGP_77dfqLqUS5Eje0XD7JHcQB~bMiAVN363wunatyNVLhJlGWRXREngVgOUDBfRzaFfEKfMV1_CI~LXLx0zYtANouUKW8JnIRpa~HBCzPn68RPjzNJlKG3mHopKUMJF~BqWctYK5wRVrEwjNqfOX1ROfFofWi1XSCQ--.jpg
//media.inmobalia.com/imgV1/B8vEv5Xh_VThvnEqMx4G0ZxU_YC_pCgmETwWNQKyeMqLb9Afo_WSoi~kcK5mwaepLz96AHEmAzWJQblCNhundhnOIYTFLWoaYU7yZoj~oaufpkLWytVcm~ELsX_~HTaksQotYa5BhSMjYnPW5LqCe~Fekz78j3cZ9gW_Xmma3BZ_547bYOYdQvzVIcpO_IinqRTjDEGCM5tqxkdVlMWopONYH3rLYB4jgSm~eWwZ4HeKSUxYsqKkxQG35GDe07ZMG1jl1TMuzZE7vYD3ZmUrs2auA5fuXNrB4supvx6_Yk8VJgTpUSBYKTP~W2Xh6uRZ8mhMjw--.jpg
//media.inmobalia.com/imgV1/B8vEv5Xh_VThvnEqMx4G0ZxU_YC_pCgmETwWNQKyeMqLb9Afo_WSoi~kcK5mwaepLz96AHEmAzWJQblCNhundhnOIYTFLWoaYU7yZoj~9xaHVyu1MnJM85GD_rDdWxupLd0bAikYawZC~qnF8WLatnt1PduN9v28oxA9EOu7dXYDd2LeuHhkF8Q9yLYdPIvYLu8L67SN~uiYjTg2SGQHVZXIxZa0hlWG_oe_fli85pl89Ew4k1WjX3ZPmRvklOc3a_iGcwcSGUCJNe6VnBhFSOq~Preq5VUswZb3xQlqliaJ~xwJDu7~4vy_1WcaMLqWaLG5Pg--.jpg
//media.inmobalia.com/imgV1/B8vEv5Xh_VThvnEqMx4G0ZxU_YC_pCgmETwWNQKyeMqLb9Afo_WSoi~kcK5mwaepLz96AHEmAzWJQblCNhundhnOIYTFLWoaYU7yZoj~9xCzzxt_tuiQ6ylFehbn03HfqhJ97VE6~~DF9mBHVObrWSXAqX1x7XN1Da227LQxNEtw21QlRBR9uLBh5YtaQKTu9sZsHQWXqwOzVe5_fbWvOPresgroMIOJd7OpNJwKWgIX~ef8FsW564zAI6sSj9aLrB86pAcnGeTzCpINRIHd1BSzQ~1jbQE5pEXmLydIGhxj2iwR32mT6Z8CBvImfdDvBe7Baw--.jpg
//media.inmobalia.com/imgV1/B8vEv5Xh_VThvnEqMx4G0ZxU_YC_pCgmETwWNQKyeMqLb9Afo_WSoi~kcK5mwaepLz96AHEmAzWJQblCNhundhnOIYTFLWoaYU7yZoj~8UACVSr9fUTPH8vti5Nsy3TFVHns03feWni1yBW4EXIi2ilC3VogeN75FEs5GSuBbKPR7MoZCbf0epDsFewDmBx9lTWHQmft3geibJiwnC8xjVIQfNN_4xKn5tip5pl3Af~_v5hHjBSwFHIOJ4d_rcD_sZRZ_J50G4kT_nFyQavNjABQik0byuJeaxDI1RibkjLsvHoNZWIou3YUAbdE9L22n~P7NQ--.jpg
//media.inmobalia.com/imgV1/B8vEv5Xh_VThvnEqMx4G0ZxU_YC_pCgmETwWNQKyeMqLb9Afo_WSoi~kcK5mwaepLz96AHEmAzWJQblCNhundhnOIYTFLWoaYU7yZoj~8rFw2shTsotMNdjvreM4h53uQCFaG9IVr0~rhIKw~DDOZIKCWz1a4lZon_CEdg2XqB4fm6KTJl2dTuwI8_ZBfKH~moHkoxM4dQsZH5E1uDzJx1QOEy8_X9Ua06LsgzEhGqrEJOwcNmmT9iAxig4Yb92FppKkFA0XH~5gCy9dvs27nMNMEEw2_jZ65QMcn3LKbsJYrcY2CXTrjWkkYH4N_pKpscQMfw--.jpg
//media.inmobalia.com/imgV1/B8vEv5Xh_VThvnEqMx4G0ZxU_YC_pCgmETwWNQKyeMqLb9Afo_WSoi~kcK5mwaepLz96AHEmAzWJQblCNhundhnOIYTFLWoaYU7yZoj~9xfHvM0dky~aBH~PH87RrE7ejnhak2y1aEJEDHd1JlhcLuWYOWfI8QukpzjZM_7xETWWnjwdl7awqck965JMzLk8yJBGF1Eof06YclxaccXzThmpzyg5c_Y2V7UHikjYudfy~U4J_4aGSGWruDvlq2LMzI_K3DBlAuK2yZi9xC5NWdkhus785OvhvjnS9p6zNSxZ4riti0caYi8sk6oyLEwKk0zxzw--.jpg
//media.inmobalia.com/imgV1/B8vEv5Xh_VThvnEqMx4G0ZxU_YC_pCgmETwWNQKyeMqLb9Afo_WSoi~kcK5mwaepLz96AHEmAzWJQblCNhundhnOIYTFLWoaYU7yZoj~8RXQloiQZWkv6~YgFrjtBboa_nsxpPX_z1u1vaeYy~ANaxUeslIULZKOI9MOhgEBdvXlV6pQ0~C1Wbp6ZlapyKxkAQLIo6~PPg4Z1X_W65c7kMWBMGMObDmGqH6T9LJpEavCP8_sgkJNZIW0L~tPHl3q0YTHLm1eA_buf_byHr08cq70Qk5ajgv3nm7P5s~JBNJW~P6nh52eW2GmPH3k1_HYaUjNHQ--.jpg
//media.inmobalia.com/imgV1/B8vEv5Xh_VThvnEqMx4G0ZxU_YC_pCgmETwWNQKyeMqLb9Afo_WSoi~kcK5mwaepLz96AHEmAzWJQblCNhundhnOIYTFLWoaYU7yZoj~9xglolbXSuNioFCra7flTWq80LMOMbKdgZFh5zr6kySFmHZSXrzlOsB5SwIF_xVc0SkIJMgsUSisPvjNPywO0biB6MgoMCsQykP9yYVBVliRasE5uA5wA7Y2LTo93jseZ9se1gV7VauFliV4vVSP7ICNqCM~WwSeUCV4xPg5xf1sE4RAQe06fWubktC4ZYOwH0Xdmfo2VnKIcGpoFzMovSAbzuzOPg--.jpg
//media.inmobalia.com/imgV1/B8vEv5Xh_VThvnEqMx4G0ZxU_YC_pCgmETwWNQKyeMqLb9Afo_WSoi~kcK5mwaepLz96AHEmAzWJQblCNhundhnOIYTFLWoaYU7yZoj~9xSqkG9cV6I4mz~qeVfFKCkpaNd1OY~oYQU9xS9QIVEYdOjvixWTcPB4kqBJHxeBYgKoeKy0dUxycRhUiWBrr_AAKDaCnD4Q_HCPEzI~iCYexK7MNpVclDfypdXTlMc4deVP9FtSFYfPiIebf7IOydxMKQNs~OTLloUlOf_tq~g_89oUxWVl3bQsolR1fGLD3346u41_e6bOMlzkP6y4iAHUfq1oBQ--.jpg
//media.inmobalia.com/imgV1/B8vEv5Xh_VThvnEqMx4G0ZxU_YC_pCgmETwWNQKyeMqLb9Afo_WSoi~kcK5mwaepLz96AHEmAzWJQblCNhundhnOIYTFLWoaYU7yZoj~pdCENuRV~xcH24PPXCYzyFptZij2aksC0sYySGIf4rfFASd3u9uXXvkjdIak3Qy2Om4l7VrhCatytFl0lhFQaTDS9nyX~QMh0c1vLpcxbVCuv5CkxM3qwDBIKv88ZWM__Eh2NPz17ZZpmDp74Lrz0eOkkkmVr1U4zP4RO3L00FqoVcKCMnFcnqt0fps7oZVW2PTQe_KFxzWTO~qVVwPtY4hDlq5nyg--.jpg
//media.inmobalia.com/imgV1/B8vEv5Xh_VThvnEqMx4G0ZxU_YC_pCgmETwWNQKyeMqLb9Afo_WSoi~kcK5mwaepLz96AHEmAzWJQblCNhundhnOIYTFLWoaYU7yZoj~9KA~YJvvy_~ZOMiXDLIrrEnX2YPKn0dQzPndNAV41zW0zB_sKc2x7xJWY5YwiPhid4oC9DUSmwNwEQzTyHrS5jzFE_QlC48WmEfMn61lu5WsRK~~82nDksD6lvhBWf9h6lgxEDFLt~J4jeFpu9EroikeUwdoRmNmHgocSS5p0JNYRPNxztOMP5IXg1WOOSN1Hd16AjGrhkPyr9dnhBgnWtSTTc1TpA--.jpg
//media.inmobalia.com/imgV1/B8vEv5Xh_VThvnEqMx4G0ZxU_YC_pCgmETwWNQKyeMqLb9Afo_WSoi~kcK5mwaepLz96AHEmAzWJQblCNhundhnOIYTFLWoaYU7yZoj~8RWD_C2Ok3v9eq4zUlg_NZ6b0EfVQKoZc2mDAp2yPovMiWQJVuLW3PXopPemF1qRx50RIejyS_5HWTl647VQ~zzf27gkX0tPhyZb6qb0eO1cxgV1grLhk0RDjoGSIaivtcoSMT2m9CrG_4iiG_ntpVev22Ynn9k5cz1OVvmjTlKHz_AntHBs7NqBr4nKmNYVGkhaeSqlq2XfxGRqqZwd4~SA_B_aqg--.jpg
//media.inmobalia.com/imgV1/B8vEv5Xh_VThvnEqMx4G0ZxU_YC_pCgmETwWNQKyeMqLb9Afo_WSoi~kcK5mwaepLz96AHEmAzWJQblCNhundhnOIYTFLWoaYU7yZoj~8uLazPF_ve7xKITXQgf~V~B2S0Qlje3T1WRuTUjw4UtW8kTHP4Noei~cEZvhd9O46vaTgNFJt1vJAigFvkcpoQsn32qng8oNPri54t885wXntZ74QX6Xj76rMPJkJDFiKD1dLorbq3IxVKlPs4N0b7SQ0YbG1hyQudczBpRIwLb~AKENdL94j~PUJANo5r~kAOl7C0RAK3zIYNzuwH43d39BlT1saA--.jpg
//media.inmobalia.com/imgV1/B8vEv5Xh_VThvnEqMx4G0ZxU_YC_pCgmETwWNQKyeMqLb9Afo_WSoi~kcK5mwaepLz96AHEmAzWJQblCNhundhnOIYTFLWoaYU7yZoj~9xeShEVUFOQM3uBK20XhFdjOHoKSYH6fAX4Ag2MZJehSiu31cuHYR5nJ0klBLjViGQ~4rEvU7EudcXVAXyHYukThJUha_21_JqqkvK1WPtw1rx8k2O6br6~UzbLAFfHMur2gP67AgOKXvzP7~orPKzJKsjTIHhqwsR3X5_zObGZgH7J2eFMZnrZxtuJiLW~okM_y8SSTqyHwx80cqur6UHy5mzgREw--.jpg
//media.inmobalia.com/imgV1/B8vEv5Xh_VThvnEqMx4G0ZxU_YC_pCgmETwWNQKyeMqLb9Afo_WSoi~kcK5mwaepLz96AHEmAzWJQblCNhundhnOIYTFLWoaYU7yZoj~8BCQ_Uf1IJfIbAjNsTJP0zkTFQpoaPUS~A15HSZ6_UryXY3DOjuQavRoPkySTra_LY4ID~ANNj4YV5V2MRm_eKTSz3l4b5I0Ae664EKLdXKOSSdgEboZpQGJk~bsuXy8e8NlWeb1aZQG~R7eA5gpNtA8_GxiwYFdyvujlyejb4Ea5mP9qOWaLbrkKWLLjo5k02kxDoOs2X_n3DjukafRkY0YMybWGQ--.jpg
El Madroñal, Benahavis
Villa
3.100.000 €
Villa with spectacular unobstructed views in El Madroñal
Lovely Mediterranean style villa situated in the foothills of the Sierra de las Nieves, in El Madroñal, one of the most established urbanisations on the Costa del Sol.
A driveway leads up to the property where there is a large parking area, plus a closed garage for two cars.
The villa is distributed over three levels. On the main floor there is a beautiful entrance hall through which we enter the house where we find a guest toilet, kitchen with separate breakfast area, dining room, living room, a games room, en suite bedroom, two bedrooms sharing a bathroom and a large living room with fireplace from which we exit to a beautiful covered terrace with spectacular panoramic views to the coast and the mountains. On this level there is also a staff apartment with separate entrance.
On the upper level of the house there is an en-suite bedroom and an impressive master suite with fireplace, sitting area, dressing room and a bathroom with mountain views.
On the lower level of the villa there is a wonderful guest suite with direct access to the pool and gardens of the house.
To the back of the house there is a lovely Andalusian patio ideal for enjoying a glass of wine with friends on long summer evenings.
The villa is built on a plot of 6.950m2 which guarantees a lot of privacy and stunning unobstructed views in what is undoubtedly one of the best locations on the coast.
El Madroñal is a gated complex with six entrances, each of them independent, with 24 hour security and only a few minutes from Marbella. It stands out for its narrow streets, its Mediterranean vegetation and its discreet and familiar atmosphere.
REFERENCE

208-01619P

bedrooms

7

bathrooms

6
built

866m²

plot

6.950m²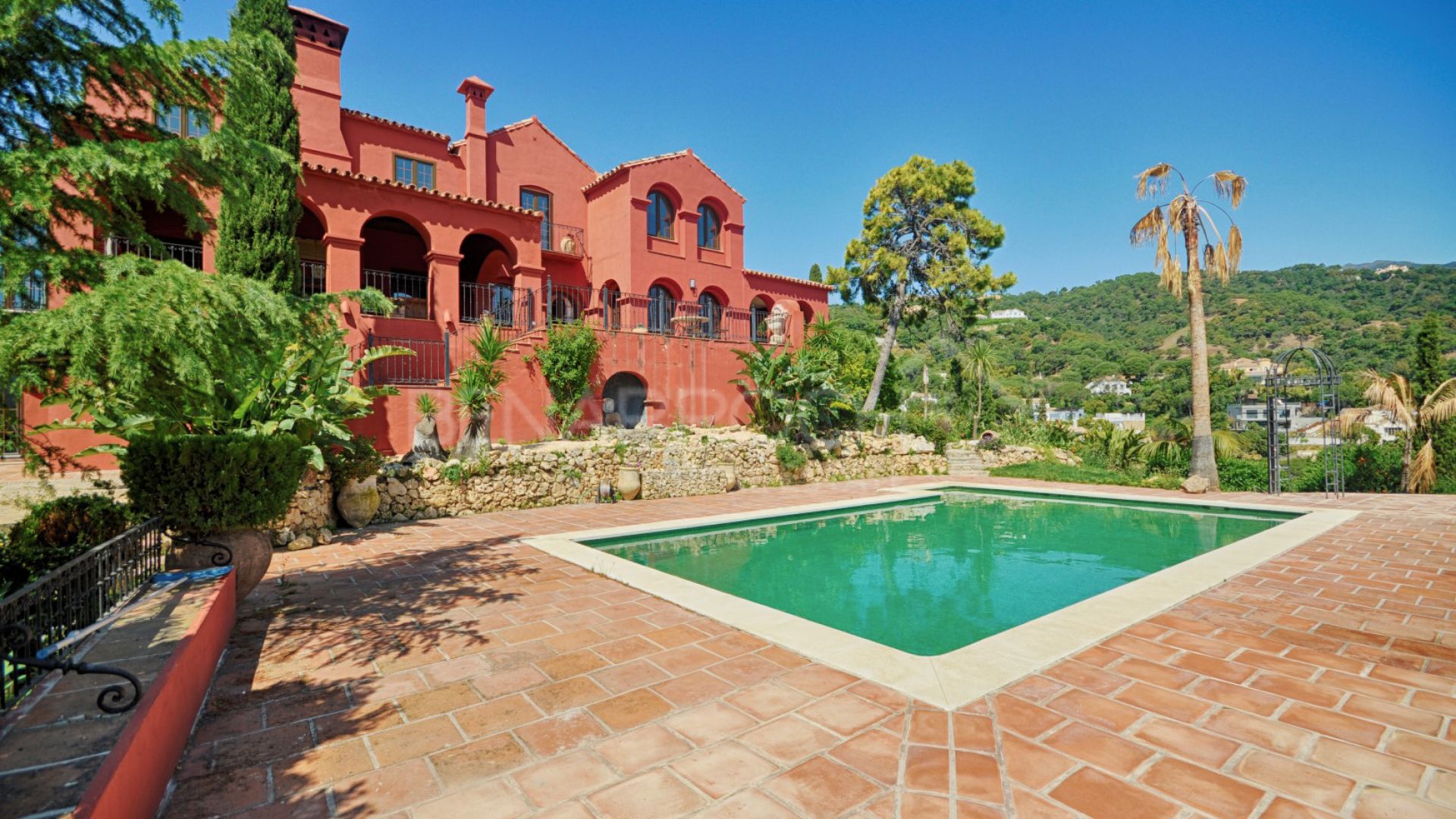 Video of Benahavis Area
similar properties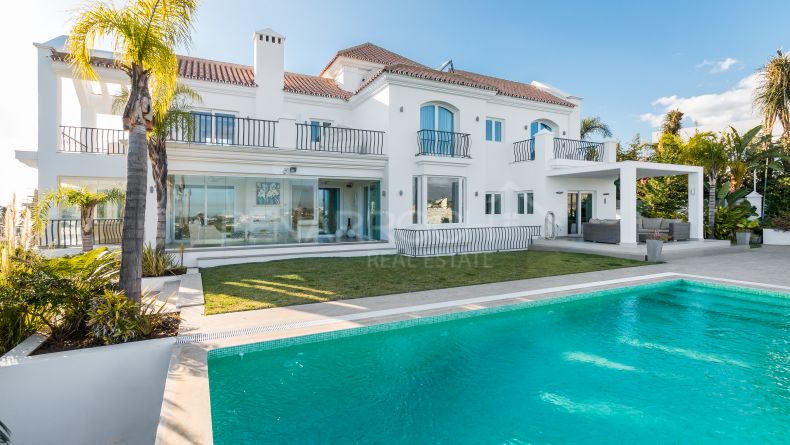 2.200.000 €

reduced from 2.475.000 €
Elegant villa situated in Los Flamingos Golf urbanization in Benahavis, with views to the golf and the sea, in a complex with ...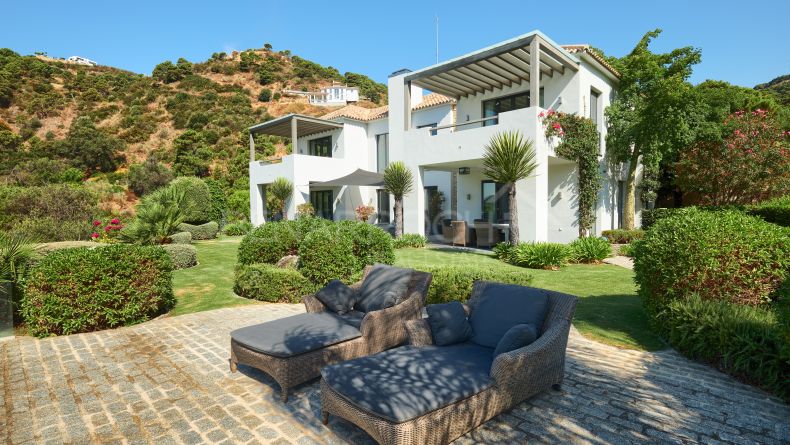 3.450.000 €
Villa in Benahavis, urbanization Monte Mayor Alto, in a private and very quiet environment surrounded by nature and with views to ...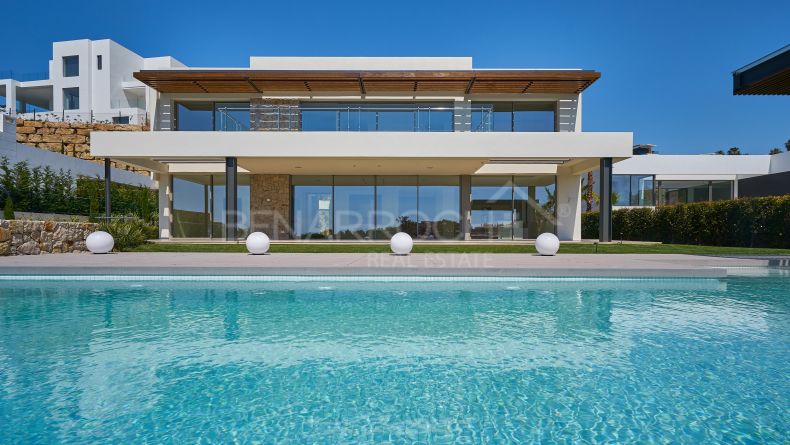 2.950.000 €
Contemporary style villa with golf views situated in one of the most sought after areas on the Costa, Capanes Sur, in ...