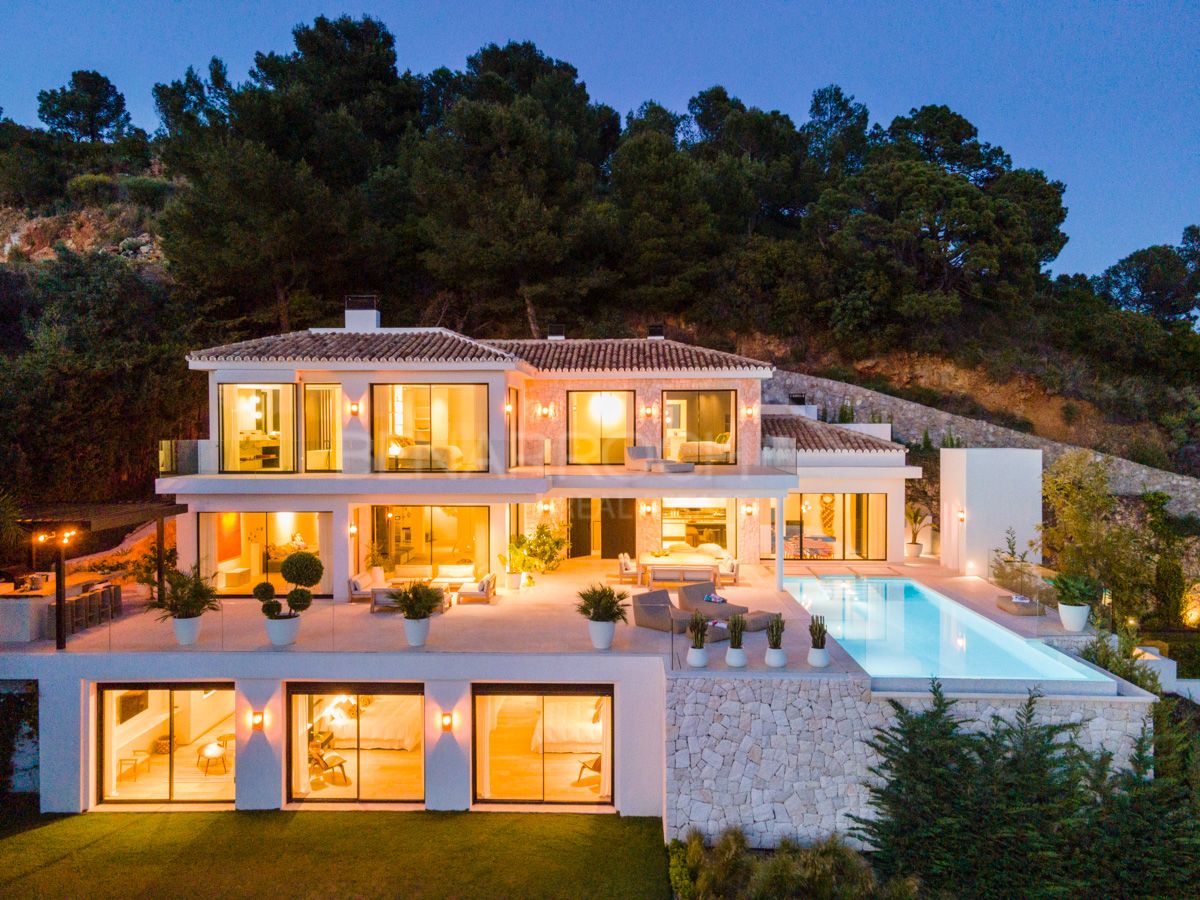 //media.inmobalia.com/imgV1/B8vEv5Xh_VThvnEqMx4G0ZxU_YC_pCgmETwWNQKyeMqLb9Afo_WSoi~kcK5mwaepLz96AHEmAzWJQblCNhundhnOIYTFLWoaYU7ybr4xOIvIvNOJ83~Q3tcdkLJDoK0yQEio4nZw2OHDxkezLImgz8M~k48BVT2CKfialQfiSEPukRT5LfONIoN5K3jpV8~NVpKR0Ow9f9V4V_HHoAYAWe~tP1m8njILA77wdH0g~GdxYUZi7R4w7DyPCE8N82BTKXdM1Dx2a0ULXByUJVuTwESGpVrmLJS7zn6PWnU~Mcmz7MIc1MnlXILEba7ZzmpX8OC34w--.jpg
//media.inmobalia.com/imgV1/B8vEv5Xh_VThvnEqMx4G0ZxU_YC_pCgmETwWNQKyeMqLb9Afo_WSoi~kcK5mwaepLz96AHEmAzWJQblCNhundhnOIYTFLWoaYU7ybr4xOevj_ZXkHAuUAa8XAOE9XDgm5fVkFeYYr9BdFmf6oa2WUqqixyaJNCyEC9C_ch1et6dM6uGtniPtFbWPSyautJrPUgVAboI4AKazOTalXqSAfbabdCXP~Uzker7yaOzc6cTkUY3EeZbotVyVrOoiw~O0Sp5qTpU18XglYIKnfrnx~JhuvuGjx38fziXKngCeh4zyDyLV2nt_PM5cJ234fH8GN~4TBA--.jpg
//media.inmobalia.com/imgV1/B8vEv5Xh_VThvnEqMx4G0ZxU_YC_pCgmETwWNQKyeMqLb9Afo_WSoi~kcK5mwaepLz96AHEmAzWJQblCNhundhnOIYTFLWoaYU7ybr4xOe6XBQB12jPD6~VWsiJ5Wk0nO8gwfekoMQ5bZ_Wx2W1S0VeS~iTlaRbl84NKxIJ93Ezj786U86xAQEUod4oHu~cf60a_kdYkMd4skcvL32h8t5vcdzFgUAlVstOFlVbkwnDttB~N~F7aEp1rSeqZZBmaUg~papLuEP42u3__iXhPLfozPQjMnTsV~yBFNPpXmfI6TtRsNw~TjwbmhVMbBYvH__EzGg--.jpg
//media.inmobalia.com/imgV1/B8vEv5Xh_VThvnEqMx4G0ZxU_YC_pCgmETwWNQKyeMqLb9Afo_WSoi~kcK5mwaepLz96AHEmAzWJQblCNhundhnOIYTFLWoaYU7ybr4xNQ6ZP22Nm2FGWoZzyESKeon480cIOzt45pd2OilTdZ9BgSLUeEgqrEpY3bFzArRXJD_DBhjFXzTQap0crfrUhnI~IgsC42Vu8Oe2WQcg0iSuhehkTkkEDevqS_b828PzXg9FryBAmpRPJR6MT2ugTgAYoHPvbi7w43fg90DBD6DG3fEy1qOVX8cn7n2Fvel6~RHlVT1_DIOeZwDgmJQxEZV2slK_wA--.jpg
//media.inmobalia.com/imgV1/B8vEv5Xh_VThvnEqMx4G0ZxU_YC_pCgmETwWNQKyeMqLb9Afo_WSoi~kcK5mwaepLz96AHEmAzWJQblCNhundhnOIYTFLWoaYU7ybr4xOb2tYnTomOkbG9FrkQcjrrRTMpLxRImc2LWeA5uSkljUfxUDuuaqmSc0nD1ffFXtTOELAjHHbL5aL4sY9xhTF3~wU4dyWqoG6d1W7dJuSeFey80Qb5Z5pDl7~v6VsI2oVgXDMKvgNAMAS2QGNJxeqcgQ3qO4o2ueiuuO9w4x90t~ycbfeTwV7_EfIH95GZ8qRoyMr~GoXWn81IEvsBaHYasW_BLGYw--.jpg
//media.inmobalia.com/imgV1/B8vEv5Xh_VThvnEqMx4G0ZxU_YC_pCgmETwWNQKyeMqLb9Afo_WSoi~kcK5mwaepLz96AHEmAzWJQblCNhundhnOIYTFLWoaYU7ybr4xYN6tcz86N8qOAmzVTdQlEAaoyc7uOcQRsaNPajUQOS8Dw0U1V59jaQ5WV3BbTmXF1q7hrE~X6FJp8fYRMPXp2MK2B405TrfcH9J0JiNhnOdnG80gip5aZXt4mE1SaN5FsIj8antWoL1wO1gxR~n9IOVVR8ujkGQlyEZ1ZgCkzhKoqi7Lcc5FX8LYfJfL4XGGtxNmkJ16ZbkeTYau3oKh~qcEPBD9~Q--.jpg
//media.inmobalia.com/imgV1/B8vEv5Xh_VThvnEqMx4G0ZxU_YC_pCgmETwWNQKyeMqLb9Afo_WSoi~kcK5mwaepLz96AHEmAzWJQblCNhundhnOIYTFLWoaYU7ybr4xNAOhUBRBMI1~SpTG~Z64z8~CADMOX0WomwHcnjlCn86t6pwxPkR8Ce5Ru~MZwUXukWvhzJG4ZV4DXn8jF2q4YvW6xo4KuKLJ0An55UlwIN_qU~I0fLLo3l6Nc34l8u6buIA0Jm6Wuwkggk28tIecbZa~umRV6kKERiPboH5y5UCgnBWg2NohYraIaWYPrHQfHXzkYabKRYzb1UNNerfbUA818irG0g--.jpg
//media.inmobalia.com/imgV1/B8vEv5Xh_VThvnEqMx4G0ZxU_YC_pCgmETwWNQKyeMqLb9Afo_WSoi~kcK5mwaepLz96AHEmAzWJQblCNhundhnOIYTFLWoaYU7ybr4xNAOmFJ~os53BCc8y79lZKJK0zLvNokzH9AONRTQk7I~2zBjWT1cIJwKue15u1lTofIu9r_B5N7Qoqu0c~YeRAIkUY__zyj0EnnKK2TdNIQbFcvY52t1Fb1isZtzN16PAdbeOz3thXBnop74IVhHS0YlWFlqkdMOb5BHIjOiQSTP5UmNv1cPz7xryh7DscEJhr5HIwBZ6djHUsztVI3bKgliEcpNusQ--.jpg
//media.inmobalia.com/imgV1/B8vEv5Xh_VThvnEqMx4G0ZxU_YC_pCgmETwWNQKyeMqLb9Afo_WSoi~kcK5mwaepLz96AHEmAzWJQblCNhundhnOIYTFLWoaYU7ybr4xMclclC3mbDHoXBfm9OA2k6eZesAN9sJQaKAabOt7l5w4ag81bxI5y63QnxW9eNA6wMNWL4bq5Op6XqgXFddBGJWFnlK_xHpK8wHLG35wmzVDw6GIetLG40FbiYRq78PFHoq7vAcMSUejfKO6hKwyx~ST_EenG7WgLpEOkdwguvWZlnICmdoD2tD7C3KSFOlyOjedb0Z7J3qg814mifawk5SzBe0TuA--.jpg
//media.inmobalia.com/imgV1/B8vEv5Xh_VThvnEqMx4G0ZxU_YC_pCgmETwWNQKyeMqLb9Afo_WSoi~kcK5mwaepLz96AHEmAzWJQblCNhundhnOIYTFLWoaYU7ybr4xZ6BIJWVEt2uclqByY7TcTaoBldstLgEJeKegS0Kr_iT4L8_EOlkganPE31JP5sSLosIr~gufgpDdLBf_7pdxjhqZKgy~UNCInCD7BBM~kZtSl5ULNSe97abYojCqNzI7bf04Fto_A9xgk5VbsWaU8I3WaCCmW80Bmc_MW4NzXXFzqqntf4S1wgVL~qjo4xB5_IZ5uGp2MSiXVtcRCO_ep~2HgWjepQ--.jpg
//media.inmobalia.com/imgV1/B8vEv5Xh_VThvnEqMx4G0ZxU_YC_pCgmETwWNQKyeMqLb9Afo_WSoi~kcK5mwaepLz96AHEmAzWJQblCNhundhnOIYTFLWoaYU7ybr4xYzsIevM~_fJSZ35rdc8LvvcDH9bXfjsN0ICYegYvxQcUIviY~LOvd9k90M9XJYSCsRiPJa1lL_6CHwfP1aKijJB8AcYZiFuSrO07ACFqzNJSbFogRgm8KPyVKsk8Q4Drlby6A69rda~vRN8h3XBa0npqs~7f~mZEnU5JgVzYwyBghy4HPhiUxTDLYZlYUlI5RZwnHZqa01KUl_zYXIGOnhGJ_vcEhA--.jpg
//media.inmobalia.com/imgV1/B8vEv5Xh_VThvnEqMx4G0ZxU_YC_pCgmETwWNQKyeMqLb9Afo_WSoi~kcK5mwaepLz96AHEmAzWJQblCNhundhnOIYTFLWoaYU7ybr4xON3lNBQbmAZ4x_CJ1swtfwgW4zitUKbBXUE4R5KIAMK1H0wInO0U1OWQ5u2xQigzrgfg4D2yf9negrGsFfCLzigFnMDcA2M886GJJlTfkAH7sQQ9_SVbhIVcCQE1ZL21JlIynarkemqbHWCBsxSAs4ViW8_qH0eK01oAaxXla_4WI4nDCFsOr2SugH0Mrfrb_4UE9QV11OJKpJkWWM2hb5KIaLvo8Q--.jpg
//media.inmobalia.com/imgV1/B8vEv5Xh_VThvnEqMx4G0ZxU_YC_pCgmETwWNQKyeMqLb9Afo_WSoi~kcK5mwaepLz96AHEmAzWJQblCNhundhnOIYTFLWoaYU7ybr4xY2E9pBPmfRph3heQF4R4es6d4fKXd2sgxIJl3AfRVYEb_8jEbRxGhWzd5_oJ3UghXkuorsS2NY72W6HogQ04gym_rUSjnNl4l7kpBzstWR9tQ54eEQ5Q3Dj4rzK114iq5SjX3Egcf1SNRpFYg2xhqP0nM_UzoCfJbSn9t9M6b1~geWPjyUDPF_013fZHOdaLIwJgSGCU~sijKG4mvlQ_yqhNwjJCiQ--.jpg
//media.inmobalia.com/imgV1/B8vEv5Xh_VThvnEqMx4G0ZxU_YC_pCgmETwWNQKyeMqLb9Afo_WSoi~kcK5mwaepLz96AHEmAzWJQblCNhundhnOIYTFLWoaYU7ybr4xZ~KQPkHa9M7WR0q~GoHORrckWDVwJtD6D~Y1DXuOXa5708TPDNtLY~eZUIkaM8XVKUYDkl8ybyRsFtjjcv6PzrmzV7Auu3~vqZTapz~W68gUi9vJieV5Qz1nr2IUewCgbBnFTLRuJQZ4MyCLwqq~Q1fCTg9ZoQenXrxGd6hdBj7h8RzmV1K6PD4UBFZpswpE0Ne96iveMPcMm8AaRh3zcMwWfKMiaA--.jpg
//media.inmobalia.com/imgV1/B8vEv5Xh_VThvnEqMx4G0ZxU_YC_pCgmETwWNQKyeMqLb9Afo_WSoi~kcK5mwaepLz96AHEmAzWJQblCNhundhnOIYTFLWoaYU7ybr4xMN_Jx__oHTqE2CAl8F~2S4MV5byFiYnqYXQuK~~FRgAO7OIHwKiWp0SNuFj5XKUu3uL81bJFJ0zm~KIgBBXuBW2OWLZIGFZRr_AatBS4klHnEeL8AiQbEbiMAY6qyRwleV_7qN6p5o~2xH76tf_l7SRjFw6CGZa7lspO2j_pjJ3ca~emvxPGfKHJGvde7CbjdcEj26e~DeiEo6twRneKEiXMdruUtA--.jpg
//media.inmobalia.com/imgV1/B8vEv5Xh_VThvnEqMx4G0ZxU_YC_pCgmETwWNQKyeMqLb9Afo_WSoi~kcK5mwaepLz96AHEmAzWJQblCNhundhnOIYTFLWoaYU7ybr4xOeHM6_llJEW2h3MP0epNRjC0M8h274P~l~ja4i8RzM9Rku6qzce8Mq6ApNMm1P6CEmAWiujzD36tsG~0aP3djpZIOAhRURQVuFavvjt8EHkidPrYkGT9AfuxXtZttRCkumOReX~DWg1M10SLqqFiVhyzW2YLMBdHhbVLUZJMHyd7sSrETE6aGemAifRCGXKOeDc~Khmuh6Ah~xwqIUeQvjfj6XLBUQ--.jpg
//media.inmobalia.com/imgV1/B8vEv5Xh_VThvnEqMx4G0ZxU_YC_pCgmETwWNQKyeMqLb9Afo_WSoi~kcK5mwaepLz96AHEmAzWJQblCNhundhnOIYTFLWoaYU7ybr4xYznzQK5LQASfJBPUftM_pFU8Zbghyfp6ee05zViDIrri5BbChDl3sCbEDqGNEFrm67n_KoleWPRseCUKXuK27XdhqBmhadFLbofm34K3Hviq94M4subsr4mdGaMPNZUgfh3_DesG2jtoD4VcJ_MN62gbWJkPcAtTtMhZo7oHxGM2O6ZnztH5bSgsSm~~3eIwF7kLw6SMHDQbSykqTZ7orsvF5jbfKw--.jpg
//media.inmobalia.com/imgV1/B8vEv5Xh_VThvnEqMx4G0ZxU_YC_pCgmETwWNQKyeMqLb9Afo_WSoi~kcK5mwaepLz96AHEmAzWJQblCNhundhnOIYTFLWoaYU7ybr4xZA5_NHyYlI53hxy1SWClCcd51I8nKwiWewASaqQogI5~wSDpcnEyC_FDFIdhVyygFE1N8Dk56tTPQGkFVvLmMcfJkv5NaEMABEAHl2QtzIzc_7ZxrNpICXYDVDBGahblZGsYita2AsYTK8oY4K5_LOdHz~5QSjs9pSK8eRHqNXaWGj2RDS9M92q6H2gxs9FIrVBgys_HsPSUiM0awtotpaILWi5A6g--.jpg
//media.inmobalia.com/imgV1/B8vEv5Xh_VThvnEqMx4G0ZxU_YC_pCgmETwWNQKyeMqLb9Afo_WSoi~kcK5mwaepLz96AHEmAzWJQblCNhundhnOIYTFLWoaYU7ybr4xYu4h5OuOSAjeun7zmFwtnwLuhZmHBaRUhRXo3XsT_eLu5R7WAn3HmX89TaUlEGp_qxkR0VFOyp2RkPOWSohDrPg2eXqnxp9rnN7Bt34D3LLMJnXk8ukRUrEBp6V9XIoEvgDRq7dAwd10dFbTBo4mD8rDXyk9NSr_Ywwu2UcgbBy6wtjRfltPpnLbs69TKK0KQrACdVBA3~QVlFOGLe6JC2tX5O8pZA--.jpg
//media.inmobalia.com/imgV1/B8vEv5Xh_VThvnEqMx4G0ZxU_YC_pCgmETwWNQKyeMqLb9Afo_WSoi~kcK5mwaepLz96AHEmAzWJQblCNhundhnOIYTFLWoaYU7ybr4xNhE4mHZVSdcYk2S3tnkvclLtSIKb5Ldo2PfwsVyCuckVSI1r6klCpqKOr7MeC01qiayfLg2fgRLQr6vmmaGTWmkabyn~~rA4gv3SXoThramwtOZeVWPZiydaMHmTNkKX0OdC8FPUSpYbPq6MxiW1998syCmoJNg2FX1qS3yb8z9puZH4npKsEUob9JaeIASqnN54EoqnAIp6eJs6Fd9O3gmypGnJMg--.jpg
//media.inmobalia.com/imgV1/B8vEv5Xh_VThvnEqMx4G0ZxU_YC_pCgmETwWNQKyeMqLb9Afo_WSoi~kcK5mwaepLz96AHEmAzWJQblCNhundhnOIYTFLWoaYU7ybr4xON7hnZySEODzlAYSSL5btr5U8gqkbTHomgqvSeT_5Hj~ymzOx5Md~Y_q4vNbmZx7GbF_iP9j85ytIvt4NgIlq0~2d5n5sy4a3ebGf6LCY5pc6peBvm5LalrfvFZYFZbDKE8w~XkXrWqkQUuID30qLYzwUJvpwkIRHonxdr0q~~BGv~gCqwBQRoTFvLjfrAhJN5Lv1crV2vX5RbJc0jMzqX0C07bRvg--.jpg
//media.inmobalia.com/imgV1/B8vEv5Xh_VThvnEqMx4G0ZxU_YC_pCgmETwWNQKyeMqLb9Afo_WSoi~kcK5mwaepLz96AHEmAzWJQblCNhundhnOIYTFLWoaYU7ybr4xNhJrRZSFdfJpsekzFYycf0O0h9P2Zd1heiwrSj1r1JYbHXwJyQivIVZ6iZN3D32EtBUAjDqk5IwHVkPkLfFmXFGI7CnLyvpwnAEF74dMMGWBuZESVZ4k~DGBYUd6fO5uKO~OnS7ariZiWIOOtK5KDqGDac30n_jjwsMiHHB8jlm15o9xSEW83eKHkSigIv_sJ3v9_AXPoZ42PO9wqFfLUCTxPopqQw--.jpg
//media.inmobalia.com/imgV1/B8vEv5Xh_VThvnEqMx4G0ZxU_YC_pCgmETwWNQKyeMqLb9Afo_WSoi~kcK5mwaepLz96AHEmAzWJQblCNhundhnOIYTFLWoaYU7ybr4xM0TKh4yzLbscCHHxbhK5rSARUOglve5CUy8adptBzjFMamKmVlns0CiE9tejuNmyis8VfkU~xFY7dcOCMSatNog8VLDI7xRzrGARteEHK4lOD7Ox_7WirjzpscGp~1TV0hxRxGjREbsvtHmu~A7eZZwpoCAxRGrQBe01i9STJqQ8EFuNK0lxW8QZ_VQLP3HKqLDbfIbm8GgoRLGMRgvPH7UV_t4Qfg--.jpg
//media.inmobalia.com/imgV1/B8vEv5Xh_VThvnEqMx4G0ZxU_YC_pCgmETwWNQKyeMqLb9Afo_WSoi~kcK5mwaepLz96AHEmAzWJQblCNhundhnOIYTFLWoaYU7ybr4xNhXznT9PeGueWD47aq1UGxFHCKmbFgXsS4Sd17mMHsrhyqt6gKKqTuxQAOga_kZYtj7FSXm3wlMRXEMuRtp6CafUWMz7jWdbs6RCzPQkURYis4Orka40d_cYebRhTbYzizjVIo28hjLeV4wIIYbWkUCKvmx3squ0CUfo6_MF7oLxyZTdrmcf76JMExDJpW7SwO8hg9_YSWh_vEkkjCVLPen0xmAqOw--.jpg
//media.inmobalia.com/imgV1/B8vEv5Xh_VThvnEqMx4G0ZxU_YC_pCgmETwWNQKyeMqLb9Afo_WSoi~kcK5mwaepLz96AHEmAzWJQblCNhundhnOIYTFLWoaYU7ybr4xMIkLKGgp_YgFgjkeJX6SIuTuJP496vf58YXs1uHjLZPZ7D~ZiN3BaUQa~joLE31SghxbpolKiVdKEIDLW9xPm7PwzhWjy06Ws0DIqo2lBMIhTbM6G0~b0vvcn9uhKqSVg9bW4Cz3iSjvpx1DZokcw2PVWzMm70HEmJHT9Chki1Kbmf5dxPdu1~yFtZW8RIYxFo7v9FxLtCmHWWjn1YeENfFww0olbA--.jpg
//media.inmobalia.com/imgV1/B8vEv5Xh_VThvnEqMx4G0ZxU_YC_pCgmETwWNQKyeMqLb9Afo_WSoi~kcK5mwaepLz96AHEmAzWJQblCNhundhnOIYTFLWoaYU7ybr4xN9IVUGznQAjJ_Gg_3iPcls~qJos8w_yUKLlw6~0SpgcCEcQ0AHEEg3JmyGM1s8TBIfC8ra0uYbV7mjoY1x9a3ETf~U1F6vkSY2R895qmSAphwGkd45mWbcRUuigPw7Ob7EzMVN3enwluRGOMaToQqW_Uwh_rs5RDkhjNdgokeCo_l6wiZg~whYqOpMVwFmhBkqots8VQ1iEdgYQvVgnEDXUGkORHFw--.jpg
//media.inmobalia.com/imgV1/B8vEv5Xh_VThvnEqMx4G0ZxU_YC_pCgmETwWNQKyeMqLb9Afo_WSoi~kcK5mwaepLz96AHEmAzWJQblCNhundhnOIYTFLWoaYU7ybr4xN9IfSVk9kdhS~OUiSeeIkjAOLFWkf9wUn5H4LtUucfczxkr44sdONaOAqW3wQ4kZui~6wtjqpTfPHviTBX2xbrZNJnPj6rO0QLNBGVakSQVqjj3j_6G5YxGMQJ8n8x6Mk3G~UY_Sn4N~WsHh3i25aTQ9I_KxsIto3DZPxG3y6EMtz4AUBOuu92UlbpTTJI7WIPvCEf5PXnj9fWafEvtY2dDOo~fLTg--.jpg
//media.inmobalia.com/imgV1/B8vEv5Xh_VThvnEqMx4G0ZxU_YC_pCgmETwWNQKyeMqLb9Afo_WSoi~kcK5mwaepLz96AHEmAzWJQblCNhundhnOIYTFLWoaYU7ybr4xM0CoppErg6cZf1LJKLtkruJhFfz2zQrFFEoinZpMYvSiyGU72ZDsOr5gXWS2VpERo1hBXB3W47zhCjDEtBnw1inZIimNPDeuLttteN1f7i0t75SvuCvvcLD9H_BwoYaX7AcJ6TbV5~SnmCN1L731efS8zMkDbskm0c3eJk1IQdgIxBspJuLiTPb~ETdOAK1Uxk5Zrf_5_UTtS3NHhTmp8vfTSFgUeA--.jpg
//media.inmobalia.com/imgV1/B8vEv5Xh_VThvnEqMx4G0ZxU_YC_pCgmETwWNQKyeMqLb9Afo_WSoi~kcK5mwaepLz96AHEmAzWJQblCNhundhnOIYTFLWoaYU7ybr4xOeljXcxHnzPJGlSxGm5vHvXdRqjZ9~nBpxjBMeu_BmKcAVtGGYd2yph1CANZa2FMFzL5qEdhP~38AYLnOwr8wEbVURnlUaM9EDzpgnt_T8ynpHbWLW5EdfD5EQNJ8HNXrMG1gDocbieUkOwAUkSRHrbaUB5hFZvMXaZ3HIni6iGsW~NvOBVIIqBzh8UfGonmKLG1h_EjHMfS7FD6qNaCHfYlLBMIbQ--.jpg
//media.inmobalia.com/imgV1/B8vEv5Xh_VThvnEqMx4G0ZxU_YC_pCgmETwWNQKyeMqLb9Afo_WSoi~kcK5mwaepLz96AHEmAzWJQblCNhundhnOIYTFLWoaYU7ybr4xNA4DPjMD2iS2DDzAEC_fMussHHTkhAkTOVRyP8NXRqJD10STz6X1buOgNB~L9fm4Vljuialcc4nocpGSqd7F44wy_hvvFpY5HmGi86tbUE7VMcyKYLUCVSvmWV4LJNxqTBBTC384PMt3gh8iDAcyHHos969widEmDgqFtUAGRqW1m6jqfQURVRWn3854ZLTEYiZ5VNhsIwZfei24Ba1L~TSy3RfTvg--.jpg
//media.inmobalia.com/imgV1/B8vEv5Xh_VThvnEqMx4G0ZxU_YC_pCgmETwWNQKyeMqLb9Afo_WSoi~kcK5mwaepLz96AHEmAzWJQblCNhundhnOIYTFLWoaYU7ybr4xYrwF8PHHpIo9SIBvYFNJotqV0QRmWzUYR~2gIuGsAd6qDIMHGvP_olWwWflP3C6pEX__F7P4S3_f03umyajSe2AqUqed~3uVuY_nnQaq9WL2KTVk5vOILt3ui1GGPsQwjBpNPKGyMtwY9uat5rn6h7dX3uozaMZEb9Nm8HI7kkdB_Wed8wyklzEhA76g54o7twXMic880wAnwtH1IbXQmhjmjqbQ5A--.jpg
//media.inmobalia.com/imgV1/B8vEv5Xh_VThvnEqMx4G0ZxU_YC_pCgmETwWNQKyeMqLb9Afo_WSoi~kcK5mwaepLz96AHEmAzWJQblCNhundhnOIYTFLWoaYU7ybr4xM0Kvo_DATOCVG0uMESzoEZzgres9sJrL1JxIdcBRPugCu7i2408q5NN4Tst0AX_5cAwbhmMkvM8Qh~05xEyODe6pztTcqS6__PBEQkSw77sOJevL_PEbZgMGZ9uQEnBAGeBs0SsB7TU1M1SjoYPjDcwAUgb7oQO_49I16KUJDfdFyFWEDc~TNXrDHl5BGrZHMAVGTTtznzPUDFmMYfpUwaCkXQeI_g--.jpg
Cascada de Camojan, Marbella Golden Mile
Villa
6.950.000 €
Contemporary style villa in Cascada de Camojan, Marbella Golden Mile
Stunning contemporary design villa situated in the urbanisation of Cascada de Camojan, in the hills of Marbella's Golden Mile.
Cascada de Camojan is an exclusive gated community located just a few minutes from the centre of Marbella and with excellent views to the coast thanks to its elevated position.
The villa is set on a plot of 2109 square metres and has a constructed area of 641 square metres distributed over two floors and a basement.
On the main floor there is a fully equipped open plan kitchen with dining area, living room, TV room and guest toilet. Outside, a large terrace with excellent views located in front of the infinity pool and garden with pergola including outdoor kitchen and barbecue area.
On the upper floor there is the master bedroom suite with a large dressing room and two guest bedrooms. Access to terraces.
The basement consists of three en-suite guest bedrooms, cinema room, garage for three cars and staff flat including kitchen.
The property is equipped with a lift that connects all floors.
REFERENCE

208-01611P

bedrooms

7

bathrooms

7
built

641m²

plot

2.109m²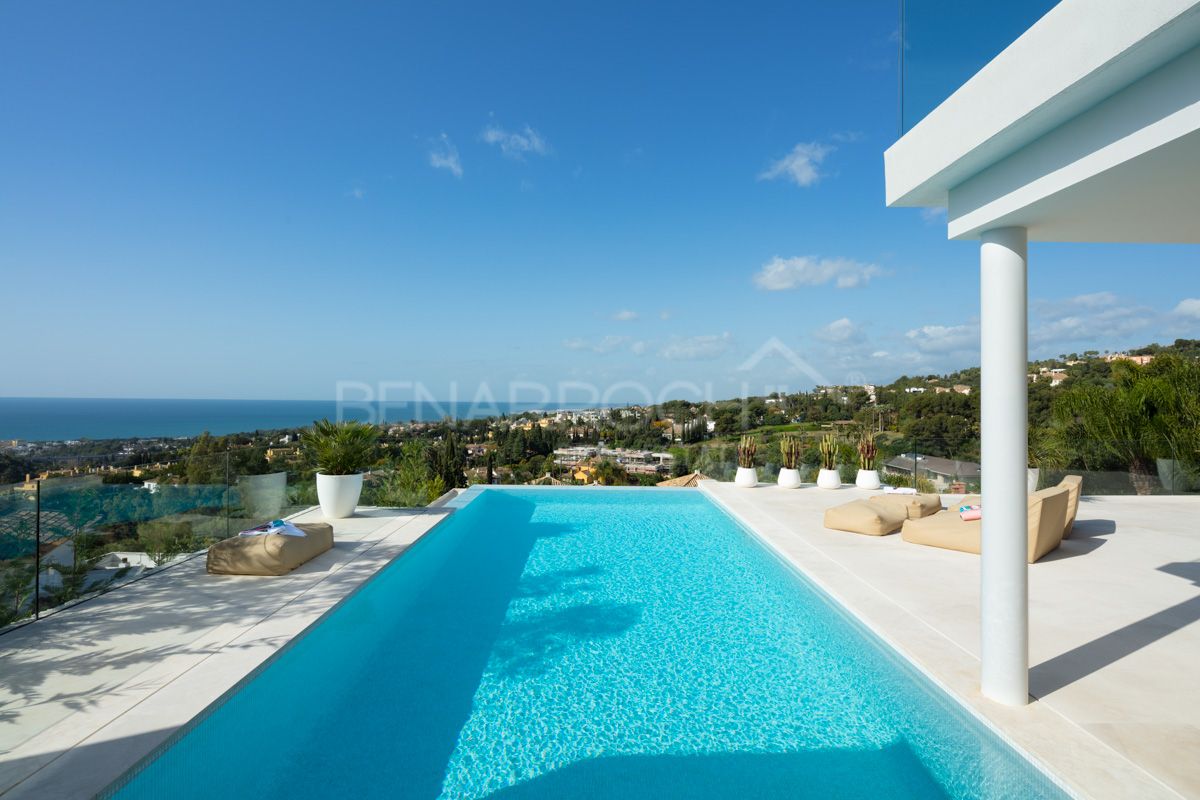 Video of Marbella Golden Mile Area
similar properties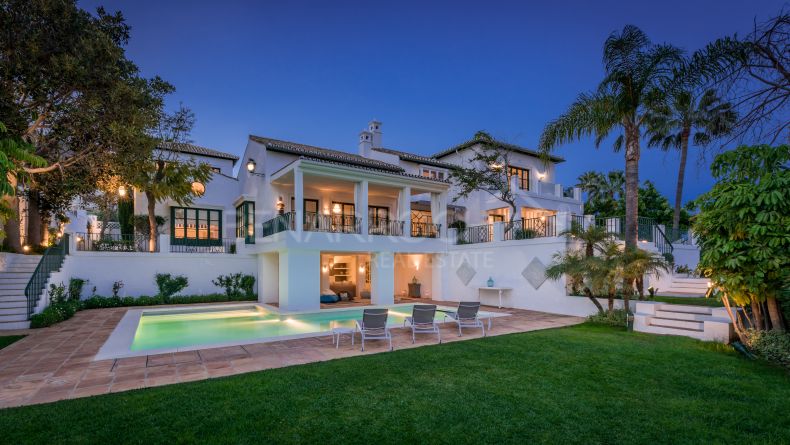 6.500.000 €
Mediterranean style villa located in the prestigious area of ​​Sierra Blanca, at the foot of the mountains from which it ...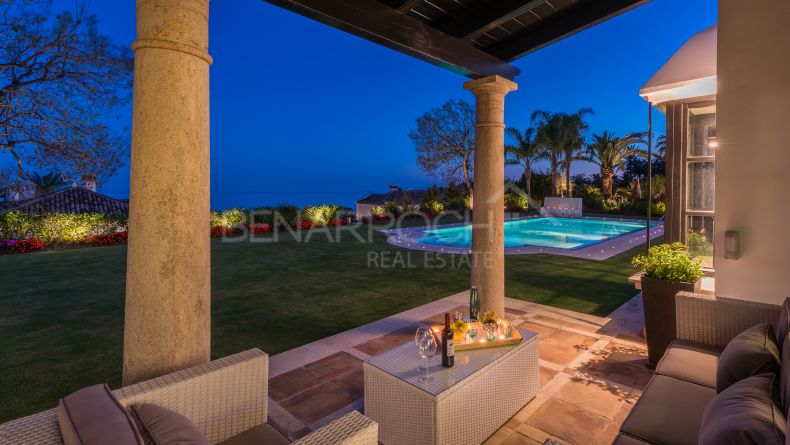 8.500.000 €
Spectacular villa of Mediterranean style located in the prestigious urbanization of Sierra Blanca. With its spectacular views ...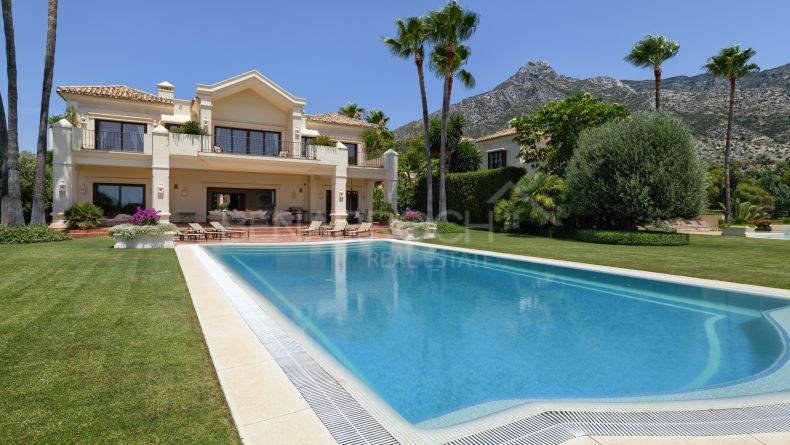 5.900.000 €
Traditional design villa located in the Marbella Hill Club urbanization on Marbella's Golden Mile, with magnificent views over ...