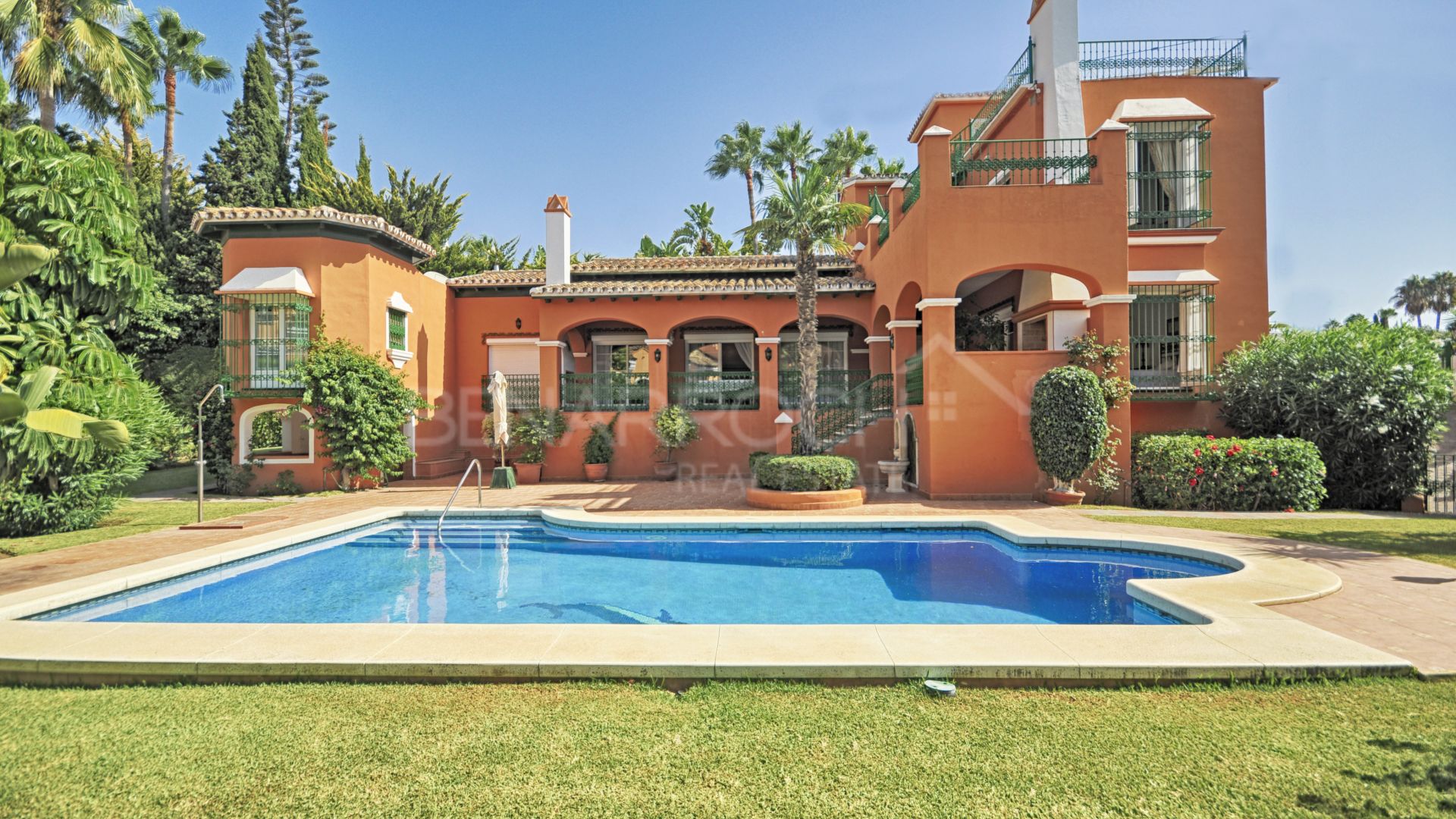 //media.inmobalia.com/imgV1/B8vEv5Xh_VThvnEqMx4G0ZxU_YC_pCgmETwWNQKyeMqLb9Afo_WSoi~kcK5mwaepLz96AHEmAzWJQblCNhundhnOIYTFLWoaYU1Reo~1m418F79f646din3p7Ui9BTIi3gSmZQ~tb3Ji21YPwISMDW7SYHXCMb_0UA9BZMIC9L65IkcBF5~~Xo9ku8p~X28q4MIt9ijWFaT3nMfD~rxyz6raE4FqqxdRXCQBr9zXi2dqmSzq9dDAN549hXUgkYlnHAKnQzn0xNmVbhfUz8OoLAOi2paBoSl59dWLME8nPLVzZOzXwYhxt0CjI8Z7kGT6WVRxJQ--.jpg
//media.inmobalia.com/imgV1/B8vEv5Xh_VThvnEqMx4G0ZxU_YC_pCgmETwWNQKyeMqLb9Afo_WSoi~kcK5mwaepLz96AHEmAzWJQblCNhundhnOIYTFLWoaYU1Reo~1zSAK2Ap6P85GtkqFxm_M~aZhonePv_pRAyRo87yT2Ybbn50obw3JXK0XVWv7lofwAKLwAWS4gyIddW1Xp~lK0qdgC2~2sBp0B7eivEPJyVVzz7BK5uv~qtT~3DKqjTAysk86s0wUvJ7dA86jC4hBYYClW~_Lzv0f7tPOBszdvFHspZEtSGwylBQqY~WTU7_CaEizN0S6aIV77aufY4TewKVXY3h8rg--.jpg
//media.inmobalia.com/imgV1/B8vEv5Xh_VThvnEqMx4G0ZxU_YC_pCgmETwWNQKyeMqLb9Afo_WSoi~kcK5mwaepLz96AHEmAzWJQblCNhundhnOIYTFLWoaYU1Reo~1nxvzkIXdlJfiBzWNS9f6B7_AA2Jpw~6A0ChFPm9tXIkP574Wz9wtOSlUAyP61bwSbGSI5S5c2pDCTSXmcBrAlry1U3RaETV5pdms1ODY65LZd0hTQMLJ5mp_HRc98HXKkZKAGIvvQ2rbA~QJZ_g0V6gCMHSHscKpg7yv80zbidxY9zBimxx0WEDaGBMJsJCDuswJU75z~eZ4Sy3XspUQpv6nOLaYCg--.jpg
//media.inmobalia.com/imgV1/B8vEv5Xh_VThvnEqMx4G0ZxU_YC_pCgmETwWNQKyeMqLb9Afo_WSoi~kcK5mwaepLz96AHEmAzWJQblCNhundhnOIYTFLWoaYU1Reo~1mQlNHMbFrcNAGIUPL4UvANWO54cktrwkcTm6ZH5sld7zdPJFfDqv3Nmnv0Tlt2M6pYNKWWq5O0vWSHBou2Ncl~aWTiptZbM5FznEnRrVkNbpYZijhiRqqvM84iX576E1HRWhzZtGsEPvmCkIApoAJjvIl0XExdP8STOTzABBTTn~eP_XXqoMw~Obs7r~a0I8VK0EcmWFyzlFTaUSUFNg0Upr6Sfjzw--.jpg
//media.inmobalia.com/imgV1/B8vEv5Xh_VThvnEqMx4G0ZxU_YC_pCgmETwWNQKyeMqLb9Afo_WSoi~kcK5mwaepLz96AHEmAzWJQblCNhundhnOIYTFLWoaYU1Reo~1y8EfvkA2kDRTWK~3~tH4WgKHgluoAiDEGBYB6Ulqwod0VHRJ5pBaGt1NpMuyvfgXZTj5uVS9qH7J~yi1GXLiPqliiRmsnJ_dKmD2DPmUl3cftcY8uB8TvhlvFrQRdOBWOopjVXDYejWuVIaE~o1vOHtKRBJMgkFk9GAt_IqcUNLG_Y5~pqr_ppgs3Sw5FEjfc77FJQZM802t1dcRprzhOQKYMphA~w--.jpg
//media.inmobalia.com/imgV1/B8vEv5Xh_VThvnEqMx4G0ZxU_YC_pCgmETwWNQKyeMqLb9Afo_WSoi~kcK5mwaepLz96AHEmAzWJQblCNhundhnOIYTFLWoaYU1Reo~1mvnLtxhoX0NpWX2vnCR5YjWPbUWy5p7dnTD8qhIVQb~HlTYQqYiUk1624Wyc7vt45ZNjYRVW8OELv36Ip1_k1mYjIfuKfvTRkLvWRZI4LL6RbZ~GHQcnW1fA6t39VjqKNvRyyd_U4ZK7KeoxszGpJNpJ~RnLrW_4svHftUtPe0FxreIZXEZg2N4lj9xb0oEYcw5Wh~fXbPl03XaeH2IhWmrBHnmPzQ--.jpg
//media.inmobalia.com/imgV1/B8vEv5Xh_VThvnEqMx4G0ZxU_YC_pCgmETwWNQKyeMqLb9Afo_WSoi~kcK5mwaepLz96AHEmAzWJQblCNhundhnOIYTFLWoaYU1Reo~1m4xkb9hvuRMDa4cE9ReDJxz9xYYyzadQT~yWPDMq8sOeEhNUWLjUUoD5wRvMDnzIDIdz8c8CfgQjagHyywPTONln1FivrB6iVks6R3Ya3i_TOPOnZH2AcCs3EayksVPydRcgQmB8xjIiE~DRfMd880qV3gurBeNv7LPtXDsRWpBMuqzku_rHq3QPlGmLOb36L119SxH5BEsllEEP~6E99YlAkHnjzg--.jpg
//media.inmobalia.com/imgV1/B8vEv5Xh_VThvnEqMx4G0ZxU_YC_pCgmETwWNQKyeMqLb9Afo_WSoi~kcK5mwaepLz96AHEmAzWJQblCNhundhnOIYTFLWoaYU1Reo~1nS4XVA4rgDfesr4ANmEJxEifEXXXamrcflEG1o0noowjVDOBr9WRaue2gzcAc_8fyRfgCsVrL_e9O9xrGO23nqMRayVkWFUCjruGJayWny7xllLI2_dGO8Bb67Gu9Q6r8AyrPq~WN_I8EtvRAb2MPfztbCOXFw0oUSQ4hyliY8gWd49cY7B1PqOWMa2Hz2NlmohA22ftztH9q9ekJYRzOyBJoZltZQ--.jpg
//media.inmobalia.com/imgV1/B8vEv5Xh_VThvnEqMx4G0ZxU_YC_pCgmETwWNQKyeMqLb9Afo_WSoi~kcK5mwaepLz96AHEmAzWJQblCNhundhnOIYTFLWoaYU1Reo~1m4IzMGejarhDr0nif5BX~F7i5KYb76HaRHrIhCdl7p1LTX35W5qrOVmC6KgosaJAMm~6KiE3aTx0pxkpRweK7R2NTCH3TeC_JuWRwScfGBfJuSaz3Iu~~YZAjOkAyWsxNHUZAsMB3AAYmMhrVr2UanCVUhH~ELb63mbxuxPPxrlNLas7zDV_W7CVKDtHTD4H3TkMA347jz4rBfaaVXDI2VLrDgx1xA--.jpg
//media.inmobalia.com/imgV1/B8vEv5Xh_VThvnEqMx4G0ZxU_YC_pCgmETwWNQKyeMqLb9Afo_WSoi~kcK5mwaepLz96AHEmAzWJQblCNhundhnOIYTFLWoaYU1Reo~1lsSXoIGtlfz6ftvhhnh9_kIPIZ93QrCv_wz6BAgjwuvt6QqvQ6PXzf5y04hCmdWBWbj7whD6MlMrQ_9NjNI8g1EXrQhMkWJicmAZ3ktSBlYhFmfSoDpPBqeFktHSTbppvQMzZOD~5v3bGcpWwKFKOndE6BQNi0PHA__NBTngdmVmTUGtM5rejo1CMEBUNqkIrctBU_wgm6IQHZ1njCHLVeqfcybx5A--.jpg
//media.inmobalia.com/imgV1/B8vEv5Xh_VThvnEqMx4G0ZxU_YC_pCgmETwWNQKyeMqLb9Afo_WSoi~kcK5mwaepLz96AHEmAzWJQblCNhundhnOIYTFLWoaYU1Reo~1y5v0~SkFOkhBFCkwg6_73KigWTlAEvo~JtLSyA0o~KqfBGy9Uxa_lbVA8C7F3_N3HoJdqq1Fty6osXIxNMETh3hzcBsykk64JLTmil36oNrN2IeP~vd1mUyw5E02pLX_AZFRXZnStH9lRJ3J2SINAeNQ13Dnx169rAzT1cCw0z31E~WUF7d5sffCcroxha0N36gUanaU0B99dzFW3HQF1Lae_xmBig--.jpg
//media.inmobalia.com/imgV1/B8vEv5Xh_VThvnEqMx4G0ZxU_YC_pCgmETwWNQKyeMqLb9Afo_WSoi~kcK5mwaepLz96AHEmAzWJQblCNhundhnOIYTFLWoaYU1Reo~1zSROC1RDk6mzJ729VIcbYSXHFi3SOTczWhyU_cvgpOzWzSKoWGo9TKNZwlaaiJnBb_zw~PlWXzJa~ykcIUfEKXN5MKFrZ9~kJjcwyYfnDEtmGjvPtCu6oftAXlPfBjF2zjh06i0~cB_~zERAKE5XtvIs~pl6BRt6T7pqZ7gobG6O1UWIwQUY9DmRSvpRWlCx~dmv82j~8iNYspFfIR3Fg~3P5z28Ag--.jpg
//media.inmobalia.com/imgV1/B8vEv5Xh_VThvnEqMx4G0ZxU_YC_pCgmETwWNQKyeMqLb9Afo_WSoi~kcK5mwaepLz96AHEmAzWJQblCNhundhnOIYTFLWoaYU1Reo~1zJQa8U~ZL~wsQNtwBmy2pbm2nLdKKpqCzcEKgVR1Nep11Chkkdv8EyqbGYPVBhVO8uRiKI3~JjnmgdTAv7Ykb7ElV_oVjZMToPgzsIUtucPfhSXRfP~wPlcRK2UPPRC9rBqJU~T7NQkm7D90Y3O5wwkfkCWUS5_q5VCWpU3UX89_i5I8DBnmdevaosyqfC133uVOwqhC9Oldh9PLzYtTwHdhqMCL9w--.jpg
//media.inmobalia.com/imgV1/B8vEv5Xh_VThvnEqMx4G0ZxU_YC_pCgmETwWNQKyeMqLb9Afo_WSoi~kcK5mwaepLz96AHEmAzWJQblCNhundhnOIYTFLWoaYU1Reo~1nX~3KA9cE12MlFgZ0ZtW9ScjxnNC9o~vyya_0Yfu6P_mhogbn3TEzoPdCx2XkNzeqS6GSvivLWNbGRwYf4PyZ52~tUlxJrLfjchUIhxvlqeITNvzeMXGABFr0_ZqbHsHxi2T0ezw~_WiVns7vjBYEQkujtDPrPnz2KPxJqDlauHiDRCVei7yfkDy_WkcOLI442lqbfUhYv~5gooSrpnuaVAQKVXV5w--.jpg
//media.inmobalia.com/imgV1/B8vEv5Xh_VThvnEqMx4G0ZxU_YC_pCgmETwWNQKyeMqLb9Afo_WSoi~kcK5mwaepLz96AHEmAzWJQblCNhundhnOIYTFLWoaYU1Reo~1lsH65lpb3RxJZqSmvyHh2dRJPjFDMATGUb_sCtY7MU4Q~6j9tFq1vyOYQ2Zskr7D3SftV9N7EFtgRe0RmAr144Ojn2_~ad06y4H7UPcXuKwSky~foQblW09OEk4BjaCsPfTurFrUWo511Im_~XqasevVpaTROFNGvVYwgMvzEQiHG5Ls4tHRlJqYEo~en5i2rHZwUhIzg3VD2RTdBluarmyDvOIluA--.jpg
//media.inmobalia.com/imgV1/B8vEv5Xh_VThvnEqMx4G0ZxU_YC_pCgmETwWNQKyeMqLb9Afo_WSoi~kcK5mwaepLz96AHEmAzWJQblCNhundhnOIYTFLWoaYU1Reo~1mFfLRbGOEQ9sbyUlr0EmgkWdGi5g6GItvHc1krXKdIuxLV~UsQNDpfoNWjMHamBqVn9Tt~QuVZfRCFv6IteItBt~08dEJQcBVSHKMDQ6pFNY_miKlf514gpxTIMTL2Zu3xt8qM~LYrw6~KSan~MCZ5LNZmRE0EfB6h2xaUA8GLG~GXCfTXk9~500dlo8e0jyNgs0KMxYSGcoG9c8XXxc_CaqkznMSQ--.jpg
//media.inmobalia.com/imgV1/B8vEv5Xh_VThvnEqMx4G0ZxU_YC_pCgmETwWNQKyeMqLb9Afo_WSoi~kcK5mwaepLz96AHEmAzWJQblCNhundhnOIYTFLWoaYU1Reo~1m9Tdm9zmRPCtZXlxvfWfOB4k0h5bH~t19_1zfMN0OxH9AgLvU9CCxAB4qT8OVzUfdGyQpi6VgEbCC6DOerYjaZoLdtkinxYL9vruLUtQ5QOqn923Z5ZvSkxLY4iRf7pS6nFdXIpai2aPTdywqmfTYL16HydchxDOjE9VDwg8BnNNHEI6QXPdIzZuA9EXmXd2FUAgaN4vo7MIoYcFAzfvp_j_o0zrKA--.jpg
//media.inmobalia.com/imgV1/B8vEv5Xh_VThvnEqMx4G0ZxU_YC_pCgmETwWNQKyeMqLb9Afo_WSoi~kcK5mwaepLz96AHEmAzWJQblCNhundhnOIYTFLWoaYU1Reo~1mFb7nlQ8Xwk9c~SV0e3oFLY1Nz8oxb4VzbSW_Vk5Nfluyz_JHzaIVgFbbxTAR6J8sjIFFyJrDZ4yrQMDg~YLRXUHxZMt6G9KxK6eNi6SOzPMbMeI8vnzNlIWbZTJKZhrRhUCSmqWKL~AtLfuBO3qfvbyMfeAbjz38S8PN7zDmt92phi60enhal_xznr4g0rxDuZGPP54klAqCmcAeR7M4q9Xmv6P8Q--.jpg
//media.inmobalia.com/imgV1/B8vEv5Xh_VThvnEqMx4G0ZxU_YC_pCgmETwWNQKyeMqLb9Afo_WSoi~kcK5mwaepLz96AHEmAzWJQblCNhundhnOIYTFLWoaYU1Reo~1lsSSGo8A~K87TyfUqnOWu4SVuu8lJQ49Sp0r0oxRhJn1SBLljHDrrofi7bnp2zqQ4sBte8amnaryll4zDsOwj7MztUUwsjo68LQrWobo7oNxci8BbVmZ_IGdl4~1vtO8hIi0AqRA9R~hBYqVus1WAVW9vkBLYUacU8ahc~gNpCJa9IPCRfsniSr8DX_utHe2KjIlTtONJMfVRW2NPqO4IHrNGA95wQ--.jpg
//media.inmobalia.com/imgV1/B8vEv5Xh_VThvnEqMx4G0ZxU_YC_pCgmETwWNQKyeMqLb9Afo_WSoi~kcK5mwaepLz96AHEmAzWJQblCNhundhnOIYTFLWoaYU1Reo~1zMCECHHi1KNu8Ty0ztOyBaq6BglicStbV0o6bxV52hsCKGz7TYqnPNZqat6MumGzuXGbU~s2MrjHrZRr9QAMccv8qODOy2zj2im~Y6HW4vXNkcTRM_izUggLombn4MivBl9mLBbSOtPCdNEEAMQmjjL010p5NRsqcYo2SbXNGQxNt95FyiRwa4zWlwmfZABSrPHhQQYW3NZpBoQg2A69KgoiMY3Hrg--.jpg
//media.inmobalia.com/imgV1/B8vEv5Xh_VThvnEqMx4G0ZxU_YC_pCgmETwWNQKyeMqLb9Afo_WSoi~kcK5mwaepLz96AHEmAzWJQblCNhundhnOIYTFLWoaYU1Reo~1ngyvNTzSolPoa8n5hZyKMvknRgWL~GbLhzxJzTnfgi~JeLC1n30SHbqWMTopHB6dUxG7prszBcE6xkxe9nO2qh1Ntxs~1NRr19rBw9KUDTN7D7QG3497YaL84oXjd~gCMBrE16D9H97P6YNsh1a7CL9ohagjj1bWjGQGmFlMqri2hy2UExUEt64q4mKbcSidsBBy88D1zQvJDsi98Qrq0MQeV604zg--.jpg
//media.inmobalia.com/imgV1/B8vEv5Xh_VThvnEqMx4G0ZxU_YC_pCgmETwWNQKyeMqLb9Afo_WSoi~kcK5mwaepLz96AHEmAzWJQblCNhundhnOIYTFLWoaYU1Reo~1mVya_77KRezBmkpeMuaNOHNkd2bMqSdujHLzveFU4FNj~~EBESygD96rsTid3sqBwLLAz3sfEwRTShYU_EAOlv669T7hwurPh~3TmJKv2VIc2ZvKyhn3VXzYiWTyDm0rzFAAqQcAiU9NWDLpAgfNQKQ4WpCu_IETTCwc30MoK8~mSLUTNLjc89AyAtY2e5KXDZVEwR1vjKUN3Yk4VsZNgMEtcWbyIw--.jpg
//media.inmobalia.com/imgV1/B8vEv5Xh_VThvnEqMx4G0ZxU_YC_pCgmETwWNQKyeMqLb9Afo_WSoi~kcK5mwaepLz96AHEmAzWJQblCNhundhnOIYTFLWoaYU1Reo~1mV9Kd0m1xfalZilQfXmFHYC_O9NIDxVW84OHQ79CqUeck31VA1FUZz1C3iG7W~mH8kbmfaXvQTkelF6aWeyI~evghOrvK_p~7vXFIK3xC7cPz7Hr~X2ENIUZ_nM2Njh07XpOQCjcaag2e3oyr9NKKEF8HGle2tgUmlghy5F1iJ51Gd9pOEZlBI4dYgt99r00dew2P~d4ONbQt_fUnVc5owc8espwDA--.jpg
//media.inmobalia.com/imgV1/B8vEv5Xh_VThvnEqMx4G0ZxU_YC_pCgmETwWNQKyeMqLb9Afo_WSoi~kcK5mwaepLz96AHEmAzWJQblCNhundhnOIYTFLWoaYU1Reo~1n0rUUpkfv7ryH5HnQvXL~CHCkBU8W3EFSPLBXhapdY1i1J6pztaKR6CkhFCJLO4vfDTiIxYzpfD6HspaEVYUnqEsigRlaFAnMNcgBuSPcxFrQs43EeZ9Nyr622dp3duGT3_Gj~omOz~mkh4iudPYPicoSBH6n8xfNRR52QbZgHiiHUuOYOYnuTaC1iDHuHu1doDQOr6IIBdkAi1NnS8QI~TSYfZLGA--.jpg
//media.inmobalia.com/imgV1/B8vEv5Xh_VThvnEqMx4G0ZxU_YC_pCgmETwWNQKyeMqLb9Afo_WSoi~kcK5mwaepLz96AHEmAzWJQblCNhundhnOIYTFLWoaYU1Reo~1zJU42jnXzW7fe~CPxP21AsCKIPJebnfhKjriVXILiQa6QEYSLZywrldKL1jvkgT9ncu5sx9EnpCwXKFq1J~jrNr8E~DGxcIM1M0SzAi62zy1LXYZYPdDw4Jmv2xHJzg6YPKyhVsvLoIkpCgBBNch6StX9IfTGTGTacj73QexYP8uApzOwUNMJu3lQVghONqCaYb117kMVvy3MP3L4qNTx08XIidIow--.jpg
Bahia de Marbella, Marbella East
Villa
1.900.000 €
Mediterranean style villa in Bahia de Marbella, Marbella East
Mediterranean style family villa situated on the second line of the beach in Bahia de Marbella, Marbella East.
Through a well cared for and beautiful pedestrian access we arrive the house, which is divided into two levels. On the main floor, through an entrance hall we access the villa with a guest toilet, two spacious suites, kitchen with breakfast area and independent access from the outside and a large living room with fireplace and separate dining room with direct access to a covered terrace with barbecue area and the gardens of the house.
On the upper floor there is a bedroom en-suite and the master suite with dressing area, fireplace and private terrace overlooking the gardens of the house.
On the upper level of the property there is a beautiful terrace with sea views.
In the basement there is a garage for several cars and a staff bedroom.
The outside of the house is very pleasant and familiar, with several living areas that allow us to enjoy the house all day long.
Located in Bahía de Marbella, one of the best and most familiar urbanizations next to the beach in Marbella, and just a few minutes away from several golf courses and the centre of Marbella make this property an ideal choice for year-round living.
REFERENCE

208-01543P

bedrooms

5

bathrooms

5
built

618m²

plot

1.156m²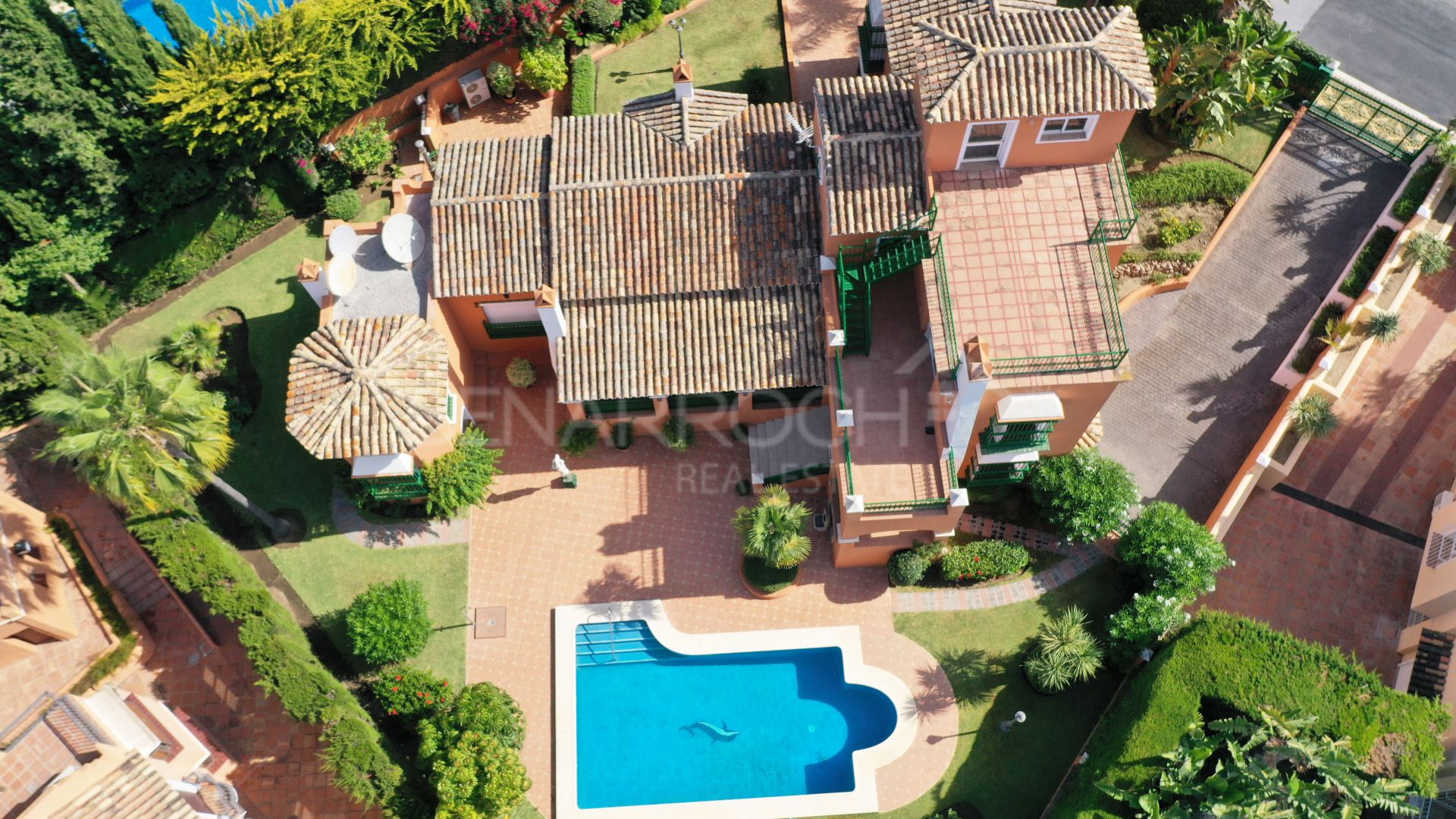 Video Villa
Video of Marbella East Area
similar properties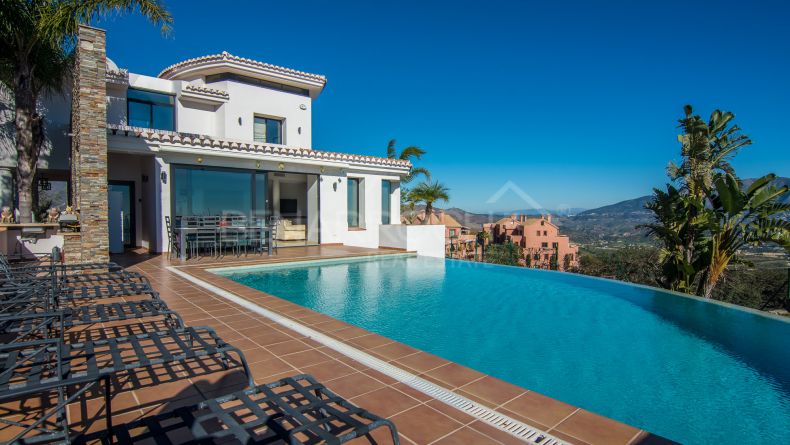 1.250.000 €
Villa located in the urbanization La Mairena, in Marbella East, north of Elviria, with amazing panoramic views towards golf, the ...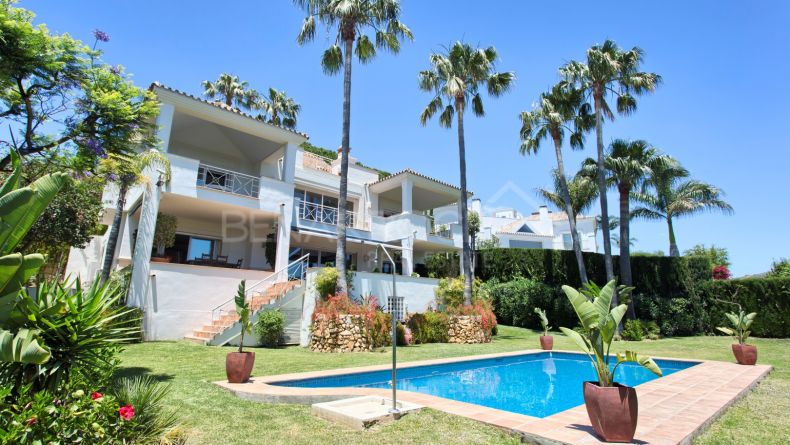 2.400.000 €
Located in the residential area of ​​Rio Real Golf, in Marbella East, this villa designed by the prestigious architect Carlos ...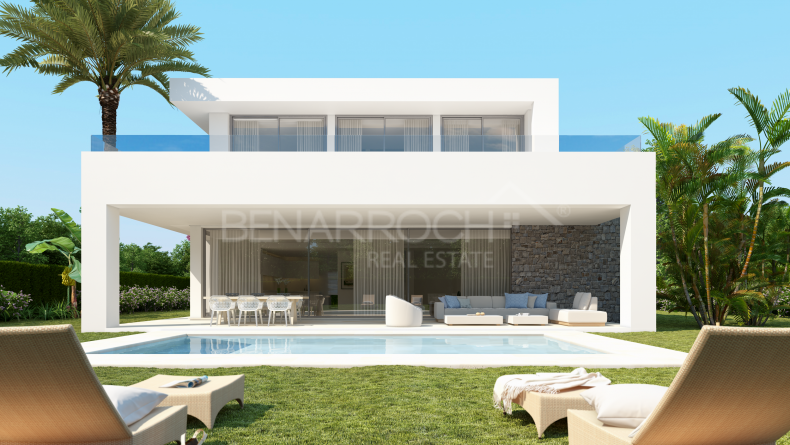 1.375.000 €
Magnificent villa in the residential La Finca de Marbella 2, in Rio Real, with an elegant modern design, located a few minutes ...