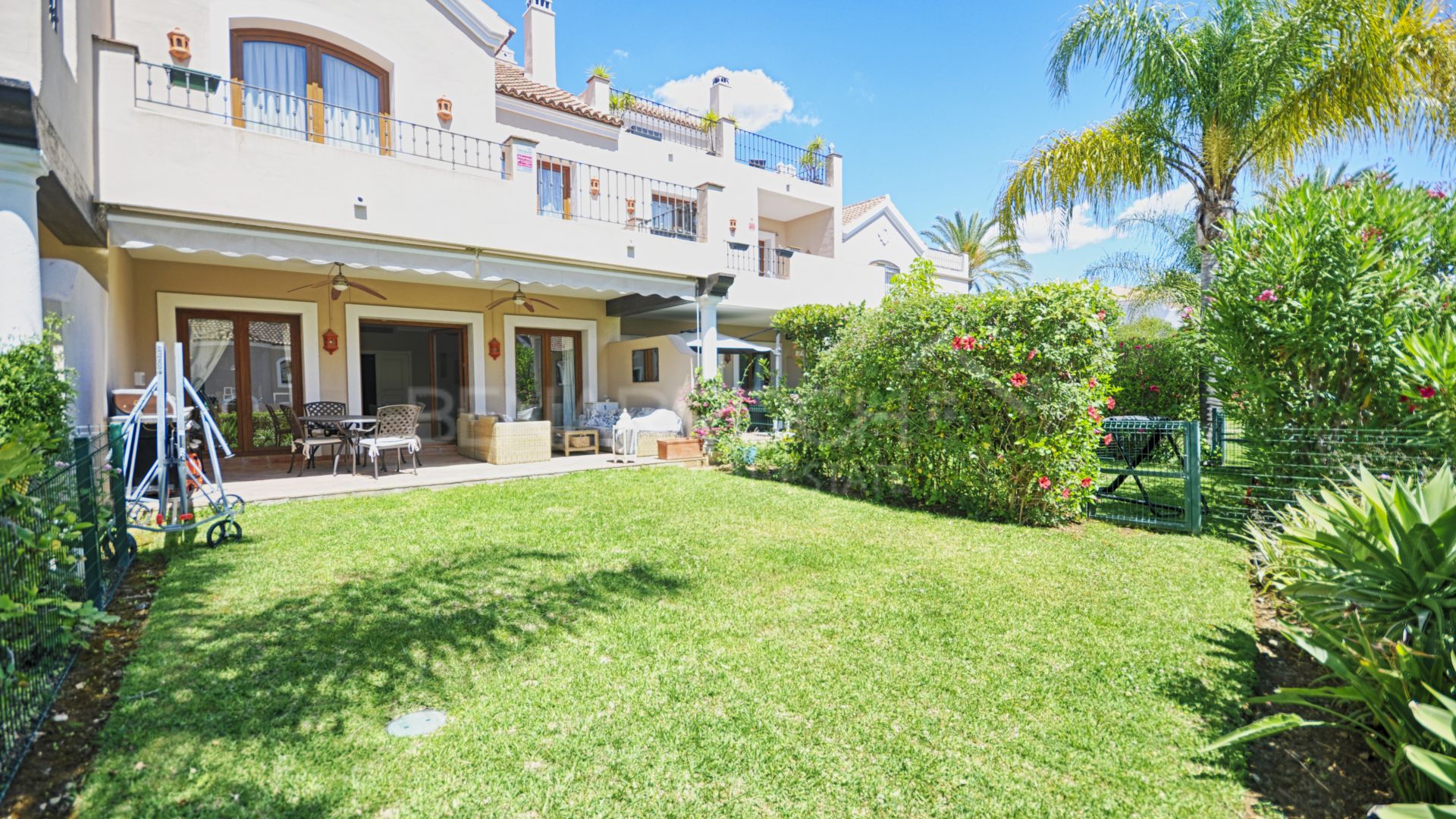 //media.inmobalia.com/imgV1/B8vEv5Xh_VThvnEqMx4G0ZxU_YC_pCgmETwWNQKyeMqLb9Afo_WSoi~kcK5mwaepLz96AHEmAzWJQblCNhundhnOIYTFLWoaYU1XVh0XqAtUTioTE_qWixRJKidMBNiVfEwik0E~LLjt_H_NzzxbADspcrKDpK3XgsjnHtUCkma_9rSualOLx5Qc6egmnopmg8HmzcH_zYdWS6kX03Farc3VIWB7PjW3Uei~5ACHTBNukaOSLw4WZviTLdbmz3kknypOtgnTyoBfQmBKmKANpVu7qdQDeyQeOn8H5ogCG0Ek0XzErWYKvGKj7oukrkiEE3A2uQ--.jpg
//media.inmobalia.com/imgV1/B8vEv5Xh_VThvnEqMx4G0ZxU_YC_pCgmETwWNQKyeMqLb9Afo_WSoi~kcK5mwaepLz96AHEmAzWJQblCNhundhnOIYTFLWoaYU1XVh0X9ECZ~S~hSuEQSDiDjuxlt4vJS5gbg6K_JggJcUGt0haICPrvclQJF63KCarK3nWKF7_3aL5z0RS8WDyG24pJ6PSHL7TaJ7PfmoagMlUQamFQSCU5lX0TR5ywkBqvNBEJS2fZ8VQpEyh4DsKzc4GlRyydt4c4u3xrsaGJI8m~yuq3cgZ8BLXFeeKQZeu8hd2Y_Nu2BKHlHl5VMLOq5y0SXZJOJSj~6w--.jpg
//media.inmobalia.com/imgV1/B8vEv5Xh_VThvnEqMx4G0ZxU_YC_pCgmETwWNQKyeMqLb9Afo_WSoi~kcK5mwaepLz96AHEmAzWJQblCNhundhnOIYTFLWoaYU1XVh0XqFZmckdvfTRqEoyaaPmbzeFLeds7tWD4Sagi~CuIGiD_lEhZUoFKjzrgP0RIWTT2npWQveoUaylPBPIJYglt~NVbul7FvzuW3Ype9doVD6ULawkWEMKjUmjw7b12xPfIIijXXza0oXe8fqiMh1GFT5lEsMgg9DMYelZtcgkXTKeCpJSQPehOhsYUyMdQhYcfzunT5GGsjnWgHnMgDbhA6xuibObXgQ--.jpg
//media.inmobalia.com/imgV1/B8vEv5Xh_VThvnEqMx4G0ZxU_YC_pCgmETwWNQKyeMqLb9Afo_WSoi~kcK5mwaepLz96AHEmAzWJQblCNhundhnOIYTFLWoaYU1XVh0X_ky918fq_tolo4PISrO_UDX4decaP3WZCTnyeb9VJhP0_9pMtilnC1Hu1p5eilnc1CVaNji6euGS1yeGSDUmHuYaiiBuDQ490V7M5Tl6PXa_OQAVYkX3VLzFKVR7H2WmaAcFwmG2TclCHVB5GpvUaxH0UzVN4NFUZzBKKpS~5Y2XS98MH0DGU1g211M4tgTpqQxG0vxCT1T7zYGWj15Aio9JSHdiOQ--.jpg
//media.inmobalia.com/imgV1/B8vEv5Xh_VThvnEqMx4G0ZxU_YC_pCgmETwWNQKyeMqLb9Afo_WSoi~kcK5mwaepLz96AHEmAzWJQblCNhundhnOIYTFLWoaYU1XVh0X_h_CVdWEjtoP7Z4pxEsQOo4TO3ukaZj2UiwUbhXS8pQ~hRJLIoKBKc7SHkaAqyfrW0KTs~ORp8_gBY5v12Q4~huY~Pp7ROW_HeeEdvcnDZae3CNdBbdzEK7xAlV_xgKw2W4lltb1HfjA9P3Ie6Hy2xup8sF8xkfWBVtIo7BNnrf~XjJf~svw4vzQhy~MhyXu9lGNQzmTdkKZhryDqXIcdr~PTZY8Rg--.jpg
//media.inmobalia.com/imgV1/B8vEv5Xh_VThvnEqMx4G0ZxU_YC_pCgmETwWNQKyeMqLb9Afo_WSoi~kcK5mwaepLz96AHEmAzWJQblCNhundhnOIYTFLWoaYU1XVh0XrdCS_aReFRMhyP7Tceh3H~eIppJKmn2e9FRtgkOLvudjznq_Ztjm09ifsrBvJX6iewnB2ymRjUyQmE7m37Adz3Dxomo03gCMcHOdI2bPZ1lC8ruU8GNsNMX8fH_M55P~xmISLshf9oQTXGY4WQk6IbQRmt53_KxiG9jvrxIsYIBrMIGt~0k6TV56lEpXlXQrHTRCl0n_sQypVTzIqvKJO~mc8uuO6g--.jpg
//media.inmobalia.com/imgV1/B8vEv5Xh_VThvnEqMx4G0ZxU_YC_pCgmETwWNQKyeMqLb9Afo_WSoi~kcK5mwaepLz96AHEmAzWJQblCNhundhnOIYTFLWoaYU1XVh0XrracVbKn_cqzCwZVA_ESRrs1YG5yFvAhwKG9sY41rQZfVvWQ32Z4WyZk0PvOyzFyuSl6wCWevhOSbLUoLteRTLELQ_Q5cLOuSdMg7Z8MU6ZGt8ZeMBje6LgkRdmxSMrR3AL9ll6nfH7NKmHq0Vmou~zW7WMYnmo7ZeGjufjbm5vFY1kIBr0mAXLcngrAIZq5ZToSs7B9PSRiK3T9Mqb31jk1Qem1FA--.jpg
//media.inmobalia.com/imgV1/B8vEv5Xh_VThvnEqMx4G0ZxU_YC_pCgmETwWNQKyeMqLb9Afo_WSoi~kcK5mwaepLz96AHEmAzWJQblCNhundhnOIYTFLWoaYU1XVh0X~1XrQWlTosIRRDGNyw5GI5KDbjFxpBCnvQdQSmyhvvUSMdUxgYarhHGt8ZHo0dxoFNEgntSyt95mvQ~TqG2NBxlNI3oApGr6SDKET3YXLYwltsCG2BwrynPCO98D3TvD3MHyo9js~TRZ0hzU4F2_vbEiCpvGB4b39qWN4uSmXFRlZoeQcXGIAoKFL8H4jtfBM6_AHGEg6X7UT28t~QYo4~9g0QvNbQ--.jpg
//media.inmobalia.com/imgV1/B8vEv5Xh_VThvnEqMx4G0ZxU_YC_pCgmETwWNQKyeMqLb9Afo_WSoi~kcK5mwaepLz96AHEmAzWJQblCNhundhnOIYTFLWoaYU1XVh0X9ayzjKpDoMwcqKeJeDv5xjmdBaHqVKRVmO7V1fx6ptqdVtU8NHRpPm3p_ZGhpqyC0WifTX2zffKfdw85uKevNGjAKGBzZj~a2BE1EQdigfsjIDrFZ~lX~HSaA12oczEW0SR0EGwpvK47hI~d2DJce4YrjWrVsZgEw6V0YYG_~QuMYADm4ujXpGeJUMp6_o0Y0Uj89NWnjnJFIp38qFP54Ay73R3ymQ--.jpg
//media.inmobalia.com/imgV1/B8vEv5Xh_VThvnEqMx4G0ZxU_YC_pCgmETwWNQKyeMqLb9Afo_WSoi~kcK5mwaepLz96AHEmAzWJQblCNhundhnOIYTFLWoaYU1XVh0X~XG9O7ubSLYYIviyhytggQwFD5DgBYA8wRARvr8yyVLdjM4sm2x7VAgfMx_WG6c22J9gkQb_xoEIqFFPVvk_X3s8_suw2zEu7peqYE8EMMis~ipGfDZIN9gvTVS~phHgx1qHJ7oLCtJ3s~U~ofRxJB_Mt9vrCjgq7nPlcJBDlloxJ~GKbKIcKpng26ih6uiemCoIDxSChnkm0qnMzPq4AENincoo2A--.jpg
//media.inmobalia.com/imgV1/B8vEv5Xh_VThvnEqMx4G0ZxU_YC_pCgmETwWNQKyeMqLb9Afo_WSoi~kcK5mwaepLz96AHEmAzWJQblCNhundhnOIYTFLWoaYU1XVh0X~iPsUx1tHY34X~Z0hVweZQ9IuyHByeSm566UtaWZpRD63vv7J28siEk2Jjw0W52pMFCBNY9hTB6PwRBaNU6Kak0ktHAt~hT564M8OCRM_~6bjbIpsFCCJLE9adDTlgD9H8w0EXWPrR7cpakH~jv31C196odXe03~Bp6JIdd31dSVlGZRgSD9IKfK9xzv0OmN2EyluFHVqBwhXP5BVHOOiaYgBeV84A--.jpg
//media.inmobalia.com/imgV1/B8vEv5Xh_VThvnEqMx4G0ZxU_YC_pCgmETwWNQKyeMqLb9Afo_WSoi~kcK5mwaepLz96AHEmAzWJQblCNhundhnOIYTFLWoaYU1XVh0X~GVpC4tozDANjEEbn0NJ9u8k~jul233znq5LvgOE7IRcdl_R1suQwqK_q0urSc0UY2tEb6ObyaedBMwiGW_21a6jhg7eWXfCNrEXp7Mjh6jFyHcPnzsCtYFtTqbbs9a9XgTeFrPR1YDmKxEoD7Rf7arv_ODeTWZPVdZEtUhU4~O~8MxjJ3iFn7WFDzUlj61FOtes~iUd3ahGfd8em4l55hwzqYQFYQ--.jpg
//media.inmobalia.com/imgV1/B8vEv5Xh_VThvnEqMx4G0ZxU_YC_pCgmETwWNQKyeMqLb9Afo_WSoi~kcK5mwaepLz96AHEmAzWJQblCNhundhnOIYTFLWoaYU1XVh0X~wJ_V_EKcqXanbNcd_klx2yLqcbKyb8LIBha2DXxqVZD8hWUXsv_4eifi~y5NH0ibcevEaU23s89FDfhEpoHpygLbcOORNm3xd455fPz1i6aTUDECiuZX2Xjut3qlNuYf55TK3w91zIRsFKjpALe4a5wSjaTd6K~6cnQBBTqbHjEM9r5o4LHHb~GyQ6sv2k2qcOOSjrvsdhXyxldQkaRmNjbJFcLSQ--.jpg
//media.inmobalia.com/imgV1/B8vEv5Xh_VThvnEqMx4G0ZxU_YC_pCgmETwWNQKyeMqLb9Afo_WSoi~kcK5mwaepLz96AHEmAzWJQblCNhundhnOIYTFLWoaYU1XVh0X9aG6_UIrPtZLP41StLQK4_pwrVGb_b6BuJGOkuDSUyGlyxK6ppqtvU8mYDl2yxhXiRn9c3OcR_qY7YSuPqofO_PS0kQ5hCXWZ4LrjgU6~GyuD6Xzsj4aCKVb1sI6DF2oaZWQ5RN~SvNp9STuvPtGMIe3rvyHmuG3mcjZQ9D5r7R8AfBpoT5eLTSFggayGq8i9iKWU~62XSDb5B1yfS7V0gP0ZW3AWQ--.jpg
//media.inmobalia.com/imgV1/B8vEv5Xh_VThvnEqMx4G0ZxU_YC_pCgmETwWNQKyeMqLb9Afo_WSoi~kcK5mwaepLz96AHEmAzWJQblCNhundhnOIYTFLWoaYU1XVh0X~ieO78603NQLulVKCH~K4BBta7stD9zyWgYZ4UZ2d3_0WOb5yzP7DyzGs6BftlvZE9oRJyHOFF1NNWwt0XdZPfjHtMvnGNxHLHsIQ~rjlkJKP4wexhG6OObB0cv4w9ZgYKsiWUabyo8d2tgE_Ioe5yRgPyTIJAyyHtMd1_DpUPd87mZ9pf3J9SdYDlXF1gZWp4bV56LdA_rMwuGXcbjeruy3zA6LBA--.jpg
//media.inmobalia.com/imgV1/B8vEv5Xh_VThvnEqMx4G0ZxU_YC_pCgmETwWNQKyeMqLb9Afo_WSoi~kcK5mwaepLz96AHEmAzWJQblCNhundhnOIYTFLWoaYU1XVh0XqddzV33BWMT0Kd_PnwutbZUV6EBUdW42bmJTlbWNLVkYCJDbySw3Q~~OkujHx5McJ40hDAcQKQj3Ld8_XRRSie86Ppu73OQFrkccGQVUktSSZeodWnb18jgVkqhdex1EnDsorUw2qrL0o7eHYPnSZj49rg5na11jc4vcO4rb_BGEg~~HOGeVum2n7vYchvPAJHoSg8bAzuPGBd_Hwh71QTXj2bxqHg--.jpg
//media.inmobalia.com/imgV1/B8vEv5Xh_VThvnEqMx4G0ZxU_YC_pCgmETwWNQKyeMqLb9Afo_WSoi~kcK5mwaepLz96AHEmAzWJQblCNhundhnOIYTFLWoaYU1XVh0XqmNYI2uhpAlB_NybFy4BNK7QlYU7LIE_sPWYbtFCeCLCRug0Gs4KDn36XyHGfn8SkYtHWNe_rUy6o6Ad6KwZND88mmQlj1xa50H1v6AkMF5f3Dr7HYja8ikEZ3Nmdu21Xw84AqmnmsXZp9oCYcxnQvUTtRsNd5HuPgHz_MGewcdUagYxkwpLCIF8soKfJaF~6zeVYwPksxQCvtZ46M7BV5Ybhzq5Ig--.jpg
//media.inmobalia.com/imgV1/B8vEv5Xh_VThvnEqMx4G0ZxU_YC_pCgmETwWNQKyeMqLb9Afo_WSoi~kcK5mwaepLz96AHEmAzWJQblCNhundhnOIYTFLWoaYU1XVh0X_VDei9FsMeMZbBWCxhpa5JV0T9XMQHmrtu7k6eoeCorGHRgUmh~ndjq7AKKP005KFKLVFJUL2dygva7xUnZDk91UhX8wMRUWjSiUVbwkZjTsyLL~_IOFqRD5MF_w3r9dSm7lkBfefmQOUrz_t5PKvmV~ceXnqKpdQDG6y2AamJaFZWmkp7OYvM6dcbEwkNJ8SG~JuaYCbdyBxyfEJi~bU1wlA8PGmg--.jpg
//media.inmobalia.com/imgV1/B8vEv5Xh_VThvnEqMx4G0ZxU_YC_pCgmETwWNQKyeMqLb9Afo_WSoi~kcK5mwaepLz96AHEmAzWJQblCNhundhnOIYTFLWoaYU1XVh0XrdvVhiWfxuojVAgsx_46ylQzRuuaWtTm5Jt3BhBEZUGvBbHQ5QNuC~PNoYqmt1rc_UAeLZAoyfdsA0FFtFZBtWmKcKFJwkNbo9LmDrihRCKYQ5~lSVh_qJt88ZXqgM_BMhgoHCdmL3kT8PVU58PA9TqIIoKlMxR7iGCukd7f60DqB2DH7iZ7yeTpmpX37tnKT_dRRLfEw6EuxPb32Y8cNYjMO9SA7A--.jpg
Paraiso Hills, Estepona
Town House
385.000 €
Townhouse in Paraiso Hills, El Paraiso, Estepona
Townhouse located in Paraiso Hills, in the New Golden Mile of Estepona, which is undoubtedly one of the best townhouse complexes in the area.
The property is distributed on two levels. Through a nice path we access to the house. On the main floor there is a guest toilet, a large kitchen with utility room and a big living-dining room with fireplace and exit to a fantastic covered terrace and the garden of the house.
On the upper floor of the house there are two bedrooms that share a bathroom and the master bedroom en-suite with access to a beautiful terrace overlooking the urbanization.
Private parking area outside the house.
Paraiso Hills is a wonderful closed urbanization very quiet and familiar with security service during the night, two swimming pools and paddle tennis court.
Close to Paraiso Golf and El Campanario Golf & Country Club
REFERENCE

208-01521P

bedrooms

3

bathrooms

2
built

156m²
Do you know Paraiso Hills?
Video of Estepona Area
similar properties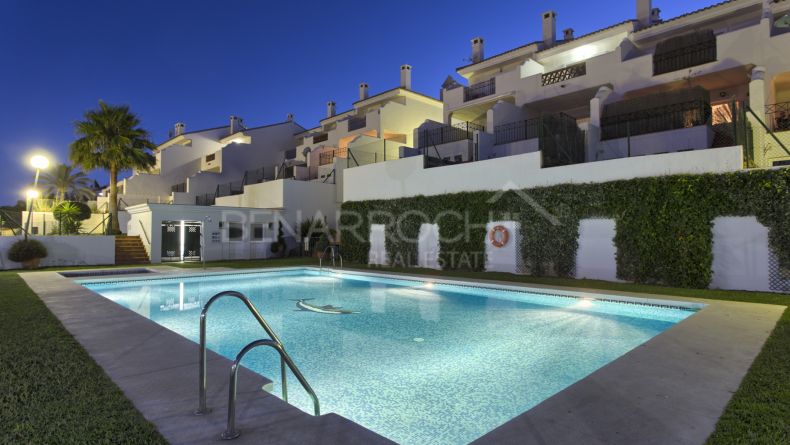 SOLD
Great opportunity in El Paraiso, Paraiso Green.Paraiso Green is a small closed complex of twenty six houses with an excellent ...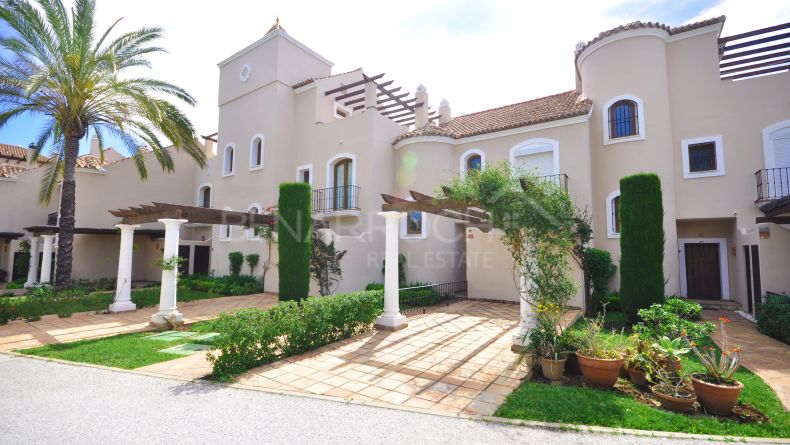 SOLD
Townhouse located in the residential Paraiso Hills, on the New Golden Mile of Estepona, a short distance from the clubhouse of ...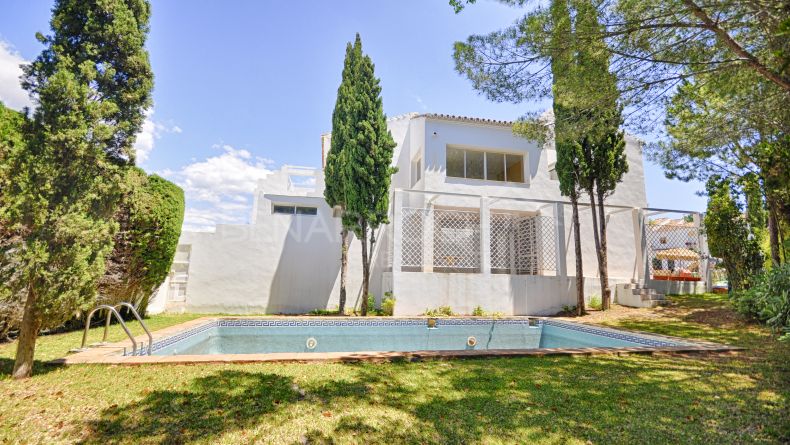 395.000 €

reduced from 440.000 €
Townhouse in Señorío de Cortes, El Campanario.The house is distributed in two levels. On the main floor there is a guest ...