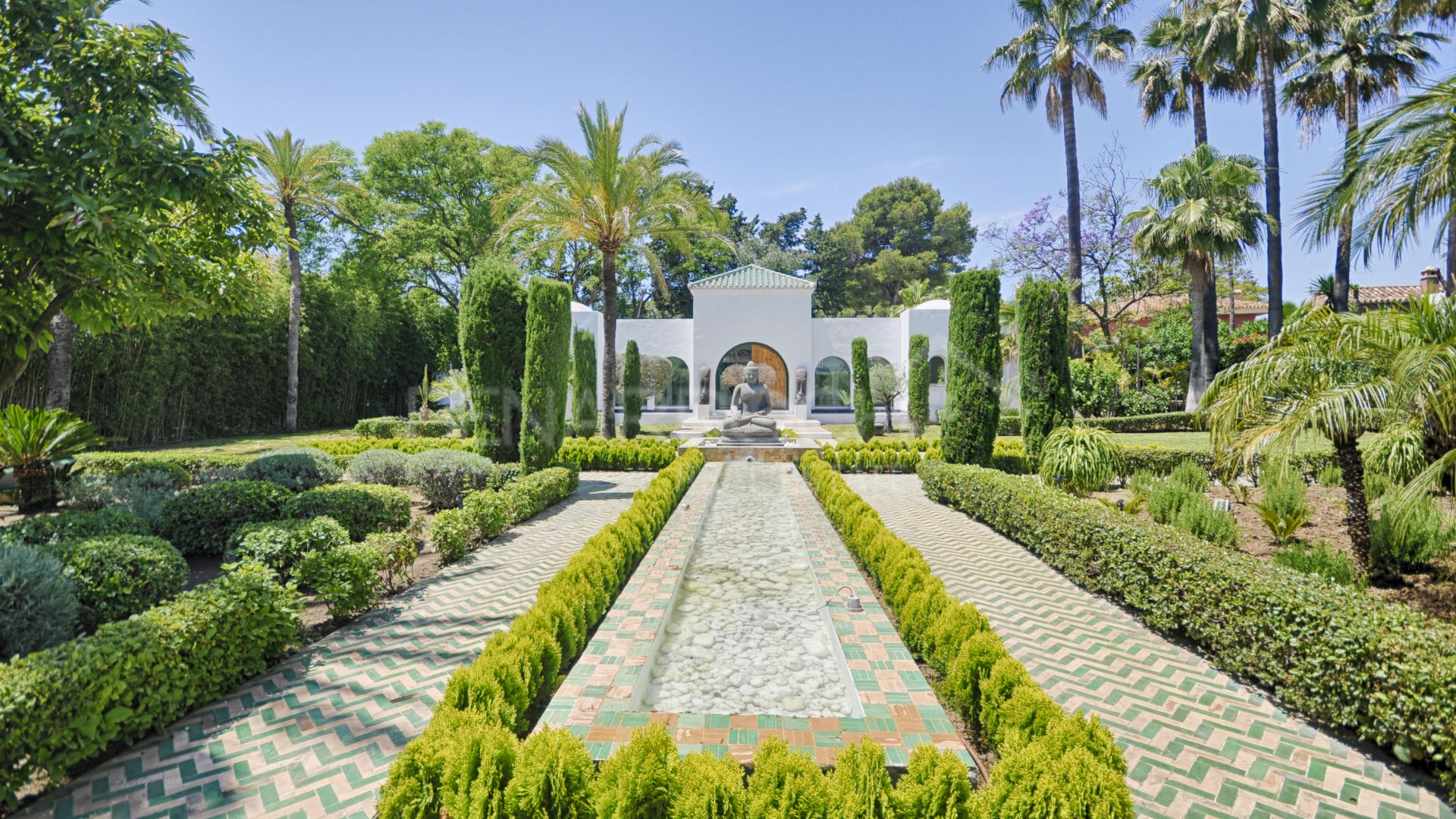 //media.inmobalia.com/imgV1/B8vEv5Xh_VThvnEqMx4G0ZxU_YC_pCgmETwWNQKyeMqLb9Afo_WSoi~kcK5mwaepLz96AHEmAzWJQblCNhundhnOIYTFLWoaYU1VgNWQeMIlVXgb5G92S67EVrwNVcUWoZ8hugtTsGBx~lkKjwYD1If5YSEe9oCkrnoD0ctNe1vPR5NgpZFpCkmSF1b88tRt0RmEM~cO3ksyBPkFhbIak_za3voSTFP~aWU7tNleESLEH1~B8ZiVcJjTCIxVBg8p7iadk7Bn1EHCCk_24euUl3pk0F6AcYUdzhesnMaCcB5m~SKReXL3AktmoFWfRpidZNmT7A--.jpg
//media.inmobalia.com/imgV1/B8vEv5Xh_VThvnEqMx4G0ZxU_YC_pCgmETwWNQKyeMqLb9Afo_WSoi~kcK5mwaepLz96AHEmAzWJQblCNhundhnOIYTFLWoaYU1VgNWQelq0peJNHLVu6f0B0yKdftzAsqa09p2h9mLv2gHSKCV6QyX8AXZFY0ubtVmze_S4acK8LddGnTCAv64nxOxA6_rAbM91cxkGSPjeKp31tkEpRuCUwu6gfS0ZHF8x1mgjFgODHW8iY4GURbFX3jqofSAkqkZNIPjs5PNF0yPXuWjajUaxlQgoIkl3Co1gAzvWoMQgmBSrMon25EM27VbHO_B0cMCdAQ--.jpg
//media.inmobalia.com/imgV1/B8vEv5Xh_VThvnEqMx4G0ZxU_YC_pCgmETwWNQKyeMqLb9Afo_WSoi~kcK5mwaepLz96AHEmAzWJQblCNhundhnOIYTFLWoaYU1VgNWQLKAIjRG6_k2gjJl~wZQfEeENofDVFW~_~zG5YrlE7CvkQbqrXrKYpz4TKI~_4jJWGL5MjkoluqRp5WWcEhppsHWSnsu2D4T10f2p~wh5N1AQk4VoknNsYRNWCQ3MGxwQolXFsHTuekh9G0gmJVa1VpwpYKCqa74k18op3I5SfDzNf5uZtUj5c9_7UE4exMfs5Tg7upxE_Xo2wvBE3DvTIYRdr2J4eg--.jpg
//media.inmobalia.com/imgV1/B8vEv5Xh_VThvnEqMx4G0ZxU_YC_pCgmETwWNQKyeMqLb9Afo_WSoi~kcK5mwaepLz96AHEmAzWJQblCNhundhnOIYTFLWoaYU1VgNWQelU6OIwLg6vsUPyOEslNQarsNnhofs5KLg1Ek~vNc_xUL8VQ5TOAbgfcM8jQENu0qrz9kyG85MK2Hwe_lYcKolvP3WfytSx3i6DEXqsDOiDwxMgIbgw5I_Swwxvht6P8n2nM7BPgctXGTanVzKC~Yan9qi6uhfdBdi_O0mOUFrUk1ES9AZ~dUvdNc0zVOgPkxo8uWKeKxHUhz75By4ky_5teNyaKvA--.jpg
//media.inmobalia.com/imgV1/B8vEv5Xh_VThvnEqMx4G0ZxU_YC_pCgmETwWNQKyeMqLb9Afo_WSoi~kcK5mwaepLz96AHEmAzWJQblCNhundhnOIYTFLWoaYU1VgNWQLSP4rTdFFmFR74qLXRoKyg5dB3u68ZkgspKK2teAkdlchLVzEvvTm5VBSQoSaZZ6mh2~K5meyCOf~aA1TMNnIbFcRhlFNMqbXBJiBt8bWsdrPSO0Ft0ZUa9~~c4Cq274SU2e53YkO_LfwwLGfuCxbRqCOaAkpnJpynVcJ_zMnxK6jNvTylSTwBREV8wVb8hMrTjYpXQrYDwx7Ibvd~_Ol9qgcwDMSg--.jpg
//media.inmobalia.com/imgV1/B8vEv5Xh_VThvnEqMx4G0ZxU_YC_pCgmETwWNQKyeMqLb9Afo_WSoi~kcK5mwaepLz96AHEmAzWJQblCNhundhnOIYTFLWoaYU1VgNWQLoJ2rLHPv5JXx5ijFoLyuaWCMupRwL~1qjjL4n1RaGZELH6Vcifp1Sxx_WgqsuHneIN0B6HGtxPM0ZADLD~qS5Zvyb1pGpHF59hTQPr03FKECFF3~VdR04Sjq8I8kH7fxWxICkvl4R~Byd8pLOs5Dm9Eveqn5JaYyerVX2UcrjJsQ_VyIF6qAfNHb~EPH~dE7PASkQTvwGUXOAWFjaqgz7Q2So4Pkg--.jpg
//media.inmobalia.com/imgV1/B8vEv5Xh_VThvnEqMx4G0ZxU_YC_pCgmETwWNQKyeMqLb9Afo_WSoi~kcK5mwaepLz96AHEmAzWJQblCNhundhnOIYTFLWoaYU1VgNWQL0bmr6SvUIyClBlBzGooDaC5Wo45SY8FcGrvvyC~Ud22decQ~YGXeVbHTwiO_2j~PaANQHBETMtz5bPLTRd4K7j4zEf3x0q5ojeIx_vioDBz4~8PLclngRnIp~PXpJsPKrzax3JZTeJcTtq_VgligPopp~dO2TOjxVYRx5s_8uLwNWir9cqMbzWWgrfUtY8JmTQ1KYn13w19fQ5CW95ewzidQ0FoDg--.jpg
//media.inmobalia.com/imgV1/B8vEv5Xh_VThvnEqMx4G0ZxU_YC_pCgmETwWNQKyeMqLb9Afo_WSoi~kcK5mwaepLz96AHEmAzWJQblCNhundhnOIYTFLWoaYU1VgNWQeJUmvYgp7BlyZ1dNXjtbNG5UwFX7QCkr6nIc_0KrKdGYRoLRy2f98UhiyAe9X2QbCIM2_7A2j8kfJUzA5765HU~LtAtzJFuR0uEkYBmQKx07cxR_FX6piic_4eF~4q~r3~EihzsgkSqVBemoKcs~hu0Ib3EOw_AJ8nvqepKT_udDNICOCmrW~CsISLO5jANqeUD6gRdF2vyJ~9KpRy~f9Wd3rnllvw--.jpg
//media.inmobalia.com/imgV1/B8vEv5Xh_VThvnEqMx4G0ZxU_YC_pCgmETwWNQKyeMqLb9Afo_WSoi~kcK5mwaepLz96AHEmAzWJQblCNhundhnOIYTFLWoaYU1VgNWQLPJXXZTCG1MY367ZE5fktZJGnqNfGqz7oQuVAaCxiLmPiIrJPUuTgY_PpCJmJmUUhtrlfg4iofryrTmk7~50~EduObewbp_PWpP_Jkadhbr_pLYDCQV4cqPpNjjKPn7D7fzaB5P9vogAE1Q5Ku4V13OiIF0rnTtQ6h7MVYhWn~vJ~3LhX6tCsRh8J0ArgViJOnZUJXRnSJNybTXU_JsqZ38ZiHlgRw--.jpg
//media.inmobalia.com/imgV1/B8vEv5Xh_VThvnEqMx4G0ZxU_YC_pCgmETwWNQKyeMqLb9Afo_WSoi~kcK5mwaepLz96AHEmAzWJQblCNhundhnOIYTFLWoaYU1VgNWQKPFb4vExpJnAfQnm8CV~uz7P9lxpJpSaXoThz5eSomYtOo8t4WEW0CJ0dtuWnc5AItSOCCm2EKGwvk1U2u~PVKZDygq9tjlCrF6EMQYr5s_aeoZYgqFtOL6z7QaDciu8p_DXCQ1pWLfg~HGgh_0jsVp8EfkwrhV7VLJ6jTzmFng6VpocdlPVeLlVp46ODSI5ryZ5m2S6k7nJZ1jwgCO3mtPNII10Lw--.jpg
//media.inmobalia.com/imgV1/B8vEv5Xh_VThvnEqMx4G0ZxU_YC_pCgmETwWNQKyeMqLb9Afo_WSoi~kcK5mwaepLz96AHEmAzWJQblCNhundhnOIYTFLWoaYU1VgNWQfaj_tXiLlPkBmsqw2dY6rC3uzSzZTDw9uJVSzzvcESOvdTBYju4jcPh9oJ2Qtp~_rT8nW1AmwBEX2AxLUc8BVWEtw2ZG6YdI_htieUB4gQ~qOnlL9chOkHPNOTfKZOnTslL0CpgWA_W6~Sbn0_rXdlakAb1T9YAX7I9Om~2Nr8e08lpOJ8Ew5xcAKB0WdDdTlWQKeBI1_PXvnu1JS7TwR8_dfRuVhg--.jpg
//media.inmobalia.com/imgV1/B8vEv5Xh_VThvnEqMx4G0ZxU_YC_pCgmETwWNQKyeMqLb9Afo_WSoi~kcK5mwaepLz96AHEmAzWJQblCNhundhnOIYTFLWoaYU1VgNWQLtq5XHjDTeuu4dj4T~vxwKthNMBWhw~8g9IX6fzf18nMwePwNrn8ddbDLWjbY_FNKsSHGrz86t27YCnXi0jbsm6SsDCTwgzAY6iDodq4KmOWb1fg~jmnoVqOigH6fxlgXSfCggtfo6fb404hK6j5fk9wT2R0TAsGA0~53Sr15Rvgb6J8pRGcsVZd4T0H2KpmkBA2ZmsBccWZ3q7yVJCvVVXy1QogMQ--.jpg
//media.inmobalia.com/imgV1/B8vEv5Xh_VThvnEqMx4G0ZxU_YC_pCgmETwWNQKyeMqLb9Afo_WSoi~kcK5mwaepLz96AHEmAzWJQblCNhundhnOIYTFLWoaYU1VgNWQLoniPaURTtoGQCtQxD8y1ZXdA_48trk_Bpu9D4B4w2ciQb_OLyA5hasro7La5w9iHgs5Q~DKNc7MlSE_cbKK5sW57a6pE9vuBhj2FtIU~BzzrgC3reSlqNH2CdThAQFbbh58wwnagayQvAsS0b5Kfz0zhBqZ~QzNe~GZ5P4cfG07gtSDkuqHl2Br9pABGLJqahzR2uXhtQMP_mzzn5xrMI_HiL4fBQ--.jpg
//media.inmobalia.com/imgV1/B8vEv5Xh_VThvnEqMx4G0ZxU_YC_pCgmETwWNQKyeMqLb9Afo_WSoi~kcK5mwaepLz96AHEmAzWJQblCNhundhnOIYTFLWoaYU1VgNWQKj~nCUcLmYSeIIX0ePDQ~QwplylguP2H7CVdL0zEwbZnrwOnnqUXK1IoakzLrSF5oe_x1xeF1ORm5QaQzCQds5rA9vcSrKu8qe~~oWfhKgtK4F5fwrDEbtkDehw2MoV_Ypu4lz9i~~uj7wTRqkOcJ4aQuaUx~yW05IEbad_DV1iRy9HQ_Hxb8NrMAp1uuhXAI51zBPf1QxLxOSdVveLzgBJfcWBjww--.jpg
//media.inmobalia.com/imgV1/B8vEv5Xh_VThvnEqMx4G0ZxU_YC_pCgmETwWNQKyeMqLb9Afo_WSoi~kcK5mwaepLz96AHEmAzWJQblCNhundhnOIYTFLWoaYU1VgNWQLSiz1yepGyrOBrBJ~c4xdKlzCOvns1j_Bs~9AYIGGstwu3Ho089z0TQd48qmw5u__jvd9ZXW_4E3mff9g5FvI6aqTLHAolDNBTH~74D9AMIisL8Y1MXFbv6tP4E77CeNaevjAX~wOb2OFeUGRTQUoYGaMK10PSuxVAO6FobIDYUNzagOQB6njkUjlqpD1V3W_FvXcC315NClAcOeaaB~4mY6BkQBFg--.jpg
//media.inmobalia.com/imgV1/B8vEv5Xh_VThvnEqMx4G0ZxU_YC_pCgmETwWNQKyeMqLb9Afo_WSoi~kcK5mwaepLz96AHEmAzWJQblCNhundhnOIYTFLWoaYU1VgNWQKKSzlab8TIa43B0ZZ_K_G_6WmTwJfcrCU4ZsrHWkOOv9jBMXROdPMUtlkTTmaxmxrTGfjcTEE_iZDKAaWVH_rP2pmp2l2_N2q92OQ~2CYZ8gfRuTtVH4LL~Rrh0OwCUASEmM6N3aFguzER3qf9IZoBuI4RIXp0xhNqmzZP1oNWpIHYINpmn1Re7_xM0e9vLL3IgW9z49v7DS8lxtee~GaqJCqoQRmw--.jpg
//media.inmobalia.com/imgV1/B8vEv5Xh_VThvnEqMx4G0ZxU_YC_pCgmETwWNQKyeMqLb9Afo_WSoi~kcK5mwaepLz96AHEmAzWJQblCNhundhnOIYTFLWoaYU1VgNWQJzLpCgldmZ88WCPZcSnfu_h1YX3~KGfRLitud_7VPP7n8pn76~LDjRrraoGcDeJTPnVJ2G1EotdWt_8OIC8pxFjak8KrNfnXRDdGeKeX05sjc~bbYj5ImlOLbbQy3Ejspf7D0IXgc_h0DTzl2bBngJl2tZ8ebWJD8Ib2NpBrxlzwAXG8k0IfBReXFfECYNrj7shE1TeJTeTnj3tJWy~d7Mi81I8yIg--.jpg
//media.inmobalia.com/imgV1/B8vEv5Xh_VThvnEqMx4G0ZxU_YC_pCgmETwWNQKyeMqLb9Afo_WSoi~kcK5mwaepLz96AHEmAzWJQblCNhundhnOIYTFLWoaYU1VgNWQKz4nM30UfqXPsv1Nf7PiGkELRPKygBkzg7_5zwsIydUzc8kQBnyxeTatfc~wr9bYnMEiqZGcVRuzaFqjbPBmhqLeOCAdg3_e98swaAfg~z~4idMUNpjC2Y4zALOyoSHsHuymxsi9Gge5c7PyU_JaWqffsz0Tb4j9L3EwG8vdr4D2g1M0Y_Ngn4AzAEFTR8TyHnKj6fGAMuoog~DLjTeIdLbdULRtfQ--.jpg
//media.inmobalia.com/imgV1/B8vEv5Xh_VThvnEqMx4G0ZxU_YC_pCgmETwWNQKyeMqLb9Afo_WSoi~kcK5mwaepLz96AHEmAzWJQblCNhundhnOIYTFLWoaYU1VgNWQfDZi4aMzo7WSl2S8vPXMB9PQs9ABvtyqtDnYqtg1LM3JpMEltZbt26U_WkHsEQ0Zj5cSBA336NiGYb8FaRfwPt99u3Q83Qy1cpf6HnvNHU06dxUdA~WSB5OUH4q9YXB_K07~lDMHtEORP0NlVB2tLrkpLxd4C4zClNztHzaELDXyO0iVzpEUP6q17AAJHaOIrqxhyGqEOPZVQs7ePvI64F4kwy7eZw--.jpg
//media.inmobalia.com/imgV1/B8vEv5Xh_VThvnEqMx4G0ZxU_YC_pCgmETwWNQKyeMqLb9Afo_WSoi~kcK5mwaepLz96AHEmAzWJQblCNhundhnOIYTFLWoaYU1VgNWQKaPkTZfRG1fqyo24plfyBalNj~qdzWSHXUWLyBPwEnWmpkOFbim8WEGtcgDA5LNtID2B4k3m8iVn1XP6qKRLNRgm60sR~u6dUCThsqD6mDwUoHuT_Z4vQbjNVDolJYs9K4AUXvU6ek4ukh8hz4fobU02uwqoraJjQofYRocqCackx6Ny~kJBsOUDvZAU~fFoHKbsGBRNpgqXACbAyf1F8Rp61IFSOg--.jpg
//media.inmobalia.com/imgV1/B8vEv5Xh_VThvnEqMx4G0ZxU_YC_pCgmETwWNQKyeMqLb9Afo_WSoi~kcK5mwaepLz96AHEmAzWJQblCNhundhnOIYTFLWoaYU1VgNWQf_ABxxvOStdmEUkObME1gHNQm9UGY1YlDd1fpVTIjcsFc1AAbkfvZ5LnikDoxzXyJvBgubdQZOHo5blhGuK5AjPx7ThrBr9yfo0H~AnNXFUVpWQzXZ0FUluJtu~6t9RxaTcDhiXZHQzGozuPQ1PhrawBBEELdNaDJIhwpOLXfg4kpMS0OIECYgcNsotnZ4UoGerjAYZPgjPFZT35vJ4iJqNktB2Oaw--.jpg
//media.inmobalia.com/imgV1/B8vEv5Xh_VThvnEqMx4G0ZxU_YC_pCgmETwWNQKyeMqLb9Afo_WSoi~kcK5mwaepLz96AHEmAzWJQblCNhundhnOIYTFLWoaYU1VgNWQLxIT4G3cbsnxVHo4szt3lCiusSjV39Bhu8sx5kS5QTng6MY5APiDZ3txfT9aKO~AzgT8wxhZZtuLwMa1mWRtn_p8yyKo2j1caOkLqCoCNXL_gP9UGwn9MIedrrXfCZVrvHgfKpXffTYmiOZX6yj7xSLzDU78oqnhbZOa7K9svmB1x7xFdbqRCYaSnZHszIvJYNtxh~Wld1sUaUikcyZlOPgReskJ1Q--.jpg
//media.inmobalia.com/imgV1/B8vEv5Xh_VThvnEqMx4G0ZxU_YC_pCgmETwWNQKyeMqLb9Afo_WSoi~kcK5mwaepLz96AHEmAzWJQblCNhundhnOIYTFLWoaYU1VgNWQLXF_9_xeQbVsvbrs~Cs1xIsT3YyB3ZZfQCUeBdqCnzNd6QmdxBB3PqVqEURSYtw_SXR34NYCxYUI0NV_qPq305BSNyXn8OV85IkOShNS2bcG0qoa8EOM8thmAoFPCEJJhs2MzRUVFrntpJ4M2YD1UZQjRjJcv3cgMrhMTonsdMDji5pwCu3jHKFBY7n_ydZpcGBnfsth_mKYLZJagAoRZWvERldDww--.jpg
//media.inmobalia.com/imgV1/B8vEv5Xh_VThvnEqMx4G0ZxU_YC_pCgmETwWNQKyeMqLb9Afo_WSoi~kcK5mwaepLz96AHEmAzWJQblCNhundhnOIYTFLWoaYU1VgNWQLt83NgUD9qiDc6Bm_F3kkAUk3ktBJse5HpRsMFgVvOk3VgVA1e95ozNVZJOdMnOulS4XpmOpo4fueXnxpDFCR4USMV6KM6ZNMXnwRDxJ3MWpZIokNosk4jvf~DtN5bHnXNwBR685tsJIhWIHGyNRAQaY6dTIIDL0AU9hgYs_e_F5Vcwbq4E4GEVQWcfQjbo3VXc3lPdYd65hprHbbFy2XjbQnjxaaQ--.jpg
//media.inmobalia.com/imgV1/B8vEv5Xh_VThvnEqMx4G0ZxU_YC_pCgmETwWNQKyeMqLb9Afo_WSoi~kcK5mwaepLz96AHEmAzWJQblCNhundhnOIYTFLWoaYU1VgNWQKKykFziTyN6YsnsUjpcRpoQBTvjOMksqwHj19eMLz4586KWKOSiVv3277P6T5TBobStPSRFc03F8VmEtladoEjRmyjySG7u4sIfIKYksDZjIdXHMN1E_0miUk~mPClEO5G7GBAP4SapOpbJOOcRFyF9jnbuVQDa65A~~hgtQ5NsY7NAcRVRocDvXkRjG5D2X20cYw1TfLuHviW9m~aa26vpQGZeSjg--.jpg
//media.inmobalia.com/imgV1/B8vEv5Xh_VThvnEqMx4G0ZxU_YC_pCgmETwWNQKyeMqLb9Afo_WSoi~kcK5mwaepLz96AHEmAzWJQblCNhundhnOIYTFLWoaYU1VgNWQLKABAD304ZG6lROJnDXeDpukJ4FisYWYviyFlo1y43xab0zT4KEUJL6IVgSiJmC~1Yjc71LV1S~h~ozJ5lVtBh2KRNEN88BBSzzS8FTQxAT0Tca99JZDZsBGbcwUXZDqWpr6zMmhr7NPJ_Cl4jbUB86rMqk3no6wfgPDqztd8EPRjPsBsCUZeGUoFBTaXtOUqZkFJBCg5bIaTlRY63s1~tgkymOd3A--.jpg
//media.inmobalia.com/imgV1/B8vEv5Xh_VThvnEqMx4G0ZxU_YC_pCgmETwWNQKyeMqLb9Afo_WSoi~kcK5mwaepLz96AHEmAzWJQblCNhundhnOIYTFLWoaYU1VgNWQe5cG0qSrVNQyGG7wmzjuSYq9eZKklZuLhyo3DD~elNmToaZJhZq0FG_PMH_ENIP0M9WLR8IkM9dF8ZEwjOMrLSkJa7XSEa3hjeDokw850mRe0RRVyKwbIaEthE8gtIppc2BoJbOybOuJxJflOhQI3lorayAReVGmclZGWjiVWan2HUmBdv3ixE5Bm~UYQt6lNFy8Ay~w~2LQhTWlRcv76pjq5oZ_lA--.jpg
//media.inmobalia.com/imgV1/B8vEv5Xh_VThvnEqMx4G0ZxU_YC_pCgmETwWNQKyeMqLb9Afo_WSoi~kcK5mwaepLz96AHEmAzWJQblCNhundhnOIYTFLWoaYU1VgNWQLoIsFJNoPO1W9yxY3S9URm6Rc8B~UxjDOdhxjYxlcVqrtVvrGq7mqWWMiuE0OhYTCbuu6HuNcXweRIoZSnYhXpjk56xzRf24YLOcHwvYto~hG9CS0txHXBVbCSDv3eLHGs9UcI6LiOs6lTakjlnC7rPimy7gv4ZBJ7f5Agy8ep9KAdbvG44jlYQLr2hmko4T_0eHX9kZ1A67H0ptMkqLbzHiGgXTPA--.jpg
//media.inmobalia.com/imgV1/B8vEv5Xh_VThvnEqMx4G0ZxU_YC_pCgmETwWNQKyeMqLb9Afo_WSoi~kcK5mwaepLz96AHEmAzWJQblCNhundhnOIYTFLWoaYU1VgNWQLK4y2oD31eHObLLESbultsbm273KGelt7F~pFk0wdNL6Bjx9Vm6REgWPjXhJPbQv8iwiAoXnDt3_6eYC5kb4UG2P9Dhjue2x6_5ggZksymM0g~ARQpmIZuQUQAelE6zwqjh_Rd1K3wYzeC5nZ5Vi3mRMSqhZmvSIIWeD5c1nUyFIvWwkgjYXOeOxnLFwf8Mv~1arC8id1nma3kgSdEJkrWn9UFyArQ--.jpg
//media.inmobalia.com/imgV1/B8vEv5Xh_VThvnEqMx4G0ZxU_YC_pCgmETwWNQKyeMqLb9Afo_WSoi~kcK5mwaepLz96AHEmAzWJQblCNhundhnOIYTFLWoaYU1VgNWQL0tf7Wy6zG6pKJ~4NnDCsNfYYuwHu2XBHY4GyE6dnPyZt2JttKOsntIhHDIIqMi5Jwr8E9wrCZOmLphs8r0n5RfYRTertISrEP7Kom_n7MQIn2GRL76tQt9YY~HnzlYHkmSJzjkE6j2ELyKYINL~np9PDmZykb6ZFchncCSuEeLlrYY_FmbKRkdqRzJlM_fVkrk3FhQR2JKME0pCOrRA8prHvxtsHg--.jpg
//media.inmobalia.com/imgV1/B8vEv5Xh_VThvnEqMx4G0ZxU_YC_pCgmETwWNQKyeMqLb9Afo_WSoi~kcK5mwaepLz96AHEmAzWJQblCNhundhnOIYTFLWoaYU1VgNWQLSFVkF7wZ3oPpKpfUHdjOARYk_s9yMr2yQkSZIMT55JGI5bPxdy9IshrSdeaCFWUHgVgf~TC6XWKaIfapqeDrX4NgtbdA9Jafp1CIDCZK3qu07c7qmNHsUZ8x5jsguBCjs4ZVXsZWwx6szoDs2RV9AVSdWHXuM~dCsqZ_RQoub~TneyoCjLllXrMjdpo23FE6lYvaLnT6iXKIGEp25JMV9ezIeGyiw--.jpg
//media.inmobalia.com/imgV1/B8vEv5Xh_VThvnEqMx4G0ZxU_YC_pCgmETwWNQKyeMqLb9Afo_WSoi~kcK5mwaepLz96AHEmAzWJQblCNhundhnOIYTFLWoaYU1VgNWQfDUkAFZ_hlArix3xqs~Kr79va7kP4_wEa7t_CQIHVgFOZ~dnxgTV~KWf547LbhINkU2wOTGon8DCqKgDRkqUmjmqH9zQ2tuShqHEiJ9vr1_yXwGMe0WkZSvxf9WuU8VYZMmXdqfirnEKkJdO2cYjE7ONSkzVxlG3tbI~9byKdxgvHFz24V7WpIDHRHHnfR81M~CA1Yggeakj2iUUp6v7n_U_Cc9YYA--.jpg
//media.inmobalia.com/imgV1/B8vEv5Xh_VThvnEqMx4G0ZxU_YC_pCgmETwWNQKyeMqLb9Afo_WSoi~kcK5mwaepLz96AHEmAzWJQblCNhundhnOIYTFLWoaYU1VgNWQLxfgljJQbVYQesjk~RsQ4CXwGv~b5pnSQELC9yWwxSzVoa_Eps6ihkCuAXQvVTP9XN75nm2RG8P81AefQ5JG25Cc8wtYrfYNIpd4ZZm5i9AvW7T1X3JcVyw3qlirKIIPSUxi1PBtA7aegKmSIi~1~44u1HsFj4dit4jwTeadsl_aooNL7jolRU83P7uMzB~jS7oyUfDo4qqxW1jA3GwWmWlAgQhpGg--.jpg
//media.inmobalia.com/imgV1/B8vEv5Xh_VThvnEqMx4G0ZxU_YC_pCgmETwWNQKyeMqLb9Afo_WSoi~kcK5mwaepLz96AHEmAzWJQblCNhundhnOIYTFLWoaYU1VgNWQf7Uwxv0cXkGYAYf7K5NjTULE~BHKtpR60Jb~7sy760ixWvYNhihWTNtCdgI7lOHqZrv09ZJxWyUyRa_0EJOPKzMJ9VffzpPI3K4a4GnD5g2BYUpmfGrQmgOyE_ywozmb927tL8Bs6Y1CuJMN37JndI8Cwl16fm3sFFfpzWC9ESwgvvrgQKU4exlDHghQQV_Rfu60zu5Soo9_X_cDWb9KGLjY2DsuBw--.jpg
//media.inmobalia.com/imgV1/B8vEv5Xh_VThvnEqMx4G0ZxU_YC_pCgmETwWNQKyeMqLb9Afo_WSoi~kcK5mwaepLz96AHEmAzWJQblCNhundhnOIYTFLWoaYU1VgNWQLXFz3jsDwd~gRkezRA~Jc_RrnX55PlSVPCMVODnYI~BzkAT6PfEZ9t3_Hk4GowWYdHM1rzY7TQG2GjpmNjbxXtf0KJWQ5NAL5asGzCJ1Jk7WgqMod23RLx8VFxMk7VVjx4H~Y0pY75LA5_1EvABQzce7UJG924UG8phOOGmpuTLQSk0mOtgzO~zDSqtFGIBW4ADh7mYQGE3YgWyneCZcnizegkzU~A--.jpg
//media.inmobalia.com/imgV1/B8vEv5Xh_VThvnEqMx4G0ZxU_YC_pCgmETwWNQKyeMqLb9Afo_WSoi~kcK5mwaepLz96AHEmAzWJQblCNhundhnOIYTFLWoaYU1VgNWQKjc7JNu2nu08Yf7twdyXsxypyOgqo7~ulezl6LYob3kMvNyWw7zalJIGAQHPZal7LZcMLMejHhw0YM6It1YM3vOc3aYYQRGYtpp6PgvZFtsnxtbj49td0mdTRSE_zb1q7ps0gQ1SOWD9Gkytnchx9~OMihZAocB~h4h6ShESm4~x1ZHSk6qS8J1BosPEi01eMf96RJC9yaR6kL0vGoeQq_JH_xs1nA--.jpg
//media.inmobalia.com/imgV1/B8vEv5Xh_VThvnEqMx4G0ZxU_YC_pCgmETwWNQKyeMqLb9Afo_WSoi~kcK5mwaepLz96AHEmAzWJQblCNhundhnOIYTFLWoaYU1VgNWQf7G0lcPzGxwaX~wVNteZKwcjnR5~oUt9cs_QEhE8FsmPOROaBETn~nsrgqS0dDANVCWIVdraVHdFPRxuq1FjW0KZixJ0QxfWiQ9KRbBV30EkFKFrQe2RAXiv9R4VRTHJBnly9TFcUJy9rAam2nawiYZkHeVbIJQbsKJfbvrz~duxVvjeJ8n5BRf1KUIUphWuvIJbQEaYstoDl8bfqG5lqJLcyxPFUw--.jpg
//media.inmobalia.com/imgV1/B8vEv5Xh_VThvnEqMx4G0ZxU_YC_pCgmETwWNQKyeMqLb9Afo_WSoi~kcK5mwaepLz96AHEmAzWJQblCNhundhnOIYTFLWoaYU1VgNWQeJCEV5VvJwJGWbgP9a2~Nk~_5gm4nR1cblCgOX4CQFsDXG3HYleQeIFS12Wnry2loJ~5K6gQZTLKHU11j5BTyQK40wlFOwwI~F0SiRYYEt9CLiERgUH701dGEWyn732FAld5uxQ2Q5~mUm~F1r28JBk0vvgB9EflEIlHAO_XHEr4NrI9D78L9KMXP2RjmqFKNcW7ORkS2gQVClRR9mVhW4HzDwJ6WQ--.jpg
//media.inmobalia.com/imgV1/B8vEv5Xh_VThvnEqMx4G0ZxU_YC_pCgmETwWNQKyeMqLb9Afo_WSoi~kcK5mwaepLz96AHEmAzWJQblCNhundhnOIYTFLWoaYU1VgNWQKfWg3Y6SAcphuOO_kxNLCM03lTLmbmsfg0fqMg7gjHrUlYi7uOL7E2hL_bteD00glMS5O3M8CR1PZPRnNlNyE~EcwgGQcL~XlnLE2dp2VK2obF7oVBChGfbqoODwnYvfjJnziXfVFoL3t~2NghBb6GUWZwy6fKwHxrU020YdT8I9lkPFpLble6NEnFb2536BKhPTmh7PwkPjh~YlBQNFjnRd2nYuRA--.jpg
Guadalmina Baja, San Pedro de Alcantara
Villa
9.995.000 €

reduced from 11.500.000 €
Arab-Andalusian style villa in Guadalmina Baja, San Pedro Alcántara
Arab-Andalusian style villa in Guadalmina Baja, San Pedro Alcántara.
Exclusive Arabian style residence located in the prestigious urbanization Guadalmina Baja, in the most western area of Marbella.
Through beautiful wooden doors we access the residence where we are received by a large courtyard with a beautiful central fountain. Inside, the property is distributed in two levels.
On the main floor there is a large cinema room with toilet and separate entrance to the main house, large kitchen with separate dining room, three suites, an office, a living room and a beautiful main living room with a nice fireplace and views to the pool. From all the rooms on this level there is direct access to the gardens of the property.
On the upper level there is a guest suite with a large terrace overlooking the gardens and pool of the house and the master suite with a large living area with fireplace, dressing room and a spectacular bathroom with two shower areas and a beautiful bathtub.
Outside the house there is a barbecue area, chill out area, swimming pool and beautiful gardens that remind us of the Alhambra and lead to a separate pavilion with a large indoor swimming pool.
Next to the main entrance and with a independent entrance, there is an apartment for the service.
Privacy and tranquillity are the hallmarks of this family residence.
REFERENCE

208-01509P

bedrooms

7

bathrooms

7
built

1.200m²

plot

4.034m²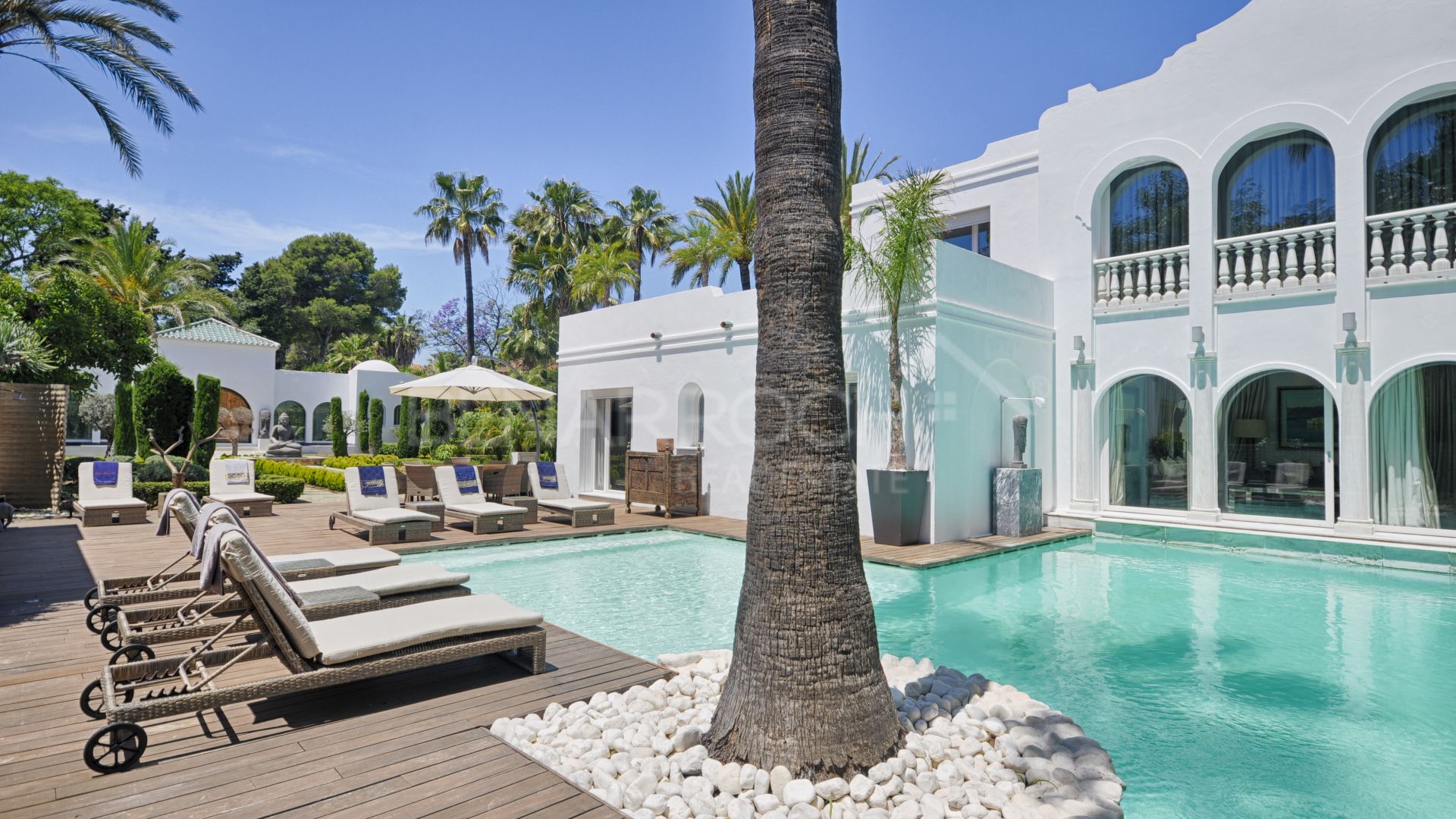 Video Villa
Video Tour by Brice Benarroch
Video of San Pedro de Alcantara Area
similar properties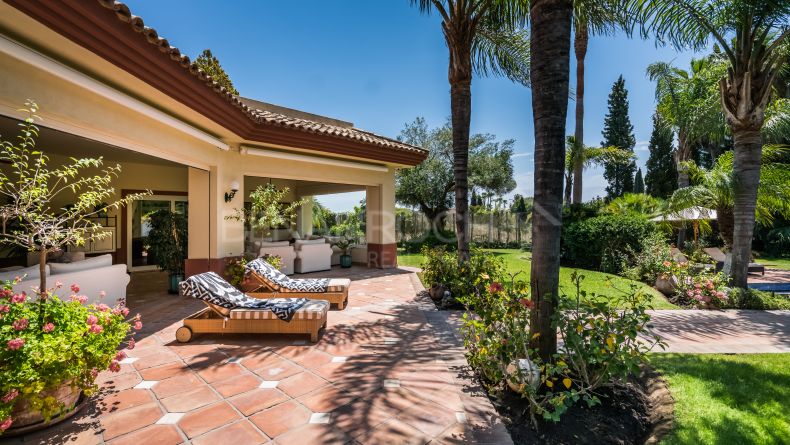 5.000.000 €
We present this classic villa designed by the well-known architect Luis Barragan and located in the urbanization Guadalmina Baja ...