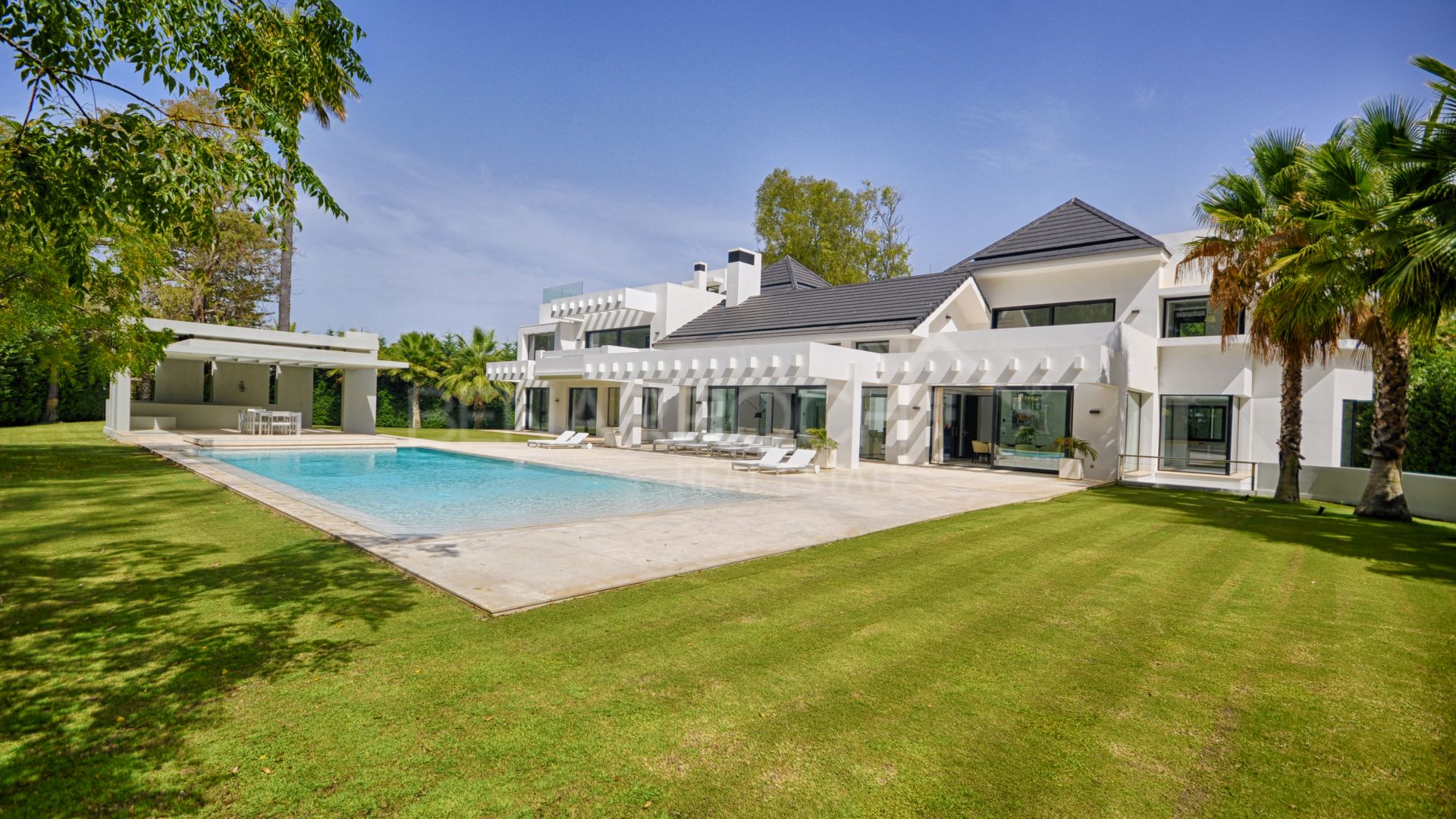 //media.inmobalia.com/imgV1/B8vEv5Xh_VThvnEqMx4G0ZxU_YC_pCgmETwWNQKyeMqLb9Afo_WSoi~kcK5mwaepLz96AHEmAzWJQblCNhundhnOIYTFLWoaYUwivyhlwj74Un1acRkxDWtITrA6tdH~LbOSJRRTYtaCIq0Ge_TUh1IkgmIAwUc_sRKqR5ew7YIxaWKESjzN5JY1TJw~7SewhFwgbpaJSZX5Dd9sGpDTbh~6mPhSOw6JGu8lfdBeJ5YsLX3S8Ls9oN3cVJJWeDpjt45d1gMMUU8emMWOaHQvKrjp~ZyaGoEyXBth_p2xJhdZtAV8qIM6Md_48a0JT5e4jOk6Bw--.jpg
//media.inmobalia.com/imgV1/B8vEv5Xh_VThvnEqMx4G0ZxU_YC_pCgmETwWNQKyeMqLb9Afo_WSoi~kcK5mwaepLz96AHEmAzWJQblCNhundhnOIYTFLWoaYUwivyhlkaIBQMZrbtxWmO4yFYhxaVDK4YUskkPnDx_35rs61ltGxscq568RyN_7ixzRokmKHnsgeZf9jP56Uda~1Q5NMR68gNvh3D9KxbUBd7d6DM8pMwhMm3j7wOwzWPQOj8kFDbb8vvuue1_T0MQJy2baI78tndfJy7Gjtd564Eb~RFqAqDYywf3I0eDTeA9YEjD4WYwDoEddW8VBcWowNXrLpy813ZANUA--.jpg
//media.inmobalia.com/imgV1/B8vEv5Xh_VThvnEqMx4G0ZxU_YC_pCgmETwWNQKyeMqLb9Afo_WSoi~kcK5mwaepLz96AHEmAzWJQblCNhundhnOIYTFLWoaYUwivyhlkfiNjmj7yTJrhplhHtFsbP96BMevK_InEILmj4XPA6A3YBGMcVxIQ9GrA9j4K58GUeSMBCXa~aFYg7tyqVIzFCzH0XRV60MuyyuEwI~bnmYsmULUyV81A0XvIeyhBuNk5XxOMKnyHCmyj9kQNMduNwmrkoDtZWMotw_uLzX6v_Udy2UyHszGC~7Zk9~Zt5ovvhd6q72BGeB37RllIdUi0tp_69gPRw--.jpg
//media.inmobalia.com/imgV1/B8vEv5Xh_VThvnEqMx4G0ZxU_YC_pCgmETwWNQKyeMqLb9Afo_WSoi~kcK5mwaepLz96AHEmAzWJQblCNhundhnOIYTFLWoaYUwivyhlnKSUo3wFZ~wY2zLJ52vNJoc~187hPvhO_bfnumrYmm4eqOqQsbXt0i9FOWqURc70p8hKtUCCeHgcQuBQdX~FK6zt7UF~RrsWJrOFmsM06G4y6ArLVLhwBpNI7rrmOKBdlFtRiwasnOJPRWpzSGuDQnAlOo6M5aZtnr8uGtoh_zlfFvNcIL5JGPKBw~DLclsnSBRxcWSwNW0cO20OxkMP4FuEyzNYYg--.jpg
//media.inmobalia.com/imgV1/B8vEv5Xh_VThvnEqMx4G0ZxU_YC_pCgmETwWNQKyeMqLb9Afo_WSoi~kcK5mwaepLz96AHEmAzWJQblCNhundhnOIYTFLWoaYUwivyhlxfGB2GeFa4zFx1kHqqFa04iE~lVJobP4iQyRW0rsUOKevIZv0eL7L3fRhx8vK7mVKcWP6Yy21XTiqOzIXfhyopPcQ9X0AOQxXzUFGBPAHTAKjiXB_oEJK6Raq4lCc5EH2GycsJsVo060hVctDsHM9FFLw5cHxJuidgxSWikItZbNDNKe39TQbYnQ3RPAB95wQNVyiSZj9KTb8xpkNCE9ldWE5HbYQQ--.jpg
//media.inmobalia.com/imgV1/B8vEv5Xh_VThvnEqMx4G0ZxU_YC_pCgmETwWNQKyeMqLb9Afo_WSoi~kcK5mwaepLz96AHEmAzWJQblCNhundhnOIYTFLWoaYUwivyhlkkVvZIOk5zp~~dAW05_4qIZB_3htTKE1pP~UINGm2mxc_M8c2CXByGR2FPZPYv_5MqsKw_pZ15tdzFmSdWmeKkyI5BZ5ICzdF7pCQZVJCC4n0WmZFWMHrP4NVtsLOWaWaGGzkJAhB9VwxyqntwunUvHO379_i9nOy8XDhoSeZZh4PaEU3_5ZzGX8AcmWdQAT7DLVkrqcdZRznSyORvQTTcX3g8fO_Q--.jpg
//media.inmobalia.com/imgV1/B8vEv5Xh_VThvnEqMx4G0ZxU_YC_pCgmETwWNQKyeMqLb9Afo_WSoi~kcK5mwaepLz96AHEmAzWJQblCNhundhnOIYTFLWoaYUwivyhllwc7kakV60BaIKP1QNNGqNhgT0asTQhxpp7c6NkZEv9QeMYPY_J4p~sHOuBxKB2~lTgkMQv3GRdvctjv9zOzyHrXxOCMV2umzdFP8LeaUwsxLnvemmYZ5si93h~IEAvFavu7FmPUO9CA1n0qWTLIhP8G7b9ebe~FHX18YaygriHX~dYnPysx~kCmG7yox1pRVcQp0nh9JfUrW83fXxAOzbMmrSLGpA--.jpg
//media.inmobalia.com/imgV1/B8vEv5Xh_VThvnEqMx4G0ZxU_YC_pCgmETwWNQKyeMqLb9Afo_WSoi~kcK5mwaepLz96AHEmAzWJQblCNhundhnOIYTFLWoaYUwivyhlwjMuraU5n5Ks1euad5anxJ1vmyYZraPxmx9KBpfeUzhrL~J4FJjF5~4HB6uALCC8wDIIrxxCp4RTXbbhqya7eLyTfP3qdsTmXEwh1w6E4ZjCuq2dEV9uK1RJY3aStq9GnYPbYk_rqFJes7iw1AWnbwtdBMR52Kgwz_jD99MDoL8euXPclzCNWxmXxegLQ~jJUbm7TDPFpA9vNmwuG6a2cW9RjGbTvA--.jpg
//media.inmobalia.com/imgV1/B8vEv5Xh_VThvnEqMx4G0ZxU_YC_pCgmETwWNQKyeMqLb9Afo_WSoi~kcK5mwaepLz96AHEmAzWJQblCNhundhnOIYTFLWoaYUwivyhlk2JzfyXLZXpwSkV6_EIDPW7Et8O7O~swVf1OgoqGZb7HLtAB3tF8ar3JAFBg9LnE5XtXQAbquR19FH0mb0a_Gq94cyhcCfPZ6UsAgpz4JY3e3DolyRUneNCFpygBL~ob_0Cgt3hX2YSvU6qssXtOKYuMIHHgCTjCUEDwKX~ZhoZLEa0uO71Xzn6svj4WARTzp2qF~Kq5BYxXRoQa02iwnLbVtgOfxA--.jpg
//media.inmobalia.com/imgV1/B8vEv5Xh_VThvnEqMx4G0ZxU_YC_pCgmETwWNQKyeMqLb9Afo_WSoi~kcK5mwaepLz96AHEmAzWJQblCNhundhnOIYTFLWoaYUwivyhlkfqa~vcNkL1QSQ33MRDTN5zt7oIMw52K~2l~K8KYFP~Oj1K8Dw1yvHm2T4ePf60VZ8UjD_Ol~1NrDc~5MPD5yo9iTJwSG~L9y58nsl~FeJ6Y4S86DSwZE6WyijLeV8BtsiaBSMNaXnuuLCqXvYqx7VCbFIJyjju9E_OupYf1G9~97VB6lzK9JsrIZUERGtuE4SVMpjVgRFcSUnvsT7bvQ3xsZyB2iA--.jpg
//media.inmobalia.com/imgV1/B8vEv5Xh_VThvnEqMx4G0ZxU_YC_pCgmETwWNQKyeMqLb9Afo_WSoi~kcK5mwaepLz96AHEmAzWJQblCNhundhnOIYTFLWoaYUwivyhll1eV_wmA2KtO1Z3wit7OeKHx8f_CUgl37_Om302Of0arDHRm1L2OASUsqe9dsQBt8OGP_GWxo~E3fILOaHiCCFxZJYLkJTy9hAr9oyU6JJucztz7L_rx0Xv2228Lp6unYf_jugjUQ7ZvsMwQbw71ueZPMDiDJ0Ejkhch9MqY01wmhnTJZ5M6LGIEL0URNMeoycCIQUuxZSTYPx_Pw8iJ8op9PKFLQA--.jpg
//media.inmobalia.com/imgV1/B8vEv5Xh_VThvnEqMx4G0ZxU_YC_pCgmETwWNQKyeMqLb9Afo_WSoi~kcK5mwaepLz96AHEmAzWJQblCNhundhnOIYTFLWoaYUwivyhlli_GvnugLBEJj5Lpfymu1TdDWobgFjZJ1_r3nh06_5BbB_gns_dmVdyVanQL8mUVGY6I8JUGL~G7VHWQl08rciWkczpC~0099zzPAktEASA90Ey4DZkDtyUqeZ5YDiCScj6scEqVofHRuhrxzxhUiHpuUfJFYstiawHj3hr2H5LO3q8IPkU7hOten84odxxjqCG3mx05jW_vEOGqOwS4dceUZf5MVg--.jpg
//media.inmobalia.com/imgV1/B8vEv5Xh_VThvnEqMx4G0ZxU_YC_pCgmETwWNQKyeMqLb9Afo_WSoi~kcK5mwaepLz96AHEmAzWJQblCNhundhnOIYTFLWoaYUwivyhlxyGCKQveyoHanyqkp6WcQ1W8AVfofFyrpZN8WP3VNt1AP7e0FwAu9PYwo0wkKEGDXbJak1Qr_WRCBcjXZl3GANqEp2VFHAV6P0la7cwcB80PYPbPSdYc0uvgSCLm6qRtxNeDwjryfM_ntPaEW8iLJrfBCdpbJ8hNjxGNE7_yNAnB~8IMW5x15PFaDIn6Jh~bDzRFcipH_YLzqqSn6nILTd~7UcdeZA--.jpg
//media.inmobalia.com/imgV1/B8vEv5Xh_VThvnEqMx4G0ZxU_YC_pCgmETwWNQKyeMqLb9Afo_WSoi~kcK5mwaepLz96AHEmAzWJQblCNhundhnOIYTFLWoaYUwivyhll1ea2dkVV05nw6i1bhyit77pYRepe0eKc_EPI4e3u_TASSY7WZJ7o8p4_9Q_z2EBx8hlxPomrobOozAUAqJ4iSm~FbjUPM9Q71ZIWsDQ8HiQfHl9zbXca9Zf6bZO75znovwt87MPK6DpZID4QEoDZZw2aV7kSftUAqodoWlrsCsJNHoTBfJeiASRw8m0n643RKiiW4xPDicgr3OEyZcWrEnHDUZPow--.jpg
//media.inmobalia.com/imgV1/B8vEv5Xh_VThvnEqMx4G0ZxU_YC_pCgmETwWNQKyeMqLb9Afo_WSoi~kcK5mwaepLz96AHEmAzWJQblCNhundhnOIYTFLWoaYUwivyhlxsb0mkUClqeFc4pWl9XOI8pMzsXqEPWUQX7WH96jRcXR7CTW_1xm7XlT0VOM7ubTv57bef_~ym~2esOUymKqApyugoAAOD7bfjy9T7MTJjx22e_8kKmVaIcqqsznPsVWt9yCKFPViSgiE0BK9rb2GiQW~XpAromnSbGslbXlWxUEftm8Y793anCllJY70L9Y02Y6emJf8CPYv6rVB9y1r8UVh1QaeQ--.jpg
//media.inmobalia.com/imgV1/B8vEv5Xh_VThvnEqMx4G0ZxU_YC_pCgmETwWNQKyeMqLb9Afo_WSoi~kcK5mwaepLz96AHEmAzWJQblCNhundhnOIYTFLWoaYUwivyhlx3GQ5u~J2todyX1VxfDM5A62A8GNwlK5oNkVu_D7Q_TQtB96zVM0FsXYSwUeFc6wm~orIOqGaPrkl5ClTPms4sMd8wYOoR9KTOUJtADqFGM~LPAaskIv5qQl53gaQQqVxK8L41o0dDIRu2Wnxu4wSg37xTvRyFqcAvenHvJs7o3m40ALi3d6H8gmY8p2yVCQH_OpyYAOIrKs1szvB2cgKSIEAndLPw--.jpg
//media.inmobalia.com/imgV1/B8vEv5Xh_VThvnEqMx4G0ZxU_YC_pCgmETwWNQKyeMqLb9Afo_WSoi~kcK5mwaepLz96AHEmAzWJQblCNhundhnOIYTFLWoaYUwivyhlxfam_Rl~Uhjkn4DGdm5m8DnVG7jCV5CXFNChvn7sC1PRLmGjiSWyoqAVptCEqD~tVzXOWJz3rTxrnOLc11llnKlfemRji0UMLjwN011kwGMy1YQdq17_f0sIl90TMNJtsXT316TzMTXYKACy~DTudixxSkgSGI5nQjT0Kv6zqECHkwYo9AtHZF5bf6uF9y9VJ1RnM92Sw0csm7Ax21mqcvzYgKM4Zw--.jpg
//media.inmobalia.com/imgV1/B8vEv5Xh_VThvnEqMx4G0ZxU_YC_pCgmETwWNQKyeMqLb9Afo_WSoi~kcK5mwaepLz96AHEmAzWJQblCNhundhnOIYTFLWoaYUwivyhlwTlc9E_pEvoHTMJ7QPa71LnH7wqc6BoTlj7WF8KMsY2xfvEeiDOMQ~jg5F2qj~g7DpgKizelsA87A7xD_eR8bPxs0Rbn~3Pm3kP1qIkcKSJLgbrwG5Lu0zZ6SJuWBxcgwt3q8erv08puD3_I99bjSGm~UqxZTJFSpE47wbj3R9fwTDDxzJGAfUfw0Ew5QLjYg0Is3sJ0M6gi1V2fzj3DYzgzXqjcsw--.jpg
//media.inmobalia.com/imgV1/B8vEv5Xh_VThvnEqMx4G0ZxU_YC_pCgmETwWNQKyeMqLb9Afo_WSoi~kcK5mwaepLz96AHEmAzWJQblCNhundhnOIYTFLWoaYUwivyhllwbm0XZPU~9w8adrjr0ZK84jvCCjNWabuvGx9Xqttngq5sEPz2fabRdlvgjFjeBrWqdgS6kPO3jw5jUeTo6TeRg~tevNmVGSw9J~YCN0~6nDf7X0CEPgVS_Cr1tvgkjGQ9d~3_Tyk9rIrDssY9F~n23rywNiVspbNm3h4EDYW_5STIQ_TLSLmkh35aQxYSlv6zCk2llIb7DkzujHXUyItnFn51oqTw--.jpg
//media.inmobalia.com/imgV1/B8vEv5Xh_VThvnEqMx4G0ZxU_YC_pCgmETwWNQKyeMqLb9Afo_WSoi~kcK5mwaepLz96AHEmAzWJQblCNhundhnOIYTFLWoaYUwivyhlwm3l8WJBu22VvBY0DgLKE5h3lDCPI7UczX3K4qweywG8NCQ2_d4_VZ_~OspDBuADUD8s8XjHi8823iQLlH6PekP9pzxLIEAR8qd3ge3pGBBwCTGJgiKmRdjfGetwyEbhPXJaZVvXIHVW3PUb5rMRpuTAs7CaS4dW6STbTD99JYBFR549Tf9bMy2jXEGHmkaZQ2WjEPyl5FRQb5nwWa1~JrK2tKiVOw--.jpg
//media.inmobalia.com/imgV1/B8vEv5Xh_VThvnEqMx4G0ZxU_YC_pCgmETwWNQKyeMqLb9Afo_WSoi~kcK5mwaepLz96AHEmAzWJQblCNhundhnOIYTFLWoaYUwivyhlnZY~3W7e1O0ZNpRaLngHq53B7n6NXhrT4v0D2MSV4yBWUBnBkgFu98OlnqnzBJv03sPzPnMErg8aYIYrrF_ki_akoQKPTaLIGhGGdcK8EaFmS_QVPLP7IOWRlWoKsuftmBG7vO~9i6stuvTHymipgAPAiPq4yms6nOlQ8Z7PXAgmFBs1NvvZgG9a~7isPYPjt2gfGe1qN6qCT6DbECMUGT1Bed98Tw--.jpg
//media.inmobalia.com/imgV1/B8vEv5Xh_VThvnEqMx4G0ZxU_YC_pCgmETwWNQKyeMqLb9Afo_WSoi~kcK5mwaepLz96AHEmAzWJQblCNhundhnOIYTFLWoaYUwivyhlwCr6SrH_jJp4SX1Fm6T0BQEuAcn1gLjsqqz62BAOMgczDbSPy8368W8Lm~p1DHb7vS~SCD7FrGS7CwyJ8fmtebj7198d4ecVFwyZKlV3A~FO7zMHUoHK4rvBetYMnZDhx8iXqaDPAF2oh5mGaTXW~H7UE~TM~NuAnB6zthpiqNfC1KOAgJqaT87UsdxpPcI0hGhL4lYwxGFyNLCBygCBZYkcmKDqEA--.jpg
//media.inmobalia.com/imgV1/B8vEv5Xh_VThvnEqMx4G0ZxU_YC_pCgmETwWNQKyeMqLb9Afo_WSoi~kcK5mwaepLz96AHEmAzWJQblCNhundhnOIYTFLWoaYUwivyhlxpI1nvIadVP1yG_PPjBHeXkXdged1rlECwGZ6g6C4JMOds9W4k_eq4xAjtcqkuqSuCTJQNg8UokxeI_HFSFEQ8wD70iCB8_GQSv0DXVqzCiEcFNVa7rIIrvIC8w_0TfkI~Qb5XV4Qrjzlj~3e0GjO1xYMHdx4WNcgnWrbHXVYBW5G79iqAAsVIfF~qHBPjfE8NrjgRm7~ld4IS7Cq9evMqrUuLtVkw--.jpg
//media.inmobalia.com/imgV1/B8vEv5Xh_VThvnEqMx4G0ZxU_YC_pCgmETwWNQKyeMqLb9Afo_WSoi~kcK5mwaepLz96AHEmAzWJQblCNhundhnOIYTFLWoaYUwivyhlnZzked2mT0hY0WpgJ2zioELu1Zwm7Q94q6iVspIG0VvtgZuM4298TolgrRC6SQ2MNoJMksts7nYw9KtUkECE_YmX9YhdQ_UtRSmLAqbCI0LXIN7tRMIK5YiESzzApxCZEWUBNkPnQ_yxUt~P04XY0sUgUmFLdpI_hL4H_z3TE_y6KeHH7jediTKttN3STy8gmtL95ri1IzxM6oudQUrb9003kNJ7aw--.jpg
//media.inmobalia.com/imgV1/B8vEv5Xh_VThvnEqMx4G0ZxU_YC_pCgmETwWNQKyeMqLb9Afo_WSoi~kcK5mwaepLz96AHEmAzWJQblCNhundhnOIYTFLWoaYUwivyhllwbmh3Cib0DKvSLlEuKFi7BS~Bd2oZgNXZnjBHItLglxgUFhwbzKeR3WFwE~pZH2yitvljlriPyuUYDZrc9qtQgvErLE_3~L5wPfRLSNd1Qq6Yz0n6VWwsXmYXodYRaPtt6fyL67xB2GagPuKLoFdLC9pvNUNL39kop2Xn3jP8t5vkx838udsH1~hdWoVbAUMgxSch21txU9QHZEl46oAsN0r58RZA--.jpg
//media.inmobalia.com/imgV1/B8vEv5Xh_VThvnEqMx4G0ZxU_YC_pCgmETwWNQKyeMqLb9Afo_WSoi~kcK5mwaepLz96AHEmAzWJQblCNhundhnOIYTFLWoaYUwivyhlk2Thp~kblu6JVShqpkTI7H_kye97MRcWglO7DC50n4z~2axJBcL12Ld00~EqCYW6dxxIL3BehOudR2BXQWGSGEUTJFZre8bXx389iQsdI6CvxI3VFTax4NmxpXcknSwu4vhDoU3UcGMRJOpxj7Q~VzyOk29q4zVah5PsykByy5d3EbB~MJV3v9gYn5PTQae94W9ytFVn4NY_zjNYXnUla7nX10gk2A--.jpg
//media.inmobalia.com/imgV1/B8vEv5Xh_VThvnEqMx4G0ZxU_YC_pCgmETwWNQKyeMqLb9Afo_WSoi~kcK5mwaepLz96AHEmAzWJQblCNhundhnOIYTFLWoaYUwivyhlncRxl5Ur4zrfWlmKeQHrIR8gSqsmhsQNoksGzXPHe1ThADgTM2zMqXSWkU93WCNpLdEa9BA3mBFAG75SgYwXzuovVXsIreB68ao7yC_lwmwUJnJOdn1lMXaSn1FweYq6VEB9MIihyKewKyXTqMlOmOEYH9FLQeEkPnYWfFCXPPl6kEXy5qW3g2oO6mZ793aKZST4k0oynptdTw_Lg3izNFFLjMxzUA--.jpg
//media.inmobalia.com/imgV1/B8vEv5Xh_VThvnEqMx4G0ZxU_YC_pCgmETwWNQKyeMqLb9Afo_WSoi~kcK5mwaepLz96AHEmAzWJQblCNhundhnOIYTFLWoaYUwivyhlx3xAEjeX3N5ECriZSt6qfO~uvLwqyIYtR2F7pGE_PITfcNYD8nCz_oFJxai9IOeLzh8AvR~woFaIt4ZLjNndiCPgNLxUA7CDGg4ok490nQ5XBg~QVx3JLC0xYRjHM6x1mTPbHWd1C1A6606eJAKs_ruffNO22jJG417F9xYeyjUoxvU4eVjG1od4f6HhDWv9IizDB57BMn60fqURLmK3nDSvCobFaw--.jpg
//media.inmobalia.com/imgV1/B8vEv5Xh_VThvnEqMx4G0ZxU_YC_pCgmETwWNQKyeMqLb9Afo_WSoi~kcK5mwaepLz96AHEmAzWJQblCNhundhnOIYTFLWoaYUwivyhlwHzcELs6B_Nmx157ffzGaA1ivysYVULmOgDYge3kVaXm2~1AzdenOiyQW_bHfg9m7EHs602Oe9J0NJq0~6O5D01hVP4hZug~6MbDB9Iv1ijL9ZKaWVsJp9t25p84fGXeaVzWLRe5r4QaFqFZq3~8aHsIKh1Q3u6O2ZMZFFbq8oiBVkjnNCieKUP9L7uhL9jRqm~MreyqwKgspjQkBXdTJc4l4Sa0gg--.jpg
//media.inmobalia.com/imgV1/B8vEv5Xh_VThvnEqMx4G0ZxU_YC_pCgmETwWNQKyeMqLb9Afo_WSoi~kcK5mwaepLz96AHEmAzWJQblCNhundhnOIYTFLWoaYUwivyhlkObKAkpBbp9PTBoTf_h9d8_B3lg7bwygX24ZKrFl5n1gUR9nBwd741cMr0DcHhwEo7l0BTtJZh9Vv2rw4TtP8iybyxtZB~DG_yqconKJMOf65lL2Z1rdQbn7MTAy5Zsf3OJMnTqYvAzEzuVXs32b5aGbb60yLyY~f5G_t50SvIP0cpFs4Zg~WxOXi92EO37P24iK3~AvNX__owOjR90sG2nP6Ff0tg--.jpg
//media.inmobalia.com/imgV1/B8vEv5Xh_VThvnEqMx4G0ZxU_YC_pCgmETwWNQKyeMqLb9Afo_WSoi~kcK5mwaepLz96AHEmAzWJQblCNhundhnOIYTFLWoaYUwivyhlx3xIPJJJJlR6KrUBtBVI6987hRd41b5hACSX32UeiG4CLqPB3dd3HtibDIaxEEWX3hEPEh0c0X900NhFUE_kMDkA_eCcnEU5IGrdJgtTGLZEL5OWQUMnc93O6jjJNof3DhX~kD_fS5xZs63zZ3ArQb9AOBHWEMs2UH2u3ze21vec5zP5GfBzq9nq_IaQ1lyUtrWfeOgGQm4uEwyqKtarI7fC_JyYnQ--.jpg
//media.inmobalia.com/imgV1/B8vEv5Xh_VThvnEqMx4G0ZxU_YC_pCgmETwWNQKyeMqLb9Afo_WSoi~kcK5mwaepLz96AHEmAzWJQblCNhundhnOIYTFLWoaYUwivyhlnPjt41~4eTHpK~uc0IY4z6D0Mko1O2dToC4azY4BIqwbVIbzPiotvF35E40X860h8ms2wfKmyQxyroFU5SvK29RHpju9X5~S2KZEXKQwBJTqjBdrvbk6EH_5vkGaAR~EKYrIga~VsS~j~xJ6BimB_AT3fDZH8~ZDURmI4y8GgXmspevRW8ZOYRX~aPg~iKxIOeOj_abuKiCO~fcLGMr4zNGNBaNDuA--.jpg
//media.inmobalia.com/imgV1/B8vEv5Xh_VThvnEqMx4G0ZxU_YC_pCgmETwWNQKyeMqLb9Afo_WSoi~kcK5mwaepLz96AHEmAzWJQblCNhundhnOIYTFLWoaYUwivyhlli~QBCvZxqPscMCJhkB_NyeErJ3lHRhpyQefpsF_RGTl2kOtEml0SW2wM6yues1zujV0WRLEztg4TvhOEhNec5tNGqWzsISFye~87hD7kmFRYWFp7617NBDUQl7LzgV~SNIzYF2ZJuWh_6OXQ3uKE~hQWdQZZu0V5UajivtkidocHRj9_oo2eEwNlOyFLECqErYAUIASsCMKh2GJItNMAmaVWd~Swg--.jpg
//media.inmobalia.com/imgV1/B8vEv5Xh_VThvnEqMx4G0ZxU_YC_pCgmETwWNQKyeMqLb9Afo_WSoi~kcK5mwaepLz96AHEmAzWJQblCNhundhnOIYTFLWoaYUwivyhlnK4CNllnvB0eklfqWD8tAspIIy_dpOAN4TXL0xoCALDRYd4hNgFGuwaTBdTuLRZtj0QvcpbUYiL~FYMQnlQ~A58LS2vMvGO84PLvc2jV4UQ7fcj4wNLciyPQcJPyZQSQVuEJ3owYv_TS3tghz7nj8MKuG5y9OpNgn5~FitAsBbU91w1XQN4t606EkZOvePmZkOLDLL~AxpH2fJG2rqxdm6E9qK_Krw--.jpg
//media.inmobalia.com/imgV1/B8vEv5Xh_VThvnEqMx4G0ZxU_YC_pCgmETwWNQKyeMqLb9Afo_WSoi~kcK5mwaepLz96AHEmAzWJQblCNhundhnOIYTFLWoaYUwivyhlwmqM7a2IUfH5NA2RzbK72CQlpg6YSMZTZF0lGEkeyObeDT94KKcShII9dNjzaHHwl~o_OvUjjP8ZjywBedVsBk1imR7fZVyG03H85MCJIhSItCgVPyELVeAg7gxvQ7ZoOEvsb1XtiuHiOTwLSWY~K3jUjarTGFUXRWOGFxXWMcEOs_0HZQS46Ys4OwjZcpuGQ_FB6pXQyjJDVZt_F1lxWZPlSpRZ0A--.jpg
//media.inmobalia.com/imgV1/B8vEv5Xh_VThvnEqMx4G0ZxU_YC_pCgmETwWNQKyeMqLb9Afo_WSoi~kcK5mwaepLz96AHEmAzWJQblCNhundhnOIYTFLWoaYUwivyhlwHPcjsnKl8BNE3Dd7LVTErunyYTz~CqZEf~oieXxQM7S_6FJ3hYqMdNsOl4lRurDAL7sxItqoWhXprsLVyfA52ivk~WnsK_zfyJyzApO3IvEhDPD4NvFIOi0HmkEKLEbjwUgxdLqIvSq1YuNoikx_fhbbPz4mW0ipLvu~1uEjBCK2HaUMFvpugAtLhKXZbMs04kDIb3N3YWvQIQWdLcc1qogwuhbbQ--.jpg
//media.inmobalia.com/imgV1/B8vEv5Xh_VThvnEqMx4G0ZxU_YC_pCgmETwWNQKyeMqLb9Afo_WSoi~kcK5mwaepLz96AHEmAzWJQblCNhundhnOIYTFLWoaYUwivyhlnKu3iGpi0MBE9OukkCI6_TlMst~r4PCgZPYVngsbnl_Wy4P0Me0tgpsPz~vQXZKAgEWN6XXHJWxGWOAvgo1O6jU7m_ZtN7jlmK5iGII5VgexC2BX4dILocihWYrURCBXiEabNr3Aq2R7Zq723T2bycz~vHhnBkIh2Pe04WfTr66eyYyKqVYeqn~9KABDE00G9rckz3iwjS2JvSf5nx3fSfz1JmhmHw--.jpg
//media.inmobalia.com/imgV1/B8vEv5Xh_VThvnEqMx4G0ZxU_YC_pCgmETwWNQKyeMqLb9Afo_WSoi~kcK5mwaepLz96AHEmAzWJQblCNhundhnOIYTFLWoaYUwivyhlxfan8vAbP3AQZEwZac9EjVChFHE6uCOqztwNbAJsC9b1DLD104D9AsRpPaYnmMU~cdaD47lkel1jK~4OPDo_DB0K4p6ywXV_9v0RkS0UvNU_WV_yns~aWmxo26cGg0FbgmWQW1KfT7kcaUxYg7VxIT0v6COBH2mP75kWu31BW566sLvhVJ9CLhLwhO_D2jbv8IvrWihc6pEwJbT_NxMYMO~USyLJbg--.jpg
//media.inmobalia.com/imgV1/B8vEv5Xh_VThvnEqMx4G0ZxU_YC_pCgmETwWNQKyeMqLb9Afo_WSoi~kcK5mwaepLz96AHEmAzWJQblCNhundhnOIYTFLWoaYUwivyhlwj_pbVT2Xx2X9mxw2G_lrtRpcDehKmSB35gMBVR445QDHsHItHZLkuwzcDPNMZeVVpDOZcktllbJ24IAUS97Jzr1LBpMDMImz2TyvOCs0aDmJRscMNFMlBbFL_V92W3cPGiX1lBRrd5EcaquFEFkBEyUxr2SdCsvT7niD89OUCwyeRmQMWV4z72p8oesa~s2sbSSRwU8DTGAlWsEPD5Cit8ooCPe3g--.jpg
//media.inmobalia.com/imgV1/B8vEv5Xh_VThvnEqMx4G0ZxU_YC_pCgmETwWNQKyeMqLb9Afo_WSoi~kcK5mwaepLz96AHEmAzWJQblCNhundhnOIYTFLWoaYUwivyhlkkpGvbqe9UCMGk8XVkRpoUkqku1uoJpwFY5PYe1MwhjNs~argVCfmGCColPM11ufpmJp5AFgVivLeo2lC~2z5RuEL~Z8AyDAnfjPhW1E7m3hr2RjHwVfwd7alE1cUwzW5b8AJmTn36PirotUSbM2laQknNf5Evi~rD1qaoTjtkL_nxaL9le5wQ5o5eDjliuC1D4w~wrcodbAt7VT3aq8_uAzLQEOpg--.jpg
//media.inmobalia.com/imgV1/B8vEv5Xh_VThvnEqMx4G0ZxU_YC_pCgmETwWNQKyeMqLb9Afo_WSoi~kcK5mwaepLz96AHEmAzWJQblCNhundhnOIYTFLWoaYUwivyhllIeZniEkQ3HECjDSjogMJauG4hPXAPhlu0umH2b_asf6Jk8WVG21oQ5W0TUdN4Vf9i9jzcFMMprXk2kymyYqAZA_PriE6VekTAuz_CKFRB2tJbpidx6Of926rqwIZcWrAIjlcEPZwiXuOM1rZgkzo6F2di9cAYck~h4eZ3MpVycvNoXFg_4xzTkEw8Nj3hCjH0ZBs5ybT7ikYADNut1F7V3qd5BA6Q--.jpg
//media.inmobalia.com/imgV1/B8vEv5Xh_VThvnEqMx4G0ZxU_YC_pCgmETwWNQKyeMqLb9Afo_WSoi~kcK5mwaepLz96AHEmAzWJQblCNhundhnOIYTFLWoaYUwivyhlwHOO2JUR6aHH_MJhRiZzMng9K0Hedsn1Wr5V6YFTitIhuAu_4X1RaPZc4lymakLsGzngSQzzgylrElqgOlcvqfxQ9_eGMi1Q079DX6dFU2rke59nV61GoJ0FxHMV_xUZpOJZ0sCTHl9nXaqZsTmhq2cHqdHkCCiS2rHcspDHILe8NAit5WtHb8~d1vj3Qe8cv3PqnvN0GO8bb6R2WyaiiowkpcZKWQ--.jpg
//media.inmobalia.com/imgV1/B8vEv5Xh_VThvnEqMx4G0ZxU_YC_pCgmETwWNQKyeMqLb9Afo_WSoi~kcK5mwaepLz96AHEmAzWJQblCNhundhnOIYTFLWoaYUwivyhlkfmefbq5rG1xrFqnc7_K03LxwwyQWNJI_Xw88yIrY_khNwWYLI9HRfbvSJsMw8~8fI~5noN1gsaPWy7s27HbxYUP_Xz0j5PA4DHLgX1uka6TfiRCdNecNhFGaBmEq84vDdJtDltFPPuXHcj24U1r5I24ogdfHJ4kx_4zrDzZuLM2QL_00ZoWM1H9Yvx~Unz~rcQ_s0FiT0_LF9xz5R6L~aOkwOsQ4g--.jpg
//media.inmobalia.com/imgV1/B8vEv5Xh_VThvnEqMx4G0ZxU_YC_pCgmETwWNQKyeMqLb9Afo_WSoi~kcK5mwaepLz96AHEmAzWJQblCNhundhnOIYTFLWoaYUwivyhllNepLe4f_z_eKOdzDQ5BfFXUHGliHm3D1Qvcte8JbP7aOjC_8ZNkdGYm1YiPudoQ_ZuxS1xq8pRr6vgCeQz8P5jZrYgzsfhVNfV2Foe4dBxWN65Ta7NLVqtlM0ZZDH2LUe3jz_9XhSPjlyB6Za69OAboE_dA6_O2Ax7yRYw1FN8CTIB5L7uTPYrQrKx4gvOm5ia1kZN6TSG9U01hlLjt8mgaf_4rKA--.jpg
//media.inmobalia.com/imgV1/B8vEv5Xh_VThvnEqMx4G0ZxU_YC_pCgmETwWNQKyeMqLb9Afo_WSoi~kcK5mwaepLz96AHEmAzWJQblCNhundhnOIYTFLWoaYUwivyhll1CHZ3eeEJplISVgTPGxMZOWb9X_4GDDs9g3wzWkNfs4X32lTz6BNcT1dU6MlrnG8mVjBOyb6xINpYXTdGXlkhUXn4h~9fLo0vmPXSssV~S95EWOsOxGCYgpQ8WWRztmocAA388r69KIzAE46XfcJLctRuVCjy0k9voriRbwFeN4T4WDmXI6u4tdEYn5_sb84xpl_83NbITk1YP5T7bpD7PDQ0oqxg--.jpg
//media.inmobalia.com/imgV1/B8vEv5Xh_VThvnEqMx4G0ZxU_YC_pCgmETwWNQKyeMqLb9Afo_WSoi~kcK5mwaepLz96AHEmAzWJQblCNhundhnOIYTFLWoaYUwivyhlkLXB3uInLdgYGnKaB71kIAbXacP6NW_0ED3SVXcQXmPMePeSStk4xtFco3XkfpV53VjI_TLVfkNe~NBj3U_P_oJWAhvaHQU3XGKXw9cV1VFPdU8BQ~O0UxYX1cV494mvfjl2hHWBCMsM89pyvolKgR33171AmJ4VKCeJoZKWU2RGWBi12M0P2RKWeowH9JROYrL5zaBrmhLHC2cZt56~DDjAWy23GQ--.jpg
//media.inmobalia.com/imgV1/B8vEv5Xh_VThvnEqMx4G0ZxU_YC_pCgmETwWNQKyeMqLb9Afo_WSoi~kcK5mwaepLz96AHEmAzWJQblCNhundhnOIYTFLWoaYUwivyhllNesLgFpYIE8U2Zs1fZXMpZ7v_Q2scOJrNPN0aCQw0K7Y4UQvq_HX~RTcIzjYUR3Ud9YaJzjm96bE0f1aV8CKu1kRVSnWpO4A6zTuXNnX3mfAgfWMlagQmvAYFguYeHTESCoPrmS6kQdm8zUSV0yJLw3sTmzeuyX2WWMmItF6nJeZtdpT9RVoNFqZhscWzZFpyKjTYtkefk_AMoaCzR_mzBOCIQ3qA--.jpg
//media.inmobalia.com/imgV1/B8vEv5Xh_VThvnEqMx4G0ZxU_YC_pCgmETwWNQKyeMqLb9Afo_WSoi~kcK5mwaepLz96AHEmAzWJQblCNhundhnOIYTFLWoaYUwivyhlnZy57zwYOMv7xqo_AZBrlyBB2_LAkMZSKYliAPsuzVluNd9jaXQIG5KhiG98yoBJXp75rU_i0_0nTmYwj8wIeLvN3zlUfEtdx99CYUUi7KLQsAXLiVRY8FuRjSsEs6e3eEcS3bVOsAb0xCrjxHuaCTwsW1KjGQKSJtPL5wWWmJtPjEVmap1yQOn0jA7tVD9_BEY49MjAu72__NSNGtQMQi5jL6ZlOw--.jpg
//media.inmobalia.com/imgV1/B8vEv5Xh_VThvnEqMx4G0ZxU_YC_pCgmETwWNQKyeMqLb9Afo_WSoi~kcK5mwaepLz96AHEmAzWJQblCNhundhnOIYTFLWoaYUwivyhllNTjHCJPFAtcidp2iaEwx89K5Rl~JeNLOVu1IKNpIXJydamDLhzdZ4WKyxDRiV8SEZHI2UA2azuTsWFjN2PwxXFIzt51cGgJq3MgBwd3MmtpOGsQ34LaUtV5~qgdoos_i2yDs2z9rd~bVIqBSakdNHosj3o_frI6wTy4f3U~bL4arz~EM9f2gAPEivQQl2MXNbD2~ZEQFj0heFjkP4ew9BPlUqU5Xg--.jpg
//media.inmobalia.com/imgV1/B8vEv5Xh_VThvnEqMx4G0ZxU_YC_pCgmETwWNQKyeMqLb9Afo_WSoi~kcK5mwaepLz96AHEmAzWJQblCNhundhnOIYTFLWoaYUwivyhlkf1f_4dQQTIwqpuNUbu5hRm7aJvVVTuAziCS~R7mv8i0zuawmXLPIzpcXuecl2QXHxFz4KvMfjp9K1bKdGHz53FTWuIGRTm~Ng8AywNfejR0f5qj7lesXNV5J8cj_kDW93NpCKeFYhTDJDJ5ueIuKhm~i3ry0lDSv~sEMTvkRJd~y3ue~WtEp1XoI6Dysf5qMl~nhkyelaxlibw96jzIvsxpmZmcjw--.jpg
//media.inmobalia.com/imgV1/B8vEv5Xh_VThvnEqMx4G0ZxU_YC_pCgmETwWNQKyeMqLb9Afo_WSoi~kcK5mwaepLz96AHEmAzWJQblCNhundhnOIYTFLWoaYUwivyhlxsTCrTK_eWE4PmkHKJHwuyy9CKMpI1FIEPK4i2WHOemgiKRyb6KZRrIQeYPkcNCjnvxe6ntdOAVF7y4n5p2S4JcRhX88ixRYAVoFPzM0ac4LEwZqGW1zcU6b4KME~jggOkLjdaX1LuLkwGtdnFcMfM0wFkCLtrq8S8pZaG8N4rQgrvjz~e5W~0Ra0FYF3_e2JfdX_lKv6MHriTlFpRolLFNmZriRfQ--.jpg
//media.inmobalia.com/imgV1/B8vEv5Xh_VThvnEqMx4G0ZxU_YC_pCgmETwWNQKyeMqLb9Afo_WSoi~kcK5mwaepLz96AHEmAzWJQblCNhundhnOIYTFLWoaYUwivyhlnZDzPZfeAZUxzxGuDyJVMnxuxPYSQo4QVDwf7MJjyHsFLeYAFGAQ5YorLe5VKUveMCf3tVuwFu47BJ2vBmy9nyeYCmkzSLEvI5MwCXwjIcqcR4kv4a~RmlCxJjBtmUfgOwFI8ItaL3UCWEe5yl2o8hfe~epfz1X24HxPlkVnq4ZHh5FRPlC6NnG6Vjs9RjsW6WQkeODLRHHKjjiWoxAIOqUwBdmvpA--.jpg
//media.inmobalia.com/imgV1/B8vEv5Xh_VThvnEqMx4G0ZxU_YC_pCgmETwWNQKyeMqLb9Afo_WSoi~kcK5mwaepLz96AHEmAzWJQblCNhundhnOIYTFLWoaYUwivyhlxpQ2GOLJ~A669UsfvCzXerXWGB13NfjxGzVXAZcDr5X8z_qoomomGgHjpsoHBqr2MHzHSKO5gXVHMD_ZFn2PFNl1cOO6B~dGGD7ucWc0xP6HPkeGMy0oyPFA0H8i5effP1xGrkj0FxMUiYiOVj_bYWiAF7IGE15dz82JDPtyet7RaU0CD8K6YIWyvJ1t4NN_Rh21OtsgVc39pyu7Lc85mCRHZqxdAA--.jpg
//media.inmobalia.com/imgV1/B8vEv5Xh_VThvnEqMx4G0ZxU_YC_pCgmETwWNQKyeMqLb9Afo_WSoi~kcK5mwaepLz96AHEmAzWJQblCNhundhnOIYTFLWoaYUwivyhlwThWasPXEx8xuBSjbFlTSjc34VoxqRlMc7hJW0QmjAahObTFbntHHGJR36fAAwfRKBDaxhuqTgZY_AdSLPzahVtNguWtn7IaKH2uZyGieOLujGNunhMrHU4ASHYJDjyNW8a9tH_1oX6NYhWd~zI8MyjqxWmiPYvwUv3ezmcx9F3TbjuEKZFuGbiVOyFv9RUAQ9JNSYf~b_F4xq2~xiwRcZ9giZnmmw--.jpg
//media.inmobalia.com/imgV1/B8vEv5Xh_VThvnEqMx4G0ZxU_YC_pCgmETwWNQKyeMqLb9Afo_WSoi~kcK5mwaepLz96AHEmAzWJQblCNhundhnOIYTFLWoaYUwivyhlxfQnOPI381nW~qE2n9l9SZqgFeIBMqqmMdZFDeuml~NnDM~Hc8h4dRYxy_nBrmXKZKRSCJXFAldVHTIabRVBGZt_leSl_P4sQGo50OetvEjPLxNu_xhK676KKCpQz7TsB8WO1x5FvFAu3xJL~Gzt38ZmKCg36G6xDLqXDQlnuLkB4ledbMvn8YTRA3G1Ay949qVkp_EdyxReLpGO9rorPlOJI417MQ--.jpg
//media.inmobalia.com/imgV1/B8vEv5Xh_VThvnEqMx4G0ZxU_YC_pCgmETwWNQKyeMqLb9Afo_WSoi~kcK5mwaepLz96AHEmAzWJQblCNhundhnOIYTFLWoaYUwivyhlkOMHzasd8vZYAkvpILB0GhP~N2LM8KjGqfUUoZC7eM5hhYJcu6DOeReqizOHS9sV32ONvRusrBWrc5xvtgg1wzOf~P2xp1btxr6yDZEJTECqRNZS1ko_2fdGvevlbEPY2AJiH~vQlXlPmMbRXSQhFeRR~poi9HH6igEtrT3YOWYZjwuoYNVCy0RaPLaWhcOL4g39Vul~Dy5ToKqFM~tYXBMCyGO17w--.jpg
//media.inmobalia.com/imgV1/B8vEv5Xh_VThvnEqMx4G0ZxU_YC_pCgmETwWNQKyeMqLb9Afo_WSoi~kcK5mwaepLz96AHEmAzWJQblCNhundhnOIYTFLWoaYUwivyhllIxDO0iw4_jt60312Y8EMOkcUeJqxMEmozkuM97XmsFhG5ALHJswZYcLDYlqFIrN0PqimRuaCVYtvCNO~E5nVjZSLnX6vYrVeAr6bhh709ZrbQ2jH2kYKM_~JwNVDrhnhOQVqEw7UXCGaEqpPOGYuEyKRz7d0nxde5WFLconFLS_xSdYGYgXb5HSduIGQPA2CT33aeIhvduLFbR3oiIc99At0AnY_Q--.jpg
//media.inmobalia.com/imgV1/B8vEv5Xh_VThvnEqMx4G0ZxU_YC_pCgmETwWNQKyeMqLb9Afo_WSoi~kcK5mwaepLz96AHEmAzWJQblCNhundhnOIYTFLWoaYUwivyhlwC0_bINRuYpQNoq5eai_mDAnKb_5_l6WXxiu1fYjy~ptCEzSQ0esTLVeXmS~Z3cv~PoNrH83oEmbe1V2MDBRDB8i1LXfNiN3sLUIPEURt1q7Esb9Hbk~9IaSv7wtnlSn32hgYm3m6wRh3nYVroSLa0zkm_8uybQ8H8h3HeFhoa6gpKfjAJO7OXLpmxVrjozghvaiKs5hmSMMOEHGRI~yLCSMHMUbJw--.jpg
Guadalmina Baja, San Pedro de Alcantara
Villa
SOLD
Amazing villa in Guadalmina Baja, Marbella
Amazing villa of new construction and contemporary style in one of the most traditional urbanizations of the Costa del Sol, in Guadalmina Baja.
The property is distributed in three levels plus a solarium.
On the main floor, through a beautiful entrance hall with a relaxing fountain we access the property, where we find a guest toilet, two large en-suite bedrooms, an office, a large living room with fireplace with separate dining room and connected to the fully equipped kitchen and a central island. From the bedrooms as well as from the lounge and dining room there is direct access to the gardens of the house, the swimming pool and a magnificent barbecue area.
On the first floor there are two wonderful suites. Both with independent terraces.
On the upper level of the house there is a solarium with jacuzzi and chill out area.
In the basement we have a garage for 4 cars, laundry area, bedroom en-suite for the service, guest toilet and a large playroom with natural light.
Outside there is a large parking area for several cars.
High ceilings with wooden beams, large windows and natural light predominate in the house.
A wonderful property in an unbeatable location
REFERENCE

208-01416P

bedrooms

5

bathrooms

5
built

1.164m²

plot

3.191m²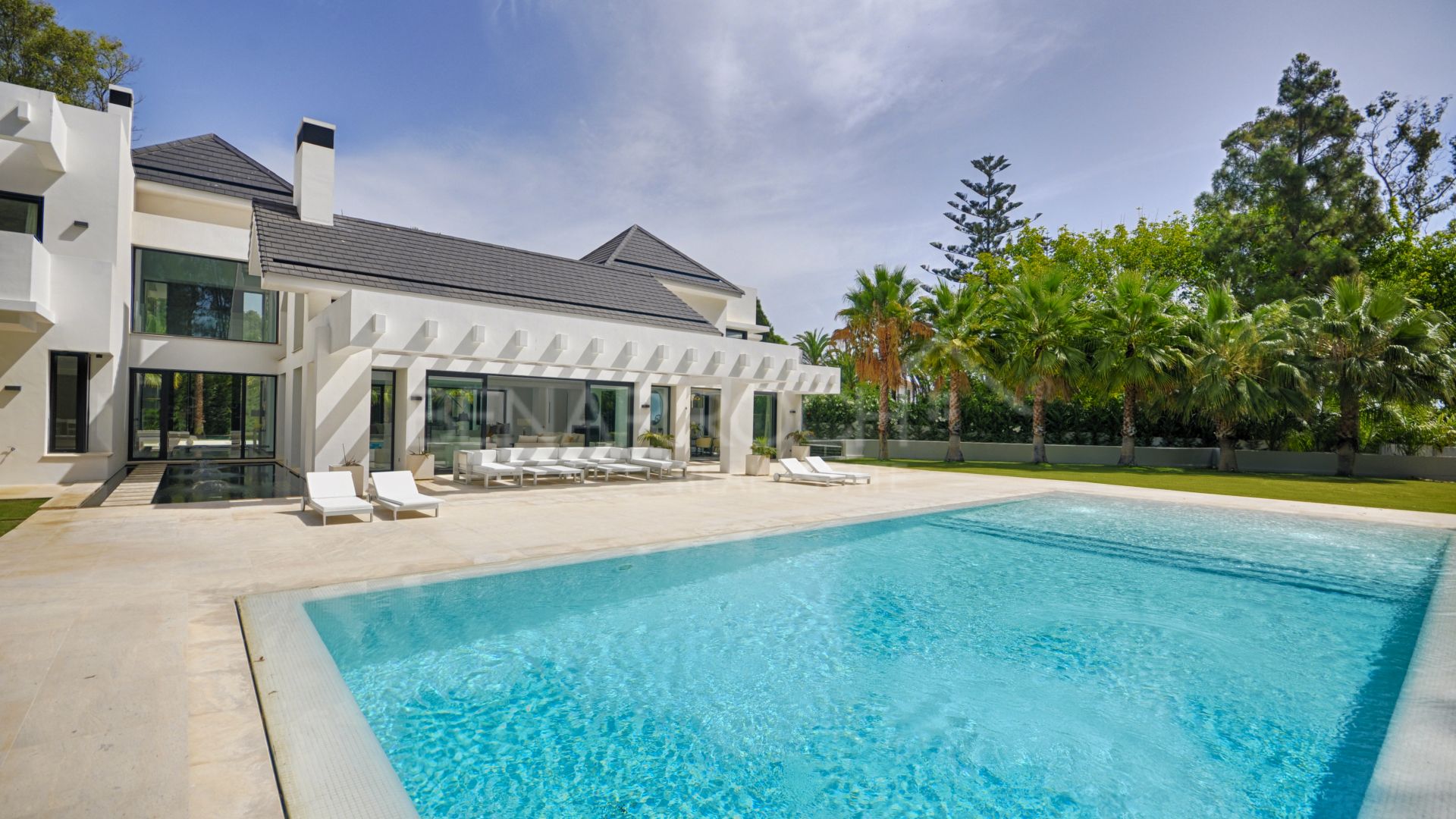 Video Villa
Video of San Pedro de Alcantara Area
similar properties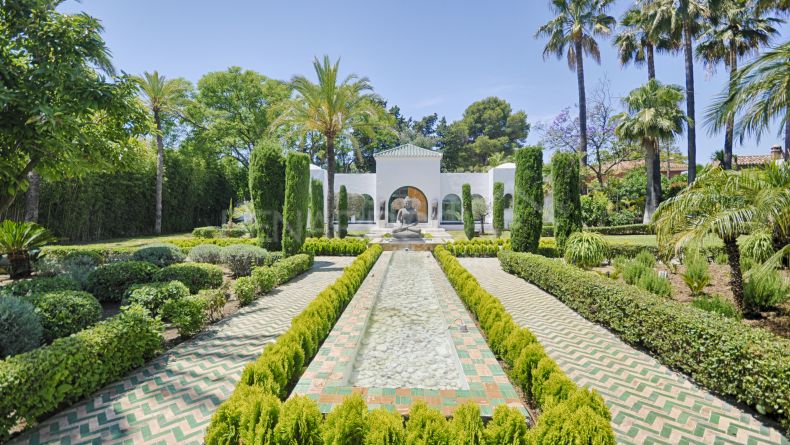 9.995.000 €

reduced from 11.500.000 €
Arab-Andalusian style villa in Guadalmina Baja, San Pedro Alcántara.Exclusive Arabian style residence located in the prestigious ...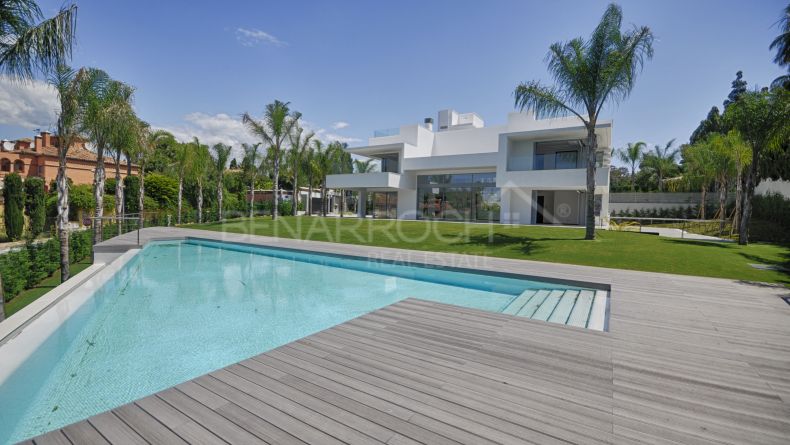 4.250.000 €
Newly built contemporary property with beautiful panoramic views, in Guadalmina Baja, Marbella.The property is distributed over ...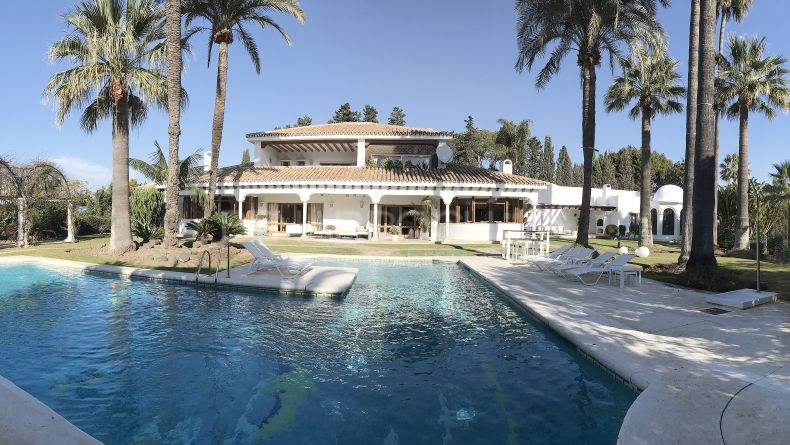 4.750.000 €
Mediterranean design villa situated in the urbanization Guadalmina Baja, close to the beach and golf.Guadalmina Baja is an ...