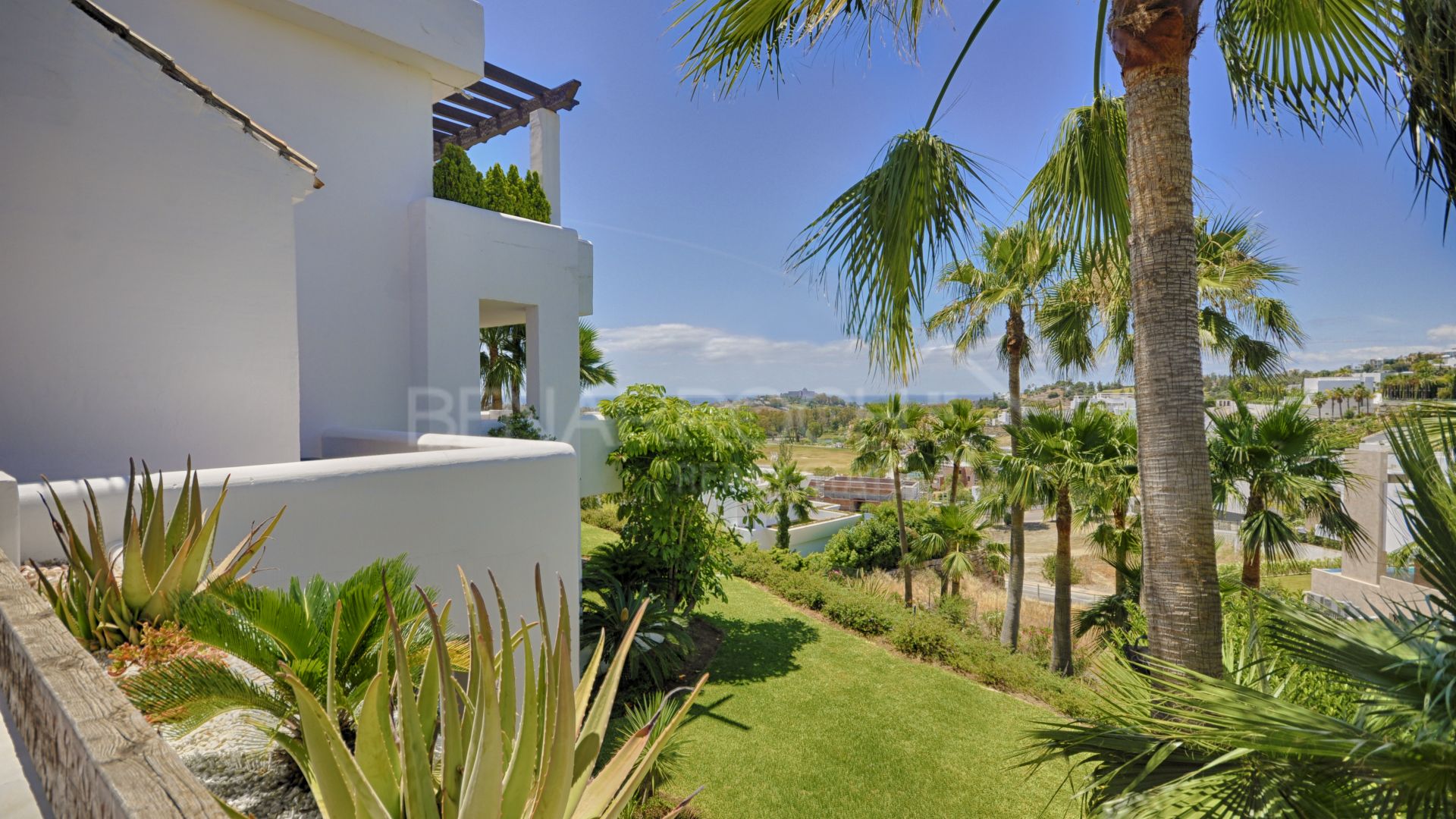 //media.inmobalia.com/imgV1/B8vEv5Xh_VThvnEqMx4G0ZxU_YC_pCgmETwWNQKyeMqLb9Afo_WSoi~kcK5mwaepLz96AHEmAzWJQblCNhundhnOIYTFLWoaYUszyLizbFX8_EB_V2XmsX8U2tBrtufug_pDfFED5kWxJA1NcusL2sZH5Dla_j8kcXbwttkkTWy5p5B1EEkrCo~2yLDjy_mTdxxrR4P2flBGAOASQDC63l5fuTkGGqtyfSSp2yTyv59~TEO~nwwDt05VzTbhY1KsavXrIa75vKXpVqdes2X7b5t4utJULt5JcVwLM2G2JOipZAwt~D98kI_sy2iYyDQQ1egZNQ--.jpg
//media.inmobalia.com/imgV1/B8vEv5Xh_VThvnEqMx4G0ZxU_YC_pCgmETwWNQKyeMqLb9Afo_WSoi~kcK5mwaepLz96AHEmAzWJQblCNhundhnOIYTFLWoaYUszyLizZSuLxIAOklbi4yBZoqcgI45k_u7zCnUVd7vErEWHycnPQGE5b4fm5a6OpOSuiSdxaUBUsaXVg3d15lgiSwweTuG~RHYYjPj0cS6CbfSIoE6leZtSs~XT2i_EKkTnJRKMOqReSLQU0m0O5xjbsA5O3gT_55q6LrID2D5JcNS47VC_hha2dmXjCCN07BUqzr8ObST2w_PIU4kS825h_rlQnj4V5Y7qGw--.jpg
//media.inmobalia.com/imgV1/B8vEv5Xh_VThvnEqMx4G0ZxU_YC_pCgmETwWNQKyeMqLb9Afo_WSoi~kcK5mwaepLz96AHEmAzWJQblCNhundhnOIYTFLWoaYUszyLizMYxFWXggC7l8eCDH56LYrhumaw8rVlz8g9f~T8vecejr8yZym1NGSWbJruQO8jOVm0DvTkHxwVUo9kC64FMHUM0DYsqgTr7acImX472fQyL3kHyvDbDS3wUx98m3POFSNRtpjEUjeofmi_19946Nm~obxukmSCWRYR_XqHxl~8XMoaNrGEvTOfCjTTzsoNyUH2wSJfCYuoRn_zSoR3R6JMY2fRjMkQ--.jpg
//media.inmobalia.com/imgV1/B8vEv5Xh_VThvnEqMx4G0ZxU_YC_pCgmETwWNQKyeMqLb9Afo_WSoi~kcK5mwaepLz96AHEmAzWJQblCNhundhnOIYTFLWoaYUszyLizZX3HuGGsyHkFHM4NfUnBUjo7GsTCEC2xvmdfZYuwYVBbHVq4urnYA~Eed8PoH1qGaT_oRa6nBSg04ZcuSN5LSFDCbmOUBAvO96wu2omexGni_jXfGHuJPVhjKwfzvB7RlZ~nTU0pmrj88Pd8v1vJs5Gpo7y9FbUBcHaxYxxHy0gKzMeKzZk4M2WHwQ~5lF9iXgepDX4BREPR1S6rA0LzfqEL~0K1xg--.jpg
//media.inmobalia.com/imgV1/B8vEv5Xh_VThvnEqMx4G0ZxU_YC_pCgmETwWNQKyeMqLb9Afo_WSoi~kcK5mwaepLz96AHEmAzWJQblCNhundhnOIYTFLWoaYUszyLizNGIWxDi9sVHk81j82cA3cVyVqsexgN~CAaeWEKybGDLgHjhVx7h92PsYDbSOGD1O4K5SG4uCM9yrYSh8JI9TSB_kXjNSwqO1WJb4DFwftpjJkZp3qW2Nz58o32U_eYQwLOumtyJskZCKtkYzp7MXrsrvLMpCt~mIpTtnBmHV6qwZEWqxoG4r0Rqmh41yHt0S_0KS~WzccRueuLrhbf0HVMxO_qLDTg--.jpg
//media.inmobalia.com/imgV1/B8vEv5Xh_VThvnEqMx4G0ZxU_YC_pCgmETwWNQKyeMqLb9Afo_WSoi~kcK5mwaepLz96AHEmAzWJQblCNhundhnOIYTFLWoaYUszyLizYIZuat6LmEn3ivMyKOukHzJdbrVqVGzsbkdIYTj1QToxGGP5CO7s7yF4vaZWYyTW_m3g4fG4ArnmcHPHuYRe8oIWTIkgBUwBX~3XP4r2QiK8MQB9WWemX3DZhfHjuO8c41QU2tSbBnni1HQVZhDOmW95ePhD_MipCCH5GHLyhmjDtY6_mCmMefDyFB0c0RqG_pHhmRoSojYeSljsn43KqVPKfZOvGA--.jpg
//media.inmobalia.com/imgV1/B8vEv5Xh_VThvnEqMx4G0ZxU_YC_pCgmETwWNQKyeMqLb9Afo_WSoi~kcK5mwaepLz96AHEmAzWJQblCNhundhnOIYTFLWoaYUszyLizZXgwz22tcOnUWmkf5HCHt_FsTka4vB8u3DIbsL_XeT_Mt3bI6eKtVtykjbX2mfyUaWFIk53py10fJZmxZ71v7J3~JzhnoUIeLMIJzrT4aB7JOzXF8JWsDeM4p14quMXoyV2_CpkIWuwcafOAEVLO_Zv1r_vzSrQk8C0a4HLTp1xoWGq57l92todE_pVZIP5RrnnF9VXPjC_6UixCKU2kMeaotuKAbw--.jpg
//media.inmobalia.com/imgV1/B8vEv5Xh_VThvnEqMx4G0ZxU_YC_pCgmETwWNQKyeMqLb9Afo_WSoi~kcK5mwaepLz96AHEmAzWJQblCNhundhnOIYTFLWoaYUszyLizYVD5WrZRdgKl6trduLeD434xWVon2zluHupTlFEe9jQGnzkLM2YT1YAin5bvIOC_BUO97biZE7weYPHRLafPHuu9Y6FGZA2CTYAWUZ1ECHtmjZ3PpEAwH_daByRAjsWl4Rgf3QfFjM1VXmpZUsTvhdQQlk10gyDprhzLy26J0M0nNvZ9sWX4tsGiiMRHBp_snFo~~q4jfYqQnSqQhwRcL4y_Dm_A0Q--.jpg
//media.inmobalia.com/imgV1/B8vEv5Xh_VThvnEqMx4G0ZxU_YC_pCgmETwWNQKyeMqLb9Afo_WSoi~kcK5mwaepLz96AHEmAzWJQblCNhundhnOIYTFLWoaYUszyLizMHwlYkbLp6XGKI6uqcP925bLssfgAvm2Xzo5Yi_zOcnVYEAk3pG~T8qhLDpPVpOtty4V5foFRCrCOS3euA_ZdDFoywqEDiThb2pU13CvEMs6R8RZRi7QAgvRykSBGPBh5OmYegQPvqp44y8lnM1ECe4WZEmoZwc5UnavNd3~VcSeKNrwJSx1g30hzQWTNfD0n8AOMUkTCbTLRZD78Z1jQigk~JNGfw--.jpg
//media.inmobalia.com/imgV1/B8vEv5Xh_VThvnEqMx4G0ZxU_YC_pCgmETwWNQKyeMqLb9Afo_WSoi~kcK5mwaepLz96AHEmAzWJQblCNhundhnOIYTFLWoaYUszyLizY1rP6bZL8Er4Q~_ek7imIGdPgvpTbrPNFhRaIYVmbRIidVkIWDJ2kRuowzgcsFz9kh1ETXGCDJRh~mncOGDRdQFZqOO5u41tImNWdjblE1fx9eIgq9~g2gcedX67UWz9jEao8q8M6a9ktGas7mUldkINqBeoeSXjAuXa~n5KpoQbScu1YhckcuqEP3S0MIuSs3iURLUhbxfcsFIRkDpoTXEzIeVpNQ--.jpg
//media.inmobalia.com/imgV1/B8vEv5Xh_VThvnEqMx4G0ZxU_YC_pCgmETwWNQKyeMqLb9Afo_WSoi~kcK5mwaepLz96AHEmAzWJQblCNhundhnOIYTFLWoaYUszyLizMH32niGTQLChgQ1zxMsTZkrtSsmBdCjSoqhWyIPnVSOUBIYHqoaWaVUyvDpCy_GqwVuYSeXnXS3YADwW7Z_zGuxwCa1wmmobqWLgXLeo5UiaZW~zsbxQAXnAj4NLkIdGrx7dZhq6sCFJESjvPkFrmA6_WDoIdjlLrFIaJIzQXKHUDkJzgRAndlEvhwnNMJHHmIPmf6S~3NWrAOgyTvGvNVepwa_SXg--.jpg
//media.inmobalia.com/imgV1/B8vEv5Xh_VThvnEqMx4G0ZxU_YC_pCgmETwWNQKyeMqLb9Afo_WSoi~kcK5mwaepLz96AHEmAzWJQblCNhundhnOIYTFLWoaYUszyLizYsyad8Ce2fJQOJ3rze9fe56zHf0Te_N4Mn7SYizhJ5JyADdI4V4T4LPmQKwbFqyg~wuhPRmsjDzupjFDOks9b0~mubD9~Byi1ZMuqctzC2KDq6OCnV6jqXQgh9nDSxKULgCb_JXRZ4i_mlnrlLrHSUX5P8rqx6_EFBo9Wp0nv0KXiFk8qg0zmsDS1jRJe9c5IVlmZQkipVZx751Ekfwc_kY6uXwruw--.jpg
//media.inmobalia.com/imgV1/B8vEv5Xh_VThvnEqMx4G0ZxU_YC_pCgmETwWNQKyeMqLb9Afo_WSoi~kcK5mwaepLz96AHEmAzWJQblCNhundhnOIYTFLWoaYUszyLizZty~mY_WxtwVhBcWosiSww6ltye2aBtNf7GamX9LeRjSvPzGt5JwV2Nxn1n6gpsBU1QnsP~lUsT2EhPaFngKpCW0Ft3Y0vGCI__ViGhNAVLTwGGo2LfB_R78wIla~hHZeRZBzxMFs9c1x5UTByi9xMcCDTD~yIACJcLz0aI~ja4_r6QeNd8f4jKLDeOgC7epQhkKDe~ROxauAcmuYO0PFmidV~eUZQ--.jpg
//media.inmobalia.com/imgV1/B8vEv5Xh_VThvnEqMx4G0ZxU_YC_pCgmETwWNQKyeMqLb9Afo_WSoi~kcK5mwaepLz96AHEmAzWJQblCNhundhnOIYTFLWoaYUszyLizYwevPv~4d_I7SaLNxmKsuBJFgNL9b1qKzxpHfhAGTgcFNDk6R~hUeFuWzUgqGSkkYzdmz7ZVpGvJ4lZ5IM31sMRhdO77Eh90AYz6N3oPf_89PbGFW4~xRMk6PstkHEps8676rzUrvPchTWx6gtwo6Zxhl_Bre7OyR3nw4iWT8T9Oio_zgDDyqjOf6XbT1q3snle7WJ_7lMP0EqoTwDQkX4r7KFudIg--.jpg
//media.inmobalia.com/imgV1/B8vEv5Xh_VThvnEqMx4G0ZxU_YC_pCgmETwWNQKyeMqLb9Afo_WSoi~kcK5mwaepLz96AHEmAzWJQblCNhundhnOIYTFLWoaYUszyLizYVEcdf6SsMQk4H5wntVgZTmVsR4n0BKA2UmsFGn~QRwzEEoL197ilXJ__l028Ipqk3mJ9TagT4EFuEnUEFpZWV5zeAwKBE4gjSqudtnzVv8mGwOHDrkPUW06C95NizXEHi4rHC8j1c2ZEoc7u~Vylm4lRLJ_9Z0kwhwhjHsCeYrooTG1IiHzqs3yod1iw6AA4g7_qCU_Sv5ENctSSA8vsDIJ~7eMPw--.jpg
//media.inmobalia.com/imgV1/B8vEv5Xh_VThvnEqMx4G0ZxU_YC_pCgmETwWNQKyeMqLb9Afo_WSoi~kcK5mwaepLz96AHEmAzWJQblCNhundhnOIYTFLWoaYUszyLizYIZrum8sfLmvFjjWFA5SN~582KBvP3y1CpjtNvHotpFQ~JnACFyJZNoZqG89YlIH~VymVKat74do1lQOe3amwuKH~veXGhB2BbeE03pD~MgGRpH7XXBl1v5gADaiHpzDnj0woY4uwS_doPf6xkd2CwgR_777liV6nWUY6QWBABxch5ndNIgTWvVaxiWeOGAo2h~n4Pn8Bs6T1sqUmsmNlZJeEPe6LA--.jpg
//media.inmobalia.com/imgV1/B8vEv5Xh_VThvnEqMx4G0ZxU_YC_pCgmETwWNQKyeMqLb9Afo_WSoi~kcK5mwaepLz96AHEmAzWJQblCNhundhnOIYTFLWoaYUszyLizNGPr4GKijgyGVKhB3UWm17TlpI8lCbKeFsJF1Kms_TkC8QDnyqlbxHAQg1eJ_IMX2FWj_Dq5AvOYiVs_uQS9j1vQuxZ48PloZXY1xYdwsBlz61iwU_CR_ZVYQ5pGLqjcDbzMU8ohXeaeeGaY05z7bKZJQ8A_jJxEYdY6VzhTGVsoa1wYJtRLTXTNg1F9S6DNJs~Wsba6V9mkCbEZl5JRYzONzJXqKw--.jpg
//media.inmobalia.com/imgV1/B8vEv5Xh_VThvnEqMx4G0ZxU_YC_pCgmETwWNQKyeMqLb9Afo_WSoi~kcK5mwaepLz96AHEmAzWJQblCNhundhnOIYTFLWoaYUszyLizYVJ403luF0sp3XDjG~~OOHFFYmKjS3Zp1wNdc2h8GqOJCXSi5omB_uEWbt1wRyW4g~xncelWrcfGeyN0uXii2Z5ayIe57JWRrZfcKnXub8FzKipIOhX3MADQ6FrOglW6ZJcR2SbCSNKYrMmlyXhcd~WDdnvLZ4tGi_Q1bzyG8XzX6LSQAZYrkbRDrdXBg5rXwfeXJp_7LA5s_WW4B95FIuWOwVeKHg--.jpg
//media.inmobalia.com/imgV1/B8vEv5Xh_VThvnEqMx4G0ZxU_YC_pCgmETwWNQKyeMqLb9Afo_WSoi~kcK5mwaepLz96AHEmAzWJQblCNhundhnOIYTFLWoaYUszyLizNj5IzUVT7F8kq1og8O8OHSno3ZyfibZQYeOQd3wN0v_zP9MCKlV1nrMGVr4gRy_nJ_bFdnNM2bFF8Ii09mh5RfohZFshgExadGZ5z5PFNx4SNCD5AqtMX23WhUHP2vl3tBkvYI8QgCHJdWtS4r2J23DdCO4TjiCOavsDObHjwTdqJA1Q0k18pIMdrAzMmL_R9F19tbQ0bp8JaclafNXE~q4_slj6Gg--.jpg
//media.inmobalia.com/imgV1/B8vEv5Xh_VThvnEqMx4G0ZxU_YC_pCgmETwWNQKyeMqLb9Afo_WSoi~kcK5mwaepLz96AHEmAzWJQblCNhundhnOIYTFLWoaYUszyLizMHt_dYZbUMwgIBSTSNJHbQlCPZawWJHi3qJU56Xs16viQGNDuYwk01sgTuepYnZ_j2E6Bzb3yyDIwZIs2sqMjkw3QS7yBKQhFBSMB8ctPyBXayAYXrmwqGCI3gMjpvY8meQAh9mNH0pgsr61rOOjpBSdnd3HXLUH2fz3mvy_PvppIERsZOCx~2IOI9ZSWuKca2nbnOTo4oR_BiwNyrxoJl_xkVBS7w--.jpg
//media.inmobalia.com/imgV1/B8vEv5Xh_VThvnEqMx4G0ZxU_YC_pCgmETwWNQKyeMqLb9Afo_WSoi~kcK5mwaepLz96AHEmAzWJQblCNhundhnOIYTFLWoaYUszyLizNDEPUHLEmkRHEu9WKZ_g8QA_E2Jk0WPptMQCS~b~_Alr3cmd0CwFe2X_ZaL886_vB_h6s7YAcnTmryYMY7AZaHq_GazIv5LaS2fmyepWBlxdC2WKhD1frZRdRlDg_uBES17mhvIWsbk_E6g9Yl8BsNxXl0tt0AaeQ4GbiwXsIrp8pYy_ZmJy2~~njApcQ05zdr5din_LL2NAVhvJKsJqycnkAziDPA--.jpg
//media.inmobalia.com/imgV1/B8vEv5Xh_VThvnEqMx4G0ZxU_YC_pCgmETwWNQKyeMqLb9Afo_WSoi~kcK5mwaepLz96AHEmAzWJQblCNhundhnOIYTFLWoaYUszyLizMdi6RE0vd~F9LMxxyKrvGm6gGdA~cXYWduGHSah_idOkX3ckz7IKvI7cvTsdwtiXKaJ5~_rWa9t33BYIiTNR2q7ep7XCym0jxIUen_csCEMl1Q3ScztJrctckVQcMgzpq8fF7Zk9td57cGS6rGcwBfjUbJ2CTtulzmNbSqSUyjtJ2LqBwuvVW8BOMC4l1XmNgez1RzVqmwCUDwiiDT8deza4hHNRCw--.jpg
//media.inmobalia.com/imgV1/B8vEv5Xh_VThvnEqMx4G0ZxU_YC_pCgmETwWNQKyeMqLb9Afo_WSoi~kcK5mwaepLz96AHEmAzWJQblCNhundhnOIYTFLWoaYUszyLizZX6aLl7MtnQVXQOvdwAFkRRopCDHKb9mwUNfBVmo2yNMLmnkzQNT~imHSxt7t9uVueTMl5XoxicEGLsPLhQsoYEOzW1IguyU04ciBJksFJXBzisWcQv6WKg3_eu7BtQoTbyZImuqV9IHjQVvr9nfaZTL323lOo2jg7PDSoYBNs500gcdckOIngfI~J6SMU44u10Em9c_wJoRZj2C8CBw9uPZoZjSIw--.jpg
//media.inmobalia.com/imgV1/B8vEv5Xh_VThvnEqMx4G0ZxU_YC_pCgmETwWNQKyeMqLb9Afo_WSoi~kcK5mwaepLz96AHEmAzWJQblCNhundhnOIYTFLWoaYUszyLizY1Ql0J4wZPv5doIYmRWBJWuXbAK688C_JjVmCGcQgKHoNf~YwYyzIBmtUpuq6uTpwSQjwLjhwOQnq5KuknfnlhJ_jUIqLC_OyCaIJ1ZsJEeQwr5Bd5W9TftVWW8nk4I__pIhtxPNJo4zvnpyMj36Zh~aJP7ty13BNWObJFvZsn~jPZ0gV2i1D6Zbdza_9WsXQZK4xgmu5wVm7rspvJvHWCYiQwF1~Q--.jpg
Lomas del Marqués, Benahavis
Duplex Penthouse
395.000 €

reduced from 425.000 €
Duplex with sea views in Las Lomas del Marqués, Benahavís.
Immaculate duplex penthouse with golf and sea views in Las Lomas del Marqués, Capanes Sur, Benahavís.
The property is distributed in two levels. On the main floor we find an en-suite bedroom, a bedroom with a separate bathroom, kitchen with laundry, and a bright living-dining room with access to a lovely terrace with open views to Capanes Sur, Golf and the sea.
On the upper floor of the property is the en-suite master bedroom and a pleasant terrace with jacuzzi that surrounds the entire property with beautiful panoramic views. This terrace has an independent access, as well as access from the bedroom.
The property includes two large garage spaces and a storage room.
The urbanization Las Lomas del Marqués is a closed complex with video surveillance cameras 24hrs and security during the night. It also has two swimming pools, one of which is open all year round, a gym and large garden areas.
For families with children, Atalaya Bilingual School is just a few steps away.
REFERENCE

208-01382P

bedrooms

3

bathrooms

3
built

146m²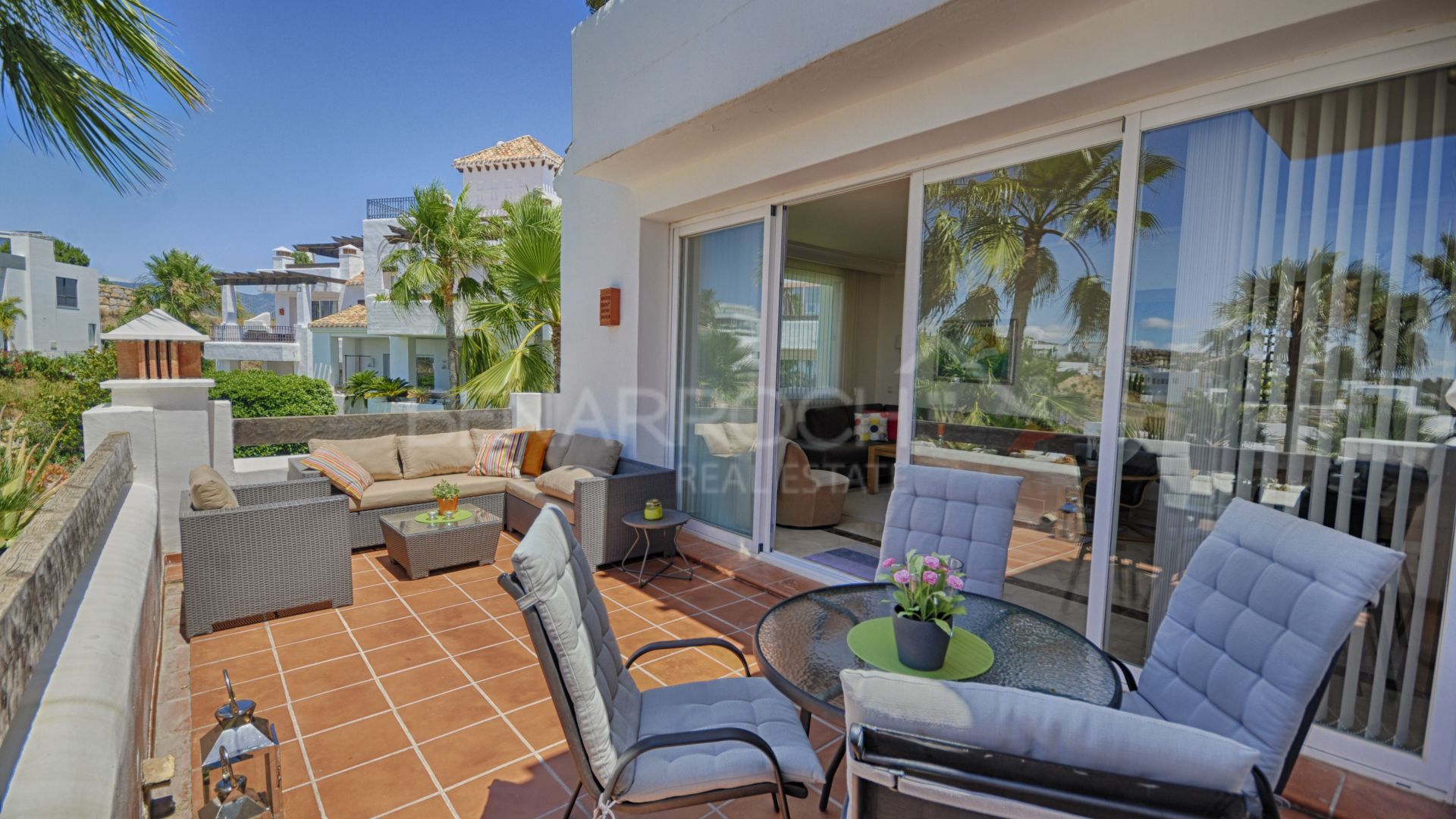 Ready for a quick view?
Do you know Las Lomas del Marqués?
Video of Benahavis Area
similar properties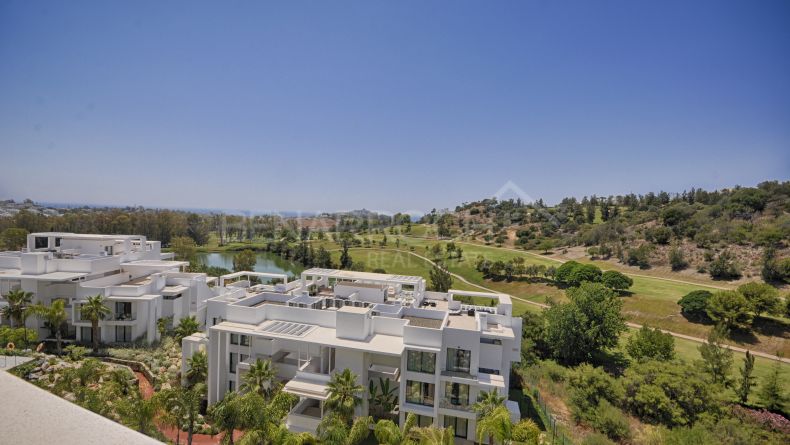 469.000 €

reduced from 510.000 €
Gorgeous duplex penthouse with open views to the golf located in a newly built contemporary style complex, Atalaya Hills, in ...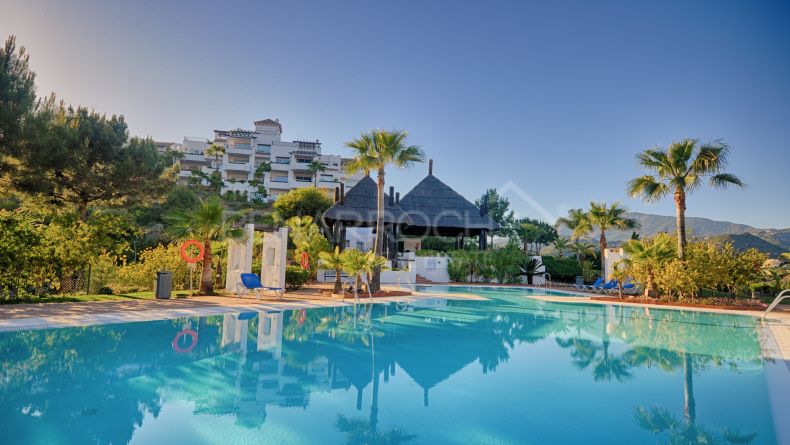 SOLD
This fantastic duplex penthouse is located in the urbanization of Las Lomas del Marques very close to Benahavis village, in the ...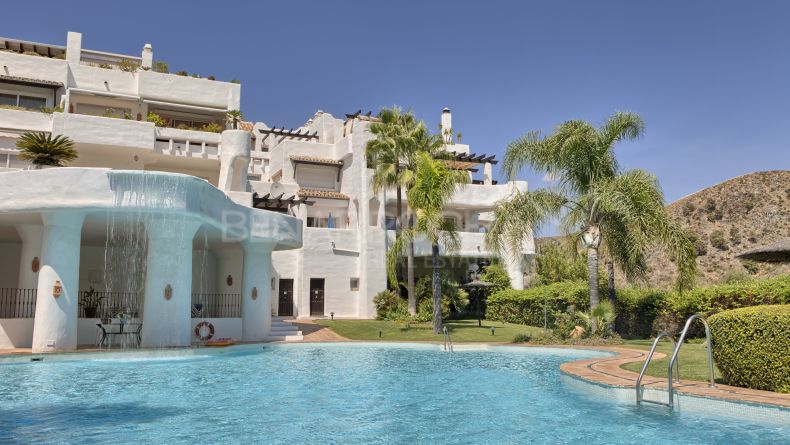 743.000 €
Spacious duplex penthouse in the urbanization Lomas de La Quinta, in Benahavis, a private residential complex with security ...