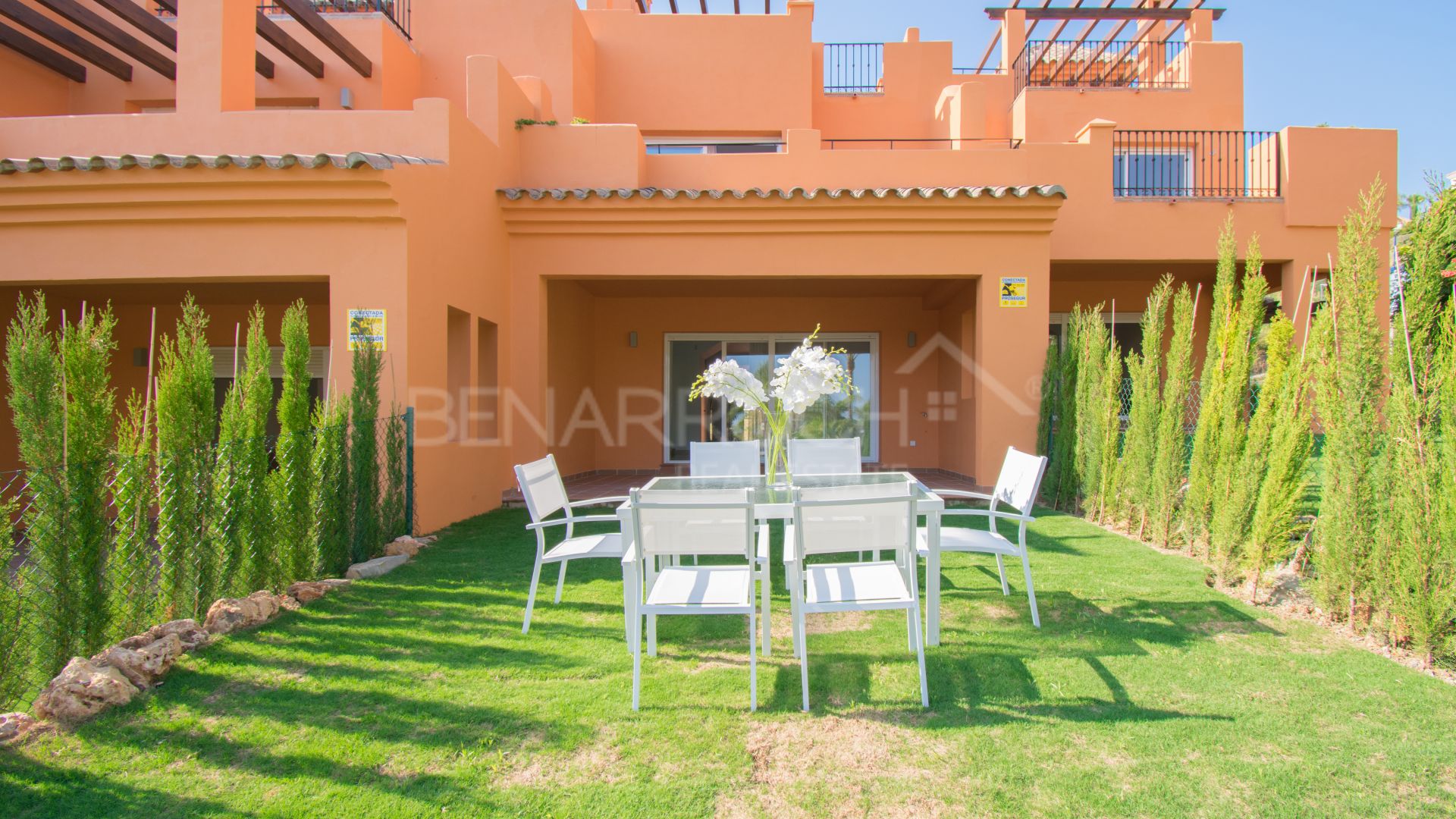 //media.inmobalia.com/imgV1/B8vEv5Xh_VThvnEqMx4G0ZxU_YC_pCgmETwWNQKyeMqLb9Afo_WSoi~kcK5mwaepLz96AHEmAzWJQblCNhundhnOIYTFLWoaYUs~aiTKcCWtwWupPvJK7gtzAWumk33twwEifXM5w5Wi7JKSSvZd2qeSa6aEv9zqHrBfK7YVVpiUD3IfQEIrdQC6rik2cwGRZWlx~wDBoLts4agRAEAdCKhBGCDBhqiR6IpJeHZhtHfSd28wjl784Wy7YxNHf1gqpeKtem_BJTxIdzjmde~TYfKIlnxsWYNDtjdspg3LiVxyoUkiBPAQanVbph4Mv8Kp7Wvtqw--.jpg
//media.inmobalia.com/imgV1/B8vEv5Xh_VThvnEqMx4G0ZxU_YC_pCgmETwWNQKyeMqLb9Afo_WSoi~kcK5mwaepLz96AHEmAzWJQblCNhundhnOIYTFLWoaYUs~aiTKJHQ4PiYKasdI9el4rfKdA68MoNwukI9uZo4XL5y~52K00hH6QguqUmHBka53zzapPGbaUlMyxwuvXxUqBpNGg3QuUgk3Zgt9OUe0Zq2zZy2OjF5wLlvbzlvnO1Gb8Te_fUJ5zWItMdc68y9P4oYJx5rgEAe6KPNsbhj31VIDFbjLxJ_z65tME_9msXPUrNMjr9HqdgkK69RLGZr567v6coa2Uaxjlg--.jpg
//media.inmobalia.com/imgV1/B8vEv5Xh_VThvnEqMx4G0ZxU_YC_pCgmETwWNQKyeMqLb9Afo_WSoi~kcK5mwaepLz96AHEmAzWJQblCNhundhnOIYTFLWoaYUs~aiTKdaF~~~posGWXiCY3x5U7XIBAPoHUJ813EisQ1HyNKUbyOxZLIz9vZbvsbAnkg9viqQQul3d635PhRiO6tyHhWlDxp6UuFkBGBnoja3iU2N1CyWmcZ7OcPtxAPMzU~4oiIP3PHT4n9RK6DaRRulw6JwyU~_kDCVZdgI~tH_NYtF6B5PKKR7eRGBCrHTZf4yQTHMbu2NjHsOUANx39Pern5a89yqT3Eg--.jpg
//media.inmobalia.com/imgV1/B8vEv5Xh_VThvnEqMx4G0ZxU_YC_pCgmETwWNQKyeMqLb9Afo_WSoi~kcK5mwaepLz96AHEmAzWJQblCNhundhnOIYTFLWoaYUs~aiTKck5_O1QmViTl1qi~B3Szo_xiPjUypVDBPAeaP9Zz_GE~PM6PHf5mU9d8zG4xThV07oT~RxPK5YZyfOLLlFnumIIgMdS7SPHUl8y2Q0mdTL9_Pxm9iBXlQ4CSpP0c6WmjKOlHje4uDEjyhL5qwV0Zlg2moMlVAZd2Phvr2qKYqvzmKXULIzaHaeOg~H9wcOtcR5W_8poYPNyGHWdfW0Dp4w627uQCgg--.jpg
//media.inmobalia.com/imgV1/B8vEv5Xh_VThvnEqMx4G0ZxU_YC_pCgmETwWNQKyeMqLb9Afo_WSoi~kcK5mwaepLz96AHEmAzWJQblCNhundhnOIYTFLWoaYUs~aiTKdOiT~Lq2eOOiOrNRyvIG~KsC~dRf2xPVgYijQEofgOgfSLdlWgirm_ejUKYNo9HRe1EbS0BNyWizITgNJWq1UzEMx8TKQ3avK~s5N3tQRr8Uc7G1Oi~MLo79tjxgJWdEa9WK6qjznRo5sjpP9vpQ5d7Rb9YUnnHrOJ_vslv9G6B92Wy2vbyNYbDKu034rIrwo_E2Y_XfRV19f1hGp3sqoLwahVkRKQ--.jpg
//media.inmobalia.com/imgV1/B8vEv5Xh_VThvnEqMx4G0ZxU_YC_pCgmETwWNQKyeMqLb9Afo_WSoi~kcK5mwaepLz96AHEmAzWJQblCNhundhnOIYTFLWoaYUs~aiTKIDynLsiCZ3P1C6QF5kQH8xU_dZKm3h0FikHWcrxt2gHdtiqZTOPhfb1YyDpScXCeub6VO6Fb4Da9UHYJCBadIaShZOfhv_sReShMGkMQgIen9nvI3qRn6iAzMgxk_yVdqir_wXFmkwYdQ6DL4sBtsw0Dj1u0T6OLJoreQrArup0dZKwALIuIwEj8054vKsDkMKi~5DGof0MDIw_BaUxQzS~3B5QrzQ--.jpg
//media.inmobalia.com/imgV1/B8vEv5Xh_VThvnEqMx4G0ZxU_YC_pCgmETwWNQKyeMqLb9Afo_WSoi~kcK5mwaepLz96AHEmAzWJQblCNhundhnOIYTFLWoaYUs~aiTKJH5i~KEC7L_kyFmezLbcdgMHpsB7hhzvI7pHgi8iVowTctMzJpJ6pKBu3xtLRHtJNmzlVBbdUCm5NmERNi~Ah0fIzD0O5yNVPQ~yivMtfPRdnBDhFQHhFCWgP0LxR0P_xvgFJiDbzPnOS~zPUTjLIAtzYL1cYFLryrbcqJ7SdjXC~lkaT7yYNAg3e5IlaaEQQJdygVZq_nmHUhuHCC4bRHZxalZPOQ--.jpg
//media.inmobalia.com/imgV1/B8vEv5Xh_VThvnEqMx4G0ZxU_YC_pCgmETwWNQKyeMqLb9Afo_WSoi~kcK5mwaepLz96AHEmAzWJQblCNhundhnOIYTFLWoaYUs~aiTKJ9Klld5IT_uEbfQfmNFkUuAIDYro09d2fXdRY3JbU7z8mCDW~biAvHMkVymUwi82bMCgYUHAAzJdzt0fGbfeAElFg5f~MuNspMQWWqHjTvFQMLEYbzSP3FDLWGt4T3WRMR~akcBWK8XvOfOpWij6xPQRvCvv25lK0HWjSgLxLaksSYlwAnk3id_Us4M~2mzGd7awm8ewEpLp6X7EQtElb6RQd~sZ6w--.jpg
//media.inmobalia.com/imgV1/B8vEv5Xh_VThvnEqMx4G0ZxU_YC_pCgmETwWNQKyeMqLb9Afo_WSoi~kcK5mwaepLz96AHEmAzWJQblCNhundhnOIYTFLWoaYUs~aiTKcCX8IXzxV4YpENphkzZZrGasMZMjatN2SJqHYGSRGctcAXLa_sx6Gj_JUxSTjJ9RRXEqJ1fa7nmLzUK~taXzXKc50iGTYYP3XKw2XWgOWIKHFq3L9Dn_fXIMoRvLUeCFc9hwK0iBQuXyEGCdigtt_wWiy0SUigdQYmM3VlHySAeBhSqsEPmWmj20VzVG7r_~LG8MD7B8VeioGW0xmqzSi4FOYRaREQ--.jpg
//media.inmobalia.com/imgV1/B8vEv5Xh_VThvnEqMx4G0ZxU_YC_pCgmETwWNQKyeMqLb9Afo_WSoi~kcK5mwaepLz96AHEmAzWJQblCNhundhnOIYTFLWoaYUs~aiTKJHe55UrLCgOf5rWs_XRc3RrVx4TdpbWQ5CBUke~2s5VRWMeN_wUoWMFngunwGhGOreYE_GROIL9z4V00U3gH0T~dgasXjVshAcV8YLzcO_P~mn05Xu0MtvI9ZliU~vjADduaUJUz2966jOYm3NKupsW49bp78ATXA4ZxfKvfkGPnQEOfg0BY7bgR5UyvGHlSfGGfZB1ToW3tO3xWnvdYQxRmtXJEIg--.jpg
//media.inmobalia.com/imgV1/B8vEv5Xh_VThvnEqMx4G0ZxU_YC_pCgmETwWNQKyeMqLb9Afo_WSoi~kcK5mwaepLz96AHEmAzWJQblCNhundhnOIYTFLWoaYUs~aiTKdaXK6Ea7Sq3TeOvxwCELzd6jrrTu0Ud4JGYKVGBVmD3fTBC4aKXAWN9I58~h8tmpMwiWqqoZDFz_MZ0L81dcc0vkQT4zdpLf9mM3hamsF_z_eWdOnIvIC8eA0ECZg7nfRiD0GB6PEGWomqAJjkblmSsdjLROMzVBE8JJt55yvSQcvgPDYJuw9p5NnNnGHvQyThjrGi_3AsvHfgcnrRdZXChglrE9Ng--.jpg
//media.inmobalia.com/imgV1/B8vEv5Xh_VThvnEqMx4G0ZxU_YC_pCgmETwWNQKyeMqLb9Afo_WSoi~kcK5mwaepLz96AHEmAzWJQblCNhundhnOIYTFLWoaYUs~aiTKch1awitO1MJshgE34NOgMgpqSeeL86Ei218yku4hGNiPd1LexuFMN_TqMrtjxB7~XMX7JF0hsnWtue4NuYd8m0jliT7mT~Bt9mVX1Jo4gsGyZNuxbIjUcw1z4SG9_RJPvp9j6Q5RAqlVmNlC8gHn44fmaaQqc6IoaOTmzS2c5CSTRrW0hBtsns1Te5XjExnEjifByBcke0bGsQ7vDjT_2Nzf106d_Q--.jpg
//media.inmobalia.com/imgV1/B8vEv5Xh_VThvnEqMx4G0ZxU_YC_pCgmETwWNQKyeMqLb9Afo_WSoi~kcK5mwaepLz96AHEmAzWJQblCNhundhnOIYTFLWoaYUs~aiTKJCRBRNs7XYaLb4fTw4okae_Pm40yor~eg2fKKgzAqV6CzC_K28pwP4ucw8xeDx1RB3NRXovugOMj2pRhMhGMaFFWBg2fyOpdF2cx89xRoKLfqzTCcjExP9cr0UEcyvpiWLgUz8I41ds~HJ1rFpyxeeME5kH~Z~DwNtehjWVxlSgh08nwv~_wnVjUtDJ7~LHrM_IigAHdiTaBL3NVHblcr8MJLyCnRw--.jpg
//media.inmobalia.com/imgV1/B8vEv5Xh_VThvnEqMx4G0ZxU_YC_pCgmETwWNQKyeMqLb9Afo_WSoi~kcK5mwaepLz96AHEmAzWJQblCNhundhnOIYTFLWoaYUs~aiTKJetvmjEYbUiELjpkEEKXUkDAXRFtoD~lzGA0x9P1Z6zY4P2L48pcKMJ8FZ_xsN_tjpLJMDevJ7mEKSUmvGWekumyQGkr8tRoOy4B3aNVG6HpDCVzausgLdQU7HIFEoGRluABHgA_Mfejdk113SHy1kPxj4qXlveVoAKnaJiCN4zcMVea4oIc9nUZAH7I~XJZX8~kDm2aTKYA67o3NIt~Bh3v~fNbSw--.jpg
//media.inmobalia.com/imgV1/B8vEv5Xh_VThvnEqMx4G0ZxU_YC_pCgmETwWNQKyeMqLb9Afo_WSoi~kcK5mwaepLz96AHEmAzWJQblCNhundhnOIYTFLWoaYUs~aiTKJ4GuSbo2XzjaxiBMjUC39PyyqPuLmJR9WrXVvHjejorrTs8tab_9d4AxTLzuyeeaVSEaIS2uVc4~54dGRb_Q_LFEb4zEXGft0dhuFFN6ZJqznX4h5EeHG_vFfT3lEoYnl2as8pDvQcFeUXDfIFM63~dYH4cm_sQ~50kkdtitOPRi2OAZXmOrKswGxKEvESZb5I2qfHJae~junBSPdd~zKKOR53jQjw--.jpg
Paraíso Bellevue, Benahavis
Town House
460.000 €
Townhouse in El Paraiso Bellevue, Benahavis
Semi-detached house in the residential complex El Paraiso Bellevue, in Benahavis, just a few minutes from the beach, San Pedro Alcantara, Puerto Banus and Benahavis, in a strategic location with several golf courses in the vicinity.
A short distance from El Paraiso Bellevue we can access several shopping centers such as El Pilar, Benavista and Guadalmina, equipped with a variety of services, supermarkets, pharmacy, banks, professional offices, restaurants, cafes, etc.
El Paraiso Bellevue, in this new phase, consists of 14 townhouses in a complex with swimming pool, communal gardens and outdoor parking area.
The house is developed in two floors and solarium. The main floor consists of guest toilets, kitchen open to a large living-dining room with access to the porch and garden.
On the upper floor there is a master bedroom en-suite with a private terrace and two more bedrooms sharing a bathroom.
The solarium enjoys a perfect relaxing area with beautiful views over the tropical garden, the swimming pool and the coast.
The house has a fully furnished kitchen equipped with appliances of the first brands, air conditioning, fireplace and underfloor heating in bathrooms.
REFERENCE

208-01342P

bedrooms

3

bathrooms

3
built

131m²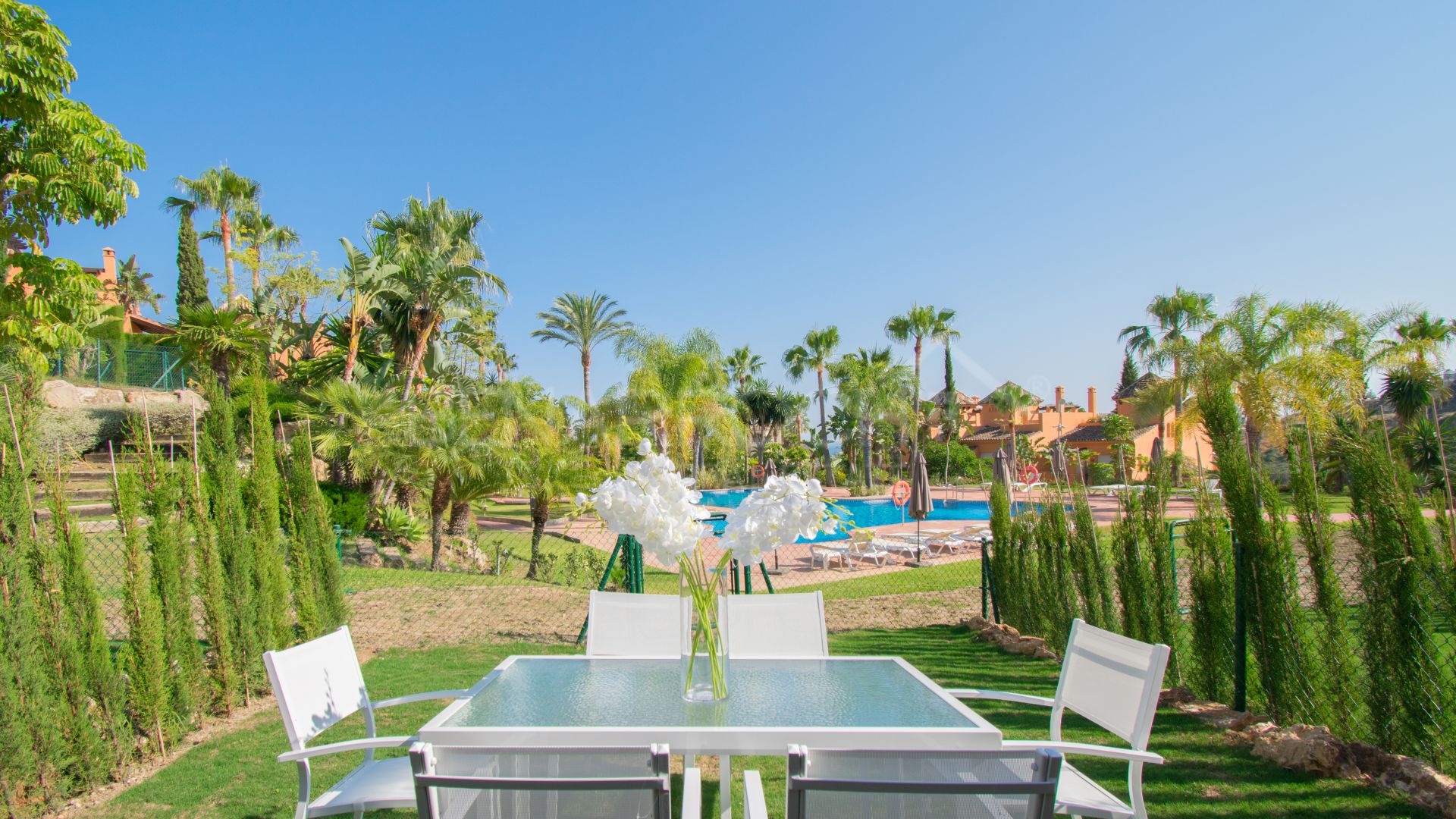 Video of Benahavis Area
similar properties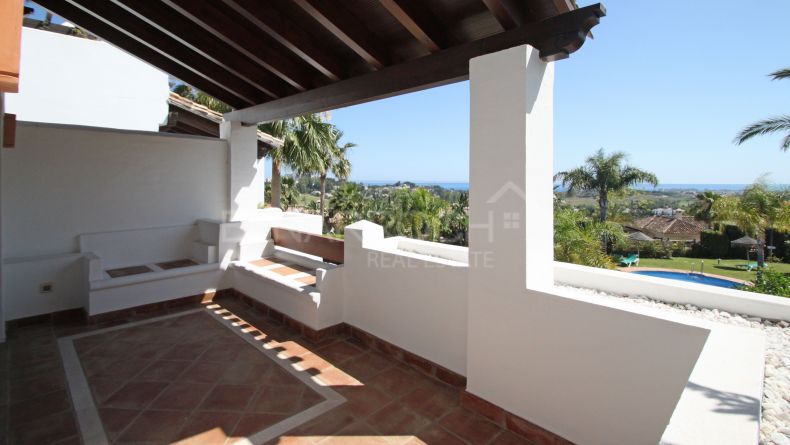 SOLD
Semi-detached house located in Mirador del Paraíso, a closed complex with 24h security service and restricted access. It ...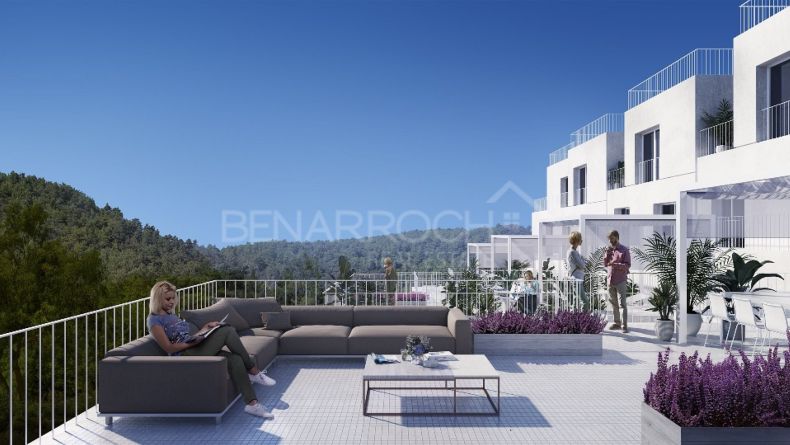 290.000 €
Located in the outskirts of Benahavis, just a few steps from the city center and with the proximity of the river Guadalmina that ...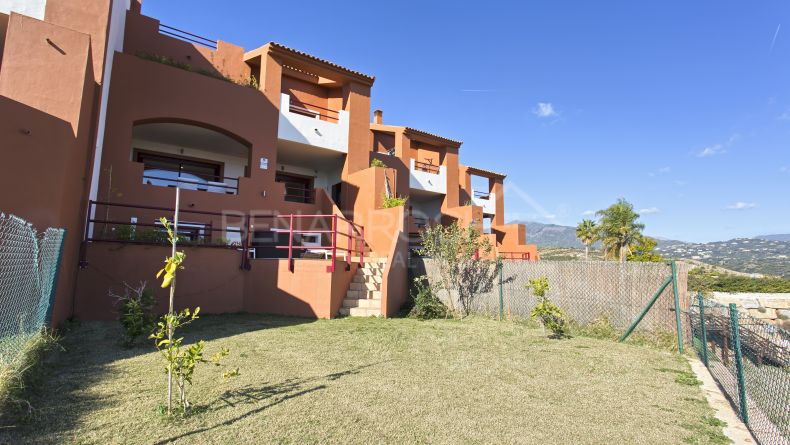 SOLD
Nice townhouse in La Alqueria, urbanization Los Jaralillos, Benahavis, a gated complex with 24 hour security, quiet and pleasant, ...