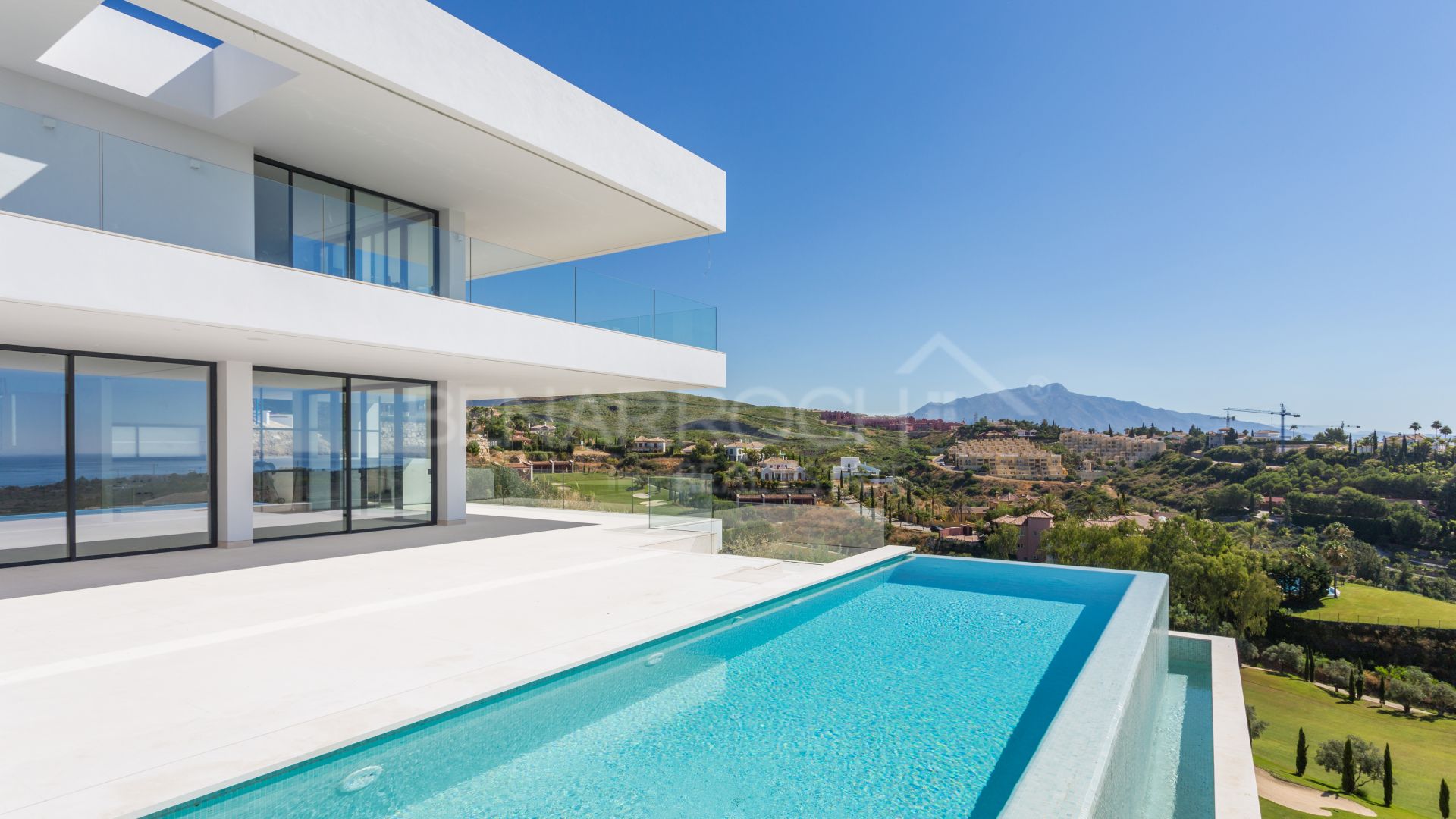 //media.inmobalia.com/imgV1/B8vEv5Xh_VThvnEqMx4G0ZxU_YC_pCgmETwWNQKyeMqLb9Afo_WSoi~kcK5mwaepLz96AHEmAzWJQblCNhundhnOIYTFLWoaYUojZ2A7L9Xx~celnSuMfOoxemTreGwehmQwTbVEXRTvKEzhm651sKrXhylRvvXEGFQyaYVljD6NcozGcHWoViOOsStK499H5z29dfwiKOWNpi5v7gBbWEoPRKVhN1PL1sXQL142rFlUn7c7Sua_HSMvbixFrqT0KCGwO8YiM91AMLKETGplSaC7ebtesL9oW8SLdcy9pOw5jII3Ng3JxzetBYgqw03PRyLGkg--.jpg
//media.inmobalia.com/imgV1/B8vEv5Xh_VThvnEqMx4G0ZxU_YC_pCgmETwWNQKyeMqLb9Afo_WSoi~kcK5mwaepLz96AHEmAzWJQblCNhundhnOIYTFLWoaYUojZ2A7LD~jNrT01b0Maocmea5y0cGCl68Ti7D_86CqoK2OE9tcky1bPAG0uHFi8rftujQrk3KHA45cu8Q1qqNX5eLPm6itAV6Kpyfjle0wT12qZD1kqtAcAxrEeVTjykgO~BLTPlbC59HsKHS5XBtsT41YdsucNkAm2s4PreX5R9ysqW5Z_PyvrhkXdqcwKgDejS~Ju5HTX7Ka_BvOJrrHeCiqBUhhpQSIlQ--.jpg
//media.inmobalia.com/imgV1/B8vEv5Xh_VThvnEqMx4G0ZxU_YC_pCgmETwWNQKyeMqLb9Afo_WSoi~kcK5mwaepLz96AHEmAzWJQblCNhundhnOIYTFLWoaYUojZ2A7fsnLwYHqGx6WVYPasOCnrkIb5wR7~CShBJ4JKNRxxxhLGiIg0tr7JU_Tr~Qh~CG1FSzzo7QjIT2f2mFgsZKnnbO8sYNC6hrzrVxOxHARXQi71vujBg6YGqGlrpi80Rh57IRGAstxh~PNxa3dmetgkwUgO1I4PH7WNf2qHOu0Zx6BcZvZFgVTI4o7M1UTPf7Lplw9OM2dkAfBixwmxZWcNKg6KTvHIw--.jpg
//media.inmobalia.com/imgV1/B8vEv5Xh_VThvnEqMx4G0ZxU_YC_pCgmETwWNQKyeMqLb9Afo_WSoi~kcK5mwaepLz96AHEmAzWJQblCNhundhnOIYTFLWoaYUojZ2A7ei6IQYg~n5YTjBg0FkNFQU0nEzL~y4vyxtljT0TDygCo344_4klFDwoITcUmnwnxU9lesAdsFf7MVGek8cbOkErs6qAN1I3CL2rBxnojTBlReuHwiflQqrxOYCZ7CzyccTn6ruA8LgKwwL3I~f9ng5OH_y2T5yYVWVaKZIis95rfadlIAzzxRDtHhVSdnNcisthkKSv53pwlBYmkLx7is20ALq9tRg--.jpg
//media.inmobalia.com/imgV1/B8vEv5Xh_VThvnEqMx4G0ZxU_YC_pCgmETwWNQKyeMqLb9Afo_WSoi~kcK5mwaepLz96AHEmAzWJQblCNhundhnOIYTFLWoaYUojZ2A7JUe4_J3gIDCt0ZTZtZZeE6Mti3VEMvQlyGopAiQo0sViRX7qgXKCjWDEml9jofCU7tlTQRIRVoae_~Ats6qWno_rpeHIJ8TAPcKUDYmUv_vXOD3slR3f73OV~GZ0H4~u4bffqrb_CYv1DMEi2zdZr5brmSgESjBFzYoIC6nqLvTexrHXECm1DgNL4eJtY2H573DAaGdnVsFO2ZlLOHuTsjLl363QiA--.jpg
//media.inmobalia.com/imgV1/B8vEv5Xh_VThvnEqMx4G0ZxU_YC_pCgmETwWNQKyeMqLb9Afo_WSoi~kcK5mwaepLz96AHEmAzWJQblCNhundhnOIYTFLWoaYUojZ2A7KcvpsgK6i8a6sMdUOENx1dWVtJslgGfa5lYm06aSyRIquqC7bekxJlV_bDoU4MOETsC6Rw5mcYeMlV31WpjbcRyLoCujoUmeb0QOad2NtH6Q9YznDKAqDbweGoAbkr4Z1nnwM4KzsNIG2H6vCwNo26sWnSEeCMUHzDPKalz5IS3WNmgMhL6XEGnksRaxKb~JZTpriV9g8iEmxII9s~OVAKivH66pZw--.jpg
//media.inmobalia.com/imgV1/B8vEv5Xh_VThvnEqMx4G0ZxU_YC_pCgmETwWNQKyeMqLb9Afo_WSoi~kcK5mwaepLz96AHEmAzWJQblCNhundhnOIYTFLWoaYUojZ2A7Lfx_IKQUxVX6iovzNIEmN1hCBIBnmeSA47eGAT9jBL8woACDMXnVkMGDzkKDfv1n4ydhDg_jUBqczC4l7WWTc6Q_1ZjMhI~SgIKLkVJDLZuVgCzCeKDQrqWFXsdiJzdaVByQSqm~g37bQ2faCNrpdaD820RbPzRea2w2IupyuqZoQoI3d2R3D2Q6MkP9Vc5_o~VSKuKVCpCdqpRM9PwbFb24ryYaPw--.jpg
//media.inmobalia.com/imgV1/B8vEv5Xh_VThvnEqMx4G0ZxU_YC_pCgmETwWNQKyeMqLb9Afo_WSoi~kcK5mwaepLz96AHEmAzWJQblCNhundhnOIYTFLWoaYUojZ2A7L4g02TQp_1VWHX2vIRiCur0lI0PUWBru~AXvWtEm~vvsiI7ca2_1HT3xolzdauqdaBCE2PLAmcqwkef_5bSyuxhuB7iLjtRykZgAOrvBxAgM2v1j4GXixXF0QnJttGbTweOrUmMwxbQiXuCquwNxemnP0HVq8QAi4VzFdl~v0E1Ncf2JpzeWKkm~X6TAsAOnSLQ_r8Ldli5pwLGskPhL5IVT6tGeHw--.jpg
//media.inmobalia.com/imgV1/B8vEv5Xh_VThvnEqMx4G0ZxU_YC_pCgmETwWNQKyeMqLb9Afo_WSoi~kcK5mwaepLz96AHEmAzWJQblCNhundhnOIYTFLWoaYUojZ2A7JRuy7Dm6OVP_fQvpRuFFeTrPmoGhjqWcD2z~BFkLhjy_svbxguZO5HHkem14W~Nb~RLj6N85Xbuzra4xdggw_bhpXy~YWLP_PLIBlOAEA4f6QTCrbJC3zwk5lnKhkBAK5iVSuO4Zyj7Ogx5ESkNnLJybVbdTGJYD7EeFCFAQLdJn~V4thFtsh4tO2LlQdMak9IjlklGg5Fia5T29UwhzySEYZ_0qWQ--.jpg
//media.inmobalia.com/imgV1/B8vEv5Xh_VThvnEqMx4G0ZxU_YC_pCgmETwWNQKyeMqLb9Afo_WSoi~kcK5mwaepLz96AHEmAzWJQblCNhundhnOIYTFLWoaYUojZ2A7LahikVGTrACthb_CXnWqD8i7eGWZqokg2ADX_SKdbaYh2CBOVduqRLg9brTBvQZkOiEeJLzpeT9tWuJAQsDD2TZnYBRjPRQnI1eLpu8BXi98GU0aCIPO2N_x6829myYs6ZPG_tUtapVBTui4hweAFJmX31xXxCVo3iwqJ45u~jSYEyv94zPq8uGh7qVaJAU8dUu9YI0S~MQuAds6iVQvKhU8MsKF0g--.jpg
//media.inmobalia.com/imgV1/B8vEv5Xh_VThvnEqMx4G0ZxU_YC_pCgmETwWNQKyeMqLb9Afo_WSoi~kcK5mwaepLz96AHEmAzWJQblCNhundhnOIYTFLWoaYUojZ2A7fRkqX3AXSwGy03V0VGHGH8ZLWVznxKELiq5xa3Ab8d8AWvKCEHpwcI2u_q4zCbhO6i7tX~D4gMU6T5kEkT1K2SIuOTBa85sgmllrj9cwJb7RQGO7J9lOf1xGNdlxHHyXSBnqV2ZC1A41~bOnb0GXqC_D7NyL9mVSzT0ifgqSrELH2NqrK6N3Gs5LgXGUpTCeZBAt_QKoN_~qbEPfluISodK9FPdydg--.jpg
//media.inmobalia.com/imgV1/B8vEv5Xh_VThvnEqMx4G0ZxU_YC_pCgmETwWNQKyeMqLb9Afo_WSoi~kcK5mwaepLz96AHEmAzWJQblCNhundhnOIYTFLWoaYUojZ2A7Kok3LK_dHOSMUSsk7S0zLVkPe~cIxVS_qfgPwlArXmD2pFOLefaQOp2Xv_4VXnfUyWgZUl36tQIgIYM7m4w5NnLfi9x8s7U7sl7U5bgFMLPVQxWQOq0XHWtI_7L8QbiSnvwCytXE_gdceAWxBT8aeTOPfYI7aH6gmG8L6ZUB5jgFX_icVJHA7_Z3CGzvKA9RAZAOj0KDqhFyiNdNWuenTkLRTmONww--.jpg
//media.inmobalia.com/imgV1/B8vEv5Xh_VThvnEqMx4G0ZxU_YC_pCgmETwWNQKyeMqLb9Afo_WSoi~kcK5mwaepLz96AHEmAzWJQblCNhundhnOIYTFLWoaYUojZ2A7eWuRsS5SVj4FG_HdvKA_xgUOls1zHXBUO1sow42RVimZiu8rozpiG91gCZzURDuWHbAGWhDDlwzmZsB3uKWfSuS6FeER7waMc5ItQtZsHcqLDVlQ9iz7q4KeyGruo~~dzArJK0nIbf3Rb7bZR42AV0Z7SfZDC1sz8K~SDHx1X1YjTqMuuTKHWbbYC0IYllNY0~qR_KJiiCmllvTHYKkDN5OA_QSXog--.jpg
//media.inmobalia.com/imgV1/B8vEv5Xh_VThvnEqMx4G0ZxU_YC_pCgmETwWNQKyeMqLb9Afo_WSoi~kcK5mwaepLz96AHEmAzWJQblCNhundhnOIYTFLWoaYUojZ2A7KciJMrYF0FlJGr_3bsF_zoPc0~rEorKalbCAFIz_V5As~B1FKEzaL5ugEsLTmLT0x~xcB5ahEm0X3bBhvdMP1elmA1iHvA5_Busl9LoFLbPx9TvqKV1cBJ2xToodyROpbWsz3~QTRcqQyvG5ynCUgcEWi9Dx91nkQXt5mW6uCFLWPLqDZSOuX5Lwc_WdB7EloRNmqyy76h8uqe7uIaeZnUFHNsL1KQ--.jpg
//media.inmobalia.com/imgV1/B8vEv5Xh_VThvnEqMx4G0ZxU_YC_pCgmETwWNQKyeMqLb9Afo_WSoi~kcK5mwaepLz96AHEmAzWJQblCNhundhnOIYTFLWoaYUojZ2A7f6m4uv~L0sE4JgEKOm9ObQ8rrLp8d7s1MBbR1Ak604gKLYnd5dhl5usOOLDoUhOszqJ5sesXpk2Lg4b6UQ8duhjtQk1M~KtwORae3vdIgneb0WFrDvWwbi4bpr2uPjdyaSTl1MUz4qWzPeUTzj9KLln4JwEGayoyNppOtpl1PHzFrtlGFLDST1KLoFeddxo~pj1og4MyirOsLV904egdxKUYtL28sw--.jpg
//media.inmobalia.com/imgV1/B8vEv5Xh_VThvnEqMx4G0ZxU_YC_pCgmETwWNQKyeMqLb9Afo_WSoi~kcK5mwaepLz96AHEmAzWJQblCNhundhnOIYTFLWoaYUojZ2A7L4Ops70qDM03FJIs7nYtUkhD1lvGsy4GlsvR2Hv2lTtOlxJSyJNbKBKzaOJ0HLO7YAet2cIQYJMLGLKpN8nqqZbZSF_lVsqCRbJYWAegbnu2rrTzyAOeYFGE1v9SwA3IX476yVc~ZSjtWH5vMCtkOUtFXfCHzoz5H92pudPHWS87aHfhQa4nYLyKXut7piDpKP5n1_vBZRnIkfHli78meL6~HrzU6w--.jpg
//media.inmobalia.com/imgV1/B8vEv5Xh_VThvnEqMx4G0ZxU_YC_pCgmETwWNQKyeMqLb9Afo_WSoi~kcK5mwaepLz96AHEmAzWJQblCNhundhnOIYTFLWoaYUojZ2A7Kt13b6P8EByb1okO_pmOUUMRQx1bU0n5DHUeNf1e93JgirohJbdcsEqM9nbgNt5AgHc5mJ0KyhIgMcZub~c8I02jr8gN40gGdH_11V17o6v8Dn2kPyx_DmQJBH1UyZxb5mwCjLsJKctXRsXhsjln~PxFSgAJWXH6plFCFHROqGDwSazooOCPI9kKRHtlg2wTZxnOXb0VyrIzTEGoywy8Ii3vSFgC_A--.jpg
//media.inmobalia.com/imgV1/B8vEv5Xh_VThvnEqMx4G0ZxU_YC_pCgmETwWNQKyeMqLb9Afo_WSoi~kcK5mwaepLz96AHEmAzWJQblCNhundhnOIYTFLWoaYUojZ2A7KH0ppXSb~PqJHqsA68SBYuOJBvOcdK7AWuh~Lg4PMEcY_6fAoflzij7ebbVOFa56JmJ7A735r9UUwmAuQ1qXbHBpqazOwUt5cIFSiqpFsvT4QQ5O4JkFcy8fIfyDrf9ojtzc0GO_p94DgjhZN5gddhYF1ZOcSlHcINfzxJAnSbEDTOOiKoq3D4IoqZ1q4_m6uw6q7~7g9kgoGQ4t~J~RqpcRDROojQ--.jpg
//media.inmobalia.com/imgV1/B8vEv5Xh_VThvnEqMx4G0ZxU_YC_pCgmETwWNQKyeMqLb9Afo_WSoi~kcK5mwaepLz96AHEmAzWJQblCNhundhnOIYTFLWoaYUojZ2A7eJAlL9LnV~3r3UQ6YF55914QimWEYhvznDIz64lAkBT~Ry1JUE5zd6EJaEJ7Cd01aMxpQdDKuDrorFywButp6dXVbHlS1G4n3QeYNNLSZN3B_1i1Yj3kyok9sJo9TZJ9Wq6gaOziS6zI_zzeHFkMYcCJsBHod1LNJq9r7mubT5c0_dX2Jwpn8kLGF1tXcbnf9jLeCPZM9Z4rnD9Gi5Be4VXEZ4Q61g--.jpg
//media.inmobalia.com/imgV1/B8vEv5Xh_VThvnEqMx4G0ZxU_YC_pCgmETwWNQKyeMqLb9Afo_WSoi~kcK5mwaepLz96AHEmAzWJQblCNhundhnOIYTFLWoaYUojZ2A7JPIgppv0l6thqrHvIXhF7q_v2MV0OERCj16xEaOyG6sNH~yf6df9xvO7nQhRnNT5f8O0mqK4srioh2dbN1np4G3tTLlzAok5hRJ0~kSDTgpxpbqy~nVNRIRNXFAhZs6KNt29AJM9poSIK8RCLEaKez0fiosJfTsHRojFBnIx2Y1oOTDFrzVHI66pd1dyj01ifSN1DATxxqEl8YRTnLnR340OUNRmjQ--.jpg
//media.inmobalia.com/imgV1/B8vEv5Xh_VThvnEqMx4G0ZxU_YC_pCgmETwWNQKyeMqLb9Afo_WSoi~kcK5mwaepLz96AHEmAzWJQblCNhundhnOIYTFLWoaYUojZ2A7JPNHV6usHUa_NxIPxk9b3OtM5MEoJB~FI25os~nYN1RRAMwuVZ3CNFnow06gH6VI35LsNKxjgV2xOiku11_dFFOvpzCxITELK7d5oKbAK9DPT~JxxBneJrywxeNABsXq0ph~DtpfXDAZaOl7LxyfN3EWFIBv6gpNDUHGBextb4pxjuRigThm9iDzvetv87z36ucv4Eg3y~TMRDSege1~tJ6JMmnpkw--.jpg
//media.inmobalia.com/imgV1/B8vEv5Xh_VThvnEqMx4G0ZxU_YC_pCgmETwWNQKyeMqLb9Afo_WSoi~kcK5mwaepLz96AHEmAzWJQblCNhundhnOIYTFLWoaYUojZ2A7KcxLmq1Pj56jJi~dyhoQwgsLn2JH9TpX3xZ_J~K1muPbjrXo2u96Wkf6u5O76vCtONQt_RqW9p1ThflGz0F44mdwXojvSz3xwdCnjde8LWYe0nmec9zVeV5fES3uDDemFouQDNJWKpteIrbnYc4gfZaf7l81AQIexUASfJ7eLhwpcV2dD2qQzgCo6iV6h3l77WGL8YcvEaKQSRl~Jlfr~ZvPk7bqJw--.jpg
//media.inmobalia.com/imgV1/B8vEv5Xh_VThvnEqMx4G0ZxU_YC_pCgmETwWNQKyeMqLb9Afo_WSoi~kcK5mwaepLz96AHEmAzWJQblCNhundhnOIYTFLWoaYUojZ2A7eWzHRtBWdRTANxnT5hrXc9YjZCtcdTWcl2s~3z_Qgniy01Y9NhoBFQQDAt3VHCDZwJCn7dY4tw3oqfT~FH45nfpRC04YYlUyzaIO19fxNYVZ14tlDQFf4AssPnS7AHwSd83aNPcxh6ogc7joyjw4CmXOFIB3zJFxU3v2~IJXuYSpdb~RwYOcCejatqs3fBfJna_VHMpn2tlsiWFMu~4_RcKhyU9VbQ--.jpg
//media.inmobalia.com/imgV1/B8vEv5Xh_VThvnEqMx4G0ZxU_YC_pCgmETwWNQKyeMqLb9Afo_WSoi~kcK5mwaepLz96AHEmAzWJQblCNhundhnOIYTFLWoaYUojZ2A7eT~HlEc~nJOpXKWGaJj7lG7ehfCyYPYP7GPVVetP_PmIhAbCC_tmbKISg~z3Dlt8ywmDx0Z2ya_92Z1jZFKp0r77BCDBrbDHj2ktAfj71Y6UvgsL0Xna~dwzWKBTm5v4QTVoJzMQm6SZLvrO_CxSKrbGwjBzGUQH2qig4icvhZDK6V1VOG9IpgCNs5mngVr1FU5wF_2zqrsPzx3kYH0vOlE4B8nbVg--.jpg
Los Flamingos, Benahavis
Villa
SOLD
Contemporary style villa in Los Flamingos, Benahavis
Newly built contemporary style villa on the first line of golf with stunning panoramic sea views ,in Los Flamingos.
Thanks to the privileged location of the property, panoramic views are enjoyed from all the rooms of the house.
The property is distributed over three levels. On the main floor, which is accessed via a large entrance, there is a guest toilet, bedroom en-suite with direct access to the garden, Bulthaup kitchen with panoramic views of the coast and fully equipped with Gaggenau appliances and perfectly integrated into the living room where there is a magnificent ethanol fireplace. From this room we go out to a large covered terrace, garden and heated salted pool with an integrated jacuzzi.
On the upper floor of the house there are two en-suite bedrooms with a large wardrobe area and access to the terrace; and the master bedroom en-suite with a great dressing room and a bathroom with shower as well as a beautiful bathtub from which we can enjoy wonderful views through a large window. All bedrooms have spectacular panoramic sea views.
On the lower level of the house there is a large games room, wine cellar, cinema room, gym with sauna, service room with bathroom, laundry, and en-suite guest bedroom with direct access to a large covered terrace with views to the golf.
Car-port for three cars.
The property is especially bright. Every detail has been taken care of in order to make the property as efficient as possible with cooling and heating systems, underfloor heating throughout the house, solar panels and a complete domotics system.
A magnificent option for a current family in a privileged environment in Los Flamingos golf course.
REFERENCE

208-01266P

bedrooms

6

bathrooms

6
built

897m²

plot

1.335m²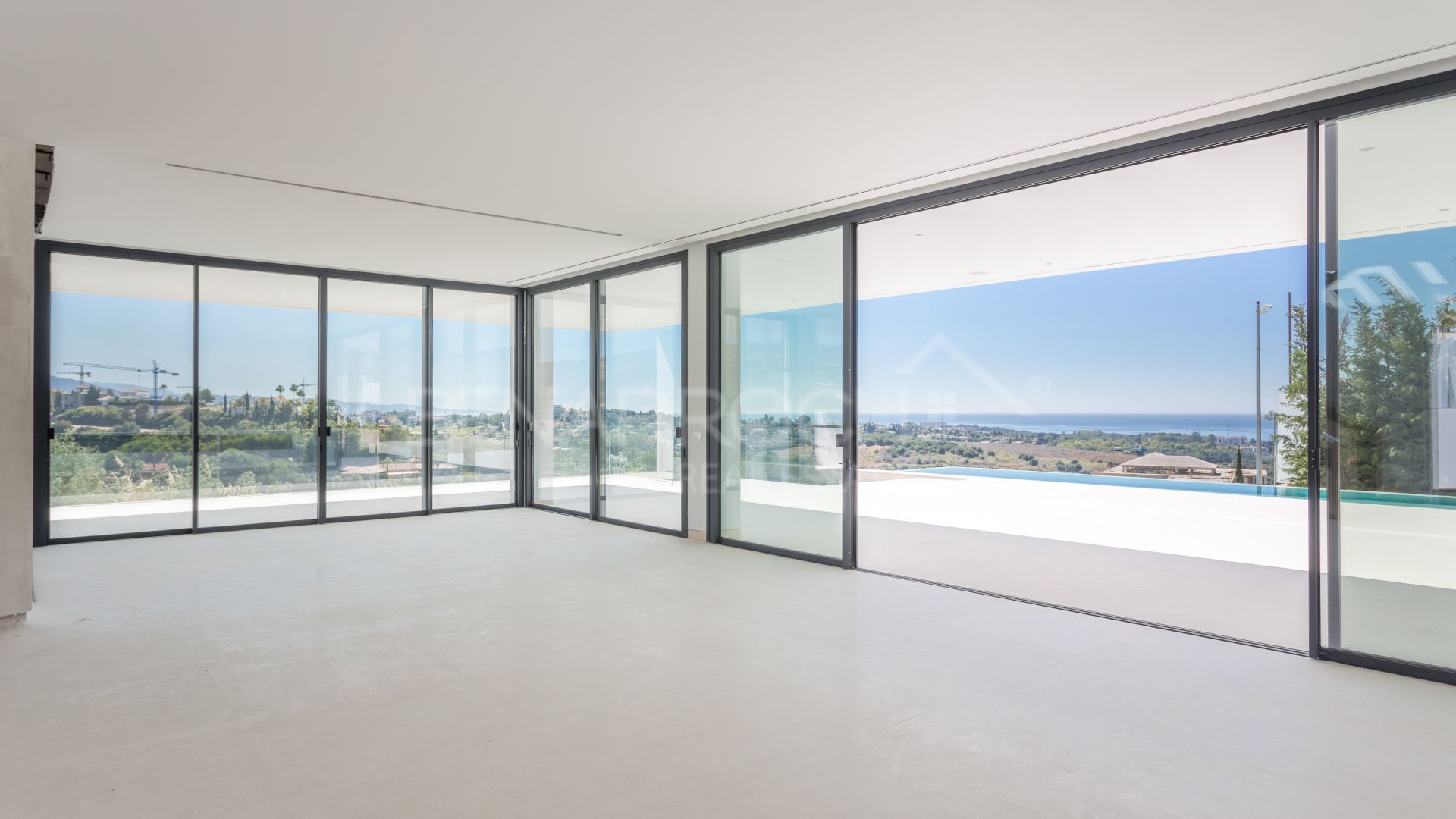 Video of Benahavis Area
similar properties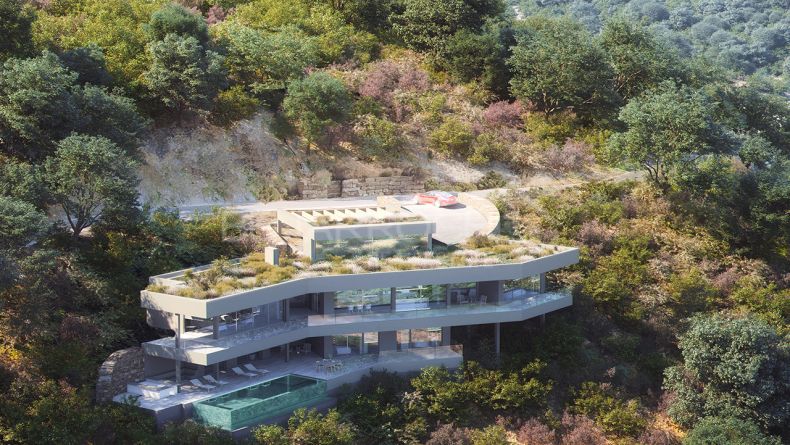 SOLD
Villa located in Monte Mayor Alto, Benahavis, with stunning views of the Mediterranean coast and the surrounding mountains.The ...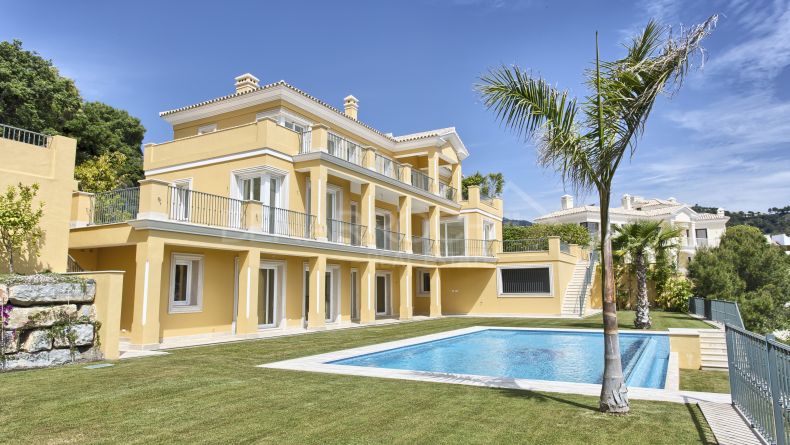 4.750.000 €
Villa in perfect condition located in the Urbanization Los Arqueros, in the road of Ronda to few kilometers of San Pedro ...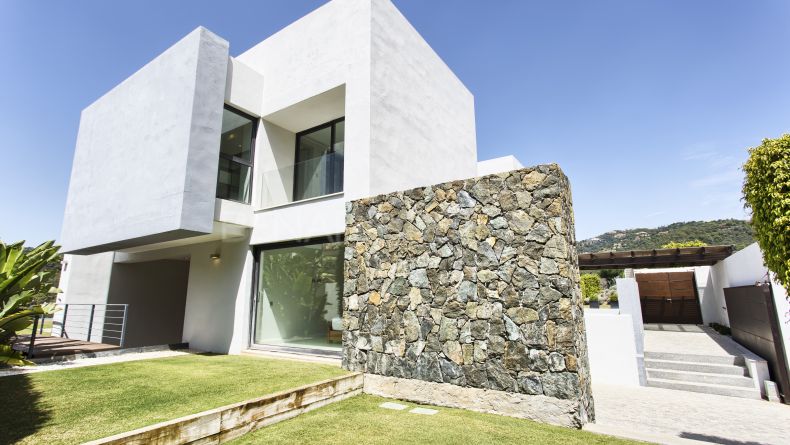 3.500.000 €
Privacy and tranquility define the lifestyle of this villa in Los Arqueros, Benahavis, with views of the valley and the mountains.