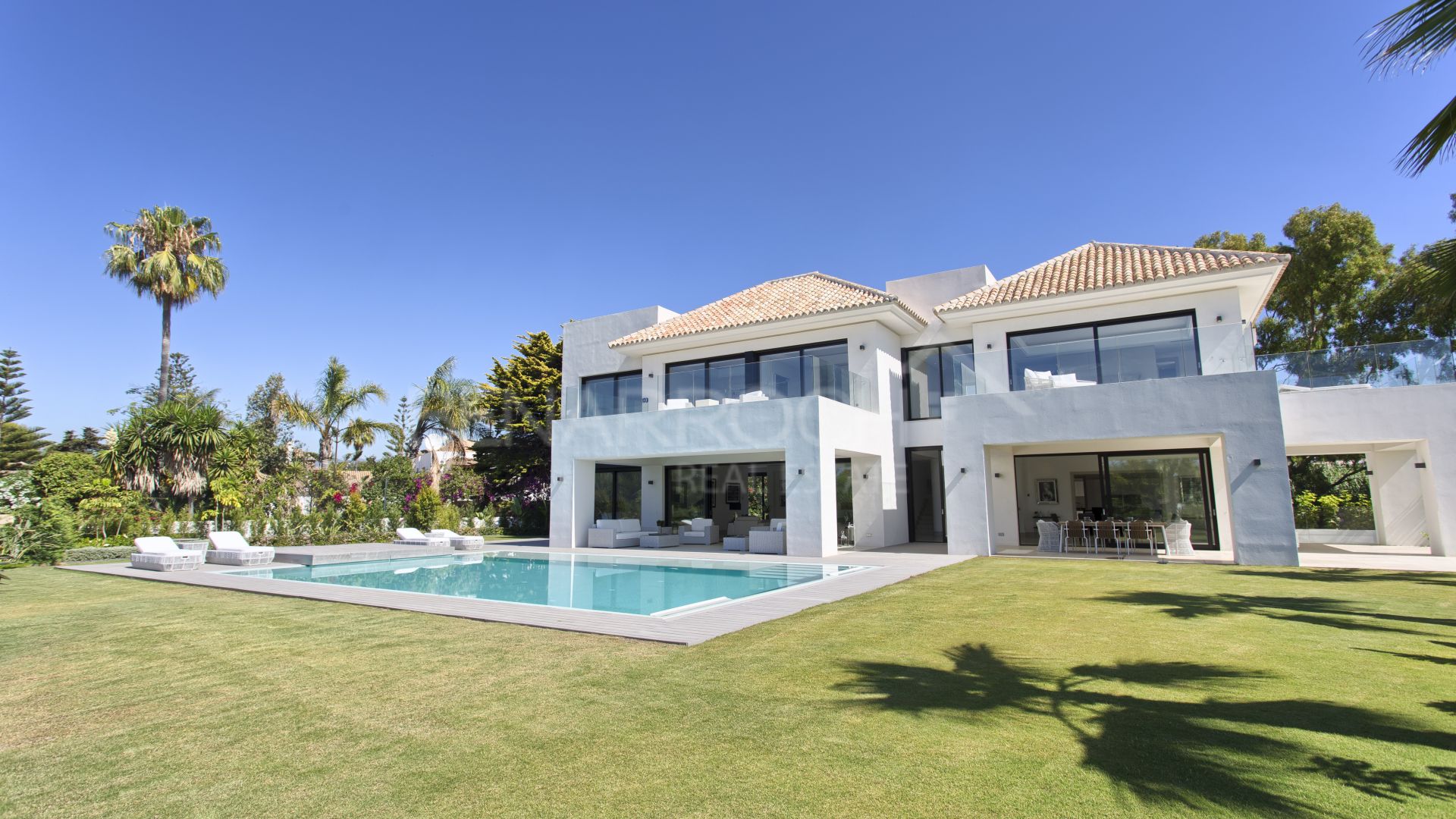 //media.inmobalia.com/imgV1/B8vEv5Xh_VThvnEqMx4G0ZxU_YC_pCgmETwWNQKyeMqLb9Afo_WSoi~kcK5mwaepLz96AHEmAzWJQblCNhundhnOIYTFLWoaYUmbRdi3jllfVmmfWxYve5odUljWE0OFixAfOVW1R7q6HHDSG1NusNCn~UbOIrJP8ohuXjjvy70YvSYmyoKuAJAIiCsamBibkXnzbSa24c1jqj3koHgL7DU1fF7BJSH3H33Qw_ZsJPwQd8u9kVxtyY7mueJZqeyBvpQHBe2ocCq8vNqdw1Ksn2Ez~fKnrDE9QHRvSAp8Ve_P98YZ_ejaA1szljNIrrTr_JGmiA--.jpg
//media.inmobalia.com/imgV1/B8vEv5Xh_VThvnEqMx4G0ZxU_YC_pCgmETwWNQKyeMqLb9Afo_WSoi~kcK5mwaepLz96AHEmAzWJQblCNhundhnOIYTFLWoaYUmbRdi33SWBdYLaTEq3kt5lwYBPh3WEgQKdZpP~CtdCgg9lKGEdniFp3W00YeVKjl1rbjoAC5Re9r0a6NKnhjJa4~5b_epIatFq84I4n4elahHCOcorevE55qVhQ0L~ou5ltHWctx~96p2HrjsoKTn5Z5mHDzWI1YfMtJ4s56jMD0uix3xwJICdIDxKPGLQx9oiCzcoCoHs3kwioFeFx3eQdakHH~_TzWFhLA--.jpg
//media.inmobalia.com/imgV1/B8vEv5Xh_VThvnEqMx4G0ZxU_YC_pCgmETwWNQKyeMqLb9Afo_WSoi~kcK5mwaepLz96AHEmAzWJQblCNhundhnOIYTFLWoaYUmbRdi3iHfjgC_4ygICJjpoLUyypd3bOL2e2mBFGTY0DSGQAA96RaB2kIe2uV2o50sob7jk8MtRV65Yf_gaPvqkOeha3Xa4YDfhYKz8VWDyOUBACGZnuoHjJi~FHKD72NliRZFXOjDeKvGOPbePWhuBIu4gRioCPXhQbejTJVxWGGhFgPp20ftD2ztbEKIIfkDYbEulYM6OSmcBKVFW4Jke1SSXNWnjUE_FSQ--.jpg
//media.inmobalia.com/imgV1/B8vEv5Xh_VThvnEqMx4G0ZxU_YC_pCgmETwWNQKyeMqLb9Afo_WSoi~kcK5mwaepLz96AHEmAzWJQblCNhundhnOIYTFLWoaYUmbRdi32CtMIeEljfXEFnihvYvORZd2zLxCzWD0z3nDvZmKqIu5A4XJiTmX~L9FfJDmpmJJEQyDK7Gd1dgsC~qeO6PUjZr4kglRiRjX58o1ktu82tEe8rxhSD6kDDWnLPJQ4HMxUbyWHW0pa6evV~y6Z77UXAtP5LUcK~ApzKBZT4bnoT6VD3amytMP2kY8MMT0Uf6_NOTJkejmtoPn4VUNRjz38eq03iELhQ--.jpg
//media.inmobalia.com/imgV1/B8vEv5Xh_VThvnEqMx4G0ZxU_YC_pCgmETwWNQKyeMqLb9Afo_WSoi~kcK5mwaepLz96AHEmAzWJQblCNhundhnOIYTFLWoaYUmbRdi30oZ_lOJXp_b29UhyGXiY2MW62ylCSeRYkwvbg4dfNTNj2eR5ieEhpzGUH8gYyoPli3d9cLanukpDPDrvcKNx5WvKSmXVkwES7vfnfehdN9K4~HU9MEpfqM7ZZWjbc_aln7Bs6GE~PFiTAVydV1e2XKMcIy~pX2rxtTORexiLRHSY_XQ4Clby0AJy1yoBRUuT6RPZKPVPz7iExv3SDpaOpl1M6fMLKA--.jpg
//media.inmobalia.com/imgV1/B8vEv5Xh_VThvnEqMx4G0ZxU_YC_pCgmETwWNQKyeMqLb9Afo_WSoi~kcK5mwaepLz96AHEmAzWJQblCNhundhnOIYTFLWoaYUmbRdi32l3sk97qRe7MjNR8EB6J7GQznz~~ZFQjSJryfTkdwD2Svs8nUJUljv_nbFJ_yUBY2DmlDWv_ykSjVCCbNRZKu0Ra8y8lk5FwDbbAxA4bzhKlHzgyXUFqvIOgAKDhTBDciUbm7FBtRaMcmhc83K3Q8Nit62AwBFwRXqaJqzWSnRyc6od3zmsecAKrxmninbjDHcfrl9vei4OeeroRKNj4OIzi_BkZtg--.jpg
//media.inmobalia.com/imgV1/B8vEv5Xh_VThvnEqMx4G0ZxU_YC_pCgmETwWNQKyeMqLb9Afo_WSoi~kcK5mwaepLz96AHEmAzWJQblCNhundhnOIYTFLWoaYUmbRdi339qQlnRmu7nXV9kNMayoHMFybzFZoxCNsLEon7erHaTehyr7ukDM2u2S04k3U_VTr~9h_bHuDolIldw8~PMdi5JpPkrIpro_gWEAJbfcWvyAohrvnoE0qcp_veP_9ycrq5A4JZm7OR5O5ht9lMcO9Tvjid_NgMP2hfDTzg~KN3f9GJQaPMe_KmrnsiEsPFtQj7dg1OvnOkB8oXGZ8L_emwTB~BLv6w--.jpg
//media.inmobalia.com/imgV1/B8vEv5Xh_VThvnEqMx4G0ZxU_YC_pCgmETwWNQKyeMqLb9Afo_WSoi~kcK5mwaepLz96AHEmAzWJQblCNhundhnOIYTFLWoaYUmbRdi3jxtagJWsIvv5oifn71uzYS7CcaTCAOIaDDkrCiPtvjp~Oc0GmeFeGyjEktxrszXPUpLchYKlWw0q5KsLPodMTZtKJ2MdsTP82N2mdQkyhCZ6KNckkEYb1itfQOAca~cRIWGbTxtPgJPkDBTk0ou3FtCZihwYE8qJaMP6GHoD86lwcZWil0W8WYUGd5jeUT~xE~u_VWsqheKvFLSr9k3gC61AGwKYPg--.jpg
//media.inmobalia.com/imgV1/B8vEv5Xh_VThvnEqMx4G0ZxU_YC_pCgmETwWNQKyeMqLb9Afo_WSoi~kcK5mwaepLz96AHEmAzWJQblCNhundhnOIYTFLWoaYUmbRdi33KaRa6ZJjmClE~RrEz2hSAsP00pw_ds5g~zvZJ5mnU_1Tjiivt1~AarLoULjAUR4ysZfQ3MewWrRLh4Wjc_ewVD8xHkxtle5Rwj0z1ZsaFxrtZm3D7ZbAYsXKj_0Zn1HQHLxTmF5wtcm8z~3_TwU6aIZIzXIaMKWdpeyqCeJyc9scPtKOKCThkYJYIdgfx6MQL3yQgwlKfTGln5L4YrI9gAqWXcoeQ--.jpg
//media.inmobalia.com/imgV1/B8vEv5Xh_VThvnEqMx4G0ZxU_YC_pCgmETwWNQKyeMqLb9Afo_WSoi~kcK5mwaepLz96AHEmAzWJQblCNhundhnOIYTFLWoaYUmbRdi3imTtI9pUkVxF0jqU7UVv5Xn6593EBHVhvwu92LAI~vtGRpv7nsZx8eymuh05UfxbwH~GQAf60YZ611e~LLxum0Vv2Ms__Rrfik60jbjNBCEJPbebEx0Ds8EdaC8QT~EJ23rHiGNo~Z3iC81sQo~l42J686qFuTKsZi70ySpChMrWqVWq0o4XxbpCPHIhv5ButN66eepByCNGDg4Ih1s234JjpyMncA--.jpg
//media.inmobalia.com/imgV1/B8vEv5Xh_VThvnEqMx4G0ZxU_YC_pCgmETwWNQKyeMqLb9Afo_WSoi~kcK5mwaepLz96AHEmAzWJQblCNhundhnOIYTFLWoaYUmbRdi3ima6H_4ZOczl3urPujKjvO3OZAf1okoeBft0itZS3L6xMjhHI1T5aml1as1Xg2NOgHL6xOyVU0FxuUg3a9dyzSVTqhGrb3gxG5IhQcFtEesZrl4wA4ZR_EkXgYr9jLFUHFd~R2yUYY7txNI2PstkPAcC4b0msvWq708kA5BkE2WU3u3YgOBGBcaoP~zzBn_tDj59mXw9TKnBvfYKt8Tx9eZsjMdBMQ--.jpg
//media.inmobalia.com/imgV1/B8vEv5Xh_VThvnEqMx4G0ZxU_YC_pCgmETwWNQKyeMqLb9Afo_WSoi~kcK5mwaepLz96AHEmAzWJQblCNhundhnOIYTFLWoaYUmbRdi3iCYGqgbH8FjanDxWjXaBznSn0hY84AgV1Sol2lzjbB99CejnyVD8ywpk0iQu3855jTiIIbZvJ2rzvzuaMG7Olk5BsaO67ZcADsGdbsS1_b02jfGvZt45SfEbcEMBeiwA2iteEjkdG0a8JXiXb0ptpy2jYLwZdgAxTVj2mSFeyE5gfN2KCM2h1csXvZhD9~nJHb_YujgPCmA9RRuJ4mnfpoPlT7QOQQ--.jpg
//media.inmobalia.com/imgV1/B8vEv5Xh_VThvnEqMx4G0ZxU_YC_pCgmETwWNQKyeMqLb9Afo_WSoi~kcK5mwaepLz96AHEmAzWJQblCNhundhnOIYTFLWoaYUmbRdi3iCYBfWnjrqEFYihx4GmzQDX1wQO3E4Qs9BfzIS5Y1hWt_EstWYGBF25RZCJrIfy1dAO5QXdvTyTBr_XWBsx50PeFFLmy3mIFEcg47xoKwPIyOv_eWrfoRiAc_wKeonjjikXlKYjhJrj8lOXA0SLjJw2rK7b5ZAHiFvmIuk9BQOfEfNAi8DcSL~NEBAhdklN61lmBy8JHLDfyq7i4gTXgizIWvZ3swg--.jpg
//media.inmobalia.com/imgV1/B8vEv5Xh_VThvnEqMx4G0ZxU_YC_pCgmETwWNQKyeMqLb9Afo_WSoi~kcK5mwaepLz96AHEmAzWJQblCNhundhnOIYTFLWoaYUmbRdi30oOUMObdPuVOJiCBbhwmyGa8xB4PGEVvegDft0glemkcN~HILKas5GE4_nQCWnWIn6pC1Tlj~g72Y9I2GWOAja8bHYhZhieBjbGfXYVQvNKH3_GvDf6DvdbeyOPKaWh_XbIrPWqJh1qMRrfg68uwyAa4iVZXSg3ZPa7Mdpa5I~XqpAT_TbvCnB8CnQkDE1JextBtqhOj18nIO6d~YW73sy3GmZ3Dig--.jpg
//media.inmobalia.com/imgV1/B8vEv5Xh_VThvnEqMx4G0ZxU_YC_pCgmETwWNQKyeMqLb9Afo_WSoi~kcK5mwaepLz96AHEmAzWJQblCNhundhnOIYTFLWoaYUmbRdi32Zll_IPCvXKXVfzc7gmpJYMS9Cs_lmzlO7pOeQr2l_71gWDIk6tR4Eyt5lrbvom1g6TIijbiF14K9rmg2~nc0ful9uZ8Wd1wbLzxlT3_wK8RYrlv~wPlXN6b~mdJ1OrgHvw1mKCGuBD4qNMghegnldmQITcXOoWnZMkXJ7tLLDsMPNoePUIvA4sm3SKnqba~g4idBS28k_0IBjly4iSNdMyqx0diMA--.jpg
//media.inmobalia.com/imgV1/B8vEv5Xh_VThvnEqMx4G0ZxU_YC_pCgmETwWNQKyeMqLb9Afo_WSoi~kcK5mwaepLz96AHEmAzWJQblCNhundhnOIYTFLWoaYUmbRdi30oYuT1DAOR_JVag97vEeiEMA9301tjmiR_1E5fymbHY9aWKucmZViUpyoDlUZeeseXv07B3ByuKdDFADIdwfQ_21tpPPsiqmsbWSq0yJESUyr~SNU17jRmzha70D0WrN0Z9ccanlbjA3L6DE48YncPzkMEIWf4QOpSmHwovJAjB_cokceingw9alilFDZBAKfDxsunRIJ3IUg9ueeum32aJz82ddHA--.jpg
//media.inmobalia.com/imgV1/B8vEv5Xh_VThvnEqMx4G0ZxU_YC_pCgmETwWNQKyeMqLb9Afo_WSoi~kcK5mwaepLz96AHEmAzWJQblCNhundhnOIYTFLWoaYUmbRdi3iCVflgXrwSf1hmmr~uTqxxkL49kkcn~hrSQPHmvTcv~iBL7LBwQyCeAVlAzHKvQJrCTD3fUxPQbaJcBG1InNQ~kxGg28~Io0hL1f14J5A4avL7wqu~N1Hq1UMplnJMfGM~qXAPVrdh~iNscDfjYJt0xuYml3f6NMov0kFg7t5wpO609hQLQz9ZtDIAthvTag51j7M2jp~hkLYVpy2H~yNN~jUVjaKw--.jpg
//media.inmobalia.com/imgV1/B8vEv5Xh_VThvnEqMx4G0ZxU_YC_pCgmETwWNQKyeMqLb9Afo_WSoi~kcK5mwaepLz96AHEmAzWJQblCNhundhnOIYTFLWoaYUmbRdi3jl5Mg_IoYwrwNBM9v_U3HRZRuZrrqdQhqdeqc_j4DNF~AHir4HCekFLh02B4Uvd9odkjMO7p1~Vjn7XyUNNOUtZ3W4K30uDAdUyxekgWVQiV9DFYm2TN8GnGEke0k1TUXA~5p7Y0iAvdLvfJ_CplMje6LFmdg9USQya4R55~6vafuKas8U4InXqJmMw~GRspfKSqVQDBqKbmM30on8lA4HGEz25_~A--.jpg
//media.inmobalia.com/imgV1/B8vEv5Xh_VThvnEqMx4G0ZxU_YC_pCgmETwWNQKyeMqLb9Afo_WSoi~kcK5mwaepLz96AHEmAzWJQblCNhundhnOIYTFLWoaYUmbRdi33nx1uZS0f8zEo4DDa3qlNKNPCV5yOjuMiiel0QvDEV_pQsV_JG0RsDl8fcvl5Qj7YmEyUrpIYpd8IqVeo9Q7DSxpvmkMBsgmyYn8rhV~XDdAa38CTwRWXilLtmV0643yvRCGRBrPiJhM7v0V6tS0SYFEhwPFdl0CvukF9X6UfqlLXIHWaPHfT2ixrGIVLDuDxdSbfO3_qq1jm~Gifb5WtxM3hs5BQw--.jpg
//media.inmobalia.com/imgV1/B8vEv5Xh_VThvnEqMx4G0ZxU_YC_pCgmETwWNQKyeMqLb9Afo_WSoi~kcK5mwaepLz96AHEmAzWJQblCNhundhnOIYTFLWoaYUmbRdi3imPzpNy8tus8F9MXqfBfv6IbHNN0jtJ5U87v4OPz6PcqsaPCd6vHh3jm8KXAT7okN~3Jd7vFjG~8pUXNZG284F6Bkjg3y_K4Ssb_qXcemxiRFIqJC8ZfFh_FJedQFnjXPXxc4v_jc4g0ZCGyNkH7tFLvOeuhGklZT6unV3AjNgNe3Tkgjti2gEit8QFUztoSxtaMnaQmuvTohIeMbjj17TOzQ4D3~A--.jpg
//media.inmobalia.com/imgV1/B8vEv5Xh_VThvnEqMx4G0ZxU_YC_pCgmETwWNQKyeMqLb9Afo_WSoi~kcK5mwaepLz96AHEmAzWJQblCNhundhnOIYTFLWoaYUmbRdi3iZPvvBHCrwsWlw0GyRxNujwOBX2ErssBFM9Y_IdWTv7n3A8dgwfEcDgiPjaFKdmoLRlMilYLrdzdWMA4udAtCKSaTTCL9KY2bEts9e5t~Ah6xDF143iJ4eYzrq~LF3APcvu2TGO~Tj4xUlbeeb5xIrujaDT7Aj9ukWeYl3RWH5UODGQYABm9Oaiejeryo4qRtxnDGwwBczaiIVBglAOEOLUnfWXRVw--.jpg
//media.inmobalia.com/imgV1/B8vEv5Xh_VThvnEqMx4G0ZxU_YC_pCgmETwWNQKyeMqLb9Afo_WSoi~kcK5mwaepLz96AHEmAzWJQblCNhundhnOIYTFLWoaYUmbRdi3295l801tZgX8MkySzWfzwONW8zlN8DHTENlXsf_ExGjyzbXz1zL9R5YXS_8d3oHb7ZR4wvot3uDbag5UxX8mDUs1jksVJi8L4g_BGzIDbbhXEXOe5VGTtd5NzfM4qJNQp~649Rreniq4pxkuNpR5lygRuVyp2PLIJ37j6HhYJZGFx3QAys6qvxAIxVwooKz8GMi~CKcMhzNgq0LXTD_Q7i9CmUbCDw--.jpg
//media.inmobalia.com/imgV1/B8vEv5Xh_VThvnEqMx4G0ZxU_YC_pCgmETwWNQKyeMqLb9Afo_WSoi~kcK5mwaepLz96AHEmAzWJQblCNhundhnOIYTFLWoaYUmbRdi33Sbe21sJs0r4jt_1es2uDWFmk5hMImC0tEyylED9cCQDJJFPYv9xpzE0Npv_meIZUjVAs84V0GwNVJQw8qJJvyM_wgUIKxVrXp8xQ2OYJ0PblNvh6kCF6DI0TYnk5hjYQ97P9Opkbn0J0yUmD_jKhbD8hhj2zeVO_ap6S02H6gR3YLGSeoH3olCCNLfmp6YoWEkcQ0zgMQvlylXN8Wj91VpY3sK7OA--.jpg
//media.inmobalia.com/imgV1/B8vEv5Xh_VThvnEqMx4G0ZxU_YC_pCgmETwWNQKyeMqLb9Afo_WSoi~kcK5mwaepLz96AHEmAzWJQblCNhundhnOIYTFLWoaYUmbRdi32CPIlKKHQJt0K5NykxDhLTT2IuR2NEf8ABxpAJMZM_3scLLEkp7LhPzG7qKegD0yKiP8i2tD_AaPorRntNtLnLxrzN6bT3by8zB_TspZ0zwHG6hAtdwZ6Du3c33aCsksyb2SET8zaJimRPc18zWWZFxD4KQqac7uQ2yTGFF_VxpkI9~ES6Od8u8_U25KWxBIFW5mv7rz9LNKL~FuI6aWJO51KI5osQ--.jpg
//media.inmobalia.com/imgV1/B8vEv5Xh_VThvnEqMx4G0ZxU_YC_pCgmETwWNQKyeMqLb9Afo_WSoi~kcK5mwaepLz96AHEmAzWJQblCNhundhnOIYTFLWoaYUmbRdi329rwLY_7ZPkX4IOd6fxTW~QzcAgdJQoKPtG1G0_NWBVay61QhK6PPDYFksBkXR_rbOCUFhKK_A_duzD40JwVKtGDpIm3Mz79FH0xqjoIJovkPK~O2zKYqYeNrkOA9pT1RyPSaOOQ2PfpulWGY4PhK4T5ctlDxKd9EVozW4Egb8IWUg2c0xxaVPJ99fqk8msGc5aIz4oRiUvYIR0kj2ei9fCmnqQk7Q--.jpg
//media.inmobalia.com/imgV1/B8vEv5Xh_VThvnEqMx4G0ZxU_YC_pCgmETwWNQKyeMqLb9Afo_WSoi~kcK5mwaepLz96AHEmAzWJQblCNhundhnOIYTFLWoaYUmbRdi3iHC0PsR0euAdYuHN~BouPqOIozG~LUXdnrooCj16a06DoLBwrov6XlD~Isfa4j2Mum3FUONcnv60HbbW8ctQmiM3Fkq4kkMhRvEWrT6EL3y_CqNv5RUUW3LpTv2iXEH9zpcPpmc6SKrpcN3gzzk4oQ9LkwCdzuYT4Ut_K6gS8psTlw6_aQOeYmut~xLL5tfXPoCA7LejuCEZolKi~yp3bogf27aDSQ--.jpg
//media.inmobalia.com/imgV1/B8vEv5Xh_VThvnEqMx4G0ZxU_YC_pCgmETwWNQKyeMqLb9Afo_WSoi~kcK5mwaepLz96AHEmAzWJQblCNhundhnOIYTFLWoaYUmbRdi3j0wapvafKrPXaXTpDbUyi_~wzXJuC6E_ZYqfkD4BQMBsm~cZzaNWkiljXr~Brd~SyGjs3IibXK_smD6prTNuJx~ssEIKrnzMy2fKwj_UMUp1vaRuI2uhtxM_F~NLYuYwQaMTLRP1TLCwqaEqppmG~i6f~zweegSsmGhEStVys2_CYSMMsPCUSq95LGTYn9mPlOq5EM9IFwypTZoG7TpCs4k8ZeoDkg--.jpg
Guadalmina Baja, San Pedro de Alcantara
Villa
SOLD
Contemporary style villa in Casasola, Guadalmina Baja, Estepona
Newly built villa located in Guadalmina Baja, Estepona, a step away from Puerto Banus and Marbella, in the residential area of ​​Casasola, equipped with all services and close to the beach.
The villa is distributed on two floors and basement. The main floor has a large living room and dining room with high ceilings with fireplace and access to the porch and terrace in the garden area next to the heated pool. Italian design kitchen fully furnished and equipped and a guest bedroom.
On the upper floor there is the master bedroom en-suite and three guest bedrooms all en-suite.
The basement has a cellar, bathroom, garage with capacity for 5 cars, cinema room and two more rooms with the possibility of adapting them as a games room, fitness room or extra bedrooms.
The villa is built with high quality materials, having Italian marble floors and wood, alarm system, electric shutters, fireplace, air conditioning, underfloor heating, etc.
REFERENCE

208-01136P

bedrooms

5

bathrooms

6
built

804m²

plot

1.529m²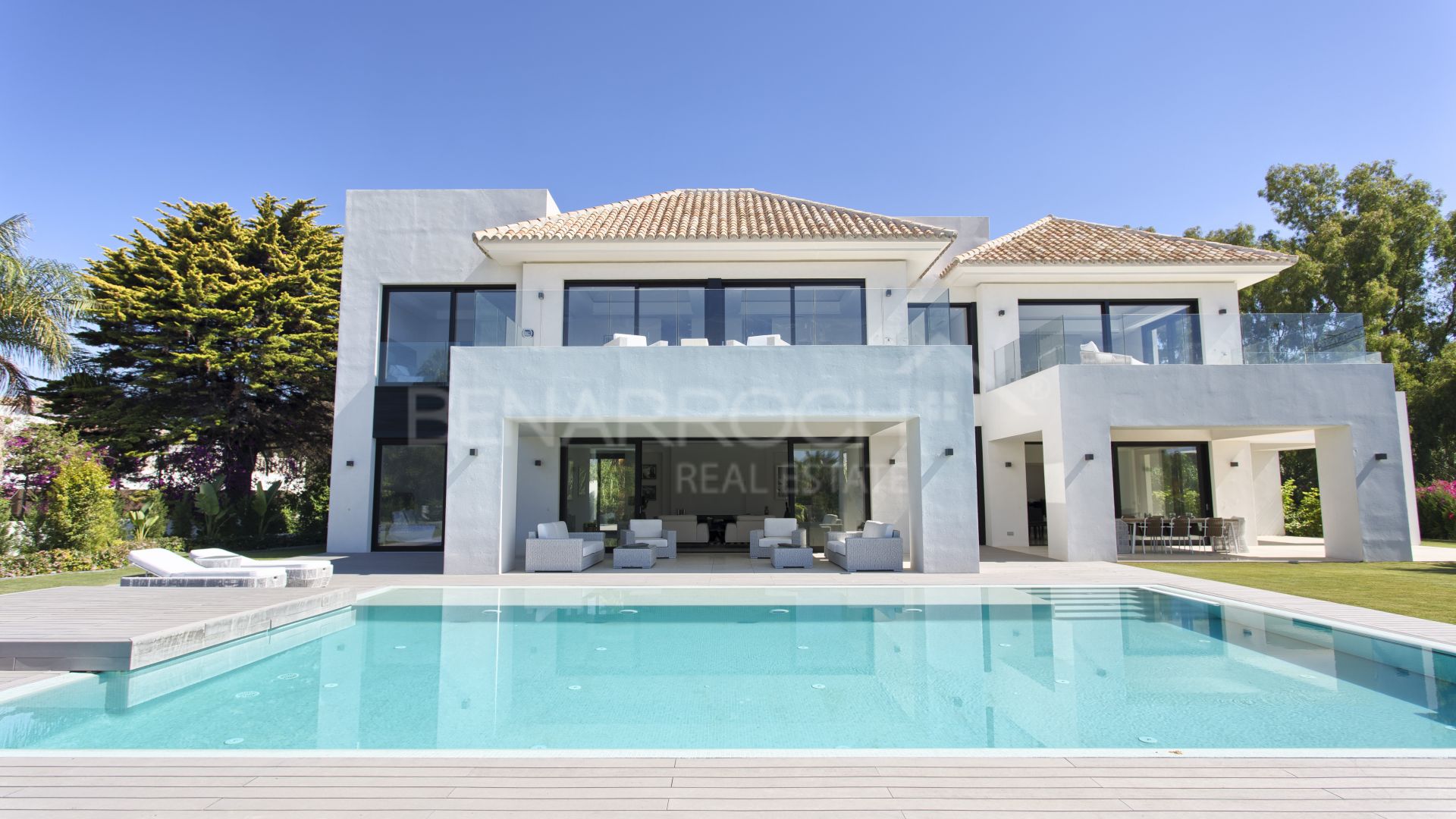 Villa in Guadalmina Baja, San Pedro de Alcantara
Video of San Pedro de Alcantara Area
similar properties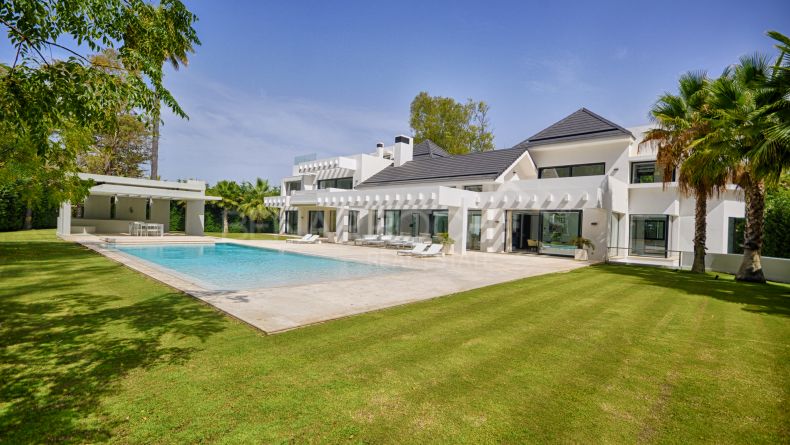 6.900.000 €
Amazing villa of new construction and contemporary style in one of the most traditional urbanizations of the Costa del Sol, in ...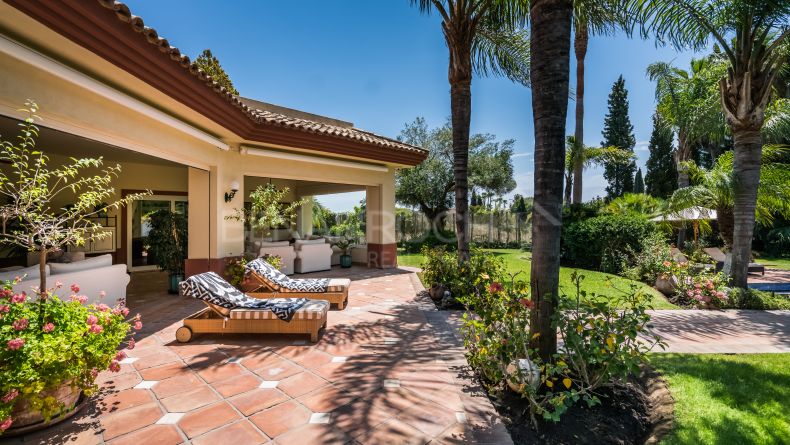 3.800.000 €
We present this classic villa designed by the well-known architect Luis Barragan and located in the urbanization Guadalmina Baja ...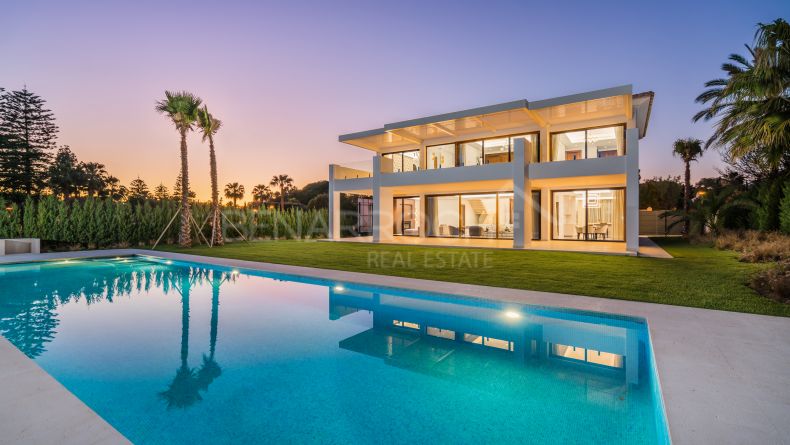 3.500.000 €
Modern style villa situated in Guadalmina Baja, just a few minutes walk from the beach and with Puerto Banus, San Pedro Alcantara ...