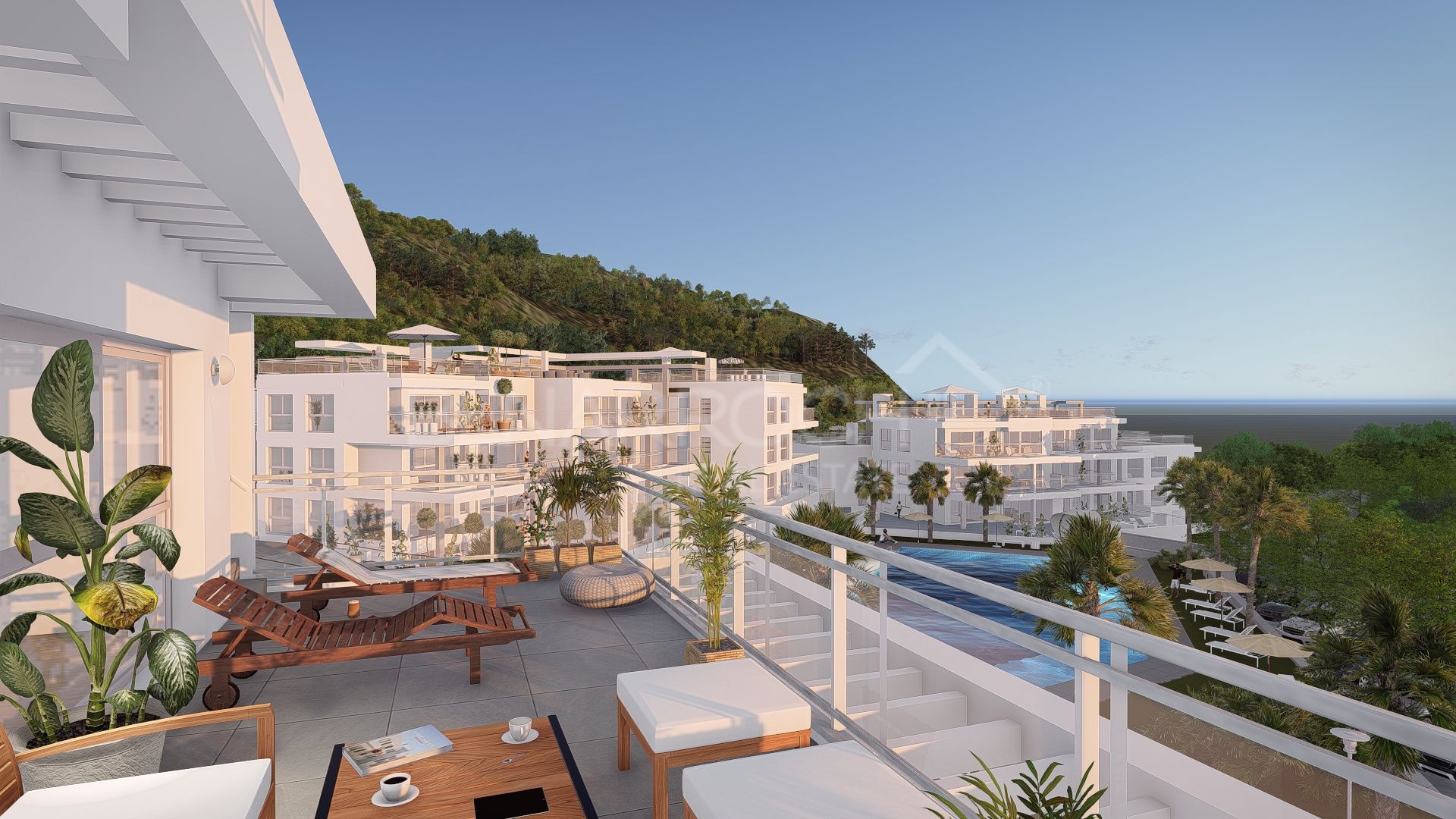 //media.inmobalia.com/imgV1/B8vEv5Xh_VThvnEqMx4G0ZxU_YC_pCgmETwWNQKyeMqLb9Afo_WSoi~kcK5mwaepLz96AHEmAzWJQblCNhundhnOIYTFLWoaYUhfNlC5usYMh5WD1UJcG4mRs4Hzs947Io163Ali8nTPbsEBbsiQ~sjoKirGYrYiiAbjrFhLkmsM3UpFhiITuXjeoKg9X8rifOuktvv7iv0A9vEVRvHLnEn9nfFfqph08h5LweXHuySlVeT7_pBgh9QwIe~wGJ4cRec5fyVubmcW5AbIq_uyiZHvZXRO6pdKLVmr1kdxfHCnPSTo4b43td3zGwIujzCDCZya_w--.jpg
//media.inmobalia.com/imgV1/B8vEv5Xh_VThvnEqMx4G0ZxU_YC_pCgmETwWNQKyeMqLb9Afo_WSoi~kcK5mwaepLz96AHEmAzWJQblCNhundhnOIYTFLWoaYUhfNlC5tE~p5aceNl42aYEa84enS8mXw9t8vQELLRkc7BxEMN1nqTjuDFapP5UynmgP6IQ3Bn~l6O5suvbIKVJd1xEEOuUWvK9lVue7xuS3uaRioLkrfSPE2ikEqV7oV135nPT3pn7ewNyCFP9WvJnGpwflLrMCieTKCgDdPk3qSeDhAG50cK2oHndoNdH_RRQoRIzvQ_u1~XD5VUjmrSIa0emzH5NvOD~0_A--.jpg
//media.inmobalia.com/imgV1/B8vEv5Xh_VThvnEqMx4G0ZxU_YC_pCgmETwWNQKyeMqLb9Afo_WSoi~kcK5mwaepLz96AHEmAzWJQblCNhundhnOIYTFLWoaYUhfNlC5usKjwQ939WHm_AdNZ6kJ92F38GOcucRkYTtpWaNnuIfoQwTDN_Um9lM9ufXVaFum7nZCs0inHpbg_Vd9dFE1kdx0UEXxyevZgWwm37nZE0gvtpuCY2UkBF9JjIKlCOhMXqTO8NB2izwZ3ZEgsr0n06BEt1G1cM2pCc9Jjz_F81tuHwv6Kg2phPEVAwJ1ttuqZRPdbhQET0DS05s0mEmFeSpik2tShA--.jpg
//media.inmobalia.com/imgV1/B8vEv5Xh_VThvnEqMx4G0ZxU_YC_pCgmETwWNQKyeMqLb9Afo_WSoi~kcK5mwaepLz96AHEmAzWJQblCNhundhnOIYTFLWoaYUhfNlC56di1AtZbPZEj0p9B2kNkYJ9Y1gxXDhuruB1H3mI1~AjhkKSmJ01AVbeUk5hyFV422M9gokiU460vkkjP9l_T8Lezb5WVtApnmd_Jf9mEvap2gLmZI0HosOP2_x3P__EiLFxPrsxRngE4uXJcv0wEPbbrtME3dhhZykXDVke1LsBCWkXi3vQque8nXwip8i1~tCUBM_Xre50DkssJFzPst83WKkCX4A--.jpg
//media.inmobalia.com/imgV1/B8vEv5Xh_VThvnEqMx4G0ZxU_YC_pCgmETwWNQKyeMqLb9Afo_WSoi~kcK5mwaepLz96AHEmAzWJQblCNhundhnOIYTFLWoaYUhfNlC57aOSTvMd~582KNGgXBl~I_ynoZgMyzTJpZPV70b8_a5O9Eixb40F9A4rEviqUjIB~VhfWhB4lCWEa3Pd10ikFJ1eAvwLmFMX4Ksy3ozUwMmog4Iaia6QDNRYZCvugf8guS4kMPo~0b52pVvREOGfiBldJw1XXXTvKWahQQUDdKkKl8Npiwk7ex6gOc_QA~beG0CMyzKZbrnxML_j0ICVYI9nU~3viA--.jpg
//media.inmobalia.com/imgV1/B8vEv5Xh_VThvnEqMx4G0ZxU_YC_pCgmETwWNQKyeMqLb9Afo_WSoi~kcK5mwaepLz96AHEmAzWJQblCNhundhnOIYTFLWoaYUhfNlC5udF9QNqYoq8CIZwQMQy46fODS8zE6QvE6EiIyIMC89NK1~ALlo9jwnbWEGL685NMePOr1G5mazP9LFBhdgKPJofSgGvSBMkydTpZ1111qCXAK3p8JRbSblLcYJsCK9RmbLxQrcwgpeNYx~prrtcxysy73BtTsbi8G_mklG9JEakR5amSDpRsfwhfOSt7sveCiWXQbUAC2RJ1nQxkbmSscUJeMMXd_Q--.jpg
Riverside, Benahavis
Apartment
399.000 €
Apartment in Riverside, Benahavis
Spacious ground floor duplex apartment with large garden in Riverside, Benahavis. The property is located in a beautiful wooded setting within a gated complex, Riverside, on the river Guadalmina and a few minutes walk from the center of Benahavis.
To the apartment we access through an entrance hall that gives access to two bedrooms that share a bathroom, master bedroom en-suite with dressing room, and a large living room with open-plan kitchen and from which we access a terrace.
The property is within a new project of 75 apartments, with communal pool and garden areas which is scheduled to be completed by the summer of 2019.
In the surroundings of the future complex we can find the famous gastronomic offer that offers the town of Benahavís as well as all the necessary services.
For golf lovers, less than 10 minutes we reach 6 well-known courses in the area.
For more information, please contact us.
REFERENCE

208-01054P

bedrooms

3

bathrooms

2
built

224m²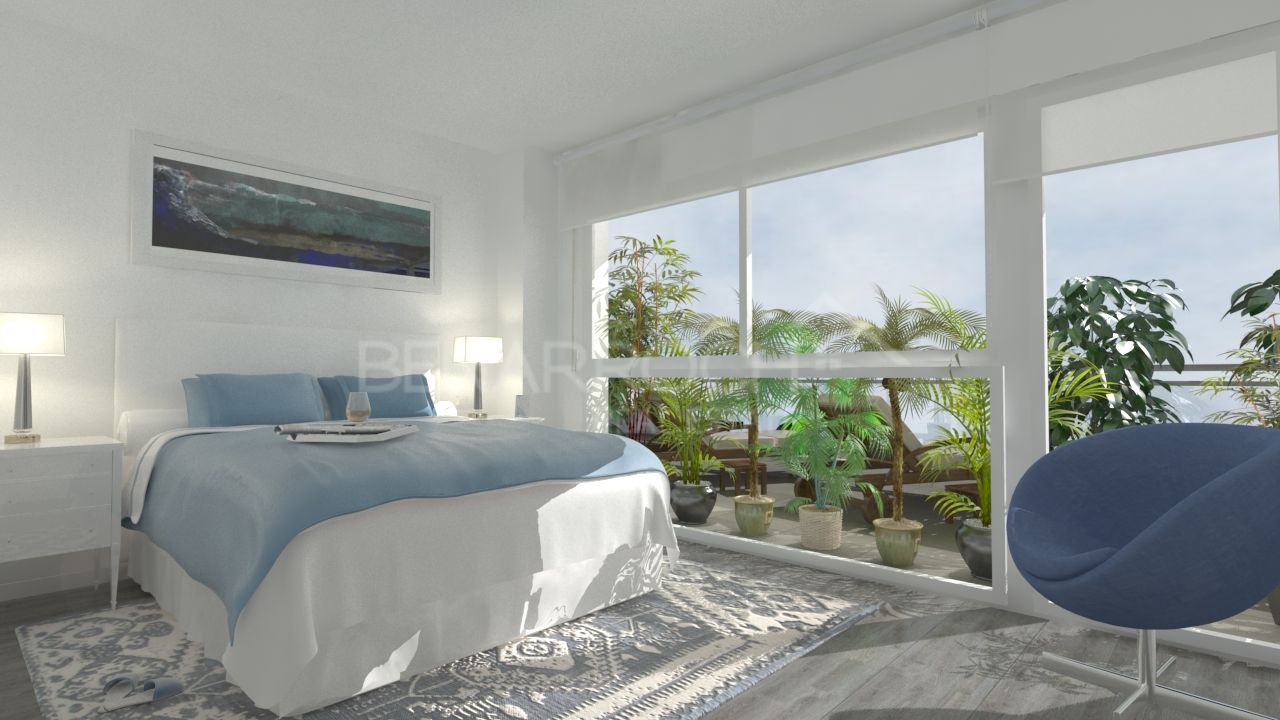 Video of Benahavis Area
similar properties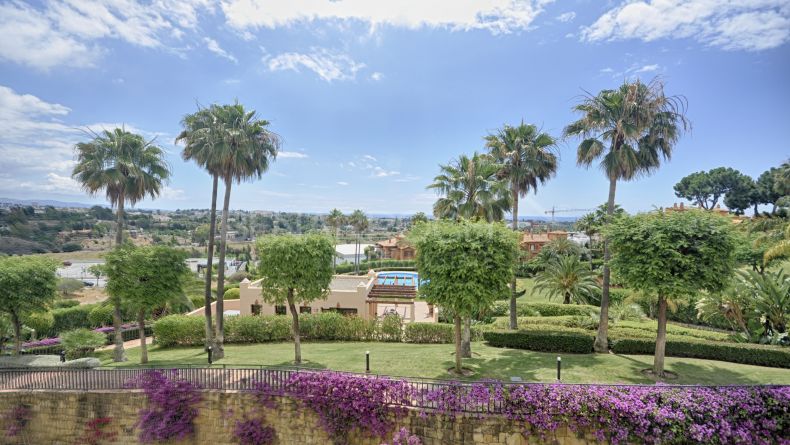 375.000 €
Apartment with sea views in Las Lomas del Conde Luque, Benahavis.Through a nice entrance hall we access the apartment where we ...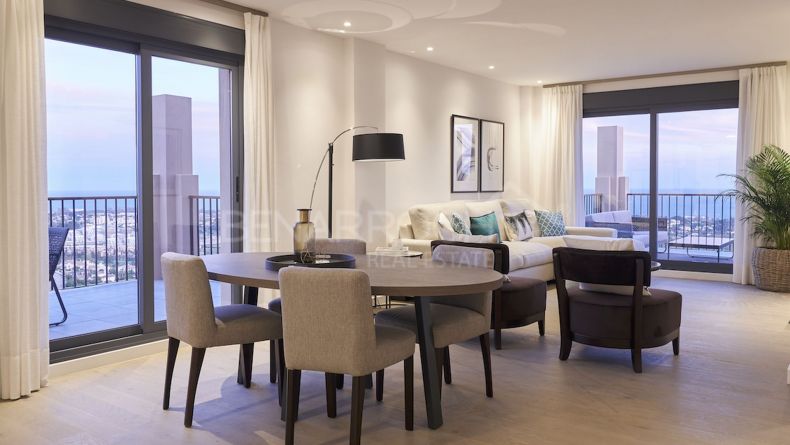 335.000 €
Firts floor apartment in Señorio de Cifuentes urbanization, in Benahavis, with a contemporary andalusian style design, in a ...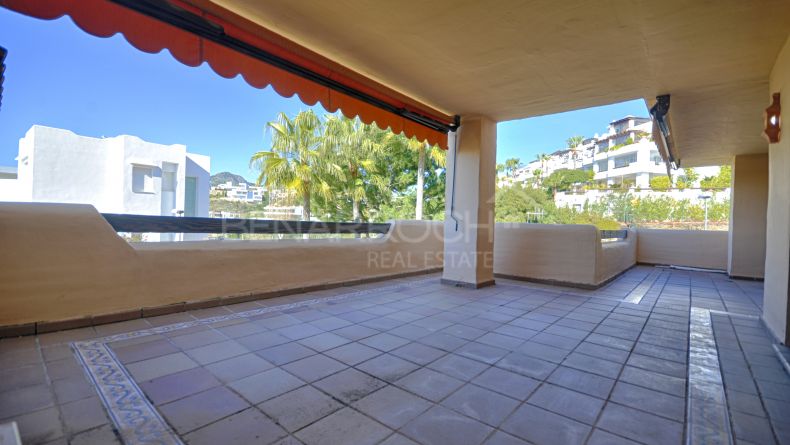 320.000 €

reduced from 330.000 €
Apartment on the middle floor in Las Lomas del Conde Luque, Benahavis.The property is west facing and consists of two bedrooms ...