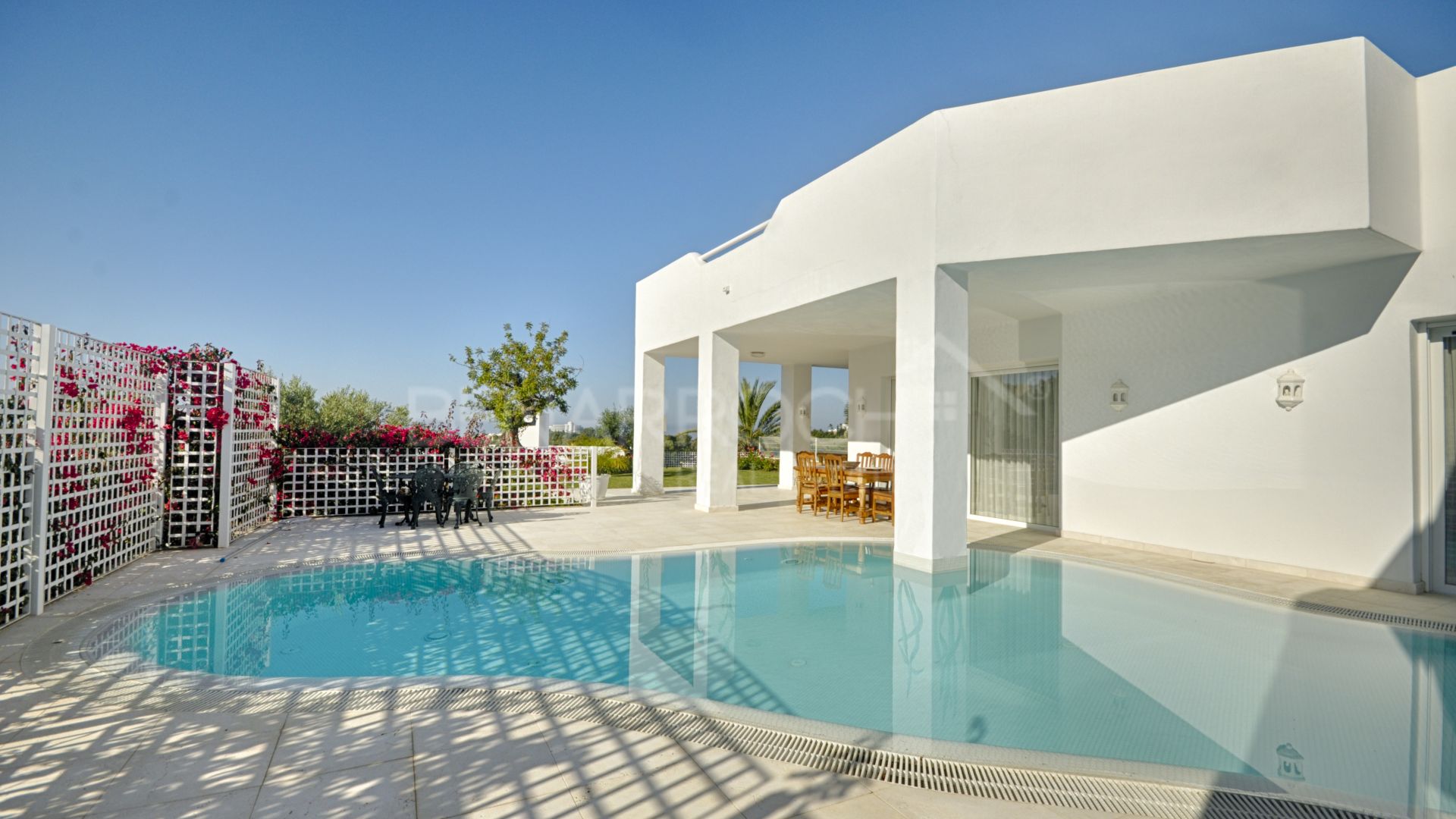 //media.inmobalia.com/imgV1/B8vEv5Xh_VThvnEqMx4G0ZxU_YC_pCgmETwWNQKyeMqLb9Afo_WSoi~kcK5mwaepLz96AHEmAzWJQblCNhundhnOIYTFLWoaYUhYF83zkPiFJYAxXoH0jznV4aM3EGEpa~jdxlNGZ2Eon6aEarsod~Ej4K49Gi6hlhxbLCZ~gozSWj12hoiF~4RVsqONR6av8mhwnWUhvirEVoCU0v7YY_FwEHnu1S1wAh6Y2yze~5kRphpn2TNgDPcwvY4vYEdeUvrkLW8gdY0UP7CKF4_Ks3qHVEWsYAgBSFRQLrMD_de_RyAgupXq23Wgwl4NTuhqIffqAA--.jpg
//media.inmobalia.com/imgV1/B8vEv5Xh_VThvnEqMx4G0ZxU_YC_pCgmETwWNQKyeMqLb9Afo_WSoi~kcK5mwaepLz96AHEmAzWJQblCNhundhnOIYTFLWoaYUhYF83zkZBN7Rs6u7ZrlPexSDQge5lhEACoBvL0GuEG1KTAcE6dTuY8VrYruEGelZjZL4XRjDXnUFvdH~ziuTAAbXms4RDUixArkGfLjZYmmzwbKa2cAkv3SYjrMNgLOG7qKCVc5Qr1hzSluRLPbM~OhQ8xXg~DpS7UrZf0Y03DooqwzSU5pJqKYdLwtErLDCqLtQ3a6M9RtJr03rsXi6WFePO3wHHFtLQ1gA--.jpg
//media.inmobalia.com/imgV1/B8vEv5Xh_VThvnEqMx4G0ZxU_YC_pCgmETwWNQKyeMqLb9Afo_WSoi~kcK5mwaepLz96AHEmAzWJQblCNhundhnOIYTFLWoaYUhYF83zkP_5N4RlUzXw1BiPG6G7WdnqNMRiTw8a9L6wucw33IXMt8Lg7Hu4lHbL1vMReb144qBhbIkBTzyxrL0vTu6z9RRyXpUyw8zB0f6feotE3gU8d49KrDM1QQ9nySaPOrHpvMXEQ5dpkBkhnAr9GkE30nqyO~qSPt0EJ8rcLXP2iSE1duA6SqIsoOokzlx_yrNp1l~aeylcGg5bUlQ~ED8egmaW_cpt3g--.jpg
//media.inmobalia.com/imgV1/B8vEv5Xh_VThvnEqMx4G0ZxU_YC_pCgmETwWNQKyeMqLb9Afo_WSoi~kcK5mwaepLz96AHEmAzWJQblCNhundhnOIYTFLWoaYUhYF83zwFegOjdXHF~srr4aTW3BokwwlqIt~j5Jk~99abIkeeeAw31sykWj6UgnRjZuEWQoAaf71XVGPPJeKEmk0yTHoGxwEXM1SO_TDW~FQV2BE7XkJjVBa~iFrWVsbuO35ZRJ96D6V0J6VUnrFmMqztjZvekXpPMLV_ba_RLnDVCPth20OMuNLiMzz~BcKgfiA8aeOJ3co5pOe1oAdzflEeRFcsb4CXrGAQ--.jpg
//media.inmobalia.com/imgV1/B8vEv5Xh_VThvnEqMx4G0ZxU_YC_pCgmETwWNQKyeMqLb9Afo_WSoi~kcK5mwaepLz96AHEmAzWJQblCNhundhnOIYTFLWoaYUhYF83zk4Dkxpmav~u6UNj77Z~w_vj9WxQa6KqlP4DVaIj_42hPynldgm1WioVwfm3MX14h7RxUWlZwSB5SSrOFs7fBIR16ZkU6HRAxL0a52sZvwhVdBis~Bym7fOuZAjU8LhNvJSKcbjnvMGV9hZf2HoiTM~YOh3ExFIEuKVGVruHneNJ6DQW2MMn6IiziEuQzCe00fGkzcFqQEPacev_YD1XGcxdGTGtx9g--.jpg
//media.inmobalia.com/imgV1/B8vEv5Xh_VThvnEqMx4G0ZxU_YC_pCgmETwWNQKyeMqLb9Afo_WSoi~kcK5mwaepLz96AHEmAzWJQblCNhundhnOIYTFLWoaYUhYF83zwhs0Ya3iGB5A0agLxEV8ranXe5dMfjPFWm6Y9F6aLtsEfbGEHInnmRpm3EfxUZVX4v~AN7bdR6J0fZwdwGbU5Fw0oivmZpTRmyYEWzYmpChltzRtWYdPsheocAuBQGq9V_CiSNZyhhXwGUr81oiEwRR99ZnDooA97YpQvXaLqEpGqDkQKaFhjFIYmgmVmWXH1XehGOPpVhCzeyiwLI5iodhV5C5DXw--.jpg
//media.inmobalia.com/imgV1/B8vEv5Xh_VThvnEqMx4G0ZxU_YC_pCgmETwWNQKyeMqLb9Afo_WSoi~kcK5mwaepLz96AHEmAzWJQblCNhundhnOIYTFLWoaYUhYF83zwFbMsgZOMJncq2dfsVKAY6ifSVNaK0nCvG7BUQ4_2YDsTXPWeQhJSvKq3upj6_Nea9tApC9IVZaVzZhxFn8GirseYp_Wn1YobG~3Lij99ElRiCRMBampE4mEWct9PLFeGvmlCSmXJltjTSn3YjnGiSAVlfweFoJPujtVZ6aufCW835ZijUdxtDckosaAnRuVJ8x8Fb~aj~wNoUrWoddptibyvRpOrg--.jpg
//media.inmobalia.com/imgV1/B8vEv5Xh_VThvnEqMx4G0ZxU_YC_pCgmETwWNQKyeMqLb9Afo_WSoi~kcK5mwaepLz96AHEmAzWJQblCNhundhnOIYTFLWoaYUhYF83zlBwbomh1sjqoFPFQ50CsjubbyQAsPasklZGb3n4lghgGEbEILfio7zRJiijWl__tnqMAioVpBkRW5iP0~k2ukrJ9nTE1cyigGjJa5nbVxLLtCDm1ygQzC7odc5LHh0eOOaJ0827OrJnDCWnRybojo00ybJIh0HHiFufYZnkSKzAg3id78zxBqzkhgCXJfJQmuTllpTcRO1ygx4qJcgDgVsdTHKuRPQ--.jpg
//media.inmobalia.com/imgV1/B8vEv5Xh_VThvnEqMx4G0ZxU_YC_pCgmETwWNQKyeMqLb9Afo_WSoi~kcK5mwaepLz96AHEmAzWJQblCNhundhnOIYTFLWoaYUhYF83zlhJDrn7fohpzD6XeSQiMY3W6xnA0HIBTaPZE2svup8TZndsM5iDSEnpeMtVGr4zSvcKMUXKtVV3Zmx~saiRipQdfP24HB7w7ezN6rPQvLL0Z42XHjOT8L6odHL9k1JZZJqPzoi76uhtdY1niujj2ibKMop76faxXmE9rVSPXsQOC6dQW3xcsBpBkz0hia_XS0M_6KEok0GTC~5lSN4RRhy72f8R1Yg--.jpg
//media.inmobalia.com/imgV1/B8vEv5Xh_VThvnEqMx4G0ZxU_YC_pCgmETwWNQKyeMqLb9Afo_WSoi~kcK5mwaepLz96AHEmAzWJQblCNhundhnOIYTFLWoaYUhYF83zxpiRXTBFA2b4mRTMnA8EXnQ3hSSP9FiA93va6ELoF~r9CaWIT3gj1gBoK1gWQNYa~gDo9brpHB6JHpTOmWet8pPnKqx3RDat16W~w5iM4P~7OFZDKXPqEKKeMOaaKsVsIarg_mxayc4bWpMPx9NJOCv8PoWrSESa1kiXnvVbKwyUaMlfiFZpu_lWLLhbIoBV13ZJgCl~sQg3vh7wwpNfKqodoi6h5A--.jpg
//media.inmobalia.com/imgV1/B8vEv5Xh_VThvnEqMx4G0ZxU_YC_pCgmETwWNQKyeMqLb9Afo_WSoi~kcK5mwaepLz96AHEmAzWJQblCNhundhnOIYTFLWoaYUhYF83zxpiT2v~c1fJ868LxbCHpVq3ozxYiCtz6lmNb7NH4JTA3Gkx3J1hW9GJh5LmjrLnNQGOxEsxTL47jOOYtlvbAD_Z6eq4ROXNynQI4krjPr7Tec0Slg1moIQ21NfP4k07CQ0wmRY2KGmqrORFOBQ2EDMRJpvjx~Pc7IUdjxCt_jYO0KS48_8nlKq0B48z0I_dAxfiY6HGVnXPMjoYb91Fau_4buGN8AA--.jpg
//media.inmobalia.com/imgV1/B8vEv5Xh_VThvnEqMx4G0ZxU_YC_pCgmETwWNQKyeMqLb9Afo_WSoi~kcK5mwaepLz96AHEmAzWJQblCNhundhnOIYTFLWoaYUhYF83zwh37fl7tRzyMxYNDI0YhIyBc1iYb7SLD0C4BkbeoQ5wYvziRtbrQ95iIGtx4OxYuYBHJWeTCfmjU8zIcLK2MYY7pBaPjPZ7WcMaPFB1sde7Z4CORtDc3prUE34RgD_ydJlt9LvB223v2AWWoTneSdGyxrjEoTm3C~wLxhhmNJAhsK8wELrqM35JqBcMc2afqgw42pyTq40rHp_TiZfORsOEB0xe4Pw--.jpg
//media.inmobalia.com/imgV1/B8vEv5Xh_VThvnEqMx4G0ZxU_YC_pCgmETwWNQKyeMqLb9Afo_WSoi~kcK5mwaepLz96AHEmAzWJQblCNhundhnOIYTFLWoaYUhYF83zlygEHhebpjanPfknVu9zWpX9k1pjXj11kp7IQpDBT6ZfR6VMaQSBJd_to6bELMIw3X0VWcZl4mPEt~8LbWWlGukgxU~qiMyMY7kJBL~1XXvbP2N2mdsrejK75nTpepgSw9Q442cqAOc9x~BKZZVkk24B5YyxvV4PBlj0Qy~ET4b6HVzX5n3zwTozppi9OHOU05dyqO_I_2TFCBr0MS5WdlF6_J5UpA--.jpg
//media.inmobalia.com/imgV1/B8vEv5Xh_VThvnEqMx4G0ZxU_YC_pCgmETwWNQKyeMqLb9Afo_WSoi~kcK5mwaepLz96AHEmAzWJQblCNhundhnOIYTFLWoaYUhYF83zlyX7m37nCzjO3XFdlh93LQhWinFXTemBJ0KQ~iY3VF~jSd8zJ~ehdcmTHtzL3Z3V1hth_CR7Tm41qGQKbEuzHD22M_06Vt0rh0zIxZO56Fmb9TV_Se3vlP8kzRCpRrIK6oj5Q6oktYMVdQmYqgFrgpF8a8f00yVSBei81R6adMkzPVV_UXqJEKamvPCy4nWWYx_5j2olF1vkU2CdnpxOkJCyAB~QwA--.jpg
//media.inmobalia.com/imgV1/B8vEv5Xh_VThvnEqMx4G0ZxU_YC_pCgmETwWNQKyeMqLb9Afo_WSoi~kcK5mwaepLz96AHEmAzWJQblCNhundhnOIYTFLWoaYUhYF83zyxybkGDcALqrpBTVY4uzXlKLf1e~AjezGBGyRqmuz~dWM4IW~yOWBJM~qRwSvnUnNhdawfUORXY2tVO26eLRFQFCX7Jr8lG9kAIlQSMYPubErdEVHCaZqtgobj6~bEz55gQUidO3jG711uzb~BJkxILjta4c9hIpkQlTzlk0u~yjTsCwsCKb_9aj0k8g_AoYvLs9bsJ9yErDa8UhEm2j_RkgEJuxqA--.jpg
//media.inmobalia.com/imgV1/B8vEv5Xh_VThvnEqMx4G0ZxU_YC_pCgmETwWNQKyeMqLb9Afo_WSoi~kcK5mwaepLz96AHEmAzWJQblCNhundhnOIYTFLWoaYUhYF83zlhPrfqY_fv7jgqxzTBippkgCDZt0e6tO_KT83hOZt3jjs1tYv4YIFKqRMNt1UMu6iq1Ub4Fx3sROWoLNFGujOeOeyZN7HlKglpLmkp0h_juHpldLKThjvubHs0Rh_GYUtJB5VMAYYZsoScx_paX88Dwhko2JrCNw~t4X1jl5OCSixwZ9a0G7jp7c4~hzYAC1wrACgXRI3Uij7l9fF1riLB4xy_q_ew--.jpg
//media.inmobalia.com/imgV1/B8vEv5Xh_VThvnEqMx4G0ZxU_YC_pCgmETwWNQKyeMqLb9Afo_WSoi~kcK5mwaepLz96AHEmAzWJQblCNhundhnOIYTFLWoaYUhYF83zyqvbFk8EVmYydIQ9BGMGhzF1x1AOgq8NH8vXLOlrdMiTI~p3cOAgoFlyWoxIZnLba7Ivy_0xo~4Y8Xqd_xNpVw6YIo1GJd548ba8SZMlNq6alUfImS3dR0UqLD8VuMdtKleac2pxVIa3ydC2oxTtot~1vCDWvgkvrDLx66sDU06l8jCAhYSypQlgItzWKGPzrAFaSUsiF8WqMs89pPWWnpb9Mbd6Eg--.jpg
//media.inmobalia.com/imgV1/B8vEv5Xh_VThvnEqMx4G0ZxU_YC_pCgmETwWNQKyeMqLb9Afo_WSoi~kcK5mwaepLz96AHEmAzWJQblCNhundhnOIYTFLWoaYUhYF83zk4bHP0zM3~TvU6B9e_t50z3vlv3w7qe~S~91nAee5xo9EetS7l6yF~~qpuZCVHV8iBNSoD2oiGymPS2s7jWi_wp85jodK87ty8XsBJqwWFRf_pNl8x4mQNniJv1yMqnh2ZWxNwI0LB5IbeCQR_eUF5chmHV9n07I5pginwqxXV~SGVSz0qBSqlXXBQI4LnwCkW7rSmZsZh3gqLbIj6xfsQnQhqiK_g--.jpg
//media.inmobalia.com/imgV1/B8vEv5Xh_VThvnEqMx4G0ZxU_YC_pCgmETwWNQKyeMqLb9Afo_WSoi~kcK5mwaepLz96AHEmAzWJQblCNhundhnOIYTFLWoaYUhYF83zkP7PhuOkKW1wpzqyuFH~WCUu1MLM4Cf6WhbtnT8B0cgrg2bNU4_7oVDGxKuY7CYgTK7v6Pb4i8~T__Nre7GtX6cLv2YYfxJadugoXnG1j2FVIOTU9Q26Jm6jlnSXyssDxS~5rDYq8t8g2WrLQPf1dfljTzCstGlBBlGZXwKD11frk_1f6z0qxxuzK2W3AOBVjc4PsSRPvlidkEyORJ7lQbrpFcsuwg--.jpg
//media.inmobalia.com/imgV1/B8vEv5Xh_VThvnEqMx4G0ZxU_YC_pCgmETwWNQKyeMqLb9Afo_WSoi~kcK5mwaepLz96AHEmAzWJQblCNhundhnOIYTFLWoaYUhYF83zxWbrSsppWoAFTa0Astw94N_QtR3Pxk6hKLdftQ7unKu8YOw5LP9Wd8UxGXvNJtBlOeeIXnxUjWPT5tQSoZL7wQ9HKsne9J_FmwGnt5wdS1m9a2~seCaweKKPePQiBSEh9e_u~JxCeByp4yx9I2w1swO1s2KSkDjg4b9AQ2Viam8Ic0GoEGkpXPkDNgAXfqCoal5eqGvF19fWgrqnYkfr9ZerK6pLDw--.jpg
//media.inmobalia.com/imgV1/B8vEv5Xh_VThvnEqMx4G0ZxU_YC_pCgmETwWNQKyeMqLb9Afo_WSoi~kcK5mwaepLz96AHEmAzWJQblCNhundhnOIYTFLWoaYUhYF83zy0n~5cCkei8PtAylJ19m5fhH9tLnKks1IFREy_ZAegVXGwioqibpnJu0xsBBjwmVCtOXfOb86pkbyLy35SHxdjWvLVkxXSTCEAUU9leLpTFv3~qc67i6sSzvGeLJ8T~udwwQhnjmu5acrhMxcSYaRZsHhYTQiXkIx9~kZIoJedsL_3ZLKbrU_HQ6PLjClEZmbThviu4GhuflKC0iiXpQnSNePEVmuw--.jpg
//media.inmobalia.com/imgV1/B8vEv5Xh_VThvnEqMx4G0ZxU_YC_pCgmETwWNQKyeMqLb9Afo_WSoi~kcK5mwaepLz96AHEmAzWJQblCNhundhnOIYTFLWoaYUhYF83zxpv81vC1lIEb6eotwA4VxLRkq0zK8iQblimPpv0qAmzhhMMpMRC9jhn_T813KzzGpJFENmXn9jhhYl~oCYSrmleL9A3duOjKkQD6VeueUw1COXMMRZBTkm8yWtTqFY4JVFPnsAAcIw2i74VoMzeYY~iqP03YM4Wt130lABxe_FvE1Mke9TnH9OmI978xnvCeBEd_YGwnlM41rY480PdnhAD0e2hEcw--.jpg
//media.inmobalia.com/imgV1/B8vEv5Xh_VThvnEqMx4G0ZxU_YC_pCgmETwWNQKyeMqLb9Afo_WSoi~kcK5mwaepLz96AHEmAzWJQblCNhundhnOIYTFLWoaYUhYF83zy0sSZKJcagDJGnhYEiVQNaN5zmOvRTvNsd~6ctc4~l2MA41Ptrzsdv5wM1d4g4blo~g8~cfSUG8M_CkltZqy~lxtyQ6iRYYy0BEGm2BoArFzT5ShnTdVVnO3sLTH967LlgL8LeEj15HFFb871yUNTzLv~8bB5~ftxx72vWYEQcsVsFcLNbH7PDFZFpjgyPxCbc8e8ozHdz~FhbepsifJAC11AfdAjw--.jpg
//media.inmobalia.com/imgV1/B8vEv5Xh_VThvnEqMx4G0ZxU_YC_pCgmETwWNQKyeMqLb9Afo_WSoi~kcK5mwaepLz96AHEmAzWJQblCNhundhnOIYTFLWoaYUhYF83zx~U8PbxSjpPfCS5yyT2RMf1piG4q5iGZ5YdgdNAsvkVkycXvQPP~rzUM37mo2EGHpI7SgLRt2nZGY2Q4oBVm_ukf5BT0jpRI0OEKraHU~lej2MNEQkUyhbnBAe45j4JnuXkl8uJCy2QOnooimDKy4bZ7a7ix4ZrDsHplSyVwTetzT_dxSr12RI3zdYXU3sUNi2In0OEnuNWOVaZRHy8pE5hgtekpTA--.jpg
//media.inmobalia.com/imgV1/B8vEv5Xh_VThvnEqMx4G0ZxU_YC_pCgmETwWNQKyeMqLb9Afo_WSoi~kcK5mwaepLz96AHEmAzWJQblCNhundhnOIYTFLWoaYUhYF83zyq~IeKI7qjRGqjERgY9_nMgo34MPEwmGdgVm_YzIZSXkmqvXHW0TuhKPjiu1geF_2OLMa6GJcGKroBWr20Zk4AD~pQ3TiCMjcgCfkrU87ZfkkHKlDtI4Zrp1eaelR4lzn758F169N3cB8xQ3X_paXD~7gY5wdKbdj1bbLohc9QNBswONsK2SjqQViHzrzYd3OWsre7UbnkLNq6nsLfevoz70CrxdfQ--.jpg
//media.inmobalia.com/imgV1/B8vEv5Xh_VThvnEqMx4G0ZxU_YC_pCgmETwWNQKyeMqLb9Afo_WSoi~kcK5mwaepLz96AHEmAzWJQblCNhundhnOIYTFLWoaYUhYF83zyxiH0ow~BSKLMDQlMJeKdKDTGH0jDVJcSYNhAdW_stY4U90mXmoQkcypJpmyizPiLeF0Lgu5WvMz2fp5p2WBj0rxj91uAVPLpfFLTzSumGLR0UG1gK4JWw8MH9UPgoezT5J~~VabmzSUiW0KkC5RVzzlDSF6JSBu5_dyxEBo7DgT7~Bi1j~gGByLFpoYjzwqMVAk43AZB8c2BA2Ct5ZhxgoyFF1QEw--.jpg
//media.inmobalia.com/imgV1/B8vEv5Xh_VThvnEqMx4G0ZxU_YC_pCgmETwWNQKyeMqLb9Afo_WSoi~kcK5mwaepLz96AHEmAzWJQblCNhundhnOIYTFLWoaYUhYF83zkZ33MVKxhq_mYUcbNf~OMbmZeo5_eA3p6Olr8A412r2NDJAmUhCqmal_~mkIbZrDL05kQRR2M0JWuDZnNL7rhmfcpIbIlBmsQXXd0TXBEHClUGEN_NHuScciwkgDK~tYtVIERGqExafOkyqJLfoD0deXksSpO95vLUm09u3_smO~Hw4u4ZZ5~pFLs5bHT7Ml0Pe4POrNQsApZIErtvJ1tyHVq5wH8Q--.jpg
//media.inmobalia.com/imgV1/B8vEv5Xh_VThvnEqMx4G0ZxU_YC_pCgmETwWNQKyeMqLb9Afo_WSoi~kcK5mwaepLz96AHEmAzWJQblCNhundhnOIYTFLWoaYUhYF83zk4j0iTD3wE0Iy24t3jjVN1wk~BSVDV_Q964PUGNvnxnkfYx2KYP4Di2nLxzI0hunCkwuQAR3UufS_g1hUA2HSbew9QdhWIgJpZ5DLb61s~myLsyc~iVb55R535_zGGyShx60O9x6uqDN0GPj6hetfKqiU3igvjPeiCCCpQ3YgFMFfj_fgAub6f1_i5dseUVL~nl_pMcmyL2v55vgEPEpQtUudvyp1A--.jpg
//media.inmobalia.com/imgV1/B8vEv5Xh_VThvnEqMx4G0ZxU_YC_pCgmETwWNQKyeMqLb9Afo_WSoi~kcK5mwaepLz96AHEmAzWJQblCNhundhnOIYTFLWoaYUhYF83zl3tROjc296XQ4Ugby2Uz6Y8yabEGBRdpaHFndXMF3K9o4~M9SjNaeBbSK1sjGXlC~WCxJdlr7F~Jic6BkpHFUCIXOW32IoTDfeRusx4iuar0y_jZ3Gc~Fc74Go5PX6~joSc~E27Vwsngdre84YNErLlW8vSMGGKAKxIoxszXwe9BHjPYGvNhMg7x~y~yeAiVehRqAil9M48eb22AGrHkLmbTsn85MA--.jpg
//media.inmobalia.com/imgV1/B8vEv5Xh_VThvnEqMx4G0ZxU_YC_pCgmETwWNQKyeMqLb9Afo_WSoi~kcK5mwaepLz96AHEmAzWJQblCNhundhnOIYTFLWoaYUhYF83zlEsG1XR1TDjP263BsEtKKJpa7~kd9oA3OUpm8nypsPE7rvJBeydQlUZlHpf243qZF2tVLUPjvd~mWh51DQqSpf1gwQy~0hiVV6VLa4bRI01BSRGXTCrxw9rNw70H0po_b9qkGbQ79iXewm2IMCHdxsYkCJ9qlNHqvMz3EBmJdwDb4T3dw8RbUSs1V6INgCc2~cYLNFHc8Rd9H3AV7awH3HbDbH2PJg--.jpg
//media.inmobalia.com/imgV1/B8vEv5Xh_VThvnEqMx4G0ZxU_YC_pCgmETwWNQKyeMqLb9Afo_WSoi~kcK5mwaepLz96AHEmAzWJQblCNhundhnOIYTFLWoaYUhYF83zyxzPrhSfWBYwEqTpnycgaJ4sb_W5JLIJJ8zVNtfb8ofQ6kN95v5ECVELar8GYWLEV5oNvDr0IXq_bCxyhdgaykSwADevCgcmkHRHzXwCH3aLj1vlZ8JsnDjgnbQLutvulP_J5mCefuyo_bNYFkVPOD7Anms~em1Dcfxv3dpSk3ODh_iXrU64rh8GDk4Vn6SQcgIQbfUtI_3ieo3p97jPg7JFyrZZog--.jpg
//media.inmobalia.com/imgV1/B8vEv5Xh_VThvnEqMx4G0ZxU_YC_pCgmETwWNQKyeMqLb9Afo_WSoi~kcK5mwaepLz96AHEmAzWJQblCNhundhnOIYTFLWoaYUhYF83zy0HKsoqXwzvfpntPFJW~qvAwlUUAmwn2EMFxRf5jQh_RGydsuZy9XNHr82LHEcMALMWRIJccYizl3ACSxKI1BEg9xfDuI3IYwRmoulYEtW2zBRD36T~rQieXVOTQ9HzwM66BQoHS9YAiavWMGRyUT4vwxIL7ZZ1wVIRqjS50TqkDbcBwvGneAshrVZjrJL6KDduP23cFseUzHt4sKW~z~0zrrY78zA--.jpg
//media.inmobalia.com/imgV1/B8vEv5Xh_VThvnEqMx4G0ZxU_YC_pCgmETwWNQKyeMqLb9Afo_WSoi~kcK5mwaepLz96AHEmAzWJQblCNhundhnOIYTFLWoaYUhYF83zwhwvwDoxKNsOpRsyCINYvQwXjRnwL7RWrFmqQjHE0kPDfuDVWmv4mKAL32SyuR~dlw3h1eUp~OaojSRERX7vbABCDzXDhWkX47HJz_Ief7VWPoXMJ13AG0nU9joelJpNzhVS~9gge3NOAPo7oBs~uvFVsQSTlvQZJFt53Aet5ut1qS4UAsLgvoGf9TNKXTmJg8LIafWnhnIWk7Y4XYSKGxshcnFWcg--.jpg
//media.inmobalia.com/imgV1/B8vEv5Xh_VThvnEqMx4G0ZxU_YC_pCgmETwWNQKyeMqLb9Afo_WSoi~kcK5mwaepLz96AHEmAzWJQblCNhundhnOIYTFLWoaYUhYF83zkKzbeYbt8kY7Fr1X1xKoqMVuXYR5MmOVi83yci8OBbfDP9WpPy~jHLXMkZSqvVtIs35z9nWhveCyMotc8abMcmxklMhI~KPSG1yVp5RqhRbkkKerjObcO4cEKagigg0pXV04nK8YxLDVWwxydwcZ9UeoaQEDYRJeNqeFFYCxSSkxfoELfyijiPKeSxW6f8lsGfyveNVE3UxClKnd7iqM3dtNQwAQPg--.jpg
Capanes Sur, Benahavis
Villa
Price on application
Capanes sur, contemporary villa with open views in Benahavis
Fantastic villa with open views to the coast and the sea located in the Capanes Sur area, in Benahavís.
It is a house completed in 2015 where the concept "open plan" takes all the prominence giving the house a lot of light, with high ceilings and large spaces.
On the main floor there is a large hall with a toilet and an open kitchen that communicates with a large dining room separated from the living room by a library. On this level we also find a bedroom with dressing room and bathroom en suite. All rooms on this floor have direct access to the garden and the pool where we enjoy beautiful panoramic views of the coast.
On the upper floor we find a second en-suite bedroom with a dressing room exactly like the one on the main floor. This level is accessed through a staircase with lots of light thanks to its large window that presides over it. Also at this level you access the huge solarium of the house.
The basement is in a rough state but there is a project for two additional bedrooms with two bathrooms, one en suite, a service bedroom with bathroom, laundry, cellar, two storage rooms, a garage for four cars and an outdoor carport for a car.
The house has a large south facing garden in the front with lovely views.
Security and electric shutters throughout the house, central heating, service entrance.
The house is very bright and spacious offering the possibility of being easily adapted to the taste of the future owner.
The area in which this property is located has been remarkably consolidated in recent years. It has a supermarket and a recognized bilingual private school less than 1 km away. A few kilometers from San Pedro de Alcántara, Puerto Banús and Benahavís.
REFERENCE

208-01028P

bedrooms

2

bathrooms

2
built

272m²

plot

1.246m²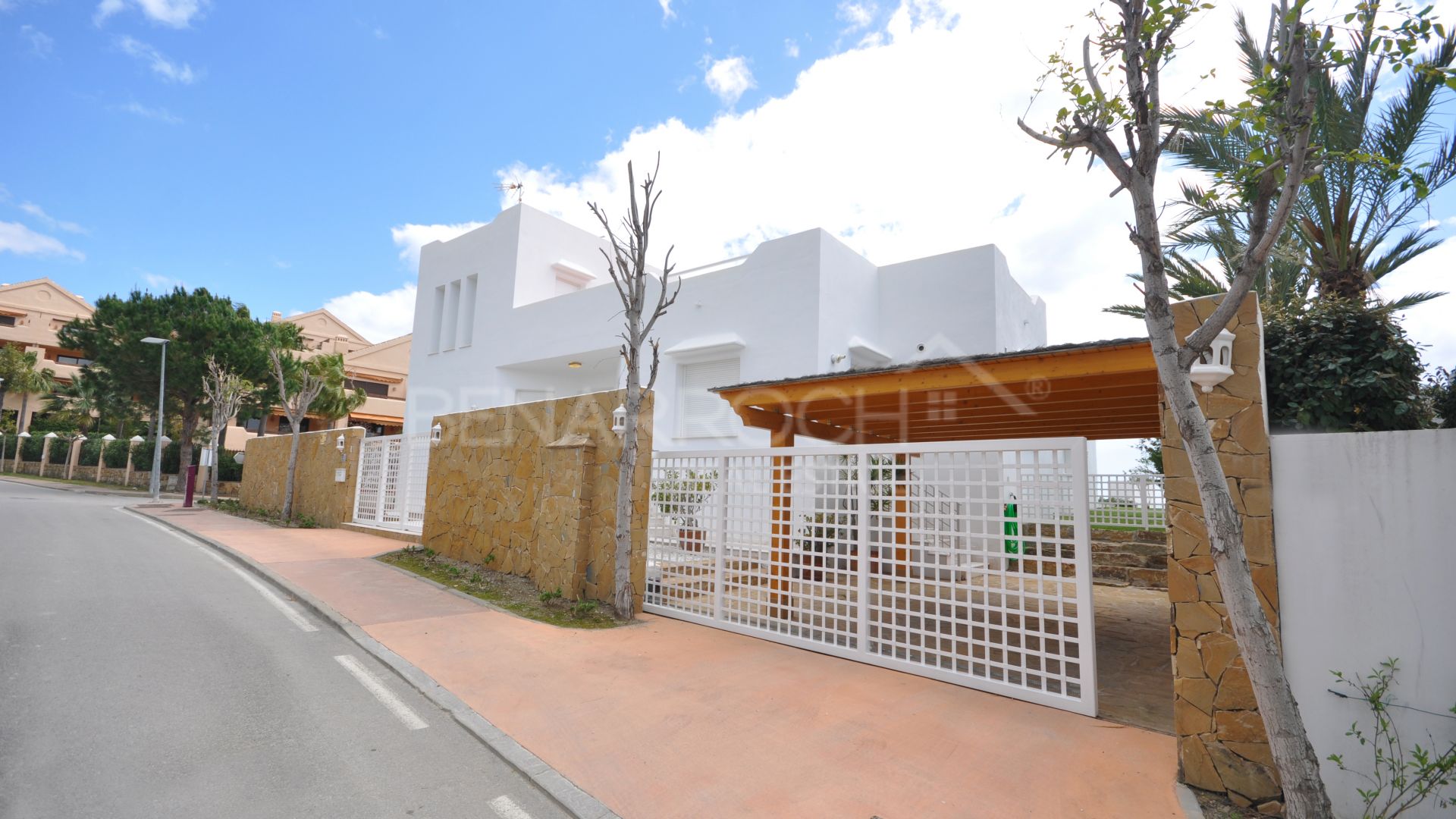 Ready for a quick view?
Do you want to see more?
Video of Benahavis Area
similar properties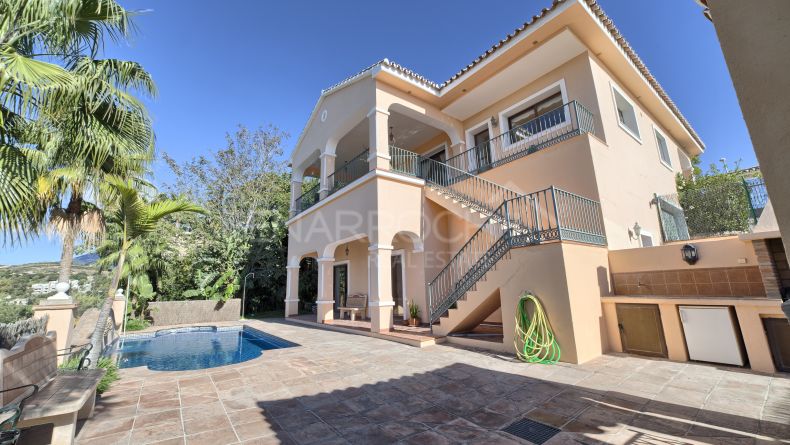 1.095.000 €

reduced from 1.350.000 €
Spacious and traditional villa built in 2004 with south-west facing and sea views in La Alquería.On the main floor of the house ...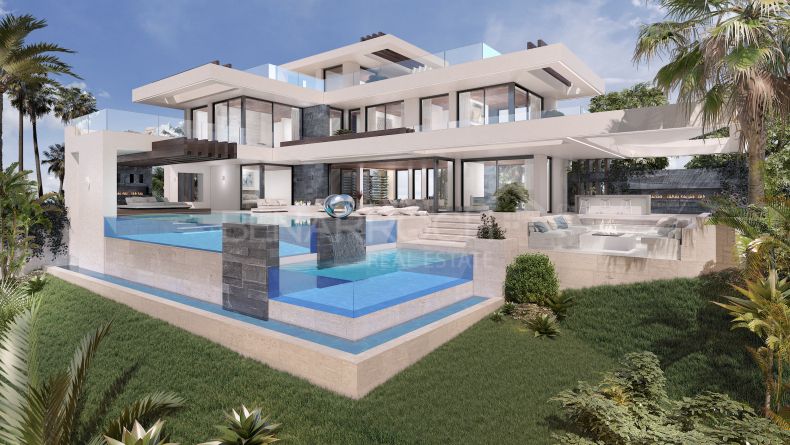 1.590.000 €
Villa of impressive architecture of contemporary style, located in La Alqueria, in the municipality of Benahavis, in the northern ...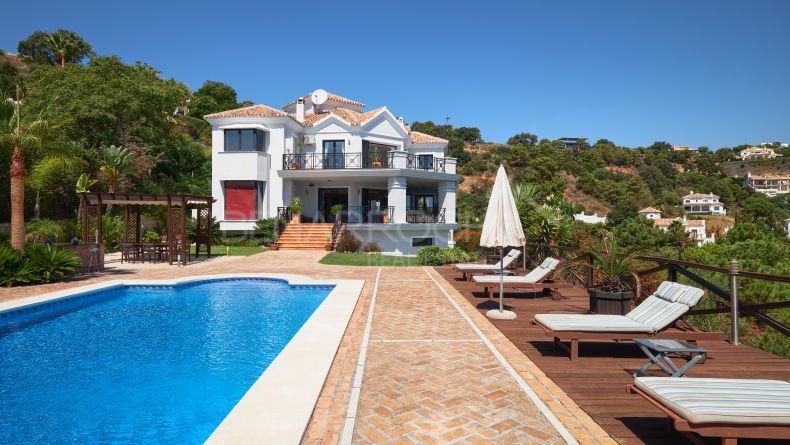 1.795.000 €
Villa located near Marbella Club Golf Resort, in the urbanization Monte Mayor, Benahavis, in an environment surrounded by nature ...