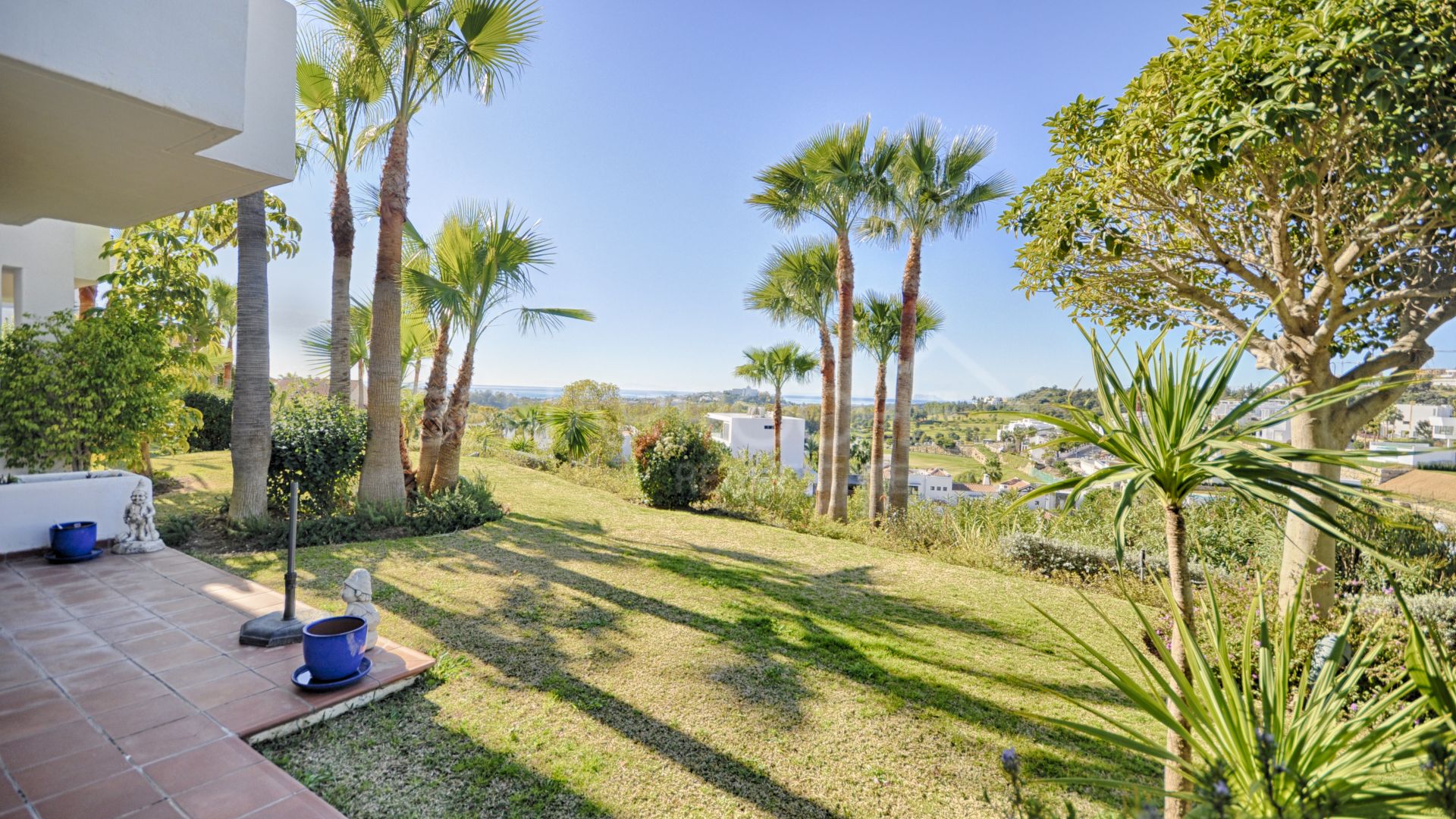 //media.inmobalia.com/imgV1/B8vEv5Xh_VThvnEqMx4G0ZxU_YC_pCgmETwWNQKyeMqLb9Afo_WSoi~kcK5mwaepLz96AHEmAzWJQblCNhundhnOIYTFLWoaYCwn228YMP4DsypiEBcebpa_LF9vnTAz0mw7atcCFQoFfa4KemiQTIw1jyIIL2jm6JoMPI8FQeCtzBsj3iHTcLS~QjUIaIIZpKAztRkQiexa7Dk1u6VW6ZMGvdwVPbH_wxGK_fTZVRPM3~kRhC5UwaIxHuP1KieaTnJZmbjzhDvtTXuEJW9KWBtAV_TY~~r_W~sJ63iFLUgFiTXRWKTrz8AbycAxNd4YInpOdg--.jpg
//media.inmobalia.com/imgV1/B8vEv5Xh_VThvnEqMx4G0ZxU_YC_pCgmETwWNQKyeMqLb9Afo_WSoi~kcK5mwaepLz96AHEmAzWJQblCNhundhnOIYTFLWoaYCwn228YPRAoK7mrdQiyAcAxfs92DKJ_BkA9QUCmUmDeiCqPq6ppJq3K7Xwj4fFFKQYSVC8svyOSDSxq~Y3hYqEYRxATnqQBX_1D4o6TI3WNaB9_NdC18Q73bF9_M9XJWbVw4LBeQQh3wsE6a0DaqqMxIDRPQxDipmMB6vGHwD_VMv8h~iDz0rbVXSd1z8nIwzWm2Fc546WQ3vaOgf7~B1VzMMWJ6zzvHd~A7w--.jpg
//media.inmobalia.com/imgV1/B8vEv5Xh_VThvnEqMx4G0ZxU_YC_pCgmETwWNQKyeMqLb9Afo_WSoi~kcK5mwaepLz96AHEmAzWJQblCNhundhnOIYTFLWoaYCwn228YMXTMJcoASNr07GamXQFxwvlEdwVTXRk45G75LC6lZzLCswi__TsJMC6YkseYCWKdonVWWtJ4TA9U7WGlfDRc2Ohqnmxz0Q59R80Z2Nk8JYfwrkXAYi9TIRZA~3iHjsqAS7qtQuJR5mYnr29TgYc4aO3yCvcMIx89oDmMHxE1PD8evdbyU_8YFk6SNmyldwFc6o54VULOfjPjklgTjLj8DVYNrNOReA--.jpg
//media.inmobalia.com/imgV1/B8vEv5Xh_VThvnEqMx4G0ZxU_YC_pCgmETwWNQKyeMqLb9Afo_WSoi~kcK5mwaepLz96AHEmAzWJQblCNhundhnOIYTFLWoaYCwn228Yaja25VezXNew5bmLbcwnU~1ZK3sguG38PBvIRko8pZ7Yv2I9DVgme~E0WeTNpjY3kmjVkDcN0dvwIrcX01k2K1jtil0GDICGCMcd_wnqCSXDrnK5tgk5bWknEHGEmngflvcVTKz8zqEq9KKHPJCtuDf7yDwDfA21UwonjY_u5vB~iF7F4uMFz3TT6VIieW8UR0ctH~TblYyi~lDvWqV_VtarhaFfgQ--.jpg
//media.inmobalia.com/imgV1/B8vEv5Xh_VThvnEqMx4G0ZxU_YC_pCgmETwWNQKyeMqLb9Afo_WSoi~kcK5mwaepLz96AHEmAzWJQblCNhundhnOIYTFLWoaYCwn228YbZu~FC7GwCLbiuI_A0gKPqr9flkfe5gVGdyhT3oQR9UAShLkW4znDcSu_0WXH5z5ieCy5ZO3mUjwiKChkOTlMlyYEQDiuaD6cDcD6nMPIe7fyQCE2VR_lQ571vbiRLCV61fnbBz9aSZf6TbBh1PZ6rmOsd6T5omWPGDV7vcYTiOF4yL1SaSIN7KAUTohBhDfbbp1nNnnRf7mCe5Q7Dsw9AKxX~ucGQ--.jpg
//media.inmobalia.com/imgV1/B8vEv5Xh_VThvnEqMx4G0ZxU_YC_pCgmETwWNQKyeMqLb9Afo_WSoi~kcK5mwaepLz96AHEmAzWJQblCNhundhnOIYTFLWoaYCwn228YbcxnbSBRpTBR4ev4EfY6ACP83TCaseyzmN49N7KMNsMvoFFmD0HMf8179lsgdhSTzjqrjDS3b94UlIYbqzz9wpfEAdotOo~WJJbzB0CGX2hpzOqmIozqJodmSGmsdKQJQYol6dcX3KIH6CWzpWfHwabyjePCW6VdqFgGRn4MeQanLpXRcXDlrEbZ_DMmpvJcVX~cQfCEOtFDIdJ3lgRIq_x1lNpQmw--.jpg
//media.inmobalia.com/imgV1/B8vEv5Xh_VThvnEqMx4G0ZxU_YC_pCgmETwWNQKyeMqLb9Afo_WSoi~kcK5mwaepLz96AHEmAzWJQblCNhundhnOIYTFLWoaYCwn228YbcxpId2vG~p9UmARGIxvJaFjcgVPyU7NWf3twXfTcNV5hvjHfsWSWW3rKoqC2HM7ZMGuc100RguB7uOD_per1RxaQAQ7LW1lt4AD8MgpnFtXQ4ow0gCexIWVWQzYVJ0IBvCj32rQq_MVG~6lSUR2sw4uFlXmeIehZIeE2UUoOZfBw2eKJOXCCAvqT2XdUNyze1SadKiDsDwOsNXfLfM~pA0giOpRgA--.jpg
//media.inmobalia.com/imgV1/B8vEv5Xh_VThvnEqMx4G0ZxU_YC_pCgmETwWNQKyeMqLb9Afo_WSoi~kcK5mwaepLz96AHEmAzWJQblCNhundhnOIYTFLWoaYCwn228YaE1buPzorQMV0dOfDvgCnezA3sFoxPgYF7EOgMmzxdvx1jd5ZvrFgGKnhjZCRPY9VKRjlnXOO4nvc8JnyLkD7VLCr1ag5lBmQQGL34jl8GUOh_jGbko002K90yXuOz8dfhwuBacunMs9AAkLCoTXG37d10eI5ivG7b3LGqCXxsC8DsFxndDzOCsjrfgWIP2md4lj4xU~ee0w_ggq~efvTpmZ_T7C2g--.jpg
//media.inmobalia.com/imgV1/B8vEv5Xh_VThvnEqMx4G0ZxU_YC_pCgmETwWNQKyeMqLb9Afo_WSoi~kcK5mwaepLz96AHEmAzWJQblCNhundhnOIYTFLWoaYCwn228Yb~IIEpbnyPNW8wB2BdwVbqx8QEjqhOsJa2rzaga5Ce3_WBAvrK1G4aJLp4a70fXvqNW4jeT7AVO9kuwC~w70djAYfPo3l~Nw_aQev7Ibk4pfw3QWsZMMU8Br3KSyyiIUHGFeHyVUgS8vRq_lWK5oMUBn~IHGytMal6UwTEki1vbf5YEVAD8mom8sWp8wZXJFBMn3RTm6~NRd739KPNvL55M~NpVoPA--.jpg
//media.inmobalia.com/imgV1/B8vEv5Xh_VThvnEqMx4G0ZxU_YC_pCgmETwWNQKyeMqLb9Afo_WSoi~kcK5mwaepLz96AHEmAzWJQblCNhundhnOIYTFLWoaYCwn228YP1Ja22Pxw_4ON5LszZtHEmEiF9kPTkqpLvuua2UqosI79dwtH7UOrvtTtsmagy3yMkKexJGxEs2FXRny5Zi4jAfCHxPvqj3mMElLjGcDaqIalVlrhSsMMCZY~sCQDB0JY34bbXwQjE6Me4BRazIbfbRWE7ualAuwS3EcD~uIaU8IVazHNFsoP5NeUu1AmGKitZWYtODBInL_GMLbKmSYe1wJekApuw--.jpg
//media.inmobalia.com/imgV1/B8vEv5Xh_VThvnEqMx4G0ZxU_YC_pCgmETwWNQKyeMqLb9Afo_WSoi~kcK5mwaepLz96AHEmAzWJQblCNhundhnOIYTFLWoaYCwn228YOtikUlctPUgFdeaL1X3SMml1m9BSx9pLgvxVN2j4YmULs4VBOTYAjnh5vp0HmgbpjOmNlsqiVJpR7J~z6bshJPe1VF0R~mta~Bd15yXZFN7mu32twvujWw4gUiSt4s6_V3kdxKrdnnJcQgTFd_KqpUwD_esMtQX8phAPXQGamQxx3oxAyEwRT10cyOpBMTCiQwn_Bvb7hAAG0UDBaQXFx1X9~FqcqQ--.jpg
//media.inmobalia.com/imgV1/B8vEv5Xh_VThvnEqMx4G0ZxU_YC_pCgmETwWNQKyeMqLb9Afo_WSoi~kcK5mwaepLz96AHEmAzWJQblCNhundhnOIYTFLWoaYCwn228Yamku5U19_C7T0m~58a9Gi7T5KhBdZu0i6m~TOtR8vQubroozNKoA0FSUVCpOpNRrI_nFKrQcscxXTJ919dkC4yTUX7V104Ms_KjLEU61IudypG1kQ7~fxMiIo7N3JYrX0s9xsgFB~50Sgpo9babwJXc18vHvrrINcCq2UgTnjlJUcxi5WTtb9304dOEbi~dgGYaYFNuImKEmiExnJkMZz5QuN7rVfw--.jpg
//media.inmobalia.com/imgV1/B8vEv5Xh_VThvnEqMx4G0ZxU_YC_pCgmETwWNQKyeMqLb9Afo_WSoi~kcK5mwaepLz96AHEmAzWJQblCNhundhnOIYTFLWoaYCwn228YbOTf8A~6FLpcyrjnMaekF_1jSRfDjuNihTl7mFmH0YWaW28ysnvxqV4r8~HqLUXFQU1GNlHCdqjhBQLmoCMJ2xYvgaThlyjYfG71jbF0z2IA24Vxb6N4x8bCKMdWT10fuPPP5GZKJO8yV97zZSzNsRQxlh4_BeDNdDRQ4A1SXDS8WF4GyR4~kfOKdFq~~WOrLoDcLgPOtkHBqPNi8UYxWhaG1enHLA--.jpg
//media.inmobalia.com/imgV1/B8vEv5Xh_VThvnEqMx4G0ZxU_YC_pCgmETwWNQKyeMqLb9Afo_WSoi~kcK5mwaepLz96AHEmAzWJQblCNhundhnOIYTFLWoaYCwn228Yaml61ZfWf82DYDaPKFprImtXuXpEtcmhATq0Nqjn3ZuWhw7ABuoOsCjCkhcJBB54CglT1uP2NBiGJTRz2OT5mwGkphUk1dnVFYq7G4BacLU_IqDjRGKEXNsW7eOhXXH6T~vcEZ4G0K9E3Y08x8lQN9ESe6j_0mhCpI5HYsHWEwqOHe5zUhx8fdqwIIb64zbOdehR1oBB65MFv~kFpxwP7__tHB0nmQ--.jpg
//media.inmobalia.com/imgV1/B8vEv5Xh_VThvnEqMx4G0ZxU_YC_pCgmETwWNQKyeMqLb9Afo_WSoi~kcK5mwaepLz96AHEmAzWJQblCNhundhnOIYTFLWoaYCwn228Ybctry3DESq0WBwqoFz_4Vftm_4nHUEpagJvlgDP2sCr4TkZKxxa2NrORJiRaz4xCzjLndKs_6gQdHNfABjnw3BTdt2I4GuXHwoFPCRGAAUgXsRBBnMwTn2gQWSGSSBF5~TAgt6UhF1fm6Cn2RHyIAgQNOgnQzDts45oeFi1h5eceKJ24jM3kZaB4hgKfeYJwiIzevZy2XJz8lKbhDRE1z_f6jpQAMQ--.jpg
//media.inmobalia.com/imgV1/B8vEv5Xh_VThvnEqMx4G0ZxU_YC_pCgmETwWNQKyeMqLb9Afo_WSoi~kcK5mwaepLz96AHEmAzWJQblCNhundhnOIYTFLWoaYCwn228YPRvmnyYd6mrp_XVQF0kQuEFC9T~7tTsTt42mlP5uglij7D7Sdp0nvZYG6w6kopW1eE_uwm9qWMGBglWAUWInpnc3rjgxlc7nq2Uuo1XtTYBP_CrfgJP8O4Mc9slBNXJmNsy80sk5HUJ1J2pD9e~tSDs8eSZgiTucQdVt8lMNfxAIge_MyXcPmva3xVR8hUe~yobfZT8neS4RdgFlZlfRHWNv9kEJSQ--.jpg
//media.inmobalia.com/imgV1/B8vEv5Xh_VThvnEqMx4G0ZxU_YC_pCgmETwWNQKyeMqLb9Afo_WSoi~kcK5mwaepLz96AHEmAzWJQblCNhundhnOIYTFLWoaYCwn228Ya3qUEM7ji6pl7mjukyrEQqvn4UjOWgTKRRqoH5jEcM9YRKf09KwgizB8q5GwnnAuKIryUVdB0GZqtYGXXcuDkpDhH80EZx46zQwsnDkzx~kZHVrdMvXjy99gUGIUh6B3rSWNyTHkxgNBDZQE9KW096JdRQ6rHba0kRGki9qmrOa9jWINxc121QYhOPJWW0JaWD7ND8sneHL32ZzP9fd7ShW~0UgnbA--.jpg
//media.inmobalia.com/imgV1/B8vEv5Xh_VThvnEqMx4G0ZxU_YC_pCgmETwWNQKyeMqLb9Afo_WSoi~kcK5mwaepLz96AHEmAzWJQblCNhundhnOIYTFLWoaYCwn228YajLlPQPyArhCe4eko5jymlc98OWTO5IBZmChPbN_zPnh_A_7NPUNVZ5z4TCIG4Mayb7VZGW9a35u2MBm38NVjPivFtPfoZjOD6PyQgS1ZDdmVlvHPk5VZML3O6ri2d0jvZVx6c3Jqqcz4IndNF7BnrzKh3~huWFjrrOd8M9DqziNUrd1kk0qvzd5V0cY30kN73ZuJGRdSSZyTsKpQ0OXNL1Y0kjq5w--.jpg
//media.inmobalia.com/imgV1/B8vEv5Xh_VThvnEqMx4G0ZxU_YC_pCgmETwWNQKyeMqLb9Afo_WSoi~kcK5mwaepLz96AHEmAzWJQblCNhundhnOIYTFLWoaYCwn228YPwRCLgcWdMz7WM6vzASet~arTJfm52m6O6KBeYH1eRA4iSCMSviqa__iGvSQKxkmdKkijkpPWHrLu8oJ_zS3kGwiuwrgabSzV6BTWBEjAFH6BX5cvwNv5li0OB9NPaolxDCw76wxZFjL70yzrTxxXtlG58HmcmzRwKCcUWBGCXI_~dfsAn9UjAppieLc9M17MO6BHdpqnvPETk7sbMJgoC2EYURePQ--.jpg
//media.inmobalia.com/imgV1/B8vEv5Xh_VThvnEqMx4G0ZxU_YC_pCgmETwWNQKyeMqLb9Afo_WSoi~kcK5mwaepLz96AHEmAzWJQblCNhundhnOIYTFLWoaYCwn228YMK3nImbcKhfDm2hWuG42CuhfU~kJSG_P6TUxXjhYuXQaiLDC66GvWhRrXTOM2nAD8AK4Ulpis_RTaI_EzBh~VmaMlZL~HofvJinVKGt5LY_3pDMwLYzImPhI6ZUk5R5PEfPj7tKfG8wzhQnvlDfBWEsCL7Awfdiwn2PT3TUpkhM2XU0xQYN_WGpIUg3SeS1XSFX49U0HO8NRm2znQbRR2ZBolWqkJw--.jpg
//media.inmobalia.com/imgV1/B8vEv5Xh_VThvnEqMx4G0ZxU_YC_pCgmETwWNQKyeMqLb9Afo_WSoi~kcK5mwaepLz96AHEmAzWJQblCNhundhnOIYTFLWoaYCwn228YOWAf8yE97ooWD5DWqjQj6HDc7u_RtTF6nUAWJYTeOI_p8e1rlxcdlYdrK~4~hvtuBol7_1KGrL04ptb~UPwjG~Le~Qq_6Y6fQf1ZcYjraCNyaFejjn8V9fSEZh_~Fhdt1FvPVkgu2N4fWpHAC9xR2LBLmqjodmNzcMlDIxAGfPn63ZanQnayBetcxZLEN2Is70Qb7TZhKffivavqpxlA4TW7a4vjaw--.jpg
//media.inmobalia.com/imgV1/B8vEv5Xh_VThvnEqMx4G0ZxU_YC_pCgmETwWNQKyeMqLb9Afo_WSoi~kcK5mwaepLz96AHEmAzWJQblCNhundhnOIYTFLWoaYCwn228YPDK67n5NFlvMU_ZcTPwyBo2ZfbjF27h~XTHIda8FidoQ1qDpadssBUSZViTG_ojZBxySvtG_bffnFBgIfgJJwyoXpghMvh2bWfmADPffQwEoCAkeQiJJDYgWaTLLmSTmygMSxdpYNJXhUEZi8nv9zG~YQ4K4C~t9Ixd~~cj0R8FeeRB6rbu6wAN9gbOx5kb4iQIMwWCxNcimcANzf3CSwnW9_YwjGQ--.jpg
//media.inmobalia.com/imgV1/B8vEv5Xh_VThvnEqMx4G0ZxU_YC_pCgmETwWNQKyeMqLb9Afo_WSoi~kcK5mwaepLz96AHEmAzWJQblCNhundhnOIYTFLWoaYCwn228Ybc4rGpgyKGPC9FxpdmXG~74aiaoyvYPfN3oKKIQ8MiTshbAp9fuvLLu9AzKL6O~7esKI0YP1uxjheaNaD4BsjTy3ccmeJKzHdvyifxEaO3ycAz6sCoIdTXkj2sBM4kijj3vZxuO0TFRjtVWmWw4uBnF2tyje4mqzIC0U8~mfgCvTwME7IQseZvlr7x2vlStjgIE~OMyBQagexZVvrzra_2oIMdfRaA--.jpg
//media.inmobalia.com/imgV1/B8vEv5Xh_VThvnEqMx4G0ZxU_YC_pCgmETwWNQKyeMqLb9Afo_WSoi~kcK5mwaepLz96AHEmAzWJQblCNhundhnOIYTFLWoaYCwn228YPUx5W~bq2rWIx7j3lqsXotqjGVtxEmeP8VljyFMmFxYYoSsLjDmQ4WE2vGyeW1UnIHdbdmeYes~3zO7IVhfQ3hsAOdsM_4SvokfAzRCQcC9VZdpwMd9o4ZJoNxVW4w5zVtw6h~UHjG0W01OzvDfqM4YFsrYreAThqfu7f_DyAzK~iXkjUkSXmkC6ROnwvraH4qTbY09gaclYGXiKKyGuZyoKHNzZEQ--.jpg
Lomas del Marqués, Benahavis
Ground Floor Apartment
SOLD
Ground floor apartment with views in Lomas del Marques, Benahavis
Ground floor apartment with golf views in Las Lomas del Marqués, Benahavis.
The property is impeccable. It consists of kitchen with separate laundry room, two bedrooms and two bathrooms, the master one en-suite and with a large wardrobe area; and living-dining room with direct access to a terrace facing southwest and with panoramic views to the golf course and the Capanes Sur urbanization.
It includes a parking space and a storage room.
Las Lomas del Marqués urbanization is a closed complex with large well-maintained gardens, two swimming pools and a gym. In addition, the complex enjoys 24-hour video surveillance and security service during the night.
The bilingual school Atalaya or the supermarket is just a few steps away.
REFERENCE

208-00817P

bedrooms

2

bathrooms

2
built

103m²
Ready for a quick view?
Do you know Las Lomas del Marqués?
Video of Benahavis Area
similar properties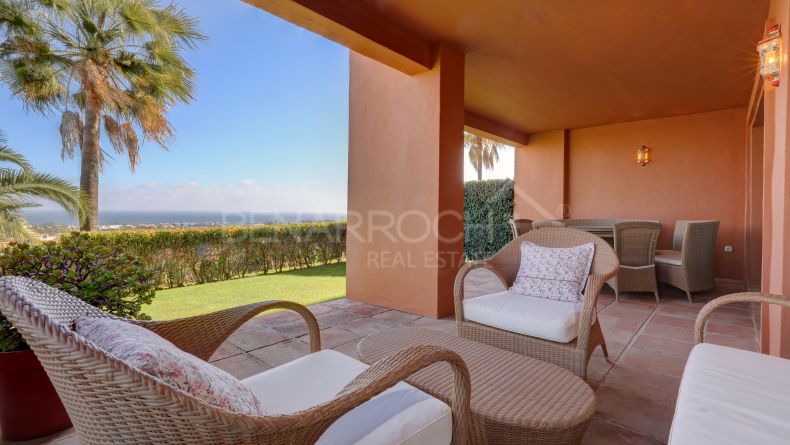 485.000 €

reduced from 495.000 €
Large ground floor apartment with garden and panoramic golf and sea views in Royal Flamingos, Los Flamingos Golf, Benahavis.The ...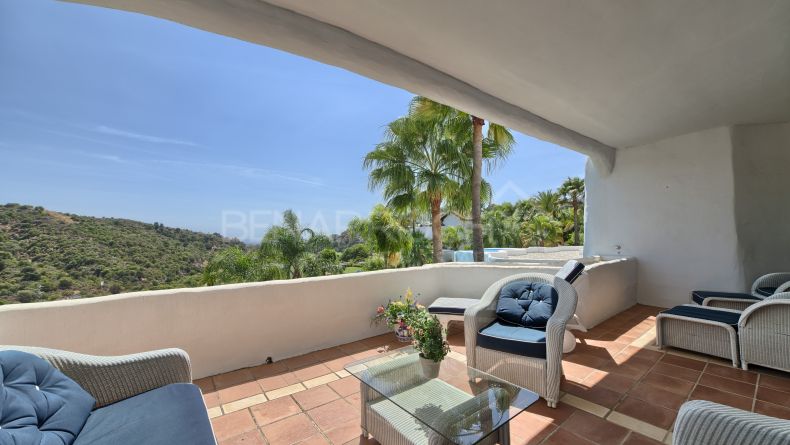 469.000 €

reduced from 569.000 €
Spacious two bedroom ground floor apartment located in the urbanization of Lomas de La Quinta, in Benahavis, a residential ...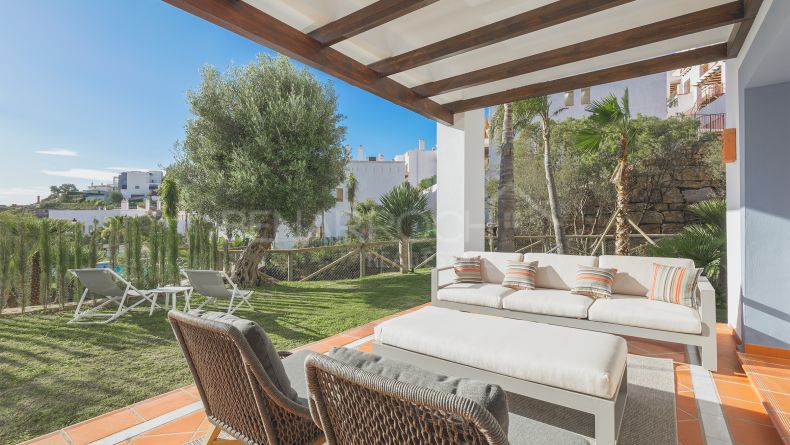 260.000 €
Ground floor apartment in the Paraiso Pueblo complex located in Paraiso Alto, Benahavis, a few minutes from Puerto Banus and San ...